Style news and blog articles from The Huffington Post
Maitland Ward's Sheer Dress Causes Quite A Stir (Sat, 19 Apr 2014 17:15:24 -0400)
Former "Boy Meets World" star Maitland Ward was surprised to learn that one little dress could cause such a commotion.

The 37-year-old actress best known for her role as Rachel McGuire on the beloved ABC sitcom got people talking this week when she wore a sheer black dress that made it clear exactly what she wasn't wearing underneath, to the Los Angeles premiere of "A Haunted House 2."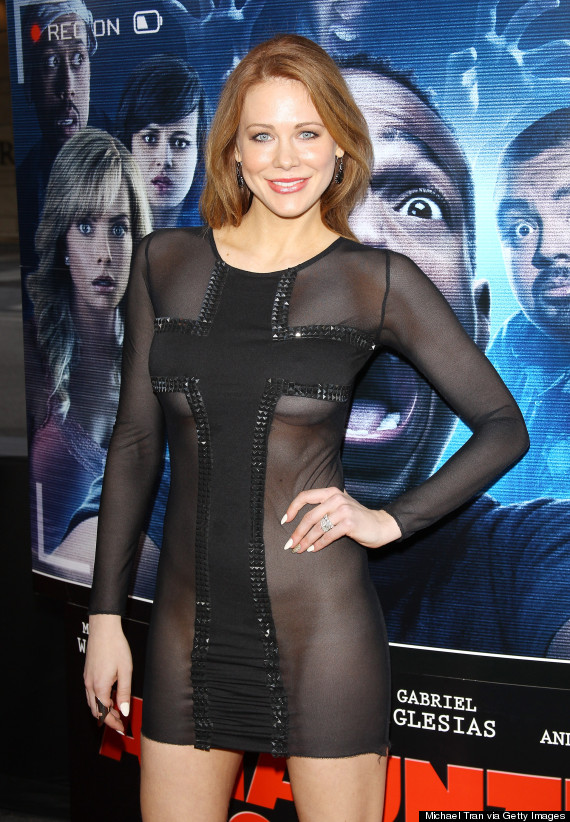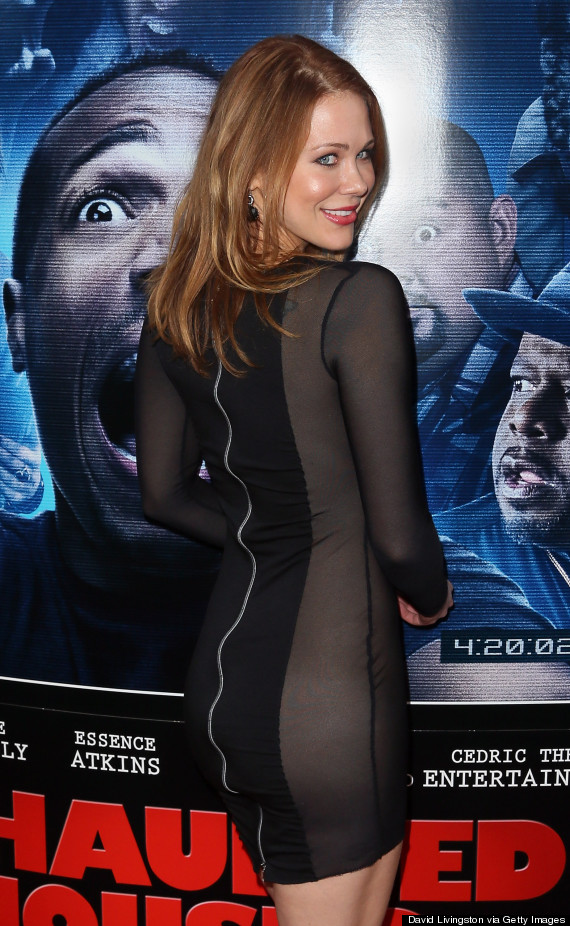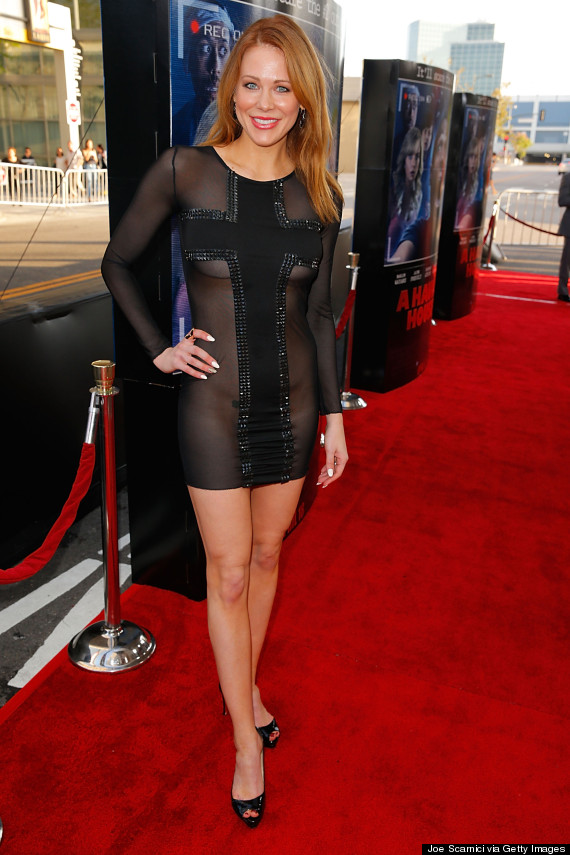 Ward, whose last role was a guest spot on "Rules of Engagement" in 2007, is only slightly baffled by all the attention her revealing dress has garnered. "I have been bombarded with messages, press, questions today about THAT DRESS last night. Had no idea it would cause such a stir... Well, maybe I did a little," she wrote on Instagram on April 17.


Kim Kardashian Dons Low-Cut Jumpsuit For Lunch With Grandmother (Sat, 19 Apr 2014 16:05:46 -0400)
Most people tend to cover up or at least throw on a cardigan when going to visit their grandma, but Kim Kardashian is not most people.

The 33-year-old reality star didn't let her lunch at with her maternal grandmother, Mary Jo Shannon, keep her from embracing her signature sexy style on April 18.

Photographers spotted the pair as they were leaving Maria's Restaurant, and Kardashian -- whose wedding to Kanye West is almost a month away -- was all smiles in a low-cut light pink jumpsuit, with a sheer back that exposed her bra.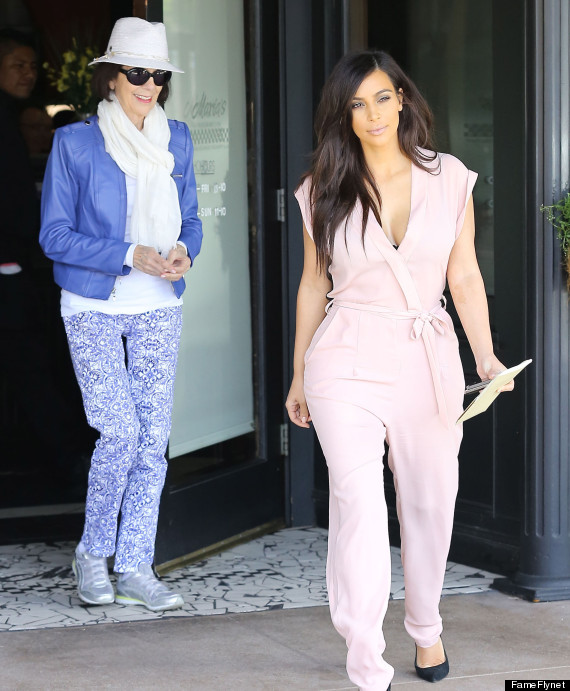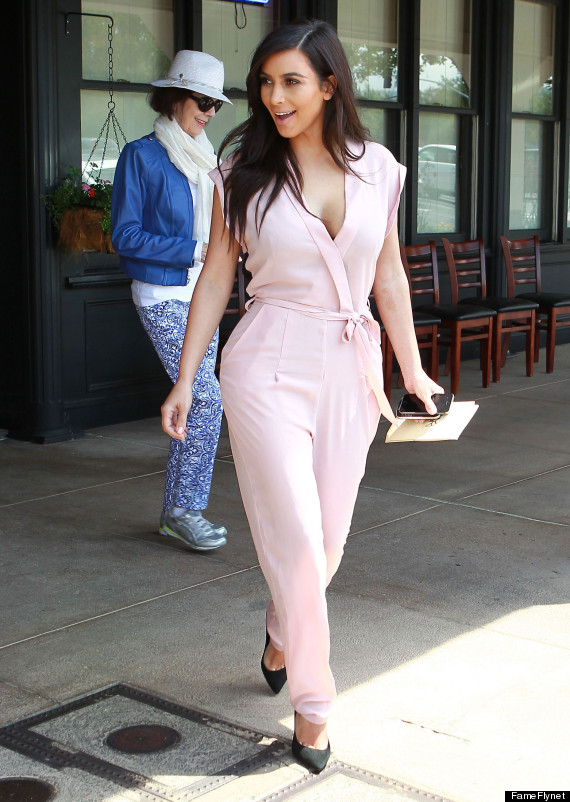 Celebrities (Ehem, Kendall And Kylie Jenner) Hit Coachella For Round Two (Sat, 19 Apr 2014 14:49:39 -0400)
Apparently one fun-filled weekend of music, parties and over-the-top bohemian outfits wasn't enough for Kendall and Kylie Jenner.

The sisters attended the second weekend of the Coachella Valley Music & Arts Festival in Indio, Calif., after just rocking out for three days straight last weekend. This time around, they brought some of their other friends, including famous BFF Jaden Smith.

Kendall, 18, opted to leave her humongous nose ring at home and wore a green shirt and cut-off white shorts while Kylie, 16, donned a big floppy hat and a rock 'n' roll t-shirt adorned with bird feathers. (Yes, real feathers.)



Also in attendance for back-to-back weekends was Vanessa Hudgens, who slipped into a tiny bra-top and high-waisted skirt for round two of festiviites.

Oh, the fabulous life of a young star.


Planning A Wedding? Don't Make These Mistakes With Your Flowers (Sat, 19 Apr 2014 14:40:40 -0400)
By Kristen Klein for Bridal Guide

Event designer Preston Bailey is known around the world for his exquisite floral designs. From celebrity clients (like Oprah Winfrey, Sean Parker, LeBron James, Donald Trump, and Joan Rivers) to real brides, he's worked on thousands of events over the past 30 years — and here, he shares his expertise on the biggest mistakes he sees couples making over and over with their wedding flowers.


1. Underestimating the Cost
Many brides tend to focus on other elements of the wedding, such as the venue and the dress, and then have a bit of a shock when it comes time to decorate the space. Centerpieces are just one aspect of décor, and it's easy to overlook other spaces, such as the entrance, that will look barren if left unattended. Be sure to do your research and share your vision with your florist so that he or she can work with you and help keep your expectations in line with your budget and vice versa.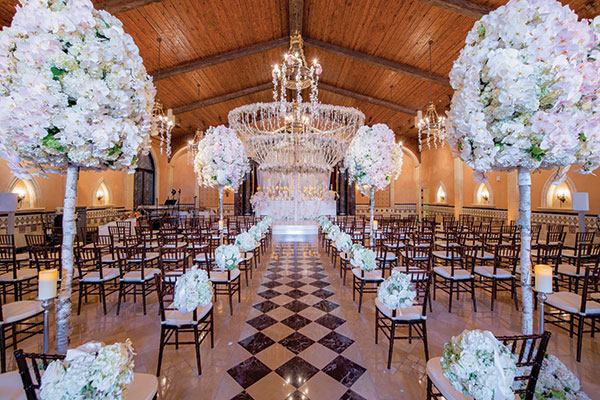 2. Getting Too Hung Up on Pinterest
It's great to bring in snapshots that evoke the overall feel of what you'd like to have, but expecting exact replicas of designs can be frustrating for both you and the florist. Don't forget that these men and women are artists and want to create something unique and special just for you.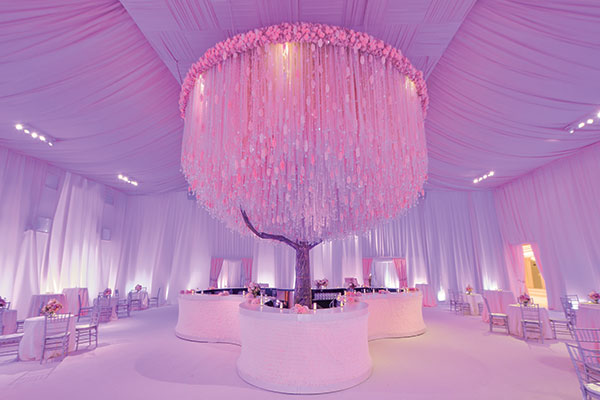 3. Being Inflexible
It's not uncommon for brides to have a favorite flower (like a pink peony), but there are times when the florist can do everything in his or her power and still not be able to get the flower of choice (or as many of them as needed). The bride who has an idea of what she wants with a few options will find the process less stressful than one who refuses to compromise.

4. Using Out-Of-Season Flowers
Seasonal flowers are not only less expensive; they are easier to obtain. (Find out what's in season during your wedding month here).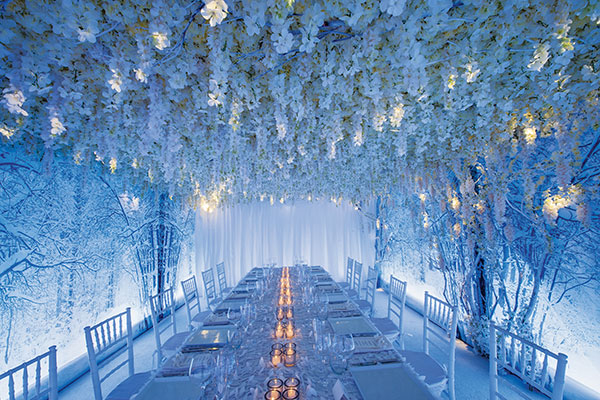 5. Choosing Flowers Based Only On Looks
Many flowers, such as lilies, have strong scents on their own, and others have scents that are overpowering when grouped together. Consider all of your senses when designing your wedding.

For more great tips and design ideas, pick up Bailey's latest book, Designing with Flowers.

Photo Credit: John Labbe/Prestonbailey.com

More from Bridal Guide:

Deborah Lindquist: Celebrate Earth Month in Style (Sat, 19 Apr 2014 14:09:24 -0400)
By Deborah Lindquist

Our Mother Earth is abundantly and powerfully beautiful. Sometimes in our hurry to be who we are every day, we forget to stop and literally "smell the roses." April is Earth Month, so what better time to stop for a moment, appreciate the beauty around us, and dress up a bit to celebrate.

There are many fashionable eco conscious options to choose from these days, so while you're planning what to wear, know that by choosing something eco conscious you're also contributing to a healthier planet. And we all benefit from that.

Flowers are everywhere.

All flowers, from the tiniest desert blossoms to the fluffiest fragrant peonies are magnificent in their own way. Make florals part of your wardrobe this month. Romantically soft or brilliantly bright, there is a floral that is perfect for any occasion.

This vintage beaded wool and organic linen wedding gown has a subtle beaded flower pattern on the bodice. Add a headpiece with silk orchids attached and you're the perfect eco bride.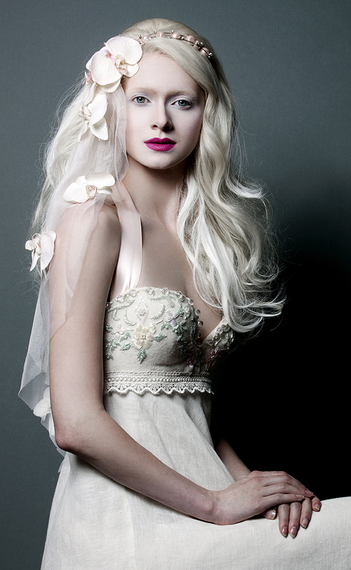 Photo by Barry Druxman



Birds are singing.

Birds are such happy creatures. Singing songs, building nests, checking out our bird feeders and nectar filled blossoms, birds make the world a happy place. Why not celebrate their songs by wearing a bird print or even a bird adorned headpiece for a special event this month. This bird and flower headpiece and multicolor veil is a fun compliment to a floral pattern such as the one found in this vintage kimono bralette and skirt.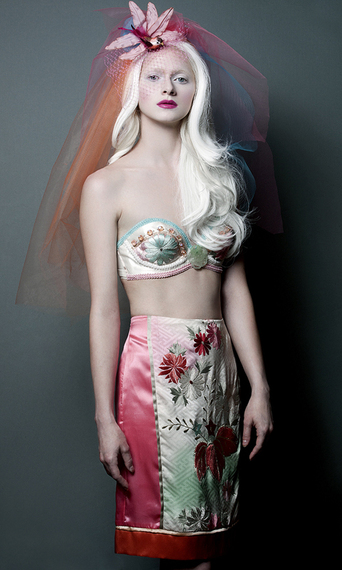 Photo by Barry Druxman



Butterflies are flitting.

With their loopy way of flitting around, butterflies are a magical symbol of joy and transformation. This vintage lace and red hemp/silk satin gown is the perfect starting point for a dramatic headpiece such as this hemp/silk satin and hand painted butterfly headpiece.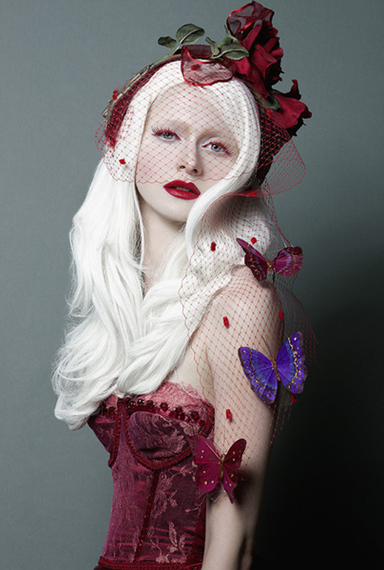 Photo by Barry Druxman



Stop and smell the roses, and choose eco fashion this month to make April an eco-fashionable celebration of Earth Month!

As one of America's most sought after environmentally conscious designers, Deborah Lindquist creates exquisite apparel out of a mix of "reincarnated" and new Earth-friendly fabrics, such as cashmere, hemp and bamboo. Lindquist's avant-garde apparel has been showcased in numerous publications including Elle, In Style, Lucky, WWD, Vibe, People, Brides and Maxim. You can also catch her one-of-a-kind pieces during episodes of Lifetime's How to Look Good Naked and Access Hollywood's Hollywood Green. She has dressed trendsetters such as Rihanna, Pink, Christina Aguilera, Jessica Simpson, Paris Hilton, Keisha Cole and Jessica Alba. Check out her press page and blog to learn more about Deborah.

This IKEA Hack Will Change The Way You Decorate Your Living Room (PHOTOS) (Sat, 19 Apr 2014 12:42:47 -0400)

We've all been there -- standing in front of that piece of furniture you've been hunting for forever, only to find out your glorious find is way out of our price range. [Insert heart sinking sound here.]

Blogger Krys Melo found herself wallowing in furniture disappointment before she decided to put her penchant for reimagining furniture pieces to work. "I wanted a cocktail ottoman to use as a table and footrest, in some great color, probably tufted, with a little gold to tie in with the rest of the room. Couldn't find it," she wrote on her blog... until she discovered this IKEA VITTSJÖ table. The rest goes down in DIY-done-right history.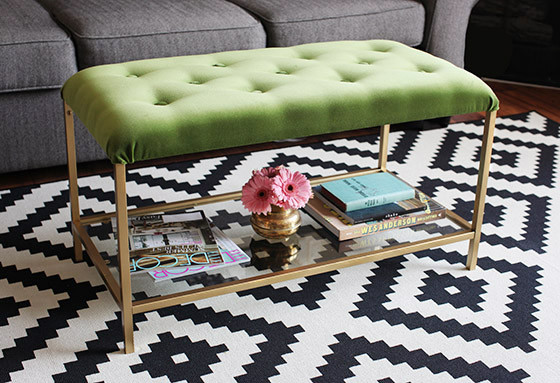 Check out her full how-to on her blog, Melodrama and 7 more ways to update your living room this weekend, below.



Have something to say? Check out HuffPost Home on Twitter, Facebook, Pinterest, Tumblr and Instagram.

**

Do you have a home story idea or tip? Email us at homesubmissions@huffingtonpost.com. (PR pitches sent to this address will be ignored.)
2014 MTV Movie Awards Gifting Suites (Sat, 19 Apr 2014 12:24:13 -0400)
Last weekend's MTV Movie Awards brought out a small group of gifting suites to honor the event with products for the young, hip and fashionable:

The Secret Room Events' Secret Room Style Retreat in honor of the 2014 MTV Movie Awards at the SLS Hotel benefiting the California Wildlife Center.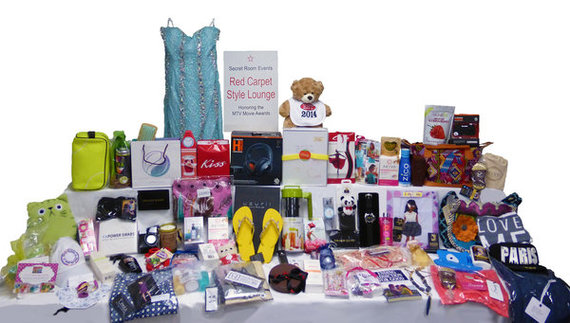 Held on the outdoor terrace of the hotel, this suite had company San-X giving out bags of goodies such as t-shirts, iPhone cases and plushies from Japanese brand RILAKKUMA featuring their popular brown bear. STEELSERIES gave out their H Wireless gaming headsets and Stratus wireless gaming controllers. ZUMMER SPORTS gifted toiletry bags, luggage tags, credit card holders, drawstring bags and backpacks made from real sports ball materials such as footballs, basketballs and tennis balls.

There was also haircare by HERBALOSOPHY, thongs and camis by MAD AND MAC, glasses and sunglasses by KAHOY Collection and iced tea beverage makers from TAKEYA with removable fruit infusers. KISS was on-hand to give guests lashes and press on manicures, along with a take-home bag of products.

Additionally, guests left the suite with an ALL-STAR CONVERSE mini-duffel bag filled with gifts including decorative flip-flops by UZURII Luxury Footwear, plush kittens from DICKE KATZE, chili & oregano green pitted olives by OLOVES, make-up by SUGAR, teeth whitening system by POWER SWABS, deodorizing body spray for dogs by PUPPY MCQUEEN, stainless steel drinking fountain bowls by PIONEER PET and soy candles by GLASSED OVER among others.

*For those more interested in the California Wildlife Center, it is having a Spring Open House at its Calabasas facilities on Sunday April 27, 2014 from noon until 4 p.m. with guided tours, up-close encounters with rescued animals and children's activities among other things.

GBK's Annual Gift Lounge honoring the 2014 MTV Movie Award Nominees and Presenters at the SLS Hotel benefiting Lambda Legal, Los Angeles Youth Network and Autism Speaks.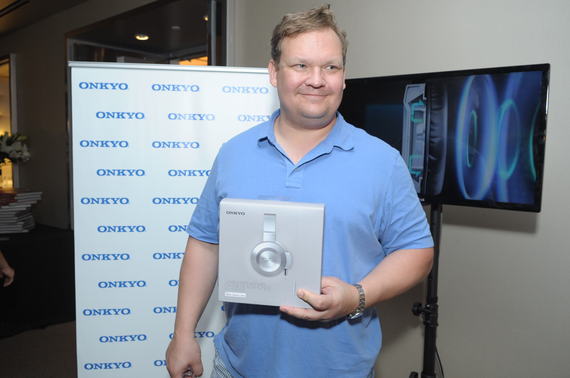 Andy Richter at GBK.



This indoor suite had chic canvas totes by THURSDAY FRIDAY and fashionable women's shoes, sandals and boots by QUPID. Guests got to pick out colorful silicon multi-shaped bracelets from LOLLIPOP BANDZ by Zorbitz. Electronic devices included headphones from ONKOYO USA and flavored portable mini-hookahs by BLOW ONE. A complete line of skincare products was provided by VERY PRETTY SKIN.

On the edible side, BARRY'S BROWNIES were there to indulge celebs' sweet tooths. For those craving the salty stuff, JACKSON'S HONEST POTATO CHIPS brought the goods with the first organic potato chip made using coconut oil that's also vegan and gluten free. RIPPED CREAM introduced the first ever powdered protein coffee creamer in Lean Vanilla Bean and Chizzled Chocolate. The creamers contain 5-6 grams of protein per serving, along with 11 essential amino acids and Vitamin D3.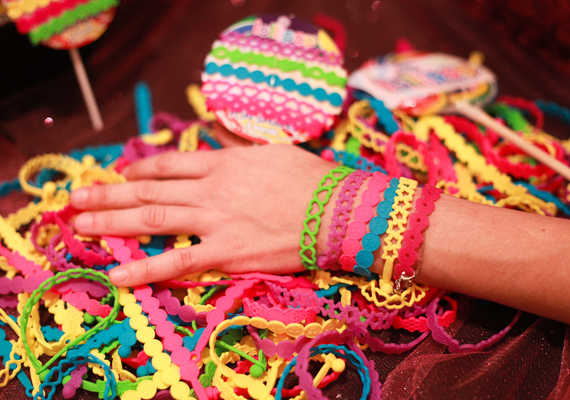 Lollipop Bandz at GBK



ARTISAN GROUP, a collective of artists who make jewelry, bath products and other handcrafted gifts, gave out bags containing products such as dog collars and accessories from Scatter Brained, Four Black Paws and Bow Wow Couture, nail polish from Nail Nation 3000 and Serum No. 5. and exfoliating lotion bars known as "Truffle Buffers" by SoapyBliss Bath & Body Bakery. There were notecards by Julie Ann Art and fine art photographic images by Anita Miller's Nature's Images By Design. Jewelry included Chloe Alyson's 18 K gold filled Hamsa bracelets with calcite and citrine beads whose properties are said to stimulate the mind and get rid of negative energies.

Debbie Durkin's Movie Awards Eco Lounge at The Beverly Hilton's Bar 210 benefiting Yes! Beat Liver Tumors: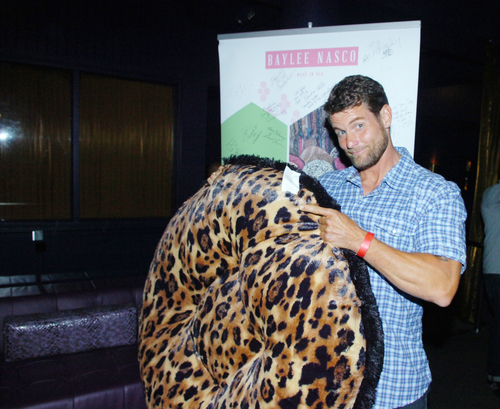 Grimm star Damien Puckler at the Eco Lounge.



Guests with pets received BAYLEE NASCO designer pet beds and blankets, while belt company C4 had guests choose from an array of belts and buckles to create their own personal belts. On the beauty side, there was luxury organic body care by TRANSCEND ORGANICS and perfume by LOREE RODKIN.

The EYEBROW BOUTIQUE was doing on-site eyebrow grooming and organic spray tans while tattoo artist Adam Daniel of PERRI INK was doing actual tattooing on those who were ready and willing. NASH MOTORCYCLES showcased their U.S.A.-made bikes. VAPE REVOLUTION had atomizers with both nicotine and non-nicotine filled flavored e-liquids.

JOCKEY underwear had products for men and women, including their smoothing microfiber stretch "skimmies" slipshorts. The DAILEY METHOD handed out non-slip socks and online gift cards for 30 days of unlimited classes.

What Type Of Pot Smoker Are You? (Sat, 19 Apr 2014 11:15:24 -0400)

Like snowflakes or THC crystals*, no two pot smokers are truly the same.

But even in a group as diverse as marijuana users, certain patterns do emerge. For example, does your pot use lead to endless pontification? You might be what we call the philosopher smoker. Or does your mind wander alone when you're stoned? If so, you're probably more the loner-artist type.

Being as it's 4/20 weekend, what better time to discover where you land on the stoner spectrum? Take our quiz below to find out.



Quiz widget by


*OK, OK, THC crystals tend to look pretty uniform up close, but you get where we were going with it.

These Edward Hopper-Inspired Dollhouses Will Make You Fall In Love With The Indoors (Sat, 19 Apr 2014 10:01:53 -0400)

Here's what the images below are not: They're not the work of Edward Hopper, they're not paintings, and they aren't even real scenes.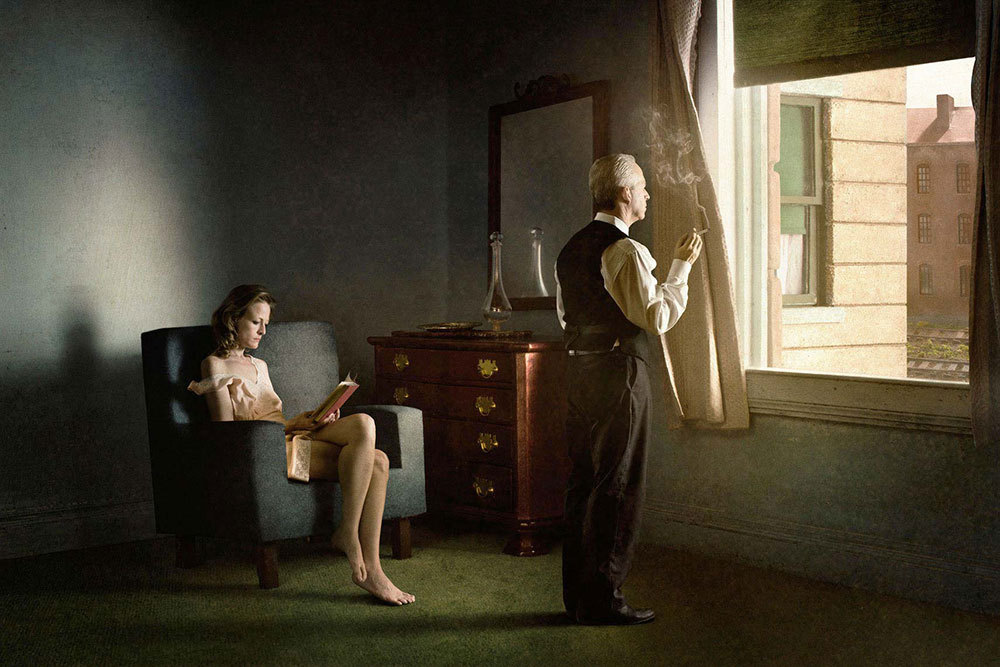 Created by the photographer, "assemblist" and self-proclaimed "failed painter," Richard Tuschman, "Hopper Meditations" features tiny bedrooms with real models photoshopped into them. To enact the illusion, Tuschman built dioramas, mixing standard dollhouse furniture with his own creations. These he photographed and digitally altered, inserting images of models shot -- by him -- against a plain backdrop. In an interview with the photography blog Feature Shoot, Tuschman explains the appeal of this painstaking method: a "great deal of control over every aspect of the process, and I can do it all in my small studio."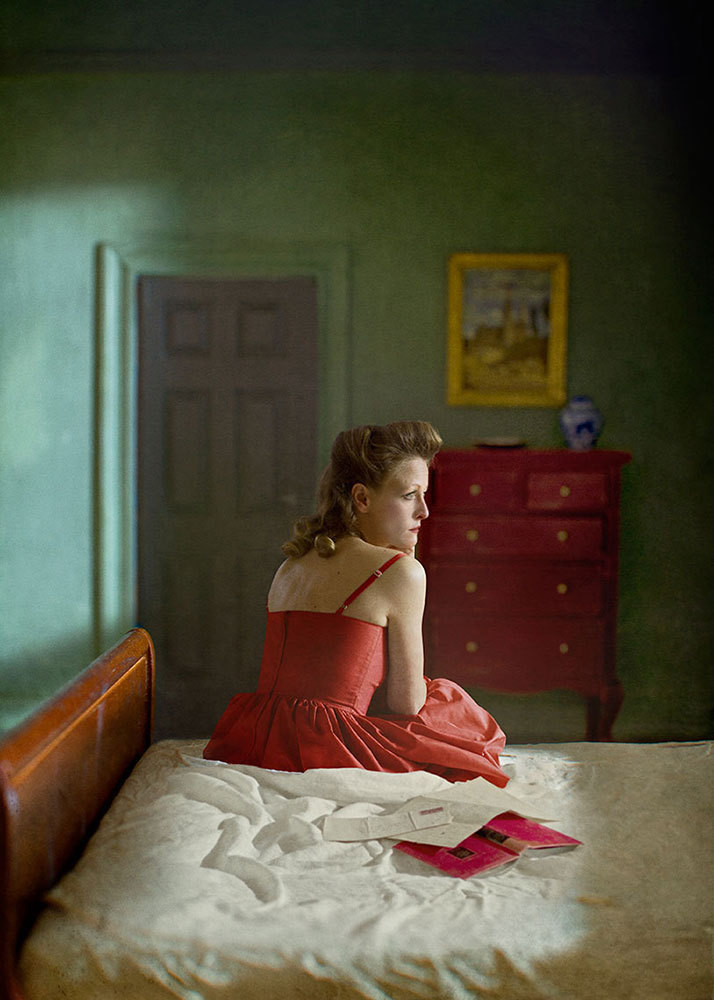 He also has Hopper to thank. Tuschman was heavily inspired by the American painter, from his quintessentially New York settings to his treatment of light to his "economy of means." A single beam through a window, by Hopper's brush, can reveal a galaxy of feeling on his subject's face. That's the effect Tuschman tried to channel, and somehow did.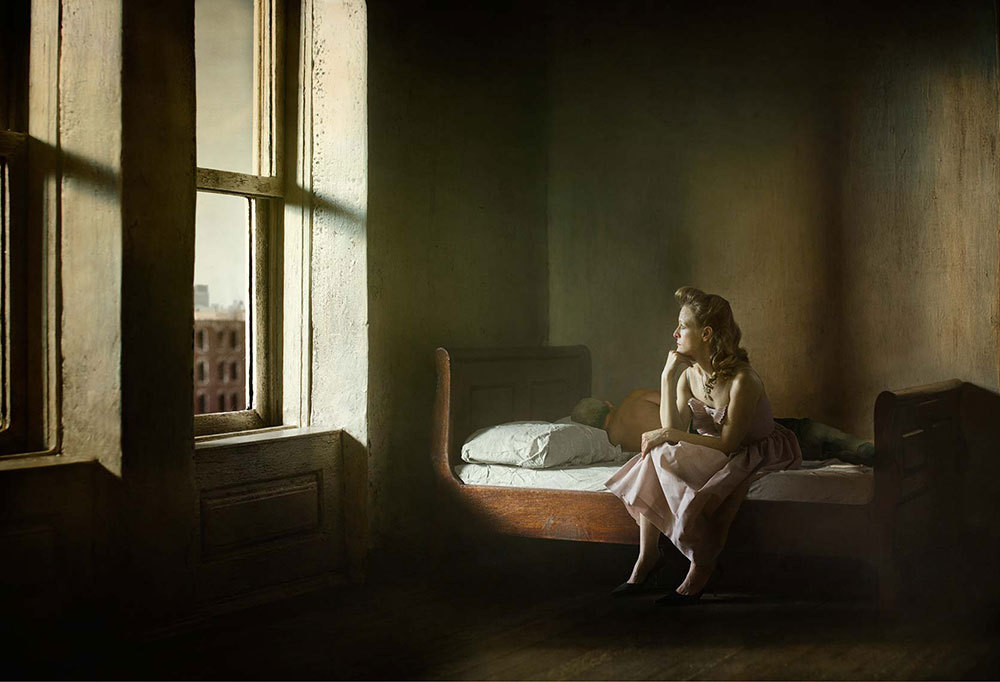 At Feature Shoot, Tuschman talks about how the exercise of conjuring reality gave him new appreciation for just how detailed the spaces we live in are. Looking through the series produces the same feeling.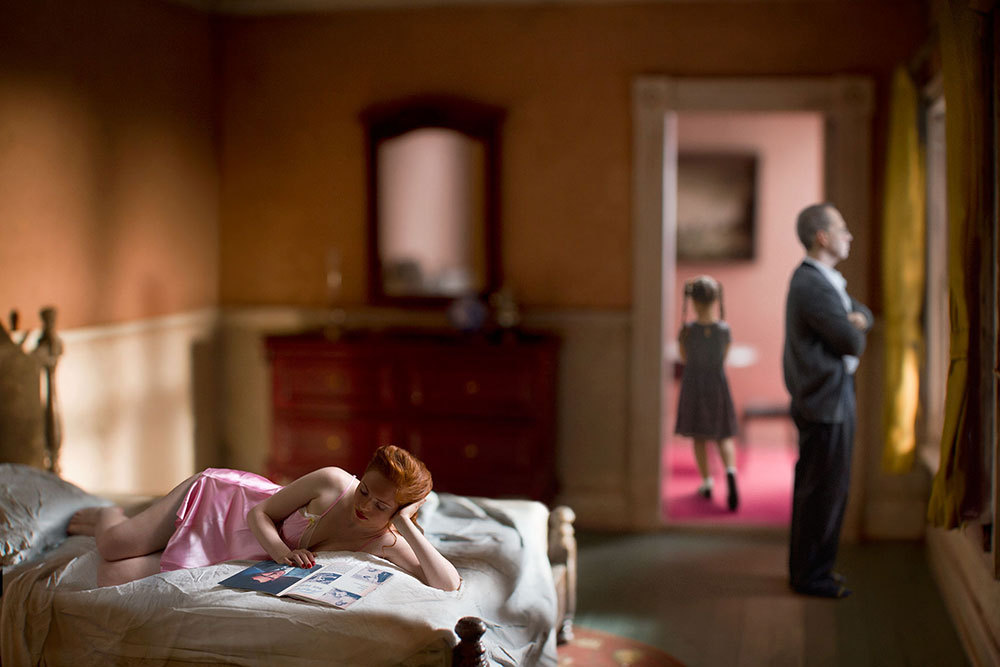 7 Gross Health Problems & How To Fix Them (Sat, 19 Apr 2014 09:40:21 -0400)
There are things we can talk about with our friends, like our split ends or our overgrown cuticles. And then, there are the things we just don't. Call it "polite conversation," but dealing with bad breath and body odor aren't always the easiest to discuss. Still, we were curious about how to tackle our gross (and common!) health issues, and we bet you are, too.
Kate Middleton Accessorizes Her Blue Poppy Spring Dress With A... Fighter Jet? (Sat, 19 Apr 2014 09:39:12 -0400)
Kate Middleton and Prince William's royal family tour of Down Under just keeps getting better and better.

The couple spent Saturday in Brisbane, Australia without Prince George in tow. Even though we miss seeing the little royal and his chubby cheeks, George staying back may have been for good reason, as the Duchess of Cambridge got a bit daring.

While spending time at the Royal Australian Airforce Base at Amberley, Kate managed to climb inside the cockpit of a RAAF Super Hornet fighter jet dressed in a knee-length L.K. Bennett dress and high heels.

No amount of hours in etiquette school would have allowed us to pull off such a feat with poise and not rip our frock, let alone our nylon stockings. But Kate was ever the graceful lady in the blue and white poppy dress, as she soaked up all the excitement.

See the action below!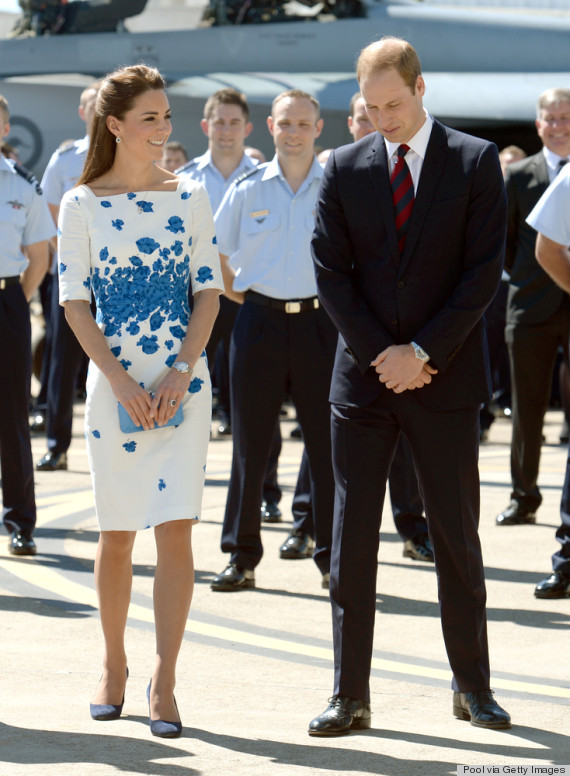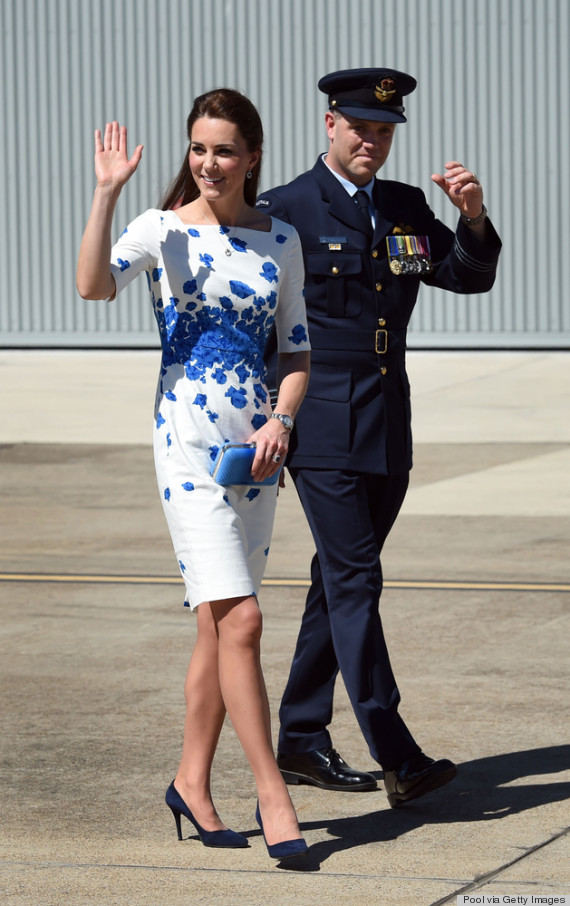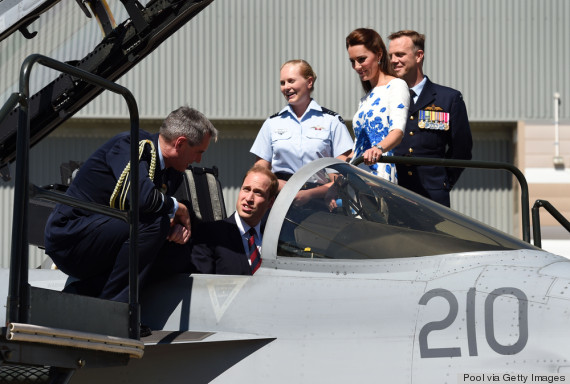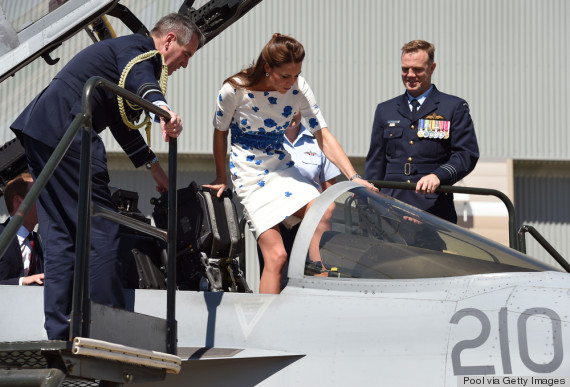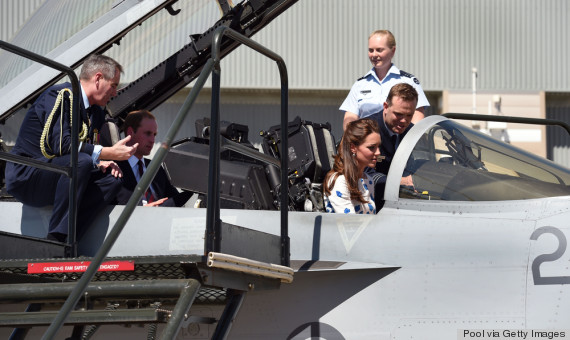 Here's Why You Should Book Your Next Massage ASAP (Sat, 19 Apr 2014 09:37:23 -0400)
There's no denying a massage is calming -- until you start feeling guilty for indulging in a little special treatment.

A small new study excuses us all from the guilt: Massage therapy isn't just a way to relax, it's also a way to alleviate muscle soreness after exercise and improve blood flow, according to the recent research.

Other benefits of massage have long been touted, but research is usually limited. Still, we think there are some pretty good reasons to book an appointment ASAP.

Massage can reduce pain.
A 2011 study found that massage helped people with low back pain to feel and function better, compared to people who didn't get a rubdown. That's good news for the eight in 10 Americans who will experience debilitating back pain at least once in their lives, Time.com reported.

"We found the benefits of massage are about as strong as those reported for other effective treatments: medications, acupuncture, exercise and yoga," Dan Cherkin, Ph.D., lead author of the study, said in a press release.

Massage also seems to lessen pain among people with osteoarthritis.


It can help you sleep.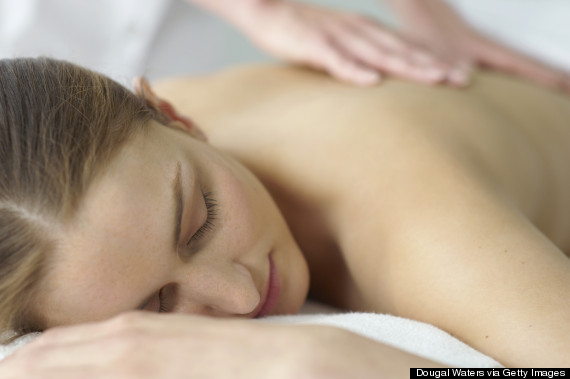 The calming treatment can also help you spend more time asleep, according to research from Miami University's Touch Research Institute. "Massage helps people spend more time in deep sleep, the restorative stage in which your body barely moves," the Institute's founder Tiffany Field, Ph.D., told More magazine in 2012.

In one study of people with fibromyalgia, 30-minute massages three times a week for five weeks resulted in nearly an hour more of sleep, plus deeper sleep, she said.


Massage may ward off colds.
There's a small body of research that suggests massages boost immune function. A 2010 study, believed to be the largest study on massage's effects on the immune system, found that 45 minutes of Swedish massage resulted in significant changes in white blood cells and lymphocytes, which help protect the body from bugs and germs.


It could make you more alert.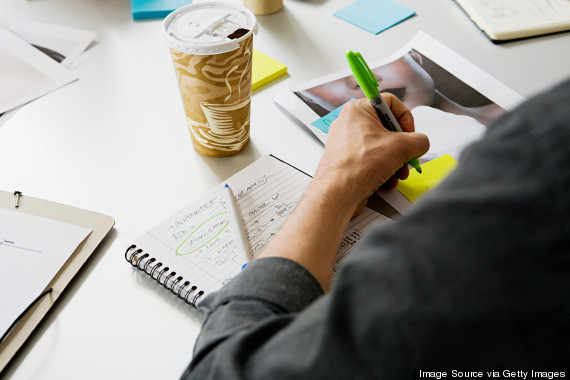 At least one study has linked massage to better brainpower. In a 1996 study, a group of adults completed a series of math problems faster and with more accuracy after a 15-minute chair massage than a group of adults who were told to just sit in a chair and relax during those 15 minutes.

Massage may ease cancer treatment.
Among patients receiving care for cancer, studies have noted multiple benefits of massage, including improved relaxation, sleep and immune system function as well as decreased fatigue, pain, anxiety and nausea.

It may alleviate depression symptoms.
A 2010 review of the existing studies examining massage in people with depression found that all 17 pieces of research noted positive effects. However, the authors recommended additional research into standardizing massage as treatment and the populations who would most benefit from it.


Massage could help with headaches.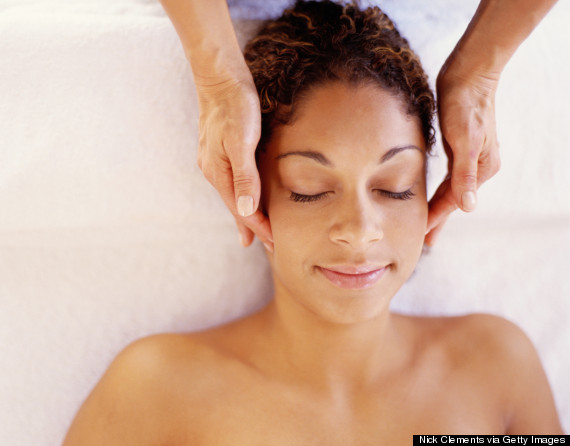 The power of touch seems to help limit headache pain. A 2002 study found that massage therapy reduced the frequency of chronic tension headaches. And in a very small 2012 study, 10 male patients with migraine headaches noted significant pain reduction after neck and upper back massage and manipulation. You may even be able to reap the benefits without seeing a professional: Start by applying gentle pressure with your fingertips to your temples, then move them in a circular motion along the hairline until they meet in the middle of your forehead, WebMD reported.


The stress reduction is scientific.
Between the dim lights, soothing music and healing touch, it's certainly feels like stress melts away during a massage, but research suggests a very literal reduction of cortisol, a major stress hormone. Chronically high levels of cortisol can contribute to serious health issues, like high blood pressure and blood sugar, suppressed immune system function and obesity.


Ready to book an appointment? Here's what to expect at your first massage from Susie Ellis, president of Spafinder, Genevieve Reiter, an adjunct instructor in the massage program at New York College Of Health Professions and Cody Landis, an instructor at the Swedish Institute:

11 Celebrities Who Make Us Excited About Aging (Sat, 19 Apr 2014 09:04:23 -0400)
A lot of women (and men, for that matter) panic when it comes to aging, but these celebrities prove it's actually much more exciting than it appears to be.

Take Cameron Diaz for instance: The 41-year-old recently opened up to Oprah Winfrey about getting older, explaining that the phrase "anti-aging" infuriates her.

"We don't honor the journey and who we are and how much we have to offer," Diaz said, adding that women can't seem to escape the pressure of looking young. "It's almost as if we have failed if we don't remain 25 for the rest of our lives. Like we are failures … Oh, I'm sorry, I apologize, I wasn't able to defy nature."

But Diaz isn't the only star who makes aging sound exciting. Here are a handful of celebrities who inspire us to embrace getting older:


The Sales Of The Week Will Make You Forget That It's 30 Degrees In April... Or At Least We Hope So (Fri, 18 Apr 2014 20:46:41 -0400)
Depending on where you live, we know you're reeling over the fact that it still feels like winter. But perhaps a little retail therapy this weekend can lift your spirits? For some glorious reason, retailers take the calendar more seriously than the weather report, and their spring sales are in full swing.

Check out some of our favorite sales of the week, and share your best deals with us using the hash tag #huffpoststylefinds!

Saks Off 5th: The retail giant's outlet is offering an additional 40 percent off their already discounted merchandise, AND you don't even have to visit an outlet mall to score a deal. Check them out online, too.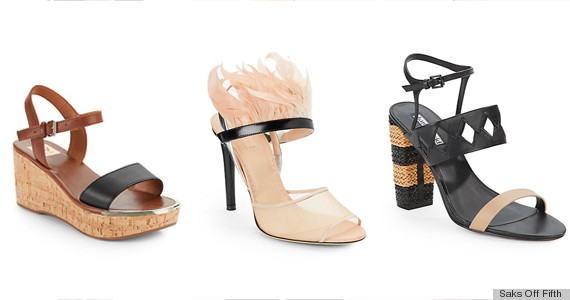 Old Navy: 30 percent off the entire store means reasonably priced clothing at an even bigger discount. Yes, please.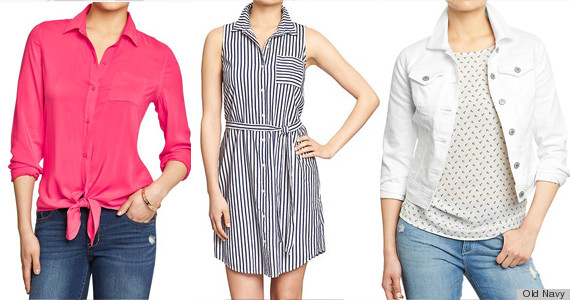 Joe Fresh: Their spring sale includes $10 colored denim. Need we say more?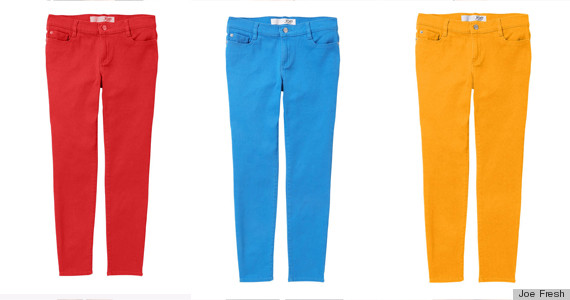 Honorable mention goes to the C. Wonder sample sale for all you New York City dwellers and tourists. Up to 75 percent off!
The Celebs On This Week's Worst-Dressed List Should Never Wear These Outfits Again (Fri, 18 Apr 2014 20:35:02 -0400)
This week's worst-dressed list was filled with moments we'd like to forget. January Jones looked sloppy in a highly unimpressive get-up, while Emma Stone's beauty was overshadowed by a gaudy dress.

However, the worst of the worst was Bella Thorne. The teen star should have steered clear of the hideous light blue dress she donned at the MTV Movie Awards. Better luck next time, Bella!

Check out our picks for worst-dressed of the week, and let us know if you agree.

January Jones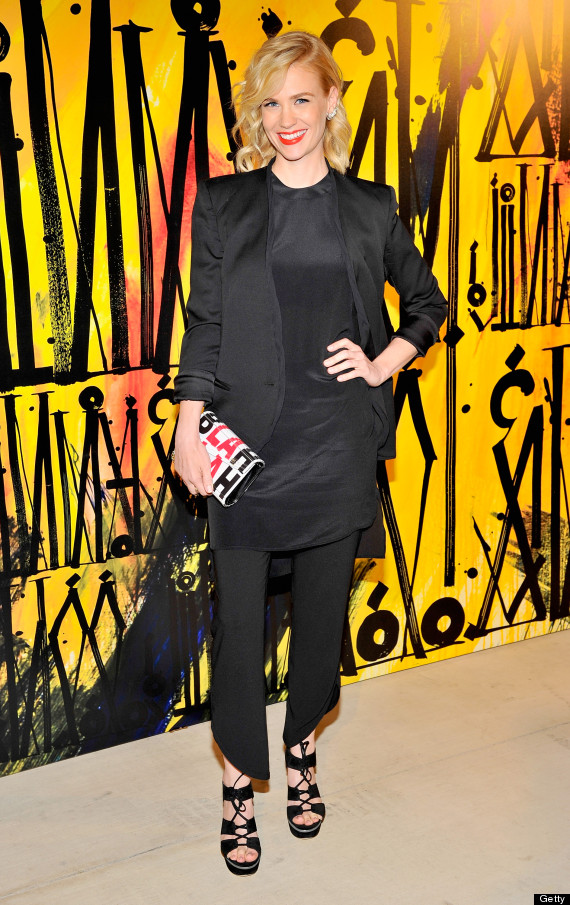 January's clutch says everything you need to know about this look: "BLAH"!

Emma Stone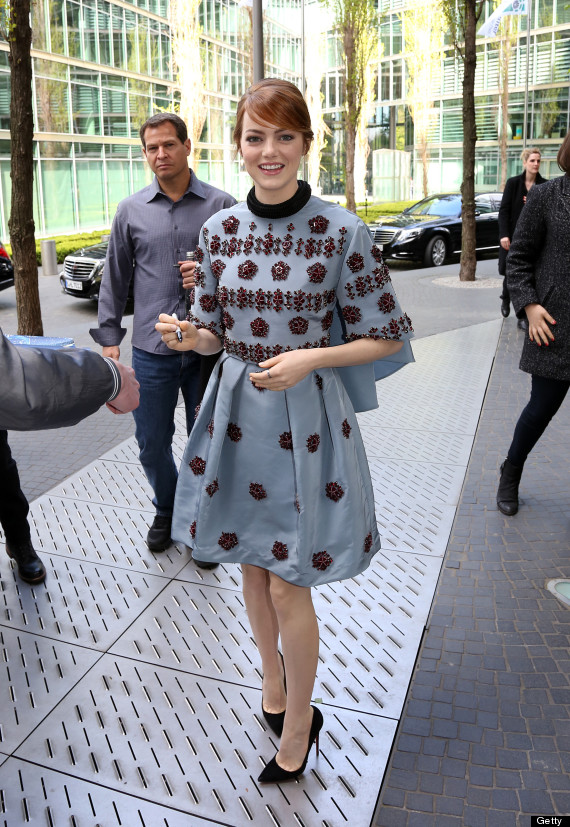 This is a classic case of the dress wearing the woman, and not the woman wearing the dress. Between the padded black neckline, jeweled embellishments and the cape detail, this dress has way too much going on -- so Emma should have just taken it off.

Bella Thorne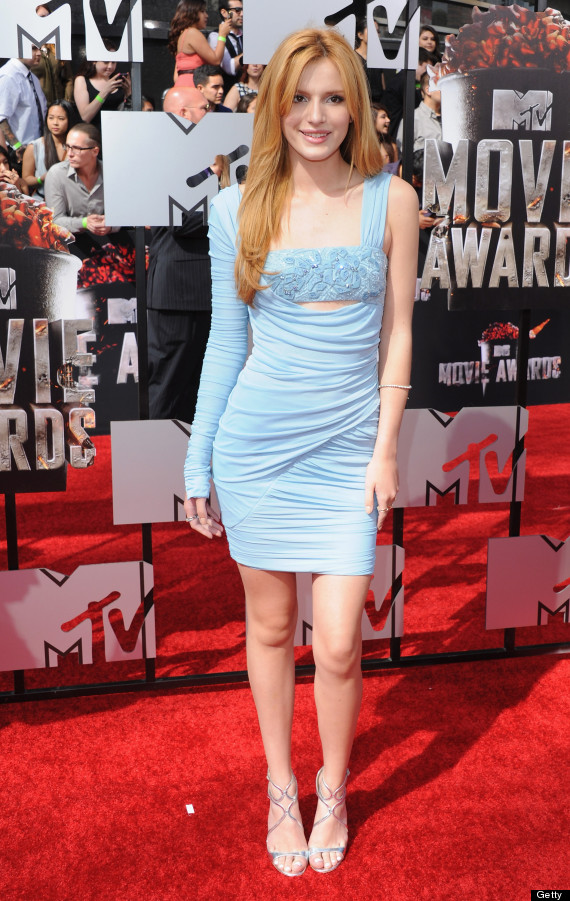 One look at this one-sleeved, ruched, bralette-baring design and Bella's fashion fail is totally self-explanatory.

Zoe Kravitz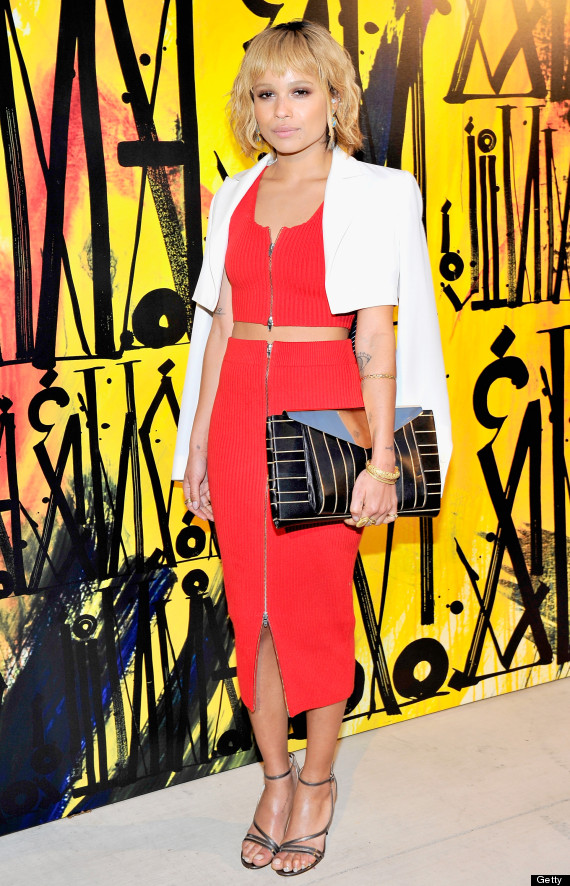 We're glad to see Zoe wear something other than a frumpy black dress, but this ensemble isn't a great alternative. She should have ditched that oversized clutch, white blazer AND that hideous hairdo.

Kim Kardashian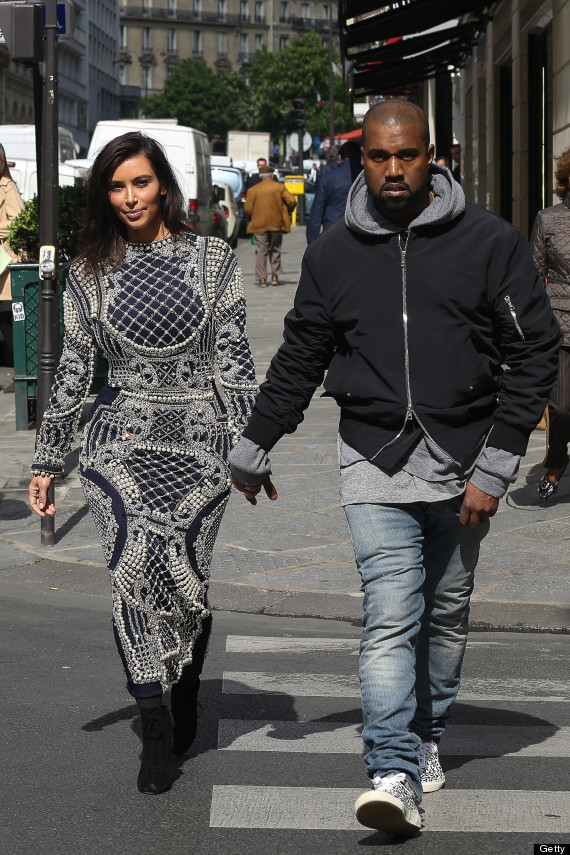 Easter might be this Sunday, but that doesn't mean dressing like a Fabergé egg is a good idea.