Style news and blog articles from The Huffington Post
TODAY: Tips For Surviving The Final Days Of Holiday Shopping (Sun, 21 Dec 2014 14:55:35 -0500)
With only four shopping days left until Christmas, many people are preparing to brace the crowds to get those last minute gifts. NBCs Anne Thompson tells us about some tricks to the holiday shopping trade that will save you both time and m

A Definitive List Of Holiday Candles, Ranked (Sun, 21 Dec 2014 13:30:15 -0500)
Every season has its definitive, nostalgia-inducing scent. In summer, it's the balmy combination of warm air, sunscreen and barbecue; come spring you're likely to get a whiff of fresh air and fresh laundry. It's harder, though, to pinpoint winter's signature scent. There is that distinct smell of firewood permeating people's homes or the baked good wafting from someone's oven or another. But you could also say the fragrance of winter is the ever-present scent of freshly-cut pine.

We aren't ones to pass up a challenge here at HuffPost Home, so we rounded up 20 home fragrances that claim to embody all the things about winter that we love, and put them to the test: What is the most authentic holiday home fragrance out there?

To determine the most Christmas-y scented candle money can buy, we had our editors rate each one on the following:

How likely is this fragrance to...

... Evoke holiday cheer
... Take me back to childhood holidays
... Make me want to cozy up next to it on a chilly winter night
... Smell like the holiday ingredient it promises

Naturally, we couldn't test every candle, diffuser or air freshener on the market, but here's how the ones we did test ranked:



Have something to say? Check out HuffPost Home on Twitter, Facebook, Pinterest and Instagram.

**

Are you an architect, designer or blogger and would like to get your work seen on HuffPost Home? Reach out to us at homesubmissions@huffingtonpost.com with the subject line "Project submission." (All PR pitches sent to this address will be ignored.)
Meet Queer Fashion Designer And Artist Vincent Tiley (Sun, 21 Dec 2014 09:00:28 -0500)
This is the third installment in a miniseries that elevates the work of up-and-coming queer individuals working in the fashion world. Check HuffPost Gay Voices regularly to learn more about some of the designers of tomorrow and the way their work in fashion intersects with their queer identity.

Vincent Tiley is a queer fashion designer and artist living in the Bushwick neighborhood of Brooklyn, New York. Tiley's designs involve a significant amount of garment work with heavy queer overtones, largely informed by notions of the body. In the words of the designer, "I have a hard time believing that a person stops at the edge of their skin. In a way all of my work is trying to illustrate that feeling one way or another." Read the interview below to learn more.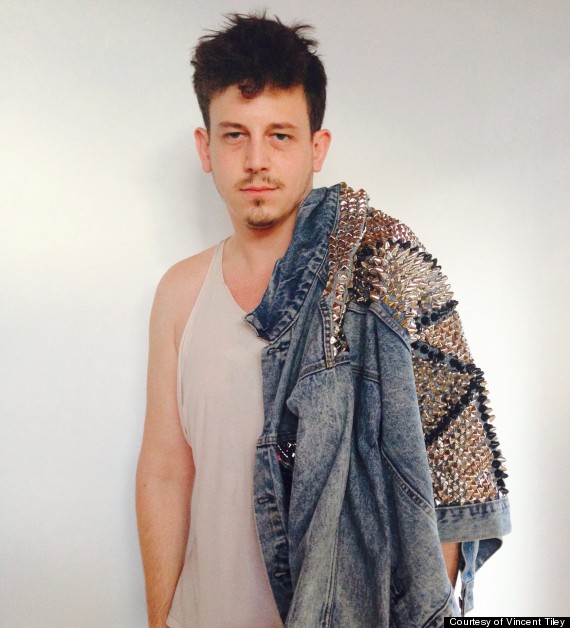 The Huffington Post: What has your journey as a queer artist and fashion designer entailed?
Vincent Tiley: I started out by making costumes. I got my BFA from the Maryland Institute College of Art and it was there that I made the jump from drawing and painting to working with textiles on the body in a sculptural way. But first everything I made was for video. The first things I started sewing were sci-fi costumes for these Kenneth Anger-style short video pieces I was making that blended biblical apocalyptic scenarios with sci-fi fantasy.

My work really changed, however, when I studied abroad in Japan. The street fashion there blew my mind and I suddenly started thinking very differently about clothes. I came back and started thinking really hard about the intersection of fashion and art. I am really inspired by artists that can ride this line -- people like Leigh Bowery, Lucy Orta and Terence Koh. I eventually got to work for Terence Koh, which was a dream come true.

I moved to Chicago for graduate school. I think it was my second week there that I met my very good friend Matt who is known for his drag persona Pearl, appearing on season seven of RuPaul's Drag Race. I made Pearl her first dress and I still continue to design for her today -- Pearl is always a constant source of inspiration for me.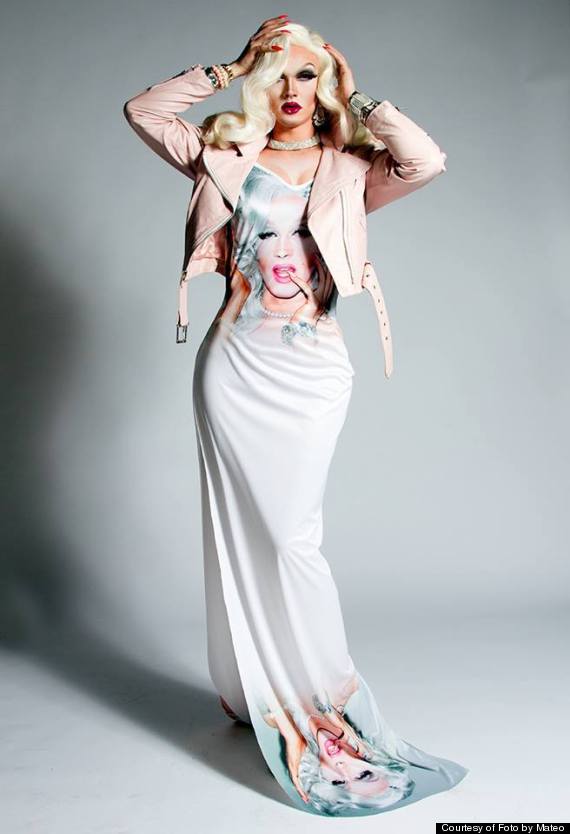 In Chicago I was also encouraged by my teachers and peers in school to continue to work between art and fashion. The time I spent there was an amazing time of collaboration and innovation. Now I'm back in New York City, living in Bushwick, where I've found a new community of artists, designers and performers. I'm always amazed by the people here and how this tight-knit community holds together.

What is the focus of your work? How does your work as a designer intersect with your work with an artist?
My work is very body-conscious. I'm always trying to reinvent the body. Sometimes I do this by making a new skin or bodysuit that extends or confines the body of its wearer. Other times I'm just thinking about how a material might make someone want to touch it even if it's a painting and you know your'e not really "supposed" to.

I have a hard time believing that a person stops at the edge of their skin. In a way all of my work is trying to illustrate that feeling one way or another. This is why my bodysuits often connect their wearers to each other and force them to touch.

When I'm designing something for a client, however, I have to translate these ideas into something much more practical. So I try to use prints and materials in unconventional ways that make the viewer feel that they are looking through a top layer or that it might be something they want to touch. I also collage vintage clothes together to make a new garment in a similar way that I might collage performers together in a piece to make a new kind of body.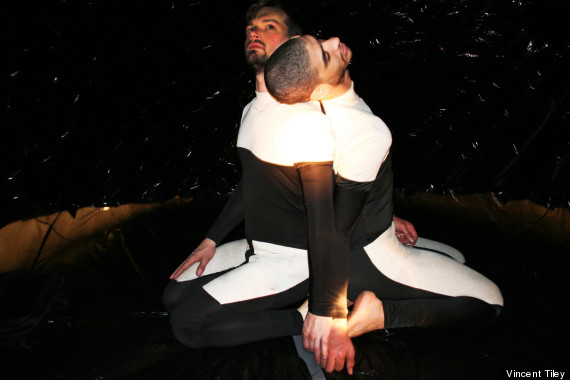 With the body suits I also try and think about painting and its history. One time I showed another artist a piece I was working on and he screeched, "YAAAS LYNDA BENGLIS REALNESS!" That was a huge compliment. By putting these painted body suits on the floor I'm trying to relate to her work and how she could take the logic a kind of machismo expressionist painting on the wall and flip it on it's head. I want the bodysuits that I make to be understood as paintings and sculpture -- not just in a performance art context.

I also work really hard to make things visibly queer by quoting existing queer dress like drag, fetish and punk. Though, I also try to think what making a subversively queer garment might mean. Does it mean that there is going to be a third sleeve? Or maybe the wearer won't be able to move? It's not just about doing what others have done to making getting dressed a queer act of rebellion, but about how to put that spirit in the garment.



What does it mean to you to be a queer artist and designer? How does your queer identity intersect with your work?
For me, being a queer artist means having to pay attention to how things blend together and lose their edges. Right? That's the kind of power that the idea of the spectrum has to offer us. It's about being able to see presumptions and unnecessary barriers, tearing them down and revealing an unknown nature to things. I think this relates directly to queer experience and how something as mundane as attraction and who a person is attracted to can be this huge societal barrier that invites discrimination and violence to those just born the way they are. Thankfully, so many of those barriers have come down -- but there are still more.

It's a dangerous and powerful thing to reveal yourself and be boldly strange and resist labels, but that is the good work that has to be done.

Earlier this year you did a performance piece where you danced nonstop for 24 hours. What was your intention behind this endeavor? What were you trying to accomplish?
I love that piece. That performance is called "BABY YOU'RE NEVER THERE." In that piece I dance for a whole 24 hours (midnight 'til midnight) to music provided by a rotation of live DJs. I've done this twice now. The first time was at New Capital Gallery in Chicago and the last time I did it was at Glasshouse Art Life Lab in Williamsburg. The installation is very simple for this piece -- it's just the DJ booth, me wearing a tank top with the title on it and an installation of gatorade on the floor of the gallery -- which is the only thing I eat or drink to sustain myself during the performance.



When I came up with "BABY YOU'RE NEVER THERE" I was going through kind of rough time in Chicago and I was going out a lot as a way to distract myself. I started thinking about the club as a kind performance experience where people get dressed up and come a a space to perform what they think is attractive for the sake of onlookers who may potentially decide to share a drink or dance with that person and maybe head home with them. I wanted to take that experience and separate it from the logical conclusion of meeting someone. I also wanted to extend something enjoyable to the point that it became painful. The audience gets to watch and dance as this all plays out and see how I degrade from energetic booty shaking to barely able to take a step.

The end is always really emotional -- I'm exhausted from both the dancing and being looked at. Both times there was a lot of crying and cheering and dancing at the end when I collapse at midnight. I had one person tell me that while he was watching he didn't know whether what he was feeling were his emotions, mine or the emotion of the collective group in the room.

You went to Art Basel this year, partially to take part in "Bushwick Gone Basel." What did your work for Art Basel involve?
The first body suit I made was called "Alter Overflow" and it was a body suit for three people and worn for three hours. It was made of sheer spandex and black neoprene. Draped overtop myself and one other performer was a mass of six denim jackets that were studded, painted and sewn together. The other piece was at Ms. Fitz's and Christine Tran's show "Bushick Gone Basel" at a venue in Wynwood. I made a wearable painting that hung from the surrounding architecture like a hammock or a sex swing. I was inside of it with both my legs and one arm in the air with most of my weight resting on one shoulder. The only parts of my body you could see were my fingers and toes sticking out of the painting. the rest was covered by painted neoprene and digitally-printed spandex. That one was called "Figure Ground (there is no winning with me)." I wore that for two hours. I was really lucky to have performed when I did -- or at all -- because the venue kicked us out for being too "weird" (read: queer).

Historically the fashion world has been extremely queer friendly -- what role do you think the fashion world has played within mainstream acceptance of LGBT identity?
I think one of the things we are called to do as queer people is to stay visible and endure. I think the fashion world has done an amazing job of making queerness visible. I see it everyday in advertisements and how similar men's wear and women's wear is becoming. I remember watching TV and seeing the "Fab Five" (from "Queer Eye for the Straight Guy") give make-overs to straight men and that being kind of my first introduction to gay male culture. Now that show seems so limited and contrived but it was important for what it was. It put five super cute gay dudes in the homes of families across the country.



At HuffPost we've seen an emergence of clothing lines that cater to queer and trans bodies whose needs aren't met by traditional designers. Do you think we'll see more of this in the future? What does this say about the future of fashion?
I think businesses and projects like this are incredible. It shows a real attitude change in this country in regards to the LGBT community. I think that gender-bendy garments have existed in the mainstream and straight society for a long time, but that they were always "wink wink nudge nudge." That kind of queer representation had to fly under the radar and only be recognizable to people in the know. An iconic example of this is the hanky code which is has now been replaced by your cell phone apps which ironically also sits in your back pocket. Now all of that seems obsolete and you can have a successful business model that has a queer buyer in mind.

What's next for Vincent Tiley?
I recently got taught how to make Latex gear from the Baroness in the East Village. I love the look of latex and how far it can stretch. I also like how you can paint with it or do screen prints and then it dries and becomes material to then make clothes or sculpt with. I've got a lot of plans for things I want to make in latex.

Also, to bring this full circle, I am writing a queer sci-fi movie called "Virgo," which will have a bunch of costumes I will make and art-work by me and other artists that will be used as props and sets in the film. It takes a lot of inspiration from "Sailor Moon" and other stories of powerful young girls that form magical teams of friends. I'm currently casting the characters right now. I hope to start fundraising in spring and shoot it in the summer.

Want to see more Vincent Tiley? Head here to check out the designer's website.
Kitschy Heels, Bright Hats And More Fabulous Accessories Of The Week (Sun, 21 Dec 2014 07:00:16 -0500)
A great accessory can make an outfit. A bad one can certainly break it.

Thankfully, this week we mostly saw amazing outfits. We spotted Jourdan Dunn in the coolest heels ever, Jennifer Lawrence went incognito in a felt hat and Sienna Miller proved that nothing stands between her and her high heels.

Check out our favorite accessories of the week and let us know which are your favorite.

Jennifer Lawrence's Rag & Bone hat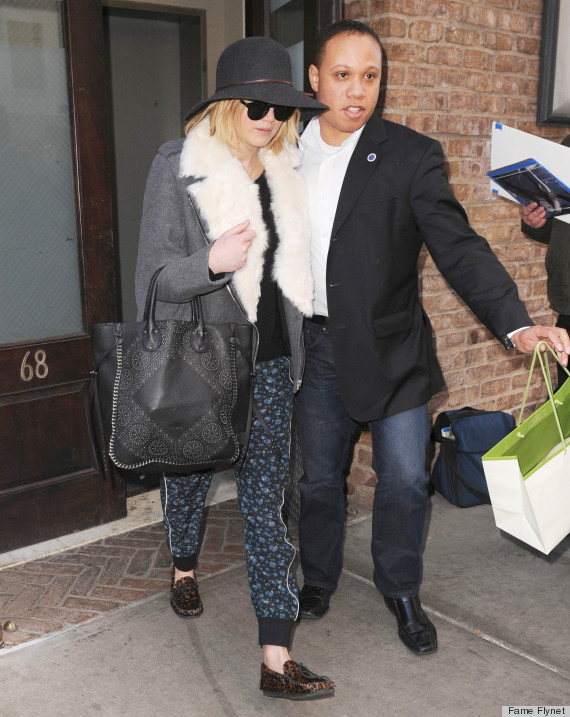 A J.Law sighting is so rare -- especially off the red carpet -- so we were obviously thrilled to catch a glimpse of her amazing street style this week in NYC. That hat is the perfect winter topper.

Taylor Swift's hat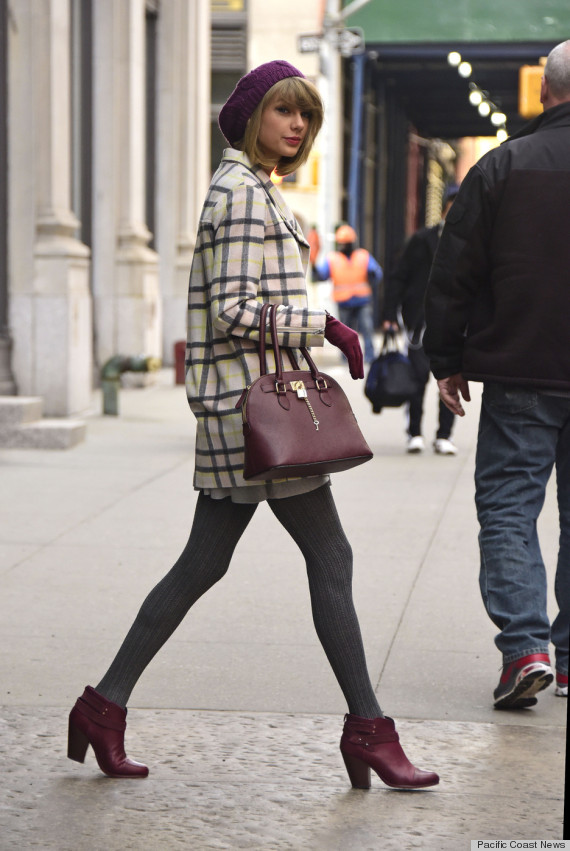 It may seem odd that Swift paired a bright knit hat with her otherwise neutral outfit, but we love it. So nice to see a pop of color in a sea of sameness.

Sienna Miller's pumps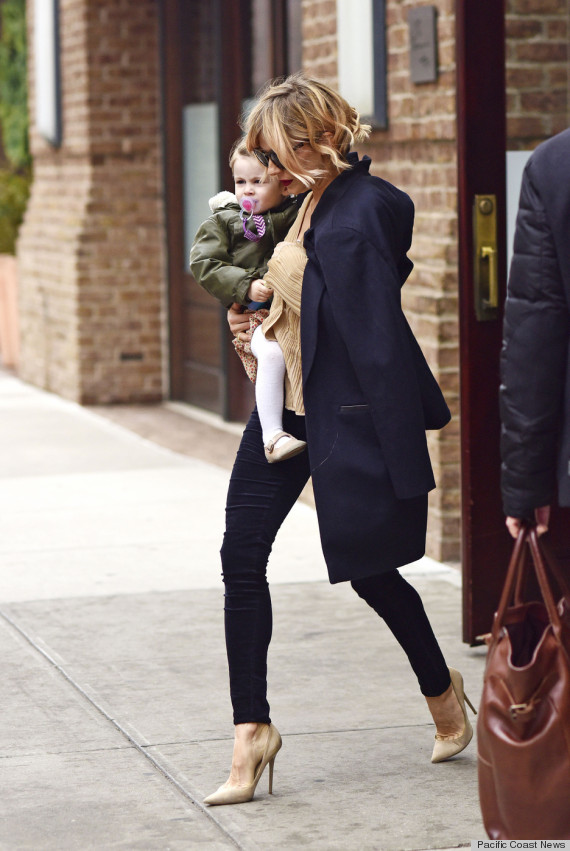 Who says winter calls for boots? Nothing looks more chic than nude heels (at least until the snow comes!).

Rita Ora's necklace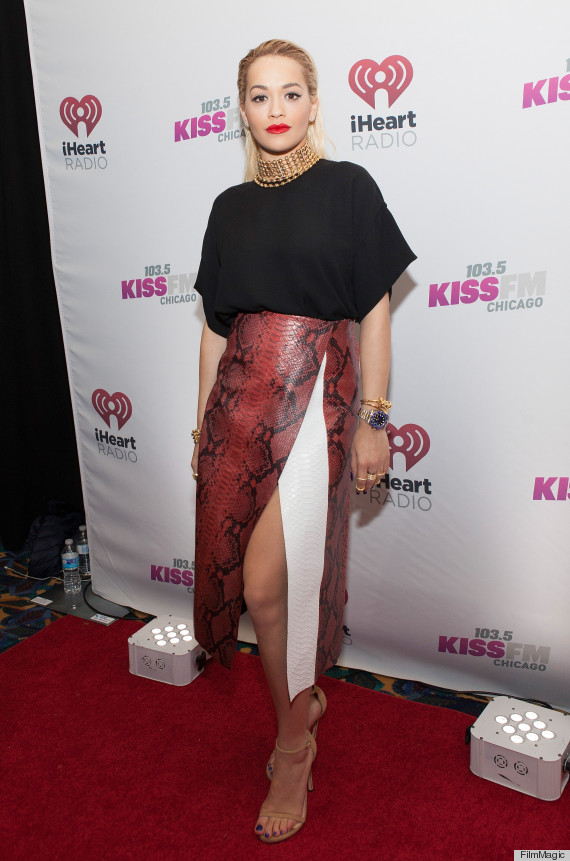 We don't know about you, but we still love chokers. Ora's gold beaded number totally amps up her outfit.

Jourdan Dunn's Sophia Webster heels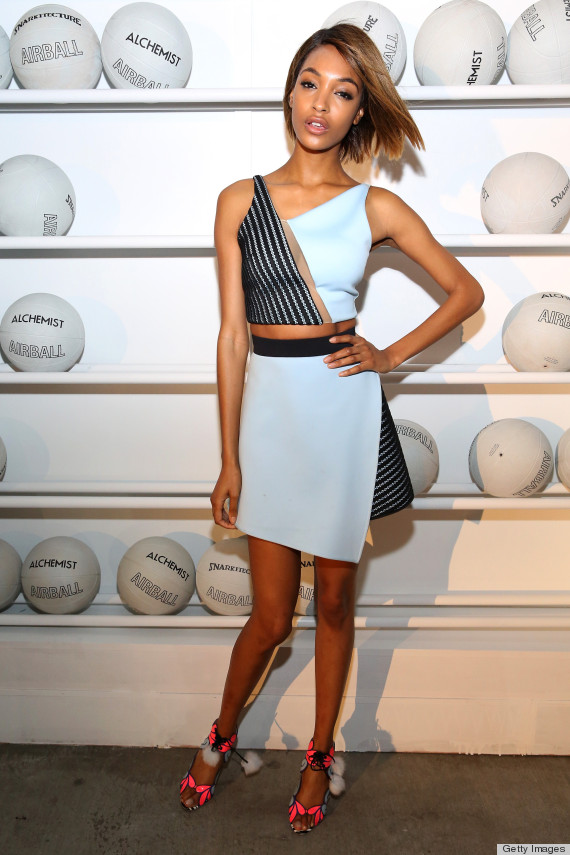 These neon pink and blue heels with kitschy pom-poms are everything.
20 Impressively Chic Outfits On Instagram (Sun, 21 Dec 2014 07:00:16 -0500)
It's official: The cold is here and Instagrammers are well into their winter wardrobes. Well, with the exception of you West Coasters.

If you're running out of outfit ideas, there's no other place like the depths of Instagram to get the creative juices flowing -- you can go cozy with an oversized sweater and beanie, or channel your inner minimalist with a structured jacket and turtleneck. If there's one thing we love about cold temperatures, it's all the choices available.

We're just trying to keep up. Scroll down for some insanely stylish inspiration.


14 Hair & Makeup Looks We'll Never Forget From 2014 (Sun, 21 Dec 2014 07:00:16 -0500)
We can all agree that when it comes to the best and worst beauty looks of 2014, celebrities definitely took more risks.

Whether it was the necessary shedding of layers (ahem, Kim Kardashian's "natural" hair and makeup) or experimenting with wacky hair colors (yeah, we're looking at you Jena Malone and Zosia Mamet), there weren't any dull moments on our beauty list.

As we place bets on the haircut or lipstick color that will define 2015, let's take a moment to reflect on the beauty looks from this year that made a lasting impression.


6 Frugal and Fabulous Last Minute Christmas Gifts (Sat, 20 Dec 2014 17:55:36 -0500)
I'm already done with my holiday shopping, but I understand that some of you out there can't read a calendar and always need to do things at the last minute. So for you, I made a list of my favorite last minute gifts. It's kind of like Oprah's favorite things list, but not everything costs more than the average person earns in a month. In fact, nothing on my list costs more than thirty bucks. So as long as you have a mall in your town, you can find these items at the very last minute. I'm still not sure why you want to wait to buy presents, but that is your business.

Clinique Chubby Sticks
What woman doesn't want a chubby stick? Get your mind out of the gutter. Women want these chubby sticks because they are purse worthy and safe for travel. Clinique makes eye shadow, lip stick, and blush chubby sticks. They have no applicators and do not require sharpeners.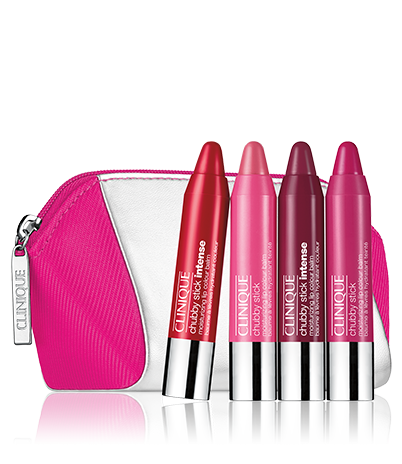 Bath and Body Works Vanilla
I love Bath and Body Works Vanilla lotions and soaps. They even have candles that will make your whole house smell like a bakery. So stop watching that Elf marathon and get over to the Bath and Body Works store now. Be prepared for 782 salespeople to "help" you, though. If you don't like to talk to people much, like me, you may want to pretend to speak a language other than English. Warning: do not pick Spanish or French.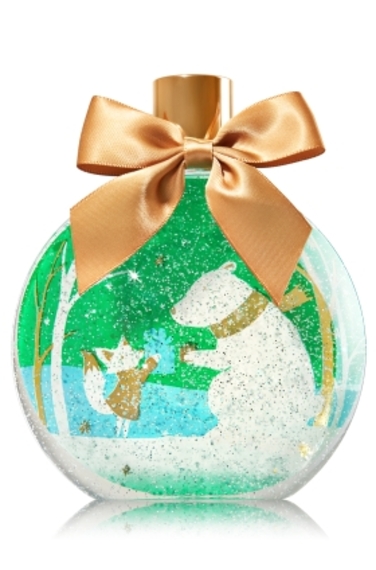 A Great Book
Almost everyone likes to read. Personally, I don't trust people who hate books. Most of the people on your list would enjoy a book of some sort. Stephen King books usually suck me in like a black hole. My favorite Stephen King book ever is 11/22/63. I could not stop reading it. If self-driving cars were real, I would have read while driving. It's that good.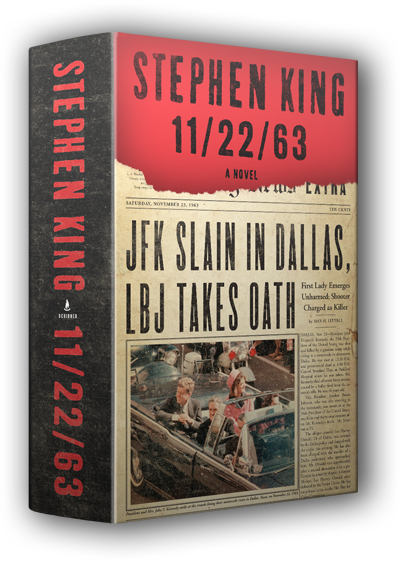 Gift Cards
Just about any human would appreciate a gift card. If you have dogs or cats on your shopping list, DO NOT get them a gift card. They will eat it. Humans, on the other hand, will find them quite useful. There are a lot of different gift cards out there. Grocery stores and drug stores usually have a display of them, so you don't even need to go to a particular store to buy one. You can also buy them online, but at this point, there's a chance it won't arrive before Christmas. So, put down that cocoa and put on some pants, and get out there. You've got cards to buy.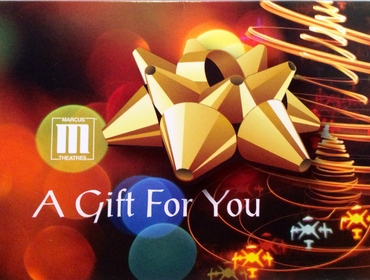 Music
Music is one of the best last minute gifts because it can be delivered instantly. You can purchase an album online and have a link emailed to the gift recipient. Then, they can download it to their iPhone or other non-Apple device. Yay for technology covering up for your procrastination!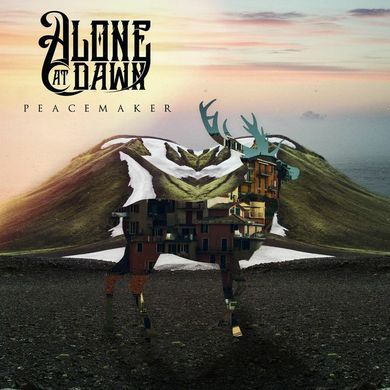 Be Betty Crocker
You could bake cookies, or a cake, or maybe a pie, depending on your skill level. Personally, I can make tasty cookies, but they tend to look like something the dog tracked through the house. If you enjoy baking, are low on cash, and have a few hours before gift giving time you could bake some holiday magic in your kitchen.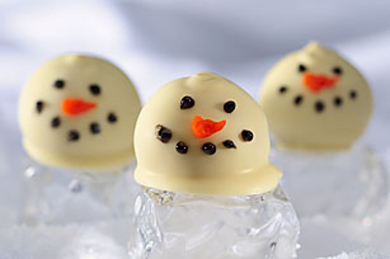 There you have it. I just saved your behind. You're welcome. Aren't you glad you waited until NOW to buy Christmas gifts? Now, put the glowing screen down and go shopping. I hope you can get a parking space.

Disclaimer: I have purchased everything listed because I love these products. I am not being paid by any of the companies above, especially the Kraft people. They would not pay me to advertise their holiday creations because my Oreo snowmen would look they stepped out of a snow zombie apocalypse.

Lisa R. Petty is a former stand-up comedian who decided she would rather just write funny stuff than deal with drunk people touching her after shows. When she is not cracking inappropriate jokes, Lisa is an online English professor. You can read more of her snarkasm at Petty Thoughts.
8 Holiday Beauty Hacks Every Woman Should Know (Sat, 20 Dec 2014 13:00:16 -0500)
The holiday season is here, and chances are your social calendar is filled with everything from after-work cocktails to family get-togethers. Ready to be the life of the party? We've got you covered with eight beauty tricks (think gilded eyelashes and slip-on braids) that are as unexpected as they are festive. And if you're worried about lipstick smudges and creasing shadow ruining your good time, fret not -- we've borrowed a few hacks from the pros to ensure your makeup will last all night long. Now all you have to do is prepare to make an entrance!
The Best Way To Decorate Using Your Holiday Cards (Sat, 20 Dec 2014 10:45:08 -0500)
We know you love reading about what your friends, family, neighbors, and their cats have been up to this past year, but by this point in the holiday season, the mantel is overcrowded, your entryway console has organization issues of its own and you're on the hunt for another way to keep that mountain of holiday cards in check.

Step away from the recycle bin. (Your sister-in-law has been planning that family photo for months, after all.)

Brian Patrick Flynn at HGTV Holiday House, has a better idea: A holiday card Christmas tree that's easy to make, light to hang and perfect for showing off your little paper treasures. Check out the video above for the how-to.

Best Tweets: What Women Said On Twitter This Week (Sat, 20 Dec 2014 09:47:24 -0500)
The holiday season is officially here. Mary Charlene is definitely in the Christmas spirit, tweeting: "My ugly Christmas sweater perfectly matches my ugly personality." Oh.. adorable.

Twitter user Tammy is celebrating a bit differently this year, tweeting, "Tequila has never made my clothes fall off. // Challenge accepted." Sounds like a great way to ditch that ugly sweater.

For more great tweets from women, scroll through the list below. Then visit our Funniest Tweets From Women page for our past collections.


Follow HuffPostWomen's board Funny Tweets From Women on Pinterest.
Men's Tailoring: Your Expensive But Outdated Suits And Coats Resurrected (Sat, 20 Dec 2014 09:06:16 -0500)

Let's talk men's tailoring, shall we?

Don't dismiss those hand picked pieces of couture-quality clothing jewels in your closet just yet! Are your high-end, trophy clothes of seasons past completely irrelevant in today's male fashion market? Women have complained for years about seasonal clothes becoming un-wearable. Hemlines go up three inches while pant legs go from flared to pegged in the span of one runway show.

Historically, men's clothes never really changed that rapidly in regard to fit. Noticing my "over there" closet section was getting bigger, I knew something had to be done. Those one-of-a-kind Giorgio Armani rare linen jean slacks with the wide legs screamed money, money, money. Or at least finger-on-the-pulse at one time in fashion history. And the snappy blue blazer that once seem "tailored" at crotch-length now felt four inches too long, never to be worn again.


What about that purple label Prince of Wales check shirt with rare plum hue? It also was considered "fitted" half a decade ago. Now? It has two inches of fabric on both sides of my ribcage and rests inches above my knees. Each year thereafter, a fitted shirt design may not only fit great, designers continue to size down in inches at every possible point on the body--every year. The length hovers below the waistline and has little to no extra fabric at the lower back. The sleeve length is shorter and more tapered to the arms. The side tapers are more hourglass and hug the body. I thought boys turned into men. It appears our clothes are we're headed for the reverse!

Don't get me wrong -- I'm not complaining at all. In fact, I love the updated, compact clothing craze. Although I haven't polled much taller, broader men, I've noticed the XL sizes on the rack are still rather small (short and fitted). Because I've accidentally picked them up, thinking they could fit. Now you can wear many of today's "regular cut" shirts and jackets without looking like you're wearing your older brother's clothes, having much less excess fabric to contend with. But you're probably not trying to hide it like Houdini; the fabric.


What I like about new fashion (or sizing) is that I no longer have to tuck what seems like a roll of paper towels into my underwear to keep my shirt from ballooning. Nor do I have to exercise origami with do-it-yourself darts on the lower back of my shirts. I can now wear my (new petite) shirt out and still look "not disrespectful".

The real question is, what do we do with those $2,000 overcoats that look like refrigerator covers? Well, even if you acquired it at a Barney's clearance sale, chances are you still want to wear it. Or what about that jacket that fits amazing in the arms, armpits and chest--but it's just seven inches too long and three inches too wide (on both sides)? Alter it! Men's coats and jackets are quite fitted now. More hourglass shaped and much shorter, often above the knee.

Not all pieces are worth reconstructing (tailors really vary in pricing), but a good tailor will help you through this if they have an eye for fashion. Or fit. Or rare fabrics. If you're like me, this may have been on the backburner for some time. I also counted nearly 40 really nice shirts in my closet's Siberia that could all use darts, they were so big. Or is it the "skinny" cut khakis that aren't allowing the extra handfuls of fabric? Both, really.

I've used tailors for many articles of clothing. But if you're like me, you don't just take your high-end pieces anywhere. So I'm walking up Fifth Avenue in New York City when I look up to see a very tasteful tailoring boutique in a beautiful building. Big windows. Private. This is when I love an iPhone. "Wilfred's Tailors". Snapped a picture of the signage. Google'd them and found lots of "best of" accolades including from several national men's fashion magazines.

Months go by. After all, it's spring and I have to haul all these misfit clothes. So when I arrive after Labor Day, not only was I welcomed, Wilfred and his staff were excited about the challenge. Here was the task: A camel color opera coat with red satin lining--a real "mogul coat" as my friends like to say. It was a cherished gift from an Austrian royal, handmade by Turnbull & Asser in England. Also in dire need was an Armani Collezione silk summer suit. Beautiful? Yes. But shabby chic in Miami Beach, circa 2006, meant you were not only swimming in pools, but also surfing in your suits. I was a little embarrassed. But how many true "summer suits" do most of us have? Exactly.


This many cuts in a garment is more like a transformative surgery. My thought bubble: The tailor's staff must be having an eye-roll, belly-laughing hey-day! Instead, they were very courteous. Upon meeting Wilfred, I knew immediately I was in good hands. Check that--great hands. He's kind, respectful and confident in his craft and abilities. When he pulled up the shoulders of my Armani jacket four inches like a doorman behind the velvet rope, I knew he knew what to do. "See how well this is already fitting?" says Wilfred with a smile. I'm thinking, "How did I ever wear this suit?" A Valentino version of Edward Scissorhands came to mind. For starters, my summer suit was too wide and too long with a droopy crotch. The lapels, the shoulder padding and the pleats in the pants--all of it, was just so wrong. By 2015 runway standards, this was a stodgy nightmare. And it really aged me, to boot.

Now, the mogul coat: A total redesign! We went from a huge, floor-length, tied-at-the-waist overcoat (that looked more like a DVF wrap-blanket) to a centered, three-button, cinched at the waist masterpiece. The lapels were minimalized, while the new sewn-in belt gave substance and shape to the back and sides. The length was shortened from below the ankles to just below the knee, making it more practical and comfortable--less of an occasional, formal coat and more of a sophisticated, every day executive image. Honestly, he must have removed more than a square yard-and-a-half of fabric. Finally, my museum piece morphed into an elegant coat I could actually use--frequently.

Was I happy? Yes. Elated! In short, certain pieces require a couple fittings and you must have patience if you want to salvage your expensive clothing. In this case, $7,000 worth of patience -- as my budget didn't include clothes shopping. Ultimately, I was walking tall in garments that were resurrected beautifully. They fit my body perfectly, looked current and appeared even more expensive. So, next time you're editing your wardrobe be thoughtful when deciding what goes in the trash, what gets donated and what gets recycled. There may be more life left in your well-made clothing items from seasons (or decades) past. Thank you, Wilfred's Tailors.

Now, if "custom tailoring," "made-to-measure" or "bespoke" send you in the opposite direction, I urge you to think again. With personalized, made-to-order clothing becoming more commonplace, the pricing has subsequently become much more affordable. Perhaps you'll have to shop it out a bit or take advantage of introductory pricing with an emerging designer or brand, but the truth is, sometimes buying off the rack is more expensive -- often, much more. And the fit will likely require tailoring of the sides, cuffs and length. Yes, having your forms, patterns and sizing already pre-formatted means you can adjust your wardrobe (and add to it) at a moment's notice while keeping up with seasonal shapes and colors. Collaborating on the same floor as Wilfred's Tailor is Kamaal Kadri. Aside from being a gifted clothing designer, he's globally fluent in men's fashion. A brief conversation with Kamaal and you'll realize he could quote every tidbit of shape, length or seasonal "it" color from every menswear collection dating to the last century. Beginning his career in his father's bespoke menswear shop in Bombay, India, Kamaal's passion for custom clothing runs in his veins and family heritage. After graduating from the prestigious Fashion Institute of Technology (FIT) in Manhattan and stints with Kenneth Cole and Michael Kors, Kamaal revels in shaping signature styles -- your bespoke style.

Initially, my mind was closed to the idea (the cost) of opting in to bespoke shirts, shoes, jackets and suits. While many are still coming out of the financial crisis of the past decade, I too spend nowhere near what I used to on signature garments. But even today a good suit on clearance can cost $400 to $1,000 or more. I know, because I perpetually keep an eye out. Then Kamaal explained the pricing and I was pleasantly surprised. With custom shirts using top-shelf cottons starting at $135 and entry-level suits from $850-$1,250, I felt I was at or below the upscale department store price range, considering the time and costs further alterations and the running around from store to store or online retailer entails. Plus, once you see what a bespoke designer can do for you and your image, you'll suddenly understand the value of clothes that fit great and stand out -- even if you wear less outfits. This is where your shoes, belts, ties and cufflinks help the several looks pop. Suit jackets can morph with jeans when you remove a tie and go hipster with shoes.

Details such as sewn-in pocket squares (which can also tuck away), collar linings, notched lapels (special button holes), special linings and colored contrast holes on sleeves are the options that make your fitted clothing say made-to-order. Or go hi-tech with an additional media pocket that fits your mobile device. What I can say about fitted clothes is you simply feel good, can move freely and just evoke an inner confidence. I wore three custom shirts for two years before I said "enough of this..." So maybe your entire wardrobe won't be fitted to your body, but having your form measurements on file gives you that extra edge. If price is a concern, convey your wishes and talk to your bespoke tailor about the big picture of your wardrobe. They'll probably work with you on packaging pieces and price schedules if you're mapping out your custom collection. Even if it's a few custom garments at a time. Mark my words, the day will come when you will see your tailor and say "make me a suit." And that'll be a very good day indeed.

Read more about managing your retirement and personalized lifestyle stories at; http://nowitcounts.com The Destination For Americans 50+.


Earlier on Huff/Post50:
HuffPost Style Editors Team Up With The Style Line And Talk Fashion, Food And Festive Attire (Sat, 20 Dec 2014 08:07:43 -0500)
The Style Line is not your average fashion blog. What started as a humble street style Tumblr in 2011 when creator Rachel Schwartzmann was just a senior in high school, has become a full fledged website celebrating both style and substance.

"I see it now as an online lifestyle resource with an unfiltered view into the who rather than the what," Schwartzmann told HuffPost. "We tell our stories through a style lens but hope to share fashion content in a people-first approach. I make sure to take a community-building approach to how and what we feature and that in turn has allowed us to meet interesting people from a myriad of industries across the globe."

In other words, The Style Line's mission is to tell the story of the person beyond just what they are wearing. Mission accomplished.

The site, whose name is a nod to the NYC transit system and inspired by the idea of movement and exploration, has profiled a slew of fashionable and creative global citizens including fashion designer Nanette Lepore, West Elm's creative director Vanessa Holden, Reformation's Brianna Lance and the team at Nasty Girl -- just to name a few. And now you can add the HuffPost Style team to that awesome list.

Last week Schwartzmann and photographer Christina Emilie visited us at The Huffington Post offices to get the scoop on our personal style, what makes us tick, our favorite things, and dressing up for the holiday season. The result is a super fun look into how we work, play and sometimes twerk our way through life.

Here's a sneak peek, but make sure to head over to The Style Line and check out the oh-so-fabulous feature!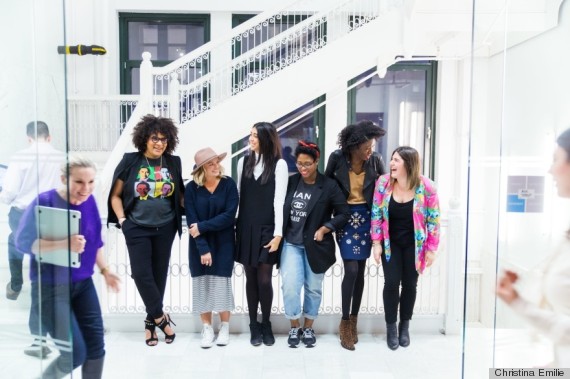 Leave It Up To Kendall Jenner To Make Traveling In Spandex Look Cool (Sat, 20 Dec 2014 08:00:16 -0500)
While there's something to be said for dressing up when traveling, there's no reason to sacrifice comfort. That's especially true with the abundance of layovers that occur this time of year. For a perfect example of how to do it right, look no further than Kendall Jenner, who wore Lululemon leggings -- the very same ones you probably wore to yoga this morning -- for a cross-country flight.
You'll Be Adding To Your Christmas List After Seeing Our Cheap Celeb Finds Of The Week (Sat, 20 Dec 2014 07:00:16 -0500)
You may have already finished buying all your Christmas gifts, but after seeing our cheap celeb finds this week, we have a feeling you're going to want to do more shopping... for yourself.

Reese Witherspoon was spotted in not one, but two affordable items that we want (and both are under $100 so it's not completely out of the question) and Taylor Swift had us lusting after an adorable baby blue ASOS coat that only set her back $72.

Check out all the other amazing (and affordable) items we saw on our favorite stars and let us know which ones you're coveting.


This Is The Magical Process Behind Making A Ballet Tutu (Fri, 19 Dec 2014 22:40:59 -0500)
A tutu is a magical piece of clothing that transforms ballerinas into black swans and sleeping beauties. So it's fitting that the process of making the ruffled skirts is just as sensationally beautiful as the final product.

LA Weekly recently profiled a tutu seamstress by the name of Sarah Bacon. Based in Los Angeles, the skilled artist creates costumes for the few lucky students who are lucky enough to nab commissions before Bacon's schedule is filled. She makes "a handful" of skirts a year, because -- as you can see in the video above -- piling fabric upon fabric into waves of color is not an easy task. In fact, it's roughly a thousand dollar-task.

h/t Jezebel