Style news and blog articles from The Huffington Post
Published: Thu, 27 Aug 2015 21:02:46 GMT
Weekly Roundup of eBay Vintage Jewelry Finds (Thu, 27 Aug 2015 20:15:28 GMT)
No time to page through thousands of eBay listings? Then just sneak a peek at my Weekly eBay Roundup of top vintage jewelry finds.

The antique and vintage jewelry items in this eclectic mix caught my discerning eye because of their uniqueness, contemporary feel or highly collectible nature.

As always, buyer beware! Be sure to read the listings closely and contact the sellers with any questions.

This week's Roundup includes lots of great items. Don't miss the Diane Love for Trifari necklace, the 1990s Chanel starfish pin, the 1940s Tiffany diamond leaf brooch, the Lanvin necklace set, the David Webb jeweled ring, the 1879 mourning bracelet, the Karl Lagerfeld tassel necklace, the Vendome necklace and the Schiaparelli necklace and earrings set.






GET READY, GET SET, BID!!!
(Click on Pic for More Info and Auction Links)



Which item is your favorite? Leave me a comment below to let me know.

Did you know you can receive the eBay Roundup of Vintage Jewelry Finds and other eBay Roundups via email? Sign up here. Your information will never be sold or shared and you can easily unsubscribe at any time.

DISCLOSURE: Editorial selections are made by Zuburbia with no direct promotional consideration from the featured eBay sellers, however Zuburbia may receive revenue as an affiliate member of the eBay Partner Network.

PLEASE NOTE that Zuburbia does not endorse the use of coral, fur, feathers, leather or animal skins in fashion. Any of these selections are offered only as more thoughtful and eco-friendly alternatives for contemporary fashionistas who have not yet eliminated animal products from their wardrobes or for collectors who are seeking to preserve these items.

-- This feed and its contents are the property of The Huffington Post, and use is subject to our terms. It may be used for personal consumption, but may not be distributed on a website.





Rob Younkers and Joe Zee Dressed Their Dogs and Pamela Hanson Was There to Watch the Whole Show (Thu, 27 Aug 2015 20:05:39 GMT)


These two -- Rob Younkers and Joe Zee! Best in their biz, celebrated fashion and creative directors, TV personalities extraordinaire not to mention BIG dog lovers. So we at Mrs. Sizzle asked Pamela Hanson to join us for a doggie play date at their apartment and we had NO IDEA how much fun it would really be. Of course they played dress up! See below for some of the q's we asked about the dogs but as not to belabor here is the fruit of our visit -- the cutest vide I have ever seen!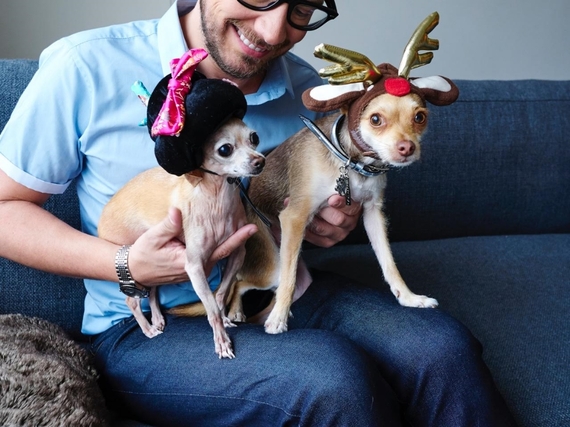 Mrs. Sizzle: How old are the dogs?

RY: What we say of Prokchop is, "a lady never reveals her age," and Cornelius is 2.

Mrs. Sizzle: What are your favorite outfits?

RY: Cornie a red American Apparel hoodie and Porkie, her velvet/plaid "Sarah Jessica barker" dress. But if I had to really be honest, naked or dressed, they prefer to be naked!

Mrs. Sizzle: Their favorite food is?

RY: Egg whites.

Mrs. Sizzle: Their favorite TV show is?

RY: The Today show.

Mrs. Sizzle: Their favorite babysitter is?

RY: Uncle Paul Stura.

Mrs. Sizzle: What do you think your dads look best in?

RY for the dogs: "Anything cozy we can snuggle up to them in!"

Mrs Sizzle: When are you the happiest?

RY for the dogs: "Anywhere we can have fun in the sun!"

Thanks boys for the amazing visit!
-- This feed and its contents are the property of The Huffington Post, and use is subject to our terms. It may be used for personal consumption, but may not be distributed on a website.
Why New Models Are Embracing the Buzz Cut (Thu, 27 Aug 2015 19:55:45 GMT)
by JANELLE OKWODU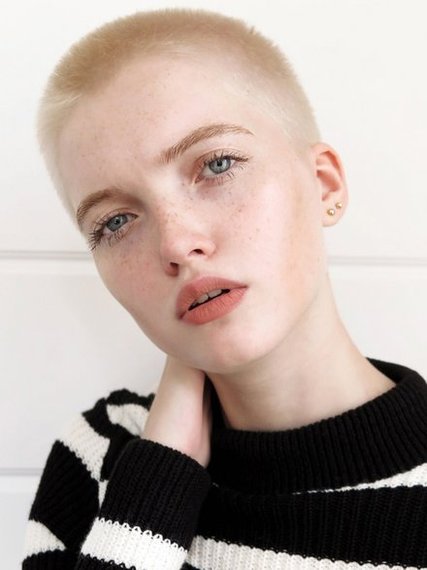 Photo: Courtesy of the Society Management.

Shockwaves went through the fashion industry in the early nineties when Eve Salvail first appeared on the runway with a shaved head, her head bare save for a curled dragon tattooed on her scalp. Her hair, or lack thereof, stood in direct contrast with the lengthy, ultra-feminine locks of the era's supermodels -- think Christy, Cindy, Naomi, Stephanie, and long, swingy sheets of hair. Two decades later and long hair is still the default for new models, whose agents praise its versatility: With fashion shows and editorials requiring models to be quick-change artists, longer hair can more easily lend itself to the required transformations. As a result, agencies have historically preferred that models play it safe. But the current fixation on models with "personality" has given rise to a set of beauties who follow in the footsteps of trailblazers like Salvail. African models like Grace Bol, Herieth Paul, and Ajak Deng have been wearing their hair super short for years, but only recently have their peers followed suit. Rising stars Tamy Glauser, Ruth Bell, and Kris Gottschalk have all embraced the buzz cut -- and seen their careers skyrocket as a result.

Close-cropped hair has long been a signifier of punk rebellion and offbeat cool, so it's fitting that designers who understand the importance of carefully curated edge have sought the models who dare to shear: Glauser is a regular at Rick Owens and on Nicolas Ghesquière's runway for Louis Vuitton, while Gottschalk was tapped to model alongside the boys at Public School's show at men's New York Fashion Week, and Bell cut her chest-length strawberry blonde hair to front the latest campaign for Alexander McQueen. As it turns out, having a shaved head has become something of a savvy career move: It not only attracts cooler clients, it also serves to set a model apart from the hundreds of other girls on the scene. "There are hardly any other models with a shaved head," says Gottschalk. "It's interesting because other girls don't really see me as competition -- I don't get those sideways glances at castings."

Bell's newly shorn hair also helps to differentiate her from her twin and fellow model, May. Born and raised in Kent, England, the sisters began their fashion careers together often photographed as a pair -- they even share an Instagram account. Since her pixieish Paul Hanlon buzz cut, Bell has been carving out a niche for herself, working with the likes of David Sims and Lachlan Bailey and, yes, forming her own social media account -- one filled with shots of her as a moody, punkish gamine, rather than the more traditional, whimsical images that fill the account she and her sister share.

Glauser, likely one of the originators of the current buzzed-off trend, got her fade from a friend. "I had been talking about wanting to cut my hair forever, but I was too scared," admits Glauser. "One day my friend just picked up scissors and cut my hair right down the middle -- there was no going back." Over time the look became Glauser's signature: Occasionally the color will change -- earlier this month she debuted a platinum hue -- but the length rarely varies. Though she's benefited from her now-trademark daring do, Glauser cautions those attempting to emulate it. "[Shaving your head] is a risk, you never really know how it will look until that moment of truth." Still, the model has no plans to revert to her old style. "It just feels too amazing short -- I might let it grow a centimeter, then it's time to shave again!"

More from Vogue:
Who's Your Fall Beauty Muse? 13 Vogue Editors Name Their Favorites, From Ali MacGraw to Kurt Cobain
How Emma Watson Does Ladylike Beauty--With a Laid-Back Edge
Yes, Gisele Is Good at Everything, Even the Electric Slide
Serena Williams and Drake and 6 Other Tennis-Celebrity Power Couples
How This Throwback Accessory Became One of Fall's Coolest Trends
11 Red Carpet-Ready Dresses for Your Next Big Party
-- This feed and its contents are the property of The Huffington Post, and use is subject to our terms. It may be used for personal consumption, but may not be distributed on a website.
My Secrets Hide in Plain Sight. In My Hair. (Thu, 27 Aug 2015 18:50:44 GMT)
For the last 20 years I have gone to the same hair stylist in New York City. He is a calm, quiet, tranquil man of few words. His process is meticulous and time-consuming. He looks at my dry curls. I am washed twice, conditioned and returned to his chair for an hour of precision cutting. My coiled, frizzy hair is dried and then flat-ironed piece by piece so it hangs pin straight. Only then does he begin his dry cut. One section at a time and when he gets to the front one hair at a time. It's tiring sitting under the lights with little conversation as he stealthy moves behind me. Every few minutes I catch a glimpse of him peripherally. When he is fully satisfied that my coif is perfectly angled, I am free. Perfect cut it is, but as mentioned, pin straight. Such is not a look that is the look for me. So, up in a ponytail it goes and out the door I go.

I haven't lived in New York for a decade but that has had no effect on my hair. 4-5 times a year I take the train to New York for my cut. Just because I chose Philadelphia for my family, why should my locks loose their whisperer?

Until my 30s I was pretty happy with my hair. Other than wishing every day that it was straight. Still, my curls were nice, I had a lot of them and it wasn't their fault I decided to cut bangs. Or a bob. Humidity is not my friend, rain is my enemy and going from blowout to chia pet in less than 60 seconds is a cool party trick. Straight it wasn't, but a good curly it was.

And then I had a son. And then a daughter. And then my marriage took a slow, winding, treacherous ride down a long dark road. And then, then I picked myself up and put myself back together again. And then I was ok.

This week at the end of my cut, my hair stylist took off my cape, took a long look at me in the mirror and left me with, "Your hair is better, it is finally better. Turn around and look, it's finally better."

Holy crap. All along, my hair held my story, my hairdresser the reader.

2003 - "Ah, you are pregnant."

2006 - "Pregnant again I see."

2010- "You're dealing with stress. A lot of stress. You are loosing your hair."

2011 - "It's still going the wrong way. You've lost half your hair."

20111 - "I can tell you tried something. I don't care what. But don't do it again, it's made it worse. Just leave it, be patient."

2012 - "It's stopped breaking. It's going to start growing back."

2013 - "Look at this, look at the top down to half the length. Fuller, stronger."

2014 - "Better still, we have to keep growing and cutting."

2015 - "We need to cut off a lot this time. 4-5 inches."

August 24, 2015 - "Your hair is better, it is finally better. Turn around and look, it's finally better."

All along he would hand me complimentary bottles of special serums and treatments from his frequent trips back to his native Japan. Serums and treatments without English so what was in them and what they were claiming to do I hadn't a clue. He could tell when my body was brimming with joy, with baby and when he knew when I had lost hope and stopped fighting a fight. He could tell when I picked myself back up and began to come back to life.

He saw me grow back into myself inch by inch. He patiently waited and every few months cut off the dead and sent me on my way. He knew when I tried to hide the physical manifestation of my crumbling life with a band-aid. A curly haired girl thinking an express keratin treatment is the answer to hide her half-full head of hair.

My hair still frizzes the moment it senses moisture and sadly ¼ of my curls decided they want to be waves. Some curls want to curl and then hang straight on the end. Unless I am on a beach, fresh outta the salt water, air-drying is not an option and I spend most days in a bun.

But my hair is finally better, it's all grown back. Different than it was before but healthy and strong.

For the first time in 20 years when I walked out of Eiji Salon and onto Madison Avenue I kept my pin straight hair down. And it looked great.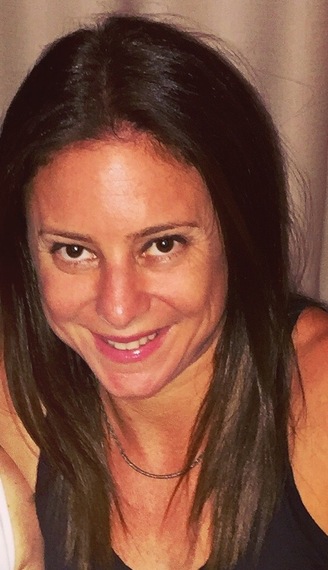 -- This feed and its contents are the property of The Huffington Post, and use is subject to our terms. It may be used for personal consumption, but may not be distributed on a website.
Katy Perry Steals The Show Backstage At 'Finding Neverland' (Thu, 27 Aug 2015 18:49:48 GMT)
Katy Perry was all smiles when she headed out for a Broadway show Wednesday night in New York City. 
The singer wore a low-cut maxi dress with tassels and tousled ombre waves for "Finding Neverland" at the Lunt-Fontanne Theater starring "Glee" alum Matthew Morrison. She posed for photos backstage with Morrison, a group of children and even two dogs.  
Also on HuffPost:
-- This feed and its contents are the property of The Huffington Post, and use is subject to our terms. It may be used for personal consumption, but may not be distributed on a website.
Miley Cyrus Is Hardcore Trolling Us With Threat Of VMAs Debauchery (Thu, 27 Aug 2015 18:30:02 GMT)
With its current lineup of performers, the 2015 MTV VMAs seem to be shaping up to be one of the most lackluster in recent history. That's why it's no surprise that Miley Cyrus' latest promo for the awards comes across as hardcore trolling, in an effort to make us believe some crazy shit is going to go down that will have everyone talking for months to come.
While the Parents Television Council might be concerned by Cyrus' repetition of the words "fuck, shit, bitch," it seems a little desperate on MTV's part. 
Along with the promo comes word from VMA executive producer Garrett English, who told Entertainment Weekly they've given the 22-year-old "pretty free rein" on the VMA stage. 
"Obviously there are standards and various other things that were always a part of it, but no, [no rules] … It never comes from a place of trying to limit the range, it's always coming from a place of trying to open up the full palate," he told EW. 
Well there you have it. There are no rules, because MTV is a cool mom. 
Also on HuffPost: 
For a constant stream of entertainment news and discussion, follow HuffPost Entertainment on Viber.
-- This feed and its contents are the property of The Huffington Post, and use is subject to our terms. It may be used for personal consumption, but may not be distributed on a website.
Nina Garcia Says The Fashion Industry Is 'Already Addressing' Its 'Huge' Race Problem (Thu, 27 Aug 2015 18:22:43 GMT)
From designers to models to business executives, no one could argue that the fashion industry isn't disproportionately comprised of white individuals. Approximately 80 percent of the models walking in the past four New York Fashion Weeks were white, less than 3 percent of fashion week designers are African American, and, as Stylite points out, all but two major fashion magazines featured a white woman on the cover of their September issue. 
"Project Runway" judge Nina Garcia recognizes fashion's lack of diversity, but she sees hope in the progress that's been made already. The Marie Claire creative director explained to HuffPost Live on Wednesday:



I think the industry's already addressing those points of view. I think there's not enough African-American girls on the runway -- that is a huge problem. There's not enough African-American girls on the covers. But that is changing, and really the change has started, so I feel very optimistic.




The lack of diversity extends to fashionistas of different sizes, as women above sample size are rarely represented on runways or fashion pages. While Marie Claire regularly prints a fashion tips column from a plus-size woman, Garcia knows the whole spectrum of bodies is not receiving enough visibility.
"If you think of it, if you came from outer space and  looked at a magazine, you'd be like, 'Everyone is so skinny in the fashion business and everybody in Earth is so tiny!'" Garcia affirmed. "That is not the reality. We all have different shapes and different sizes."
"We need to make everybody aware," she added. "We need more. In all platforms."
Watch more from Nina Garcia's conversation with HuffPost Live here.
Sign up here for Live Today, HuffPost Live's new morning email that will let you know the newsmakers, celebrities and politicians joining us that day and give you the best clips from the day before!
Also on HuffPost:
-- This feed and its contents are the property of The Huffington Post, and use is subject to our terms. It may be used for personal consumption, but may not be distributed on a website.
10 Years After Katrina, Here's Who's Still Helping Rebuild New Orleans (Thu, 27 Aug 2015 18:13:42 GMT)
Ten years after Hurricane Katrina hit New Orleans, claiming almost 2,000 lives and displacing 1 million people, the emotional and physical scars are still visible.
In the decade since, the city has worked to rebuild itself despite widely publicized funding challenges. And in many ways, the it has come back stronger, President Obama told New Orleans residents Thursday:
"Because this is a city that slowly, unmistakably, together, is moving forward."
Here are the groups continuing to help New Orleans progress:
The Louisiana Centre for Children's Rights, a nonprofit law office for minors sent to juvenile court, helped support young people in need following Katrina. It was established at a time when most schools were closed for months, and many young people faced devastating loss, including their homes and families. The model was one of the first of its kind in the U.S. See how you can help here.
Since launching in 2006, the St. Bernard's Project has rebuilt 600 homes in New Orleans for low-income residents whose houses were destroyed by Hurricane Katrina.  The nonprofit held a "48-hour marathon build" on August 26, during which volunteers worked six-hour shifts to rebuild 48 houses within 48 hours. See how you can help here.
New Orleans Area Habitat for Humanity has been working to build affordable homes in New Orleans since 1983. Prior to 2005, the group would build about 10 houses per year. Since Hurricane Katrina hit, the nonprofit has gone on to build more than 400 homes. See how you can help here.
UNITY of Greater New Orleans is a nonprofit organization that provides housing and services to the homeless of New Orleans. Through its Permanent Supportive Housing Initiative, launched after Hurricane Katrina, the organization has created two apartment buildings accommodating low-wage workers and homeless individuals. See how you can help here.  
The Upward Bound Program is currently working with 50 high school students from low-income families in New Orleans, helping them earn undergraduate degrees. Students stay with the program from the beginning of high school until college completion. The program has a 100 percent high school acceptance rate and a 97 percent college acceptance rate. See how you can help here. 
Project Fleur-de-lis, a school-based mental health program, has helped children and their families recover from Katrina. The program is using a three-tiered approach of school, classroom and community-based interventions to help neighborhoods that have been affected by disasters.  Through a federal grant, the project maintains a membership in the National Child Traumatic Stress Network. See how you can help here.
Louisiana SPCA, an animal welfare organization, rescued 8,500 animals after Hurricane Katrina. The organization also successfully lobbied for the "Pet Evacuation Bill" in 2006, which states that companion animals must be included in the government's evacuation plans. Since the storm, LA/SPCA has also been tackling the issue of pet overpopulation in New Orleans and has rescued 16,000 homeless animals. See how you can help here.
Actor Brad Pitt's, Make It Right Foundation has built 100 affordable and sustainable, LEED Platinum-certified houses in New Orleans' Lower 9th Ward, the area hit hardest by Hurricane Katrina. The foundation has also created a "Library and Laboratory" to spur new ideas in green construction, and is planning to build at least 50 more homes. See how you can help here.
-- This feed and its contents are the property of The Huffington Post, and use is subject to our terms. It may be used for personal consumption, but may not be distributed on a website.
Everything You Need to Know About Online Shopping (Thu, 27 Aug 2015 17:58:12 GMT)
The Internet has completely changed the way we find and purchase items, and there are tons of benefits to online shopping. For one, you can compare prices side-by-side so you know you're getting the best deal.

You can also go through an entire catalog online in a matter of minutes in your pajamas (personally, this is one of my favorite things to do on a lazy Saturday morning). And, online shoppers have these items shipped to their doors without having to spend hours in the mall tracking down one particular thing -- not to mention a parking space before they even set foot inside.

Here are a few things to keep in mind while you're online shopping:

Keep an Eye on Spending

Seeing that online shopping cart fill up is great (especially if you are going on a personal shopping spree!). However, doing all of your shopping online can cause you to feel disconnected from your bank account. After all, you aren't physically taking out your wallet and paying for these things in person, and it's sometimes tougher to keep track of online receipts if you aren't organized with your purchases from the get-go.

If you haven't already, make sure to set up an online access to your banking account and download your bank's app to keep track of purchases you make online. If you shop online frequently, it can be tough to keep up with receipts, so seeing all of your purchases laid out in a clear manner helps you make sense of your purchases. Additionally, it might be wise to print or download your receipts just in case you run into issues with your order or shipping.

Don't Go Overboard

Walking into the mall without a game plan is a recipe for overspending. The same goes for whenever you head online to make a purchase. If you are in the market for a specific item and know what amount of money you have to spend, then search away. However, wandering into an online shopping portal without knowing exactly what you're looking for can be very dangerous.

I've been there before, and there's a good chance you have too. I was shopping for cute summer clothes, the cart started to fill up, and then I headed to the online checkout. However, once I got there, I realized that after taxes and shipping, the purchase easily wiped out half of my monthly earnings. Whoops. As fabulous as those beautiful heeled sandals were, they were simply out of my budget and had to go back on the (virtual) shelf.

Shopping is always fun, but you need to stay focused during an online trip in the retail world just as you would in a brick-and-mortar store. Once you begin clicking away, have a rough idea of how much you can spend -- this removes the sticker shock once you're ready to check out.

Read the Fine Print

Taxes and shipping costs can definitely add up, so look at your itemized checkout list to gauge whether it's worth it to order online. In some cases, you might be better off financially by heading to the store and picking the items up on your own.

Look Into Rewards Programs

Some major online retailers have been signing frequent shoppers up for rewards programs, which can save you up to 5% on your overall purchase. While this might not seem like much in theory, it could go a long way during a heavy shopping season (such as during the holidays).

Look for Off-Season Online Sales

If you're in the market for a winter coat -- start your hunt in the summer. A nice coat could be marked down during the summer because it's not in season. You could also start looking for swimsuits and shorts in the winter and find tons of great deals.

Check for Authenticity

Most online shopping portals are secure, but the Internet is not immune to scams. Before you purchase, make sure that the company has a privacy statement, secure online checkout, a physical address, and customer service information like a phone number in case your order is incorrect or gets lost.

Shopping online has a lot of perks, but you'll want to make sure you shop online in a smart and reasonable manner. Abiding by these rules can ensure that you have a safe and secure online shopping experience.
-- This feed and its contents are the property of The Huffington Post, and use is subject to our terms. It may be used for personal consumption, but may not be distributed on a website.
Stuart Weitzman's First TV Ad, And Its Link To TSwift And Beyoncé (Thu, 27 Aug 2015 17:53:18 GMT)
After 30 years in the fashion business, shoe designer Stuart Weitzman is debuting his first-ever TV commercial. The big reveal will happen this Sunday night during MTV's Video Music Awards, however we've got a first look at the Mario Testino-directed ad, which features the brand's current face Gisele Bündchen.  
 Dressed in a black-and-white leotard, Bündchen is joined by several mostly shirtless male models and dancers while showing off some funky footwork in a pair of Stuart Weitzman "Koko" booties. 
A pair of luxury shoes you can actually dance in? Seems like an oxymoron -- but not when it comes to Weitzman's designs. The 74-year-old designer is the man behind the performance shoes for some of music's biggest stars.
In fact, both Beyoncé and Taylor Swift's collection of concert tour shoes are exclusively designed by Weitzman. That's right, every step, shimmy, shake, and spin the singers make are in a pair of Weitzmans. Kate Middleton has even played volleyball in a pair of Weitzman wedges. And that level of comfort isn't just afforded to celebs -- it's the cornerstone of the company's mission. 
"It's a commitment to recognize that there's no logical reason not to give as much attention to the engineering as there is to the designing," Weitzman told The Huffington Post, noting that the value was taught to him by his late father, who was also an accomplished shoe designer and that the comfort technologies he uses are "trade secrets" and "tricks" employed in every shoe he designs. 
"Our DNA has always been, you ladies shouldn't have to sacrifice being able to walk in something in order to look good in it." 
Launching the high-energy ad during the VMAs will no doubt excite loyal Weitzman fans and introduce the brand to possible new (and presumably younger) consumers. It might also inspire other music artists to reach out to the company for some custom performance kicks -- a notion that Weitzman says he isn't yearning for, but is open to.  
"All designers love to be inspired and we need something that drives us," Weitzman said about designing Taylor Swift's tour shoes. "I hope I have opportunities like this continually, because they not only give us satisfaction with millions of people seeing them and her being so happy with them -- but it gives me inclinations to design into the new season based on the taste level of ladies like Taylor." 
"They're the best critiques and when you can satisfy them, generally you can satisfy everybody."
 Also on HuffPost: 
-- This feed and its contents are the property of The Huffington Post, and use is subject to our terms. It may be used for personal consumption, but may not be distributed on a website.
Kelly Osbourne Talks Joan Rivers And Her 'Fashion Police' Exit (Thu, 27 Aug 2015 17:33:11 GMT)
Kelly Osbourne has gone from spunky reality star to fashion icon since "The Osbournes" premiered back in 2002, but according to her new (gorgeous) spread in New Zealand's Remix magazine, the next item on her agenda is to take a little time to herself. 
After 5 1/2 years co-hosting E!'s "Fashion Police," Osbourne announced she was leaving the show in February amidst tensions between her and Giuliana Rancic. 
But while the controversy didn't help matters, Osbourne says she was always planning to leave the show at the end of last season, citing a lack of free time over the past seven years and the fact that the show is now missing its fearless leader and Osbourne's mentor, Joan Rivers.
"You try working with someone that you love and then going into the same studio [without her]. I couldn't, I didn't want to. I was ready to go," she told the magazine. 
Osbourne has found herself at the center of her own controversy recently, following what, in an interview with Extra she called a "poor choice of words" during an appearance on The View and "doesn't reflect my opinion at all." When asked by Remix to comment on Rancic's words, she simply said, "people are responsible for their own words so I couldn't give a f**k about that."
Clad in designs by both U.S. and New Zealand designers, Osbourne, who has a fashion line of her own, looks as gorgeous as ever (that skin!) and says she has always played by her own rules when it comes to fashion, specifically referring to her now infamous hair cut and color. 
"I've always been very independent in my sense of style, it's just that not everyone gets it. I'm going on six years of this colour hair and it's only now that I'm getting credit," she said.
Also on HuffPost Style:
-- This feed and its contents are the property of The Huffington Post, and use is subject to our terms. It may be used for personal consumption, but may not be distributed on a website.
This Stylish 'Hipster Grandpa' Is Way Cooler Than All Of Us (Thu, 27 Aug 2015 17:01:59 GMT)
Move over fashion grandpas, we have a new style star. Meet Günther Anton Krabbenhöft, a stylish so-called "hipster grandpa" who's taking the Internet by storm. 
Usually spotted around Berlin, Germany in a vest, bowtie, fun socks and cuffed jeans, Krabbenhöft has impeccable street style. From his hat and wire glasses all the way down to his shoes, Krabbenhöft has his look down. To be honest, we're just surprised that this gentleman doesn't live in Brooklyn. 
"I adopt from conventional men's fashion, but I like breaking formal style with unique details," Krabbenhöft told The Huffington Post. "Clothing was always my subject-matter. Now at my age, I find this style the most successful."
While he may look like a million bucks,  Krabbenhöft keeps it real: "I have only a limited amount to spend. Therefore, it's important that it's good and inexpensive."
Krabbenhöft said he draws style inspiration from the 1920s, '50s and '60s, though he's perfected his look over the years. "To dress [for] myself was always accompanied by my innermost feelings. My feeling also tells me when it's just right. The feeling is mostly spot on." 
But the "hipster grandpa" tag that's attached to him? He's not a fan.
"Hipster? What an unfitting description for me," he said. "I'm just a very ordinary old man who simply likes to dress individually and has a overwhelming fun in life."  
Krabbenhöft won't deny that he's a grandfather, though. He has two grandkids, aged 15 and 22. 
While some reports have circulated that this street style star is 104 years old -- he declined to reveal his age to HuffPost -- Berlin photographer and blogger Björn Akstinat shot those rumors down. 
"Günther is one of the most fashionable men in Berlin. Photos of him go viral in the Internet," said Akstinat on his street style blog, Shickaa. "Some assume that he is over 100 years old. That's nonsense, of course."
Well, one thing is for sure -- this grandfather is way cooler than all of us. Check out more of Krabbenhöft's stylish looks below, and remember to take notes, people. 
To see more photos of Krabbenhöft, check out his profile at "We Are Unlike You."  
Also on HuffPost: 
-- This feed and its contents are the property of The Huffington Post, and use is subject to our terms. It may be used for personal consumption, but may not be distributed on a website.
Meet The Makeup Artist Who Painted Grace Jones' Naked Body (Thu, 27 Aug 2015 16:31:18 GMT)
The editors here at The Huffington Post are still in shock over seeing Grace Jones up close and personal at AfroPunk Fest 2015 last weekend. The 67-year-old entertainer put on a killer show, belting out classic hits like "Nightclubbing," "Private Life" and "My Jamaican Guy" in the Brooklyn heat. Not to mention, watching her hula-hoop without skipping a beat as she performed "Slave to the Rhythm" is forever etched into our memories. But we're pretty sure makeup artist Robert Greene had the most epic Grace Jones experience at AfroPunk.  
For the show, Greene was tasked with painting Jones' body to recreate a 1984 photo shoot she did with renowned photographer Robert Mapplethorpe, who captured Keith Haring's body paint work. Having studied graphic design at the Fashion Institute of Technology and worked as a professional makeup artist for the past 13 years, Greene was already familiar with the photographs. 
With that as his reference, it was still important for him to add his touch. "Wanting all of this and having to deliver on the spot brings out nerves, and a lot of adrenaline," Greene told HuffPost.
"I didn't meet her until the day of the show, in her tent, when we had one hour to get her done, so there was no discussion before," said Greene. "I was told to research her collaboration with Keith Haring, and I knew going into this that I wanted this to be a tribute to Keith, especially since she was performing in NYC."
Apart from the pressure to get her ready in time, Greene revealed that "the atmosphere is calm, there's family present, and she and her team are amazing and her music is playing."
"I walked into a very warm welcome, [then] setup, they dressed her, and she says, 'OK, you can start.' I had a mood board with images of her that I referenced as I was painting that she was delighted to see," he said. "Everything was just freehanded in that moment on her for both nights. There's not much time, and the pressure is on, and you have to just be fearless and paint."
To create the vibrant white lines on Jones and her dancer, Greene made a mixture of MAC Cosmetics Acrylic Paint and Chromocake in white. Then, he painted it on their bodies using a MAC #227 brush and sealed the designs with Green Marble Setting Spray. 
"The moment I begin painting is the moment I'm lost in another time and place. I'm so focused and barely speaking just drawing all over her, section by section -- as my assistant cleans and brightens up the lines [and] they constantly remind me how much time is left," said Greene. "There were moments when I would look into the mirror to check what I was doing where I would say to myself inside, 'HOLY F**K! I'm painting Grace Jones!' You see her coming to life right before your eyes and it's an incredible thing to be a part of."
However, it wasn't until Greene returned home and researched the hash tag "#gracejones" on social media that he was able to see the impact of his artistry. "'I'm on stage with her but don't experience what the audience does," he said. "I am thrilled with the results and the journey the makeup goes through as it begins to break down. No one can make that look as amazing as GraceJones can."
To see more of Robert Greene's amazing work, follow him on Instagram.
-- This feed and its contents are the property of The Huffington Post, and use is subject to our terms. It may be used for personal consumption, but may not be distributed on a website.
Karlie Kloss Gives Unbelievable Makeovers To Make-A-Wish Teens (Thu, 27 Aug 2015 15:51:47 GMT)
Karlie Kloss can code, she can strut and now, she can help make dreams come true.  
On Tuesday, the model posted a video to her new YouTube channel, Klossy, that shows her giving supermodel makeovers to two teens with the help of the Make-A-Wish foundation. The foundation helps to grant wishes to children diagnosed with life-threatening medical conditions and in this short video, Kloss turns two young girls, Shannon and Maddii, into total glamazons. 
Kloss documents the entire day with the girls, from hair and makeup to the photo shoot at the end (which even included angel wings). The transformations were amazing. Maybe it has something to do with the excellent photographer (Russell James) and stylist (Rachel Wirkus) Kloss helped secure? 
Check out the adorable video below: 
Also on HuffPost:
-- This feed and its contents are the property of The Huffington Post, and use is subject to our terms. It may be used for personal consumption, but may not be distributed on a website.
Leggings And Yoga Pants Are Here To Stay, According To New Data (Thu, 27 Aug 2015 15:49:11 GMT)
Good news for those who prefer leggings over pants and Lulu over Levi's: the athleisure craze is here to stay. Wearing workout clothing in place of regular clothing isn't simply a trend, it's a mass movement, according to a study from Editd, a site that analyzes apparel metrics.
Some noteworthy stats from Editd show just how popular this clothing style has become:


There are now three times as many sneakers on the market as skinny jeans.


 Yoga pant sales have grown 341 percent in the past three months.


New sports bra arrivals have grown by 96 percent in the past three months.


Athleisure first secured its lead in the market in 2014, when sales of leggings and yoga pants surpassed those of denim, which fell by 6 percent in the U.S. That's primarily because teens began buying more elastic-waistband pants, while women started wearing workout clothes to brunch, happy hour and even work.
"I wear workout clothes to university, out with friends and to and from the gym," Toronto resident Delia Xenophontos, 19, told The Huffington Post last year. "I wear workout clothes when I'm not working out because they look good, and they're comfortable." 
The Editd study echoes Xenophontos, adding that "while we may not be exercising more," there has been "an increased adoption of comfortable and functional clothing." 
Editd concludes its study by saying that athleisure looks like it's here to stay, and we can't help but agree. With everyone from Abercrombie & Fitch to Derek Lam designing workout clothing for everyday wear, we expect to see even more athleisure outside of the gym.
H/T Bustle 
Also on HuffPost: 
-- This feed and its contents are the property of The Huffington Post, and use is subject to our terms. It may be used for personal consumption, but may not be distributed on a website.
This Epic '90s Supermodel Reunion Is Giving Us Serious Nostalgia (Thu, 27 Aug 2015 15:09:25 GMT)
In the '90s, supermodels ruled. Cindy, Naomi, Linda and Christy and the gang were all household names, strutting their stuff on the catwalk and truly working the editorial space. 
Just yesterday, a few of these original supermodels got together for "The Reunion," a project shot for online video channel Nowness by legendary photographer Peter Lindbergh. Check out the photos and video below of Cindy Crawford, Tatjana Patitz, Eva Herzigova, Nadja Auermann, Karen Alexander and Helena Christensen posing for this epic reunion: 
The shoot also included a little video, which you can see on Nowness:
It seems like these supermodels are truly more beautiful than ever. But when it comes to aging, Crawford told The Violet Files that "there is no secret." 
"Do all the stuff we know," she said. "Don't smoke, get enough sleep, drink plenty of water, find what makes you happy." 
To see what some of the other top supermodels of their day look like these days, check out these "then and now" photos of Yasmin Le Bon, Linda Evangelista, and more.
Also on HuffPost: 
-- This feed and its contents are the property of The Huffington Post, and use is subject to our terms. It may be used for personal consumption, but may not be distributed on a website.
Kimye Is Victorious After Settling With YouTube Co-Founder Over Leaked Engagement Video (Thu, 27 Aug 2015 14:34:50 GMT)
TMZ reports Kim Kardashian and Kanye West have emerged $440,000 richer after YouTube co-founder Chad Hurley settled up after leaking video of the couple's engagement back in October 2013. 
The couple sued Hurley shortly after the proposal video was leaked. They claimed that he wasn't invited to their over-the-top engagement at San Francisco's AT&T Park on Oct. 21, but they permitted him to stay after he signed a confidentiality agreement that specifically stated he wouldn't share any images or video from the event.
The couple sought unspecified damages from Hurley after the video had been viewed more than 1.5 million times the week after it leaked.  Those views likely cut into the surprise (and viewer interest) when the stars aired footage of the engagement on "Keeping Up with the Kardashians" in February 2014. 
According to TMZ, Hurley must pay up within the next few days in order for Kimye's lawsuit to be dismissed, but having sold YouTube for $1.6 billion, it seems like he can probably make the payment. 
 Also on HuffPost:
For a constant stream of entertainment news and discussion, follow HuffPost Entertainment on Viber.
-- This feed and its contents are the property of The Huffington Post, and use is subject to our terms. It may be used for personal consumption, but may not be distributed on a website.
17 Photos That Will Inspire You To Learn How To Fishtail Braid (Thu, 27 Aug 2015 13:54:25 GMT)
Learning how to do a fishtail braid is one of our greatest accomplishments. We're not joking.
The intricate plait initially intimidated us, and that fear forced us to settle for a simple French braid or messy milkmaid braid. But after putting in plenty of practice and following this step-by-step tutorial by celebrity hairstylist Chris McMillan, we were able to recreate fishtail braids just like those worn by Blake Lively, Selena Gomez, Lucy Liu and other stars. 
Don't just take our word for it. Below are 17 stunning fishtail braid hairstyles, plus styling tips and product suggestions to help you become a braiding pro. 
If you need a fishtail braid how-to refresher, watch this video tutorial: 
-- This feed and its contents are the property of The Huffington Post, and use is subject to our terms. It may be used for personal consumption, but may not be distributed on a website.
The One Thing Pedicurists Want You To Know (Thu, 27 Aug 2015 13:41:26 GMT)
By Hannah Morrill, SELF
The pros who work on your toes get real.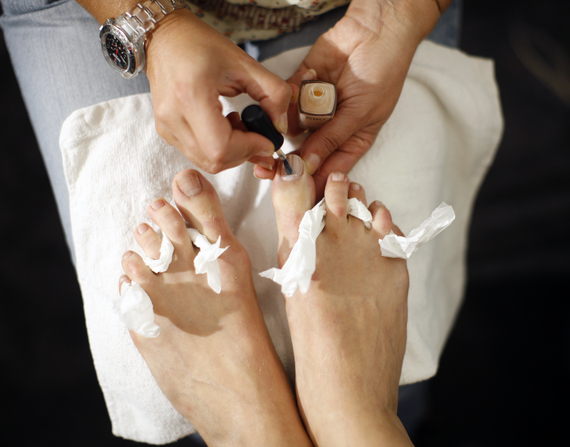 (Photo: Dave Yoder/WWD)

When you sink into the pedicure chair, the goal is to sit back and relax. But one thing could be standing in the way of a total moment of zen: Those nagging self-conscious fears that your feet are too unsightly, your nails too long. Those thoughts couldn't be further from your nail technician's mind. Here's what they're really thinking about your feet, though...

Don't: Bring Heels
"Nail polish takes hours to really harden, so trying to stuff your toes into a pointed heel or tight boot and then scoot out the door is not going to work. To get home smudge-free, your best bet is to bring flip flops in the summer or Ugg boots in the winter." -- Donna Perillo, founder, Sweet Lily Natural Nail Spa & Boutique, New York City

Don't: Take Matters Into Your Own Hands
"Sometimes, it's harder to clean up a messy DIY effort -- especially gel removal! -- than to just do the whole thing ourselves. And if you trim your own nails too short or strangely shaped, many times we can't actually fix it." -- Alexandra Calle, pedicurist, Eve Salon, New York City

Don't: Shave Calluses
"Even though cutting calluses with a razor blade has been prohibited by the Department of State (New York) Division of Licensing for quite some time, customers still request that we use a blade. One might think it is the ideal way to reduce callouses, but it can cause bleeding, and the areas where the razor is used tends to crack and dry out your sole more than a gentle foot file." -- Jin Soon Choi, founder, Jin Soon Hand & Foot Spa, New York City

Don't: Apologize for Your Feet
"I wish clients would stop saying they have the worst feet ever and that they feel badly about having us work on them. And it can come off as disrespectful to the pedicurist that you feel badly about her job. We have seen many feet -- yours are probably far from awful!" -- Frances Liang, lead manicurist, tenoverten, New York City

Don't: Talk on Your Phone the Whole Time
"I don't mind when a client texts, but listening to their phone conversation for 20 minutes is not ideal while I am working on their toes. It's disrespectful to be ignored [if I have a question or request]. It's also inconsiderate to other customers who are trying to relax." -- Skyy Hadley, owner, As U Wish Nail Salon, Hoboken, New Jersey

Do: Show Up on Time
"Nail technicians really do need the time specified in the spa menu to tend to your feet. When you arrive late, they have to rush, and in turn, your feet don't get the attention they deserve. Just like any other spa appointment, arrive a few minutes ahead of schedule and allow yourself time to settle in and select your polish. I promise you'll enjoy that pedi just as much as any relaxing massage or facial." -- Perillo

Do: Go to the Podiatrist
"If you have a serious medical condition on your feet like ingrown nails, plantar warts or nail fungus, that's not a job for your pedicurist. A podiatrist is qualified to take care of the problem as quickly and pain-free as possible." -- Alexandra Calle, pedicurist, Eve Salon, New York City

Don't: Trim Ingrown Toenails
"When you have ingrown toenails, make sure to file under the ingrown area and file straight so the corner of the nail doesn't grow into the skin. If you try to cut the corner of the nailbed with nippers, you'll just make it worse." -- Choi

Do: Save the Snacking for Later
"Although we aren't performing official foot reflexology, our massage is still similar. It's just not good for your digestive system to eat while we work." -- Liang

Do: Be Decisive About Your Polish Choice
"It's just nail polish, not hair dye! You don't have to take your selection, or yourself, so seriously. It's only temporary, so please have fun with it. We're always happy to paint one nail as a test." -- Perillo

Don't: Leave Your Polish on F-O-R-E-V-E-R
"I see a lot of people failing to remove old nail polish on their toes, which is both unattractive and dries them out. When you leave polish on for too long, you'll see little dry white spots after you remove the polish; that's the dehydrating effect. Instead, remove your toe nail polish two weeks after your pedicure." -- Choi



More from SELF:
The Genius Trick for Perfect Scrambled Eggs
What's Your Sex Number?
The One Thing Hairstylists Wish You'd Stop Doing
5 Relationship Red Flags That Don't Have to Be Dealbreakers
The One Thing Dermatologists Wish You'd Stop Doing
4 Things Men Hide From Their Wives


Also on HuffPost:
-- This feed and its contents are the property of The Huffington Post, and use is subject to our terms. It may be used for personal consumption, but may not be distributed on a website.
Miley Cyrus Flashes The Crowd At 'Jimmy Kimmel Live' Because She Can't Stop (Thu, 27 Aug 2015 13:22:44 GMT)
Miley Cyrus came into "Jimmy Kimmel Live" like a nearly-naked wrecking ball on Wednesday, leaving nothing in her path but a clearly flustered late-night host.
This year's VMAs hostess started off her appearance by flashing the crowd, wearing only heart-shaped pasties over her breasts, and left Kimmel covering his eyes throughout their interview. 
The craziness didn't stop there, however -- because it can't stop, and it won't stop. Inspired by Cyrus, actress Ali Wentworth later came out to flash the crowd, too:
During her segment, Cyrus revealed a lot about why she actually likes being a "vegan nudist," saying, "I see a lot of people with their clothes on, and they're kind of assholes." Later continuing, "If you've got your tits out, you can't really be an asshole."
The actress went on to say that being naked is a good icebreaker, detailing a time she even made Sir Paul McCartney uncomfortable. The 22-year-old also revealed how her dad, Billy Ray Cyrus, feels about the whole situation: "He'd rather me have my tits out and be a good person than have a shirt on and be a bitch."
Well said, Miley.
The only question now is: If this is just a talk show appearance, what are the VMAs going to be like?
"Jimmy Kimmel Live" airs weeknights at 11:35 p.m. ET on ABC.
Also on HuffPost:
For a constant stream of entertainment news and discussion, follow HuffPost Entertainment on Viber.
-- This feed and its contents are the property of The Huffington Post, and use is subject to our terms. It may be used for personal consumption, but may not be distributed on a website.