Style news and blog articles from The Huffington Post
Chinatown Fusion: Aux Epices (Thu, 29 Sep 2016 17:12:40 -0400)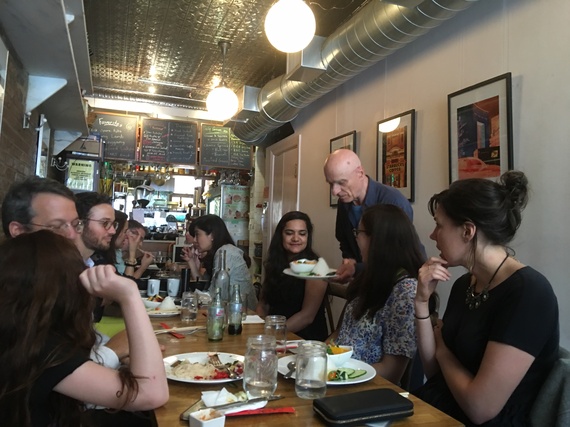 Marc Kaczmarek cares for his clients with humor and charm at Aux Epices (Photos: Philip Morton)

Tucked away on a side street a half block past the border of Chinatown and lovingly attended in one of the classic narrow spaces one finds in New York City, sits Aux Epices (French for 'with spices'), a re-invention of 'Chinese' food as Malaysian and French cuisine which turns a typical Chinese menu on its head. The restaurant proves that a narrow foot print, often a requirement in NYC, does not limit the quality or imagination food preparation and presentation can attain. The single row of tables along only one wall, as that's all the room the restaurant affords, extends deep inside and is where I've had one of my favorite meals in NYC. And shockingly only $25 for lunch for two and we were stuffed.

The front wall is removed, so that the café feels completely opened and the French accordion music inside creates a calm atmosphere so that the occasional honking from the world outside is no matter.

The husband and wife team behind the curtain, Marc Kaczmarek and Mei Chau, continue their successful gastronomic adventures in this new setting (opened here in 2013) after running the well respected Tribeca bistro Franklin Station (which was opened for years and closed in 2008). The cozy seating and well spiced variations of entrees and curries presented before you is somewhat unique in a city that has many offerings, many of which excellent as they may be, feel familiar.

Marc's Parisian elegance and charm hit us immediately as we watched him attend to each table with great care. As he offered us our water with slices of cucumber he suggested the Mango and Jicama Salad to start and did so with a comical shrug, his thick French accent purring; "you have to start somewhere." The salad, with a brown savory sauce, had mango, jicama, tofu, pineapple, bean sprouts and cucumber and was a fantastic taste combination and as far from what one would expect to be hit in the palate with in Chinatown as possible.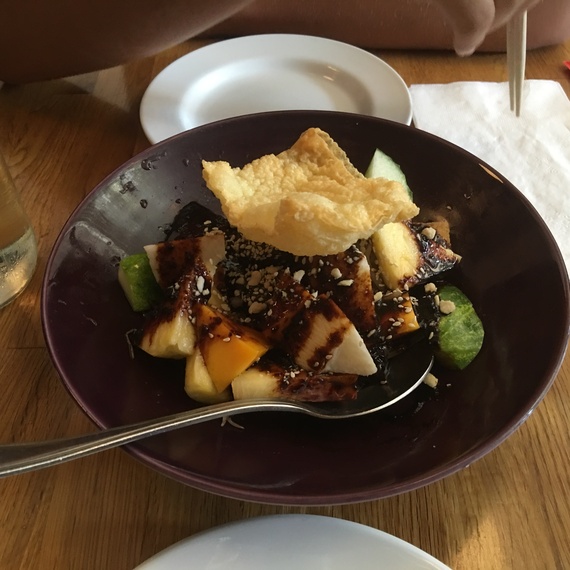 Mango and Jicama Salad

The Arugula and Pear salad, another light green and fruit combination balanced sour and sweet as well as being a nice palate cleanser. The Pork Buns, a more classic Malaysian selection were baked tender and flaky and the meat inside had a nicely spiced barbecue flavor, less sweet than you would expect for the American palate.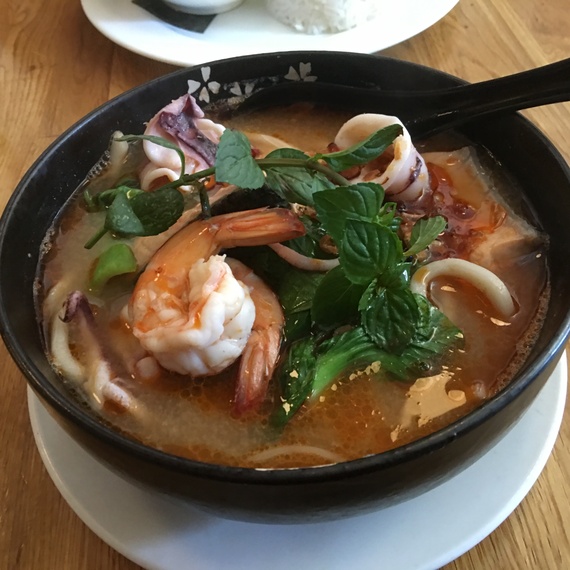 Seafood Udon

The Seafood Udon had a complex and flavorful broth and was well balanced with a generous assortment of fish, squid, salmon and greens. The Curry Chicken was a delicious coconut cream based sauce, the mint bringing out the notes of cumin and had a very velvety texture. Potatoes joined it on the side.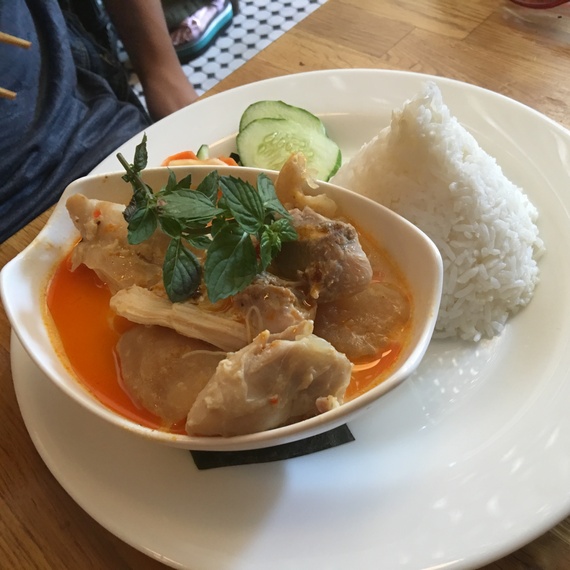 Curry Chicken

The lunch and dinner menu are filled with Curries, Big Bowls, French inspired salads and runs the gamut from standard Malaysian appetizers like duck rolls and pork belly buns to extremely creative creations you may not find anywhere else .

The symphony of spices and textures in my meal left me with a feeling of delight, well satisfied and put Aux Epices on my short list of restaurants to return to when travel next takes me back to the big apple.

Aux Epices; 121 Baxter Street, NY, NY, 10013. Open mon-sat 11AM-10PM. Lattes and wine are available as well as tarts and cakes. Happy hour available 4-7 m-f. For more information on Aux Epices.
-- This feed and its contents are the property of The Huffington Post, and use is subject to our terms. It may be used for personal consumption, but may not be distributed on a website.
Bollywood Actress Debunks The 'Dangerous Myth' Of Flawlessness (Thu, 29 Sep 2016 16:39:58 -0400)
Sonam Kapoor didn't "wake up like this" and she wants everyone to know it.
On Wednesday, the 31-year-old Indian actress published an essay on BuzzFeed debunking the myth that female celebrities are naturally flawless. In the famous words of Beyoncé's ***Flawless, Kapoor unequivocally writes that no, she does not look red-carpet ready when she get out of bed in the morning. It takes an entire team of makeup artists, stylists and sometimes photo editors to make the star look flawless every day.
"For every teen girl leaning into her bedroom mirror, wondering why she doesn't look like a celebrity: Please know that nobody wakes up like this. Not me. Not any other actress. (Not even Beyoncé. I swear.)," Kapoor wrote. "... It takes an army, a lot of money, and an incredible amount of time to make a female celebrity look the way she does when you see her. It isn't realistic, and it isn't anything to aspire to."
Kapoor, who was born in a suburb outside of Mumbai, is the daughter of Bollywood actor Anil Kapoor. Her career took off after starring in the 2013 film "Raanjhanaa" and is now one of the highest paid actresses in the Indian film industry
She described dealing with a lot of body image issues as a young girl, which led to "an unhealthy relationship with food." She obsessively dieted and sometimes even starved herself for an entire day to lose a few pounds.



Think of how much better your day is when it starts with a compliment. Think of how easy it is to give that to someone else. Do it every chance you get




"We've been taught that women need to be flawless even when our flawlessness is wildly implausible, sexy even when our sexiness is a break from plot," Kapoor wrote. "We're sprinting through Jurassic Park in heels, fighting super villains in strapless corsets, being stranded on deserted islands for days without a hint of stubble. Real female bodies are so taboo that hair-removal-cream ads show hairless legs even before the cream is applied."
The thing that keeps Kapoor grounded is the women in her life.
"All the women who've championed me have taught me that kind, genuine support can change your friend's or sister's or colleague's life," she wrote. "Think of how much better your day is when it starts with a compliment. Think of how easy it is to give that to someone else. Do it every chance you get."
The Bollywood actress described all the women in her life who have made her feel beautiful just the way she is. From her makeup artist to her sister ― Kapoor writes that these are the women who have taught her that kindness and sisterhood goes such a long way.
Now, Kapoor writes, she realizes that our imperfections are what makes each of us beautiful in our own way. "I know now that there's nothing wrong with stretch marks, cellulite, or scars. They're markers of our growth," she wrote. "There's beauty in their realness."
Head over to BuzzFeed to read Kapoor's full essay.
-- This feed and its contents are the property of The Huffington Post, and use is subject to our terms. It may be used for personal consumption, but may not be distributed on a website.
Prince George Sees Bubbles, Reaches Peak Human Happiness (Thu, 29 Sep 2016 16:32:36 -0400)
For six long days and five sleepless nights we've been refreshing Twitter, wondering when, if ever, we'd catch another glimpse of Prince George and Princess Charlotte during their tour of Canada. Finally, their parents have blessed us with a sighting.
And folks, it was well worth the wait.
George, Charlotte and their handlers (also known as Prince William and the Duchess of Cambridge) attended a garden party for military families in Victoria, British Columbia on Thursday. The little duo played with other children, sat atop miniature ponies, and were as delighted with bubbles and balloons as any of us could hope to be about anything. Ever.
Seriously, ever.
The family looked as picture perfect as always in coordinating cream, blue and red outfits.
Bask in all the cuteness below.
-- This feed and its contents are the property of The Huffington Post, and use is subject to our terms. It may be used for personal consumption, but may not be distributed on a website.
We Wore The Same Outfits To Work All Week. Here's What Happened. (Thu, 29 Sep 2016 15:39:02 -0400)
As part of HuffPost's "Reclaim" project, HuffPost Style will focus the month of September on simple ways to educate yourself on becoming a better consumer to address the problem of fashion waste.
This fall, The Huffington Post is taking a hard look at the negative environmental effects that result from our excessive shopping habits.
We've reported on the sheer volume of waste we create ― America produced 15.1 million tons of textile waste in 2013, and 85 percent of it ended up in landfills. We've cringed over the reality of what happens to our clothing once it's been donated. We've also educated ourselves on ways to shop smarter and take better care of the clothes we already own.
But everything we've learned is for naught if we can't practice what we preach. Can we, ourselves, stop buying excessive amounts of clothes and make do with a smaller wardrobe? We're putting ourselves to the test with one seemingly simple experiment.
Two editors at HuffPost, a man and a woman, were each asked to wear one outfit of their choosing to the office every day for an entire week. The goal was to discover, once and for all, if one can truly get away with repeating the same outfits over and over again. Would it be socially acceptable among their colleagues? Would our male editor have a different experience than our female editor? And would anyone dare make rude comments to them?
And so, swallowing their pride and stepping into the same outfit every day for an entire week, they set off to find out.
ANDY CAMPBELL, REPORTER
I've always been a champion of frugal fashion.
As a reporter who spends his time between the office and the streets, I've built a career toeing the ever-thinning line between excellence and hangover. It gives me a reason to be a lazy shopper ― my closet is half-full of button-down shirts and pants that are viable on both a midnight drunk and a morning meeting with my boss (sorry Karen).
So when I got the call to do a piece of investigative journalism, one that would finally test my skill of looking fresh despite myself, I breathed a sigh of relief. I'd be able to put off laundry for yet another week ― my entire wardrobe can fit in one load, anyway ― and my smell wouldn't get me fired because it was a directive.
For any of you who have 250 shirts on standby to avoid wearing the same thing twice in a fiscal quarter, take it from me: Nobody really notices. Sure, I was wearing a variation of the blue shirt and gray slacks that I've worn exclusively for most of my five-year tenure at The Huffington Post, but the point remains. I didn't stink, I spoke with our CEO while wearing "dirty" clothes and didn't get fired, and I even went dancing one night and didn't smell like booze the next morning.
The only real "problem" came on day four, when some of my peers thought I got laid. One colleague who was visiting from our London office grinned at our Thursday meeting as she thought out loud, "Andy, are you wearing the same outfit for the second day in a row?" Others pointed out that my cheeks were red, a clear indication that I didn't spend the night in my own bed last night and was embarrassed about it.
Some fledgling journalists might cave and say, "NO. Nuh uh you guys, I stayed at home watching 'Narcos' and finished an expired pint of Ben and Jerry's." But not this reporter, dear readers. I kept the integrity of the story intact, and now everyone thinks I had sexual intercourse one time.
There have been worse weeks.
Wearing the exact same outfit for an entire week is a bit excessive (though doable!), but we've proven with our experiment that we don't have to be slaves to fast fashion. Little stylistic changes can go a long way without the need for a closet full of clothes you'll never wear. I've been doing it for five years, and it took four full days of the same outfit for anyone to notice. Suffice it to say, nobody is keeping tabs on your daily getup.
JAMIE FELDMAN, FASHION AND LIFESTYLE EDITOR
Working in the fashion industry, I'm often asked by friends and peers if I feel pressure to dress a certain way. I chose my apartment based on the fact that it was the only one I'd seen with a big enough closet to fit all my clothes, so you can probably answer that one for yourself.
When I was challenged to wear the same thing for a full week, I wouldn't say I was relieved, but I was intrigued. Not ever being one to fly under the radar, I picked my loudest, boldest Tracy Reese dress. And not being one to ever plan ahead, it also happened to desperately need cleaning. "Oh well," I thought. "No turning back now." This was going to be interesting.
On day two, I was actually grateful that my outfit was already picked out for me. I was hungover from drinking one too many glasses of debate wine and as a result was running late. Easy peasy.
Unlike Andy, no one suspected that my repeat outfit was a consequence of sexual escapade. Or, maybe they did and didn't say anything for fear of making me look a certain way in front of my peers.
By day three I was itching, both because I was sick of this stupid dress and also, perhaps, because it really does need to be freaking cleaned. I found myself switching up my makeup, accessories and hair ― anything to feel a little different from the day before. As I rode the subway to work, I couldn't help but notice people staring at me. "They know my secret," I thought.
Though I was self-aware and self-conscious about my repeat look, my colleagues, as far as I could tell, were completely oblivious. Things didn't take a turn until someone privy to the experiment stopped by my desk to loudly compliment me on my dress. "Didn't you wear that yesterday?" he said with a smirk, cluing in my surrounding peers to my secret. One of my row-mates, who had just the day before complimented the dress, said she noticed I had been wearing it again but didn't feel the need to say anything. "What is there really to say?" she said.
The elephant in the room (aside from my odor) of course, is the fact that I am a woman. Mark Zuckerberg famously wears the same casual outfit every single day, while it's been pointed out that Sheryl Sandberg regularly wears different pairs of stilettos while working for the same company. I was delighted and surprised though, that even wearing something as memorable as this dress, I wasn't judged, treated any differently or questioned about my decision.
On day four, I was finally asked about it, but in the most polite, private way possible. It came via Google chat:
"so I have a question to ask you
and I don't exactly know how to ask you
so I'm just going to ask
and like
don't hate me
here goes:
have you worn the same dress all week?
or am i imagining that?"
Will I ever wear something for a full week again? Probably not. Would this experiment be quite as effective if, say, I worked in an office with more fashionable people? (Sorry Andy). Maybe. But at the end of the day, I wore a dress that I love a few times, I spent way less time worrying about getting dressed in the morning and no one got hurt. I'd call that a win.
-- This feed and its contents are the property of The Huffington Post, and use is subject to our terms. It may be used for personal consumption, but may not be distributed on a website.
17 Tweets That Make Perfect Sense To Anyone With A Weird Hairline (Thu, 29 Sep 2016 15:33:48 -0400)
Think back to the simplicity and innocence of childhood. Were you worried about your eyebrows, or your lashes, or your nail beds? Of course not! You had kickball to play and SpongeBob SquarePants to watch.
But somewhere along the way, you became aware of these beauty standards. You realized that your brows weren't on fleek, and that your lashes were stubby. Maybe you found dark circles under your eyes, or enlarged pores on your face. But for a select few, all this paled in comparison to the emergence of some truly funky hairlines.
When your hairline is so wavy it looks like a cardiogram, simple hairstyles become exceedingly complicated. For women, braids and ponytails are a fate worse than death. For men, a barber who screws up their edges is unforgivable.
Here are 17 tweets that anyone with a funky hairline can understand:
You get by with a little help from your friends.
The worst possible combination:
The one insult that cuts right to the bone:
Maybe she's born with it, maybe it's karma.
Hairline on fleek.
When you feel Peyton Manning's pain.
When real recognizes real on 'The Bachelorette.'
Starting to feel personally victimized by these tweets...
Okay, that's just way out of line.
Sorry, Robby.
Tfw your hairline peaces out.
When Snapchat filters are your secret weapon.
Middle parts just aren't an option.
When your hairline straight up vanishes.
Creating a Bitmoji just ends up deflating your ego.
Seeing a celeb with a weird hairline makes you unreasonably happy.
Flyaways may actually be the death of you.
You've probably shaved it all off at one point or another.
But at the end of the day, you're thankful. Because at least you're not this guy:
-- This feed and its contents are the property of The Huffington Post, and use is subject to our terms. It may be used for personal consumption, but may not be distributed on a website.
Just Wondering: Would You Wear Anything From Rihanna's New Puma Collection? (Thu, 29 Sep 2016 13:28:50 -0400)
Our queen Rihanna showed her second Fenty x Puma collection during Paris Fashion Week Wednesday, and we have some questions.
The line, a colorful departure from her previous black and white collection, included stiletto sneakers, corsets, some exposed nipples and a whole lot of layering.
So, we're just wondering: Would you wear this?
How about this?
Maybe these?
According to the New York Times, Rihanna explained backstage that her inspiration was the question, "What if Marie Antoinette went to the gym?"
But you're not Marie Antoinette. You're you. So again, just wondering, would you wear anything from this collection? Let us know.
-- This feed and its contents are the property of The Huffington Post, and use is subject to our terms. It may be used for personal consumption, but may not be distributed on a website.
19 Magical Accessories Only 'Harry Potter' Fans Will Understand (Thu, 29 Sep 2016 12:05:37 -0400)
What better way to sneak in your love for all things Harry Potter than with some stylish accessorizing? You'll want to add these wicked cool items to your Potterhead wish list.
You may also like...
-- This feed and its contents are the property of The Huffington Post, and use is subject to our terms. It may be used for personal consumption, but may not be distributed on a website.
The Serious Price We're Paying For 'Fast Fashion' (Thu, 29 Sep 2016 12:04:11 -0400)
It's no secret that Americans love to shop. But when it comes to buying cheap clothing, the environment may be paying the biggest price.
In our final episode of "Sustainable Self," a HuffPost Originals series where we recommend small ways to reduce our impact on the environment, we take a look at clothing waste and "fast fashion." The fast fashion industry creates a cycle in which cheap clothing is manufactured to increase overall demand. Sloppy manufacturing and dyeing practices pollute our waters, waste fossil fuels for transportation and exploit cheap laborers.
While not everyone has the luxury of buying more expensive clothing, there are things you should keep in mind to reduce your carbon footprint. In the video above, learn about eco-fashion, organic cotton and how long it takes for clothing to decompose.
The Huffington Post is partnering with Change.org to launch the Sustainable Self movement page, where viewers can create and join petitions based on the issues highlighted in each episode. Visit change.org/sustainableself to become part of the movement!
-- This feed and its contents are the property of The Huffington Post, and use is subject to our terms. It may be used for personal consumption, but may not be distributed on a website.
Trendy Now, Trash Tomorrow (Thu, 29 Sep 2016 10:28:11 -0400)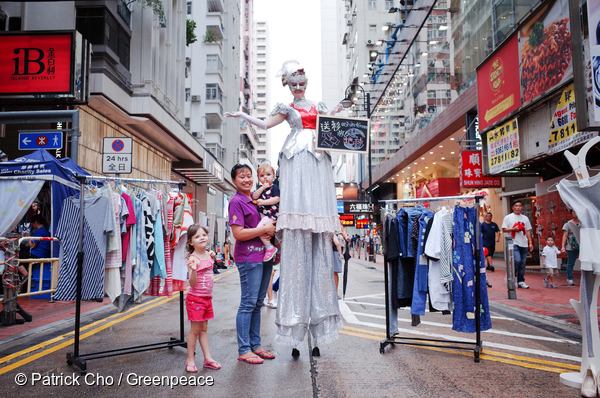 A pop up store opened by Greenpeace in Hong Kong gives away used clothes to the public for free, demonstrating shopping alternatives like swapping and second hand.

Being a fashion victim used to be cute. It's not anymore, because our textile waste is slowly killing the planet.

In a bold move to tackle the throwaway-culture in our contemporary consumer society, Sweden's ruling Socialist Democrats and Green Party coalition has announced its plans to reduce taxes on the repair of clothes and other items to promote on-going use over time.

The low cost of fast fashion has made the costs for repairing and mending comparatively too high, encouraging people to treat their clothes as disposable items and throw them away, instead of valuing and looking after them.

A 2015 survey by Greenpeace Germany showed that even though people have clothes in abundance, when seams and heels break they prefer to buy new stuff instead of getting it repaired, because it´s cheap and easy.

In Germany, half the population has never been to a tailor, while more than half of 18 to 29 year olds have never visited a shoemaker. Germans go through their clothes quickly, particularly shoes, with one in eight wearing shoes for less than a year. The picture is the same in many advanced consumer societies: in Hong Kong 1400 T-Shirts are thrown away every single minute. This has massive consequences for the environment.

Scientific research shows that advertising and the e-commerce strategies of fashion retailers are significantly contributing to this throw-away-mentality. There are a plethora of marketing and pricing tricks to encourage us to buy more new stuff - fast fashion companies are speeding up trends, shortening seasons and tempting shoppers with "bargain deals" on controversial shopping bonanza days such as Singles Day in China, Black Friday in the US and Europe, or Cyber Monday from online retailers such as the giant Amazon. And now, as people increasingly buy online, the barrier to purchasing new clothes is lowered even further: everything is just one click away. Clothes shopping has become an addictive activity, needing is replaced by wanting.

In a materialistic world dominated by messages from an impressive billion dollar ad industry, more sustainable alternatives such as eco and fair trade fashion, second hand buying, swapping, repairing or upcycling are less visible and are not popular with the public. This is something that Greenpeace's Detox my Fashion Campaign wants to change - by helping these more creative ways of dressing ourselves become more widespread and well-known.

The survey in Germany also showed that consumers are actually fed up with throwing their garments away so quickly. Nearly half of them would like to have guarantees for their clothing. It is up to the industry to facilitate this change by offering quality instead of quantity as well as free repair services. Smaller brands such as the outdoor brand Patagonia or the Swedish denim producer Nudie have already put repair and longevity at the centre of their business models.

The reality of planetary boundaries sets limits on production and consumption. It also obliges all industries to experiment, look into and develop alternatives to the throw-away model. Even the fashion industry increasingly acknowledges that it needs innovative ideas to evolve its practice beyond the growth and consumption model that dominates fashion today.

While Greenpeace and millions of supporters urge brands to re-think their resource-hungry and environmentally devastating business models, the most progressive question you can ask yourself before buying any new piece of clothing is "do I really need this product?".

Learn more about the past milestones of Greenpeace's Detox my Fashion Campaign. If you want to get involved in the Detox my Fashion-Movement, go here.

This post is part of our "Reclaim" initiative, which showcases solutions to the issue of fashion waste and engages our readers to take action. You can find all the posts in this initiative, as well as feature pieces, investigative stories and video, here. Follow the initiative on Twitter at #Reclaim. And if you'd like to add your own thoughts to our series, sign up here for a HuffPost blog account.
-- This feed and its contents are the property of The Huffington Post, and use is subject to our terms. It may be used for personal consumption, but may not be distributed on a website.
Sarah Jessica Parker's New Dress Will Kick 'Sex And The City' Fans In The Feels (Thu, 29 Sep 2016 10:25:41 -0400)
Did you hear the news? Sarah Jessica Parker has expanded her foray into fashion design from a successful shoe collection to a line of little black dresses, set to debut at Bloomingdale's in October.
SJP LBD is a capsule collection of dresses ranging in sizes 0-12 that will roll out over the next few months in stores and online. While so far just one has been revealed, there are more to come in Spring 2017.
Take a look at the first dress, aptly named "Title," which will retail for $395.
We're just wondering, does this remind you of anything? Perhaps a certain title opening to a certain television show that might have certain "Sex and the City" fans freaking out right this very moment?
Yeah, us too. She even appears to be standing on the streets of Manhattan, for goodness' sake.
This nod to her iconic Carrie Bradshaw character is not unlike the homage Parker paid with her collection of shoes, all of which look like they totally could have taken up some space in a packed Upper East Side closet.
Sigh. The beloved Bradshaw lives on.
-- This feed and its contents are the property of The Huffington Post, and use is subject to our terms. It may be used for personal consumption, but may not be distributed on a website.
The Real Cost Of Asos' Fast Fashion (Thu, 29 Sep 2016 09:25:20 -0400)
Joanne Goddard has lived in the South Yorkshire town of Barnsley her whole life. In April 2016 she took a job as an agency worker at online fashion retailer Asos's vast global distribution centre, which sends millions of pounds' worth of clothes to customers around the world every week.
She was on the first floor of Asos's huge, grey warehouse when the panic consumed her.
-- This feed and its contents are the property of The Huffington Post, and use is subject to our terms. It may be used for personal consumption, but may not be distributed on a website.
Chrissy Teigen Kicks Off Sheer Turtleneck Season With The Perfect Fall Outfit (Thu, 29 Sep 2016 09:17:08 -0400)
Of all the trends made more popular by celebrities, none is as equally delightful and confusing as the sheer turtleneck. Some might argue there's no point in constricting your neck without the promise of additional warmth, while other folks have within them the understanding that sometimes, we do things just for the look.
No one understands that notion better, or demonstrates it more elegantly, than national treasure Chrissy Teigen. The supermodel was spotted out in New York City Wednesday wearing a low-cut black tank, a high-waisted suede skirt and, of course, a tucked-in mesh turtleneck.
Can you say "perfect fall outfit?" Let sheer turtleneck season begin!
Perhaps Teigen is once again taking a page from the stylebook of pal Kim Kardashian, who never met a sheer turtleneck she didn't like:
In any event, we think it's safe to say fall fashion is officially upon us, and we're sheerly ecstatic about it.
-- This feed and its contents are the property of The Huffington Post, and use is subject to our terms. It may be used for personal consumption, but may not be distributed on a website.
Mewgaroo Hoodies Now Have Larger Pockets, Presumably For Fatter Cats (Wed, 28 Sep 2016 16:24:22 -0400)
If you've ever wanted to nuzzle your pet in your pocket like a mama kangaroo does her Joey, you're going to paw-sitively love Mewgaroo, the hoodie sweatshirt that lets you do just that.
Unihabitat, the Japanese company behind the product, released the hoodie last year, but has now updated its wares with a new Mewgaroo model with a larger pocket, to accommodate pets who need some extra space.
Now cats of all sizes can get swaddled in fuzzy sweatshirt goodness:
The old Mewgaroo pocket had a capacity of about six liters, but the new one is double the size, meaning it can accommodate cats up to about 15 pounds.
D'awwwww.
Of course, the Mewgaroo isn't only for cats. Even dogs and ferrets adore its comfy pouch.
The new Mewgaroo with a large pocket comes in two colors: navy and gray. If you don't live in Japan, then your best bet is to order one online for about $90 plus shipping. Enjoy!
-- This feed and its contents are the property of The Huffington Post, and use is subject to our terms. It may be used for personal consumption, but may not be distributed on a website.
Dad's Epic Remake Of Daughter's Modeling Photos Couldn't Be Better (Wed, 28 Sep 2016 16:07:46 -0400)
Senior pictures are something almost every high school student looks forward to, and for Kendel Divarco, it's an experience she'll truly never forget. The 18-year-old's photos, taken by a local photographer, Lisa Campbell Schaas of PG Photography, were entered into a national contest ― and won. The prize? An all-expense paid trip to Las Vegas for a photoshoot with professional photographers.
Not too long after, Kendel's dad, Vince Divarco, found out his company was having a conference at the same Sin City hotel, the Green Valley Ranch Resort, and the self-confessed practical joker knew there was something he had to do.
With his wife Shelly behind the camera, Vince decided to recreate his daughter's photos to hilarious effect.
"We had been thinking how funny it would be to recreate it," Vince, 53, told The Huffington Post.
The photos were supposed to be an inside joke but after Kendel shared them on Twitter, they were retweeted over 4,000 times.
"We're so serious in our everyday lives we just try to have a little fun sometimes," he said. "We're always pulling something like that. Maybe we've outdone ourselves. I don't know what we're going to do to top that."
Luckily, Kendel was a good sport and wasn't too embarrassed by her dad. She even went so far as to say her father did a better job than she did.
"When my parents sent me the pictures, I thought it was so funny. I was considering telling him he should start investing his time in modeling because he's really good at it ― definitely better than I am!" Kendel told The Huffington Post in an email.
Seriously, Vince. We think you could have a second career.
-- This feed and its contents are the property of The Huffington Post, and use is subject to our terms. It may be used for personal consumption, but may not be distributed on a website.
We Need To Talk About Barack Obama's Style (Wed, 28 Sep 2016 15:33:13 -0400)
Michelle Obama is a true fashion icon. From floral dresses to killer gowns to trendy jumpsuits, the first lady can do no wrong.
President Barack Obama, on the other hand, often gets the short end of the stick. Suits just tend to be less exciting than dramatic gowns, and standing out next to Michelle is a nearly impossible feat. So we decided to take on the herculean task of narrowing down President Obama's all-time best suits.
The verdict? President Obama has sneakily become the most stylish leader of the free world yet. Here are President Barack Obama's 26 best suits:
IT'S.
THE.
MOTHERF**KING.
TAN.
SUIT.
When Obama ran on the platform of "change we can believe in," he was talking about this suit. Bravo, Mr. President.
-- This feed and its contents are the property of The Huffington Post, and use is subject to our terms. It may be used for personal consumption, but may not be distributed on a website.