Style news and blog articles from The Huffington Post
Campbell's Scoop No. 6: Strength (Thu, 24 Apr 2014 17:51:16 -0400)
Modeling requires strength on a number of different levels -- strength to hold your head high and endure rejection; strength to remain beautiful and poised in uncomfortable poses, situations and outfits; strength to continue to follow your passion in order to build a successful career; strength to ignore critics and naysayers; and strength to keep your body, mind and spirit in tip-top shape.

I've experienced lots of challenging photo shoots and jobs over the years -- from posing in the pouring rain to being scantily clad in freezing cold outdoor shoots to hanging upside down. In fact, for the September issue of Harper's Bazaar, I even had to run through the desert in heels for the spread which had me racing a cheetah, riding a crocodile, and jumping rope with monkeys. It was quite tough!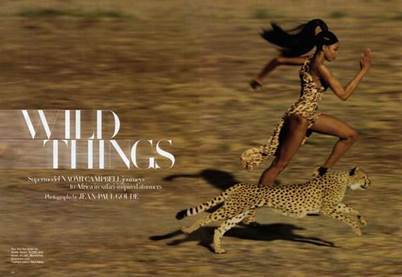 During this week's episode of The Face, I tried to instill this lesson in my girls, and I even yelled "Strength!" repeatedly during their fashion film shoot for Chopard. They were challenged to not only look beautiful and represent the brand visually, but they were also asked to run in sky-high heels, look graceful in restrictive outfits, deliver brand messaging in an effective and engaging (but not over-the-top) way, and demonstrate poise and emotion throughout the scene. This was, no doubt, one of the most difficult challenges they've faced thus far.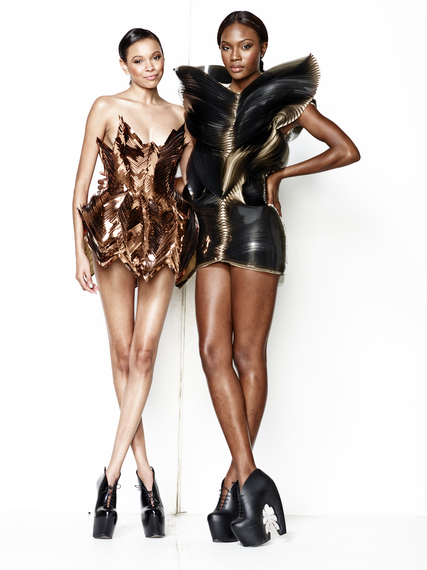 Team Naomi initially struggled with the challenge -- they had difficulty running in the heels, they had trouble delivering the lines, and they were uncomfortable overall. I pushed them harder than I've pushed them before, and I reminded them that lots of photo shoots during their careers will be challenging mentally and physically -- in order to be a great model they needed to have the strength to grin and bear it through the pain. I was nervous for them, but in the end they pulled it together and used their passion, drive, confidence and strength to wow the judges and win the challenge! Their movements were swift and graceful, their expressions were beautiful but not overdone, and the delivery of the lines was clear and articulate.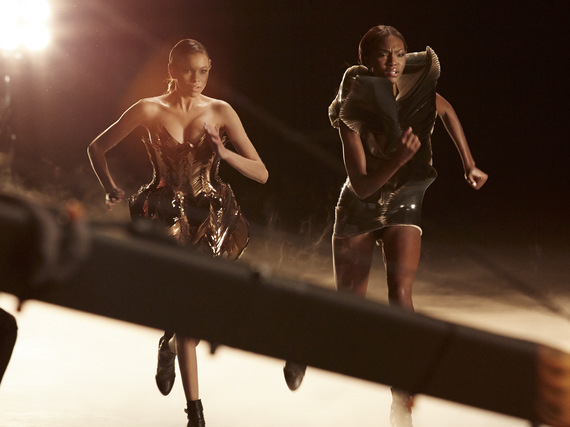 I was so proud to see my girls, and all of The Face contestants, push themselves this week. In the end, I think they all learned that being a strong model takes a lot more than a pretty face, it takes strength, confidence and courage.

Love and light,
Naomi

The Face airs Wednesdays at 8pm ET on Oxygen.
The Endearing Things Spouses Secretly Think About Their Partners (Thu, 24 Apr 2014 16:50:29 -0400)
There are certain cutesy details of our relationships that we tend to keep to ourselves. We might occasionally say them aloud to our S.O.s but rarely, if ever, would we voice these to our family and friends for fear of being labeled the corniest human alive.

But on Whisper, a free mobile app that allows users to share secrets anonymously, sentimental husbands and wives can share the super sweet things they think and feel without fear of judgment.

Below, we rounded up some of the most aww-worthy statements for your viewing pleasure.



Keep in touch! Check out HuffPost Weddings on Facebook, Twitter and Pinterest. Sign up for our newsletter here.
15 Tips And Tricks For Getting Ready Faster (Thu, 24 Apr 2014 16:25:14 -0400)
There are few things worse than having to rush when you're getting ready. Liquid eyeliner gets everywhere, your hair looks fine from the front and then you find a giant bump in the back when you pass a mirror around noon, and basically everything that can go wrong will. More than understanding how terrible rushing to get ready is, we also know quite a few tips to make things easier on you. Below are 15 must-know tricks for getting ready faster.
Michelle Obama Teaches Some Lucky Kids How To Colorblock (Thu, 24 Apr 2014 16:24:00 -0400)
It's times like these we seriously wish our parents worked at the White House.

In honor of "Take Your Children To Work Day," Michelle Obama greeted and spoke with employees of the White House and their families Thursday. She looked gorgeous as ever in a Sophie Theallet sunset red cardigan and leather and chiffon bordeaux skirt. FLOTUS took the opportunity to encourage kids and parents to make healthy choices and you know, give some envy-inducing hugs to the luckiest kids ever.

We have to admit, just seeing the First Lady is motivation enough to stay healthy. She looks amazing!

What do you think of her colorblock ensemble? Sound off below!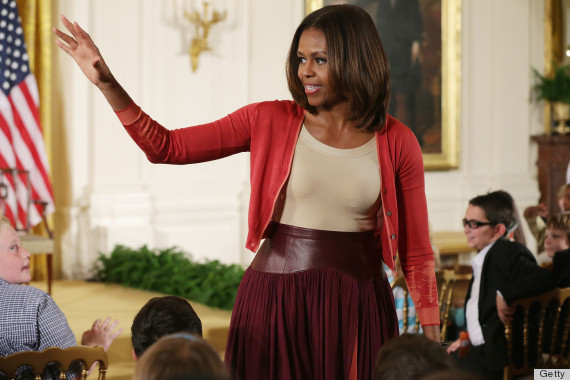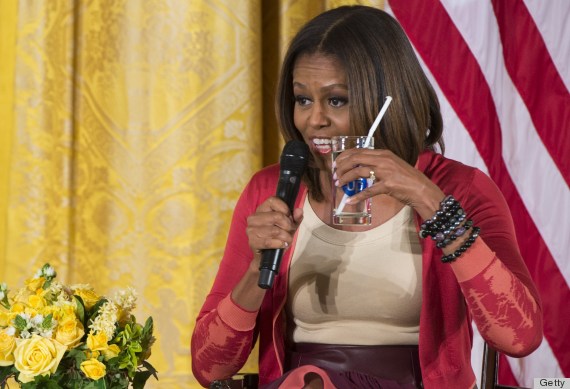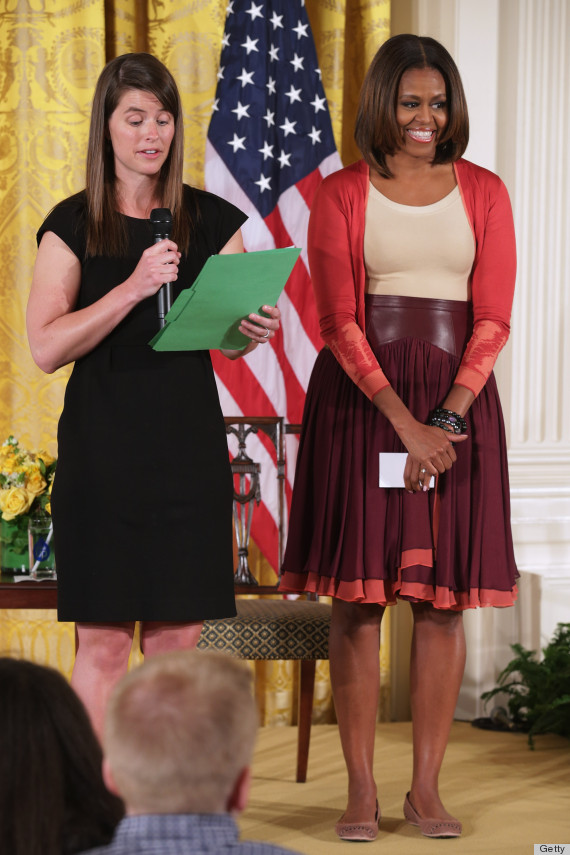 GET THE LOOK: Duchess Kate's Gorgeous Eyelet Dress (Thu, 24 Apr 2014 15:46:45 -0400)
When you're checking Twitter while out to dinner with friends and audibly GASP at the sight of a blurry, terrible quality photo of a dress (guilty), you know it's going to be good. And then when you see the high quality pictures and just about die (guilty), it's time to start saving your green... or find a look for less!
The One Design Rule Everyone Should Break, Regardless Of Style (Thu, 24 Apr 2014 15:43:20 -0400)
Call it what you will -- eclectic, colorful, boho chic -- there's a good chance you've been thinking about mismatched décor all wrong. Where some see it as a reason to hang up your decorator hat and call in a pro, it's some of the design experts we love most who've shown us that mixing things up is one design rule more of us need to adopt.

That isn't to say it's time to throw every color and pattern you love into one room with complete abandon. There are rules to breaking design rules, after all. Here's how 6 designers approach the notion of mismatched décor and why we can't wait to try it, too.




10 Pieces of Wisdom That Make You More Attractive (Thu, 24 Apr 2014 15:33:17 -0400)
There are two things that are timeless: Great advice and the appeal of a well-groomed man, particularly a nicely trimmed beard. Read on for good grooming tips from contemporary leaders to writers from centuries past that will get you everywhere.


You are your greatest asset. Put your time, effort and money into training, grooming and encouraging your greatest asset.


Author of the quote: Tom Hopkins

Studies have shown that better-looking people actually earn more, so consider taking care of your appearance as an investment in your future rather than an afterthought.

Live the line: Adopt habits today that improve your appearance tomorrow. To look like the best version of yourself, begin by eating properly, staying hydrated and sticking to a workout routine. And don't be afraid to splurge on a good barber.


A good lather is half the shave.


Author of the quote: William Hone

As most men have learned the hard way, shaving can be fraught with unpleasant side effects, including rashes, skin irritations, nicks, cuts, razor burn and ingrown hairs. Using a great shaving cream is key to reducing your chances of experiencing uncomfortable epidermal conditions.

Live the line: A top-quality shaving cream that's packed full of emollients and applied with a badger hair brush that's been soaked in hot water will give you the richest, most friction-free shave and the softest, smoothest skin.


You cannot grow a beard in a moment of passion.


Author of the quote: G.K. Chesterton

Even if your facial hair grows at warp speed, taking the plunge and making the decision to grow a beard means you're undertaking a process that requires a certain amount of patience. Failing to adopt any strategy and simply letting your facial hair grow until it reaches the length you desire will only result in you initially looking scruffy, followed by out-and-out crazy a few months down the line.

Live the line: Develop a plan for how you'll deal with the in-between stages of facial hair growth and visit your barber regularly during this period, if possible, to ensure that you always appear well-groomed, never haggard.


Anyone can be confident with a full head of hair. But a confident bald man, there's your diamond in the rough.


Author of the quote: Larry David

In the early phases of hair loss, a clever hairstylist can help you cover things up. Once you reach the point of no return, however, don't desperately style what little hair you have left -- it just looks, well, desperate. Instead, make an executive decision and go bare. Fortunately, it's a complete myth that women don't find bald men sexy.

Live the line: For a professional-looking DIY job, you'll need hair clippers to trim your hair down to a very short length. Next, take a hot shower and then apply a shaving oil without drying your hair. When you're ready to shave, go slowly and avoid going over the same area twice. Finally, remove the coarse hair on the back of your head last to give the shaving oil ample time to do its job.


Long hair is an unpardonable offense, which should be punishable by death.


Author of the quote: Morrissey

Unless they're 15, most women don't dig long hair, and unless you work in the entertainment industry, neither do most employers. What's more, past a certain age, unless you actually are a rock star, long locks won't make you look like one, they'll just make you seem creepy.

Live the line: If you can't stand the idea of chopping off your mane and trading your ponytail in for a buzz cut, talk to your barber about what hairstyles will allow you to keep some of your length while also projecting a professional appearance.


Hair is the first thing. And teeth the second. Hair and teeth. A man got those two things, he's got it all.


Author of the quote: James Brown

Shiny, thick locks and the flash of clean, brilliantly white teeth under pink gums signals vitality and positivity to potential mates. Keeping these two parts of your anatomy in tip-top shape is crucial to keeping a packed dating calendar.

Live the line: Many men skip this hair-care step, but applying a conditioner after shampooing will give you stronger, softer hair. Keeping the goop you put on your head to a minimum by using minute amounts of styling products will also improve the quality of your hair. When it comes to getting gleaming teeth, nothing beats a daily stain-removing toothpaste and a twice-yearly treatment with an at-home whitening kit.


I want people to find 'their fragrance' again -- only some people have multiple tastes and go from one to another.


Author of the quote: Frederic Malle

Many men either receive their cologne as a gift or choose it randomly on a yearly shopping spree because they like how it smells in the bottle. Spending some extra time seeking out a scent that really suits you, however, can really pay off.

Live the line: When you spritz on a juice, give it several hours to dry down. This way, you'll have experienced the entire range of the cologne's notes and you'll know whether or not it works with your natural body chemistry.


First, I'm going to start dyeing my eyebrows, just to see how it works. And then I'll go to the hair. Start slowly.



Author of the quote: George Clooney

When it comes to coloring your hair, drastic, impulsive and glaringly obvious changes are not often advisable. Particularly if you're a little unsure about the dyeing process or have never dyed your locks before, starting slowly is sound advice to follow. Gradually going back from gray to your natural color, for instance, will mean that all other people will notice is a subtle improvement in your appearance over time.

Live the line: Dyeing your own hair can be a confusing process with mixed results, so go to a pro and tell them you'd like to cover up your gray gradually.


The best things you can do for your skin are not smoke, always use sunscreen and drink a lot of water.



Author of the quote: Actress and classic beauty Sela Ward

You can religiously slather on all the dermatologist-recommended products you want, but the real tricks to fantastic-looking skin over time are shockingly simple and don't cost a fortune.

Live the line: If you do only one thing for your skin every day, apply a moisturizer in the morning with an SPF of at least 15. In the summer, bump up your UV protection to SPF 30. Reducing the damage that the sun's harmful rays have on your skin is the best way to prevent your skin from aging prematurely.


Dirt makes a man look masculine. Let your hair blow in the wind... All you have to do is look neat when you have to look neat.


Author of the quote: Hedy Lamarr

While it's true that women can find beat-up jeans and tousled, bed-head hair incredibly seductive on a man, every guy needs a quick, no-fail grooming routine that he can turn to when he needs to impress.

Live the line: A good moisturizer that revitalizes your skin will minimize any signs of aging and make you appear shower-fresh. To create a flattering, polished hairstyle in under 30 seconds, use a comb to make a sharp part in your hair from left to right, smoothing your locks down with a little water or styling product to keep everything in place.


This article was originally published on AskMen. Photo credit: Getty Images

'Jem And The Holograms' Movie Casts Its Leads (Thu, 24 Apr 2014 15:23:57 -0400)

"Jem and the Holograms" the movie is getting closer to theaters as the cast begins to fill out. Aubrey Peeples ("Nashville") will play title Jem, The Hollywood Reporter learned, with Stefanie Scott ("A.N.T. Farm") in the role of Jem's sister, Kimber. Aurora Perrineau of "Pretty Little Liars" and Hayley Kiyoko of "The Fosters" have also been cast as Shana and Aja, respectively.

According to THR and behind the scenes photos posted by director Jon M. Chu, the film, which is based on a 1980s toy collection and cartoon, has already started shooting.

Children of the '80s remember Jem and her alter-ego Jerrica Benton rocking out, enjoying glamour, glitter and fame. Backed by Hollywood heavyweights Blumhouse Productions and Scooter Braun Productions, "Jem" the movie is billed as a revamp of the classic, focusing on how to be yourself in a social media age.

Peeples got to demonstrate her impressive vocals on "Nashville" this season as a bubbly new pop star named Layla. After the news was announced, she posted a photo of the new Holograms on Instagram.

"#tbt to a week ago at @scooterbraun 's going over #JemTheMovie @stefaniescott @kiyoko11 @auroraperrineau @jemthemovie," she wrote.



Here are some more fresh photos to get you psyched for the film.



"Day 1: #jemthemovie and it was truly truly truly...."



"Meet the band, everybody! www.jemthemovie.com #JemTheMovie"

[via THR]

Cosabella's New Bra And Underwear Line Could Save You Money On Your Electric Bill (Thu, 24 Apr 2014 15:15:12 -0400)

Is it ever so dark in your bedroom at night that you've considered getting a night light for the purposes of not falling en route to the bathroom?

Well, Cosabella has some good news for you (and your electricity bill). Their new "Glow" line of bras and underwear do exactly what the name suggests -- glow in the dark. Just sleep with a pair of these undies on and you'll never have to worry about it being too dark again.

Plus, they're super easy to find. Now, you can stop worrying about where you threw your bra the night before and simply... turn the lights off.

Seriously though, the idea of turning undergarments into your own personal little party is kind of intriguing, though we can't promise that you won't draw some unwanted attention on your next night out at the bar.

What do you think? Would you rock glow in the dark undergarments? Sound off below and get a pair of your own, here.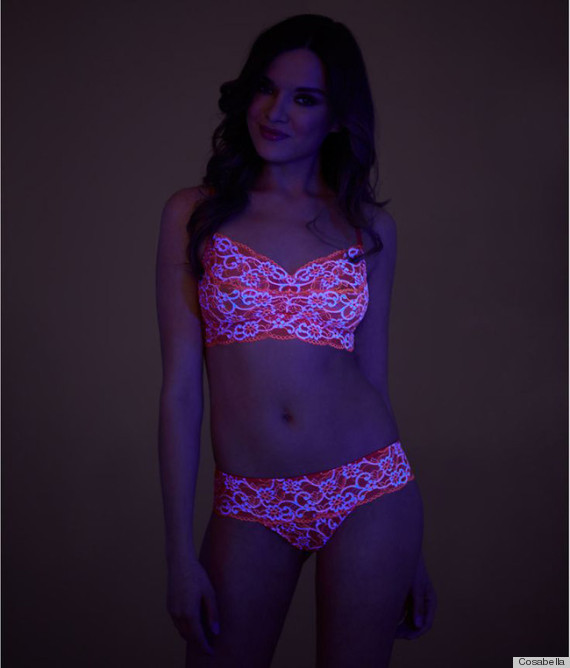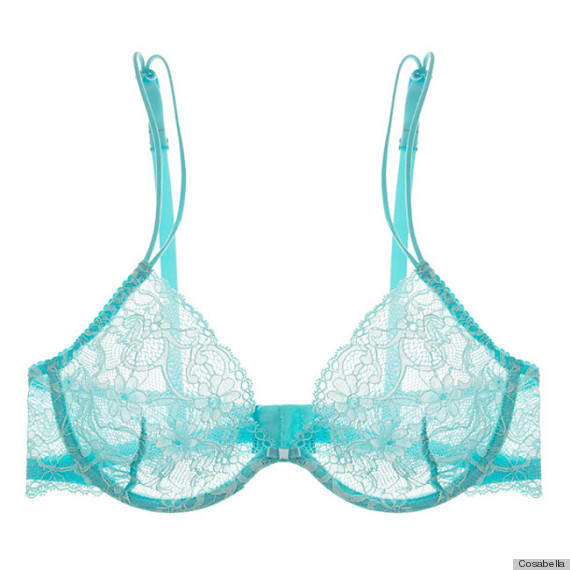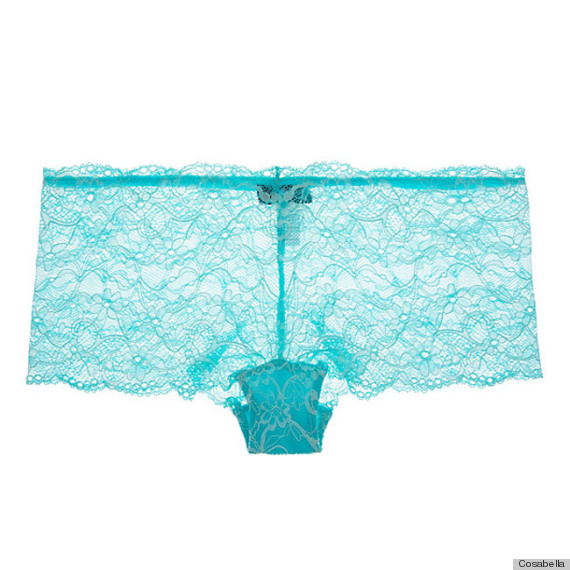 Roberto Cavalli Hits Miami Beach With His Much Younger Girlfriend (Thu, 24 Apr 2014 14:34:37 -0400)
Bikini season is fast approaching, but Roberto Cavalli and his much younger girlfriend have been getting a jump on summer, evidently working on their tans.

Photographers snapped photos on April 23 as the 73-year-old fashion designer enjoyed the sun and sand with 20-something model girlfriend Lina Nilson. The couple have been together for quite some time, and are comfortable enough with each other that Nilson had no issues hosing Cavalli down last summer while spending time on his luxury yacht. Every Glorious Selfie Anna Kendrick Has Ever Taken (Thu, 24 Apr 2014 14:21:01 -0400)
The Chainsmokers' horrifyingly catchy song "#SELFIE" really proves how obsessed pop culture is with the act of taking selfies and sharing them with the world. But even the creme de la creme of Hollywood succumb to the allure of the selfie, and we can't really blame them. Thankfully, the ever-witty Anna Kendrick pairs hers with clever captions. Just because we love her so much, we decided to take a look at every single selfie Kendrick has ever posted to Instagram. Enjoy.

Urban Dictionary: Selfie
"A picture taken of yourself that is planned to be uploaded to Facebook, Myspace or any other sort of social networking website. You can usually see the person's arm holding out the camera in which case you can clearly tell that this person does not have any friends to take pictures of them so they resort to Myspace to find internet friends and post pictures of themselves, taken by themselves. A selfie is usually accompanied by a kissy face or the individual looking in a direction that is not towards the camera."


23 April 2014

Back at the office. #CAKE

19 April 2014

Sorry for all the sexiness I'm serving in my warming clothes between scenes. #CAKE #WhatsUpLadies #NightShoots #SweatpantTuxedo

3 April 2014

Stuff cool kids don't do. #SNLRookieShit

9 February 2014

Checking out my mug at the @MBUSA green room pre Jill Stuart. #MBFW

2 February 2014

Heaven is a Saint Bernard. #SuperBowl photo: @talrabinowitz

25 July 2013

She acts all mean and detached but she's a fucking rainbow-colored softie at heart. #AubreyPlaza #LifeAfterBeth #CameosAreFun

14 June 2013

Sunny-NYC-stoop-waiting-for-my-voice-lesson-to-start-passing-the-time-selfie. Because I'm street.

11 May 2013

This is the face of flying straight from a night shoot. This is the face of three countries in one day. This is the face of someone who is going to cry giving her wedding toast. THIS - is Jet Lag. #JetLagTheMovie #WorstMovieEver #Heathrow #Halp

10 May 2013

I get to wear this between takes. Because fashion.

11 April 2013

Debuting my new hair color in B&W in case any of my followers are colorblind. Or dogs. #SoStrange #JustUntilWeWrap

21 March 2013

I am so bored. So bored. So boooooored. #ThingsGetWeirdWhenImBetweenFilms

15 March 2013

Shooting in some serious eyeliner today. My eyes are still watering. Seriously... at what point do I see a doctor?

15 March 2013

Today I pretended to be a rock star. #AsUsual

24 November 2012

Best friend got this for me. She gives me a nerd boner.

20 November 2012

Okay so, this is officially happening now. And I'm REALLY SERIOUS about it!!!



Lastly, this one doesn't count as a selfie, but we are definitely considering it a #belfie.

I'm bringin' sexy back #PUNS #NailedIt #FistPump
Demi Lovato Shares No Makeup Selfie From The Comfort Of Her Bed (Thu, 24 Apr 2014 14:14:59 -0400)
There's no doubt that Demi Lovato loves makeup, but she's not one of those girls who can't be seen without her "face."

On Wednesday, April 23, the 21-year-old pop star shared a peek into what she looks like right after she's slept in. "I woke up like dis.......... at 4 pm," she wrote along with her fresh-faced selfie.



Those freckles. We love it! Of course, this is hardly the first time Lovato has peeled back the facepaint and posted a photo of herself without makeup. Last April, the pop star shared a makeup-free photo on Twitter, writing "Ladies, be brave today.. take off your make-up and stop using those filters!! WE are beautiful!!!"

We couldn't have said it better ourselves.
Katy Perry's 'Birthday' Music Video Ruins All Birthday Parties (Thu, 24 Apr 2014 13:48:33 -0400)
After releasing a lyric video and a eye-roll-y trailer, Katy Perry finally deigned to give the Internet the actual music video for "Birthday." Beware: It is eight minutes long, two of which you already saw in the trailer.

"Birthday" follows Perry as she ruins five different birthday parties dressed as the "world's worst birthday party entertainers." Here's how to destroy a celebration, according to Perry:


Give a 90-year-old man named Bernie an unsolicited lap dance.


Eat a mouse in front of kids.


Do the worm on an empty dance floor at a bar mitzvah.


Pull off an old man's prosthetic leg.


Potato sack into a birthday cake.


Drink from a flask while dressed in clown makeup.


Try to steal a tricycle.


Spill a cake on Bernie.


Tell a bunch of little girls that you're ACTUALLY KATY PERRY!!!!!!!!


Happy birthday, y'all.



Katy Perry And CoverGirl's #InstaGlam Collection Ad Debuts On Instagram, Duh (Thu, 24 Apr 2014 13:40:51 -0400)

So, this is where all of Nicki Minaj's bright pink lipstick ended up. We're just kidding.

But seriously, CoverGirl's #instaGlam collection with Katy Perry is BIG on color. And the 15-second ad that recently debuted on Instagram to tease the new makeup line is a shock to our senses. (Warning: You might need a few minutes to adjust your vision.)

Perry gets all flirty in the stop motion animated video as she models the Ready, Set Gorgeous Foundation, XL Nail Gel and Colorlicious Lip Gloss (that slick hot pink shade is calling our names!). While it's pretty obvious that filters were used, we'll have to report back once we try out the Bombshell Curvaceous Mascara by LashBlast to attest to its lash lengthening effect.

Watch Katy Perry and CoverGirl's #instaGlam Collection ad below and look out for the products once they hit stores and online this July.




Joan Rivers Refuses To Apologize For Cleveland Kidnapping Victims Joke (Thu, 24 Apr 2014 12:45:33 -0400)

Queen of tasteless jokes Joan Rivers has outdone herself, comparing accommodations in her daughter's guest room to those the Cleveland women kidnapped by Ariel Castro experienced when they were held captive and raped for 10 years.

Rivers' remarks on the "Today" show on April 22, that "those women in the basement in Cleveland had more space" than when she was staying with her daughter, have unsurprisingly offended the kidnapped victims Amanda Berry and Gina DeJesus, whose lawyers want an apology from the 80-year-old "Fashion Police" co-host.

But Rivers, being who she is, refuses to apologize under the guise that it's comedy:

"I'm a comedienne. I know what those girls went through. It was a little, stupid joke," she said in an interview with local Cleveland paper The Plain Dealer. "There is nothing to apologize for. I made a joke. That's what I do. Calm down. Calm f--king down. I'm a comedienne. They're free, so let's move on.''

And after insisting that the newspaper stop writing about her "stupidity'' and shift the focus toward government leaders, Rivers went on to emphasize her lack of sensitivity. "They got to live rent free for more than a decade," she told TMZ.

Again, Rivers told TMZ she will not apologize for her remarks. "One of them has a book deal. Neither are in a psych ward. They're okay," she said. "I bet you within 3 years one of them will be on 'Dancing with the Stars.'"

You stay classy, Joan Rivers.