Style news and blog articles from The Huffington Post
Why Texting and Dating Make Women Anxious (Tue, 28 Apr 2015 14:55:46 -0400)
In a new relationship, texting can be both exciting and filled with anxiety. Before you over analyze his texts, read this to find out how to text in style.

Since we live in a fast-paced digital world where texting and tweeting has replaced the human voice in matters of the heart, we often rely too heavily on the meaning of each text message.

When it comes to love and romance, that good morning text or smiley face emoticon can make your day. Receiving a text when your date gets home to say he had a great time will help you fall asleep with a smile on your face. Hearing the chime on your phone with a simple, "Sweet dreams" is an almost guarantee that you'll be dreaming about him.

On the opposite end of the digital spectrum, the absence of a daily text or a change in routine can send many in new relationships and the lovelorn into an unnecessary panic attack. Let's face it. Women often tend to over-analyze the word count and sentence structure of every text they receive from men. What's intended to just make sure you have a connection and to keep the momentum going often ends up with a bad reaction of sending a text you wish you hadn't pushed the send button on, or not sending any reply at all. It's enough to make you lose sleep at night, grab a pint of ice cream or dial ten girlfriends to ask them what to do. It's exhausting and unnecessary. It's just a text or a way to ping someone to stay in touch, not a relationship measuring stick on whether he's into you or not.

Most people are so attached to their cell phones that they sleep with them at night or would put them in the shower with them if they were waterproof. Texting can be addicting, but is a great form of digital foreplay.

If the rhythm of your texts has gone awry from your digital crush, here are some of the reasons why and tips on how to stay calm when your phone isn't chirping or vibrating.

1. He's Busy. Men are typically goal-oriented and work and projects are at the top of their list. He might be stuck in a meeting all day out of the office and forgot to tell you his schedule. He might be compartmentalizing and getting his tasks done for the day before he starts to think about romance with you. He might be on an airplane without WiFi. The list goes on. If he isn't texting you, it doesn't mean you're not on his mind. Women on the other hand are great at multitasking. They text, talk, tweet and blow-dry their hair at the same time.

What to do: Take a deep breath. It's just a text and not a life-threatening illness. Understand he may not even realize the last time he sent you a text. If you're on his mind, he might think things are fine.

Read: 20 Flirty Texts to Capture His Heart

2. He Responds with One Word. Does it upset you when you write a sweet long text and he replies, with, "ok" or "yep" or "nope?" If so, you're not alone.

What to do: Reply back with a short text. Use an emoticon such as a happy face to acknowledge it. Women tend to be more gabby. Guys who are busy read the text reply quickly and move on. Don't look at his word-count as a lack of interest. He's not keeping score, nor should you.

3. He Hasn't Figured Out Your Relationship Status.If you started out as friends and moved into casual dating, he might not be sure if it's time to get serious or not. Going steady is a big deal to guys. It means they typically won't be keeping their options open anymore. Rather than disappearing permanently, his texts might become less frequent while he sorts it out.

What to do: Stop living and judging the health of your new relationship based upon the frequency of texts. Take the time to enjoy the moments you have together and don't over think or spend your precious time projecting to the future. Allow your relationship to progress at its own pace. Women worry about relationship labels. Men think about how they feel when they are around you and miss you when you're apart. When he realizes you're a catch and doesn't want anyone stealing his girl, he'll amp it up. Don't ask him why he hasn't sent you a text in five days. When you hear from him, be happy and respond to keep the digital dialog going.

Read: He Texts Me Daily. Are We in a Relationship?

4. He has a girlfriend or is involved. Some guys are just flirts by nature. They like to engage in digital conversations with women to boost their egos to keep their options open. If he's texting you sporadically, but not putting a date on the calendar or changing plans last minute, he just might be setting you up as a back-up girl or might have had a bump on the road with his steady sweetie.

What to do: Ask him. Be blunt and honest. If he can't schedule something with you on the weekends, but loves to text with you during the week, you should be filling up your date card and keeping your options open. Let him know you'd like to be friends, but don't allow yourself to get invested in a relationship where you're just the backup girl. Who really wants to play second fiddle?

5. He always replies a day later. Most of us are attached to our phones, but sometimes the battery life gets depleted, the phone is turned off, someone went to sleep early, family commitments get in the way or they glanced at your text and decided to reply in the morning. All of these scenarios are natural. However if every text is returned 24 hours later, then realize that he just isn't that interested in you or is playing hard to get. The digital flow just isn't happening.

Watch: What to Do if He Only Wants to Text Me [vide0]

What to do: You can mirror his actions by taking another 24 hours to reply, but it's just game-playing. Let him know that you enjoy receiving texts from him and the daily banter. If he still doesn't up the ante, find someone else who can't wait to see your text or emoticon on his phone.

Read: I Saw His Text Messages: Is He Cheating or Is It Over?

Remember, communication in relationships is key and everyone these days use their cell phones for calls, texts, tweets and Facebook comments or likes. Let your guy know that staying in touch when you're apart and that his texts put a smile on your face. Don't play texting games and punish him by not replying to his texts when he sends them. No one wants to be with someone who is playing too hard to get. Show that you appreciate it when he takes the time to send you a text. Keep those smiley face emoticons in your text replies when you're happy to hear from him.

At the end of the digital day, texting is just one ingredient in the recipe for love, it's not the sole defining factor in your relationship.

Read: 5 Texting Tips to Help Improve Your Relationship

Julie Spira is an online dating expert and founder of CyberDatingExpert.com, where they create Irresistible Profiles for singles on the dating scene and help daters swipe right on mobile apps such as Tinder. For more dating advice, follow @JulieSpira on Twitter and sign up for the free Weekly Flirt newsletter.

Originally appeared on CyberDatingExpert.com
-- This feed and its contents are the property of The Huffington Post, and use is subject to our terms. It may be used for personal consumption, but may not be distributed on a website.
Abigail Breslin Slams 'Ridiculous' Coverage Of Selena Gomez's Appearance (Tue, 28 Apr 2015 14:07:38 -0400)
Big props go out to Abigail Breslin for taking a stand against cruel critics who have been picking apart photos of Selena Gomez, claiming she's gained weight.

Earlier this month, photos of Gomez in a bikini while on vacation in Mexico sparked some nasty comments about her physique, and while the 22-year-old didn't explicitly respond to the haters, she did post a very sexy swimsuit shot on Instagram that she captioned, "I love being happy with me yall #theresmoretolove."







While Gomez was subtle with her message, Breslin was anything but. On Sunday, the "Little Miss Sunshine" star took to Tumblr to defend Gomez against the "ridiculous" coverage of her appearance:


All this stuff about Selena Gomez online in her bathing suit is RIDICULOUS. Everyone is always saying how we shouldn't judge each other, so why are you commenting on a gorgeous, talented and smart young girls body when she's on the beach having fun with her friends AND SHE LOOKS AMAZING. Aren't there more important things the world can be reporting on??

How are young girls supposed to grow up normally and not feel bad about themselves and not develop eating disorders if it's literally national headline news that a THIN girl may or may not have put on a few pounds, and YET still remains THIN?

I think if we all took the time we spend making each other feel bad about ourselves and used it to make each other feel good, the world would be a better place. Oh and also if we taught girls they had more newsworthy qualities than how they fit into a bikini, we'd have a lot more happy girls.

Selena, you look amazing and more importantly look like you're having fun. Keep rocking those bikinis.

Ok rant over.


It seems like she covered everything that needed to be said. Well done, Abigail.

-- This feed and its contents are the property of The Huffington Post, and use is subject to our terms. It may be used for personal consumption, but may not be distributed on a website.

Unexpectedly Edgy Pearl Jewelry That's Perfect For Girls Who Hate Pearls (Tue, 28 Apr 2015 13:10:07 -0400)

Pearls are having a moment -- just ask North West and Lupita Nyong'o.

The shimmery white gemstones have long been seen as both a preppy and more mature look. As a result, it can be a tricky trend to maneuver, depending on your own personal style.

But rejoice, pearl pessimists! There are ways to hop on the train without looking like you raided Queen Elizabeth's crown jewels. Check them out below.



-- This feed and its contents are the property of The Huffington Post, and use is subject to our terms. It may be used for personal consumption, but may not be distributed on a website.

Man Boobs: Gynecomastia in Teens and Young Men -- An Embarrassing Condition (Tue, 28 Apr 2015 12:10:52 -0400)

Gynecomastia is the enlargement of a male's breasts secondary to various factors. It occurs in adolescence because of temporary hormonal imbalance of testosterone (male hormone) and estrogen (female hormone). It affects 30 percent - 60 percent of all males reaching puberty, and subsides by age 18 in 80 percent of the cases. Medically, usually a benign temporary condition, psychologically, a whole different story!

Teenagers and young men with gynecomastia often endure significant teasing and embarrassment. Due to the emasculating nature of this condition, many of those afflicted find it difficult to discuss. Unrelenting criticism and taunting by peers may cause development of serious body-image issues such as avoidance of exposing the body (especially at the beach or locker room), withdrawal from peers and depression. A complete understanding of the condition will assist in dealing with the issue.

Gynecomastia is characterized by some or all of the following:

• Excess localized fat
• Excess glandular tissue development
• A combination of both excess fat and glandular tissue
• Sometimes excess breast skin
• Presence unilaterally (one breast) or bilaterally (both breasts)

True gynecomastia means that the enlarged breasts are all breast tissue and pseudogynecomastia means that the enlarged breasts are mostly fatty tissue. Most cases of adolescent gynecomastia are mixed, a combination of enlarged breast tissue and increased fatty tissue.

Causes

Other than hormonal changes during puberty, gynecomastia can be caused by certain types of adrenal, pituitary or testicular tumors. Drugs or medications such as anabolic steroids, valium, antidepressants, some antibiotics, ulcer medications like Tagamet, amphetamines, heroin and alcohol can also cause gynecomastia.

Treatment

Gynecomastia in adolescents should be conservatively observed, because the majority of boys with gynecomastia in their teens will normalize by the time they turn 18. Consultation with an endocrinologist may be considered if the patient's pediatrician deems it necessary to rule out any unusual hormonal imbalance. The individual should be counseled and educated about the condition, and made to understand that it is a fairly common entity and much reassurance should be offered. The cancer drug Tamoxifen has been used to treat this condition, with mixed results. If psychological issues arise, they should be referred to a mental health expert.

Layered clothing is a useful ploy to camouflage the body when applicable in cooler weather. Those afflicted should be encouraged to try diet and exercise, including weight lifting to increase girth of the pectoral (chest) muscles. If psychological issues become overwhelming, plastic surgical consultation may be considered before age 18.

Surgical Intervention

Plastic surgical intervention should be considered in patients whose condition does not improve by their 18th birthday (if it bothers them), or less commonly at age 16 or 17, if peer taunting or psychological issues escalate. Young men with this condition (18 and older) may consider surgical intervention at any time, as long as they are healthy, nonsmokers and have reasonable expectations. A vigorous diet and exercise program should be encouraged first to possibly obviate the need for surgery.

Plastic surgical options include liposuction, with or without direct excision of firmer breast tissue. Sometimes it is necessary to trim excessive skin, but plastic surgeons strive to place scars in locations easily hidden by lines and folds of the body. Recovery is usually quick, and patients are encouraged to temporarily wear an elastic garment or snug elastic athletic T shirts to help decrease swelling and speed recovery. Health insurance may or may not cover the procedure, as policies differ greatly.

Increased awareness of gynecomastia within our communities will empower afflicted men and boys to seek out treatment. Years of personal experience with this operation have demonstrated a very high satisfaction rate, especially in teenagers. I have seen literal transformations with regard to confidence and exuberance. If surgery is considered, be sure to consult with a board certified plastic surgeon.

-- This feed and its contents are the property of The Huffington Post, and use is subject to our terms. It may be used for personal consumption, but may not be distributed on a website.

Bethany Mota Reveals Her Makeup Bag Must-Haves And Frizzy Hair Fix (Tue, 28 Apr 2015 11:52:40 -0400)

Even though Bethany Mota has more than 8 million subscribers on YouTube, a chart-topping single on iTunes and has leveraged her vlogging talents into a multimillion-dollar brand, the star has her feet planted firmly on the ground.

Mota visited The Huffington Post Monday and shared some words of wisdom with readers when she took over The Huffington Post Facebook page. When the 19-year-old was asked what advice she'd give to her younger self, she replied, "You don't know everything. Learn from your mistakes."

Mota has learned a lot in a short amount of time. Read more excerpts from her Facebook takeover below to find out where she finds style inspiration, the surprising beauty tool she keeps tucked inside her purse and more.

What have been your favorite spring styles?
"Denim skirts, maxi dresses and sandal heels!"

Which celebrities' style do you love?
"Miranda Kerr and Chrissy Teigen."

Which three beauty products are always in your makeup bag?
"Brow pencil, lip stain and eyelash curler!"



What do you do first, makeup or hair?
"Makeup."

What's your favorite thing about fashion?
"Being able to express your personality through your style! Don't feel the need to follow trends. Wear what you feel comfortable in."

What's your quick fix for frizzy, summer hair?
"Leave-in conditioner and also braiding my hair at night after a shower."



If you could do something other than being a YouTuber, what would it be?
"Probably either a cinematographer or motivational speaker."

What's your go-to summer place and item?
"Either the beach or pool! I always bring sunscreen and Evian Facial Spray."



What is your favorite thing about vlogging?
"Sharing my day with you guys! Sometimes people give me weird looks when I vlog in public. Anything for you guys though!"

Who are your favorite YouTubers?
"Troye Sivan, Connor Franta, Hannah Hart, Grace Helbig and Tyler Oakley."



Hot chocolate or coffee?
"Coffee! Vanilla iced."

Showers or baths?
"Lush baths!"

What's you're biggest fear?
"Losing motivation in life. That's why I always try to make the best of every situation and cherish every moment."

This interview has been edited and condensed for clarity.

-- This feed and its contents are the property of The Huffington Post, and use is subject to our terms. It may be used for personal consumption, but may not be distributed on a website.

I'm Getting Married at 22 and Apparently That Upsets People on the Internet (Tue, 28 Apr 2015 11:44:54 -0400)

A few years ago, I was in a pretty low place. Like, Garth Brooks kind of low place. I was your average college student, facing the stress and rigor of attending school full-time, working, attempting to be social, and trying to swim my way out of an abusive relationship.

I was stuck there, in a relationship with someone who I thought I was in love with, who I thought was my soul mate, who I thought would one day tie our daughter's shoes on her first day of school. I was so convinced that he was the source of my happiness, the one person who really understood me, and the person I would be with forever, that I was blind to his constant manipulation and made excuses for his aggression.

One day -- and to this day I'm still lost as to how or why -- I woke up feeling strong and empowered, so I walked away. I walked away from the mental and physical pain that accompanied that relationship, I prayed to God for the strength to never look back, and I healed. (The healing part was not a one-day process.)

I don't know why things happen the way that they happen, but I like to think that there's a greater reasoning behind it than simply "because." What I do know is that oftentimes, when we let go, stop searching, and leave behind the anchors of pain and despair, we stumble upon what John Green so eloquently describes as "The Great Perhaps." When I walked away from all of the pain and baggage that I was carrying from my previous relationship, God opened a door for me. He opened a door to a journey that led me to my Great Perhaps.

Facebook is littered with blog posts titled, "10 Reasons Your 20s Are Meant for Exploration," "23 Things I'd Rather Do Than Get Married at 23," "Why I Don't Need to Be Completed by My Significant Other," et cetera. Relationships are a hot topic among millenials, and social media has exacerbated the desire for user-generated content that makes 20-somethings feel validated in whatever current relationship status they're in.

What I've also noticed throughout this sea of viral Facebook posts is also more and more 20-somethings getting engaged and married. This isn't a new concept -- most of us have parents or grandparents who got married young. The difference is, social media and the internet have given everyone the opportunity to voice their opinions on the topic.

Right now, I'm 21, I'm engaged, and I'll be married at 22 years old. To some people, it's like "leaving the party at 9 p.m.," it's too young, it's rushing things, it's [insert other negative comment here]. Those "some people" are Internet strangers and my parents.

My parents have a right to be concerned about my life choices and future, and I understand their concerns and am thankful to have parents who love me so much that they want the best and happiest life possible. However, I stand by my commitment and I'm not going to change my mind. I've read articles that say you can't possibly know what you want out of life at 21, and that your life experience has not yet prepared you to make wedding vows.

Let's look at traditional wedding vows:

For better or for worse -- I think we can all agree that loving people is pretty easy during the "better" part, and it's when the "worse" comes around that things get tough. Alex and I have seen each other at some pretty low points (details not necessary). Will I see him at worse? Probably. But I have an idea of how he acts when he's at his lowest, and it's helped me to understand him better emotionally, so hopefully whenever we face disaster, grief, stress, and pain in the future, I can love him in the best way that I can.

For richer or for poorer -- About a year ago, I had $30 to my name, I drained my savings account to pay my rent, and I was attending free lunch and dinner at a neighborhood church twice a week because I genuinely could not afford to buy groceries. The financial stress I was under seriously affected my mental and physical health, and I was in a constant state of panic and anxiety over making sure my bills got paid. Who did I turn to? Alex. He helped me look for a second job, he listened to me cry, he bought me groceries for Valentine's Day. This period of time really brought us closer as a couple because we didn't let the misery tear us apart. Conversely, when I was making a lot more money, Alex brought me back down to earth and if I was spending a lot of money, he let me know that he noticed I was spending a lot more and maybe I needed to slow down.

In sickness and in health -- Also about a year ago, I was extremely ill. I will spare you the details, but I have never felt so helpless over my own body. I was constantly up in the early hours of the morning writhing in pain on my bathroom floor, and Alex somehow managed to wake up and answer my sobbing phone calls and comfort me on his already limited sleep schedule. He sent me medicine and positive messages, listened to me when I just needed to vent and cry, and supported me through doctor visits. He was there.

To love and to cherish; from this day forward until death do us part -- I promised this a long time ago, and have no intentions of ever going back on it.

I know that people always say I'm at the age where I think I know everything, but I don't think that changes as you get older. I think people in their 30s and 40s think they know everything as well, and we all learn as we get older. People get divorced in their 20s? People get divorced when they're 50, too.

It's smarter to save up and be financially sound before you make any commitments? I'm going to be relatively poor at 22 whether I'm married or not. I'd rather spend those years with someone who makes the misery just a little less miserable.

Getting married to Alex is going to make me happy, even through the inevitable petty arguments, Ramen Noodle diets, and toilet seats left up. And I would think it's pretty selfish for anyone to not want me to experience that happiness just because I'm not living my life in the order they think I should live it in, getting married at the age they think I should get married at, or getting married to the person they think I should marry.

I'm not going to live my life in fear of divorce or poverty or anything else for the sake of other people, because at the end of the day, it's my life, my love, my happiness, and I deserve to be in control of those emotions and face the adversity that comes with it on my own.

I don't need Alex to complete me, I don't need to backpack through Europe to "find myself," and I don't need to date 20 more people to make sure he's the one. I don't need to spend the next five years getting to know him better. I've known him since I was 13 years old, and I get to know him more every day. Being married allows me to get to know him on another level that five years of unmarried life won't give me.

If getting married at 22 is like leaving the party at 9 p.m., at least I get to go home, put on yogas, plop down on the couch with Alex and watch two hours of Game of Thrones before bed. We're going to travel together. We're going to grow together. We're going to love each other more, and the reasons for which we love each other are going to change over time. We're going to build a life together. We don't have any unrealistic beliefs or expectations that marriage is going to be sunshine and rainbows or easy, but so far none of our relationship has been, and it's made us stronger.

Our love alone will not make our marriage successful, but our commitments to each other and our willingness to be a lifelong team will. And I have yet to figure out why that is so offensive to everyone else. If you don't want to get married until you're 30 -- don't! If you don't want to get married ever -- then don't!

I think it's admirable to admit that you're at a point in your life where you aren't ready to settle down and you don't know what you want out of life -- or maybe you do know what you want and marriage isn't it. Better to be honest with yourself and save yourself and others from heartbreak than to commit to something you know you're not ready for. However, I'm at a point in my life where I've decided (after much thought and prayer) that I am ready to make this commitment, and I couldn't be more excited to do so.

And if that upsets you, well then, I'm sorry -- sorry that my future marriage is the most pressing thing in your life that you have to be upset over. I will never apologize for my happiness.

This post originally appeared on Wisconsin Whimsy.

-- This feed and its contents are the property of The Huffington Post, and use is subject to our terms. It may be used for personal consumption, but may not be distributed on a website.

How To Revamp Your Makeup Routine Without Buying A Thing (Tue, 28 Apr 2015 11:26:46 -0400)

We talked to some of our favorite makeup artists, who happily reported that you don't actually have to drop any dough on new products to spice things up. Ahead, they empower us with some out-of-the-box application techniques we can use with the makeup we already own to create new -- and game-changing -- looks.

-- This feed and its contents are the property of The Huffington Post, and use is subject to our terms. It may be used for personal consumption, but may not be distributed on a website.

Victoria's Secret Just Added 10 New Angels To Its Roster (Tue, 28 Apr 2015 11:24:17 -0400)

Victoria's Secret took to Twitter Tuesday morning to announce 10 new "Angels" added to the company's core roster of supermodels.

Formers Angels Doutzen Kroes and Karlie Kloss recently left VS, so the new faces have large wings to fill. Many speculated Kendall Jenner and Gigi Hadid, who already models for Victoria's Secret, would be in the running, but neither name was announced. However, Taylor Swift's bestie, Martha Hunt, and Miley Cyrus's pal Stella Maxwell are two of the new Angels, and will probably be known all over the world soon as a result.

Get to know the new Angels in the video and tweets below:


MAJOR NEWS: we're adding 10 new models to our Angel roster! Welcome Kate Grigorieva, Taylor Hill, Elsa Hosk, Martha Hunt, Jac Jagaciak, Stella Maxwell, Lais Ribeiro, Sara Sampaio, Romee Strijd, and Jasmine Tookes! #TheNewestAngels

Posted by Victoria's Secret on Tuesday, April 28, 2015
1. Kate Grigorieva
2. Taylor Hill
3. Elsa Hosk
4. Martha Hunt
5. Jac Jagaciak
6. Stella Maxwell
7. Lais Ribeiro
8. Sara Sampaio
9. Romee Strijd
10. Jasmine Tookes
-- This feed and its contents are the property of The Huffington Post, and use is subject to our terms. It may be used for personal consumption, but may not be distributed on a website.
Warby Parker Beats Out Tech Giants On 'Most Innovative' List (Tue, 28 Apr 2015 11:22:16 -0400)
Warby Parker beat out Apple, Google and Samsung to be named Fast Company's most innovative company of 2015.

The online eyewear retailer, which is just five years old, has expanded rapidly during its short lifetime. The company's annual revenues top $100 million, according to the magazine, and it has opened brick-and-mortar locations across the United States.

By manufacturing its own frames, Warby Parker avoids the usual price markup that makes other eyewear retailers more expensive. Most Warby Parker glasses start at $95. Meanwhile, at retail locations for Sunglass Hut or Oliver Peoples, both of which are owned by Italian eyewear giant Luxottica, prices for in-house brands such as Ray-Ban, Persol or Oakley soar to match those of the designer brands they're sold beside, including Chanel, Dolce & Gabbana and Prada.

For every pair of glasses Warby Parker sells in the United States, it donates one to its nonprofit partners. The partners then train people in developing countries to give eye exams and sell glasses to their communities at affordable prices.

But Warby Parker has really burnished its reputation with strong customers service built on a core value of empathy.

Fast Company's Max Chafkin writes that the company's success is due to its "founders' fanatical focus on brand and execution."

"We look a lot for self-awareness and for empathy [in our employees]," co-CEO Neil Blumenthal said in an interview with the The Huffington Post in 2013. "I think it's really hard to serve customers well if you're not empathetic. I think it's hard to collaborate with others if you're not empathetic. I think the people that are the best at customer service are the ones who are the most empathetic."

Just last year, Wired magazine asked in a headline: "Is Warby Parker too good to last?"

For now, it has.

The company has begun expanding offline, with a flagship location in Manhattan's posh SoHo neighborhood and stores in eight other cities.

Still, Warby Parker has managed to maintain its empathetic ethos.

In February, the retailer sent a customer in Atlanta a $20 gift card to her local bar after she told Warby Parker staff while picking up her new frames that her car had been stolen. Last October, the company rolled out a new next-day delivery program in New York City, where for an extra $50, customers could get a new pair of glasses delivered in 24 hours.

"We are incredibly honored," Blumenthal and co-CEO Dave Gilboa said in a statement to HuffPost. "The week it was announced just so happened to be Warby Parker's fifth birthday and it was the best way to celebrate five unbelievable years."

This story has been updated with a statement from Warby Parker.
-- This feed and its contents are the property of The Huffington Post, and use is subject to our terms. It may be used for personal consumption, but may not be distributed on a website.
Amazing Photo Series Reveals What Aging Superheroes Would Look Like In Retirement (Tue, 28 Apr 2015 11:19:17 -0400)
What will your favorite superheroes be doing after they hang up their suits, capes and masks? Well, they'll be aging like the rest of us.

A new photo series by Dubai-based photographer, Martin Beck, aims to illustrate just that. The collection, "We Can Be Heroes," shows what Batman, Superman, Green Lantern and many others would look like long after their days of fighting villains and battling for justice.

"I had the idea of portraying Superheroes in an alternative way. When we think of heroes, we think of beautiful faces, perfect bodies and how they achieve unbelievable feats with their powers etc. But in reality, most of us are not like that at all," Beck told The Huffington Post in an email. "We all, irrespective of our circumstances, can do good, help others. We all have the potential to be heroes... Anyone can be a hero, we just have to choose to do so."

Though they might be carrying a few extra pounds, some gray hair and wrinkles, the superhero series proves that strength really does come in many forms. Check out the amazing photos below and see the full collection here.








Like Us On Facebook |

Follow Us On Twitter |






-- This feed and its contents are the property of The Huffington Post, and use is subject to our terms. It may be used for personal consumption, but may not be distributed on a website.

Hallmark's New Mother's Day Ads Remind Us To 'Go Beyond Love' (Tue, 28 Apr 2015 10:54:40 -0400)

Grab the tissues, this one's a doozy.

In a new series of Mother's Day ads, Hallmark asked people to describe the love and gratitude they have for their mothers. Little did the participants know, their moms were listening in to their conversations the entire time. Each video captures a mom's reaction to her children's touching words.

Created for the brand's "Put Your Heart to Paper" campaign, the series includes eight videos where the interviewer asks people to describe how much they love their moms without using the phrases "I love you" and "thank you."






"I feel like with her actions every day she teaches me what it means to love someone," one daughter says about her mother in the video above. The other daughter describes her mother as her soulmate: "People always talk about 'Oh there's soulmates in the world' and I don't know if I believe in all that stuff but if there were soulmates I know she's my soulmate. I've never yet met somebody that I connect with and love and care about and think about more than my mom."

In another video, Hallmark sat down with Alana and her mom Lisa, who raised Alana as a single mother. When asked to describe her mom without using the word "love," Alana said, "If I didn't have my mom, I think I would be lost. I think she's a bit of my guiding light, especially right now becoming a new mom. You mean everything to me."

Lisa was touched by the her daughter's words, saying, "I think that most moms -- rarely do we know the impact we've made on our children."






Watch the rest of the videos from the campaign here.

H/T AdWeek

Follow HuffPostWomen's board Mother's Day on Pinterest.

-- This feed and its contents are the property of The Huffington Post, and use is subject to our terms. It may be used for personal consumption, but may not be distributed on a website.

8 Plus-Size Swimwear Sites That Ease The Pain Of Swimsuit Shopping (Tue, 28 Apr 2015 10:49:13 -0400)

Bathing suit shopping is a nightmare for more reasons than one.

While we're of the belief that every body is a bikini body, the task of actually going to the store and trying suits on is a daunting one.

One way to avoid the nightmare of horrific lighting and cramped dressing rooms is to do your shopping online. It can, at times, be difficult to navigate the vast waters (get it?) of the web, especially when you have curves to consider.

Fear not! We've rounded up eight sites with great selections and a vast range of sizes for you to peruse -- right from the comfort of your own home. Some carry exclusively larger sizes, while others do a great job of including suits for everyone.

Click through with ease below.


Asos


Marie Meili Curves Samoa Wired Bikini Top & Samoa Bikini Bottoms, $55 for set, Miraclesuit Exclusive To Asos Sonatina Swimsuit, $217, Mix & Match Sexy Halter Top with Support & Mix & Match High Waist Bikini Bottom with Ruched Sides with Support, $54 for set
Swimsuits For All


Swim Sexy Jet Black Halter Twist Front Bikini, $40.60, Swim Sexy Aztec One Piece, $54.60, Laura Wells Coral Reef Zip Front Bikini, $61.60
Torrid


Anne Cole Colorblock Bandeau One-Piece Swimsuit, $88.50, Skull Print Natural Support Bikini Top & Skull Print High-Waisted Swim Bottom, $93 for set, Geo Print Bow Bikini, $44.50
Modcloth



Bathing Beauty One-Piece Swimsuit in Cherry Pie, $89.99 (similar style in more sizes here,) Beach Blanket Bingo Two-Piece, $89.99 (similar style in more sizes here,) Jump in Fleet First One-Piece, $64.99
Nordstrom


'Desert Fringe' Halter Bikini Top & High Waist Bikini Bottoms, $132 for set, 'Ritual' Crochet Crop Swim Top, & 'Ritual' Crochet Skirted Swim Bottoms, $172 for set, 'Gypsy Life' Flounce Crop Top & 'Gypsy Life' Ruffle Skirted Bikini Bottoms, $148 for set
Hey Gorgeous


Flamingo Tank One Piece, $169.95, Rough Diamond Multifit One-Piece, $169.95, Pleated Bandeau Bikini, $189
Nakimuli


Red Mosaic Serengeti Swimsuit Top & Red Mosaic Serengeti Swimsuit Brief, $91 for set, Bright Delight Swimsuit, $125, Black Aztec Swimsuit Top & Black Aztec Swimsuit Brief, $114 for set
Monif C.



Santa Rosa Bikini Top & Santa Rosa Brief, $108 for set, St. Tropez Fringe Swimsuit, $98, Fiji Sweetheart Ruched Swimsuit, $98
-- This feed and its contents are the property of The Huffington Post, and use is subject to our terms. It may be used for personal consumption, but may not be distributed on a website.
17 Stunning Images Show Prima Ballerinas Balancing Motherhood With Their Dance Careers (Tue, 28 Apr 2015 10:28:44 -0400)
Sixteen years ago, photographer mom Lucy Gray decided to create a series of images that would capture the experience of working motherhood. A chance encounter with a prima ballerina at the market led her to the world of the San Francisco Ballet and the dancers who balanced their onstage careers with their roles as mothers.

Over the course of 15 years, Gray photographed three ballerinas who had children -- Katita Waldo, Tina LeBlanc and Kristin Long. The photographer followed these women as they navigated motherhood and the professional dance world -- pumping during breaks backstage, dancing while pregnant, and playing with their children after curtain call.

"I wanted to get their experiences as dancers and as mothers," Gray told The Huffington Post. "I wanted them to forget about me and become a near silent witness."

Gray turned her series of intimate black and white photos into a book called Balancing Acts: Three Prima Ballerinas Becoming Mothers.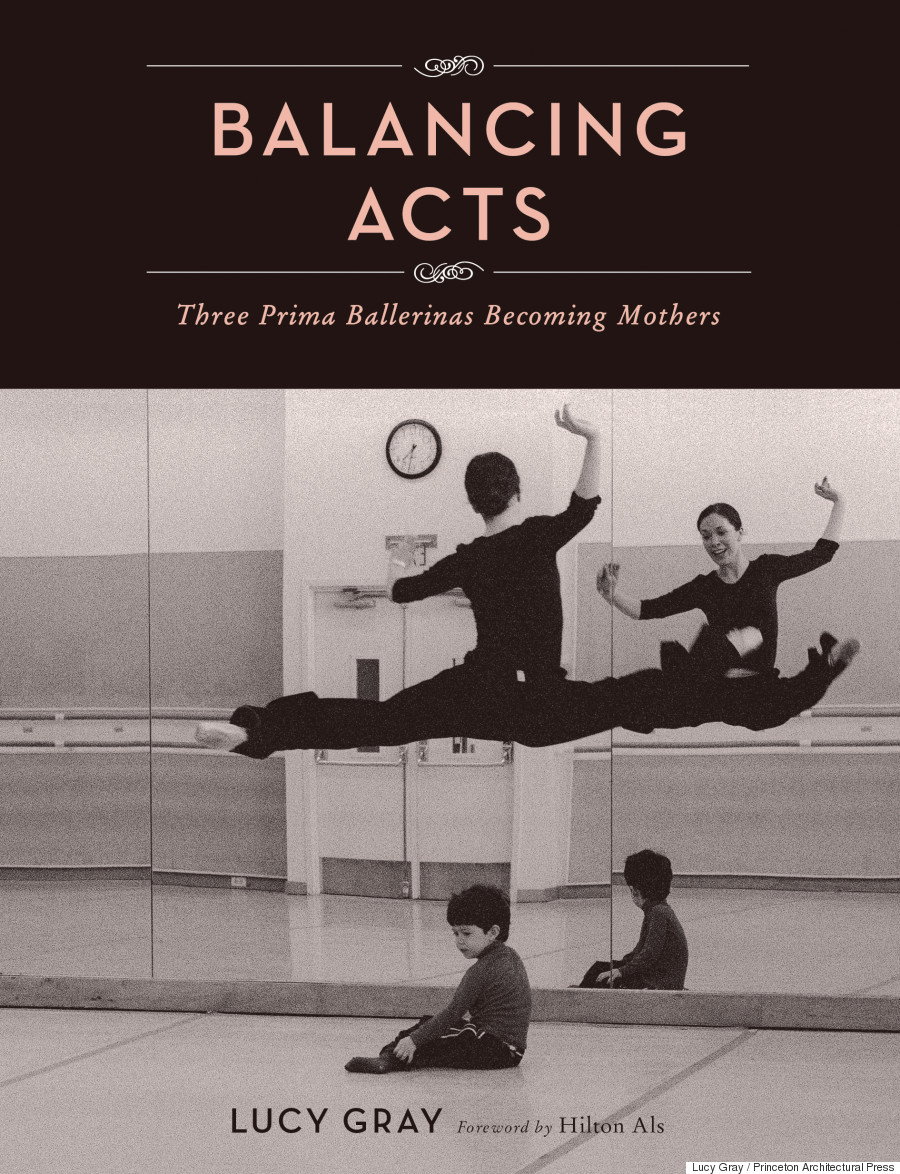 "What I learned was that their hallmark was dedication, and that made them effective as dancers and as mothers," Gray said. While the women had risked "losing it all" when they decided to bear children while working in their competitive field, the photographer said her subjects actually became better dancers when they became mothers. "For these three dancers, letting go of single-minded self-driven rewards and performing for their children put their vocation in perspective."

"It was the fact of doing both simultaneously that made them better at both occupations -- work and child-rearing. This was possible because of supportive husbands who were also working but doing the lion's share of child caring. They all brought the children to the ballet which kept the mother's connected through dancing seasons until they were off and could spend more intense time with their children."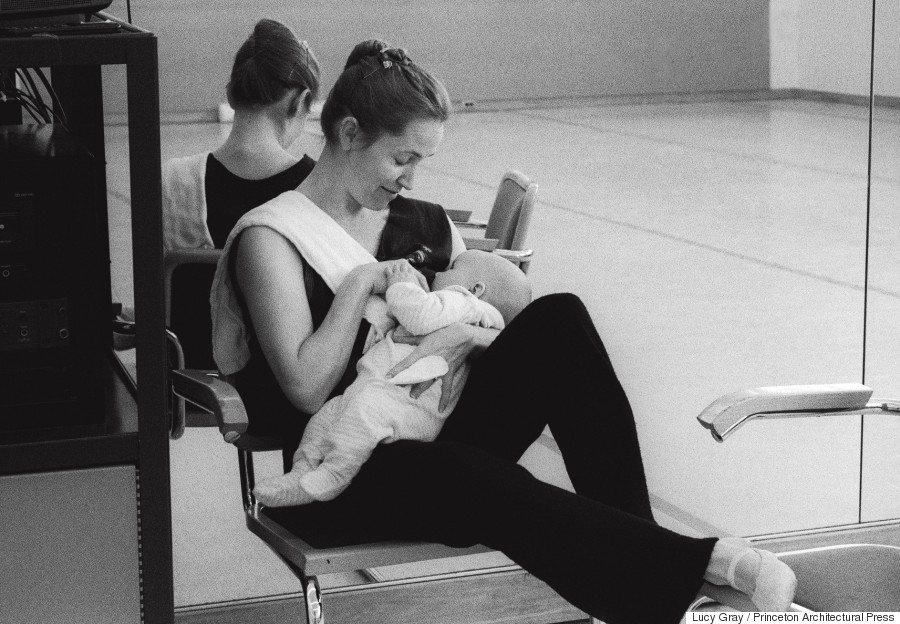 Gray hopes that Balancing Acts will resonate with the millions of working mothers in the U.S. "Half the work force are women, and we might accept that that is a good thing, a necessary situation, and that that does not preclude us from succeeding as mothers as well," she said. "If we as a culture accept this reality then we might begin to support working mothers. If there is any phrase I have come to dislike it is 'having it all.' Why do we tell women that if we are mothers we must give up anything else or fail at everything we do? It just isn't true."

The photographer also wants people to feel the joy and pleasure in her subjects' lives as they embraced the challenge of having children while working. "These ballerinas created babies and roles on stage, perhaps their span of experience is greater than most of ours, but that gives us a bar to aspire to. They became better dancers after they had children and were better mothers because they kept dancing. They needed to work to support their children but they also knew that having careers kept them more interested at home. Both sides to their lives fed the other."

Keep scrolling and watch the book trailer for a preview of some of the stunning images from Balancing Acts: Three Prima Ballerinas Becoming Mothers.






Like Us On Facebook |

Follow Us On Twitter |

Contact HuffPost Parents


-- This feed and its contents are the property of The Huffington Post, and use is subject to our terms. It may be used for personal consumption, but may not be distributed on a website.
Mariah Carey Makes Her Vegas Debut In Sheer Bejeweled Dress (Tue, 28 Apr 2015 09:57:17 -0400)
Mariah Carey was a show-stopper when she made a grand entrance at Caesars Palace in Las Vegas Monday night.

The singer donned a sheer bejeweled dress for her arrival in Sin City ahead of her residency at The Colosseum, which begins next month. She rode to the venue in a pink 1936 convertible, according to the Associated Press. Eighteen mobile billboards emblazoned with her No. 1 singles followed closely behind. Then, she was carried atop a platform like Cleopatra through the casino and to the stage.

On Sunday, Carey dropped her new single, "Infinity," on iTunes, Spotify and YouTube. She will sing that along with her greatest hits during her residency, which runs from May through July. -- This feed and its contents are the property of The Huffington Post, and use is subject to our terms. It may be used for personal consumption, but may not be distributed on a website.
Khloe Kardashian Faces Backlash After Posting About Baltimore Riots (Tue, 28 Apr 2015 09:53:15 -0400)
It turns out no one wants to hear what Khloe Kardashian has to say about the protests in Baltimore.

On Monday, as the protests turned to riots, the 30-year-old reality star took to Instagram to share message that read "Pray for Baltimore":







It seems that the post was not well received and less than 30 minutes later the star vented her frustration via Twitter:




While the star's post was innocuous enough, sometimes it's best not to say anything at all.

-- This feed and its contents are the property of The Huffington Post, and use is subject to our terms. It may be used for personal consumption, but may not be distributed on a website.