Style news and blog articles from The Huffington Post
This Perfume Could Make You Smell Just Like A Comet (Fri, 24 Jun 2016 17:14:21 -0400)
A perfume that smells like a comet is a poetic-sounding idea. Who doesn't love the image of a big dusty space snowball careening through the skies?
Unfortunately, comets don't smell as ethereally lovely as one would hope. Scientists discovered in 2014 that at least one comet -- 67P/Churyumov-Gerasimenko-- gave off an odor reminiscent of rotten eggs, horse poop, ammonia (read: cat pee) and formaldehyde.
But that didn't stop members of the Rosetta mission team -- the people responsible for landing a probe on the comet -- from asking UK-based scent firm The Aroma Company to make a perfume based on the comet's fragrance.
New Scientist reporter Jacob Aron had the misfortune of testing out the new perfume. He described it as having a "sharp, unpleasant scent" that he could feel "as a physical presence inside my skull." As he smelled more and more, however, Aron started coming around to the scent, writing that it's "not actually as foul as my first impression led me to believe" and that he could even detect "a few floral notes." Either that, or the horrible stench was just starting to make him delirious.
Unfortunately — or maybe fortunately? — the fragrance doesn't appear to be available commercially at this point. The Rosetta team will be handing out postcards with the scent at London's Royal Society Summer Science Exhibition in July.
Since we haven't sniffed this stuff ourselves, we'll have to hold further judgment. But really, could it be much worse than perfume that smells like zombies?
-- This feed and its contents are the property of The Huffington Post, and use is subject to our terms. It may be used for personal consumption, but may not be distributed on a website.
Sizzling Summer Swimsuits! (Fri, 24 Jun 2016 16:37:28 -0400)
It's hot and you're headed to the pool, but wait! Not in your old bathing suit. From the skirtini to the monokini and more, it's time to take the deep plunge into this season's hottest swimwear! These suits will have you dying to put them on, show them off poolside and flaunt your beautiful bodies! (I did mention: you can swim in them too right?)

SKIRTINI
While the tankini's purpose is to cover you up, the skirtini clearly showcases your assets from your torso to your legs. A boustier top shows the influence of lingerie in swimwear, giving great support with underwire, padding and straps. Add gold-rimmed sunnies, a statement necklace and stackable bracelets all with the Midas touch. As for the Fleeps flip-flops, it's a company with a give-back philosophy: when you buy a pair, a girl receives an education. That's how you feel great about going to the beach!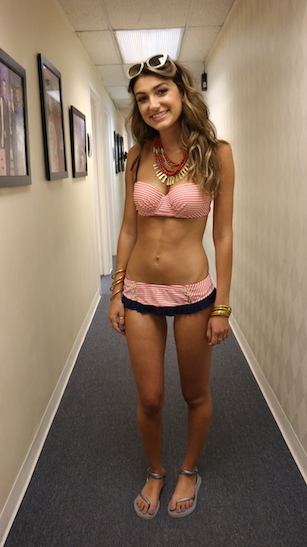 Chili Pepper & Gold Foil Stripe Carousel Boustier Bikini Top and Skirted Bikini Bottoms; BetseyJohnson.com
Sunglasses, $30; Kohls.com
Bliss Statement Necklace, $119; StellaDot.com
Gold Bangle Bracelets (set of 9), $110; Budhagirl.com
Flip-flops that give back, $38; Fleeps.com

CUTOUTS
You'll be hard-pressed to miss a suit without cutouts this season--they are everywhere as are monokinis (which by definition is a bikini bottom that is attached to a one piece--sometimes barely!). Cutouts work by drawing all eyes strategically to the skin. Just be keenly aware of what cutouts are highlighting (your shoulders, sides, stomach, etc.) and make sure they work to flatter you best. Here a statement shell necklace brings attention to the face, while dual, studded cuffs and gladiator sandals further our goddess empowerment theme.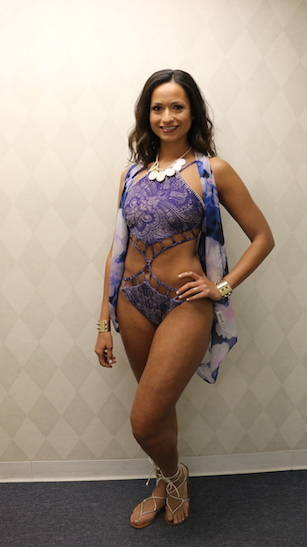 Ale by Alessandra Henna Blue Stitch Monokini, $180 from DianesBeachwear.com
Shell Necklace, about $20; H&M
Purple Stud Cuff $32 each; BaubleBar.com
Honeycomb Ring Quad (set of 4 rings), $48; BaubleBar.com
Knolla Lace-up Sandal, $69.98; SteveMadden.com

THE "NEW" STRING BIKINI
I'm crazy for "the new string bikini" and you can see why. The classic string bikini has two small ties on your hip that always come undone. The new string bikini features tons of little strings that are always attached so you never have to worry, especially if you are a sporty gal. The high-waist bottom is another hot trend, and what's cool about these is that the strings break up the look on the hip making it airy. If opting for this style, look for a detail that makes it different and unexpected: bands, cutouts, embellishments like buttons or snaps.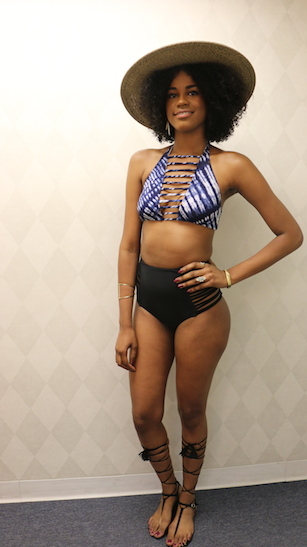 Blue Crush Strap Halter Top $66.22 and Melrose High-Waist Brief $58.78; Nookie.com.au
Scala Hat, $42; department stores
Emerald Duv by Kristin Cavallari Joshua Tree Cage Bracelet ($112) and Hollister Ranch Bracelet ($128); emeraldduv.com
Fairy Dust Lace-up Thong Sandals, $20; lulus.com

PLUNGING NECKLINE
Spice things up in a one-piece bathing suit with a deep plunge! Feel nervous about doing so? This one is actually somewhat modest in that it laces up where it counts and keeps everything in check--especially when you are reaching for your margarita! I love the additional nods to neon and bold patterns, which if you haven't seen yet, you'll start to see everywhere at the pool.


Trina Turk Capri Lace-Up Swimsuit, $148; Bloomingdale's
Mirage Chandelier Earrings ($49) and Alila Lace Cuff ($98); StellaDot.com
Turner Y-Chain Necklace, $38; BaubleBar.com
White Ankle Strap Heels, $29; lulus.com
Scala Hat, $42; department stores

FOR TALL WOMEN
Specialty swimsuit shopping can indeed be a breeze. Lexie from the TLC show My Giant Life rocked her first ever one-piece bathing suit created with an extra long torso to accommodate women with height by Long Tall Sally. Featuring basket woven straps in the back and Baywatch-style, high-cut hips, the suit shows off her gorgeous, stunning legs and the beauty of her stature.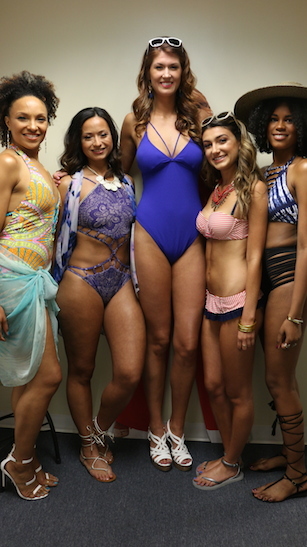 Lace-up Back Swimsuit, $79; LongTallSally.com
Copra Polarized Sunglasses, $149; Costadelmar.com
Bracelets, $26; JCPenney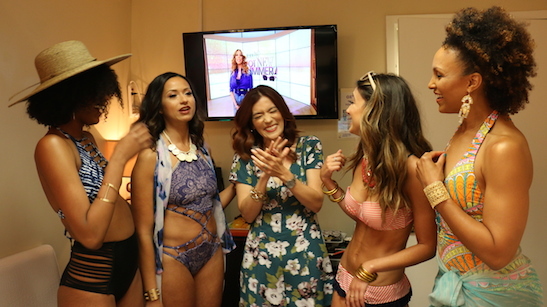 That's me in the middle, cracking up with my gals.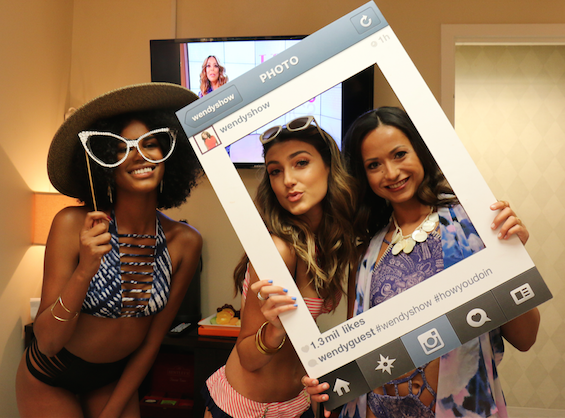 To see these swimsuits in action, check out my segment on the Wendy Williams Show.

-- This feed and its contents are the property of The Huffington Post, and use is subject to our terms. It may be used for personal consumption, but may not be distributed on a website.

26 Times Anna Wintour Wore Sunglasses In The Dark (Fri, 24 Jun 2016 15:00:23 -0400)

There are a few things Anna Wintour is known for. Her bob, her incredibly long reign as editor-in-chief of Vogue and of course, her sunglasses.




Since the '80s Wintour has been wearing sunglasses e.v.e.r.y.w.h.e.r.e. Inside, outside, to red carpet events, in the pitch black -- you name it, and she was there, with her sunnies.




In honor of National Sunglass day on June 27, we are honoring the woman who might be responsible for single-handedly fueling the sunglasses industry. Herewith a few photos of Anna wearing sunglasses in the most absurd places.




-- This feed and its contents are the property of The Huffington Post, and use is subject to our terms. It may be used for personal consumption, but may not be distributed on a website.

Salma Hayek Gets Candid About Body Confidence In Middle Age (Fri, 24 Jun 2016 13:25:02 -0400)

Salma Hayek may be known for her good looks and her trademark curves, but the actress says being comfortable in her own skin is something that changes from day to day.




"Well I am entering my fifties so your body confidence isn't that good. I think it depends on the day, for everybody," the 49-year-old told InStyle UK. "There's some days you say, 'This is it,' and you love it. Then there are days when you go, 'This can not be it! Is this really it?' So I think it's up and down all the time!"




Hayek, who turns 50 later this year, hints that being in show business doesn't help when it comes to the pressure to look a certain way.




"The amount of pressure on women now, it's crazy," she told The Guardian last year. "You have to be much better than your male colleagues ... you still have to be a good wife and mother. And now you also have to be skinny, and you have to look 20 when you're 40. It's too much. We need to stop with the crazy expectations, give ourselves a break."




Sandra Bullock, who turned 50 in 2014, shared Hayek's candid view when it comes to aging, saying her 50s might not be the "best" time of her life but it still "feels good."




Hayek says she's never considered getting any cosmetic treatments like Botox to try to look younger -- in fact, she's said that being told to go under the needle was one of the worst pieces of advice she ever got.




You're gorgeous just the way you are, Salma.




-- This feed and its contents are the property of The Huffington Post, and use is subject to our terms. It may be used for personal consumption, but may not be distributed on a website.

Kelly Rowland Gets Real About Why Black Women Should Embrace Their Beauty (Fri, 24 Jun 2016 13:23:50 -0400)




Kelly Rowland's confidence is contagious, and she's going above and beyond to spread it to other women.




The "Chasing Destiny" star is doing this by not only embracing her own chocolate splendor and constantly giving back, but also by launching a makeup line in collaboration with her makeup artist, Sheika Daley, that will be inclusive of all skin tones. Rowland told The Huffington Post that her own struggle to find makeup that matches her complexion sparked the idea.




"I was pink, I was green, I was gray, I was too fair, I was too dark or too purple," Rowland told HuffPost at Breyer's 150th Birthday Celebration in New York on Wednesday. "Even going overseas to Europe, none of the makeup artists have my color, and I was just shocked. Like, you should know it all. They didn't, and that's fine, but if that's the case, then let's figure out a solution."




That solution is her line, F.A.C.E., which stands for For All Created Equal. Rowland said she especially wants to fill this void for women with darker complexions and help them embrace their true beauty.




"I don't want them to cover up their [skin color]," she told HuffPost. "So many makeup artists cover everything up. Let the skin tone shine through. There's a reason why people are sitting in the sun, there's a reason why people are injecting their lips. Our features are so beautiful, and we just don't need to cover it up or enhance it even more, cause we already have it... We invented the s**t!"





Rowland said that she doesn't condemn cosmetic procedures -- admitting to having some work done on her breasts -- but she wants black women to know that they don't have to go overboard to keep up with society's standards because they are enough.




While F.A.C.E.'s release date is still pending, Rowland is focusing her attention on her other projects, including her new girl group, June's Diary, who just released their first single, L.A.N.C.E.




The former Destiny's Child member is also working on new music herself. Despite being in the music industry for nearly 30 years, Rowland told HuffPost that she's at the point where she has to push herself like never before.




"I feel like all the different things that life has given me, and the different challenges that I went through, and even just with having my son and losing my mom, it's so many different dynamics that have happened and I can't not include that in the record," she said. "It's so many fans that feel like 'we've only heard a little bit of your voice,' and they're right. Between my vocal coaches and me just having so much fun and feeling even more freedom since having my son, it's just, I've evolved and I want to showcase that."

-- This feed and its contents are the property of The Huffington Post, and use is subject to our terms. It may be used for personal consumption, but may not be distributed on a website.

Dad Shows Sweet, Simple Way To Support Your Breastfeeding Partner (Fri, 24 Jun 2016 12:07:08 -0400)

A simple but meaningful photo is showing how partners of breastfeeding moms can lend a hand in the nursing department.




On Wednesday, the popular Breastfeeding Mama Talk Facebook page posted a photo of mom Emily Webber breastfeeding her daughter at home while the baby's father dries her hair.






"Example #235670 on how a dad can 'help' with the feedings of a breastfed baby..." reads the caption -- along with this quote from the couple: "True love is blow drying her hair while she breastfeeds because you don't have a whole lot of time so you kill two birds with one stone!"




In the comments section, the mom adds, "And the best part is I didn't even ask -- he offered! Can't get any better then that!"




It's all about the little things.

-- This feed and its contents are the property of The Huffington Post, and use is subject to our terms. It may be used for personal consumption, but may not be distributed on a website.

Malia Obama Proves Why She's America's Sweetheart On Our Cheap Celeb Finds List (Fri, 24 Jun 2016 11:44:45 -0400)

Malia Obama is one of the most famous 17-year-olds on the planet, but that doesn't mean she isn't just like every other teenager.




This week, the first daughter stepped out in an affordable (and practical) backpack that costs a cool $68. We have no doubt that Miss Obama has access to designer duds (just think about her mom's closet), but the down-to-earth teen chose a more low-key option instead. Think this is the backpack she'll take with her to Harvard?




Check out some other great cheap celeb finds of the week below and let us know which items you're coveting.



Malia Obama's backpack
Everlane The Modern Zip Backpack, $68
Reese Witherspoon's hat
Draper James St. Simons Fedora, $68
Kendall Jenner's top
Alessandra Ambrosio's top
Junk Food AC/DC 3/4 Sleeve Tee, $44
Kylie Jenner's jumpsuit
-- This feed and its contents are the property of The Huffington Post, and use is subject to our terms. It may be used for personal consumption, but may not be distributed on a website.
Why Meryl Streep Almost Turned Down 'The Devil Wears Prada' (Fri, 24 Jun 2016 10:51:03 -0400)
Meryl Streep is a tour de force in pretty much every role, and her performance in "The Devil Wears Prada" was no different.
As the movie approaches its 10th anniversary, we shudder to think that Streep might not have played THE Miranda Priestly because some Hollywood execs would not pay her enough. (Just now, a decade later, fair and equal pay for women actors has finally become a rallying cry.) Looking back on her role in the film in a new interview with Variety, the actress talks about how she almost walked away.
"The offer was, to my mind, slightly, if not insulting, not perhaps reflective of my actual value to the project," Streep said. "There was my 'goodbye moment,' and then they doubled the offer. I was 55, and I had just learned, at a very late date, how to deal on my own behalf."
A true Miranda move. Shame on the executives who failed to notice: A) Streep's incredible star power, and B) The fact that she would (and did) carry the entire movie.
The Variety article also (FINALLY!) reveals the real-life inspiration behind Streep's portrayal of her character, whom most assumed to be based on longtime Vogue Editor-in-Chief Anna Wintour.
"The voice I got from Clint Eastwood," the actress said. "He never, ever, ever raises his voice, and everyone has to lean in to listen, and he is automatically the most powerful person in the room. But he is not funny. That I stole from Mike Nichols."
Streep added, "The way the cruelest cutting remark, if it is delivered with a tiny self-amused curlicue of irony, is the most effective instruction, the most memorable correction, because everyone laughs, even the target."
Terrifying. To read the rest of Variety's article, head here.
-- This feed and its contents are the property of The Huffington Post, and use is subject to our terms. It may be used for personal consumption, but may not be distributed on a website.
Kesha Looks Amazing With Platinum Blonde Bangs (Fri, 24 Jun 2016 10:23:43 -0400)
Tik tok on the clock, Kesha's new look is hot.
The singer/songwriter was spotted at LAX Thursday, looking delightfully different and super chic.
Wearing a flowing, floral mini-dress with thigh-high lace-up heels and a scarf, her outfit was only overshadowed by her hairstyle: a shaggy, platinum blonde 'do with choppy bangs similar to the look she rocked at the Billboard Music Awards in May.
Our body-positive hero always looks great, but we have to admit this look especially makes our hearts beat -- like an 808 drum, of course.
-- This feed and its contents are the property of The Huffington Post, and use is subject to our terms. It may be used for personal consumption, but may not be distributed on a website.
Here Are Real-Life Ballerinas Enjoying The Beauty Of Degas' Iconic Works (Fri, 24 Jun 2016 10:09:18 -0400)
The ballet dancers immortalized in Edgar Degas' legendary 19th-century paintings enjoyed some company this week, when real life dancers of the Artists of The Australian Ballet took a field trip.
Dancers Evie Ferris and Georgia Scott-Hunter, as well as 6-year-old ballerina Mena Deboil, posed alongside Degas' beloved Impressionist works during a preview for the upcoming "Degas: A New Vision" exhibition at Melbourne's National Gallery of Victoria. The show will feature over 200 of Degas' artworks, ranging from depictions of ballet rehearsal to moments in the opera hall, the race track and cafes.
"From the beginning to the very end he was a wonderful artist," exhibition curator Henri Loyrette, the former director of The Louvre and Musée d'Orsay, explained to Vogue. "Since the beginning he made great judgement and made wonderful artistic choices ... and he was always moving and looking at what could happen, so you keep discovering many things looking at his work."
Degas surely had a profuse imagination, one which continues to enchant viewers to this day. But whether even he could have predicted that 200 years in the future, young ballerinas would be arabesque-ing alongside his works in a massive retrospective in his honor -- well, it seems doubtful.
"Degas: A New Vision" runs until Sept. 18, 2016, at the National Gallery of Victoria in Australia. For more on the artist, check out our past coverage of a Degas-centric exhibition at MoMA earlier this year.
-- This feed and its contents are the property of The Huffington Post, and use is subject to our terms. It may be used for personal consumption, but may not be distributed on a website.
Duchess Kate Repeats One Of Her Old Outfits On Our Best-Dressed List (Fri, 24 Jun 2016 06:00:21 -0400)
Our best-dressed list is always full of gorgeous designer dresses -- which celebrities typically wear once. But this week, the Duchess of Cambridge (aka Kate Middleton) repeated a beautiful gown that she's worn before.
The brunette beauty stepped out in a Jenny Packham number that she had already worn back in 2011 and all we have to say is, YES. Why not re-wear a gown as stunning as this?
Check out all the best-dressed stars of the week and let us know if you agree with our picks:
-- This feed and its contents are the property of The Huffington Post, and use is subject to our terms. It may be used for personal consumption, but may not be distributed on a website.
5 Luxury Items From Your Parents Wildest Dreams (Thu, 23 Jun 2016 17:14:34 -0400)
Every generation has status symbols; showy expressions of wealth everybody wants and only a few can afford. TV shows and movies often reflect the trappings of wealth, using visual clues to demarcate the 1% from us ordinary folks - and give us something to salivate over. Shows about the uber-rich have changed, but plenty of people still tune in to find out what the Kardashians are wearing this week.
So what did your parents dream about? Reality shows were not as prevalent in the 60s, and rich people didn't invite cameras to document every scintillating detail of their daily lives. Our view of the rich was outside-in. We were kids with our noses pressed to the candy store window. Fortunately, the superrich have never been shy about flaunting their wealth for us to envy. Here are the symbols of wealth your parents coveted - and what they cost then and now.
Rolls Royce
No self-respecting multimillionaire would drive anything less. The Rolls Royce Silver Shadow was introduced in 1965 for the princely sum of $19,700 and everyone from rock stars to world leaders drove them. Rolls Royce is still the gold standard of ostentatious wealth. Business Insider describes the new Rolls Royce Phantom as yacht on wheels - with a price tag of $500,000.
Iconic Watch
We know that Rolex is the king of culture for one simple reason: It was the watch of choice for James Bond. While later movies featured different brands - Daniel Craig sports Omega - Sean Connery favored an iconic Rolex, much like Bond's creator, Ian Fleming, who wore a Rolex Explorer. In 1969, the Rolex Oyster cost $202.50. Ridiculous!! Today, You can pick up a Bond-worthy Rolex Oyster for $6,000 and up - way up, depending on your chosen metals...and they still grace the wrists of Hollywood's A-List.
Mink Coat
Every woman of status owned a luxurious full length mink. Your mom imagined herself attending a Hollywood premiere, wrapped in the cloud-soft elegance of a silk-lined sable. In her day, a high-end fur could cost up to $35,000. In the last few decades, the cost has come way down. ML Furs lists this to-die-for designer fur coat at just under $11,000.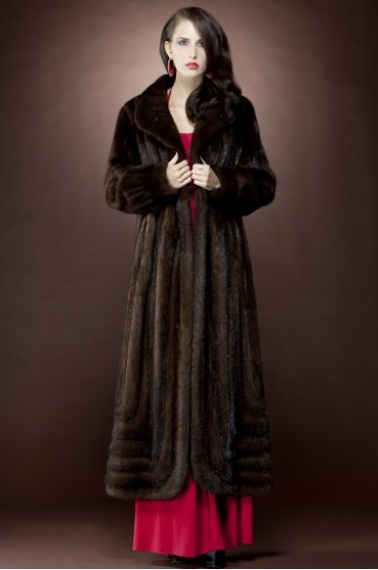 Photo reprinted with permission
An Original Picasso
What mansion would be complete without signed original art? Picasso took the art world of the rich and famous by storm in the early 60s, and everyone who was anyone had to have one. In 1960, a Picasso oil painting was auctioned off by Sotheby's for £55,000, or roughly $80,600 in dollars (at today's conversion rate). Last year, a Picasso original set a new world record for the highest auction price in history. Les femmes d'Alger, version O sold for $160,000,000 - plus a hefty commission for Christie's, of course.
Beverly Hills Mansion
The Beverly Hillbillies introduced middle America to the inside of a real mansion, and we may never be the same. From the soaring marble staircase to the fancy cement pond, the Kirkeby Mansion at 750 Bel Air Road is arguably the most ostentatious home a wannabe 1% could have wished for in the 60s.
Don't tell mom, but it was all an illusion. The only real part of the mansion was the outside from the front. Once the actors stepped through the front door - or out the back - they were on movie sets. The interior was quite different from the set designer's vision.
The Kirkeby Mansion cost $2 million to construct in 1933. With 10 bedrooms, 12 baths, gold-plated fixtures and doorknobs, and a 150-ft waterfall, the home was something of a white elephant at the time. Hotel magnate Arnold Kirkeby bought it in 1945 for a fraction of the cost, just $250,000. Zillow estimates its current value at $16,753,660.
Classic never seems to go out of style. Diamonds will always be a girl's best friend. 50 years later, we still want to know how the 1% lives, what they drive, what they wear, even what their bathrooms look like. That desire fueled the popularity of celebrities like Kim Kardashian and Paris Hilton - famous only because they are rich - and TV shows from Lifestyles of the Rich and Famous to The Real Housewives.
The superrich have more choices than ever today. There are a gazillion ways to spend...well, a gazillion dollars. It should be interesting to see the next round of reality shows that bypasses crass celebrity and hones in on the true aristocracy of old money to explore the secret world of people who literally have everything.
-- This feed and its contents are the property of The Huffington Post, and use is subject to our terms. It may be used for personal consumption, but may not be distributed on a website.
How To Wear White Jeans, For The Man Who's Completely Terrified Of Them (Thu, 23 Jun 2016 16:35:55 -0400)
Every man should wear white jeans, if only to prove he does the laundry.
Think about it -- nothing really says, "I regularly wash my clothes" louder than a pair of white jeans.
Megan Collins, also known as the Style Girlfriend, agrees: "There's something very sexy about a man who's confident enough to sport clothes he can't spill on."
You're also saying that you're not afraid to take some risks, because white jeans can be tricky. When worn with the wrong outfit, you can look like a bad kind of European cliché. Mr. Indie French Film. But worn tastefully, white jeans can be the item that takes your style to a fresh level.
Look at D. L. Hughley up there. He looks good in those white jeans.
He didn't make them the focal point of his outfit; instead, he let the denim jacket and hat take the focus. White jeans, when done right, provide a canvas for a great minimal look. And here, the denim-on-denim look works without becoming a Canadian tux because the colors are so different (not that there's anything wrong with the Canadian tuxedo).
More importantly, rather than flip flops, board shorts or tank tops, white jeans (and maybe some linen) are just about the only things you can wear to the office while still acknowledging that it's summer.
So mix it up! Here are other ways to wear white denim without looking like a dork.
One Pair, Three Ways
Marcel Floruss, the blogger behind One Dapper Street, puts the same pair of white jeans with a tank and some espadrilles for poolside look; a gray sweater and white sneakers for a look of minimalism at the office; and a black button-down and blazer fit for the boardroom -- all sockless. Sometimes the best way to accessorize white jeans is by not wearing something (in this case, socks).
White On White
Blogger and stylist Denny Balmaceda's look -- white jacket with white jeans -- works so well here because his red sneakers and chambray shirt provide a great pop of color. Again, your white jeans shouldn't be the main focus -- and little details really stand out against them.
Black On White
Moti Ankari, blogger known as The Metro Man, puts his white jeans betwEen a dark floral shirt and black Chuck Taylors. Wearing dark colors -- even black -- against white can really pull it all together.
All White Is Alright, Too
Sure, it's probably one of the riskier combinations you could make: White shirt, white pants. You don't want to look like you came to paint the walls. But menswear blogger Anthony Urbano here, accented with just a silver necklace and bracelet, makes it look right. If you're going the all-white route, pair it with a strong bag or bold boots.
-- This feed and its contents are the property of The Huffington Post, and use is subject to our terms. It may be used for personal consumption, but may not be distributed on a website.
Susi Studio Debuts Vegan Footwear With a Mission (Thu, 23 Jun 2016 13:53:46 -0400)

Within the glass walls of architect David Hertz's iconic Californication House, designer Bianca Moran held an intimate dinner earlier this week to celebrate the launch of her new vegan footwear brand, Susi Studio. Recognized for its sustainable design and environmental awareness, the house was a fitting venue to present Susi Studio's first collection, which is itself committed to promoting conscious living. The line's mindful designs are produced from vegan materials like canvas, denim, hemp, and faux leather.

"A woman should never have to compromise her values for fashion," Moran said. "Susi is all about cute and conscious consumerism."

The Summer 2016 collection includes platform heels, t-strap flats and lace-up loafers that call to mind the fun, feminine looks that defined the 1960s. "I was drawn to the surface innocence of that period," Moran said.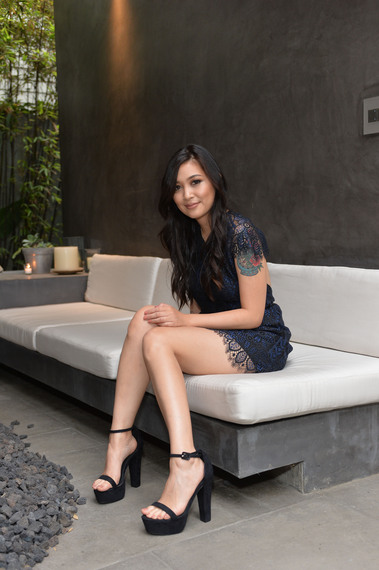 Bianca Moran



In addition to its commitment to promoting responsible fashion, Susi Studio also endeavors to empower women on their personal paths toward success. The company is women-owned and managed through and through. Several of its shoes are even named after women Moran admires, such as the "Hey Simone" block-heeled sandal, which is named after French philosopher and feminist Simone de Beauvoir.

The brand plans to announce upcoming artist collaborations and partnerships soon, as well as a video campaign featuring women entrepreneurs like Moran who are taking steps to fulfill their passions.

In the meantime, Susi Studio will be releasing new product on its website on a seasonal basis to supplement its signature collection.

Photo credit: Stefanie Keenan

-- This feed and its contents are the property of The Huffington Post, and use is subject to our terms. It may be used for personal consumption, but may not be distributed on a website.

Beyonce In Selly Raby Kane, Diversity In Fashion (Thu, 23 Jun 2016 13:34:31 -0400)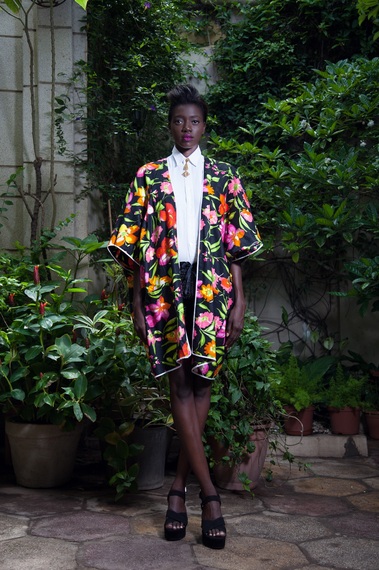 Hopeless romanticism gives birth to a fluid collection of signature pieces that encompass artistic experimentation. Spurred from a fascination with a pair of filigree earrings from her grandmother's closet, Selly Raby Kane shows us how to flaunt our style and embellish with enthusiasm. Her pieces are cleverly designed with hints of grandeur and accents that pop.

Kane has brought her whimsical creations to life with starry depictions of fantasy-like frocks and exaggerated silhouettes. Digging deep into the "old Dakar", Selly brings vivid interpretations to life with deep hues of jewel tones and the mythical elegance of the Senegalese woman.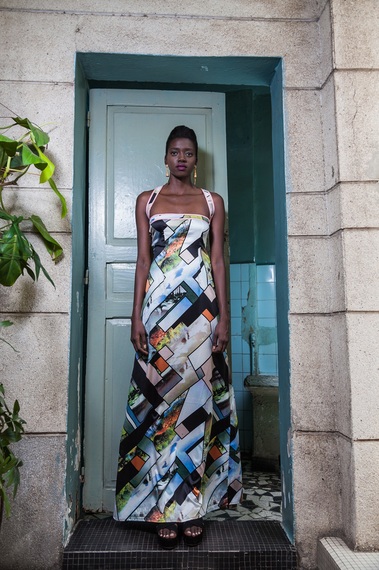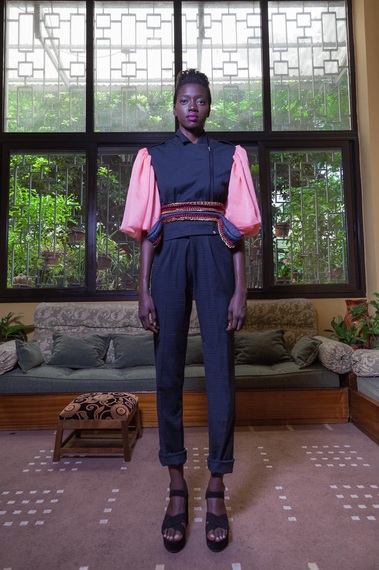 Sunglass Credit: PERVERSE Sunglasses
-- This feed and its contents are the property of The Huffington Post, and use is subject to our terms. It may be used for personal consumption, but may not be distributed on a website.