Style news and blog articles from The Huffington Post
The Ultimate Guide On How Not To Behave At A Wedding (Thu, 31 Jul 2014 18:11:35 -0400)
As a wedding guest, there are certain standards of behavior that the bride and groom expect you to uphold.

Unfortunately, sometimes people leave their common sense at home. They'd be wise to check this Reddit thread that emerged Wednesday, which asked folks "What should you absolutely not do at a wedding?" and garnered over 16,000 comments.

If you don't have time to read all those, we did the hard work for you. Here are 17 things you should never do on the big day, lest you want to be hated forever.

1. "Do not bring up the subject of the groom's ex-wife, especially in a speech."

2. "Stick your finger in the cake."

3. "Pick up all the flowers the flower girl drops."






4. "Grill the bride and groom about when they are having children... I'm paying for your drinks is it that hard to just say congratulations?!"

5. "Get in the photographer's way, or take your own flash photos during the ceremony."

6. "I'm a divorce attorney. I've been told NOT to hand out business cards at weddings."

7. "If you are in the bridal party, don't get smashed before the wedding toasts/dinner. I went to a wedding where one of the groomsman passed out at the head table during speeches."






8. "Show up if you didn't RSVP/said you weren't coming."

9. "Organize a wager amongst the guests. They can bet how many weeks the marriage will last."

10. "Get drunk and blurt out something like 'I slept with your wife!'"

11. "Hit on the bride."

12. "My mother in law stood up at my wedding reception and said 'This marriage between Henry and what's her name is never going to last.' I am 'what's her name.' Don't do that. I'm still angry 13 years later."






13. "Drink a quart of whiskey before the ceremony, refuse to put on a shirt during the ceremony and then sit in your car and blast techno the whole time because you were asked to leave. Someone did this at a wedding I was at on Saturday."

14. "Never stop the ceremony to propose to your girlfriend. Sure you'll have free pictures and video of it, but everyone will be pissed at you forever."

15. "If you are a bride, DON'T HOLD ANY BABIES. They are going to shit/piss/vomit/bleed/cry all over you."

16. "Request the DJ play 'The Rains of Castamere'."

And for the win:

17. "Don't bring random not significant partners to your friends wedding ... one of our groomsmen asked to bring the girl he had recently started dating ... a few years later, long after they had broken up, our friend bumped into her brother. He asked how she was doing. Brother's response? 'Not good man, she's in jail for life. She murdered our mother.' And that is how I came to have a murderer in my wedding photos."






Keep in touch! Check out HuffPost Weddings on Facebook, Twitter and Pinterest. Sign up for our newsletter here.


Harper's Bazaar's 'Iconic' September Issue Took 30 Years & One Ruined Chanel Skirt To Make (Thu, 31 Jul 2014 17:47:31 -0400)
Ask any person who has ever worked on a highly anticipated September issue of a magazine and they'll tell you: it's no easy task. Editors start planning for the coveted glossy months -- and in the case of Harper's Bazaar -- years in advance.

Women's Wear Daily reported Thursday that the publication's September edition will feature a spread of 16 "icons" (Cindy Crawford, Stephanie Seymour and Claudia Schiffer to name a few) and three separate covers, all completely designed by global fashion director Carine Roitfeld and featured in all 30 editions. "This is a portfolio I've been dreaming of wanting to do even over my 30 years in the business. You need a magazine that has big shoulders for such a project," Roitfeld told WWD.

This marks the first time Roitfeld's work will appear on the cover of Bazaar's U.S. edition, and was put entirely under her control. Every decision -- from the models, to the clothes, to the length of Lady Gaga's Chanel skirt (which she cut herself to make shorter) -- was in her hands. And the results are pretty epic. After all, anything that brings our favorite '90's supermodels back together is kind of fool-proof.

We'll have to wait until the mag hits newsstands Aug 19 to see the actual shoot itself, but for now, check out some of the covers and images and click here to see the entire portfolio.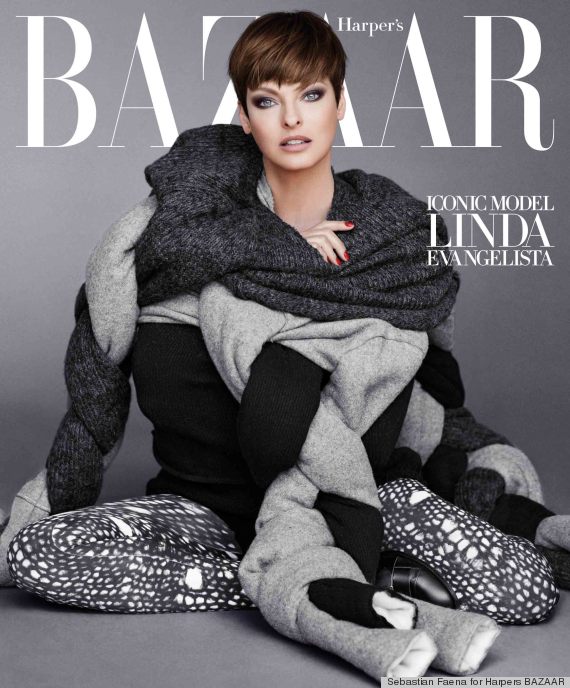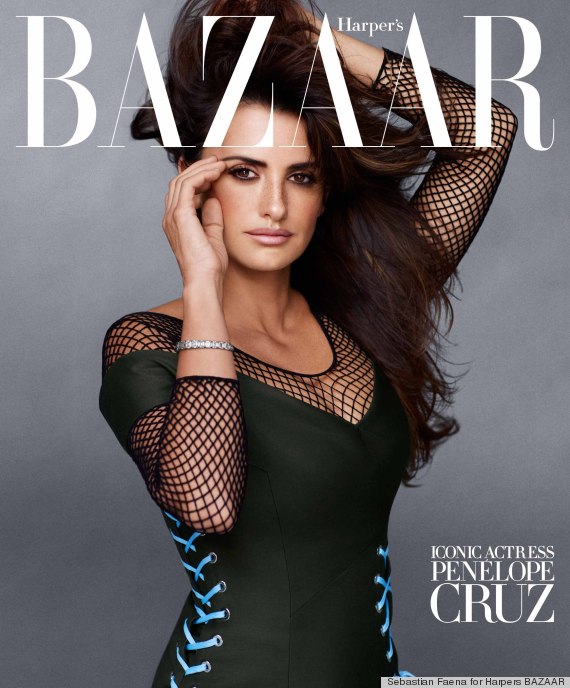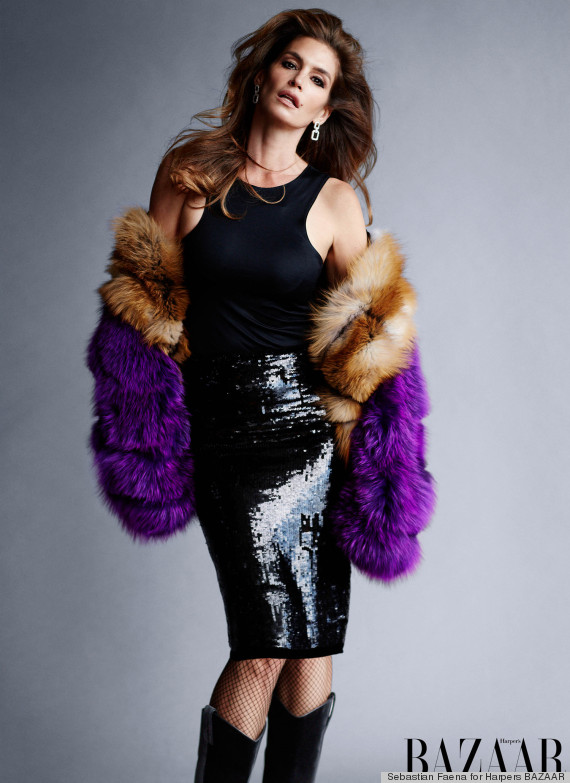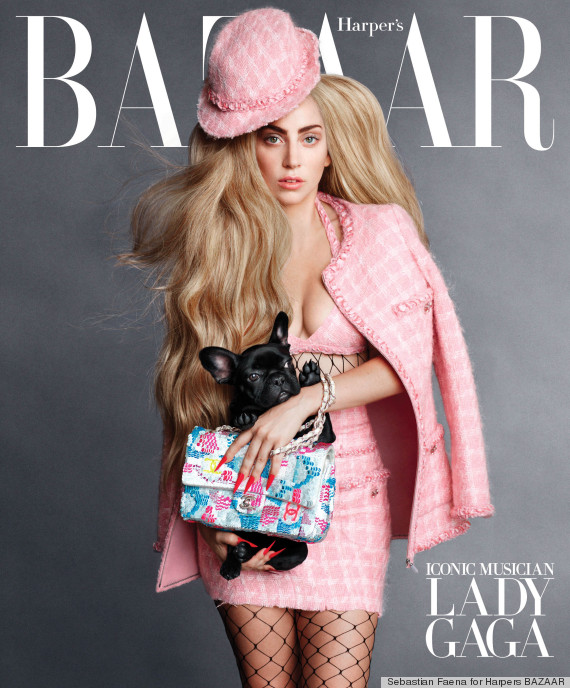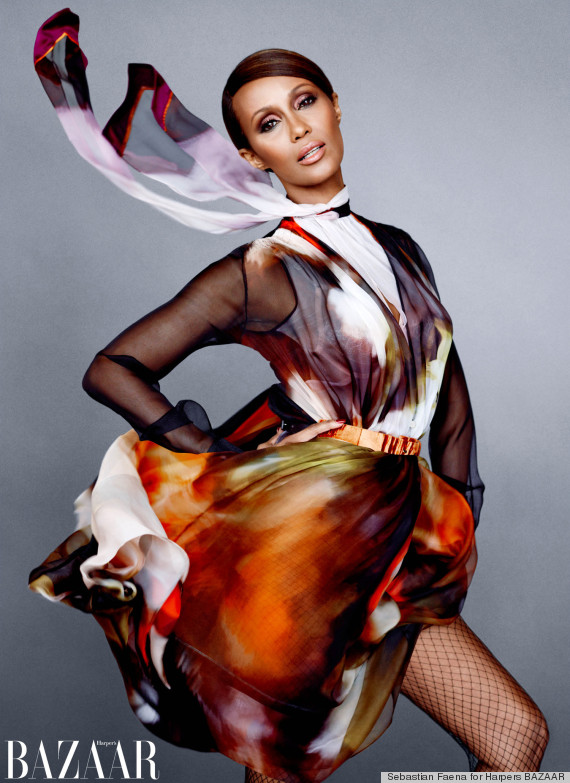 Kim Kardashian Shares Makeup-Free Selfie, The Rarest Of All Kardashian Selfies (Thu, 31 Jul 2014 17:05:53 -0400)
If there is one thing we know in life to be true, it's that Kim Kardashian loves taking selfies.

Seriously, the woman took over 1,200 of herself on a recent trip to Thailand as part of a "selfie book" (which is not actually a thing people do) for Kanye West, who was unable to join the family on their vacation.

Needless to say, Kardashian doesn't tire of snapping pictures of her own face. Ever. But on this day -- July 31 -- she took the rarest of all the Kardashian selfies. Yes, Kim shared a makeup-free selfie with her massive Instagram following.



Rarer than the bikini selfie, the butt selfie (or belfie if you prefer), and far, far rarer than the standard duckface pucker, Kardashian stripped off the makeup to expose her true self to the world, and to promote her sister Kendall Jenner's LOVE magazine cover.



The Perfect Way To Keep A Sexy Bod And Still Enjoy Your Vacation (Thu, 31 Jul 2014 16:05:42 -0400)
So many of us focus our energy on getting to the gym in preparation for that beach bikini moment when we let the sarong fall and bare our abs, two piece and a sun hat. All of that work ethic goes out the door when we find ourselves overeating, drinking and indulging in rich local fare and tourist restaurant attractions.

When you're on vacation there are a few things that will help you keep fit and diminish the stress on your joints: low impact exercise. Just because an exercise is low impact doesn't mean it won't torch the calories you're putting on. Low impact activities are good for the whole family, so if you've traveled with your children and don't have childcare, bring them along for the exercise.

Here are four of my favorite ways to blast the fat and get toned, no matter where you go on vacation:

Get your Walk on!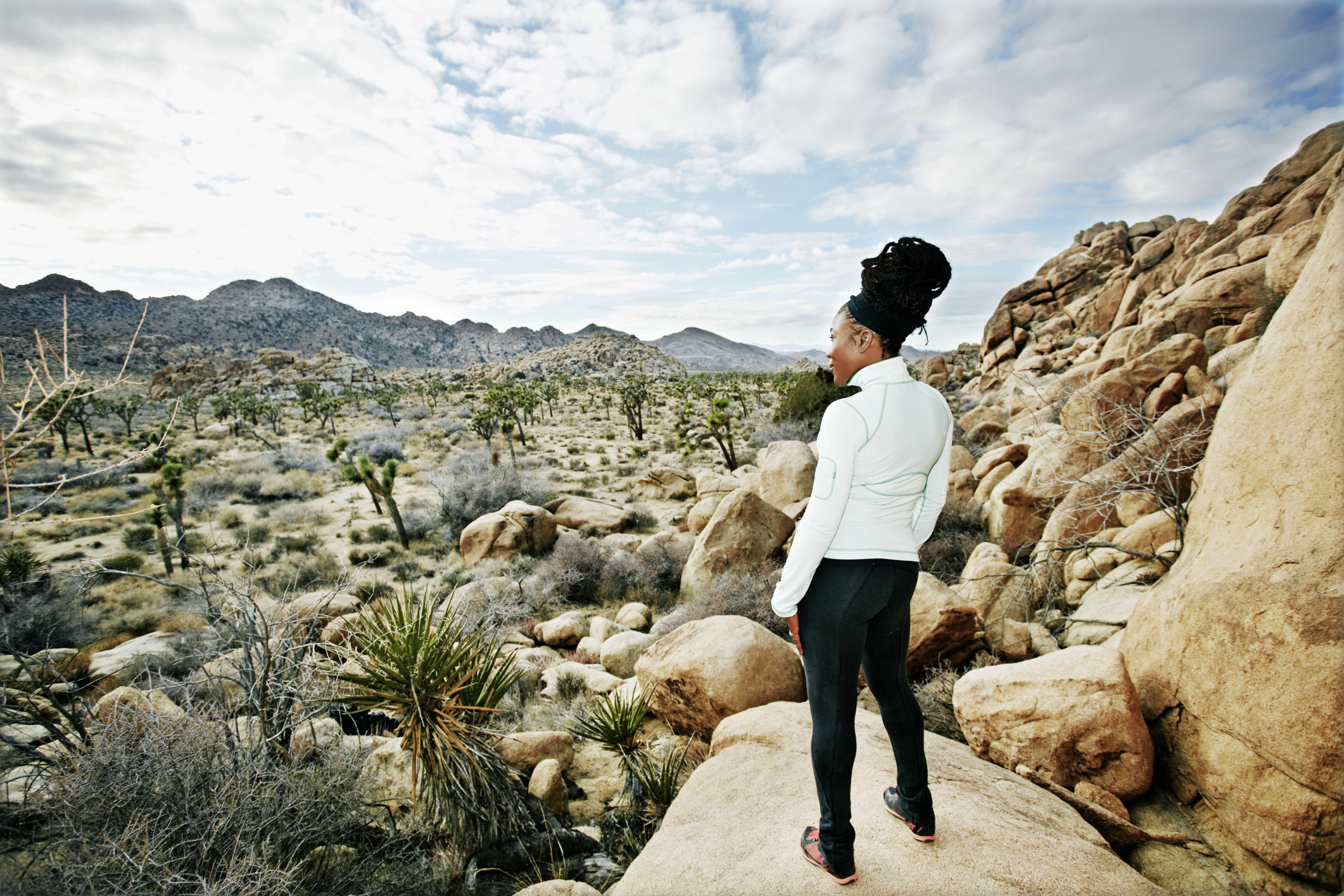 This is the original workout offering so many advantages. Most hotel spas will offer a walking activity where you explore the local region. Walking minimizes the stress on your bones and muscles. If you keep a fast pace and cover some serious distance you will get the most out of this activity. Want to burn more? Explore the hilly areas of the region.

Walking accessory of choice: Fitness Tracker – Fitbit flex wireless activity and sleep wristband- tracks your daily activities and sleep quality.

Put a Spin on It!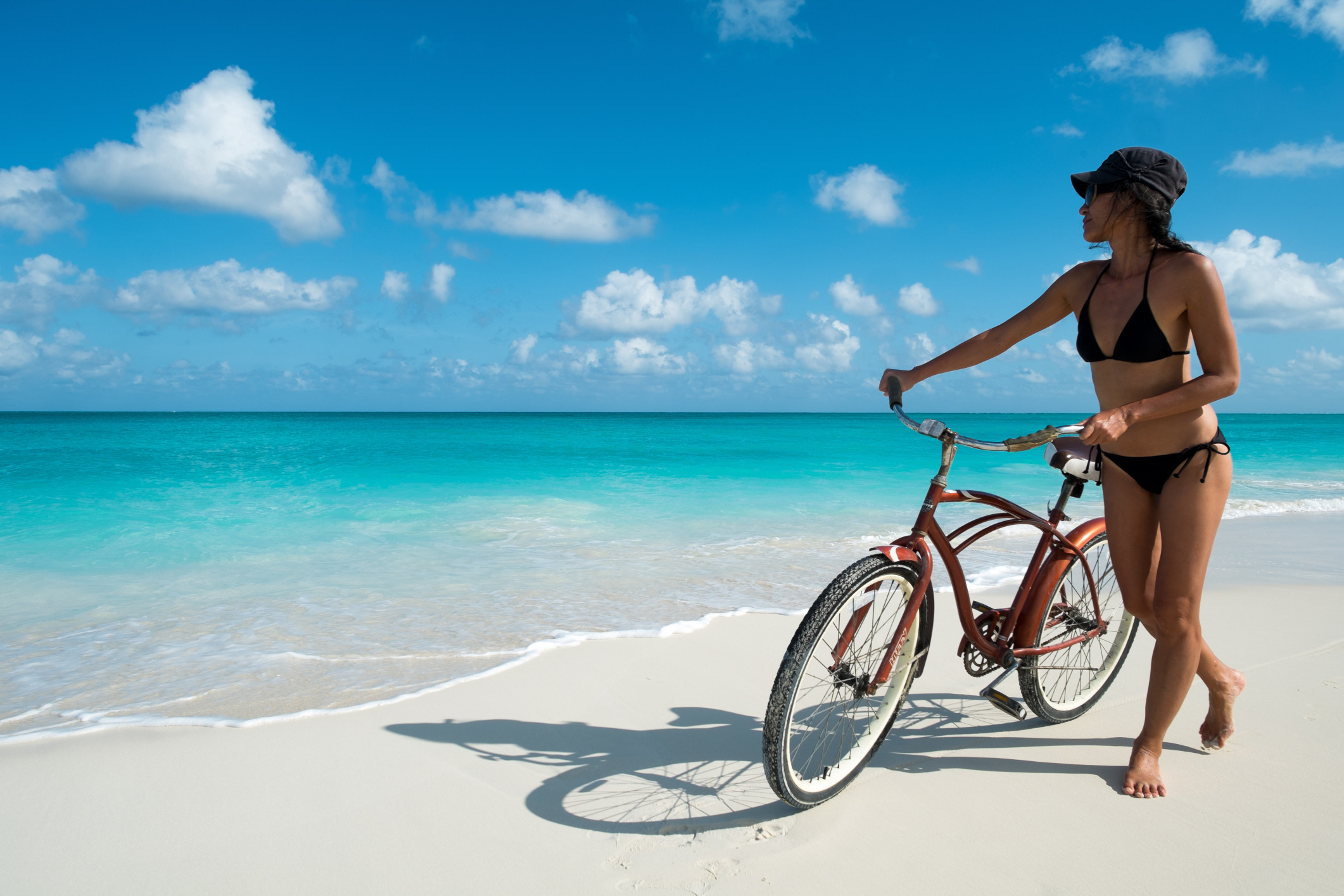 Cycling can provide an intense cardio workout that is easy on the joints and simple for anyone to do. Most hotels have a stationery bike in the gym, and spas will offer a spinning class option. The cycling motion is easy on the knees. To boost the burn, increase your incline and increase your speed in intervals. This is great for anyone at any fitness level -- it doubles as a cardio workout as well as a strength training routine. Inclines will strengthen and tone the thighs and lift the bikini butt.

Inhale, Exhale, Repeat!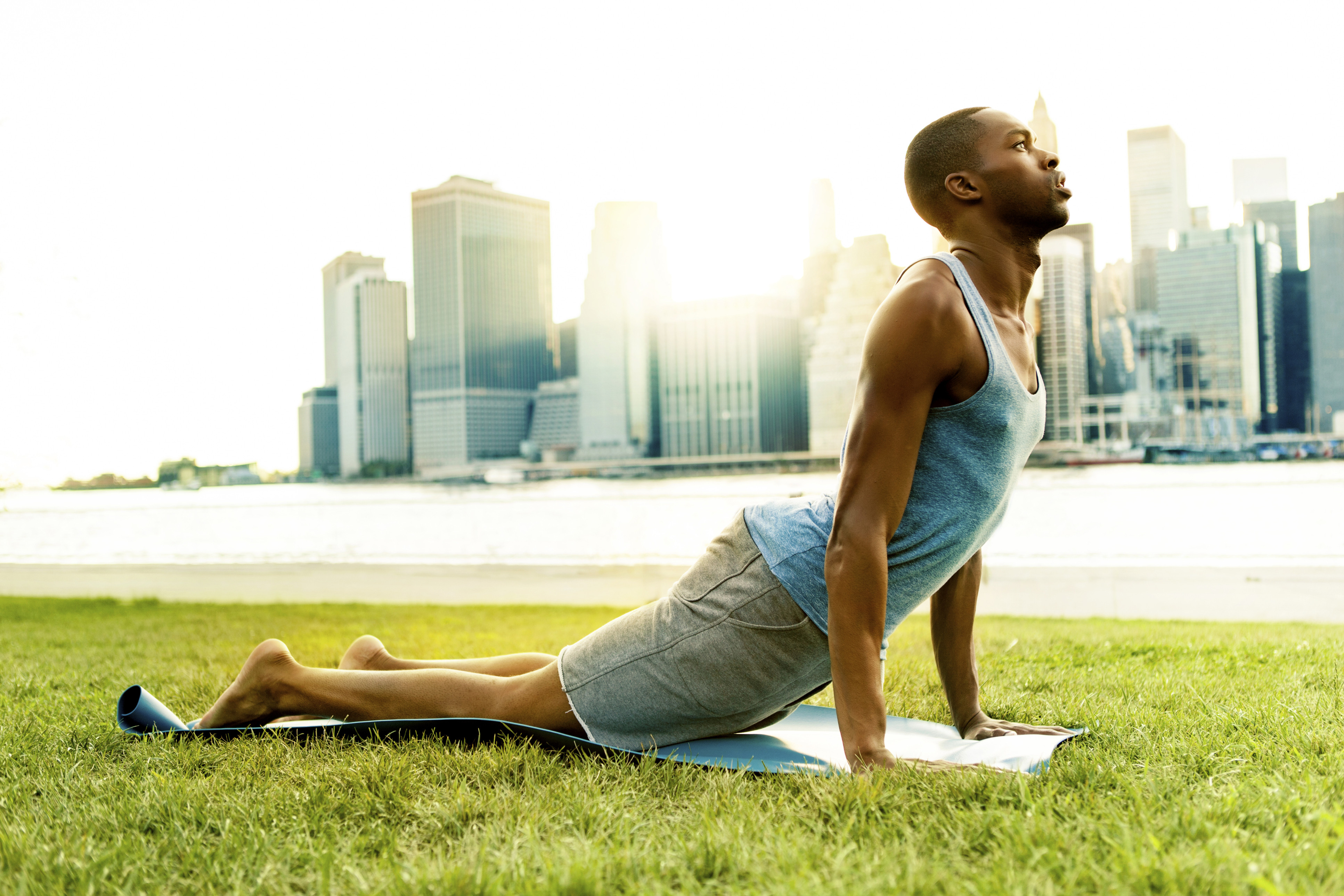 Yoga is an ancient form of mind and body exercise that offers countless health benefits including peace of mind, stress reduction and physical flexibility. The focused breathing techniques and postures can be gentle on the body and the postures can be modified for your fitness level.

Want to boost the burn? Yoga can burn serious calories as your flexibility and strength improve. Poses like warrior, chaturanga and downward dog held for extended periods can rev up your metabolism while increasing your heart rate. Yoga is suitable for any age or physical condition and you can do it anywhere, even in your hotel room or on the beach with the kids. Many hotel spas will offer a group yoga class.

Jump to It!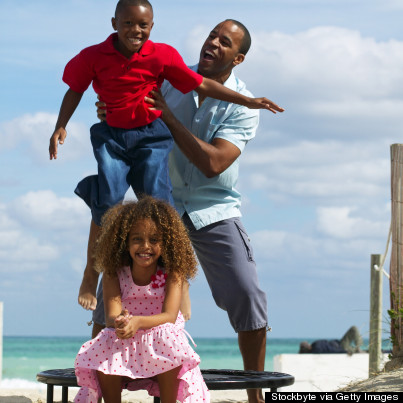 We're always warning our kids to stop jumping on the bed at home and in hotels, but there might be something to their rambunctious activity that we can learn from. Jumping is generally not advisable in low impact workouts, but if you add a trampoline to the picture, it's a whole different story. The benefits are twofold –- you get the cardio intensity of a high impact movement but it's gentle on the body. The trampoline absorbs the impact of your jumps so it's not hard on the ankles or knees. Not only is it fun, you will be smiling just like the kids while jumping up and down.

Click here to read more by Latham Thomas.
Misty Copeland's Under Armour Ad Is Like Nothing You've Seen (Thu, 31 Jul 2014 15:59:20 -0400)
We've been anxiously awaiting Misty Copeland's first commercial for Under Armour ever since we learned that the American Ballet Theatre soloist signed with the athletic company back in January. And from the looks of this 60-second spot, it was well worth the wait.

The ad begins with Copeland balancing on pointe while a young woman's voice is heard reading a rejection letter. As the camera pans over her physique, the letter lists all of the reasons why the applicant didn't make the cut, including the sentence, "You have the wrong body for ballet."

But Copeland spends the second half of the spot disproving that sentiment, powerfully and gracefully dancing her way across a stage.

The video is significant for a number of reasons, namely for marking a major marketing shift for a brand whose image has been traditionally masculine. The ad was released in conjunction with the brand's new website, I Will What I Want, which "celebrates the will to find inner strength and to follow no one."

Check out the inspiring video above.


CEO Gets Epic Retirement Party Fit For A Boss (Thu, 31 Jul 2014 15:28:44 -0400)
With a send-off this awesome, this CEO will never doubt that he's "the man."

When Mark Sebba, CEO of online luxury retailer Net-a-Porter, decided to step down from the company after 11 years of service, his staff threw him a pretty boss retirement party. A video uploaded to YouTube shows Sebba walking into Net-a-Porter's London office on July 11, expecting business as usual, only to be greeted by a gospel singer and crowds of adoring employees, singing and dancing along to their own rendition of Aloe Blacc's "The Man."

Sebba navigated his way around the office to find a mariachi band, dancers, a gospel choir, acrobats and screaming "fans" holding posters of the beloved boss. Best of all, screens showed video of employees in the company's New Jersey, Shanghai and Hong Kong offices performing choreographed dances for a much-loved Sebba.

After finishing the epic farewell tour of the office, Sebba cracks a joke, telling his employees, "Thank you very much, everybody. I'm a bit overwhelmed, but how about getting back to work?"

We'll never have to wonder if his staff will miss him when he's gone.



Like Us On Facebook

Follow Us On Twitter

Taylor Swift And Karlie Kloss Dance On Stage At An Ingrid Michaelson Concert (Thu, 31 Jul 2014 15:21:15 -0400)
Taylor Swift obviously doesn't care if you think her dancing is awkward, or else she probably would've stopped a while ago.

Swift and her BFF, Victoria's Secret Angel Karlie Kloss, danced like no one was watching at the Ingrid Michaelson concert in New York City on July 30. Lucky for us, people were watching and filming with their phones.

In this Instagram video, T-Swift is dressed in black on the middle of the stage. If you can't spot her immediately, don't worry. You'll soon recognize her signature awkward jig/wavy arm combo:



Another clip captured by an Instagram user shows Swift as she goes over to embrace Kloss. Don't worry, guys, she quickly resumes jigging:



Ingrid Michaelson clearly appreciated Swift's moves, as the "Girls Chase Boys" singer posted an Instagram collage thanking Swift and others for coming out:



You do you, Taylor.
8 Signs You're Headed for a Breakup (Thu, 31 Jul 2014 14:41:10 -0400)
Most of us go into relationships with the best of intentions. We put our best feet forward in the first three months with the anticipation that the relationship will continue to grow and go the distance.

We introduce our partner to our friends and family hoping to get the vote of approval. Often we share our dreams for the future, plan holidays and vacations together and learn the fine art of compromising in a relationship, because it's worth it.

Sometimes outside influences can attack our relationship resulting in the inevitable bumps on the road. It's at these times that we look at our partner and either deal favorably with conflict resolution, or sadly our ego sometimes gets in the way and we end up heading for a fall.

From financial issues to family stress, the romantic gestures from an outsider at work to juggling the schedules of children, even job pressures can affect the best of relationships.

Here are a few tips to know if you're relationship is on its way out, or if it's just a bump on the road that hopefully will become a distant memory.

1. They stop sending good morning and good night text messages. If your significant other used to start his or her day with a good morning text and good night text, but those have disappeared, chances are the relationship could be fizzling out.

2. Phone calls are reduced. If your significant other usually calls you after lunch, on his or her way home from work, or before bedtime when you're not together and the calls have been reduced to once a day or a few times a week, your sweetheart may be disengaging from the relationship.

3. Pet names disappear. He or she goes from saying, "It's me" to leaving messages with their first or full name, assume the familiarity and romance are on their way out. Affectionate pet names are part of a relationship. It's what makes you unique as a couple and puts a smile on your face.

4. Plans are made without you in mind. If your normal routine is to see each other a few times a week and on weekends and suddenly your significant other would rather go out for drinks with friends and go home alone instead of into your arms, assume they are creating more distance and are open to the possibilities of meeting someone else.

5. Future talks are put on hold. If you had been discussing living together or even planning a vacation six months out and now you're not sure when you'll be getting together in the next few days, your relationship suddenly might become a short-term affair, and not with someone who wants to go the distance anymore.

6. Sex dissipates. Having a healthy sex life creates bonding in a relationship. If you're partner is having doubts about the relationship, often sex is the first thing to go. If your sex life goes from "hot" to "not," there's a possibility your partner is detaching from the relationship.

7. PDA disappears. If you're the kind of affectionate couple who holds hands in public and loves cuddling at night and you find yourself sleeping on your side of the bed, there could be trouble in paradise. If the welcome home kisses are no longer part of your regime, it's a sign that you might be falling out of the love zone.

8. Titles disappear. While titles are usually more important to a woman than to a man, if you've been introduced as the girlfriend, boyfriend or partner and suddenly you're being introduced as, "This is Janie," there could be trouble on the horizon or you might be moving into the friend zone.

Understand that feelings can fluctuate in a relationship, but if the flow has been disrupted by most of these relationship issues on this list, you might be headed for splitsville.

Before you catastrophize and think it's over, take the time to talk to your partner about how important they are in your life. Acknowledge there's been a shift in the relationship and ask them if there are any outside stressors that could be affecting the two of you. One of you might still be brewing about something that happened over a month ago and perhaps an apology needs to be made if your partner is feeling resentful about something or misunderstood.

Read: 10 Signs You Know He's Smitten

Acknowledge how affectionate you used to be, and let your partner know that you miss those times and would love to get back on track. Take the time to listen to your partner's concerns. If you truly think this is a relationship worth fighting for, let your partner know that you don't want to toss it away. Ask how you can help bring back the romance in your life.

If your partner just isn't feeling it for you anymore, don't fight it. Thank them for the memories and start the healing process. I know it hurts to have another failed relationship. But I also know that there is someone special out there waiting for you. Perhaps you just haven't met him or her yet.

Julie Spira is America's Top Online Dating Expert and Digital Matchmaker. She's the founder of CyberDatingExpert.com and creates Irresistible Profiles for singles on the dating scene. For more dating advice, follow @JulieSpira on Twitter and sign up for the free Weekly Flirt newsletter.
The Ultimate Summer Beauty Survival Kit (Thu, 31 Jul 2014 12:47:29 -0400)
Your summer beauty survival kit includes everything you need for your skin and hair to flourish in the sun.

The sunny, activity-filled summer season is roaring and by now we may have encountered our first tan lines that snuck in (with SPF, of course), some humidity-driven hair frizz, mini-wrinkles that formed from squinting, a few very late/very early pool parties or a long stroll at the beach. Being pro-gorgeous (and anti-aging) doesn't have to be a time bandit, and with a little preparedness we can still keep our youthful appearance from marching ahead of us. Here are a few new-to-market products and services that can fit into any schedule or travel plan.




In summer we simultaneously encounter sweating, direct sunlight on our hair and skin, humidity, then dryness from air conditioning -- sometimes all within minutes. Aside from fatigue and dehydration, this wreaks havoc on trying to make a good impression. So, if oxygen and water are the mother of all beauty wellness (and, trust me, they are) they're also the foundation of your hair, skin and health. This is why we (beauty expert folks) set out to pummel you with both earthly compounds. Oxygen breathes life into your lungs, skin, cells and brain for energy, circulation and positive thinking. That's why we feel so good after any physical activity. Water provides head-to-toe hydration, anti-wrinkling benefits by plumping skin, as well as flushing impurities from our body. Want to obliterate that Twinkie? A gallon of water helps you do it.




Now, let's get pro-gorgeous. Next time someone tells you to "breathe," forego the eye roll and pull out you personal atomizer. Yes. Oxygen Plus allows you to breathe instant energy and production into your skin and body. Dosed oxygen into the lungs digests food better in the stomach and intestines allowing nutrients to absorb into our bloodstream and bodily cells -- and even helps to break down alcohol. It's also great for post-exercise recovery or general fatigue. The best part? You'll look refreshed and smiley. Oxygen Plus comes in a home-based unit the size of a flashlight or in aerated canister packs and mini-travel sizes. I keep a six-pack in the pantry and one in my messenger bag for the afternoon. Being an "airhead" has never looked (or felt) better.

Keeping with the oxygen theme, the Orlane Paris brand has been trusted for decades as a results-oriented, top-tier beauty ambassador. Their Anti-Aging Oxygenation System is one very powerful month-long, pre-packaged facial treatment that should be indulged. You'll see why it's a secret weapon for celebrities before going in front of the cameras. Just like your car needs oil changes, your skin's appearance needs the occasional sparkplugs changed -- or everything slows down and becomes dull. I tried the four-week elixir and it proved to give me a bright, fresh, dewy glow. Additionally, I also put a few of Orlane's heavyweights to the test: B21 Extraordinaire -- Youth Reset (an amazing scientific serum release), Extreme Anti-Wrinkle Regenerating Night Care (for re-plumping and reversal) and Bio-Mimic Hydrating Masque for a weekly surge of lush, penetrable moisture. As they say, !Que rico! (how rich). You're most welcome.





NuFace's technology has not only brought the non-surgical microcurrent facial-lift into the mainstream, but into our homes. I admit I've slacked off as a daily user (as the benefits are cumulative), but during my three-month sessions the visible results were truly undeniable. The Trinity offers three attachments: The Facial Trainer microcurrent muscle and tissue lifting piece, the LED Wrinkle Remover (red light therapy) and the ELE targets eyes and lips. With NuFace's release of the "mini" we now have no excuse to lift on the go. Their Optimizing Mist contains Aloe Vera and hyaluronic acid to charge cells, plump skin and enhance the device's glide action. The serum collection is stellar and can be layered during the treatment or used with your daily skincare regimen. I'm also addicted to Collagen Booster with copper. This baby could be your new best friend. (HINT: Forget the naysayers, watch the online tutorials, don't forget the neck and be consistent.)




Now for something completely new: Mobile powder SPF protection in the form of Jane Iredale's Refill-Me Refillable Loose Powder Brush that combines compact luxury mineral powders-of-choice within a petite, luxe brush. Allowing reapplication touch-ups of powder/foundation or powder/sunscreen without messing up your makeup! My "Refill-Me" contains their Powder-Me SPF 30 Dry Sunscreen. L-O-V-E. (If your beau is rocking a shaved/bald head, get him one, too). Jane Iredale's philosophy of "travel lightly and carry a good powder brush" comes from one of the most beloved brands known as the "skincare makeup," producing one of the purest, safest formulas of mineral-based powders and foundations -- a critical step our just-applied, expensive skincare deserves.



Red Door Beauty Bar, NYC

Ever dream of going to Elizabeth Arden's legendary Red Door Spa? What are you waiting for? The most famous red door has never gone out of style and remains luxe, yet comparatively affordable. What really impressed me most at a recent treatment day was how finger-on-the-pulse au-current Red Door Spa has remained -- and continues to evolve. Three generations could not only feel right at home, but also confidently know there's an Elizabeth Arden product and service to accommodate, with highly trained and dedicated technicians at every turn -- whether you choose an all-day head-to-toe rejuvenation or the revitalized Speed Services menu. This summer, gift-card yourself or a loved one to Red Door's immediately transformative, cutting-edge hair treatments. Kérastase Chronologiste Caviar Ritual deeply infuses and strengthens every hair strand with an enormous concentration of "actives." I had the Advanced Glycolic Smoothing Treatment which gently plumped and tamed my curly lengths, giving me soft, silky hair -- that didn't require any cure time (you could actually wet hair in the shower immediately). This glycolic, botanical keratin infusion is also extremely safe. The Red Carpet Blow Dry is a pared-down express service that also utilizes formaldehyde-free keratin proteins to achieve glossy, smooth hair that lasts for up to three shampoos -- perfect for a weekend that requires your hair looking its social best. Be on the lookout for our online, in-depth coverage of Red Door's exclusive skincare range, facial remedies, body treatments and seasonal hair fashion updates via Twitter @CSGorgeous.




Nothing beats a professional, in-salon colorist. But if life finds you in a more remote location, and your hair color even more disconnected, consider eSalon, an amazing breakthrough home delivery service that will customize your hair color formula for around $20 and deliver it faster than your new roots can creep in. If your formula requires more customization, their licensed colorists are available nearly on-demand for feedback and update recommendations. Great for those that have to maintain their regrowth between color weaving.




Summer means a lot of outdoor excursions, wardrobe changes and hair tweaks due to pool, beach, exercise or a busy social calendar. As a 25-year veteran celebrity hair stylist and colorist, I find luxuriated, soft, shiny hair that moves has the very best endurance for long, multi-event days (and nights). I kid you not when I share my amped-up enthusiasm for the Davines line of hair care products. Made in Parma, Italy with more love and passion for purity than I've ever seen, I guarantee you'll find a few items that will permanently define your routine. Aside from being globally ethic and sustainable (green), Davines has honed such specific cures for hair that it will only take one feel of your hair to realize they nailed it. My daily (yes, daily) go-tos? Oil Non-Oil, Melu Serum (or MOMO Cream) and OI Absolute Beautifying Potion (also great for smoothed, bouncy blowouts). In that order. Followed by DeDe Leave In Mist in the afternoon if I have to refresh for an outing. The true test of a gentle, organic or sulfate-free brand is whether you can run your fingers through your hair immediately after rinsing shampoo -- or not. As I invite my salon clients to do every time. Depending on whether your hair is fine, colored or chemically treated (including sun, chlorine or harsh water), curly, dry or coarse, Davines has the solution. When was the last time your shampoo, conditioner or styling treatment contained spinach, fig, tomato, cherry extracts or olive butter, apricot, pistachio or roucou oil--in large (or any) quantity?

Never, that's when.

In respectful homage, I also want to salute one of the original skin and hair wellness brands that I still use to this day, Carita's Fluide De Beauté 14 ultra-nourishing dry oil for face, body and hair. It feels disappearingly amazing and smells rich and their Daily Protective Cream for dry, colored or damaged hair nourishes beyond expectation.

So there you have it: Your summer on-the-go pro-gorgeous survival kit. Now go out and have the time of your (beautiful) life.

Going Gray: Why I Finally Stopped Coloring My Hair (Thu, 31 Jul 2014 12:29:58 -0400)

Two years ago, I stopped coloring my hair and realized I had unintentionally done something radical. People assumed my long, gray hair was a statement against our culture's celebration of youth and our rigid conventions of beauty. Or, conversely, they assumed my hair revealed an inherent laziness on my part.

"I don't mind gray hair on a woman," a man told me once over a glass of wine, as if I had forgotten to shower or wear deodorant.

"I could never let my hair go gray," a friend said to me. "I mean, yours looks OK, but my mother would just die if I let my hair go like that."

"Good for you!" a stranger screamed across the parking lot at the public library. "Good for you! Don't you ever let anyone tell you you need to color you hair!"

And while I appreciated this man's enthusiastic endorsement of my... umm... lifestyle choice, I was not quite sure it was deserved. I got my first gray hairs when I was in my early twenties. Back then, I considered my gray hairs to be purveyors of doom, and so I began what would become years of touching up, dyeing, and highlighting away every gray strand, every indication that I might, one day, be old.

At first, I did my own coloring, and sometimes the resulting colors were shades that actually appeared naturally in other humans. Most of the time, however, I emerged from these hours-long sessions with locks of varying shades of plum and purple, hints of Ronald-McDonald orange and Big-Bird yellow. Once, when my older son was 3, he took one look at my freshly-dyed hair and burst into tears.

"Your hair is purple!" he screamed.

"Honey, it's not purple," I said.

But there was too much evidence to the contrary.

"It is! It is!" he sobbed.

By the time I was in my early thirties, I had learned to let a professional do my coloring, and as my hair grew grayer and grayer, I went to the colorist's at increasingly narrow intervals -- every other month, every six weeks, every four weeks. By the time I was 40, I was going every three weeks. The entire procedure -- color, shampoo, scalp massage, blow-dry -- took about three hours and cost half of what I earned in a week, yet two weeks after this epic coloring session, my hair once again looked like someone had run a white paintbrush over my part.

And so one day a couple of years ago, I just decided that was it. I called my long-time stylist and made an appointment for -- gasp -- just a cut.

"Wait," my stylist said when I arrived. "They only put you down for a cut. We'll need rework the schedule a bit to fit in your color."

"No," I explained. "I'm going to stop coloring."

My hairdresser was my age, heroin-addict skinny with butt-length, carrot-colored hair and a myriad of fading tattoos -- a ring around her thin wrist, a rose above her right breast, a branch on her left ankle. She stood behind me and in the reflection in the mirror, her scowl was lopsided and crinkly around the edges.

"You can't be serious," she finally said.

I was serious, I told her.

"You're going to look 10 years older," she said. "Are you prepared for that?"

I was prepared for that. I was 45 years old, and no amount of hair dye was going to make me look 20. Plus, there were plenty of other women who wore their gray hair beautifully. My mother was one of them.

Back in the seventies, my mother had a jet-black bob like Jackie Kennedy, but she stopped dying her hair some time in the eighties. Now, people constantly told her she looked years younger than she was. Her secret? She always wore vivid colors, and she never went anywhere -- the grocery store, hiking, water aerobics -- without earrings and plenty of bright lipstick -- blazing lava, plum explosion, true red.

Personally, I was a fan of drab colors -- browns, blacks, grays -- and I knew a splash of colorful lipstick was not suddenly going to transform me into my perky, upbeat mother. It just wasn't me. Still, while I was growing out my hair, the thin, gray band around my scalp got increasingly wider, as if I were wearing a giant, white headband, and finally, I decided a splash of color here and there couldn't hurt.

And so I invested in a few brightly-colored scarves, a couple of flashy tops. My daughter also convinced me to buy a long, purple wrap. The wrap became my new go-to item -- the thing I wore to every single event I attend for an entire spring and summer and part of the fall. However, every time I put it on, rather than feeling fresh-faced and lively, I was reminded of perhaps the greatest transgression I ever committed against my mother, something far worse than all my teenage shenanigans combined.

I was in my early twenties, and my mother was younger than I am now -- in her early forties -- when I gave her a book I thought she would like. My daughter was 2 at the time, and I was pregnant with my son, and I saw this as a moment of bonding -- a moment when I could say to my mother, "I, too, am a woman, and I understand the difficulty of growing older in a society that honors youth." The book was When I Grow Old, I Shall Wear Purple, which Thrift Books describes as an "enchanting collection of writings and photographs evokes the beauty, humor and courage of women living in their later years."

Later years. My mother was the same age I was when I took up mountain biking, the age when I embraced the craft beer movement and began road racing, the age when I was just beginning to be calm in my mind and comfortable in my body, the age that Esquire just praised as the time when women are most alluring. My mother opened the book -- a birthday gift -- and paused with it in her hands. Her eyes were wide and dark, her lovely, fuchsia lips twitching up and down, searching for words. A sliver of wrapping paper clung to the book's back cover.

"Oh," she said. "Oh."

There was the briefest pause, and then the silence gave way to thank you and how thoughtful, and the moment was gone.

That was over 20 years ago. Now, my mother actually is growing older, and, at 47, I suppose I am too. Today, I no longer balk at the insinuation inherent in my head full of gray hairs -- the implication that I am surely and swiftly heading where we are all heading, if we are lucky -- to old age. And whenever I catch a glimpse of myself in the mirror or in a photo one of my kids snaps on a cell phone, I see a bit of my mother -- the red undertones in my skin, the certain way I hold my jaw -- and I think of that stranger in the library parking lot, and I simply think, well, yeah. Good for me. Good for me.



Earlier on Huff/Post50:





Beyonce's Father Is Teaching A Course On How To Be The Next Beyonce (Thu, 31 Jul 2014 12:02:28 -0400)

Do you want to be the next Beyonce? Shhh, no need to answer that, it was a rhetorical question.

We'd guess that it requires a combination of being blessed with incredible natural talent, a perfectionist attitude, hitting the genetic lottery and a one hell of a pushy stage parent. Enter the Beyonce's own former manager (and current father) Matthew Knowles, who is offering a "day-long, intensive boot camp" at Houston Community College Central on Sept. 13.

Yes, the man who not only helped Beyonce become the superstar she is today, but is also responsible for 50 percent of her DNA, is offering a course called "The Entertainment Industry: How Do I Get In?"

According to the school's website: "The daylong boot camp will allow attendees to tap Knowles' vast entertainment and music business expertise and leave with real information, contacts and strategies for their own successful entertainment endeavors."

And you know they are calling it boot camp for a reason, lest we forget that Matthew Knowles, who is currently estranged from Beyonce and was accused of embezzling money from her and other artists he managed, put the girls of Destiny's Child through intense trainings, refusing to accept nothing less than their best, often making them cry.

Of course, when the 63-year-old tried to recreate the boot camp trainings that led Destiny's Child to superstardom on his 2011 reality show, "Breaking From Above," let's just say it didn't work. The show followed five women from the U.K. looking to make it big with the help of Matthew Knowles' 20 years of music industry knowledge, and it's safe to say you haven't heard of any of them.

That said, Matthew Knowles' $295 (pre-order) or $350 (at the door) community college course is for "current or aspiring entertainers, songwriters, musicians, composers, writers, producers, managers, sound or engineering technicians, publicists, attorneys, financial planners, fashion stylists, hair dressers, photographers, editors, accountants and a myriad of other entertainment-industry hopefuls are invited to attend." Basically it's for anyone with any interest in anything tangentially related to the entertainment industry, or anyone who wants to be in the same room as Beyonce's father.

[h/t Swagger New York]

'OITNB' Star Uzo Aduba: I Want To Be A Champion For Young Women (Thu, 31 Jul 2014 11:19:17 -0400)

When it comes to celebrating diversity and confronting issues that often fall outside the mainstream, cast members of "Orange Is The New Black" don't just read the words written for them -- they voice their commitment off-screen as well.

For Uzo Aduba, representing diverse groups of women is personal, she told HuffPost Live on July 30. Aduba, to who plays Suzanne "Crazy Eyes" Warren, embraces her responsibility as a role model to her niece and other young women who look to television to see their realities represented.

"It's important to be a champion for young women," Aduba told host Marc Lamont Hill. "It's exciting to me to be on a show with so many different women being represented -- women of color, different sizes, different orientation and gender, all of these things are being touched on … and all [are] beautiful and being celebrated for that individuality."

Aduba reflected on just how much television has progressed with regard to diversity, offering younger viewers a mirror they haven't always had.

"I only wonder when I was a kid what it would have been like to see more of that on television myself," she said. "I feel proud to be in an age where we have people like the Jenji's [Kohan] and Shonda Rhymes' of the world who are wanting to change the landscape that way. It's thrilling to me and I'm proud to be a part of it."

Click here to watch the full HuffPost Live conversation with Uzo Aduba.

Sign up here for Live Today, HuffPost Live's new morning email that will let you know the newsmakers, celebrities and politicians joining us that day and give you the best clips from the day before!

Of Course This Is What David Lynch's Nail Polish Ad Looks Like (Thu, 31 Jul 2014 10:53:05 -0400)

We wouldn't exactly expect surrealist visionary David Lynch to bring his aesthetic tastes to a nail polish commercial, but if he did, we'd expect it to be all kinds of weird.

Well, he did. And it is.

Lynch's ad, for Christian Louboutin's blood red nail polish, takes viewers on a CGI trip through a wonderland of crisp, white castles, red bottom heels and disembodied hands. In this mythical Lynchian universe, the iconic Louboutin red is stripped from high heels and transferred into a bottle. (The idea for the red bottom shoes actually came from ladies' polish.)

The lush visuals feel more like a glammed up hallucination or bizarre video game than your classic designer ad, which makes sense coming from the "Mulholland Drive" director. If all commercials looked like this we'd spend a lot less time avoiding them at all costs. Well done, Lynch, well done.

h/t The Creator's Project

Rihanna Stuns In A Fierce Black Bra Top (Thu, 31 Jul 2014 10:12:40 -0400)

Pack up your bodycon dresses everybody, because Rihanna has officially re-invented club wear.

The 26-year-old rolled into the VIP Lounge in New York City's Meatpacking District on Wednesday, July 30, sporting a black bra top and a pair of men's boxer shorts. She completed the look with a loose denim jacket and a pair of black minimalist heels.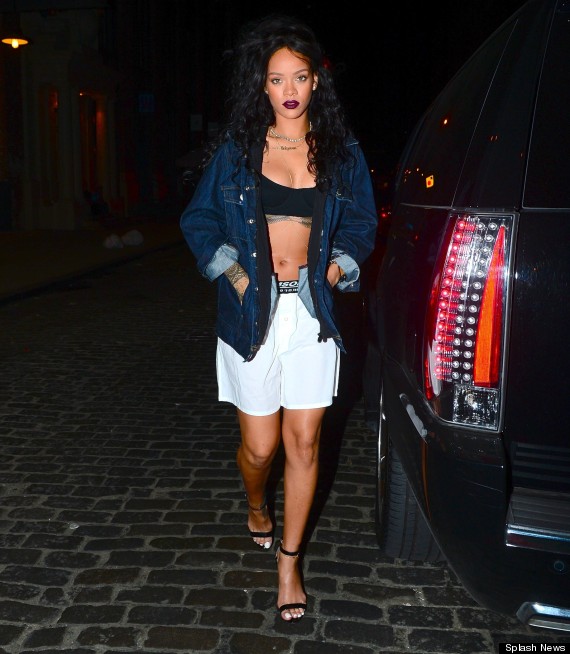 The "sporty chic" ensemble is not the first time Rihanna has shaken things up in the fashion department. The singer eschewed traditional red carpet glamour at the 2014 MTV Movie Awards this April with a fierce lingerie-inspired look, and made waves earlier this summer when she showed up to receive the 2014 CFDA Style Icon award in a completely sheer dress.

It's impossible to predict just what trend the star might attempt to set next, but considering she can casually rock a nightgown and sneakers while walking the streets of New York, we're sure it will be something good.
Bikini-Clad Michelle Rodriguez Gets Pushed In The Water, Then Takes Sweet Revenge (Thu, 31 Jul 2014 09:28:46 -0400)
Here's Michelle Rodriguez in a black and white striped bikini, just enjoying the view from a yacht in Ibiza, Spain. While she's taking it all in, probably contemplating mankind's existence, the dude in the white towel behind her has other ideas ... devious ideas: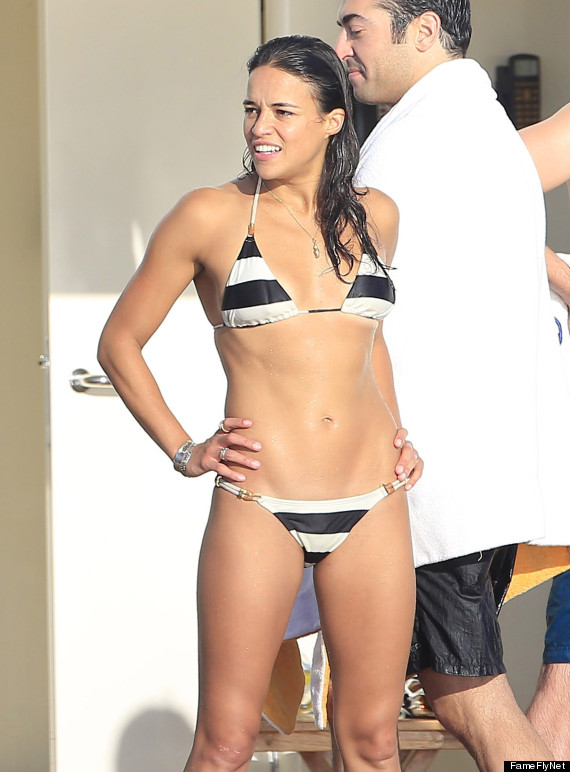 And there it is. He seizes the right moment, and unsuspecting Rodriguez already knows her fate is sealed: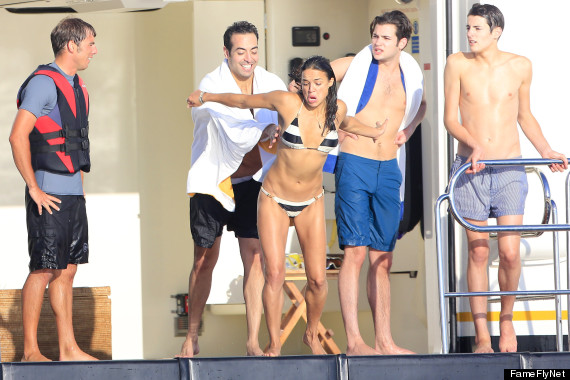 She's cursing the force of gravity right now: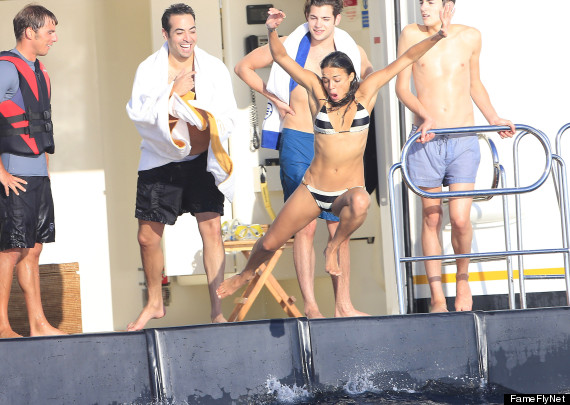 And gravity is all, "Don't get me wrong, Michelle. Love you in 'Fast and Furious.' But this is is just something I have to do":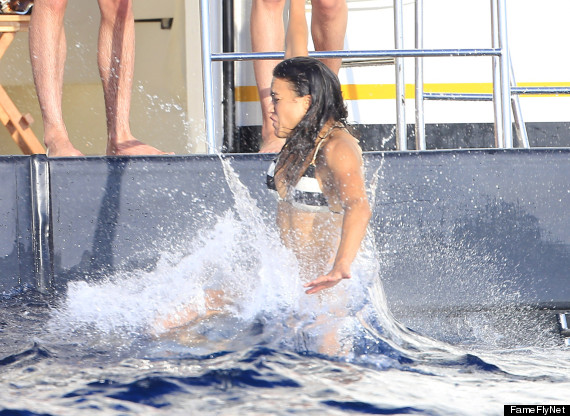 Rodriguez emerges, with a clear mission in mind: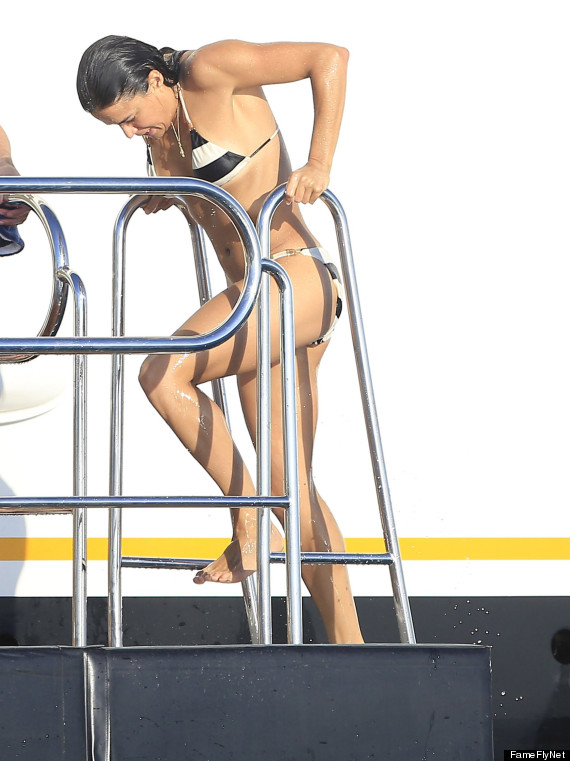 Dude previously wearing a white towel, your date with destiny is now: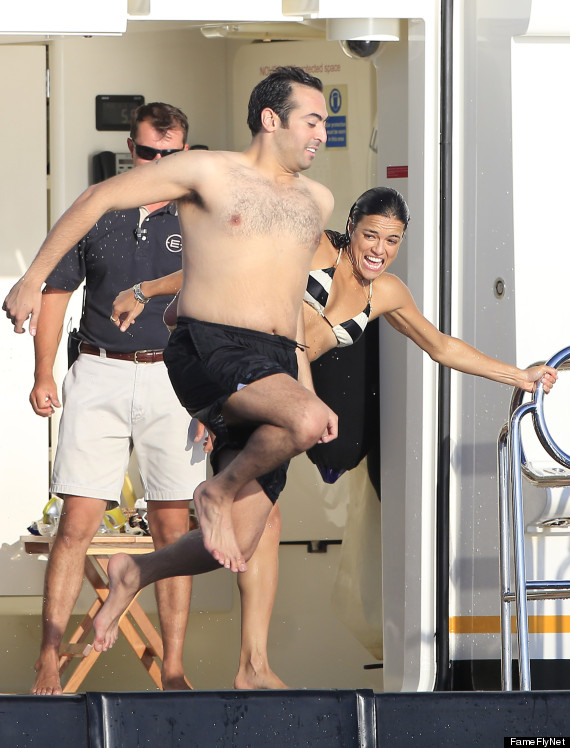 And revenge is oh-so-sweet: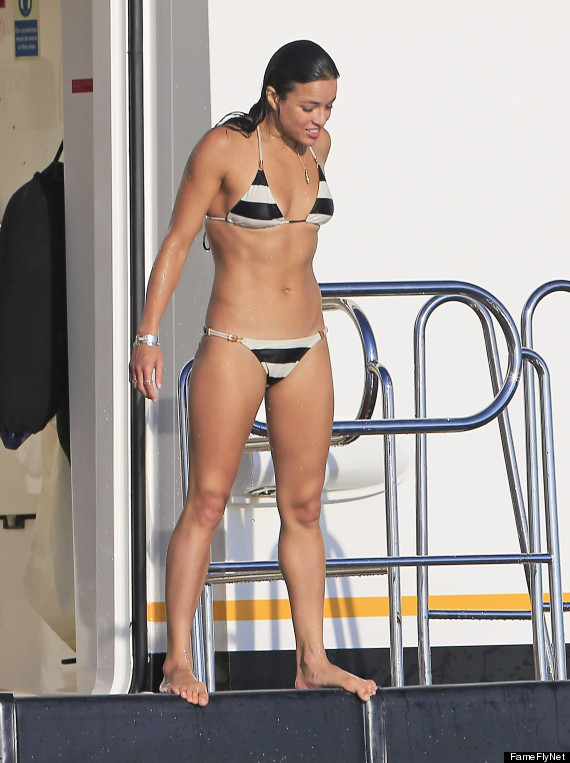 The end.