Style news and blog articles from The Huffington Post
Best Tweets: What Women Said On Twitter This Week (Sat, 25 Oct 2014 12:44:52 -0400)
This week was quite productive for the ladies of Twitter. Not only did Twitter user Mmmkay? do laundry, she achieved the impossible: "Just finished the laundry with no missing socks. // *adds magician to resume*." Yep, that's definitely magic.

Abbi Crutchfield killed two birds with one stone this week when she bought a pumpkin to celebrate Halloween: "Carrying a pumpkin home from the grocery store counts as exercise during the fall." Seasonal enthusiasm and cardiovascular exercise? This woman is a hero.

For more great tweets from women, scroll through the list below. Then visit our Funniest Tweets From Women page for our past collections.


Kim Kardashian Celebrates Her Birthday In A Plunging White Dress (Sat, 25 Oct 2014 10:48:08 -0400)
How low can she go?

Kim Kardashian took the plunge in a lowcut white dress at her birthday party in Las Vegas on Friday. The birthday girl, who turned 34 on Oct. 21, celebrated the special night at Tao nighclub at the Venetian Casino and Hotel: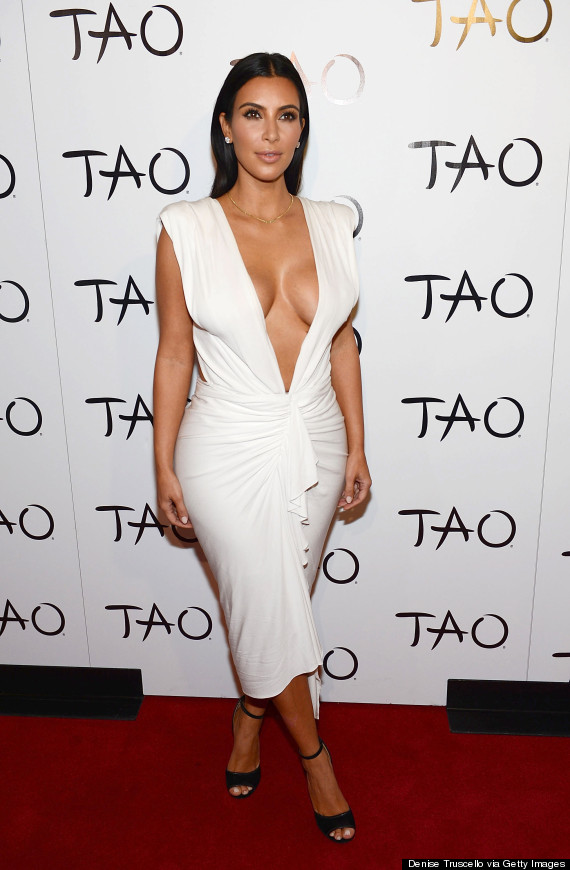 Inside the club, Kardashian posed with sister Khloe and mom Kris Jenner next to her elaborate birthday cake: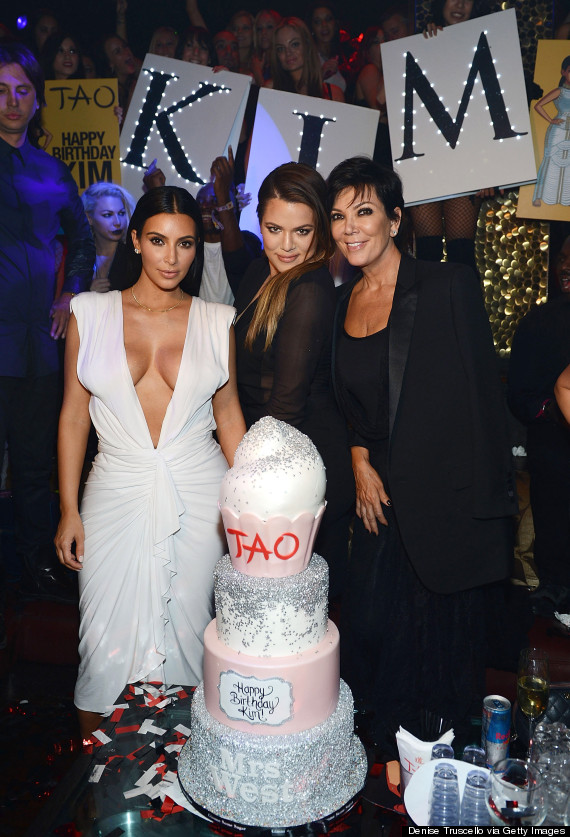 The reality star brought along close family and friends for the occasion and shared an Instagram photo of the whole crew outside of a private jet earlier on Friday:




Las Vegas isn't the only place Kardashian has jetted off to recently. On Wednesday, Kanye West surprised his wife with a trip to Hawaii to celebrate her birthday.

Cute Shorts, Versatile Bomber Jackets And More Cheap Celeb Finds Of The Week (Sat, 25 Oct 2014 07:00:18 -0400)

It's almost November, which means we have already started counting down the minutes until Black Friday. And while it may seem a tad far away at the moment, there are many great deals to be had right now.

Some of Hollywood's most stylish celebrities were out and about this week in very affordable pieces. Taylor Swift found an awesome pair of shorts for $48 (and if you throw on a pair of tights, they are perfect for fall!), while Nicole Scherzinger's Topshop bomber jacket is a steal for $76.

Check out our favorite cheap celeb finds and let us know which ones you're eyeing.



15 Winter Coats That Are Actually Affordable (Sat, 25 Oct 2014 07:00:18 -0400)

OK, we admit it: Our online shopping baskets are almost NEVER empty in the winter.

Winter coats are a crucial wardrobe staple, especially in places where the polar vortex makes its presence known with its freezing temperatures. We're not forecasters and we can't predict this year's weather, but we can count on annoyingly expensive, yet desirable outerwear to keep us warm.

We know you've had your eye on that double-breasted floor length coat that is so conveniently half your paycheck, and we're not here to judge. However, we've done the shopping research for you, and you CAN find a coat that is in your price range. And guess what? If you feel like treating yourself, you can buy more than one, in place of that really expensive one you've been drooling over for the last few weeks.

Scroll down to find affordable coats for this winter -- you can thank us later.



How To Replace Your Makeup With Skin Care (Fri, 24 Oct 2014 19:00:16 -0400)

If this season's no-makeup makeup obsession is any indication, then bare, yet clear faces are not just desirable -- they're downright trendy. But, what if you (like most of us) don't have the skin to get in on the whole fresh-and-flawless thing?

'Little Mermaid' Wedding Ideas For Your Disney-Loving Heart (Fri, 24 Oct 2014 18:41:49 -0400)

We bet there are a lot of little kids (and quite a few not-so-little ones) who have dreamed about having a "Little Mermaid"-themed wedding.

Online wedding marketplace Your Cloud Parade recently teamed up with singer and designer Traci Hines to bring that childhood dream to life with a fantasy wedding photo shoot inspired by the beloved Disney movie. Hines plays the role of mermaid bride Ariel and model Leo Camacho plays the charming groom, Prince Eric, in the faux wedding.

Now this is a world we would love to be a part of. Check out some of the photos below for a treasure trove of under-the-sea inspiration.




For more photos from the shoot, check out the slideshow below. Credit on all photos: Mark Brooke Photography and Mathieu Photo





Credits:
Produced by: Your Cloud Parade | Bride: Traci Hines | Designed by Your Cloud Parade's: Lauren Coats | Groom: Leo Camacho | Videography: Sweet T Studios | Photography: Mark Brooke Photography, Mathieu Photo, Dillon Phommasa Photo | Hair & Makeup: 10.11 Makeup | Cake & Desserts: Sweet and Saucy Shop | Florist: A Blooming Bud | Silk Floral: Afloral | Mer-sister Bridesmaids (models): Charis Lincoln, Brytni Jean, Vanessa Walton, Helena Levin, Joanna Lynn, Amber Arden

Your Cloud Parade Vendors:
Bridal gown: Claire La Faye | Hair pieces: Creature of Habit | Paper goods: Typologie Co. | Tablescape: Koyal | Bow Tie: Little Byrd Shop | Plaid skirts: Fleet Collection | Shell stir sticks: Laura Hooper Calligraphy | Geometric planters: Redwood Stoneworks | Air plants: Robin Charlotte | Wands & Streamers: Kate Kate NYC | Shell crop tops: Adorkable Apparel | Shell rings: Siren's Grotto | Tulle skirts: Dark Pony Designs

h/t POPSUGAR

Keep in touch! Check out HuffPost Weddings on Facebook, Twitter and Pinterest. Sign up for our newsletter here.

The One Shade Of Black Paint That Always Looks Good (VIDEO) (Fri, 24 Oct 2014 18:23:05 -0400)

Few color combinations are as modern, elegant and timeless as black-and-white -- when it's done right, that is. A big part of achieving a flawless black-and-white aesthetic is picking the right shades. Paint retailers boast an array of blacks (from onyx to ebony to midnight) and whites (from snow to linen to ivory), but which ones really create the best look?

Will Taylor, an interior design expert and author, tells the web series #OWNSHOW that when it comes to black, he goes for a softer shade.

"I always try and go for a chalkboard black," Taylor says.

This particular black is soft enough to be versatile while still looking dramatic -- and it's easier to work with than glossier options. "It usually can be brought into many different spaces," Taylor says. "That matte finish means that it will seamlessly introduce to a scheme, whereas if you go for something gloss, it's going to be much more in-your-face."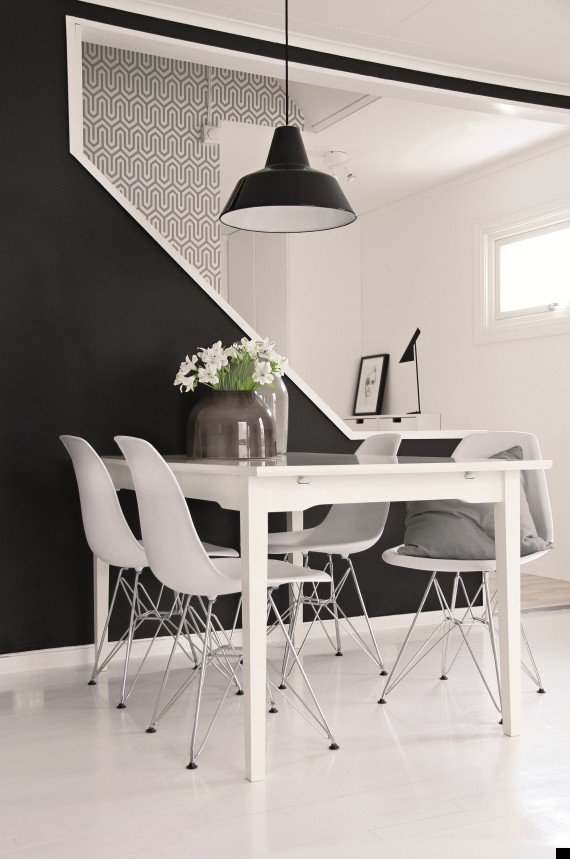 Paying close attention to the paint's finish is one of Taylor's biggest tips for anyone shopping for a shade of black.

"Just like lighter shades, dark shades also show knocks and bruises and those kinds of things," he explains. "When it comes to chalkboard paint, it has this matte finish that actually hides any scratches and fingerprint marks."

Bonus tip: To add an element of whimsy, use special chalkboard paint that allows people to write on it. Taylor says it's a great option for kids' rooms, especially. "I've seen great examples by people who have actually painted a kid's bedroom door in chalkboard black paint, which produces this really statement piece on the landing, but then when you go into the bedroom, the children can write all over it in chalk," he says. "It's really fun."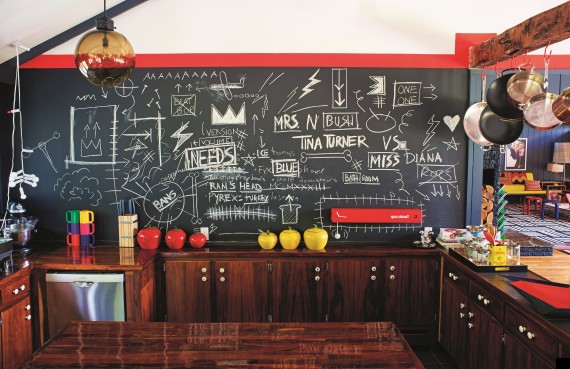 As for white, Taylor admits that it often comes down to individual taste, but shares a few tips to help guide those in the market for their ideal shade.

"Personally, I don't like to go for a stark, bright white because it can feel very clinical," he says. "So try and pick a white with a little more warmth in it -- perhaps an oatmeal or a stony white. It's just got a little more depth and texture to it."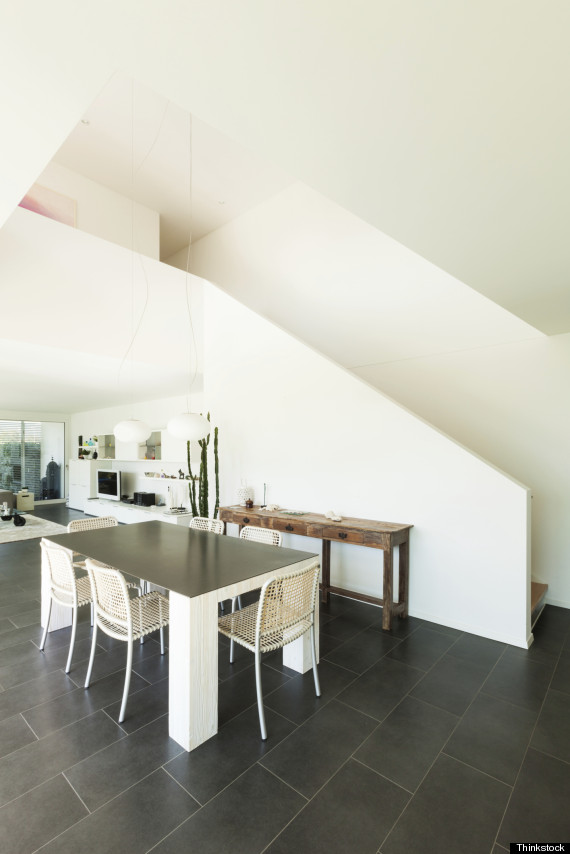 As with black, focus on the finish. "A matte finish will really help in keeping that white feel... fresh and not clinical," Taylor says.

But is there ever a good time to use that crisp, bright white? Absolutely, Taylor says, but you don't have to buy a single gallon of paint to do it.

"Pure white works really well in a modern and contemporary space when it comes to introducing furniture," he says. "So, you might want to go for a lacquered, high-gloss white desk in a contemporary office or perhaps you might want to bring in lacquered white units in a contemporary kitchen."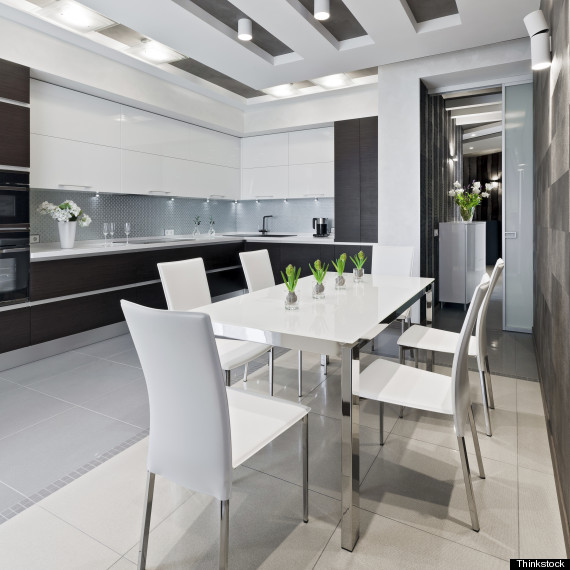 Are you a renter? Try these simple ways to add unexpected pops of color in your space without painting any walls.

More from #OWNSHOW




Like Us On Facebook |

Follow Us On Twitter
Nina Garcia Reveals How Being Latina Helped Her Succeed in the Fashion World (Fri, 24 Oct 2014 17:45:33 -0400)
Nina Garcia knew she wanted to pursue a career in fashion from an early age. Though she initially dreamed of being a designer, her trajectory wound up veering towards journalism -- and this is the path that has led her to the top of the industry. As the creative director of Marie Claire and a longtime judge on the hit reality show "Project Runway," Garcia has established herself as one of the most influential voices within the fashion world.

A native of Barranquilla, Colombia, the style expert has certainly come a long way since the days when she used to pack up garment bags as an intern in Perry Ellis' closet. In a phone interview with HuffPost Voces, Garcia spoke about the beginnings of her career, how being Latina helped her excel in the industry and why she's confident that Latino designers will continue to succeed on the runways.

Where did your love for fashion originate?
My passion for fashion originated in my mother's closet. She was a woman who loved fashion. She enjoyed dressing up a lot, and she had a closet that was like her sacred room that belonged only to her. She wouldn't let us go in and play there very often. I think that's where my fascination began. She was obviously a Latina woman with curves. She wasn't a size 2 or 4, she was a woman with lots of curves, but she knew how to present herself very well and how to dress her body very well. I think that's where my passion for fashion began, seeing my mother have that style. That closet of hers was like a fortress!

You're originally from Barranquilla, Colombia -- when did you move to the United States? Was it difficult for you to adjust to life here?
I was born in Barranquilla, Colombia, and I came to attend high school in Massachusetts when I was about 15 years old. The situation in Colombia had become very difficult, with kidnappings, drug trafficking and the insecurity in the country at that time. My parents thought it would be best to send my sister and I abroad. It was hard for me to assimilate to the culture because it really is very different. We have a lot of similar things but also a lot of different things. The girls in boarding school were tomboys, and I was very feminine. I just wanted to be a designer and draw collections. So for me it was a big cultural shock, but I learned a lot about American culture, and I assimilated very well after a while. I understand all the Latinos that are in this country, they have that duality, because I find myself in that duality. I have many Latino things, and I also have many American things.

How did your career in the fashion world begin?
It was always very clear to me what I wanted to do, from a young age. As I said, I used to draw my collections and I had a fascination with magazines [and] with fashion. I had a lot of interest in that, I knew it from an early age. I started out in an internship that I got through my college, and it was in the closet of Perry Ellis. At that time, it was about 1992, Marc Jacobs was Perry Ellis' designer and he had his grunge collection, which was very well-known. I was a lowly intern who packed up the garment bags that would go to Marie Claire [and] Vogue. And there I started to really see how magazines worked, how the editors worked, and that internship really opened up my fashion perspective because up until that point I still had ambitions of becoming a designer, even though I knew that there were many people in my class who were very talented, much more than me. And I felt a little frustrated, but I hadn't yet come to understand fashion's scope.

There really are so many lines of work that you can join that don't have to only be design. And that was one that particularly interested me a lot, because the editors could appreciate all the trends, all the designs and all the work of the designers. I really appreciated working there and seeing how Marc Jacob's entire team worked for Perry Ellis, but I was more interested in meeting the editors and seeing the work that they did when they came to see Marc and his collection. I went into the journalism part, which is where I ended up and where I am now.

What does it mean to you to be a Latina who has gotten so far in this industry?
It has helped me a lot, I think, being Latina. It gave me a lot of strength when I started my career, and it still gives me a lot of strength today. I think my Latino culture has equipped me with a different point of view than the rest of my counterparts, and seeing things from a different angle has helped me a lot. I feel very proud of my culture, of my Latino heritage. When people ask me, 'Where are you from?', yes, now I'm American because I live in this country and my husband is American and my kids were born here, but I also feel very Colombian and very Latina and my kids are half-Latino, so we're very proud of that. I've never hidden it, on the contrary, I like for people to know it.

Latino designers such as Oscar de la Renta*, Narciso Rodriguez, and Carolina Herrera have long distinguished themselves as important figures in the industry. Now it seems that a new generation of Latino talent is emerging, as Stella Nolasco, Victor de Souza, and Rolando Santana all presented their collections at New York Fashion Week. Do you think the visibility of Latinos in the fashion world has changed throughout your career?
Yes, it's changed, and it will continue to change. Oscar, Carolina and Narciso were truly the beacons who illuminated the new generation of designers. I have no doubt that Latino talent is going to continue on the runways. I just got back from Paris, and I saw, for example, the collection of Esteban Cortazar, who is Colombian and presented in Paris and made a fascinating collection. So I'm certain that we're going to continue to be famous on the runways of the fashion world. There's no doubt about that for me.

*Note: This interview was conducted before the passing of legendary designer Oscar de la Renta.

Check out the full interview with HuffPost Voces here and Garcia's recent interview with HuffPost Live above.
Fashion Keeps Embracing Guns, While Guns Keep Killing Women (Fri, 24 Oct 2014 16:33:39 -0400)
Former Rep. Gabby Giffords (D-Ariz.) brought the message that gun violence is a women's issue earlier this week, declaring at an Iowa domestic violence event that "dangerous people with guns are a threat to women."

"Women can lead the way," she added.

October is Domestic Violence Awareness Month, and prominent women such as Giffords, Hillary Clinton and Atlanta "Real Housewife" NeNe Leakes have used their platforms to bring attention to the epidemic that killed about 1,500 American women in 2012, according to the most recent analysis by the Violence Policy Center. Guns were the most common weapon used in murdering women.

But it seems like the world of fashion still hasn't got the memo. Just last week, one dramatic style icon, Rihanna -- who is also no stranger to domestic abuse -- toted two gun-inspired handbags to dinner in Los Angeles, making headlines for her predictably "controversial" choice.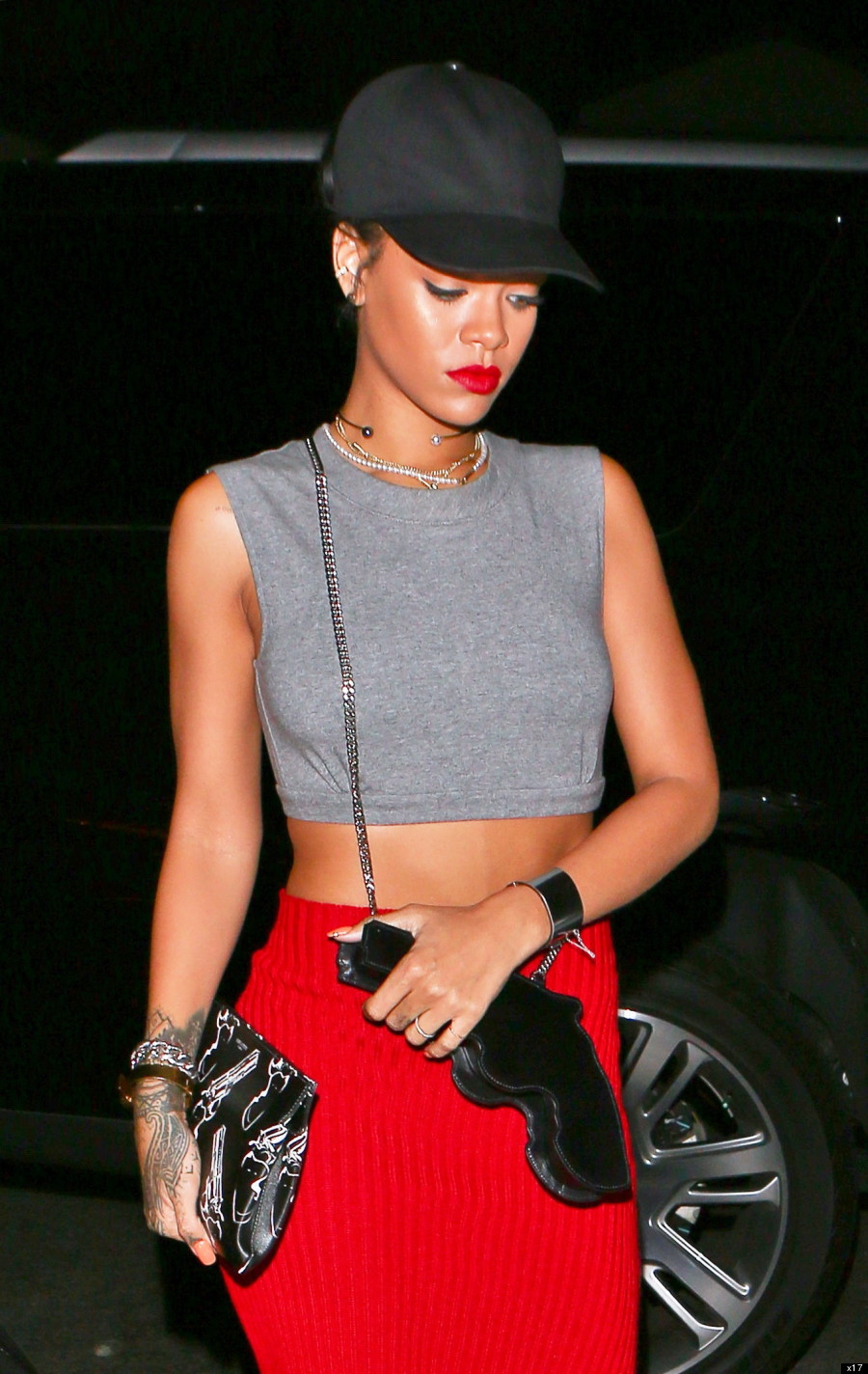 Rihanna carried two gun-inspired handbags last week. (Photo credit: x17)

Both bags -- a gun-print clutch that retails for $745 and a gun-shaped purse, dubbed "Bo Gun," that retails for $990 -- are made by Saint Laurent. The fashion house also offers gun-print dresses, shirts and cardigans. It has not responded to a request for comment.

Last week wasn't the first time Rihanna carried a gun-themed bag. A couple of years ago, Dutch fashion accessory brand Vlieger & van Dam rolled out a "Guardian Angel" handbag series, and stars including Rihanna and Rumer Willis were seen carrying the revolver-embossed bags. According to the designer's website, the bags were meant to "narrate the increasing violence and crime in the media, objectifying our addiction to fear."

But the problem is not just violence "in the media" -- and we have an addiction to guns, not the fear they create. The U.S. has by far the highest gun murder rate in the developed world, and gun murders claim about 30 American lives a day. Dozens of school shootings have happened in the past year alone. Guns are a persistent element in American culture, but it's not one we need to glamorize.

When designers blend firearms and high fashion, they perpetuate the idea of a gun as a sexy status symbol. Prada rolled out its Lady K bag nr.4, featuring a gold-plated gun and bullet, in 2007. Days after a 2013 bill to ban assault weapons failed in the Senate, supermodel Karolina Kurkova stepped out in New York City wearing a gun-print dress designed in 2006 by Israeli-born Nili Lotan, who said it was intended as an anti-war protest. Also last year, German designer Philipp Plein sent male models wielding automatic weapons down the runway in Milan.

The low fashion world has followed suit. Urban Outfitters recently offered, and then apologized for, a faux blood-stained sweatshirt with the logo of Kent State University, where four students were shot and killed in 1970.

With 88 guns for every 100 people in the U.S., it's not surprising that sales of fashion items meant to carry real guns are up in recent years. A women's gun club in Ohio held a Concealed Carry Fashion Show last month showcasing designs for ankle and hip holsters, compression shorts and handbags with an easy-access gun pocket.

For those with money to burn on products to hold their guns, the Dallas-based handbag company Designer Concealed Carry has everything from Italian leather hobo bags to a "Caiman crocodile fuscus" bag that retails for $4,200.

Certainly, women who choose to carry concealed guns -- which is legal in all 50 states -- should take safety precautions, such as using a handbag designed to house a deadly weapon. But turning a concealed carry bag into a luxury item runs the risk of fetishizing the very idea of carrying a gun.

Designer Concealed Carry quotes one pleased customer on its website: "I love it! And will enthusiastically recommend your bags to my friends. The design features are great, the quality of the construction is superior and the plum leather is beautiful. Thank you for putting something new and fashionable into the market."

Meanwhile, Jewelry for a Cause is taking seized illegal guns and bullet casings and turning them into non-gunlike jewelry. The company says a portion of the proceeds goes to gun buyback programs in American cities.

Here's hoping gun control fashion like that will be the next gun-inspired style trend.

DIY Jimmy Fallon 'Ew!' Costumes Will Make You Seriously Freakin' Flip (Fri, 24 Oct 2014 16:24:44 -0400)

Finally there's a DIY costume that's definitely not "ew!"

A new music video from the "Tonight Show," featuring Sara, aka Jimmy Fallon, and Mir.i.am, aka Will.i.am, is blowing up, and the only thing better than the vid has to be the girls' awesome style. These looks are definitely anything but basically basic. And with Halloween coming up, they are an easy way to look totes OMG.

Fallon even thinks it's a good idea:






Thankfully, HalloweenCostumes.com put together some instructions for bringing these looks to life.


Sara (without an H)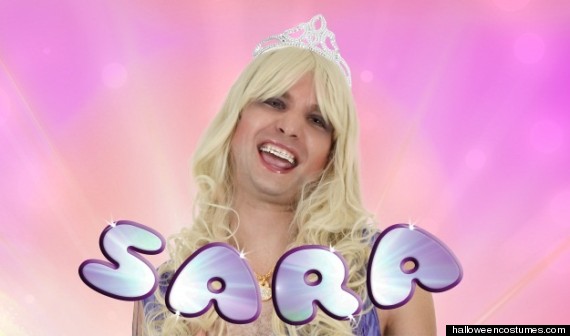 What you'll need:

A purple dress, fuchsia tights, blonde wig, tiara, fake braces, silver shoes, gold heart necklace, pearl bracelet, diamond bracelet and tons of attitude.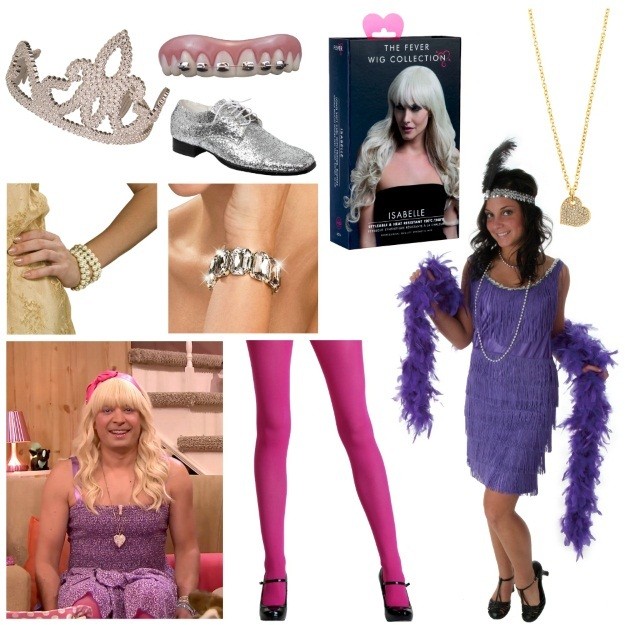 Mir.i.am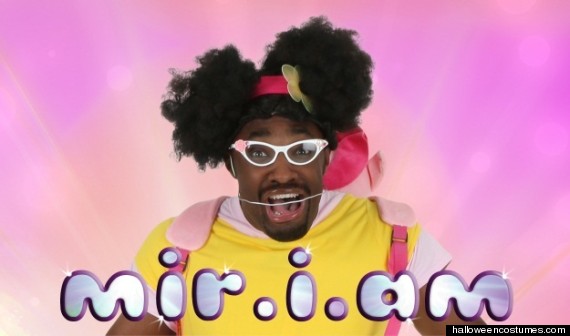 What you'll need:

A yellow dress, blue leggings, pink pony backpack, disco puffs wig, purple shoes, purple socks, cat eye glasses, pink bead bracelet, green bead bracelet and definitely no impleggies.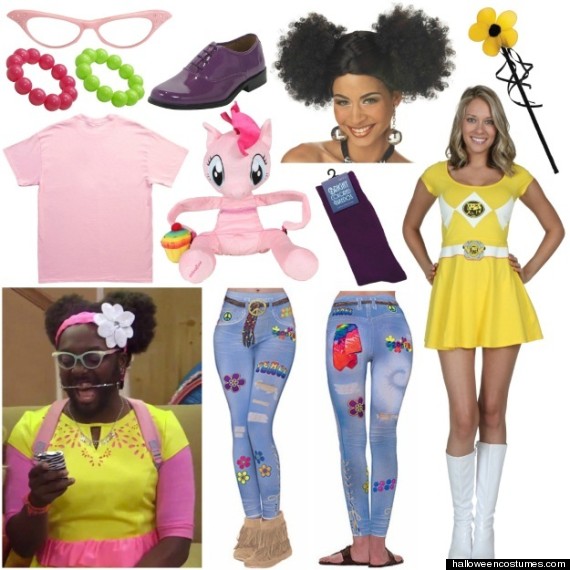 The Final Looks: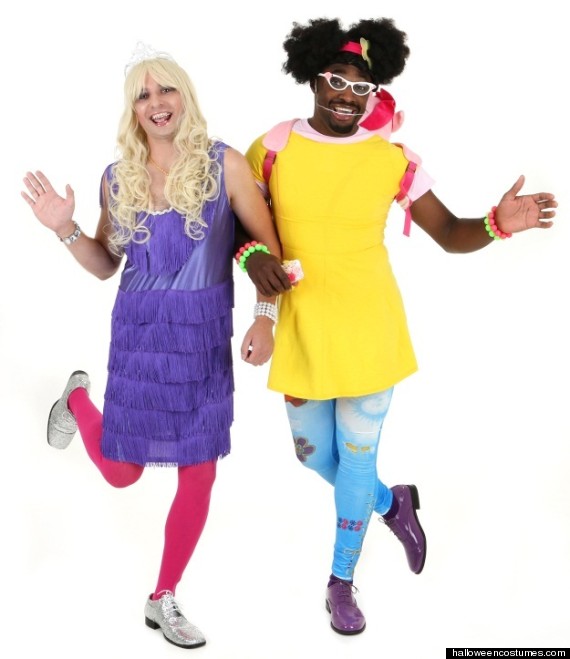 Make sure to bring your BFF and leave Uncle Gary at home because this is going to be the best Halloween ever. Seriously. Seriously. Ew! Ew!

H/T HalloweenCostumes.com

15 Questions: Designer Marco Marco (Fri, 24 Oct 2014 16:18:50 -0400)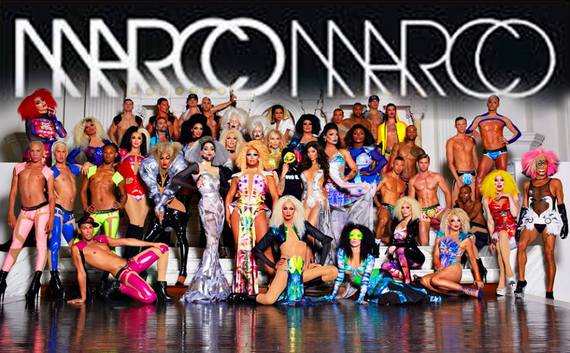 photo credit: Magnus Hastings



Marco Marco's "Collection Three" show proved to be an even more perfectly outrageous spectacle than his last showing. That alone was no small feat, but with 37 looks adorned on the bodies of the most celebrated queens, no mission proved impossible.

The show titled, "Collection 3, Slut Goes to the Moon," took place at the stunning Cathedral of St. Vibiana. The event was sponsored by The Abbey Food and Bar, Skynny Kitchen, and produced by the fabulous Chanel Perrillo. Seated in the front row of the immaculate long white runway were Adam Lambert, Carmen Electra, Lilly Ghalichi, Samuel Larson and of course the "Who's Who" of West Hollywood. Everyone was there to celebrate Marco Morante, the mysterious man behind Marco Marco. The highly anticipated runway video of the full show will (as rumored) be released this Tuesday. In the meantime, I was lucky enough to track Marco down for this rare question and answer session.

1. How did this season's line and show differ from last years?

This show was an attempt to up the ante from last year. I wasn't necessarily ready to change the formula, but I wanted the opportunity to grow the concept and flesh it out. Last year was a mash up of sacred geometry and an old school walk off.

This year blended patterns of crystal formations and refracted light with some of my favorite iconic gay movements: vogueing, pageants, club queens, and of course giving it all a sci-fi twist. I'm a comic book nerd at the end of the day.

2. How did you come about featuring queens in your fashion shows?

There is a queen named Vicky Vox, who performs a number called the laughing track. I die every time I see it because it is just so good. All I wanted was for her to open the first show, and when she said yes, that was the first seed.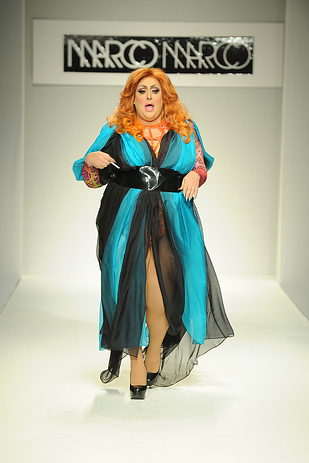 photo credit: diytheme.com



Having the show include all the different types of boys, that I'm surrounded with, just made sense. It felt real and visceral because it was! Those are my friends and watching them shut the house down one by one was the most exciting 15 minutes of my year. It's also nice to give credence to a social group that doesn't get the appropriate type of attention they deserve. I wanted a legitimate opportunity for my friends to show the world what being a 'bad ass bitch' is really about.

3. There are so many fierce queens and hot gay boys. How do you choose whom to feature in your show?

I don't choose to feature anyone. I feel like it all kind of falls into place as the pieces develop and as I meet with them and begin to decide which girl fits each design. This is a process I go through with my team. Everyone has input on who the models will be, and we come up with an order from there.

4. Were you always a fan of Britney and what is it like to design for her?

I was out of high school and into art school before Britney came on to the scene, so I definitely missed the boat there. However, my assistant (Michael) made it VERY clear to me that she is a legend. He calls her "Godney." When we booked the Vegas show, I learned her songbook very quickly and feel like an expert now! She is an inspiring person who has overcome adversity time and time again and that is a hard thing to do over and over. (Especially on such a global scale).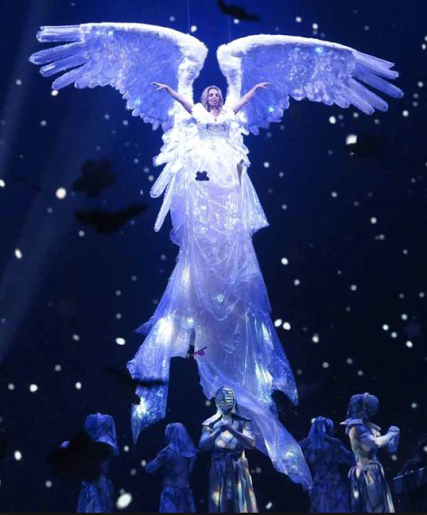 photo credit: Marco Morante



5. Why do you cover your cute face in pictures and videos?

That's MY face! You wanna see it, come talk to me :) 15 yrs selfie free!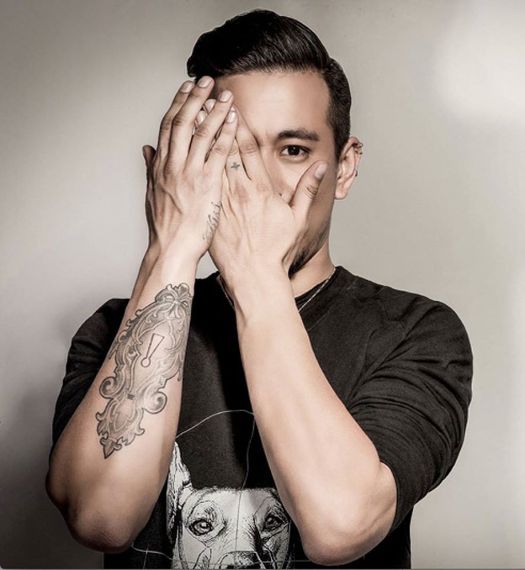 photo credit: Marco Morante



6. I sat next to your family at your show. They seem very proud and supportive. Have they always been that way?

Yes, my folks have always been very supportive. They always expected the most from me, but also never let me beat myself up when I failed. They were consummate parents and I owe them the world.

7. What is your favorite color and why?

I don't have one, but I do love neon. I read somewhere that certain animals can't see neon and that's why hunters wear them. The idea of wearing a color that is at least semi specific to our species is pretty awesome.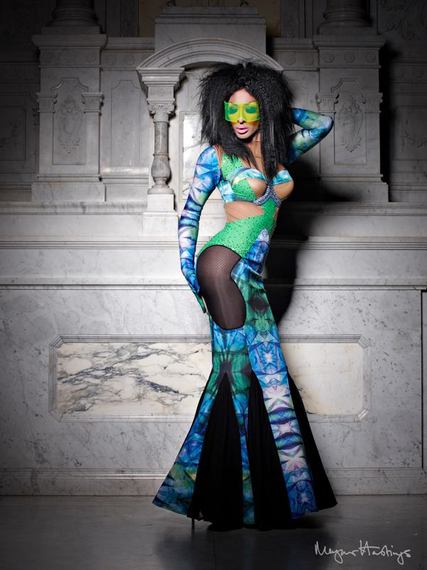 photo credit: Magnus Hastings



8. Where are you from? What does your hometown think of your success?

I grew up half in Anaheim and half in Laguna. I don't go back to either often, so I can't say I know much about what they think, but I hope it's good though!!

9. Do you wear your own brand of underwear? What pair is your favorite?

Yes, I'm almost always in Marco Marco undies and socks. My favorites are the black boxer briefs and the black and white socks! I LOVE them, so much that I get sad when I'm out of laundry and have to revert to my old ones. If I have to, I'll sneak into the back (when Chris isn't looking) and snag an extra pair.

10. Who are your favorite designers of all time and your favorite up and coming designers?

My favorite designers of all time: William Travilla, Edith Head, Eiko, Paco Rabanne, Issey Miyake, Iris Van Herpen.

My favorite up and coming designers: August Getty, Nika Danielska, Takashi Nishiyama.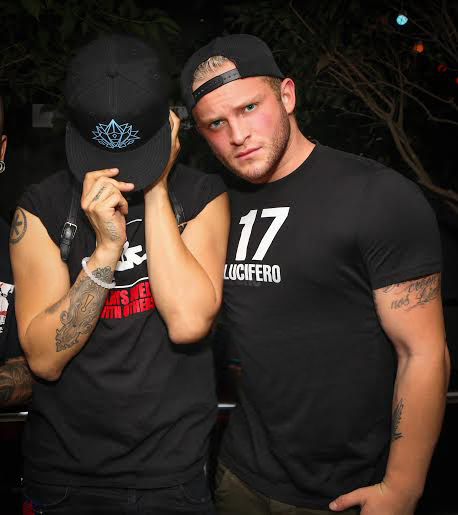 Designers Marco Morante and August Getty. photo credit: Jason King Photography



11. What can we expect from your online web series?

I have no idea! LOL I haven't seen it either, so I'm watching it at the same time everyone else is, but I imagine you're going get to see a little of what it is we go through to create one effortless evening for our guests and for the models. Our goal is to make this an experience and we want it to be all encompassing.

12. You wrote an open letter to Anna Wintour. Has she replied?

Hahaha! No she hasn't. That's okay though. I imagine she is a busy lady!

13. What are some of your favorite costumes you designed?

Iggy-EMAs
Fergie-Victoria's Secret Fashion Show
Britney Spears-Angel costume for Vegas show (see above)
Katy Perry- Cupcake Bra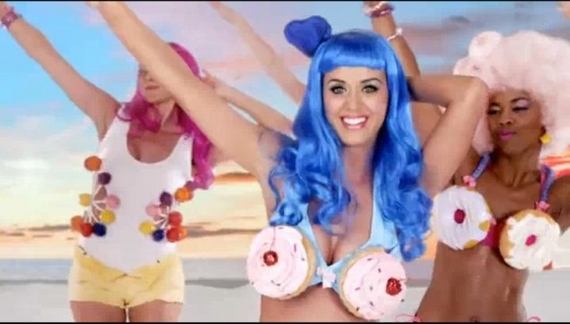 photo credit: Marco Marco



14. What advice do you have for people who look up to you and want to be a fashion designer?

Run! LOL It is not an easy gig! The machine could swallow you. However, if you're patient (and willing to go broke over and over again) and can't live with out it... then go for it! It has to be all in or nothing because there are a million kids who are the shit and make amazing things. So give it everything!

15. Do you have any hidden talents?

I'm a good whistler and I can fry an egg like a mother fucker.

These Illustrations Will Change The Way You See Some Iconic Horror Movie Killers (Fri, 24 Oct 2014 16:17:41 -0400)

With Halloween just a few weeks away, our worlds have been filled to the brim with DIY costumes, a ton of candy and of course, scary movies.

But from a fashion perspective, iconic horror movie killers throughout history kind of get the short end of the stick.. at least when it comes to costume design.

That's where David Murray comes in. The UK based illustrator (whose Tumblr shows off some amazing work) and whose background is in fashion design, decided to give some of his favorite movie monsters a makeover, by dressing them to the nine's in some of the hottest designers around (Dries Van Noten and Moschino, to name a few).

We chatted with Murray about the illustrations, his style inspiration and what he has up his (very scary) sleeve.

On how he picked the characters:

I chose the most iconic killers, the characters that first come to mind when you think horror movies.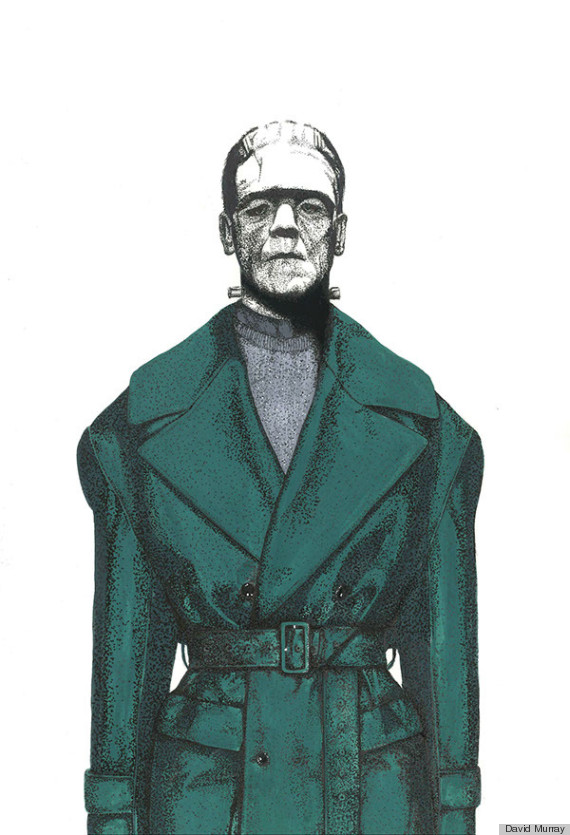 Frankenstein in Juun J



On pairing each character with each designer:

The green oversized double breasted coat from Juun.J's Fall 2014 collection inspired the Frankenstein idea, which really inspired the rest of the series. I researched some my preferred designers and it turned out a lot of the Fall 2014 collections included looks that I felt my favorite horror characters could wear without looking too abstract or out of place.

On if he thinks the illustrations could make these characters seem a little less scary:

I think it will take a lot more than a Moschino sweater or a Hood By Air Hockey Jersey for people to perceive these monsters in a less frightening light. People I've talked to still find them scary, even in their high fashion attire.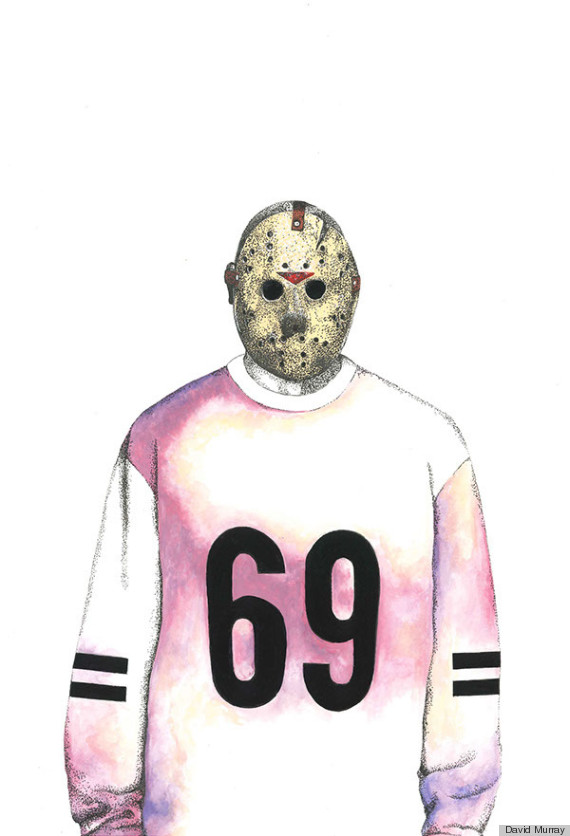 Jason Voorhees in Hood By Air



On his favorite one:

I like Leatherface in Rick Owens, because it actually looks like something the dude would have worn in the movie.

On the movies that scare him:

As a kid, the "Scream" movies freaked me out a lot, as did "Halloween." Stephen Kings's "It" is quite disturbing as well!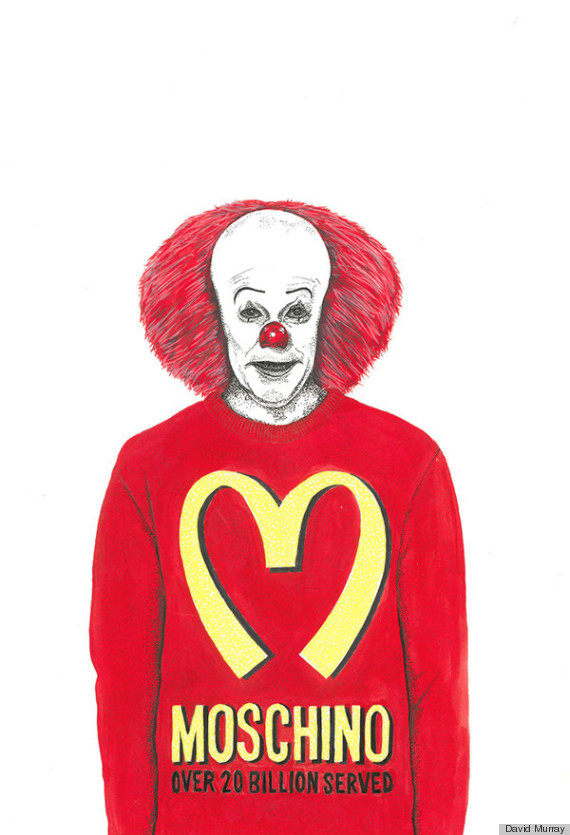 Pennywise in Moschino



On the character he wants to illustrate next:

There are so many, you'll have to wait and see. I have lots of new ideas that I'm putting to work!

We CANNOT wait. Click here to check out Murray's Instagram account.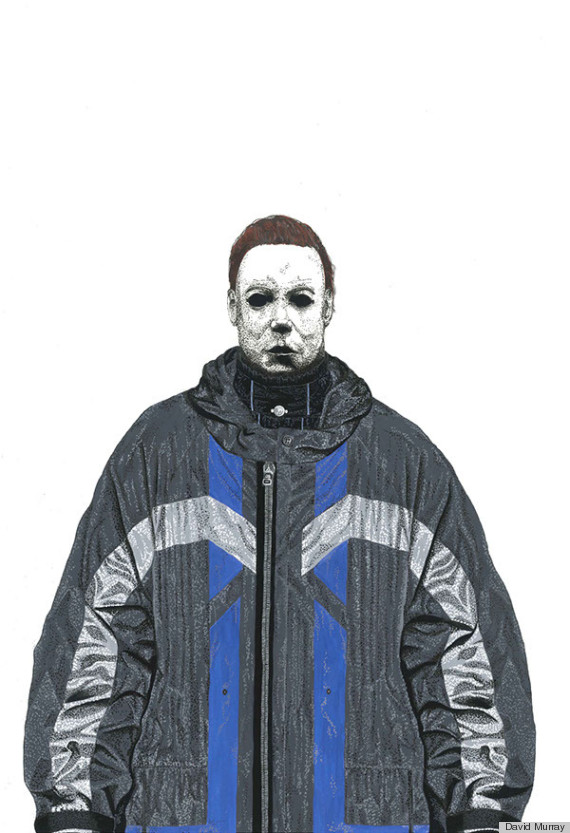 Leatherface in Rick Owens
These Controversial Celebrity Costumes Remind Us What NOT To Wear For Halloween (Fri, 24 Oct 2014 15:57:30 -0400)
Known to go all out for Halloween, celebrities are usually great sources of inspiration when it comes to finding a killer costume. But sometimes -- out of sheer ignorance or deliberately bad ideas -- the stars serve as a guide for what not to wear.

Take a look at the celebrities with the most controversial Halloween costumes in recent history:

Chris Brown as a terrorist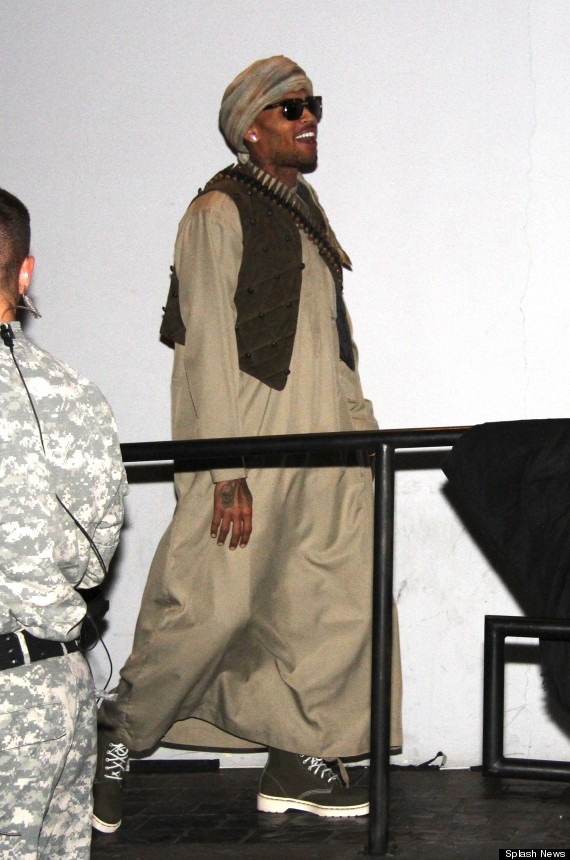 No stranger to controversy, Chris Brown dressed as a terrorist, wearing a turban and fake assault rifle, to Rihanna's Halloween party in October 2012.

Heidi Klum as Goddess Kali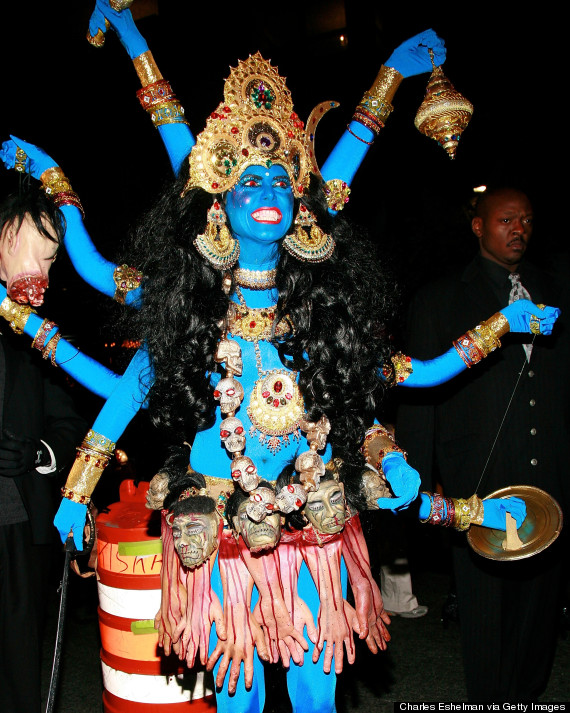 Klum is known for her commitment to Halloween. But the supermodel landed in hot water in 2008 when she went dressed as the Hindu Goddess Kali. Hindu-American leaders demanded an apology from Klum for "posing as a sacred figure," and for "using the religion for decoration or to advance [her] selfish agenda."

Julianne Hough As Crazy Eyes Controversy struck when Julianne Hough donned blackface and bantu knots in her hair to complete her costume as Crazy Eyes, a character from "Orange Is The New Black." Hough later took to Twitter to apologize for the offensive costume, writing, "I am a huge fan of the show 'Orange Is The New Black,' actress Uzo Aduba, and the character she has created. It certainly was never my intention to be disrespectful or demeaning to anyone in any way. I realize my costume hurt and offended people and I truly apologize."

Deryck Whibley and Ari Cooper as Avril Lavigne and Chad Kroeger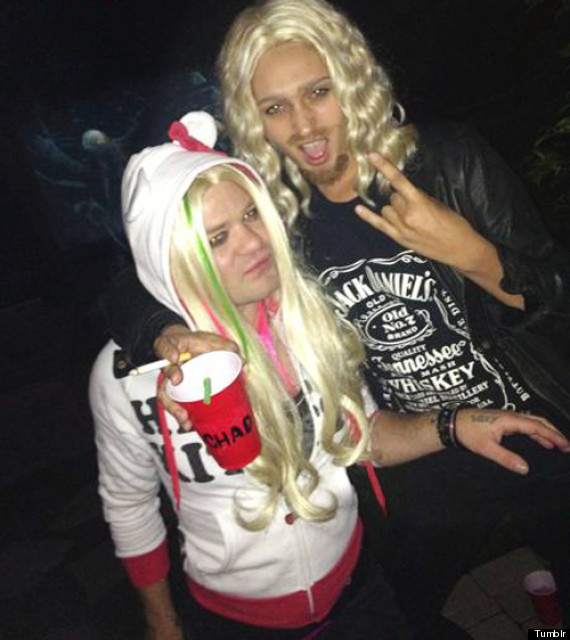 Deryck Whibley and his girlfriend Ari Cooper started trouble when they dressed as Whibley's ex-wife Avril Lavigne and Lavigne's then-fiance, Nickelback singer Chad Kroeger in 2012. Kroeger shot back at Whibley on the Nickelback Twitter account, writing, "Hey Deryck loved the costumes! We were going to dress up as you guys this year but all the parties had celebrity themes haha! -CK." Ouch.

And finally, here are a handful of celebrities who clearly saw nothing wrong with cultural appropriation in the name of their "Indian princess" costumes. As Gawker puts it, "when the entirety of your costume is 'I am a person of a different race, LOL,' that qualifies as a racist costume."

Aubrey O'Day, 2012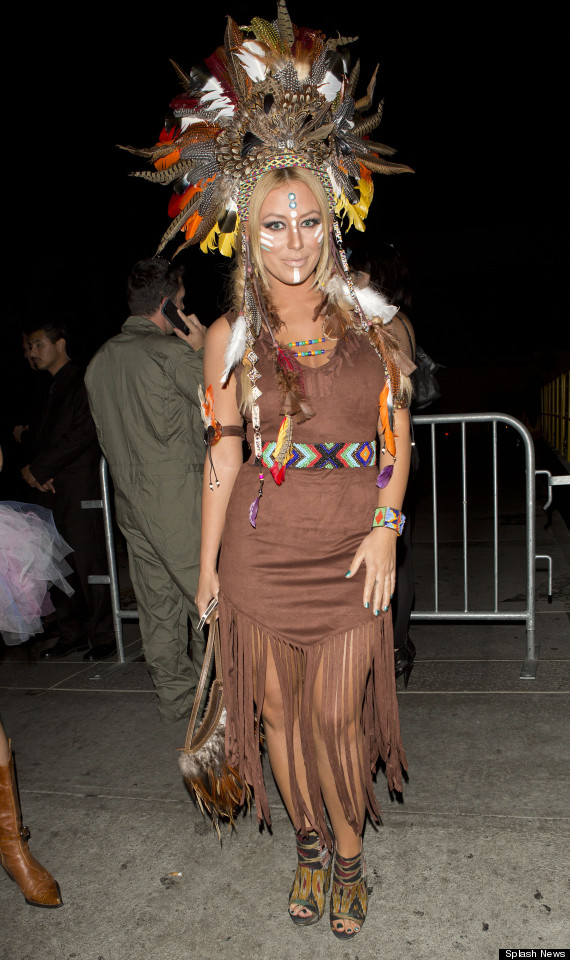 Kourtney Kardashian, 2011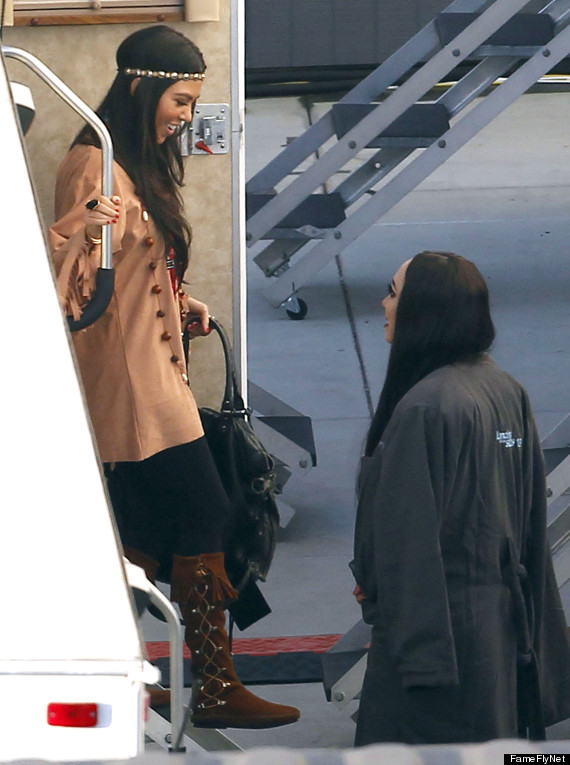 Chrissy Teigen, 2008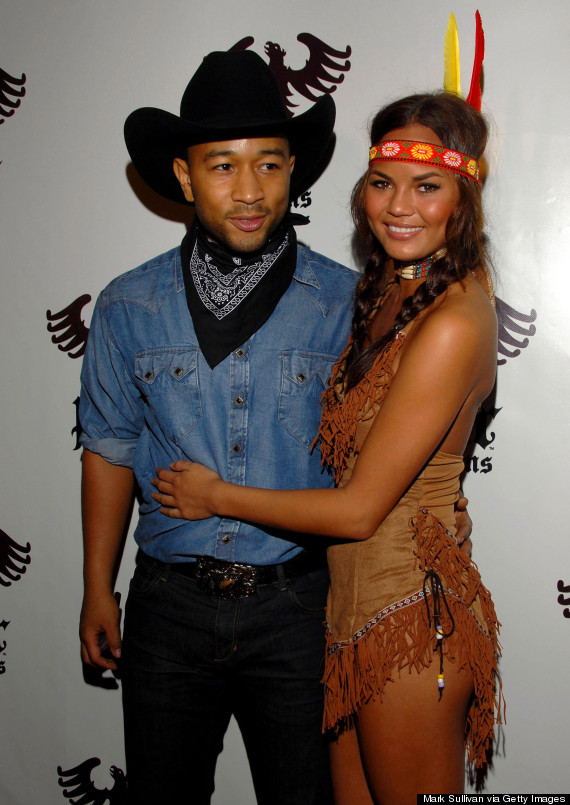 Rachel Zoe, 2010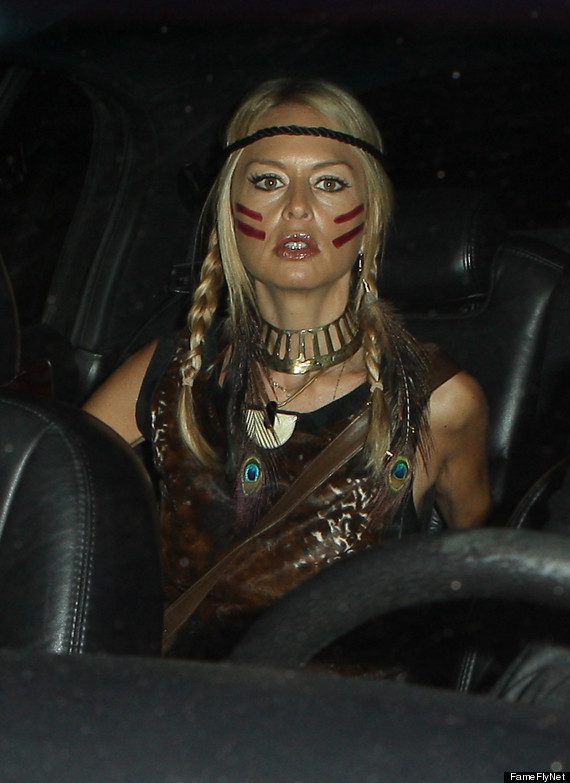 Paris Hilton, 2010 What I Want in a Woman (Fri, 24 Oct 2014 14:58:37 -0400)
I started online dating a few days ago. I posted on Facebook to ask my friends which dating sites they did, do or would use. There were a bunch, including Craigslist which could possibly be my last resort, but the overall consensus was Match.com, so I signed up for a three month subscription. A few of my friends have gotten married from online dating, so I saw good in it and felt safe. I spent about a day working on my profile, figuring out what I would say, how I would say it and which photos I would include. My particular profile was rejected about ten times before I had to call their customer service, reassuring them that I'm a unique individual. It's likely I'll change my profile a few times before I start getting the response I'm looking for. That doesn't mean I'm going to write what I think they want me to say, but to dig into the real me, in hopes of finding as many things as I can with what I want in a woman.

I've never been a "dating" type of guy. It's not me. I go on one date and bam, I'm all up in a relationship. My friends hate it because we'll be hanging as usual and then all of a sudden some sexy Amelia Earhart does a loop-the-loop, steals me and takes me to the Bermuda Triangle. It happens so fast that I can't even say goodbye to my friends. I disappear and since they're so used to it, no one files a missing persons report.

Then, on some dark and cold night, months after my disappearance, I'm found curled up in a ball, lying naked in a gutter with my guitar and a wet cigarette hanging out of my mouth. My heart is broken, and it's my fault. The ejection button was pushed and I didn't have a parachute. What happened was that I chose to be with a woman who is famous for flying solo, picking up passengers but not knowing it was for one-way trips. The realization that I have been looking for the wrong Amelia hits me. I should have been spending my time searching for Amelia Bedelia, not Amelia Earhart.

There is beauty in Amelia Bedelia, even though she screwed up all of the time. Her mistakes were caused by taking figures of speech and acting on them literally. There was mess, destruction, confusion and chaos. When she was asked to dust the furniture, she'd put dust on the furniture. When told to steal home plate, she took it. And she did a hell of a job at drawing the drapes. The best part of Ms. Bedelia was her good intentions. You couldn't be mad at her. She could always make you laugh, even when she wasn't trying. And her form of asking for forgiveness was usually by baking a pie or a cake. It showed humility in her, and an admittance of weakness and a reassurance that no matter what happens or has happened, she's trying her best the best way she knew how.

I'm not looking for a maid or a servant, and I'm certainly not looking for a dumb ass either. She doesn't have to have a degree, she doesn't have to have a nice car and I'm completely okay if she is still living with her parents. She can have children, or she can be unable to bear them physically. She doesn't need to have big boobs or a perfect body. I do need to see her face without makeup at some point because some girls are false advertisers and I hate being bamboozled. She'd be encouraged to wear that maid outfit sometimes, but she doesn't have to. As a matter of fact, one of my favorite looks of a woman is sweats with a hoodie with little to no makeup on, especially on a weekend morning. She can have tattoos or she can have none. She can have as many piercings as she likes, but if she has those giant plugs in her ears, stretching out her lobes like she's making spaghetti, that's a deal-breaker. She can have a bald head, or hair down to her feet. She can have a lot of money, or very little. She has to be trying in the areas that are most important to her.

What I truly want in a woman is a connection with her so unique that we're the only two people that can share it. A type of relationship that is stronger than the ones we have with our best friends, where maybe she'd consider farting in front of me if she thought it was going to make me laugh. By the way, it would. I want a woman with a creative heart, who is inspired by life and happiness, with or without me. I want a woman who isn't so concerned about having everything in order always, and knows how to relax in the time, wherever we are, and just be. I want a woman that knows how to make me laugh, and can lay on sarcasm so strong it'll force me to up my game. I want a woman that is confident and strong, but knows when to be weak and lets me be strong for her. I want a woman who lives a life full of perfectly good mistakes, so long as her intent is to pursue happiness. I want a woman that tries to see the good in all things, especially when it's difficult for me to do so. When it comes down to it, I want a woman; a real one.

In closing, and out of the love and respect I have for my daughters, this woman I speak of does not have to be a mother to my daughters. If she wants to be motherly, great, but they have mothers and they are perfect for them. The only thing I would ever ask of any woman is to encourage the relationships they have with their moms, and promote the good in all of us. If you win my heart, you're going to win the heart of the two best smelling turds in the whole wide world, who happen to fart in front of me all of the time. They learned that from their moms.

Originally posted at Full-Time Daddy
Kelly Osbourne Pays Tribute To Joan Rivers With New Tattoo (Fri, 24 Oct 2014 14:31:02 -0400)
Heartbroken by the loss of her close friend and "Fashion Police" co-star Joan Rivers, Kelly Osbourne recently memorialized Rivers with some fresh ink. On Thursday, Osbourne posted a photo of her new bumble bee tattoo, located on her shoulder, with a touching caption explaining the meaning behind it.

"In honor of you @joanrivers...'If you looked at aerodynamics, at science, the bumble bee should not be able to fly. Physically, it was just not anatomically equipped to soar. Yet it did, defying gravity, defying logic. The bee was a creature that defied and beat the odds, a miracle.' Thank you for being my miracle @joanrivers," Osbourne wrote.






Along with hundreds of other celebrities who expressed their grief after Rivers' death in September, Osbourne issued a touching statement to HollywoodLife.com about her friendship with the comedian:


I'm completely heartbroken by the loss of my beloved Joan. Not only was she my boss, she was and will always be my teacher, therapist, closest friend, inspiration and the only grandmother I ever knew. She was family and I will never forget her.