Style news and blog articles from The Huffington Post
Kerry Washington Says Her 'Scandal' Sex Scenes Are 'Hard To Do' (Tue, 21 Oct 2014 09:23:20 -0400)
By watching "Scandal," you'd never guess that Kerry Washington feels uncomfortable acting out her passionate affair with co-star Tony Goldwyn. But as cover star of Allure magazine's November issue, the actress says those steamy scenes aren't as natural as they look.

"They're hard to do. Sex scenes are always awkward," Washington told Allure.

"You're doing things that you're supposed to do with only certain people in your life. Because this is not your real partner in life, doing that is awkward. And then doing it in a room full of people is awkward," Washington said.

The 37-year-old, who married NFL player Nnamdi Asomugha in 2013, told Allure that she only comments on her chemistry with Goldwyn when it's in the "Scandal" script, out of respect for his longtime wife, Jane Musky.

"Particularly with a show like ours, where people are so invested in the chemistry, you just learn to be careful, because people's real relationships in life are important. I so respect and admire his wife and him and their family, and he feels the same way about mine. And so you learn to be careful about how you say things," said Washington.

This isn't the first time a "Scandal" star has confessed that the show's sex scenes can get awkward. Scott Foley told HuffPostLive in April that shooting intimate scenes with Washington, who was pregnant at the time, was a "challenge:"

"It's hard to enjoy those scenes," Foley said. "There's the guy fixing her bra, or my hair so it's awkward to begin with, but when you throw in a belly on top of that, or underneath it depending on the position we're in, it makes it even more so."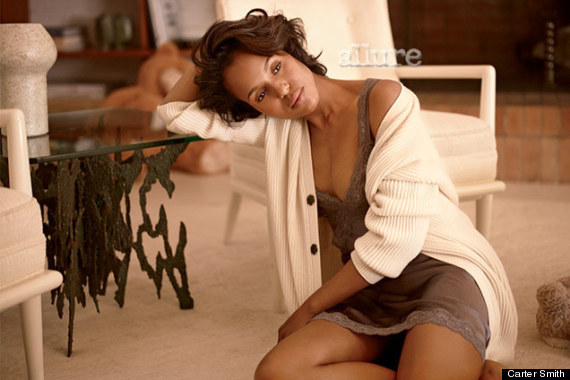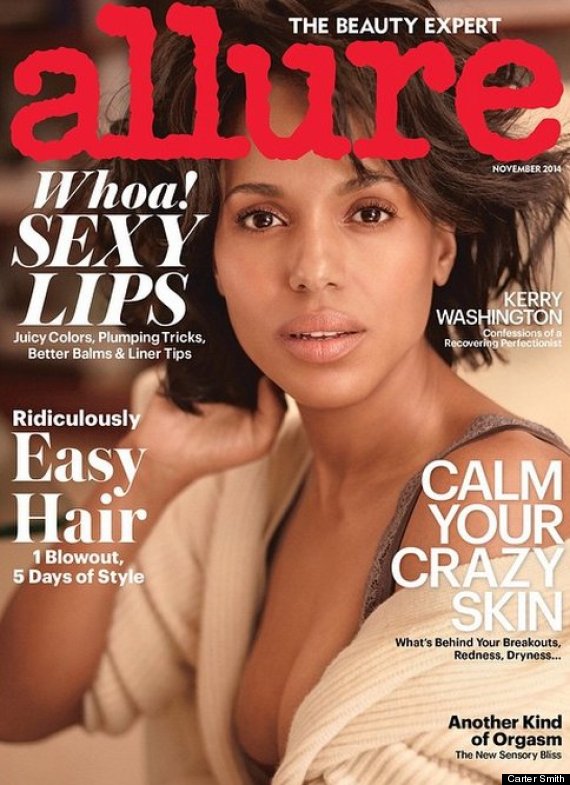 Kerry Washington's Allure cover hits newsstands Oct. 28.
Tattoo Artist Valentina Ryabova Brings Inked Hyperrealism To The Human Body (Tue, 21 Oct 2014 09:17:35 -0400)
Valentina Ryabova is a self-taught tattoo artist from St. Petersburg, Russia. She tends to ink familiar designs -- images that involve faces of loved ones, elaborate animal homages and decadent floral arrangements. The subjects of her tattoos are not what sets Ryabova apart though.

One look at her work and it's easy to see that she has a unique grasp on hyperrealism, a mastery so intense that her inked imaginings often look like paintings or strangely saturated photographs. If Gustav Courbet's self-portraits mixed and matched with the erotic inklings of, say, Richard Prince, and somehow the beautiful hybrids ended up as tattoos, this might be the bizarrely beautiful result:






As you might have gleaned from her precise lines and impressive shading, Ryabova studied fine art. But after attending university she realized she did not want to pursue the conventional path of becoming a designer or studio artist. Instead, she bought her own tattooing equipment and embarked on a self-made career. It might be hard to believe, but Ryabova has only been tattooing since late 2012.

"I don't like to make many sketches for one work," she explained in a past interview. "I prefer improvisation, but I use photos as a base." Her talent will be on display at the Lisbon Tattoo & Rock Festival later this month, but in the meantime, we've got a preview of the Instagram-savvy tattoo artist's works below. For more on her style, check out this collection of her designs here.


h/t DesignTaxi
Here's What Really Happens At The Dry Cleaner (Tue, 21 Oct 2014 09:16:03 -0400)
The summer-to-fall wardrobe changeover is upon us, inspiring closet purges of epic proportions. But as we tote last year's coats to the dry cleaners for a little refresher, the question remains: What exactly happens after we drop off our clothes?

So, we dug up this classic video from the experts at How Stuff Works to explain what exactly happens after you drop your clothes off at the mysterious place known as the dry cleaner. The lowdown: Your clothes do indeed get wet, but with chemical solvents instead of water. (Just be glad that we're not still living in a time when gasoline was considered a viable choice for dry cleaning.)


Kate Middleton Makes First Appearance Since Announcing Her Second Pregnancy (Tue, 21 Oct 2014 09:09:15 -0400)
It happened! It finally happened!

We've been waiting for a glimpse of Kate Middleton ever since the palace confirmed her pregnancy back in September. But with reports that she has suffered with prolonged Hyperemesis Gravidarum, something she also had during her pregnancy with Prince George, she has since been unable to attend public events. Now, it seems that she is finally feeling well enough to make her debut.

Dressed in an Alexander McQueen coat and Jane Taylor hat, the duchess joined Prince William in greeting the President of the Republic of Singapore and his wife to London.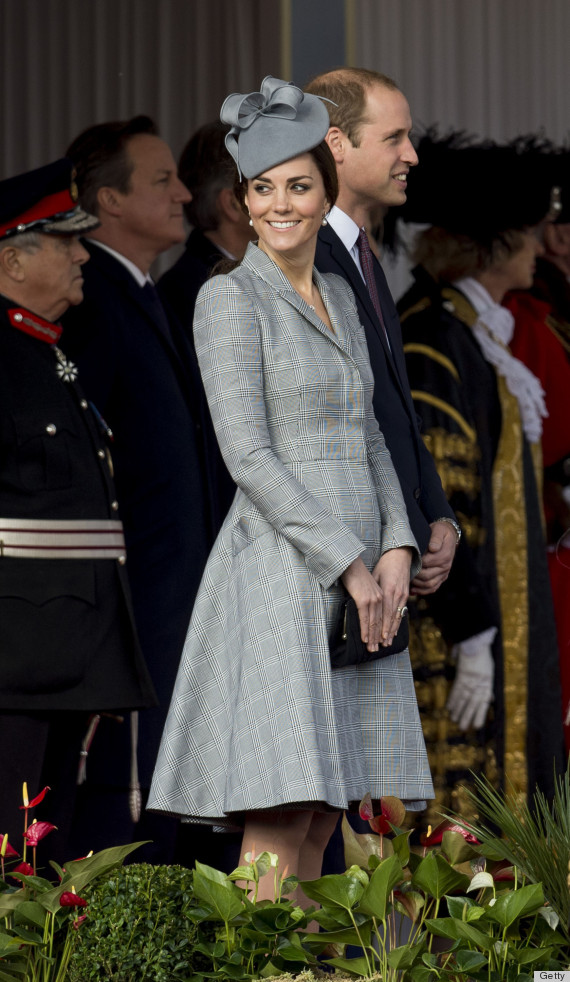 It was recently announced that Kate and William's second child is due in April, meaning she is now somewhere around the three-to-four month mark. Needless to say, she looks absolutely radiant.

A famed outfit repeater, we were excited to see that duchess opted for something new this time around. Although it's no real surprise she chose McQueen for her first appearance since announcing her second pregnancy. After all, she is a pretty devoted fan.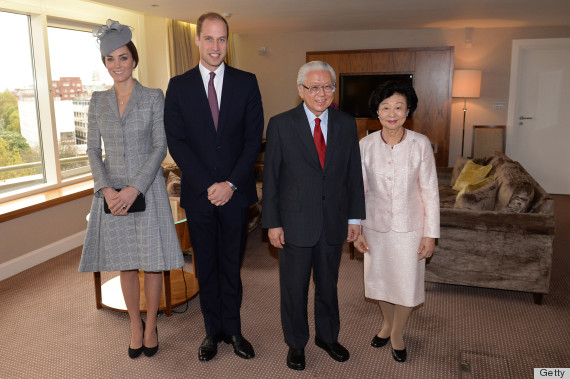 17 Adorably Nonsensical Things That Make Zero Sense, And Therefore Are Perfect (Tue, 21 Oct 2014 08:58:06 -0400)
These 17 silly random things exist purely to make you smile.




1. This hedgehog who now knows he can fit perfectly inside a Starbucks cup.

Credit: Embedded via Imgur user: Niccalv2015


2. And this Yorkie who now knows her head can fit perfectly inside a slice of bread.

Credit: Embedded via Imgur user: thehaasofpain





3. The way turtles value teamwork.
4. The fact that you are now aware that one can purchase this 93-inch teddy bear at Costco.

Credit: Embedded via Imgur user: thunder_cunt333





5. This little kid noticing the power of his eyebrows for the first time.

Credit: Embedded via Imgur user: washedupwornout





6. This baby turtle who decided to turn a boring day into the most exciting day.

Credit: Embedded via Imgur user: eja61387





7. This dog who found a new (and much better) purpose for a vacuum.
8. These bears waving "Hi" to you.
9. And this pig who takes the best bath selfies.

Credit: Embedded via Imgur user: meghanthegreat





10. This human sushi roll.

Credit: Embedded via Imgur user: warmwhiskey





11. And these dogs who love to celebrate Halloween just as much as humans.
Working on our #howloween costumes this morning Storm's didn't fit her..been eatin' too much @beggin What are y'all going to be?
12. The wonderful relationship turtles have with toothbrushes.

Credit: Embedded from Imgur





13. This bird who just wants to find someone to carry his weight.

Credit: Embedded from Imgur user: KevinSledge12





14. And this dog who found someone to do just that.

Credit: Embedded from Imgur user: Pillsplitterx





15. This baby who is curious about the elasticity of a dog's cheek.

Credit: Embedded from Imgur user: yummie4mytummie





16. This confused pup who needs someone to explain pumpkins to him.

Credit: Embedded from Imgur user: PSU_STIG





17. And this hedgehog who seems perfectly content not thinking about anything at all.

Credit: Embedded from Imgur

Jennifer Lawrence Wows In Oscar De La Renta Dress At Elle Women In Hollywood Awards (Tue, 21 Oct 2014 08:51:20 -0400)

Jennifer Lawrence looked amazing as she took to the stage at the Elle Women in Hollywood Celebration on Monday to present an honorary award to her "Hunger Games" co-star, Elizabeth Banks.

The 24-year-old actress made an unwritten tribute to legendary designer Oscar de la Renta, who died at age 82 on Monday, as she stunned in one of his creations -- a white long-sleeved dress with a black belt. She rocked a red lip, Christian Louboutin shoes and kept her cropped cut in natural waves.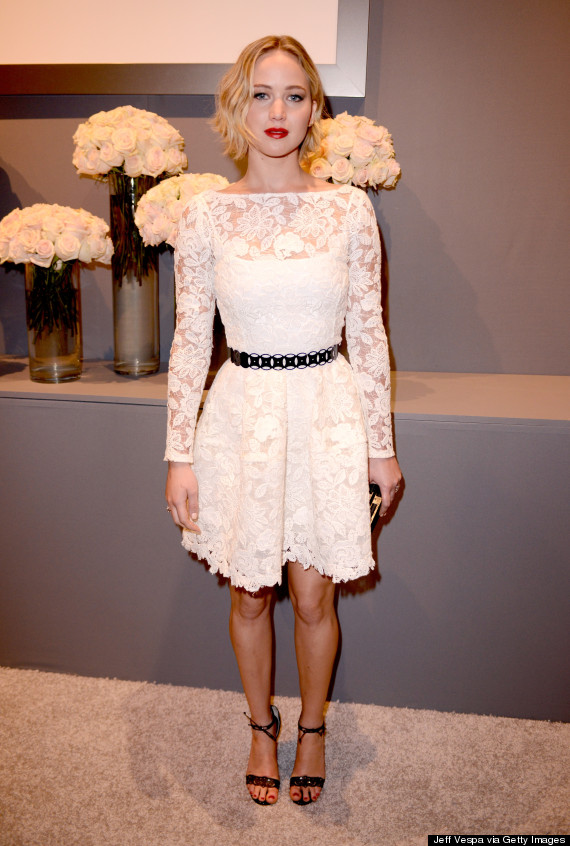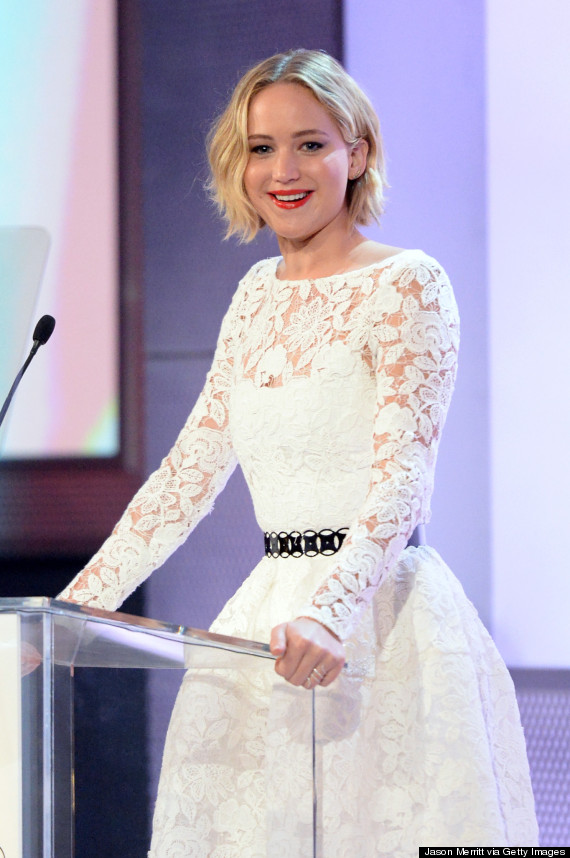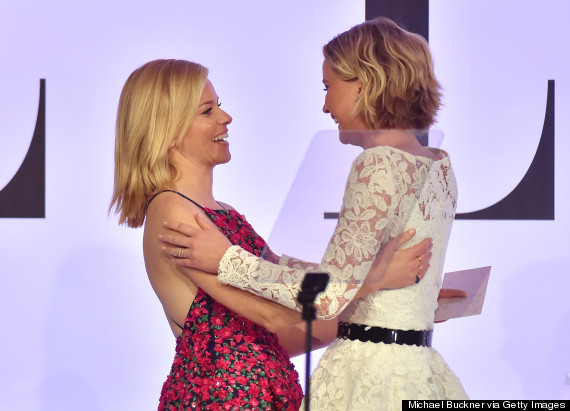 Lawrence, along with other Hollywood starlets including Amy Poehler, Emmy Rossum, Renee Zellweger and Kaley Cuoco were on hand to help recognize women who have contributed to the world of film -– both in front of and behind the camera. Banks, Annette Bening, Brie Larson, Tina Fey, Gugu Mbatha-Raw, Jennifer Garner, and Jessica Lange were all honored, as well as Zoe Saldana, who didn't attend the event.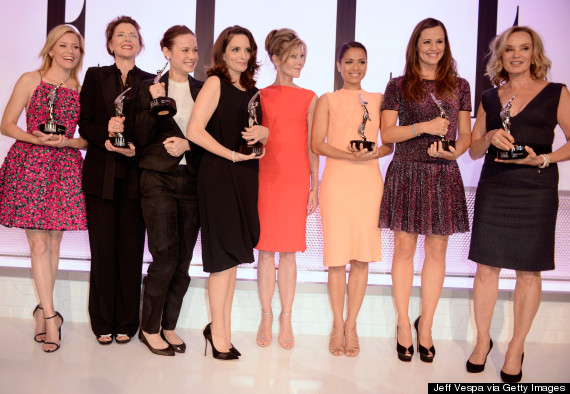 The Scent of a Woman (Tue, 21 Oct 2014 08:39:35 -0400)
I have worn Oscar de la Renta's signature fragrance, Oscar, my whole adult life. It made its debut in 1977, the same year I became an actress. I remember the powdery, soft, gentle, feminine fragrance that complimented and never detracted. It was my first moment of individual style as a young person. My mother, the late, great Janet Leigh, wore Estee Lauder's, Youth Dew. Oscar was MY signature as well as Mr. de la Renta's.

As I developed as a young woman so did his fragrance. I cannot even begin to count the number of times I would be stopped and asked....." What is your perfume?" Men, women -- young and old -- and the greatest compliment came when, after a visit with me, a female friend would return home to her children and they would exclaim, "Mommy, you smell like Jamie."

There was an eau de toilette and a stronger perfume and a perfume purse spray with a gold plated dispenser in the floral-swirl design that was his logo. When the saleswoman at Saks once told me they were discontinuing the purse spray I called Mr. de la Renta's office to ask how long the perfume would last in the concentrated spray bottle. I then grabbed all they had left. In 2009 I bought a gown of his to wear to the Obama inaugural; black velvet -- classic, so simple and beautiful.

Like so may designers in their careers, Mr. de la Renta lost the licensing to his own name when it was bought by a bigger company. For years I used my stockpiled supply and didn't want to buy any more as I knew it was no longer his till 2011 when I walked into a Oscar de la Renta boutique to look at his beautiful clothes. The saleswomen asked me if I wanted to try the new fragrance, and as I declined I told her of my devotion and brand loyalty. She then explained that he had recently gotten back his name, that he now owned the fragrance and this was a new mix of the same notes -- a slightly different fragrance melody. I agreed to try a small spray of it on a thin cardboard stick and put it in my car.

When I returned to drive home my nose told me that indeed it was a gentle shift but one I wholly welcomed, as I too had mellowed with age and I have now proudly worn the new Oscar, Esprit D'Oscar ever since. It generates the same queries and exclamations from children to their mothers and it is with pride that I wear him and it is with great sadness that I write this.

I will stay forever devoted and will wear him to my grave. Gentle, soft, feminine, chic, elegant. His style. My scent. Words I attribute to us both.
5 Things You Didn't Know About Kim Kardashian, Even Though She Literally Shares Everything (Tue, 21 Oct 2014 08:00:44 -0400)
Kim Kardashian has made a career out of sharing just about everything with the public. She's followed round-the-clock by a camera crew when she films her reality show, and has taken so many selfies in her lifetime that she plans on releasing them in a coffee table book this spring.

Alas, even with all her sharing there might be a few things about Kardashian you were somehow unaware of, and in honor of the star's 34th birthday we've rounded up a few facts about her that may just boggle your mind:


1. Kim was voted "Most Likely to Meet Her Husband at the Million Man March" and "Most Likely To Lie About Her Ethnicity," in high school.

Kardashian attended Marymount High School, an all-girls Catholic school in Los Angeles, where her classmates apparently knew she had a type.





2. The company under which she licenses everything from perfumes to workout DVDs is called Kimsaprincess, Inc.

In 2007, Kardashian formed a company called Kimsaprincess, Inc., which tells you exactly what the reality star thinks of herself. It's also the name of her eBay store and her Myspace name.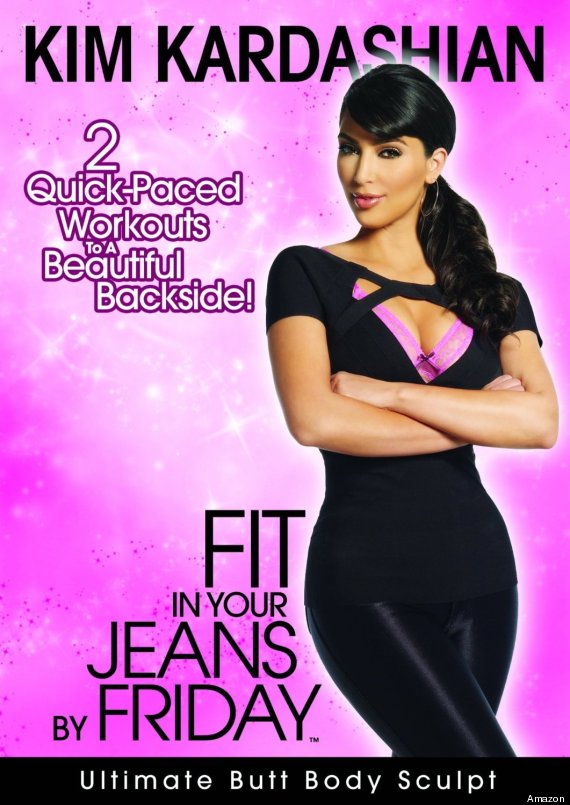 3. She has a very specific hair routine.

Even someone as pampered as Kim Kardashian doesn't have time for a daily blowout. In fact, the reality star keeps a four-day schedule of changing styles to make sure her brunette tresses are at their healthiest.

"I start out the first day with a clean blowout," Kardashian recently told Us Weekly. "The second day, I put in dry shampoo, which adds texture. Then, the third day, I sleek it and I straighten it, and then, the fourth day, I put our oil in it, and I make it a really sleek look. I might do a ponytail or a sleek bun. That's my hair plan, and then I start over."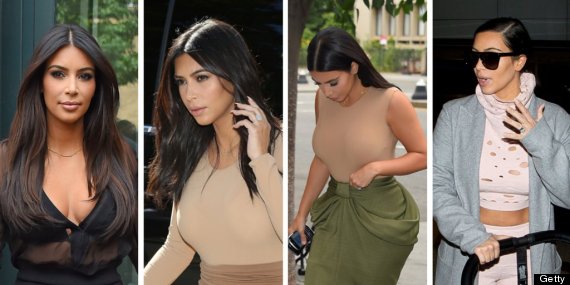 4. Her biggest regret is not what you think it is.

"It's definitely a memory and it was a fun experience. We gave the proceeds to a cancer organization," Kardashian recently told "Watch What Happens Live" host Andy Cohen of her 2011 song "Jam (Turn It Up)." "But if there's one thing in life that I wish I didn't do ... I don't like it when people kind of dabble into things they shouldn't be. And that I don't think I should have. Like, what gave me the right to think I could be a singer? Like, I don't have a good voice."




5. Kim and Kanye West were "bound 2" end up together.

It's no secret that West has been in love with Kardashian for forever, but the reality star revealed to her friends and family during her bachelorette party that the first time she spoke to the rapper, he called her and they talked on the phone for eight hours.

Though they had an obvious "connection," Kardashian had a boyfriend at the time, and it would be years before they would get together and West would be able to call Kim his "Perfect Bitch," "number one trophy wife," or tell her: "You will never need another lover / Cause you a MILF and I'm a motherfucker."





Bonus:

These Elders Prove You're Never Too Old To Be Young At Heart (Tue, 21 Oct 2014 07:10:21 -0400)
At HuffPost50, we love proving that age is just a number. As Yoko Ono once said, "Some people are old at 18 and some are young at 90. Time is a concept that humans created." We couldn't agree more as we come across more and more people over 50 who have reinvented themselves, followed their passion and given back to the world in midlife and beyond.

Here are just some more examples of people who prove you're never too old to be young at heart.

You're never too old to do the hula... lookin' good, ladies.


I hope this is us one day. Cutest thing I've ever seen in the paper!! #caauuute #love #oldbutyoungatheart
You're never too old to see how high you can swing on a swing.
You're never too old to drink caffeine like you're pulling an all-nighter... OK, maybe you should be careful with this one.
You're never too old to celebrate your birthday... whichever way you want.
You're never too old to snapchat like all the kids are doing these days.
You're never too old to go on a crazy ride.
You're never too old to skip to the comics section.
More sugar and cream in your mug than coffee, the daily comic pages, and your regular counter stool where they know your name and order. #thegoodlife #youngatheart #diningwiththelocals
You're never too old to ride on a shopping cart.
That is our Relationship Goal @babyash77 .... Old and grey but having crazy fun no matter what... ❤️ #couple #marriage #old #grey #gran #gramps #crazy #fun #youngatheart #forever ❤️
You're never too old to skateboard... in style.
Whoever said you can't teach an old dog new tricks clearly never met this woman!! She's only been shredding less than a year! #shescruisin #nevertooold #youngatheart #cantstopwontstop #shredsbetterthanme #LA #ciclavia
You're never too old to fulfill your princess fantasies... for a day.
Mom was feeling insecure about her age, so I threw her a princess-themed birthday party. #youngatheart
You're never too old to ride the kiddie rides.
#tbt because I miss these goobers and can't wait to be reunited in the happiest place on Earth one week from today! #youngatheart #disneyworld
Stay forever young, folks.
Pretty Offensive -- Or Pretty Harmless? (Tue, 21 Oct 2014 07:04:49 -0400)
Interview magazine is causing a stir with its latest issue featuring a fashion spread entitled, "Pretty Wasted," in which a number of supermodels -- Anja Rubik, Lily Donaldson, and Daria Strokous among them -- are shown passed out in dirty alleys and slumped on sidewalks, empty bottles of alcohol strewn around them, all in the name of fashion. "Elegance undone," the story reads. "Wearing their big night out like a badge of honor, fashion's wildest -- Anja, Edita, Daria, Andrea and Lily -- are the last to leave the party." Predictably, there has been outrage.
Isn't there always (and isn't that, of course, the intention?)

"Interview Magazine's Terrifying 'Pretty Wasted" Editorial Spread Raises Concerns over the Portrayal of Women in Media," ran the headline on Bustle, going so far as to cite the story as evidence that women have made zero progress towards equality in the last 50 years, which seems like just a bit of an exaggeration. "I'm a devoted advocate of gritty, avant-garde editorial spreads, but not at the cost of depicting women as weak, ailing, and ultimately helpless pawns in some dystopian world order," writes Bustle's Tyler Atwood. "After all, there are no men in the Interview spread." (And if there were?) "What's even more alarming is that these sexualized women are left unconscious in dark alleyways, among empty beer bottles and copious amounts of trash," writes Isabelle Khoo in the Huffington Post. A website called Fashion Scans Remastered, meanwhile, wondered "whether this editorial is supposed to be disturbing and dark or ironically funny and artsy, or just plain retarded," -- that's right: "retarded" -- while at the same time posting the spread in its entirety, offended, perhaps, but clearly not above cashing in on the web traffic-generating controversy.

In the Telegraph, former model Rebecca Pearson calls the images "frankly disturbing" in how they "make being unconscious look glamorous." She then absolves the models of any blame for helping create the images by claiming that "models are commodities... if you won't roll around in dirt or pretend to pass out against a drainpipe, you can be replaced. You are utterly expendable and not allowed to forget it." Of course, assuming that these particular women felt like they had no other choice than to take the (likely well-paid, certifiably much-discussed) job, or no opinions about its content, is ripe with misogyny in itself. Why is that we must always come to the defense of women by pitting them in the role of victims? Why must we assume they're being exploited -- rather than just doing a job they might actually enjoy? And why must we assume these women are the pawns for an expression of male hatred, as a professor quoted in Yahoo Style says: "These pictures look like they were created by people who hate women... that these pictures reinforce the message of our culture: human life is cheap, and women are merely props."

The photographer and stylist on this job were both men, as numerous outlets point out, as is the editor-in-chief of Interview. But I'm not sure "Pretty Wasted" as a whole indicates that any of these men "hate women," or believe that "human life is cheap." They're magazine makers in an industry celebrated for pushing boundaries. In fact, I'm not sure how these images would be different if they had been created by women -- and certainly, women in fashion have created their own set of controversial images. These issues have come up before. Like with the 2008 Vogue cover featuring LeBron James holding Gisele Bundchen in a pose that some said depicted an "animalistic black man ... and a beautiful white woman." Or the 2009 Vogue Paris fashion story showing a "pregnant" Lily Donaldson smoking while holding a (plastic) baby.

The plastic part here is key. Fashion is fantasy, and art often is, too. Don't artists regularly create work that could be called offensive, disgusting, provocative, or at the very least up for discussion? Ai Weiwei, Marcel Duchamp, Damien Hirst, anyone? What about putting said art in a magazine makes it so much more egregious? Magazine art is no less public than art that sits in a museum or gallery -- except, of course, that it's arguably more "lowbrow." Which makes this whole argument seem sort of classist to me, in addition to misogynistic.

Perhaps the spread is a commentary on party culture. Perhaps it's a cautionary tale. Or maybe it's just a series of provocative photos meant to do exactly as they have done -- and many works of art have done before them -- which is spark conversation. And is really hard to argue with that.
21 Fall Fashion Finds That You Won't Believe Are Under $50 (Tue, 21 Oct 2014 07:00:17 -0400)
With all the luxe knits, leather jackets and shearling accessories on the market, fall shopping can quickly become synonyms with going broke.

But it doesn't have to be. You can stay cozy, look stylish and save money, if you know where to shop. We've rounded up 21 amazing fall items, all for under $50 -- though we promise, they look like a million bucks!

Browse our favorite pieces below and find comfort in that fact that you can look great and keep contributing to that 401(k).


The 9 Best Fall Moisturizers. Period. (Tue, 21 Oct 2014 07:00:17 -0400)
Alright, people -- let's all commit to a fall without dry skin battles. However, knowing which moisturizers work best to alleviate dullness, redness and itchiness without exacerbating these common cold-weather skin problems can be tricky.

Slathering heavy lotions onto your face and body seem like a logical solution. But we've spent quite some time testing popular dense creams to see if they really improve the skin's overall condition.

To keep your skin healthy and glowing throughout the season, here are nine moisturizers we recommend you try. And be sure to follow our fall skincare guide!





For your face...

1. Clinique Moisture Surge Intense. We prefer to keep this gel-like cream in our carry-on bag when flying because it instantly hydrates our skin when chugging complementary water isn't enough. It also works wonders as a night cream to provide a moisturizing barrier against indoor heating. $38.50, Sephora.com

2. CeraVe Facial Moisturizing Lotion. This drugstore brand moisturizer is another way to achieve great skin while you sleep, as it contains skin softening and soothing ingredients such as glycerin and ceramide. Plus, the product includes hyaluronic acid, which works to plump up wrinkly skin over time. $13.99, Drugstore.com

3. First Aid Beauty Ultra Repair Cream. Eczema sufferers can get some serious relief from flare-ups with this rich emollient. Blended with colloidal oatmeal, shea butter, white tea leaf extract and eucalyptus, it's an amazing defense against harsh winter climes. $28, Beauty.com

For your body...

4. Amlactin Moisturizing Body Lotion. Dermatologists who suggest this product to patients with severely dry skin really know their stuff. The lactic acid in this lotion works as an effective humectant to retain water and keep your limbs hydrated underneath all those layers. $13.99, Target.com

5. Suave Professionals Moroccan Lotion. We're always on the lookout for non-greasy moisturizers, and this is one of the best we've recently tried. Its star ingredient -- Moroccan argan oil -- imparts a luminous glow and mildly intoxicating scent that lasts all day long. $3.79, CVS.com

6. Mustela Ultimate Hydration. Are you an expectant mother? If so, you're going to want to get your hands on this hypoallergenic and paraben-free body lotion. Even though it's packed with tons of nourishing ingredients (namely glycerin, licorice root and wheat germ oil), you won't have to worry about it staining your maternity clothes or not being safe to use when it's time to breastfeed. $23, Diapers.com

For your hands and feet...

7. Elizabeth Arden Intensive Moisturizing Hand Treatment. $21, Our favorite Eight Hour Cream comes packaged in a formula specifically for hands. And with all of the hand-washing we've been doing to reduce the risk of catching a cold, this Elizabeth Arden product is a must. Macys.com

8. Kiehl's Intensive Treatment And Moisturizer. For an at-home spa treatment, apply this avocado oil and shea butter-enriched treatment to your feet before bed, slip on a pair of fuzzy socks and your calloused heels and soles will feel immensely softer when you wake up. $26, Kiehls.com

9. Eve Lom Hand Cream. You may not be able to literally turn back the hands of time on your aging hands, however, you can smooth out wrinkled skin by treating this often overlooked body part with a moisturizer that hydrates and protects against harmful UV rays. $35, Nordstrom.com

The Best Eyebrow Grooming Tips From The Streets (Tue, 21 Oct 2014 07:00:17 -0400)

Eyebrows get the brunt of our grooming woes. If burning wax wasn't enough, some of us undergo the pains of a tiny and taut thread to get our arches right.

But where there are products like eyebrow pencils and brushes, there's beauty innovation at its finest. Instead of hitting the salon, girls all over New York City are taming their brows on their own time... and in their own way.

Since we're often looking for techniques to keep up our grooming game within our budgets, we took to the streets to see how women like us stay loyal to their brow routine.

1. Believe in the power of your brush.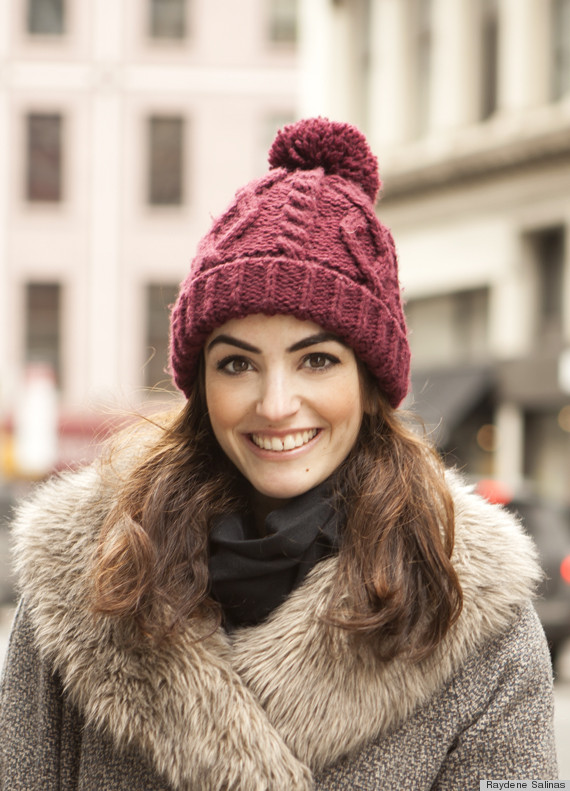 Alexandra says: "I've gotten them waxed a couple of times in the past, but now I really just tweeze the stray hairs. I also use a brow brush every morning!"

TRY: e.l.f. Essential Brow Comb + Brush

2. Fill in the gaps, and the gaps only.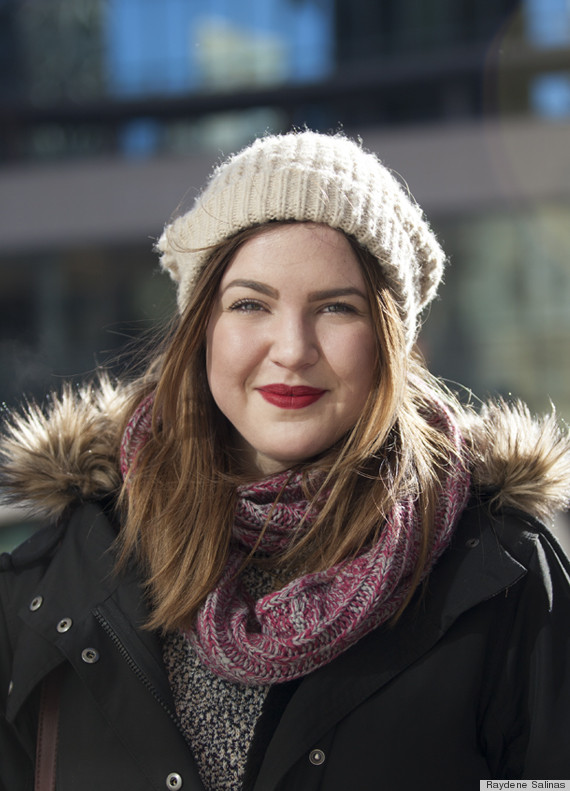 Natalie says: "I like to go with the shape of my brows. I fill in where they get lighter, rather than filling in the whole thing. Then, I brush it afterwards to make [my brows] look less harsh."

TRY: Anastasia Perfect Brow Pencil

3. Carry your tools of choice for on-the-go grooming.




Kat says: "I love my brows and I never leave [home] without a pencil and a brow fixer to keep them in place."

TRY: Jouer Cosmetics Brow Fix

4. Experiment with eyeshadow for a different finish.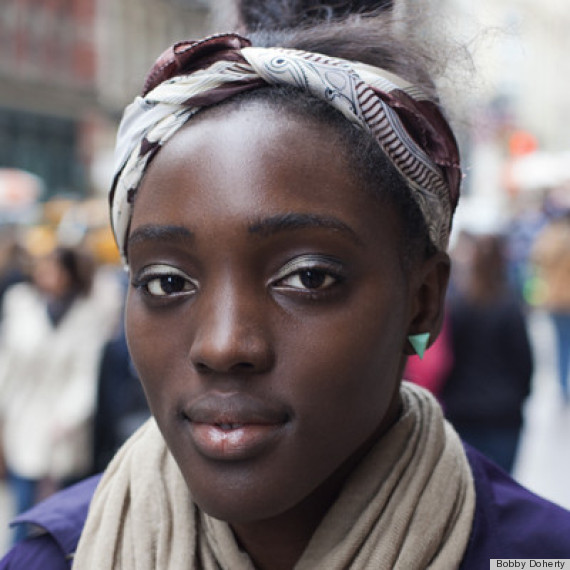 Doretha uses black eyeshadow to fill in her beautiful brows.

TRY: CoverGirl Eyeshadow

Do you have any eyebrow grooming tips? Share with us in the comments section.
The Little Black Jacket You Won't Be Able to Take Off (Tue, 21 Oct 2014 06:30:15 -0400)
I've been eyeing Olivia Palermo's black, suede fringe jacket since Paris Fashion Week. And while that may not seem like a very long time, for me, it feels like an eternity. Because like most girls who are fashion-obsessed, when I see something I want, I can't get it out of my head.
15 Hacks That Will Change Your Beauty Routine (Tue, 21 Oct 2014 06:30:15 -0400)
Keeping up with our beauty routines day after day can be kind of a pain: Ain't nobody got time for perfectly symmetrical cat-eye flicks or precise lipliner every morning. Not to mention that always trying the latest and greatest products on the market requires Benjamins that most of us don't have. So, we appreciate a good shortcut (or two, or three).