Style news and blog articles from The Huffington Post
Published: Thu, 26 Nov 2015 15:59:17 GMT
Bacon-Scented Undies Mean All Your Panty Problems Are Cured (Thu, 26 Nov 2015 13:51:03 GMT)
If you've ever needed a slightly less creepy way to ask your partner if you could smell their underwear, consider getting them a pair of these sizzling hot bacon undies this holiday season.
Created by J&D's, the team behind Bacon Salt, Baconpop Microwave Popcorn, Bacon Croutons and Baconnaise (yes, that's exactly what you think it is), bacon scented underwear make a perfect holiday gift for people who love pig meat so much they want their genitals to smell like it.
According J&D's, the undies get their bacon scent because the smell is embedded in the ink.
The smell will last through multiple wash cycles and wearings, and can last for up to a year.
The pork-laden panties are enough to make anyone drool, but for those who'd rather not have our privates smelling like grease, there's another option.
J&D's bacon-scented pillowcase is great for those who want to find themselves enticed by the scent of bacon while they're dreaming.
But none of this compares to the Naked Bacon Cooking Armor, which may not be scented, but is an essential for anyone who has ever experienced the wrath of popping grease while makin' that bacon in the buff.
-- This feed and its contents are the property of The Huffington Post, and use is subject to our terms. It may be used for personal consumption, but may not be distributed on a website.
Kim Kardashian Wore A 'Hustler' Cowboy Hat In Her Youth (Wed, 25 Nov 2015 22:19:41 GMT)
Before Kanye West entered Kim Kardashian's life, and her closet, she wore off the rack clothes and followed trends just a little too closely. 
We're about to flashback about decade before anyone knew the Kardashian name -- outside of the O.J. Simpson trial, of course. The year was 1998 and Kim celebrated her 18th birthday with her 14-year-old sister Khloe at a Backstreet Boys concert. They wore cowboy hats, except Kim's was hot pink with the word "HUSTLER" on it in big silver letters (because foreshadowing, maybe?)
Or at least that's the story Kardashian is telling in the flashback pic she posted along with a message to make herself feel better. Since the Backstreet Boys didn't play a concert on October 21, 1998 (at least one member of BSB was at the 1998 Fairway to Heaven Golf Tournament in Las Vegas that day) -- aka Kim's 18th birthday -- it's possible this glorious embarrassing throwback was actually taken either on her 17th birthday, when they performed at Nickelodeon's The Big Help, or more likely on her 19th birthday which coincides with their San Jose, California stop on their Into the Millennium Tour.
Does it matter? No. You know what matters? "#WhatAreThoooseHats," that's all that really matters here. 
Also on HuffPost:
-- This feed and its contents are the property of The Huffington Post, and use is subject to our terms. It may be used for personal consumption, but may not be distributed on a website.
The 15 Most Ridiculous Items From Gwyneth Paltrow's Holiday Wish List (Wed, 25 Nov 2015 22:00:29 GMT)
It's the most wonderful time of the year.
Gwyneth Paltrow's annual Goop holiday wish list is out. 
Paltrow -- how should we say this? -- has, in the past, been accused of being a bit out of touch with the reality of everyday Americans. Her lifestyle website and newsletter Goop often peddle products you will never ever need at insanely high prices.
This year, Paltrow seems to be catching on to her public perception, and thusly titled one list "Ridiculous (and Awesome) Gifts." 
"While there's no lack of over-the-top indulgences this time of year (18-karat gold dumbbells, anyone?)," reads the list's description, "This gift guide isn't just about crazy extravagances: There's a little ridiculous for every budget."
Is there, though?
Check out the 15 most ridiculous items below. 
1.The Standard for Joséphier (toliet paper for rich people) - ~$950
2. Rosewood Handle Truffle Slicer - $40
 3. Goldloft 18K Gold Dumbbells - $125,000
4. Cedes Milano Toothpaste Squeezer - $244
5.Canoe Condom Dispenser - $42
6.Hermès Mahjong Set - $46,000 
7.Vintage Ball & Chain from Blackman Cruz - $1,500 (Too soon, Gwyneth, too soon)
8.Gilded Playing Cards with Leather Card Case - $2,300
9.The Darwin Tank - $1,621.27 (It's a tank for jellyfish. We repeat: Jellyfish.)
10.Modern Dinner Bells - $60
11.Sennheiser Orpheus Headphones - $55,000
12.Aquaovo Ruby Water Filter - $1,100
13.Italian White Truffle - $175
14.Tatcha Akari Gold Massager - $195
15.World View Exploration at the Edge of Space - $90,000
Just like your holiday wish list, right? 
Also on HuffPost: 
-- This feed and its contents are the property of The Huffington Post, and use is subject to our terms. It may be used for personal consumption, but may not be distributed on a website.
Michelle Obama Misses 'The Little Things' About Life Outside The White House (Wed, 25 Nov 2015 21:31:20 GMT)
When asked what she misses most about ordinary life outside of the White House, First Lady Michelle Obama gave a very frank answer.
"I don't even know where my wallet is right now," she told Extra during a recent trip to Qatar to talk about her "Let Girls Learn" program, which promotes education for girls around the world.
"It's the little things, going into a grocery store and picking my own apple and checking it out and reaching into my wallet and pulling out my wallet," she said. "I don't even know where my wallet is right now. I don't think I've seen it all day. I'm just trying to keep my regular life mojo up."
Obama has previously lamented that she misses a lot of ordinary things that she is not allowed to do under Secret Service protection. In September, when comedian Stephen Colbert asked her what she looks forward to doing after she leaves the White House, she had a pretty simple response.
"I want to do little things like, you know, open a window," she said.
In the Extra interview, which will air Wednesday, she also looked back on how "surreal" it was when the Obama family first moved into the White House and how it took a while for them to get accustomed to their new lives and let it all sink in.
"One minute you're standing next to your spouse taking the oath, and then you're in the White House and your head is spinning and you don't know where your shoes are and you don't know what door is the bathroom," she recalled. "We were doing that while trying to get the kids started in school and making sure they were getting the homework down, so it really took a couple of months even to breathe deeply and realize, my god, we're in the White House."
As her husband's presidency comes to a close, Obama stressed that being in the White House has "been a gift for me and my family," she said. "It's been an honor to serve."
Also on HuffPost:
-- This feed and its contents are the property of The Huffington Post, and use is subject to our terms. It may be used for personal consumption, but may not be distributed on a website.
Don't Buy Your Rich Friends A Tablet For Christmas (Wed, 25 Nov 2015 19:36:17 GMT)
Tablets like the iPad and Amazon Fire might seem like the perfect holiday gifts, but think twice: New research suggests your friends have one already, especially if they're wealthy.
The Pew Research Center on Wednesday released an analysis revealing that 60 percent of Americans who make $75,000 or more own a smartphone, computer and tablet. Overall, one in three Americans own all these devices.
You probably could've guessed that yourself, but the news arrives at an interesting moment for consumers: Tech companies are doing their best to offer new takes on the tablet in order to win your attention and cash.
While Pew's research indicates that many Americans are likely to own all three types of devices, companies like Apple, Samsung and Microsoft are trying to sandwich those categories together. Apple's new iPad Pro is marketed as a productivity beast that could replace your laptop, Samsung's gigantic Galaxy View tablet could be your next TV and Microsoft's Surface Book lets you rip the display right off the keyboard for a touch-screen experience.
Why the focus on tablets? Well, tablets have a less obvious purpose than phones or computers. If you're a smartphone user, you probably can't imagine life without your handset. At the same time, computers are productivity machines that speak for themselves. As smartphone screens get bigger, tablets become less relevant because they're really just giant phones. If you're trying to chill in bed with some Netflix, you could probably hold your iPhone 6S Plus a little closer to your face and survive without an iPad.
Pew's new report indicates that of people who own just one device, only 7 percent make that device a tablet.
Indeed, an annual financial report published by Apple in September shows that net sales of the iPad have declined since 2013, first with a 5 percent drop in 2014 followed by a 23 percent drop this year. Meanwhile, iPhone sales are ballooning.
You could think of this as a moment of transition for the technology you see on store shelves: A substantial portion of American consumers already own the devices they need, and companies are trying to make the tablet relevant with quirky new devices that turn them into something else entirely.
Of course, traditional tablets are sticking around for now. But for a sense of how they're valued, consider this: Amazon offers a Fire tablet that's cheaper than a new video game. Traditional tablets are officially in stocking-stuffer territory. And like most stocking-stuffers, they're probably bound to gather dust.
-- This feed and its contents are the property of The Huffington Post, and use is subject to our terms. It may be used for personal consumption, but may not be distributed on a website.
Lady Gaga Is Rocking In Red With A Thigh High Slit (Wed, 25 Nov 2015 19:12:21 GMT)
Lady Gaga is looking bloody brilliant these days.
The Countess (as she's called on "American Horror Story: Hotel and in her Instagram bio), was spotted Wednesday on her last day in London wearing a statement coat by Scottish designer Christopher Kane. She paired stockings, black platform pumps and little else to top off the look.
Gaga was in London for the British Fashion Awards, which she attended to accept the Red Carpet Designer Award on behalf of Tom Ford (and she wore a dress designed by him, natch). She also was on hand to support her friend, fashion photographer Nick Knight, who was presented with the Isabella Blow Award for Creativity. 
Red was Gaga's color of choice for the trip. Her Tom Ford number made way for a long-sleeve gown that she wore at the afterparty. She also wore a top in the same color while she was out and about in London.
Perhaps this new preference has something to do with the gory nature of her current television role. Or maybe she just likes the color. Either way, she looks pretty rad in red.
Also on HuffPost:
-- This feed and its contents are the property of The Huffington Post, and use is subject to our terms. It may be used for personal consumption, but may not be distributed on a website.
12 Perfect Gift Ideas For Middle-Aged Friends And Family Members (Wed, 25 Nov 2015 18:28:14 GMT)
We are firm believers in building a better mousetrap and old dogs learning new tricks. And we apparently have a lot of cliches swimming around in our brains today. In any case, here's a collection of random gift ideas for midlifers looking for a new way to do things.
1. Check on your pets.
Petzi's Pet Cam beats having the neighbor's kid come in to play with the dog while you're away. Now you can watch your dog or cat from your office, or from anywhere with Wifi actually. Using the Petzi phone app, you can remotely call Rover over to the little nanny-cam and enjoy his head-cocked bewilderment over Mommy's voice coming out of this strange box on the floor. But best of all, you can remotely fire doggie treats at him as his reward for coming over! Hard to say who will enjoy this more: the pooch or Mommy? The Pet Cam also allows you to take and post photos of your fur babies.
2. Staying Healthy 2.0.
Between our Fitbits and other wearable tracking devices, this area is pretty well saturated. But boomers have more than a few health concerns and there's always room on the shelf for a better mousetrap -- or at least a newer one.
Consider the Withings product line. Using their free app, you can connect their not-so-free Blood Pressure Monitor ($129) or Scale ($149) to your phone and keep track of your heart rate, exercise, blood pressure and weight. You can also send the data directly to your doctor. Rat-finks!
3. Staying Healthy 2.0 redux.
 The MOCAheart came to market in September and at about two inches, is indeed the tiniest and most lightweight heart monitor we've seen. Fits easily in a purse or pocket. $149.
4. Improve our golf game.
The M-Tracer MT500GII Golf Swing Analyzer mounts on your club and captures a golf swing at 1,000 samples per second, sending key data to an iOS or Android smartphone in real-time via Bluetooth. No more taking advice from the caddy. Price is $249.99.
5. Menopause night sweats, be damned. 
OK, so these may not be the sexiest nighties in the lingerie drawer, but these Mighty Nighties are the ones she's going to grab night after night. In what we can only describe as a game-changer for women experiencing hot flashes during the night, this sleepwear line is the only 100 percent cotton wicking sleepwear on the market, keeping you cool and comfortable all night long. The sleepwear line comes in various styles including PJ pants, tanks, tunics, nightgowns, and a lacy chemise. 
6. Assure them they are ALL your favorite grandchild!
What's the first thing grandkids do when they come over? Count how many photos of their cousins or little brother you have on the mantle, that's what. Nixplay Seed, a WiFi Cloud frame, gets around the question of who does Grandma love the most. It allows you to create a custom photo playlist and the whole family can photo-share. The frame turns on automatically via a motion sensor when someone enters the room -- and off again when they exit. Photos can be pulled from any storage device or social media platform, or sent directly from Nixplay's newly launched mobile app that lets you add text captions to images. Frames come in three sizes and four colors and start at $89. Just maybe ask one of the grandkids to set it up for you.
7. End the clean-up-the-kitchen wars.
We all love to cook, but nobody ever wants to clean up -- am I right? When the nest empties and it's just the two -- or one -- of you, this pan takes the dirty out of the kitchen. The aluminum-clad (read: lighter weight than cast iron) Master Pan is divided into sections. Bacon in the middle, eggs in their own spots, hash browns to the left and Voila! Breakfast cooked in one pan. 
8. Feet hurt, eh?
Does Plantar Fasciitis literally stop you in your tracks? These Moji foot massagers, which you can freeze for a nice icy foot massage, are pretty "cool" as stocking stuffers. Remember, ice is nature's anesthetic. $29+.
9. More owies?
The Moji Curve Pro is great for runners. It features four large stainless steel freely-rotating massage spheres that provide a 360-degree massage. The spheres dig deep into sore muscles to relieve pain and break up scar tissue. And again, freezable. $50.
10. Nostalgia is always fun, especially when it's authentic. 
Remember the iconic Lava Lamp, the original shape of cool? The brand is celebrating its 50th anniversary with a limited edition Anniversary collection as well as a line of lamps inspired by The Beatles. Price range is from $20-$120.
11. Speaking of nostalgia, who remembers these?
Not only is this a book -- a real one, not something you read on a screen -- but it's about these ancient devices that nobody today has anymore. Typewriter: The History, by Tony Allan is a trivia-filled nostalgia-lover's dream.

This book is filled with vintage posters and photos of the likes of Ernest Hemingway and Dorothy Parker with their beloved writing machines and a timeline of the early features of key models. It answers such questions as: Why did QWERTY win out over other arrangements of keys?
12. Save what's left of your hearing.
Yes, the '60s were a little tough on the old eardrums. Where were these ear-protecting Puro Sound Labs BT5200 headphones when we needed them? Your ears will thank you. We like them because of the volume monitoring system. They sufficiently cancel outside noise so that you don't need to blast the volume when you're rockin'. Safer listening; what a concept. $129.
Also on HuffPost:
-- This feed and its contents are the property of The Huffington Post, and use is subject to our terms. It may be used for personal consumption, but may not be distributed on a website.
Watch This Natural Hair Beauty Guru Transform Into 'The Wiz' Characters (Wed, 25 Nov 2015 18:22:28 GMT)
We can't remember how many times we've watched Sidney Lumet's "The Wiz." The 1978 American musical film, which starred style icons Diana Ross as Dorothy and Michael Jackson as Scarecrow, is forever etched into our childhood memories. In fact, we can still sing the lyrics to "You Can't Win" without missing a beat. So you can imagine how elated we were to discover that one of our favorite natural hair vloggers created a beauty tutorial inspired by NBC's upcoming telecast of "The Wiz Live!"
Whitney White, better known as Naptural85, used her impressive hair and makeup skills to transform into five main characters: Dorothy, Glinda the Good Witch, Scarecrow, Tin Man and The Cowardly Lion. White's thick, curly hair is obviously the focal point in these tutorials, as she spritzed it with temporary hair color sprays and even added wheat, hay and leaves for extra flair. With so much styling, we love how she incorporated hydrating creams and set her strands in two-strand twists to minimize damage. 
Watch this beauty guru's reimagined take on "The Wiz" characters. 
Dorothy
Glinda the Good Witch
Scarecrow
Tin Man
The Cowardly Lion
Also On HuffPost:
-- This feed and its contents are the property of The Huffington Post, and use is subject to our terms. It may be used for personal consumption, but may not be distributed on a website.
This Teenage Boy Contours Waaaay Better Than You Ever Will (Wed, 25 Nov 2015 17:10:14 GMT)
All beauty bloggers can go home now. We've found the Internet's most fabulously fierce makeup guru -- and, fair warning to all, he's "probably" your boyfriend's wallpaper.
World, say hello to 17-year-old Insta-celeb Bretman Rock.
Bretman's Instagram account recently exploded after he published his makeup tutorial "How to Contour" on YouTube. He now has 2.8 million followers.
"It all happened so fast," he told local Hawaii news station KITV4. "Just two months ago I was at 200k [followers]."
Bretman insists he's just a normal junior at his Hawaii high school. But for his followers, he's the go-to guru for everything from how to use the strobing makeup technique for highlights to how to get your eyebrows on fleek to how to execute the perfect burn after someone starts hatin' on your pimples. 
We should mention most of his posts contain NSFW language, because only Bretman Rock can say to a rainy day, "Oh hell to the fuck no ... even Mother Nature is scared I'm gonna take her man."
We've studied some all of Bretman's makeup tutorials and we're convinced: This teen serves expert beauty tips with a side of #ROFLMAO.  
Let Bretman Rock teach you about everything from beauty to life to confidence with our favorite videos below. 
1. How To Strobe
For the full tutorial, watch part 2, part 3, and part 4.
2. How To Deal With The Haters
3. How To Fill In Your Eyebrows
4. How To Contour
5. How To Get Bretman's 'When Your Sugar Daddy Dies' Eye Look
6. What To Do When You're An Hour Late To School
Also on HuffPost:
-- This feed and its contents are the property of The Huffington Post, and use is subject to our terms. It may be used for personal consumption, but may not be distributed on a website.
Hello, This Is The Adele Makeup Tutorial You Need To Try ASAP (Wed, 25 Nov 2015 16:42:47 GMT)
 It seems like everywhere you look these days, someone, somewhere is trying their hand at impersonating Adele. Miss Piggy, the cast of "Saturday Night Live," even Adele herself have made attempts at embodying the beloved singer. 
 Their efforts, of course, come with good reason. The only thing more beautiful than Adele's sultry voice is, well, Adele. 
She looks great no matter what, but her signature, done up look, including the one she chose for the cover of new album "25," appears, to the naked eye, to focus mainly on heavy eye makeup, leading us and our liner-loving hearts to believe it might be easy to achieve.
But is it really attainable for us mortals? 
As it turns out, not so much. HuffPost Live makeup artist Kari Bauce and celebrity hair stylist Cassi Hurd broke the news that in fact, plenty more than just eyeliner is involved in achieving the dramatic look.
Lucky for us, thanks to Bauce and Hurd's keen artistry and some very helpful do-it-yourself tips, we found that with a little patience (the look took about 50 minutes to achieve) and a lot of eyeliner, you'll be on the other side of this makeup tutorial. In just 15 easy(ish) steps.
To achieve Adele's signature bouffant 'do, Hurd sectioned off and blow-dried the bottom half straight, leaving plenty of hair up top to tease using a fine tooth comb (and lots of hairspray). She then secured the pieces in the back with bobby pins.
That's when things got... interesting. 
1. Start out with a flesh toned matte eyeshadow all over your lower eyelid (try NYX Nude Matte Eyeshadow).
Pro-tip #1: Shimmery makeup can look weird in black-and-white, (the way the "Hello" video was shot,) so that may be a good thing to remember for wedding photos, etc. 
2. To create a deep crease in the eyelid, use two different colors (we used brownish pink It Cosmetics in Soulful and purple/taupe Make Up For Ever in M546) angling the brush up, starting from the outside of the lid stopping at the middle, moving the brush upward. 
3. Cover your entire face in foundation (Try Armani Luminous Silk).
4. Spackle with another two layers of heavier foundation, blending all over with a wet makeup sponge (try Kevyn Aucoin Sensual Skin Enhancer and Girlactik concealer).
5. Seal it up with some loose powder (try Ben Nye Luxury Banana powder).
6. Contour with a kit (we used the Anastasia Contour Kit) and a fluffy brush (we used It cosmetics brush #4) to prevent lines, starting under the chin and swiping a blend of all three contour colors in back and forth swipes. 
7. Use the same brush and powder to swipe back and forth from your ear down the middle of your face on a diagonal.
 8. Thin out the top your nose out using that same contouring powder on each side, swiping from the inside of your brow to about halfway down your nose.
9. Create a heavy, defined brow with pomade (try Anastasia Beverly Hills Dipbrow) and a tapered blending brush (we used MAC in 224) using the brush to round up the brow to reduce the arch. 
Pro tip #2: Unless you have a lot of time and experience, don't bother trying to get your eyebrows as thin as hers. As Bauce told us: "covering up eyebrows takes forever and is extremely complicated."
10. Using a bent brush (we used Sephora Pro Bent Liner Brush #23) and a cream based eyeliner (we used Make Up For Ever Aqua Black) create a wing, starting from the outside of your eye and working your way in.
Pro tip #3: if you start from the outside, you can erase as many times as you want until you get it right. If you start from the inside, it's much harder to keep doing it over.
Pro tip #4: Cream liner is easier to work with for most people than liquid, and it won't flake the way liquid does.
 11. Curl your top eyelashes using a curler (try Shu Uemura).
12. Apply your favorite mascara to the top and bottom lashes, pulling the mascara out on a diagonal so your eyelashes move in the same direction as the winged liner. 
13. Measure out a false eyelash (try Sephora Luxe False Lash) to fit your eye and then cut it in half, applying to only the outer third of each lid, using a tweezer to apply. 
14. Fill lips in with a nude liner (try Mac in Spice), very slightly overdrawing the top lip.  
15. Blast "Hello" on repeat while a wind machine follows you around for the rest of the day, as you can see we did in the videos below.
Also on HuffPost:
-- This feed and its contents are the property of The Huffington Post, and use is subject to our terms. It may be used for personal consumption, but may not be distributed on a website.
Just Another Refugee Kid (Wed, 25 Nov 2015 16:13:20 GMT)
The thin child with the big sad eyes and a braid hanging down her back, the one holding a bag containing all her worldly possessions with one hand, and with the other she clutches her baby brother: that refugee girl was once me.

It was 1973. We had fled communist Czechoslovakia for Sweden. Most people escaping communism really wanted to go to the great land of capitalism -- America -- but Sweden was at the time known as one of the most hospitable countries to refugees. (America was by then already pretty sick of the tired, poor and huddled masses.) The Swedish government would provide us with an apartment, my parents with jobs, and eventually the education to pull themselves up from the original menial crap jobs to highly paid and socially rewarding work. No one went hungry or sick or homeless in Sweden, even if you arrived that way.

On my first day of school a little boy caught up with me in the hallway. He kept asking me something. He looked insistent rather than friendly, and I tried to make him understand that I "speak no Swedish so good" with lots of smiles and gestures. Obviously frustrated, he finally blurted words I understood despite the language barrier: communist idiot.

As my tears started up, a little girl with freckles shot out from somewhere behind me and punched him right in the face. Her name was Malin, and she became my best friend.

This duality shrouded the rest of my childhood in Sweden. On one hand, we had everything we had aspired to, everything my parents had risked their lives for: shelter, food, education, freedom, and most importantly, a future for them and their kids. On the other, I was called a dirty communist every day. "Go back where you belong, quit taking our hard-won Swedish money, go back to your commie country you damn commie."

It was like arriving at a dinner party of your dreams, only to be told to sit in a corner with the dog while everyone laughs at you.

As my Swedish language skills grew, I was anxious to overhaul my position in this new world. I tried to explain that I couldn't possibly be a communist since I fled the communists. If I was, in fact, a communist, why would I leave? But this was one of the many instances were the sword was mightier than the word, and no amount of semantics was going to rescue me. Only Malin with her fists could do that.

I couldn't understand why I caused such offense. I wasn't a communist, both my parents worked so hard for their money they never had time for us, and although I wore second hand clothes, I did bathe every single day! But I was an "Utlanning,"an outlander. As a child, I never considered the motivation or reasoning of my peers, I just accepted it was my fault.

I suppose refugees represent a grab on precious commodities, the ones that should rightfully be yours. This makes sense if you are in a refugee camp standing in line for food for your kids, and someone cuts ahead of you and gets the last bowl. Hey, I was here before you! Me first!

I can certainly understand this; it'll always be "my kids before yours". But what if there is plenty to go around? What if your portion doesn't diminish because someone else shows up at dinner, but it only makes the table a more varied one?

My parents loved Sweden, but all my mom's friends were from other countries. I don't believe she ever found a close Swedish friend. My father, however, married a Swede.

I couldn't go back to where I felt I belonged, so my only choice was to try and fit in. But no matter how hard I tried, it seemed like I trailed a vaporous stink of "damned commie." Was it my second hand clothing? Was it my home styled haircuts? Or was it my lack of cultural history; the little things every little Swede knew and I didn't? The Christmas songs, the Anthem, the popular toys all the kids grew up with. The folk tales. The fairy tales. The kid's rhymes. I learned them all. I forced myself to eat and like fish-paste, cheese and jam sandwiches and lingonberries on everything. Lutfisk (a rotted kind of a fish delicacy) I had to pretend to like, but then, so did everyone else.

The taunts in school were in large part making my childhood in Sweden feel like purgatory. My parents were too busy with bettering themselves to pay me any attention. I felt unloved, displaced, and lonely. My entertainment of choice became planning my suicide.

But someone cared. I had a friend. Malin punched a few other nasty kids on my behalf before we grew apart. Then three other girls, Charlotte, Christine and Petra, also outcasts - but for different reasons - took her place. These girls, quite literally, saved my life.

By the time I reached the United States at the age of eighteen, my refugee past was seen as a spicy little story to enliven interviews that mostly wanted my diet and beauty secrets. As a model I was making more money a day than my parents made in a year. (And paid taxes to my new country accordingly -- albeit a lot less then if I had stayed in Sweden.) Having been a political refugee set me apart once again, but this time like a rarity: an exotic object of value. If anything, my career profited on the idea that I had been a refugee.

My life was enchanted; I was one lucky girl.

But never was I luckier then when I met the four girls in Sweden. The girls who looked past prejudices. The ones who looked for commonalities instead of differences. The ones with enough empathy to find me a chair at their table.
-- This feed and its contents are the property of The Huffington Post, and use is subject to our terms. It may be used for personal consumption, but may not be distributed on a website.
How Two Religious Women Shattered Stereotypes About Dressing Modestly (Wed, 25 Nov 2015 16:11:10 GMT)
Fashionistas everywhere are are trading mini skirts for midi ones, and are choosing billowy jersey tunics over bodycon dresses. That's because dressing modestly is slowly becoming a more mainstream fashion trend, thanks in large part to religious Jewish and Muslim women who are bridging the gap between honoring their traditions while expressing their style.
Sisters-in-law Mimi Hecht and Mushky Notik, the founders of MIMU MAXI, will be the first to tell you that modest fashion isn't about looking "dowdy." The women, who are also Hasidic Jews, say dressing modestly is all about "ease, comfort [and] drama." Many women, regardless of their religious affiliations, would cite ease and comfort as top priorities when choosing what to wear. 
The inspiration for MIMU MAXI, a brand known for its comfortable and minimalist aesthetic, came from a very real need.
"We both believe in the beauty of a more covered up, conservative look, but that doesn't mean it was easy... We're also busy mothers so we needed pieces that were comfortable, but can be easily dressed up or down," Notik told HuffPost. "Sometimes, I would often buy things that I did love, but I would have to add material to the bottom or play around with it to make it work modestly. Dressing was more complicated. And it shouldn't have to be."
So the two women joined forces to bring their shared taste to life in the form of an online fashion brand, which ships to women around the world.
MIMU MAXI follow the requirements of Jewish law and modest dressing, which include higher necklines, sleeves past the elbow and longer lengths, but it's not just about religious obligation, Hecht told HuffPost.
"On a deeper level, our designs really do say that the way you dress is important, and when you love what you wear, and you're comfortable and able to express yourself, you are a happier and more productive, even healthier person," she said. 
"We didn't feel comfortable and 'in sync' with the clothes we were wearing, which took up brain space. So we had to make the clothes we wanted to wear,"  she continued. "And apparently, what started with something we wanted to do for ourselves, has really taken off; women of all ages and backgrounds identify with this need." 
Also on HuffPost:
-- This feed and its contents are the property of The Huffington Post, and use is subject to our terms. It may be used for personal consumption, but may not be distributed on a website.
'Golden Girls' Granny Panties Are A Real Thing You Can Buy Right Now (Wed, 25 Nov 2015 15:58:16 GMT)
Ever fantasized about eating cheesecake on a lanai in nothing but your underwear?
If so, thank Candice Pugh for being a friend.
Pugh's Etsy shop, Bulletsandbees, is currently selling "Golden Girls" panties glamorous enough for the likes of Sophia's cross-dressing son, Phil.
"I've been day dreaming about making these for a while," Pugh, who lives in Salt Lake City, told The Huffington Post in an online message. "I finally just found time to whip them up."
Bulletsandbees ("NOT YOUR GRANNIES PANTIES," the tagline declares) is selling four fabulous "Golden Girls" designs, each one dedicated to a different lovely liver-spotted lady from the NBC sitcom. Pugh had all the girls' personalities in mind when she created the frilly briefs, and she's delighted that some fans recognize it.
"I think that's what makes them stand out so much," she said.
The Rose negligee is innocent and white, the Sophia-inspired undies have a sensible support top and Dorothy's design is black -- obviously a nod to the character's dark sense of humor.    
And Blanche -- who is Pugh's favorite Golden Girl, thanks to an outlook that Pugh sums up as "life's short, get fucked" -- has her pretty face emblazoned upon a flashy lime-green number.
The underwear-centric shop, which Pugh initially started because she was sick of "a lack of comfortable and flattering lingerie for women of all sizes," doesn't only sell "Golden Girls" goodies. Other panty designs include a horde of adorable kittens, a fallopian tube and Ryan Gosling's face, because obviously.
Pugh said the "Golden Girls" undies have been her top sellers since she introduced them last week. She's gotten about 90 orders in the past 24 hours alone. But don't fret -- she's planning on making more.
"I'm already thinking of new designs for the girls," she said.
Language has been added to clarify when Pugh first began selling the "Golden Girls"-inspired products.
-- This feed and its contents are the property of The Huffington Post, and use is subject to our terms. It may be used for personal consumption, but may not be distributed on a website.
Belly Binding in 2015: The Physical and Social Dangers of Today's High-Tech Corsets (Wed, 25 Nov 2015 15:43:47 GMT)
By: Sophie Bartsich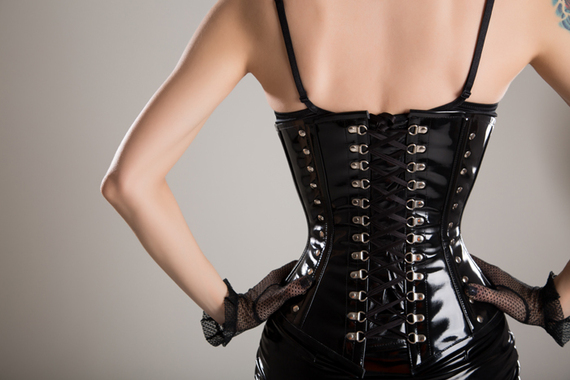 Image Source: ThinkStock



While I was sitting in the dental chair getting my teeth cleaned the other day, I saw an infomercial about a waist training device that promised to revolutionize my figure. I sat there, motionless, watching perfectly beautiful and fit women happily tourniquet their bodies and encourage me to do the same. As a woman near 40 and a relatively new mom, I could relate to the desire for a slimmer waistline; and these waistlines were among the slimmest I had ever seen. But whatever momentary urge I may have felt to try the contraption was soon replaced by apprehension and aversion.

In plastic surgery, we often use a variety of garments for post-surgical patients. Specialty garments can help reduce swelling, mold fat after liposuction, and generally provide patients with a more supported feel. While the jury is still out on whether they actually do very much in the long run, at least most plastic surgeons agree that they are not outright dangerous; and many patients like feeling like they have a little help along the way.

What is interesting in recent study, however, is that these garments may not be entirely harmless. Constant pressure on the midsection prevents fluid from flowing back up from the legs to the heart, and this may predispose you to blood clots. One can only imagine the effect of ultra-tight, one-size-tries-to-fit-all, extreme garments that are worn all day long. Not to mention the swollen ankles that come along with belting the lower body and letting fluid pool in your feet.

If you've ever studied esthetics, you know that the world is full of "golden" ratios, or ideal proportions. The female form has long been one of the most scrutinized in this domain, and while cultural and temporal differences may change beauty ideals, perfect proportions stay the same. A woman's shape will always be considered optimal if her waist-to-hip ratio is 0.7, whether it is a 25 inch waist with 36 inch hips, or a 30 inch waist with 42 inch hips. Anything more extreme than that just starts to look weird. This is the same principle by which a little lip enhancement can make you look lush, and a lot can enter what I call "frog-effect" territory. Extreme beauty remains an oxymoron, and is the easiest way to waste money and fashion-victim yourself to bad health.

As an expert in body contouring and fat molding, I can assure you that squeezing fat for a long, long time is not the best way to get rid of it. I can also confirm that there is a lot more to the midsection than the fat that rolls over a belt, and women are likely to cause deformities in their bones and/or organs if they really commit to this practice on a regular basis. Much as an oversized breast implant can deform the chest wall from excess pressure, squeezing the torso from below can bend the rib cage over time. It can also clamp down the lower part of the lungs and affect breathing and/or respiratory health.

We know enough in medicine to know that suffocating one's abdomen is neither healthy nor likely to solve a weight problem. But the bigger issue for me is that, no matter what you call it (ie, "Ab Geenie," "Belly Blaster," etc..), what is really happening here is clear: women are intentionally putting themselves back into corsets in the 21st century. In an age where there still is gender inequality, how are we already pretending that we've forgotten what it means to be bound?

I consider myself to be a staunch advocate of women's empowerment to look and feel their best, and I recognize the importance of physical confidence and personal choice. But beauty and wellness start with a healthy lifestyle and freedom of mind, resting on an underlying theme of balance and harmony. The belly bottleneck that is now all the rage defies true notions of the feminine figure, and makes me wonder where we are going with all of this. Is the next step a holographic bodysuit that makes you seem invisible in the middle?

One of the greatest pleasures of my profession is to help my patients realize their goals and preserve discretion as they do so. Personal beauty should maintain your identity and encourage you to shine, rather than distract from who you are and what you can achieve. Looking great and commanding a room are challenging when all anyone is thinking is, "Is that real?" Great plastic surgery, like great makeup, should coast under the radar: it should not be the first thing that someone notices about you. So, before you wrap yourself up too tightly for the day, consider the fact that the belly band you are wearing may literally be taking your breath away; and that didn't even make sense when we wore petticoats and never washed our hair.

--

Sophie Bartsich, MD FACS is a Board Certified Plastic Surgeon and graduate of Parsons School of Design. Her practice ranges from cosmetic to reconstructive, with a focus on breast surgery. She is also an ambassador for Beauty for Freedom, an organization against human trafficking worldwide. Visit www.doctorsophie.com for more information.

-- This feed and its contents are the property of The Huffington Post, and use is subject to our terms. It may be used for personal consumption, but may not be distributed on a website.





Beyonce And Kelly Rowland Shut It Down On Our Best-Dressed List (Wed, 25 Nov 2015 15:08:54 GMT)
Seeing stylish duos on our best-dressed list is one of our favorite things. And this week, BFFs Beyoncé and Kelly Rowland topped our picks looking powerful and beautiful in matching black dresses. 
They weren't the only two who made us swoon. Olivia Wilde gave us something to talk about in a plunging jumpsuit, Ciara taught us that the back is just as important as the front and Karlie Kloss gave us an early lesson in holiday dressing. 
Check out the best-dressed stars of the week and let us know if you agree with our choices. 
Also on HuffPost:
-- This feed and its contents are the property of The Huffington Post, and use is subject to our terms. It may be used for personal consumption, but may not be distributed on a website.
Heidi Klum Is Topless On Instagram Because She Really Wants You To Buy Her Underwear (Wed, 25 Nov 2015 14:40:49 GMT)
Heidi Klum really wants you to buy her lingerie line. To accomplish this, the stunning 42-year-old model knows it's best to wear as little of it as possible. 
On Tuesday, Klum shared a very sexy black-and-white photo of herself wearing nothing but a lacy thong and captioned the snap, "Love being cheeky in my Heidi Klum Intimates."
Klum launched the lingerie line back in March and has devoted considerable space on her Instagram account to promoting it with tons of equally sexy photos of her in various states of undress.
Lest you think that Klum's Instagram has solely become a place for her shill her wares, the supermodel still mixes it up -- like with this fun throwback photo of herself in a sheer bodysuit taken in Cannes in 2000.  
Also on HuffPost:
-- This feed and its contents are the property of The Huffington Post, and use is subject to our terms. It may be used for personal consumption, but may not be distributed on a website.
The Best Tech Gifts For The Most Stylish People In Your Life (Wed, 25 Nov 2015 14:23:37 GMT)
It's no secret that we live in a technology filled world. So it comes as no surprise that many of us are on the lookout for the latest-and-greatest gadgets and gizmos. And the holidays are the perfect time to indulge in the coolest -- and most stylish -- tech gear on the market. 
Gone are the days where you had to sacrifice fashion for function. There's now wearable tech that could be mistaken for fine jewelry and personal sound systems that double as decorative art. 
With that said, we've rounded up some of the best looking tech gifts we could find. Check 'em out below and tell us know which ones you love in the comments section. 
-- This feed and its contents are the property of The Huffington Post, and use is subject to our terms. It may be used for personal consumption, but may not be distributed on a website.
Chrissy Teigen Blesses Us With Two New Maternity Looks (Wed, 25 Nov 2015 14:03:52 GMT)
America's favorite pregnant person Chrissy Teigen shared yet another gift with the world on Tuesday ahead of the holiday weekend: two new opportunities to swoon over her on-point maternity style. 
Teigen stepped out in Los Angeles looking as adorable as ever not once but twice. The first time she was clad in a crop top, leggings and flannel shirt for a trip to the the gym. Later, she wore a loosely fitted shirt dress and a camel overcoat to do some shopping with her mom. 
Perhaps the pair were discussing recipes from the "Fab Life" host's upcoming cookbook:
Or perhaps, like us, they were simply talking about all the exciting maternity style moments Teigen is sure to bring over the coming months.


Also on HuffPost:
-- This feed and its contents are the property of The Huffington Post, and use is subject to our terms. It may be used for personal consumption, but may not be distributed on a website.
20 Photos Of Younger Women With Grey Hair That Are Super Gorgeous (Wed, 25 Nov 2015 12:01:10 GMT)
Grey hair isn't just for your grandmother. Silver strands have become an "It" hair hue thanks to stars like Lady Gaga, Rihanna and Nicole Richie. The #grannyhair trend has trickled down to younger girls and women, as they post pictures of their grey-dyed locks on social media. 
While most hair color trends come and go, we predict that we'll continue to see grey hair around for much longer. Especially as people continue to get more creative cuts, braids and extensions.
Check out 20 gorgeous photos of young women sporting grey hairstyles below.
Also On HuffPost:
-- This feed and its contents are the property of The Huffington Post, and use is subject to our terms. It may be used for personal consumption, but may not be distributed on a website.
Sofia Vergara Shares Lots of Photos from Her Wedding (Tue, 24 Nov 2015 21:51:30 GMT)
By Emilia Petrarca, W Magazine.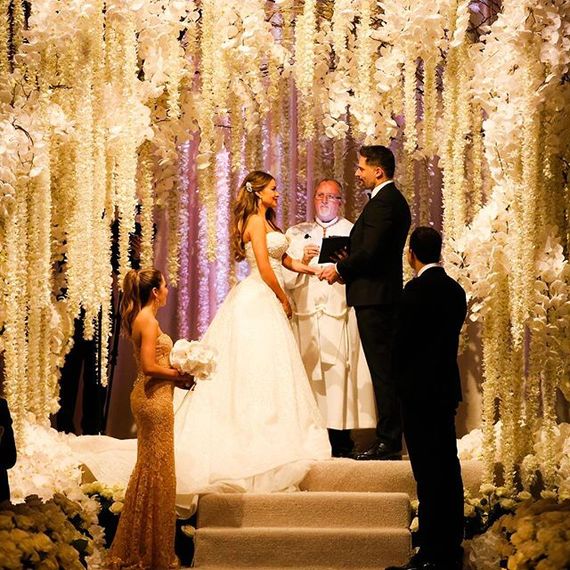 photos: @sofiavergara)



Professional photographers were on-the-scene, Instagramming almost instantaneously.

Actors Sofia Vergara and Joe Manganiello had a social media-friendly wedding this weekend at The Breakers Resort in Palm, Beach Florida. Not only was the bride busy with her vows, but also snapping away, providing fans with live selfie updates. Of course, there was a catchy wedding hashtag (#jofia) and photographers on the scene, capturing the well-curated nuptials. Here, see all the best shots.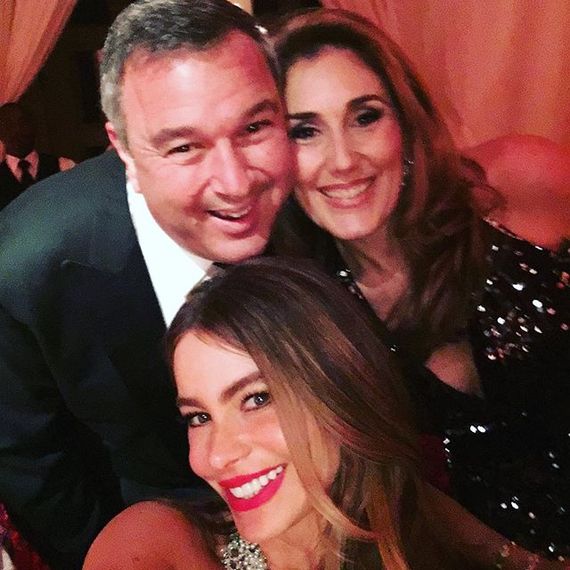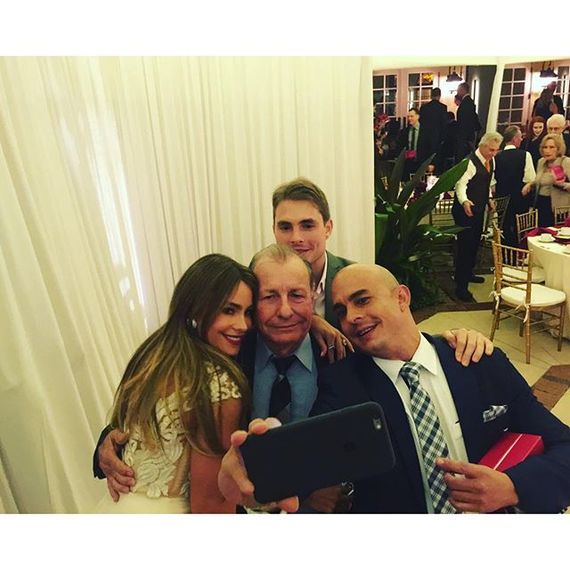 There were even selfies of selfies.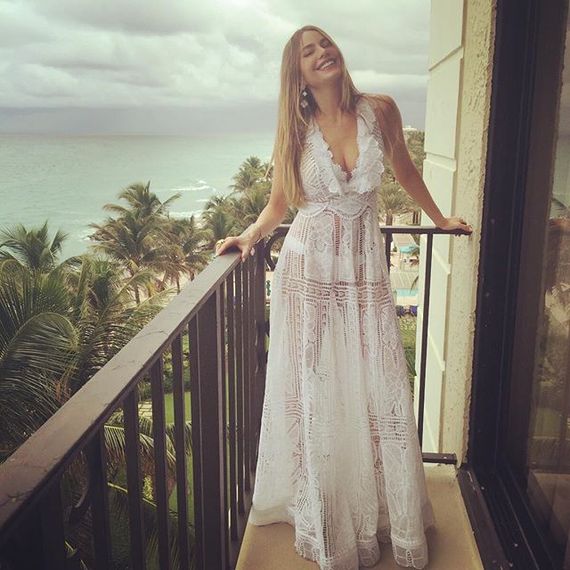 Vergara wore a see-through Martha Medeiros dress to the rehearsal dinner.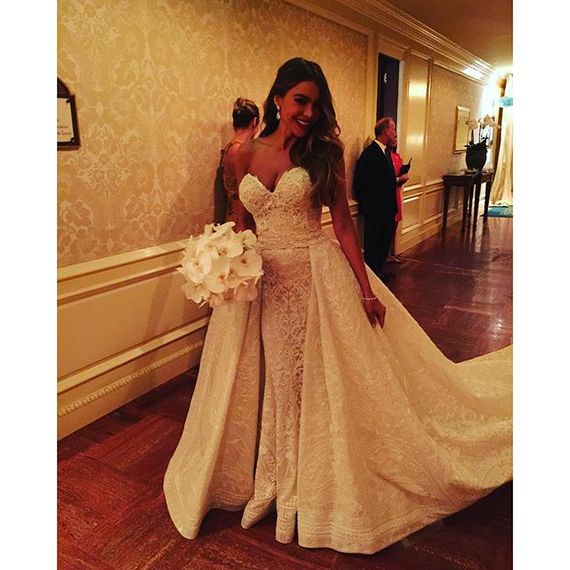 And a strapless Zuhair Murad gown on the big day.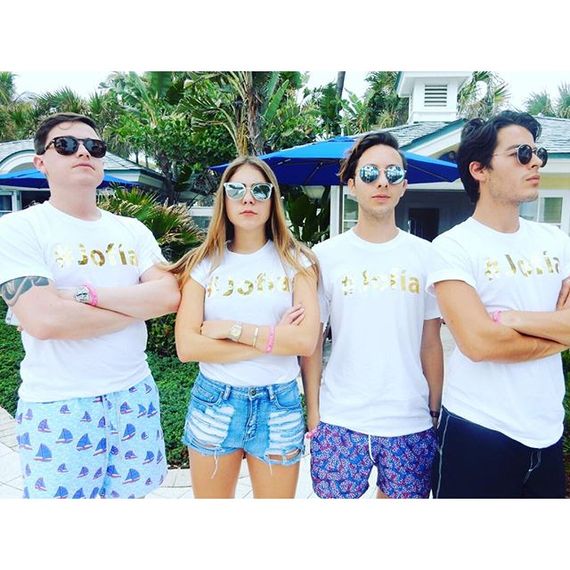 Their wedding hashtag, "#Jofia" was good enough for t-shirts.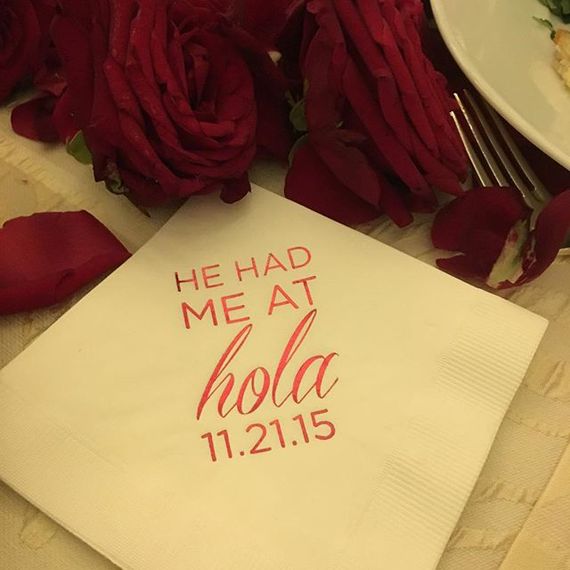 "He had me at hola" was perhaps too long for a hashtag, but just right for napkins.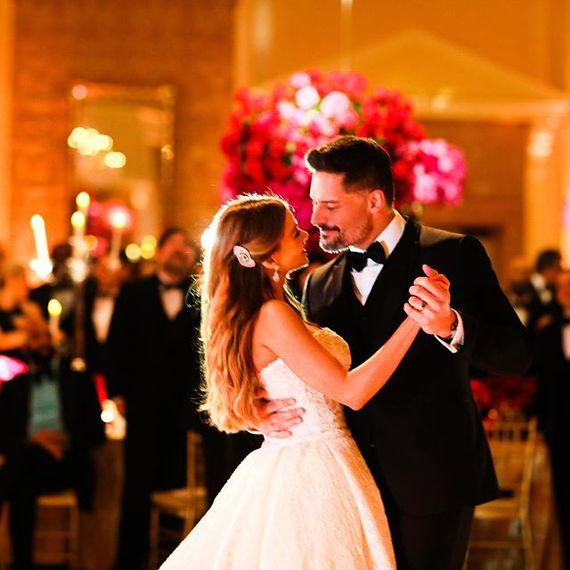 Every loving eye gaze was captured.




The cast of "Modern Family" did group selfies.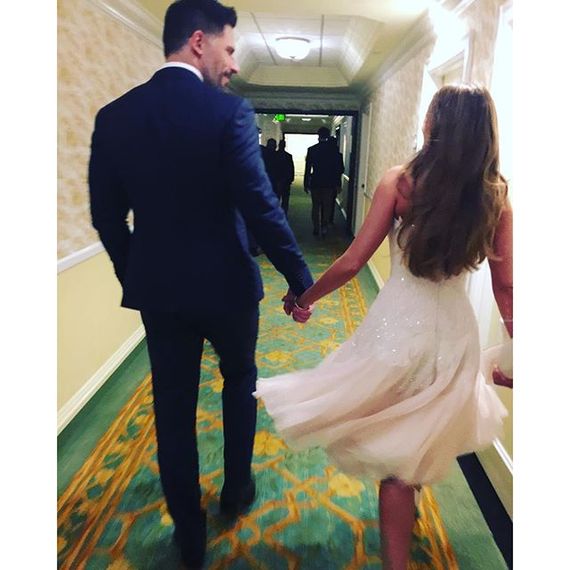 It's exhausting having your wedding be this picture perfect.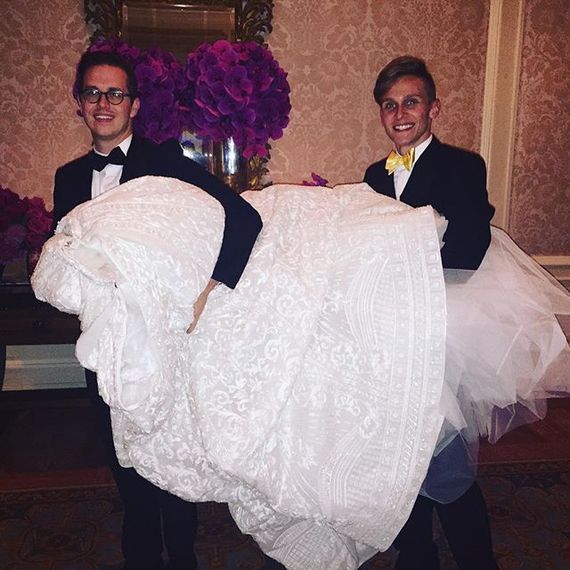 Thankfully, Vergara and Manganiello had some helping hands (for double taps too).

More from W Magazine:

Brad Pitt's and Angelina Jolie in Domestic Bliss (Photos)

Kim Kardashian Goes Fully Nude in W Magazine

The Biggest Trends in this Fall's Fashion

Gigi Hadid Is REALLY Well Connected

Miley Cyrus Parties Like It's 1989 in this Racy Photo Spread

15 Sexy Male Model Selfies

-- This feed and its contents are the property of The Huffington Post, and use is subject to our terms. It may be used for personal consumption, but may not be distributed on a website.