Mary Kincaid: Weekly Roundup of eBay Vintage Clothing Finds (PHOTOS)
Author: Mary Kincaid
No time to page through thousands of eBay listings? Then just sneak a peek at my weekly eBay roundup of top vintage clothing finds.
This eclectic mix of designer and non-designer vintage clothing and accessories caught my discerning eye because of its uniqueness, contemporary feel and highly collectible nature.
As always, buyer beware! Be sure to read the listings closely and contact the sellers with any questions.
This week's selections include pieces by Oscar de la Renta, Bill Blass, Ossie Clark, Pauline Trigere, Missoni and Biba. Be sure not to miss the rare House of Worth day dress, Rudolph Nureyev's ikat robe and the vintage 1970s Cartier tank watch.
Which item is your favorite? Leave me a comment below to let me know and please take a minute to rate your favorite slides.
Please note that Zuburbia does not endorse the use of fur, feathers, leather or animal skins in fashion. These selections are offered only as more thoughtful and eco-friendly alternatives for contemporary fashionistas who have not yet eliminated animal products from their wardrobes or for collectors who are purchasing for preservation purposes.
DISCLOSURE: Editorial selections are made without direct promotional consideration from featured eBay sellers although Zuburbia may receive affiliate commissions through the eBay Partner Network.
GET READY, GET SET, BID!!!
Joy Adaeze: 10 Shopping Commandments
Author: Joy Adaeze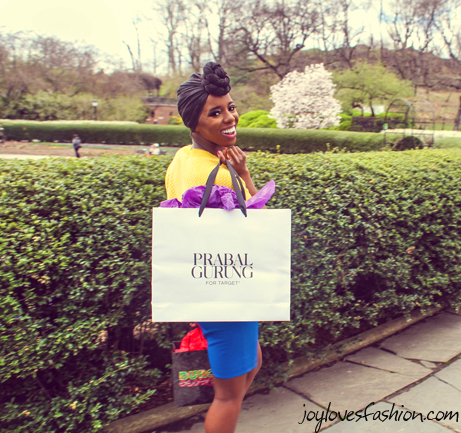 Weather it's a luxurious excursion or a quick trip, shopping is one of life's great pleasures. Shop like a pro with these tips and your next run to Barney's will be nothing short of a success!
1. Know Your Personal Style.
Are you the girl who swoons over the latest trends? Do you love stocking up on classic pieces? To get a good sense of your true personal style, take note of which outfits you always feel great in. Which celebrity has a style you covet? Get inspired and make it your own! The more you know about your personal style, the more successful your shopping trip will be, each and every time. (For more tips on finding your personal style, go here.)
2. Eat Up.
Shopping takes energy. Grab a meal before heading out or stash a snack in your purse. Buying on an empty stomach can easily lead to questionable purchases.
3. Make a List, Check It Twice.
Are you looking for basics to fill gaps in your wardrobe? A dress to wear for date night? A list will ensure you don't miss any essentials.
4. Know Your Shopping Style.
Do you need to shop alone in order to stay focused? Make your trip solo. If you prefer feedback from friends, then by all means gather up your girls (or guys) for an impromptu dash to Bloomies!
5. Timing Is Everything.
We all love a good sale. Stay in the know by reading great shopping-centered magazines, like Lucky. Also, sign up with your favorite stores and they'll give you the 4-1-1 on the next fabulous mark-down.
6. Budget It!
Sure, we'd love to buy it all. But in the real word, a girl's gotta budget. This gives you some sort of limit. Even if you don't stick to it exactly, you'll be mindful of staying within a ballpark. Because nothing kills a shopping trip quicker than the guilt of buyer's remorse.
7. Plan Ahead.
Give yourself at least two weeks prior to a big event (ie: your cousin's wedding) to find your dress. You'll need extra time after that to shop for accessories.
8. Listen to Your Heart.
That sparkly top from Bergdorfs may look fab on the hanger, but will you actually wear it? Is it fitting your personal style and flattering your figure? These are questions you want to keep in mind. Or else that top may be doomed for permanent residence in the corner of your closet.
9. Give It a Try!
Always try before you buy! This is the one step that is missed quite often because of unwillingness to wait in line, or simply not feeling like it. This step is crucial. You have to see every item on your body for the simple fact that we are not built like hangers. Sometimes clothes can look very different when tried on. Walk around the fitting room while wearing the item in qustion. Sit in it, bend in it. If possible, take a picture of yourself in the fitting room mirror. This is one of my tricks. A picture gives you a very accurate look at the fit and proportion. If you can't find your exact fit, go up a size and get it tailored. Also make sure zippers work and that buttons are secure.
10. Double Check.
Some stores don't give cash back, just store credit. Some stores make sale items "final sale." Be sure before you buy!
Happy shopping! For more information on shopping and also tips on getting great style, check out Image Consulting page on JoyLovesFashion.com.
-Joy Adaeze
Photo courtesy of JoyLovesFashion.com
PHOTOS: The 13 Most Fashionable Cartoon Characters
Author: The Huffington Post
When it comes to style icons, real-life fashion figures like Audrey Hepburn, Marilyn Monroe and Brigitte Bardot get all of the credit. But what about our favorite cartoon characters?
Since these were some of the first images to be ingrained in our little style psyches, we decided to shine the spotlight on some very deserving 'toons. See our list below and tell us if we missed any of your favorites!
1. Arnold from "Hey Arnold!"
That plaid shirt, those skinny pants and the semi-ironic baseball cap: Was he not the original hipster?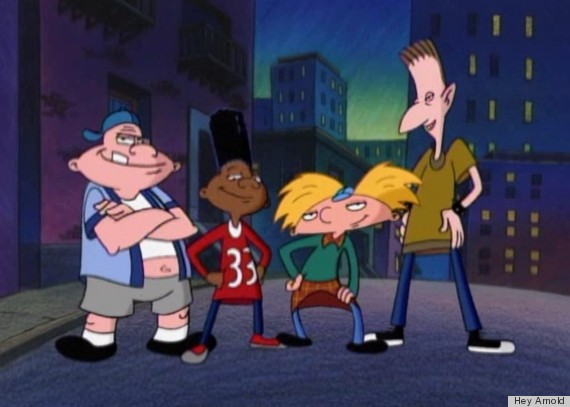 2. Quinn Morgendorffer from "Daria"
Quinn's smiley face crop top was definitely one of the coolest garments in cartoon existence. She said it best herself: "I want to be a role model for all you people, even the ones who need makeup really badly."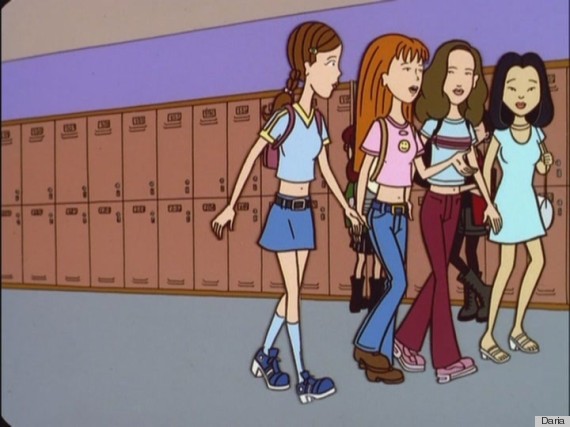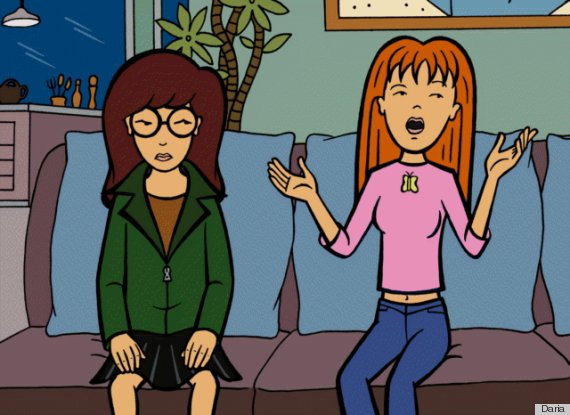 3. Pepper Ann from "Pepper Ann"
She certainly did march in her own parade, didn't she?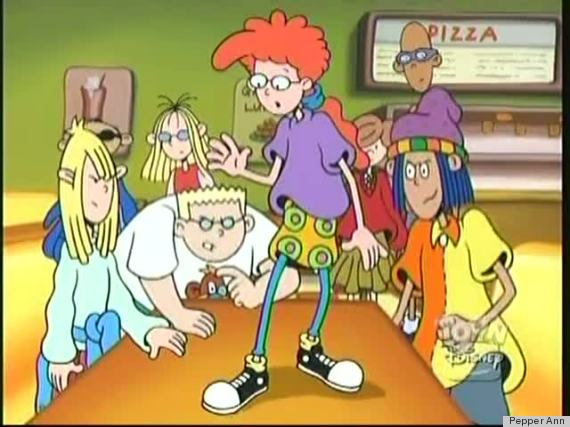 4. Judith Anastasia "Judy" Funnie from "Doug"
Judy was like everyone's older, angst-ridden sister... who was also a '90s beatnik.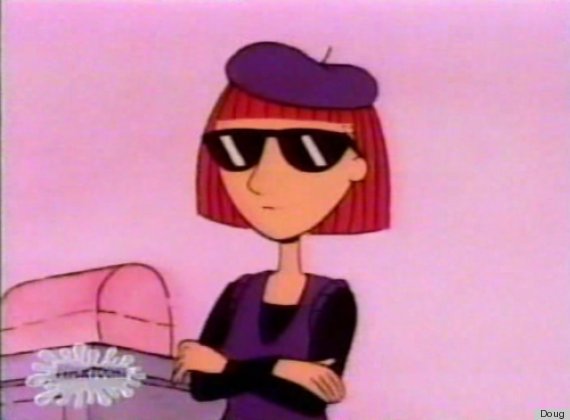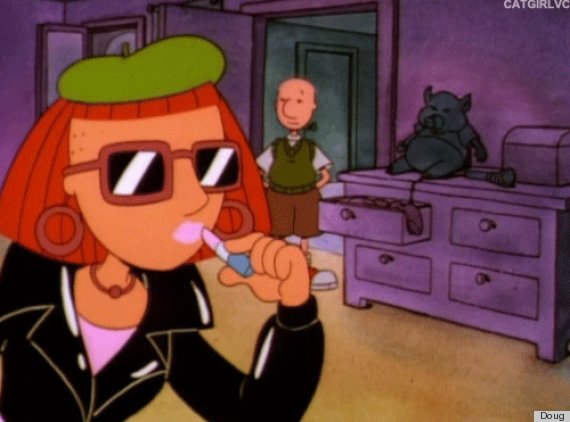 5. The Ashleys from "Recess"
Don't even try to tell us you didn't want to be one of The Ashleys.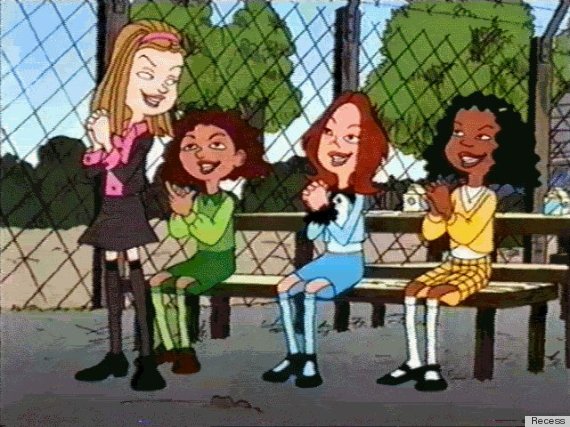 6. Pippi Longstocking from "Pippi Longstocking"
Girl was way ahead of the curve with those thigh-high socks.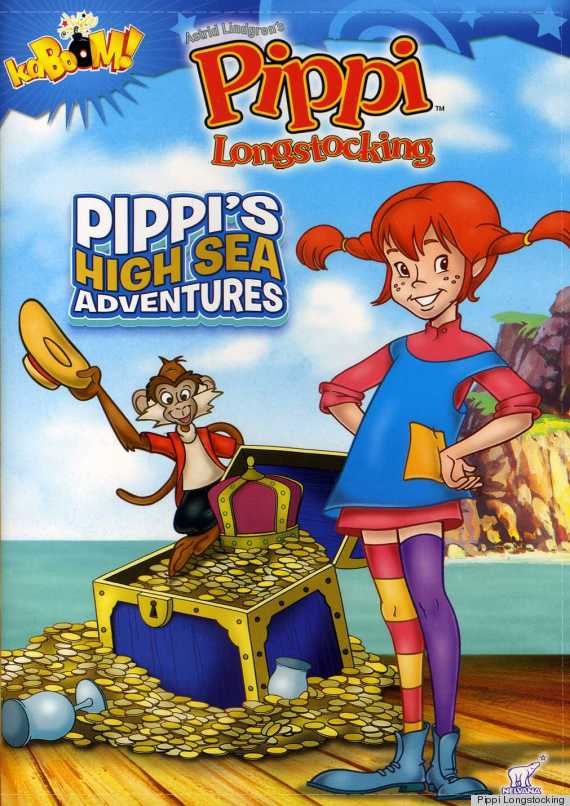 7. Angelica Pickles from "Rugrats"
She already loved playing with makeup (and eating cookies).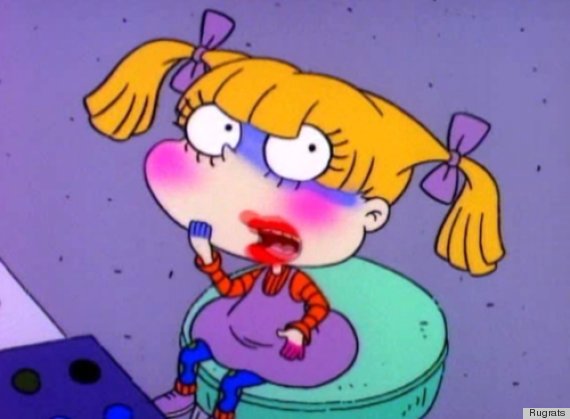 8. Jessica Rabbit from "Who Framed Roger Rabbit"
OK, who doesn't want to look like her?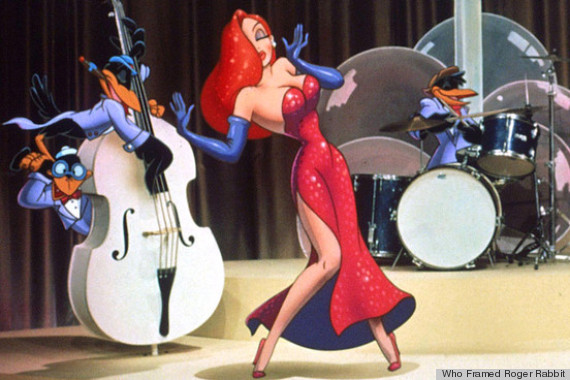 9. Sharon Spitz from "Braceface"
Cher Horowitz herself voiced the character. Need we say more?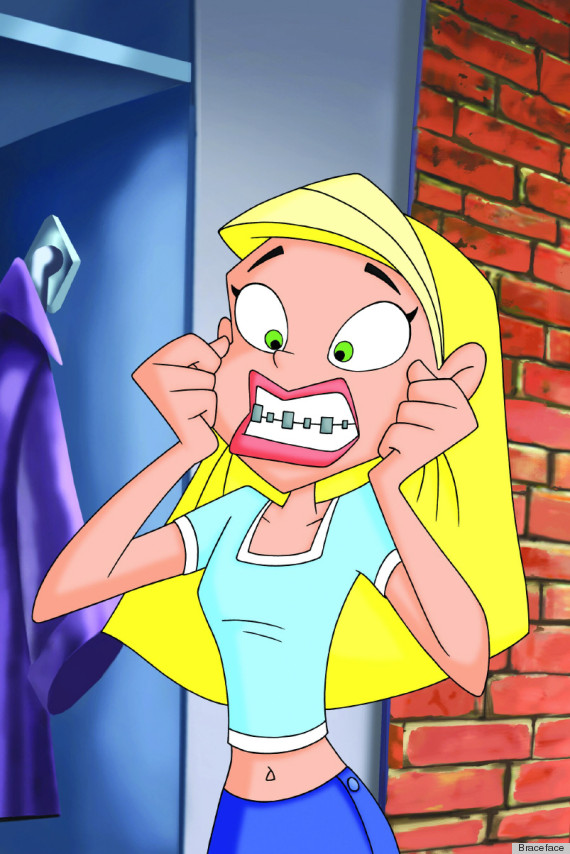 10. The Powerpuff Girls from "The Powerpuff Girls"
Color-blocking and socks with Mary Janes? Nice.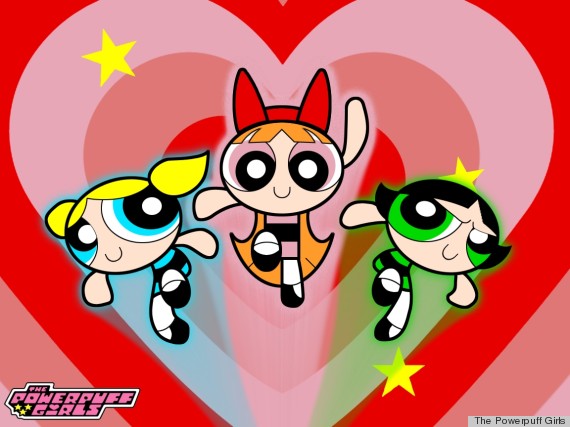 11. Dora Marquez from "Dora The Explorer"
Thank you for pointing this one out to us, Man Repeller.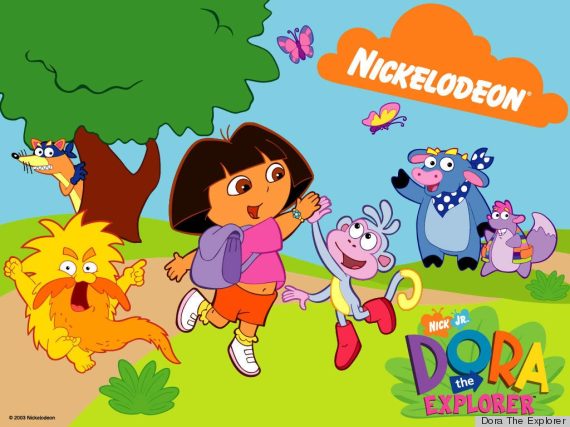 12. Wednesday Addams from "The Addams Family"
She could have showed this year's Met Gala attendees a thing or two about punk.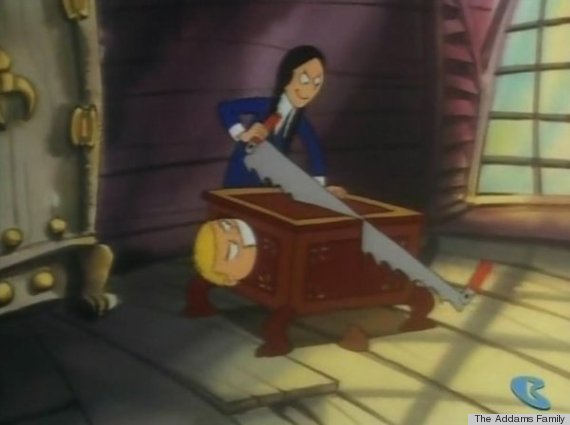 13. Bebe Stevens from "South Park"
The guys in her class certainly thought she had nice, um, style.
The political world isn't exactly cartoon-free either...
Want more? Be sure to check out HuffPost Style on Twitter, Facebook, Tumblr, Pinterest and Instagram at @HuffPostStyle.
--
Do you have a style story idea or tip? Email us at stylesubmissions@huffingtonpost.com. (PR pitches sent to this address will be ignored.)
Demi Looks FANTASTIC In A Bikini
Author: Liat Kornowski
Did someone say she's brooding over Ashton?!
Looks like Demi Moore is way past her breakup from her much younger ex-husband, as she was seen all smiles last weekend at a friend's home in Malibu, Calif.
Moore, 50, put her famously fit physique on display in a tiny red bikini with black and white piping, slouchy black trousers and the signature celebrity shades.
It looks like the yoga classes the actress has been taking with daughter Rumer have been paying off, since she looked every bit as sexy and as slender as she did decades ago.
And Demi seems to have moved on in more ways than one: She was recently photographed with an Australian hunk by the name of Will Hanigan, 30 (despite some outlets that are quick to report the hot romance has fizzled).
Be that as it may, halfway across the world Kutcher and his lady love Mila Kunis are still going strong. The two were seen holding hands in London over the weekend, and rumor has it that the 35-year-old hunk has already met his 29-year-old girlfriend's parents.
PHOTO: Rihanna Shows Off Her Toned Tush In Instagram Photos
Author: The Huffington Post
Rihanna's Instagram photos have been heating up lately with sexy blond 'dos and revealing shots of her derriere. A little Marilyn Monroe action anyone?
Having completed her video shoot for her single "Pour It Up," Rihanna posed for a pic channeling Marilyn Monroe in a risque white swimsuit and a blond wig reminiscent of the iconic actress. Her friend Melissa Forde posted this sizzling photo of the star behind the scenes, adding, "#isthisratchetenough?? #PouritupVideoshoot @badgalriri."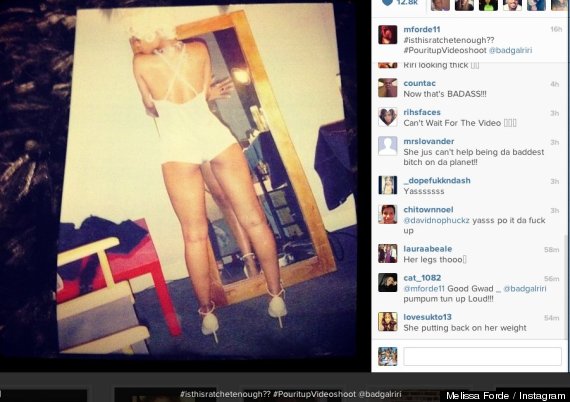 RUMORED: Cara Delevingne Snubs Leonardo DiCaprio?
Author: The Huffington Post
Leonardo DiCaprio has good taste in women... and the actor certainly has a type. In the past, he's been linked to blonde models Bar Refaeli, Erin Heatherton and Gisele Bündchen. And those are just the confirmed girlfriends.
As is often the case in the showbiz world, relationship rumors abound. The latest flaxen-haired model the paps have linked to Leo is Cara Delevingne, the 20-year-old British party girl with a fondness for body ink and Rita Ora.
The Sun heard from an anonymous source that Cara turned down Leo at a "Great Gatsby" afterparty in Cannes last week. Here's how it (allegedly) went down:
"Normally all Leo has to do is look at a girl and they fall at his feet. Though Cara was having none of it... He tried every trick in the book and apparently kept lunging for her but she kept dodging them... She thought he was too forward and too old."
We're as skeptical of this story (both the pursual and the rejection) as we are of the contents of Cara's purse -- but hey, if Leo's lonely, we're available. Do you think these two beautiful people could overcome their 18-year age difference and form a model union?
More celebrity "cradle-robbers":
Want more? Be sure to check out HuffPost Style on Twitter, Facebook, Tumblr, Pinterest and Instagram at @HuffPostStyle.
--
Do you have a style story idea or tip? Email us at stylesubmissions@huffingtonpost.com. (PR pitches sent to this address will be ignored.)
VINTAGE PHOTO: 15-Year-Old Kate Moss Is A Fresh-Faced Beauty
Author: Ellie Krupnick
We love us some good vintage Kate Moss, whether it be a photo from the Johnny Depp era or an audition video from 1996.
Thankfully LOVE magazine feels the same way, offering up a gift this morning in the form of a hazy photo of 15-year-old Kate. The snap was taken in the 1980s by Glen Luchford, one of LOVE's new "guest editors." Luchford tells LOVE, "I have no memory of taking this picture, and I can't say I recognize the apartment it was taken in, but it's been stuck in my diary ever since."
Luckily, it's been unearthed and set for publishing on LOVE's new website, relaunching in a few weeks. In the meantime, you can view it and a ton of other awesome vintage Kate pics below. It's (almost) like she hasn't aged a day...
PHOTO: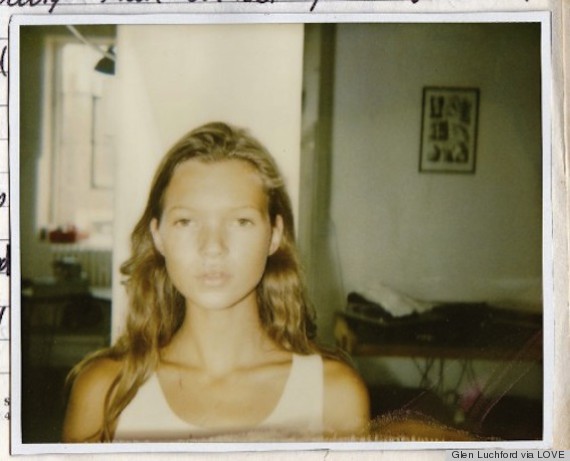 More throwback pics of everyone's favorite model:

Want more? Be sure to check out HuffPost Style on Twitter, Facebook, Tumblr, Pinterest and Instagram at @HuffPostStyle.
--
Do you have a style story idea or tip? Email us at stylesubmissions@huffingtonpost.com. (PR pitches sent to this address will be ignored.)
Courtney Stodden's Cleavage Wows At Disneyland
Author: Huffington Post
Though not all too shocking, Courtney Stodden was spotted at Disneyland on Monday (May 20) not wearing much. The 18-year-old reality star, who made headlines last week for her solo sex tape revelation, was celebrating her second anniversary with husband Doug Hutchison.
While enjoying the rides and all the fun that Disneyland has to offer, Stodden sported a pair of pink Minnie Mouse ears. Married at just 16, the teen bride said, "I'm spending my anniversary at the sexiest place on earth," according to E! News. Not surprising, considering she's just barely legal ... A Curly-Haired Girl's Best Styling Weapon Is...
Author: The Huffington Post
Frizziness is one of the most stressful characteristics of curly hair, and it drives many women to pick up the flat iron. And hot and humid weather makes it even more difficult to reduce frizz.
If you're ready for a break from heat styling (and sweating out your blowout before noon), you'll want to check out the curly hair tips in the video above. Caroline of Birchbox shows us her at-home technique to eliminate frizz and define curls. It includes: Washing her hair with a sulfate-free shampoo (not as harsh as traditional shampoos, but still effective), using a moisturizing styling cream from root to tip and finger combing to reduce breakage.
Watch the video for Caroline's complete curly hair routine, her must-have products and the unconventional way she dries her strands. (You'll appreciate this trick whether your locks are curly or straight.)
How do you maintain your curly hair?
These curly-haired stars did it best:

Want more HuffPost Style beauty content? Check us out on Twitter, Facebook, Tumblr, Pinterest and Instagram at @HuffPostBeauty. (For everything else check out our main HuffPost Style Twitter, Tumblr, Pinterest and Instagram @HuffPostStyle.)
---
Do you have a beauty story idea or tip? Email us at beautytips@huffingtonpost.com. (PR pitches sent to this address will be ignored.)
Ramp1885.com: Hot Off the Runway of Fashion Week Mexico
Author: Ramp1885.com
In Mexico City, they showcased their fashionable best on the ramps of their Fall/Winter 2013-14. Check out the ones that caught our eye!

BLOG CONTINUES AFTER SLIDESHOW


Alejandro Carlin

Originally from Mexico City and currently residing in Monterrey, Neuvo Leon, designer Alejandro Carlin brings a very cool urban vibe with his latest collection. Brand awareness is nothing new to this graduate of Central Saint Martins in London England and Instituto Marangoni in Milan, Italy. His Fall/Winter 2013-14 collection just exudes the elegance found in the parlors of the high society. The feminine vibe with this collection comes in perfect proportions. With an old Hollywood flair, something that Lauren Bacall would drool over, Carlin's current collection is a cool combination of charm and urban city cool.
Julia Y Renata

They grabbed the spotlight in the mid-'90s when they debuted at Fashion Week Mexico. Since then Guadalajara-based design team, Julia Y Renata have shown at global fashion weeks including that of Miami, Greece, Colombia and Zagreb. Their Fall/Winter 2013-14 collection is delightfully heavy in theatre. With fabulous draping in unexpected areas, structured shoulders, slim cut skirts, the avant-garde quotient is on par with what you would find on the red carpets of the hippest music award show. The use of simple black and white with minimal disruptions in terms of hardware and embroidery strengthens the pieces each standing on its own.

Lydia Lavin

Her noted area of expertise including that of textile history and the artistic contributions by the indigenous communities, designer Lydia Lavin's Fall/Winter 2013-14 collection certainly stems from that particular reverence. Having designed for six years, and have also shown at fashion weeks throughout Latin America including at exhibitions in as far as Sydney and New York, Lavin has collected numerous degrees from various fashion schools including New York's FIT and Parsons. Her latest collection boasts the cultural and textural traditions that are found engrained in the Mexican fashion narrative and is a stunning collection of colours, embroidery, and silhouette, embracing the modern cut while celebrating the cultural motifs. Looking rather worldly, and not something that should be relegated to a costume shop.
Malafacha

Having 15 collections under their belt, the creative duo, designer, Francisco Saldana and 'visual communicator' Victor Hernal takes the reigns of style and tears a new fashionable swath through the expected and into the unknown. The theatrical approach is visually stimulating and again, solely focusing on the darkest and lightest of hues: black and white, Saldana and Hernal brings an urban Goth-like twist to the ramps of Mexico.
By: Hina P. Ansari
Photography courtesy of Fashion Week Mexico
20 Celebrity-Inspired Wedding Makeup Looks
Author: Stephanie Hallett
By Lindsey Schickner for YourTango.com
The wedding gown may be the decadent cake, but the makeup is the icing!
From subtle smoky eyes to luscious coral lips to a natural radiance, we give you an array of makeup ideas to complete your "here comes the bride" vision. Inspired by Hollywood's most stunning celebs, here are 20 beauty looks that you'll love (almost) as much as your future spouse. Be prepared for all the "You look beautiful!" wedding day compliments.
More Stories On YourTango:
Wedding Hair: 20 Celebrity Inspired Looks
'Bride-Napping' Is Still A Trend Around The World
Nude Celebrities: Which Stars Have Been Caught In The Buff?
Keep in touch! Check out HuffPost Weddings on Facebook, Twitter and Pinterest.
Author: Liat Kornowski
Eva Longoria is not alone: The very same day the "Desperate Housewives" actress showed a little too much skin on the Cannes red carpet, fellow actress Rosario Dawson did the exact same.
Wearing a high-slit gown, Dawson unintentionally flashed the cameras, exposing her nude underwear.
Dawson attended the "Jimmy P.: Psychotherapy of a Plains Indian" premiere, as did Longoria, last Saturday night. But when the 34-year-old "Trance" actress attempted to walk up the steps in a gorgeous, floor-length, sequined white gown, her seriously high slit blew right open and exposed her delicates to the world.
But Dawson, always the professional, didn't make a scene and simply covered her nether region with her hand, making an "Oopsie!" face to match.
Way to handle a wardrobe malfunction, girl!
PHOTOS: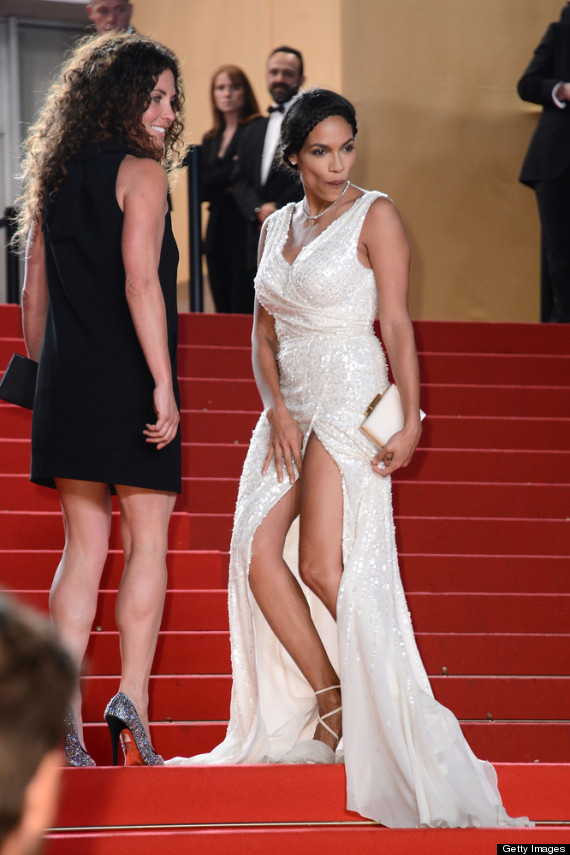 Tori Spelling Has Four Kids ... And Looks Like THIS
Author: Leigh Blickley
Forty and fabulous.
Tori Spelling flaunted her incredibly toned body while celebrating her 40th birthday in Cabo San Lucas over the weekend. The actress headed south of the border with her husband Dean McDermott and their four kids, Liam, 6; Stella, 4; Hattie, 19 months; and Finn, 9 months.
Spelling recently revealed that she dropped 45 pounds since giving birth to Finn in August 2012. She showed off her weight loss in a bikini for Us Weekly in April.
"I am in awe of it," she said of her post-baby body. "I think, 'Wow, I made four human beings.' I feel like I can do anything at this point. I praise my body every day. I am so grateful for it."
"I feel like I took off the weight safely, and I'm totally happy here," she added. "I think my stomach went back pretty well!"
Check out Tori's bikini body below: Amy Schumer Has Some Seriously Solid Advice For Young Women
Author: The Huffington Post
It's not often that you get to be in a room with one of your favorite funny women, but last night it happened. During the after-party for Glamour's "These Girls" event in New York City, we had a chance to catch up with comedian Amy Schumer.
Schumer, who earlier opened up about her struggles with body image and self-esteem, offered up some insight as to why people feel the need to cut women down based on their looks.
"The second you insult a woman's appearance, you're taking away all her power. So you just feel threatened by what she has to say or who she is, and that's all that's left," she said. "It's all about fear, and I don't see people getting any less afraid any soon."
She also suggested that women aim to find worth in themselves separate from outside affirmation. She said:

Get your self-image from your relationships with the people who know you. No matter what's going on, I know I'm a really great sister, I'm a great friend and that's who I am. And I can feel beautiful and sexy without it all being about feedback.

People get mad at confidence and they wanna knock it down. And you need to know that's gonna happen and just hold onto it. I have moments all the time when I don't feel good about myself and I don't feel comfortable in my own skin, but I always find my way back.
Wise words, Amy. Wise words.
8 Beauty Fixes When You're On The Road
Author: Naomi Kim
Whether you're traveling on the ground or at 35,000 feet, here are eight fast fixes to help you arrive refreshed.
By Amber Kallor

Save The Heavy Stuff For Later
Keeping skin hydrated is key (especially when you're in the air), but slathering on your heaviest cream can leave your face looking oily. Try a gel-based moisturizer (celebrity makeup artist Daniel Martin likes aloe vera gel) that absorbs and dries quickly. To even your complexion when you're in a hurry, apply a stripe of stick concealer down the bridge of your nose and across your cheekbones, forehead and chin. Then blend all over with a bit of light lotion for sheer coverage.
Tone Down A Breakout
You know what a few squirts of Visine can do after a red-eye, but it also works on that blemish on your forehead. Apply a couple of drops to a cotton swab or hold the tip of the bottle directly on the pimple for a few seconds to quickly cut redness, says Martin. Then dab the area with a tissue to absorb residual moisture. If you still need more coverage, apply a light layer of concealer and gently press with a clean tissue to set it.
Stick To Cream Makeup
If you're putting on makeup in a dim airplane bathroom, stick with creams, which are more difficult to overdo because they melt into skin -- unlike powders, which require more blending and are less forgiving, says Martin. Plus, you don't need an arsenal of brushes to apply. CoverGirl NatureLuxe Gloss Balm is one of his favorites because the sheer, shea-butter formula can be used on lips and cheeks and the small size makes it easy to fit in your purse for quick touch-ups. If you can't part with your powder blush or bronzer, use a smaller brush to give you more control and prevent color from splattering on your shirt collar, says Rebecca Creer, who covered the globe from Nigeria to Japan doing everything from manicures to massages as an in-flight beauty therapist (and currently dispenses tips and picks up new ones from flight attendants and crew members as the spas and grooming manager for Virgin Atlantic Airways). Try BareMinerals Retractable Flawless Application Brush, which comes with a protective cover so bristles don't get crushed in your carry-on.
Help Makeup Work Overtime
Long-wear lipsticks are particularly enticing if you don't have time to constantly reapply, but Martin says these formulas leave little room for mistakes and can often be drying. To get staying power without sacrificing hydration, try Creer's go-to trick: Apply a light layer of foundation or concealer to lips, fill them in with lip liner, then swipe lipstick over the top. Extend the life of your blush and eyeshadow by dusting translucent powder over your face and lids first. "It provides an adhesive surface for pigment and prevents streaks," says Martin.
Hide Dark Circles In A Hurry
Neutralize blue tones by applying an apricot colored concealer or primer. And use a light eyeshadow that won't emphasize darkness or highlight fine lines, like a shimmer-free bone shade. But if puffiness is your problem, putting coverup on top can reflect light and make your undereye area look more pronounced. Martin says it's better to apply a concealer that matches your skin tone to the inner corners of your eyes and buff it out along the sockets with your ring finger. To look more awake, add a coat of mascara to your top lashes only, wiggling it into the roots and rolling out to the ends. Be careful not to pump the wand in the tube -- this causes mascara to dry out more quickly, says Creer.
Fix A Smudge -- Fast
Martin says applying a creamy concealer with your finger will break down the pigment and blend it out -- so much easier than washing off a mascara flub and starting over.
Apply Liner On The Move
Add a swipe of eyeliner across your upper lashes to define and perk up tired eyes. For a steadier hand and smoother line, rest your pinkie on the tip of your nose, says Martin.
Stop Static In Seconds
Friction caused by rubbing hair against the headrest during a flight or a lengthy commute can wreak havoc on your blow-out. To get frizz under control, massage a pea-size drop of hand cream into your palms and lightly run them over your hair. For extra holding power, warm a bit of clear lip balm between your fingertips and slick it over any flyaways.