Want more? Be sure to check out HuffPost Style on Twitter, Facebook, Tumblr, Pinterest and Instagram at @HuffPostStyle.
Dear Abercrombie: Thank You for Allowing Us 'Fat, Uncool' Kids to Buy Your Clothing Online (Fri, 06 Dec 2013 12:06:29 -0500)
Abercrombie and Fitch never wanted overweight people to wear their clothing. It was not meant for us. I know this because when I was younger I could not fit into their shirts or pants. It was then confirmed by their CEO Mike Jeffries.

It was meant for the cool kids. The popular kids. Of course, that does not include overweight people. Because how could a fat kid be cool and popular?

Mike Jeffries, CEO of Abercrombie and Fitch and Hollister, has said:


In every school there are the cool and popular kids, and then there are the not-so-cool kids. Candidly, we go after the cool kids. We go after the attractive all-American kid with a great attitude and a lot of friends. A lot of people don't belong [in our clothes], and they can't belong. Are we exclusionary? Absolutely. Those companies that are in trouble are trying to target everybody: young, old, fat, skinny. But then you become totally vanilla. You don't alienate anybody, but you don't excite anybody, either.


Their stock is down 25 percent this year, and they have been down for seven straight quarters. Their clothing has not been relevant to kids in quite a while.

But they have decided to change! They have decided that us "fat, uncool" kids can finally wear their clothing. That is right -- they have made the decision to make larger sizes of their clothing.

HOORAY! Do you know how many of us "fat, uncool" kids have longed to wear Abercrombie clothing? I mean, they even made a hit song with girls wearing Abercrombie and Fitch called "Summer Girls" -- of course, the song was 16 years ago when their clothing was actually cool.

But the best part of this, that very few people caught, is that they are for now only going to sell the "plus-size" clothing (which they deem over a size 10 for women) online. Not at the stores. Apparently, Abercrombie has standards. The "fat, uncool" women cannot go into the stores. They can shop online, where they belong.

Because as Mike Jeffries has said before:


We hire good-looking people in our stores. Because good-looking people attract other good-looking people, and we want to market to cool, good-looking people. We don't market to anyone other than that.


But now they do. Because they have realized that there are a lot of "fat, uncool" people out there. Lululemon has realized it also. Many companies realize it after the controversy of their fat-shaming hurts their bottom line. These companies are calling people fat when they are not fat. Is wearing a size 12 fat? No. Many women run marathons who wear a size 12. Many women work out six days a week and eat clean and wear a size 12. Many women do CrossFit and wear a size 12. In my eyes, size 12 is not plus-size; it's average.

I was a "fat, uncool" kid who wanted to fit in. I distinctly remember not being able to fit into Abercrombie. Yet I could wear Polo, Hilfiger, Nike, Reebok, Fila and 9 million other brands of clothing. These are companies that are still successful today.

Abercrombie is desperate. I liked them better when they hated us. I will always be a "fat,uncool" kid at heart. It does not go away.

They told us we were not part of their club. They told us we were not meant for their clothing. They told us we were not hip enough, good enough or attractive enough to wear their clothing.

But sales are down. So now they want us. They need us "fat, uncool" people to buy their clothing. They need us to buy it for our kids; the kids today who laugh when their parents say anything is cool.

Abercrombie fired a woman for wearing a head scarf in observation of her religion. She was not fat, just "uncool" in their eyes, I guess. The clearly do not understand people. They do not understand diversity. But, they understand that they are losing money, and they should. That's what matters to them. I am tired of CEO's giving "non-apology" answers for comments they made from the heart. They know who they are hurting.

So now with sales declining, Abercrombie is now allowing us fat people to purchase their clothing online.

Honestly, I have been able to wear Abercrombie clothing for years, now. But in honor of all my "fat, uncool" friends, and because I am still a "fat, uncool" person, I will always refuse.

I would rather wear dignity any day of the week.

Incorporate Camo Into Your Underwear (Fri, 06 Dec 2013 12:03:34 -0500)

A lot of times when you think of camo, what comes to mind? If the show duck dynasty is on your list of ideas, you are definitely not alone. That said, it's been a print associated with the great outdoors and hunting in particular for quite a while. It's definitely a practical print in terms of "camouflaging" your self in the woods. Fashion has been on a camo high this past season with a lot of celebrities incorporating the print in a lot of their casual looks. There is definitely a militant, take charge vibe that comes along with putting on camo. Your favorite underwear brands also are following in the trend. Check out some ways they are following suit below.




Neon Look
A lot of camo prints in underwear follow the classic green and brown look. An interesting way to set your camo underwear apart from others is by changing up the color. this can be done either in a subdued way or a drastic way. The Cocksox Sniper brief (1) is an example of stepping away from the traditional look in a subdued way. Instead of browns and greens, you have blacks, grays and neon green. The neon color definitely pops, but, is not at the forefront of the brief.

Color
On the opposite end of the spectrum, you can decide to depart from the traditional camo print with a drastic color change. Papi has a line of camo trunks (2) that come in a variety of colors. We are huge fans of the pink ones. Unlike the previous brief mentioned, this trunk places the brightest color at the forefront. This is definitely not a camo print you'd wear to be hidden.

Waistband
Sometimes certain prints like camo can come across a bit gaudy. That said, you can still play around with them. The best way is to incorporate them in your waistband. Diesel has a collection with camo waistbands (3) that do the trick. The navy option offsets the camo really well. Navy is also one of our must have underwear colors of the season.

Union Suit
As the temperature drops, union suits or onesies will be creeping their way out of people's closets. People will either wear them during the day or just simply have one saved up for Christmas day. We'd recommend this Hanes union suit (4) for the person in your family who loves camo.

For more brands inspired by Camo, head on over to The Underwear Expert.

The Underwear Expert is the ultimate resource for 200+ men's underwear brands. Visit us for the latest men's underwear trends and more. Like us on Facebook.
Fantasy Christmas Gifts: Chanel Haute Couture Book Sets (Fri, 06 Dec 2013 12:00:37 -0500)
Whilst browsing stores, sites and press releases to uncover affordable gems to include in my Christmas Gift Guides, I often come across more high end items that, whilst utterly wonderful, are out of the general gifting price range. These pieces are my Fantasy Christmas Gifts.

Cure for cancer and world peace aside, top of my Fantasty Christmas List (well, top after a brownstone on New York's Perry Street, a personal trainer and/or chef, and a winning lottery ticket) are beautiful coffee table books. These are the kinds of things I absolutely treasure but never buy for myself.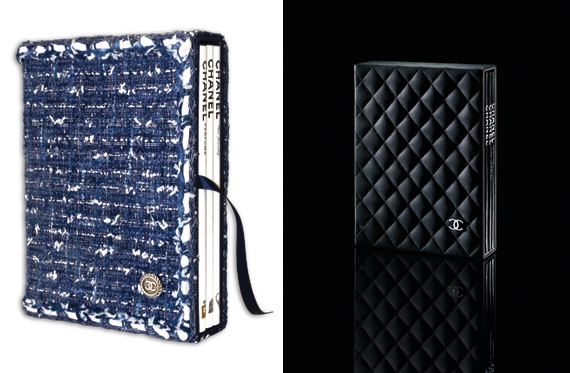 Left: Exclusive Chanel Set of 3 Haute Couture Books in Tweed, £1,650; Right: Chanel Set of 3 Haute Couture Books in Quilted Leather, £750, from the Assouline shop-in-shop at Harrods

Premium arts publishers (and purveyors of the most wonderful Library Candles with evocative scents such as 'Leather', 'Wood' and 'Books'), Assouline, produce an elegant range of luxury books and their new sets of Chanel Haute Couture titles in iconic quilted leather or tweed, exclusively available from Harrods in the UK, are my ultimate Fantasy Christmas List topper.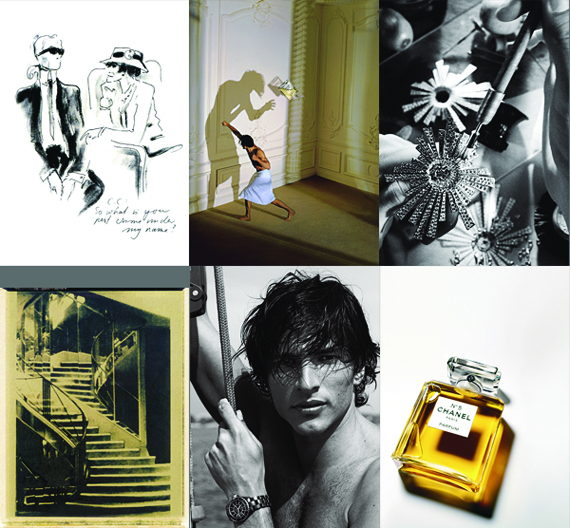 Written by Francois Baudot and Francoise Aveline, the luxe slip cases contain three books - Chanel Fashion, Chanel Fine Jewellery, and Chanel Perfume - packed with glorious, glossy images from inside the famous fashion house. Here is a quick peek inside the covers...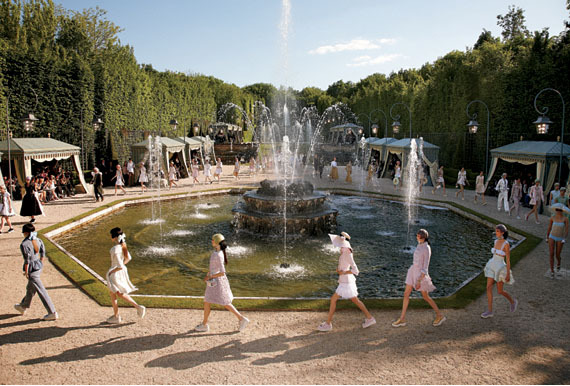 Exclusive Chanel Set of 3 Haute Couture Books in Tweed, £1,650 or Leather, £750 both available from the Assouline shop-in-shop in The Egyptian Room (Lower Ground Floor) at Harrods. www.harrods.com

Here are a few other items from my personal Fantasy Christmas Gift List to swoon over...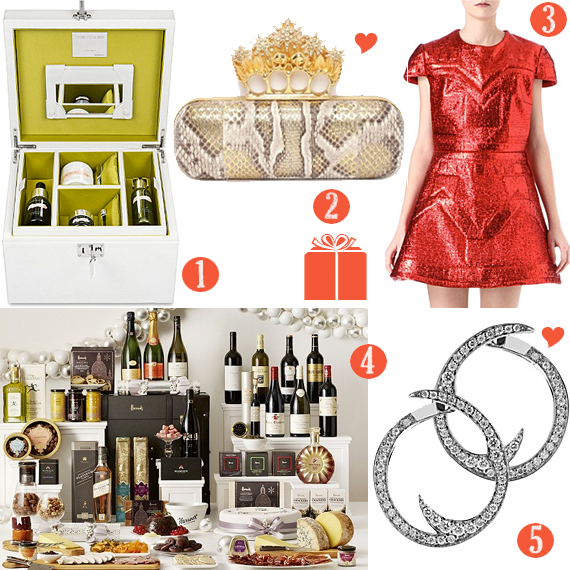 1. Creme de la Mer Asprey Ultimate Collection Gift Set, £2,750 exclusively at Selfridges - A limited run of 111 embossed calfskin vanity case skincare collections.

2. Python Glory Skull Knucklebox Clutch from Alexander McQueen, a timeless statement clutch featuring the brand's hallmark, edgy 'knucklebox' design. £1,940 from www.alexandermcqueen.com

3. Sadie Williams' Embossed Lurex Dress, £1,150 exclusively from Selfridges. Part of the Selfridges Bright Young Things emerging talent showcase, this shimmering dress by the young designer is inspired by Japanese motorcycle gangs and their metallic motorbikes, and is a total Christmas cracker.

4. The Decadence Hamper, £20,000 from Harrods - A limited edition presentation trunk Harrods hamper filled with distinguished produce from around the world including Champagne, wines, fresh caviar, foie gras and luxury crackers. I must admit, I'm more after the trunk than the contents but I'm sure they wouldn't go amiss..

5. Stephen Webster Thorn Earrings, £3,850 from Harrods - 18 karat white gold hoops set with full pavé white diamonds; darkly beautiful and beyond exquisite.
11 Things Going Through A Hairstylist's Mind (Fri, 06 Dec 2013 11:38:14 -0500)
The relationship between a hairstylist and client is a truly special one. You place a lot of trust in the hands of the people who cut, color and curl your hair. But it's probably unlikely that you take into consideration how hairdressers feel when you make careless mistakes that undo all of their hard work.

Taking a moment to see things from the other side of the salon chair, we've rounded up 11 hilarious Someecards that illustrate how your hairstylist really feels.



Maybe these stars should heed to this advice:


Want more HuffPost Style beauty content? Check us out on Twitter, Facebook, Tumblr, Pinterest and Instagram. (For everything else check out our main HuffPost Style Twitter, Tumblr, Pinterest and Instagram @HuffPostStyle.)
---
Do you have a beauty story idea or tip? Email us at beautytips@huffingtonpost.com. (PR pitches sent to this address will be ignored.)



Ultraviolet A1 Light Spurs Cell Damage, Premature Aging Of Skin: Study (Fri, 06 Dec 2013 11:16:21 -0500)
A type of ultraviolet light in sunlight, which is also present in light emitted in tanning booths, damages and promotes premature aging of the skin with repeated daily exposure, according to a new study.

Researchers from the University of Michigan Medical School found that exposing skin to ultraviolet A1 (UVA1) light led to the creation of a molecule called matrix metalloproteinase 1 by skin cells. This molecule breaks down the protein collagen, which keeps skin firm and youthful.

The findings about UVA1 light, which are published in JAMA Dermatology, are important because much research on ultraviolet light's effects on skin focus on ultraviolet B rays, since those cause sunburn. "But there is very little UVB in sunlight, and most UVB exposure is at midday. During the rest of the day it's mostly UVA, with UVA1 being the majority," study researcher Dr. Frank Wang, M.D., a medical dermatologist and assistant professor of dermatology at the university, explained in a statement.

"UVA1 is also the main component of tanning booth light. So, we wanted to look at whether it can predispose skin to premature aging by simulating repetitive daily exposure," he added. "We found that it can. Furthermore, the mild tanning that occurs does not seem to protect against damage from additional exposures."

The study included 22 healthy volunteers, who underwent repeat exposure by UVA1 light to a patch of skin on their buttocks (the equivalent of two hours of sun exposure). Researchers found that the more their skin was exposed to the light, the higher the pattern of production of metalloproteinase 1.

The finding suggest sunscreens need to contain more UVA1 blocking chemicals, as right now, the Food and Drug Administration has only approved zinc oxide and avobenzone as sunscreen ingredients that can block this kind of light.
Celebrity Swans: Awkward Adolescents Turned Smokin' Hot Stars (Fri, 06 Dec 2013 11:13:48 -0500)
Joe Manganiello stopped by HuffPost Live this week to talk about his healthy lifestyle and his new book, "Evolution: The Cutting Edge Guide to Breaking Down Mental Walls and Building the Body You've Always Wanted." But it was the photo he shared of his teen days that got us thinking: Manganiello wasn't always the buff and built "True Blood" star he is today.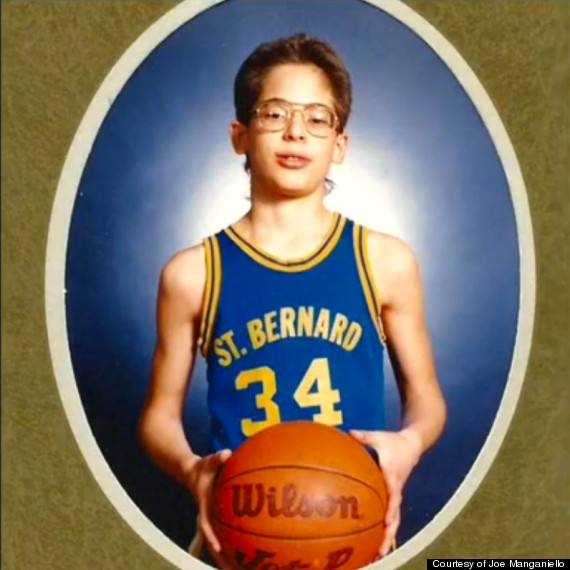 Here are 11 other stars who went from awkward to A-list:


Peter Pilotto For Target Preview Has Us Excited For Spring Already (PHOTO) (Fri, 06 Dec 2013 11:11:00 -0500)
The British are coming... to Target!

The best news out of London Fashion Week this fall was that Peter Pilotto would be bringing his colorful prints stateside for a collaboration with Target. Now we've finally got a sneak peek at the collection, and it looks just as awesome as we'd hoped.

In a photo published by Elle, Pilotto and his co–creative director Christopher De Vos pose with models showing off a drop-waist dress, a cropped tee, a pencil skirt and what appears to be a romper (!). Elle described the 70-piece collection as "ready-made for a Montauk weekend," so we expect more playful, laid-back pieces -- the perfect items to kickstart our spring wardrobes when they debut in Target on Feb. 9, 2014.

Check out the first pic -- are you getting psyched?



Get the look:


Want more? Be sure to check out HuffPost Style on Twitter, Facebook, Tumblr, Pinterest and Instagram at @HuffPostStyle.
Nigel Barker Launching His Own Perfume, Because Sure (PHOTOS) (Fri, 06 Dec 2013 10:39:13 -0500)
We mourned the day when Tyra Banks rocked the boat that is "America's Next Top Model" and gave judge Nigel Barker the boot. What would we do with the smooth-talking, smooth-headed noted fashion photographer in our lives?

Thankfully, Barker heard our pleas and is sticking around... with a fragrance. Women's Wear Daily reports that the photographer has partnered with Demeter Fragrance Library to launch the Nigel Barker Signature Collection of Fine Scents, which will include three different perfumes.

The fragrances are all New York-themed: New York Nights, Times Square and Wall Street. "People come to New York and want to capture that moment in time," Barker told WWD of his urban inspiration. "I tried to recreate that feeling in the scent." (Hopefully he didn't literally try to bottle real New York smells.)

We'll admit that a Barker-branded fragrance sounds out of left field, but WWD notes that Barker's wife Cristen is actually a makeup artist. The couple will also be launching two cosmetics collections along with the fragrance, all of which will drop in 2014.

But a celebrity fragrance from a photographer is still a bit... random. Tyra Banks might have her own perfume, but we never really expected the "Top Model" judges to get into the scent game.

Will you buy it? Read more at WWD.com.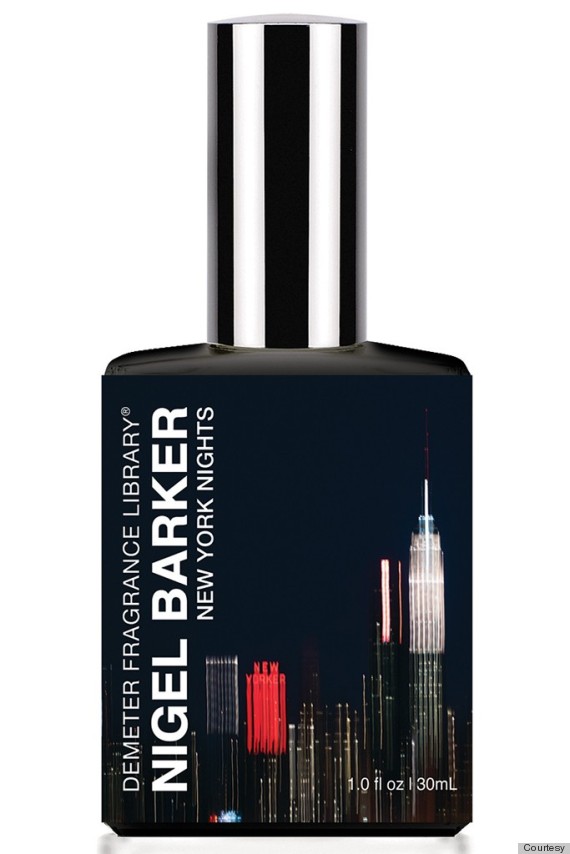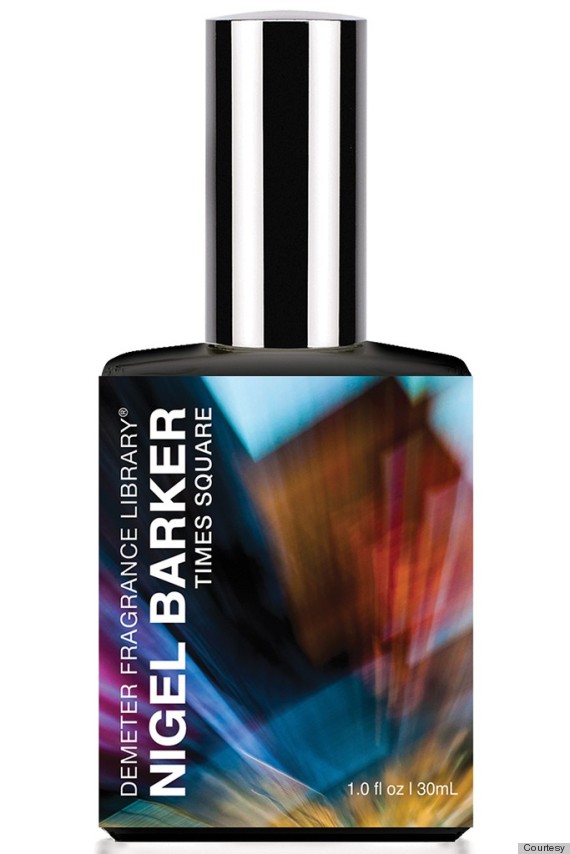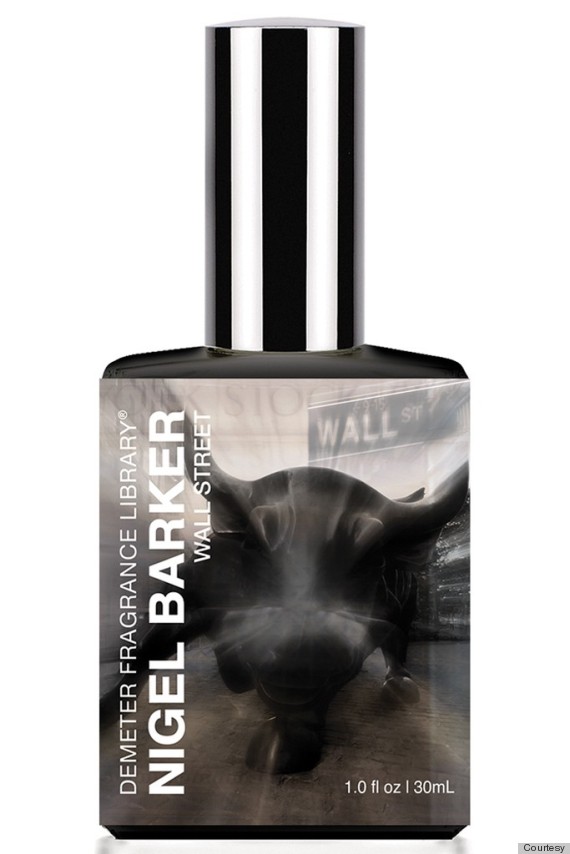 It's like a Hollywood rite of passage:


Want more? Be sure to check out HuffPost Style on Twitter, Facebook, Tumblr, Pinterest and Instagram at @HuffPostStyle.
Online Dating Anxiety Disorder -- Is It Worse During the Holidays? (Fri, 06 Dec 2013 10:18:47 -0500)
Oh the holidays. They're filled with excitement from party invitations, stress of extra expenses, and the questions we get from family and friends about our relationship status, which tugs at our emotions in a big way.

From "are you seeing anyone special?" to "how's your love life?" These are common questions that cause many singles to pull the covers over their heads. Others are being smart about it. They're logging on for love to find someone to keep them warm during the holidays, or perhaps even attend a holiday party with.

Still, I know how tough it is at the holidays being single. I've been there. I've watched the posts from others on Facebook who constantly share their coupledom with everyone. From kissing under the mistletoe to the eight gifts on Hanukkah, we look at our Instagram feed and it just magnifies how tough it is being single at the holidays.

Even my own mother has been known to ask me to log onto a dating site over the years, so she can view who was writing to me. While I valued her opinion and her unconditional support, it reminded me that yes, the holidays are emotional and rough when you're single.

Here's a survival guide to help you through the holidays, online and IRL.

Does Online Dating Anxiety Disorder Exist?

I'm here to tell you that relationship anxiety over the holidays is common. Add a digital element to it of being connected via email, Facebook, or Twitter and it's magnified big time. Online Dating Anxiety Disorder (ODAD) is overwhelming. While it isn't a clinical condition, most singles are now members of more than one dating site. Those who suffer from ODAD know that horrible feeling they get when they push the send button too fast to reply to his or her email, and then wait by their computer or mobile phone for the reply to come in. When you have ODAD, you're a member of so many sites, you can't remember where you met the date you're about to have dinner with. Text messages become a part of your dating regime and if the time in between the texts is over four hours, you start to feel anxious and catastrophize.

It can be confusing to hear someone say, "It's Doug from PlentyOfFish, um, no I mean Match; actually, it was eHarmony right?" This is not how you viewed your first conversation with your soul mate would be, right?

When you suffer from online dating anxiety disorder, you typically log on after a great date to see who else has written to you instead of going to sleep with a smile on your face from a fabulous date. It's a condition that many suffer from and don't know how to get out of the downward spiral, other than to unplug and deactivate for a day or two.

If you've recently ended a relationship with someone you've met online, it's more likely than not that you'll be taking a peek at his or her profile to see their online activity. It's natural to be curious, but it's a habit that I urge you to break.

Digital snooping is also on the rise. It brings out the worst in us. At Plenty of Fish, they surveyed over 9,000 of their users between the ages of 20-40 to find out what their holiday dating habits were. POF found that 82 percent of the women were actually checking the Facebook statuses of guys they were dating to see what they were doing when they weren't around. Their survey also found that 26 percent of singles slept with an ex over the holidays, because they just didn't want to be alone and single.

A few years ago, I wrote a post called Recycling an Ex at the Holidays about my own personal experience of being invited to my former Match.com boyfriend's holiday party after having had no contact for six months. While I did attend his company party with him, I made sure there were ground rules put in place; specifically, that we weren't getting back together and were going as friends. I'm happy to report that he's now happily married and realized it was time to move forward with his life and isn't looking back anymore.

While recycling an ex over the holidays is common, the feelings after the holiday party euphoria have worn off, or after the post-sex hormones diminish again, will leave you in a worse place emotionally than if you were spending time with friends or trying to cultivate a new relationship.

It's Peak Season for Online Daters

The good news is that more singles are signing up for dating sites between Thanksgiving and Valentine's Day. Match.com reports they see a jump of about 25-30 percent in new members signing up between Christmas and Valentine's Day.

It's peak season in the internet dating business, which typically coincides with holiday breakup season. It's the perfect time to start filling your date card, but how do you coordinate holiday dating without feeling overwhelmed and a bit anxious? My biggest recommendation is to look at online dating and flirting on Facebook as ways to expand your social circle. Think of it as meeting new friends at the holidays and enjoying the company of someone you like, not necessarily someone you're about to fall in love with.

Online Love is a year-round event

People meet online and fall in love all year long. I know a couple that met online on Christmas Eve on Facebook who are now engaged. I know of another couple that met online on eHarmony on Valentine's Day who are now happily married. Just yesterday I learned of a couple fell in love at first sight that met on Match. She hadn't had a serious relationship in over 10 years and now they're smitten. Yes online dating is a numbers game. You'll be juggling dates, canceling dates, rescheduling dates, it's exhausting, but it can be so very rewarding as it has been for millions of others.

Stop Stalking Your Ex

I'm here to tell you that being single on the holidays is fine. The time will pass. Stalking an ex online or on Facebook isn't fine. You'll feel anxious if you see him or her logging on looking for your replacement. You'll feel anxious if you don't see him or her logging on assuming you've been replaced. Your heart will fall to the floor when they delete their profile, assuming they've ridden off into the sunset with someone else. You'll be burning up the phone lines if you see a Facebook relationship status change or a photo posted with someone else.

You really don't know what's going on in your ex's mind and it doesn't matter. All you can control is how you feel about it and what you'd like to do to add more positive people in your life. He or she is an ex for a reason, so please knock them off their pedestal.

Fall in love with you

At the holidays, please take a deep breath; log on to fill your date card if and when it feels good to you, not because you're feeling lonely. If you need to take a break from dating, that's fine. There are no rules, other than to fall in love with yourself first. It's the best place to be to start any new relationship.

Wishing you much love and joy in cyberspace this holiday season, or wherever you may roam.

Julie Spira is an online dating expert and was a very early adopter of Internet dating. She's the author of The Perils of Cyber-Dating: Confessions of a Hopeful Romantic Looking for Love Online and creates Irresistible Profiles for singles on the dating scene. For online dating advice follow @JulieSpira on Twitter and sign up for the free Weekly Flirt newsletter
Lindsay Lohan Shines In A Gold Glittering Dress At Art Basel Event (Fri, 06 Dec 2013 10:16:54 -0500)
It looks like the Florida sunshine is doing Lindsay Lohan good because the actress looked gorgeous Thursday night when she stepped out for an Art Basel event.

Lohan wore a glittering, gold dress for the Art Basel: Art of Bullfighting event in Miami Dec. 5. The 27-year-old looked beautiful in the metallic frock, which she paired with a chain link necklace and some platform Christian Louboutin heels. She wore a pop of red lipstick and styled her long hair in loose waves.

And it certainly seems like she's enjoying her time in Florida. Earlier in the day, LiLo posted a swimsuit selfie. Wednesday night she hung out with Kim Kardashian and Kanye West at the Fontainebleau's LIV nightlcub.

Lohan is currently living in New York City, in a $16,000-per-month apartment in Soho, while filming the docu-series for Oprah Winfrey's network, TMZ reports. The pad is reportedly being paid for by the media mogul. How to Think Like, and Shop for, Teens (Fri, 06 Dec 2013 10:06:41 -0500)
There may be no trickier age group to shop for than teenagers. It's been, um, a minute since I last was one, but not long enough that I don't remember how hard my parents tried to pick out the right gifts for me or how often they got it wrong! Teenagers are incredible picky and constantly changing. If they don't like something you gift them, they'll let you know, if not by their words, then by the lack of enthusiasm on their faces. So, to avoid getting it all wrong, follow these tips below on how to tap into the teen psyche and get a gift that won't embarrass them or you!

If you like it, put it back.
Often, with gifts, we have a tendency to get what we want ourselves. This generally doesn't work with adults, but this really doesn't work with teens. This isn't to say that you can't have anything in common with a teenager, but when shopping for one, make sure to take yourself out of the equation. Try to channel them and their interests. Do they play sports? Are they in drama club? Are they holed up in their room reading comic books every time you see them?

Don't try to be "cool."
Teenagers can spot this from miles away and it's anathema to them. Being cool is very specific and personal, and if you try to get something you think is hip or of the moment, chances are you'll get it wrong. Just because "all the kids are doing it these days," doesn't mean your particular teen adheres to that set of "cool" guidelines. Get specific. Ask their parents for names of authors they like, and bands they listen to.

When in doubt, ask an expert.
There's no better expert on teens than teens themselves. If you're not sure what to get them, and their parents aren't very helpful, go straight to the source. Ask them! No one is shy when it comes to being showered with gifts, not even teens.

Make sure to include a gift receipt.
Even if you do all your homework and you're on the right track to finding the perfect gift, something can still go wrong. Maybe someone else got them their favorite author's new book too, or maybe you came really close to understanding their style but not close enough. Include a gift receipt and don't get offended if they use it. Be happy they picked out a gift they like rather than one that will just sit in their closet collecting dust.

When all else fails, go gift certificate.
Nailing a gift that's the exact right combination of thoughtful, personal, and creative is the dream. But if you're truly stumped, remember, the gift certificate is always your friend. Find out what stores your teen shops at, which movie theater they go to, or if they prefer music, coffee, or books.

When it comes to shopping for teens, no one said it would be a breeze. But hopefully these tips help take the sting out of the job this holiday season and beyond. Happy teen gifting!


______
Dana Holmes is a lifestyle, gift and etiquette expert who acts as Editor in Chief of Gifts.com and the Gift Rap Blog. She has been working in trend forecasting and gift recommendations for the past decade. Dana loves making occasions special with her unique gift ideas, tips and touches. She has been interviewed by the New York Times, Associated Press, Fox & Friends, TODAY in NY and many more.
Perfect Gifts for Your Favorite Travelers (Fri, 06 Dec 2013 10:04:02 -0500)
As a travel writer, and a freelance travel gift guide curator for newspapers and magazines, I try out lots of gear, clothing and accessories. I toss the ungainly, impractical, and downright ugly. I usually eschew expensive labels. I just want something to take along that will keep me warm, keep me cool, keep me safe, and make my trip easy and stylish. That's it.

Tried And True Travel Gifts, Clothing, Accessories and Tours

Lately, I've discovered Exofficio outer and inner-wear, and it's become my go-to company for lightweight deep-winter jackets, bug-free soft as baby's breath hoodies and some of the sexiest lace drip-dry panties ever to grace a hotel bathroom laundry line. For more on this, as well as intel about a humorous "faux" haute couture tote for your teacup dog, a great idea for the NYC history buff who has everything, the perfect travel pants for high-crime cities, and a wardrobe extender that adds class to your cleavage, read on. Your Christmas/Hanukah list might just begin and end here: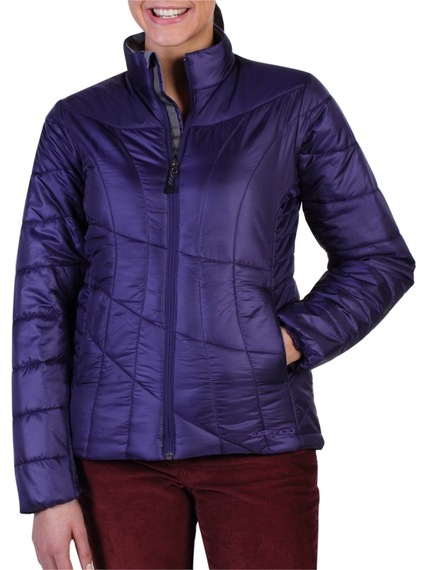 For Your Sexy Adventuress

Three layers of sexy for the adventurous woman in your life starting with the sleek, soft and toasty insulated Storm Logic Jacket ($150) which keeps everything you need (sunglasses, phone, wallet) in interior hidden pockets when on tour or hike, and stuffs into itself to create a cloud-like pillow for plane and car. Bugs-Away Lumen Hoody ($60) -- thin and soft for summer backwoods or layered under warmer clothes on cool Spring or Fall evenings -- is as fashionable as Insect Repellent gets. Lacy Travel Panties ($16.50) classes up those normally Communist-era drip-dry briefs, adding lace and je ne sais quoi for your frisky camper. All together, this ensemble takes up barely any space in a suitcase or backpack.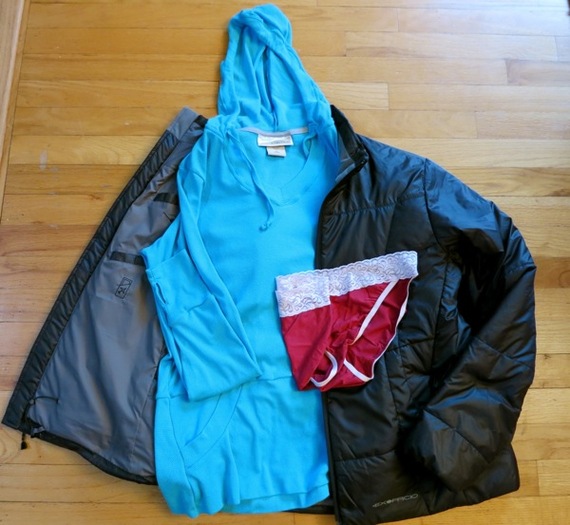 For Your Daring Dude

Pick Pocket Proof Pants, P Cubed Travel Pants

Shorts $85; Pants $110. These pants have stood the test of Mumbai, Buenos Aires and other high theft cities. Garnering fans around the world, Pick Pocket Proof Pants, sporting double zipper pockets with button tabs, are impervious to pilfering rascals and are easy to wear and rugged to boot.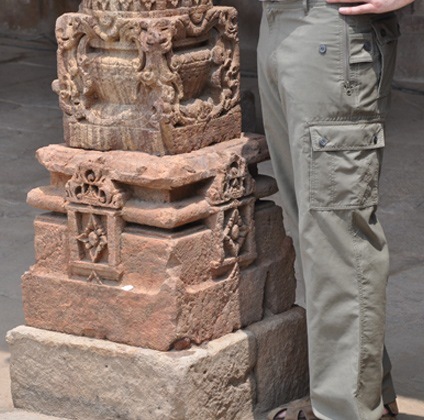 For The Stylish Gal Who Can't Stand to Be Separated From Her Pup

Bark 'N Bag

The coveted Hermes Birkin Bag starts at $10,000 and goes up from there, but you can carry your pooch in a Bark n Bag for just a drop in that bucket. $40 will get you a look-a-like tote for your teacup doggie with fashionable "Weekenders" starting at $60 for larger pets. Styles include "Embossed Croco" and "Embossed Ostrich" just like the real deal.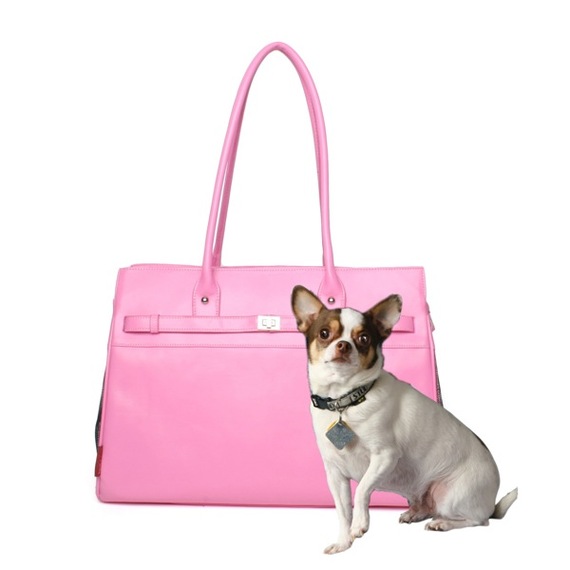 For the New Yorker Who Has Everything

AIA Architect Tour/ NYC; $ 64 or $76 pp. for 3+ hour tour.





There's nothing like studying the chronology of Manhattan's landmark buildings, bridges and neighborhoods from the water while being pampered on a classic 1920's wooden yacht with drinks (the first is complementary) and appetizers. You'll circumnavigate Manhattan while learning about visionaries and marvelous feats of engineering. Narrated by an in-the-know architect, this is one of the most popular tours of NYC and the perfect gift for your New York City history buff.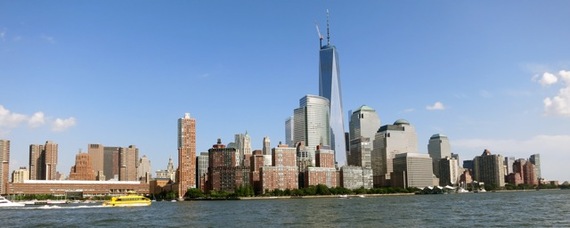 Wardrobe Expander You Can Fit In Your Purse

CamiBand

Can a woman expand her wardrobe with a simple, stretchy band of Spandex or lace? Absolutely. This clever accessory can broaden a travel wardrobe while taking up practically no space in the suitcase. Say you're traveling to a country where showing too much skin is frowned upon; these bands can lengthen a too-short shirt or cover up a plunging neckline instantly. And if you need to conceal your bikini-bottom, but not too much, it's a perfect stretchy add-on. $25.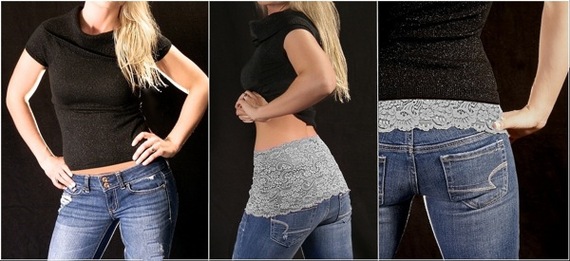 For these and more ideas for travel gifts and stocking stuffers, check out GetawayMavens.com.

Fergie Proves Being A Mom Doesn't Mean Giving Up Your Edgy Beauty Look (Fri, 06 Dec 2013 10:02:40 -0500)

When most women become mothers, they usually give up a lot to focus on their little loved ones. Whether it's fewer salon blowouts or mani-pedi appointments, babies often trump beauty... but not for new mom Fergie.

The pop star, who gave birth to her first child, Axl, with actor Josh Duhamel in late August, is still living the glamorous life. Sporting a more lit-from-within glow and natural-looking makeup, Fergie hasn't let go of her signature stiletto nails.

"I have softened the points a little bit [laughs]," she told us Thursday night at a celebration to benefit AmFAR in partnership with Wet n' Wild and Walgreens.

But from what we saw up close and personal, Fergie's nails are still kind of sharp. And of course, she was sporting a super glitzy manicure in Wet n' Wild Gold Album nail lacquer with Glamorous gold glitter on top. (We wonder how she gets through so many diaper changes without scratching Axl...)

While Fergie admitted that she is "still trying to find her footing and balance it all," her simple beauty advice for new moms is something we all could use. "Just throw on some lip gloss, mascara and go out the door!" she said.

Fergie's Post-Baby Stiletto Nails: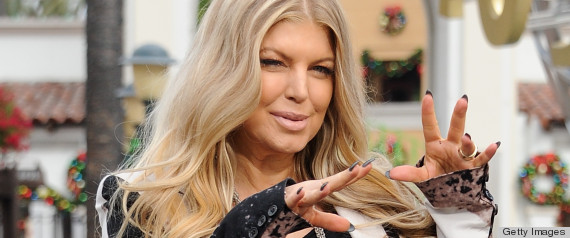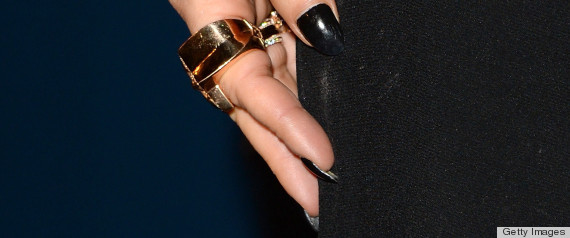 Fergie's Pre-Baby Stiletto Nails: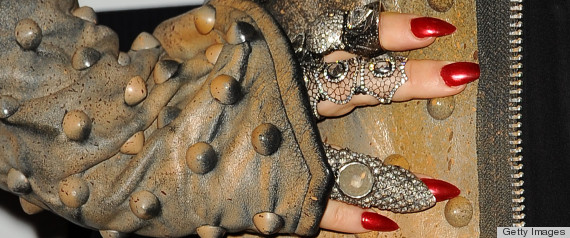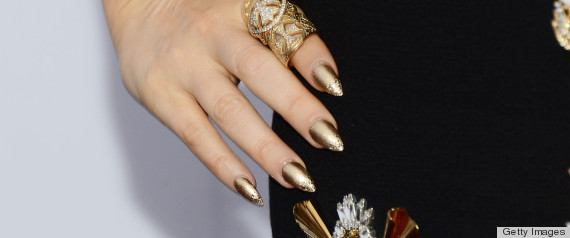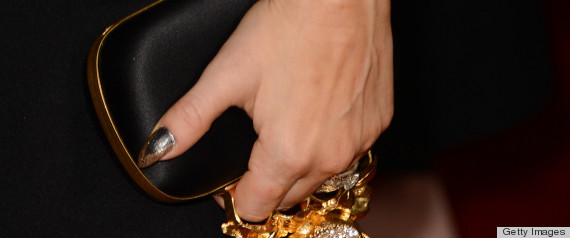 How it all got started:


Want more HuffPost Style beauty content? Check us out on Twitter, Facebook, Tumblr, Pinterest and Instagram. (For everything else check out our main HuffPost Style Twitter, Tumblr, Pinterest and Instagram @HuffPostStyle.)
---
Do you have a beauty story idea or tip? Email us at beautytips@huffingtonpost.com. (PR pitches sent to this address will be ignored.)



Decoding Dress Codes (Fri, 06 Dec 2013 09:46:29 -0500)
We are heading in a new ladylike direction of wearing beautiful clothes again. To quote the Wall Street Journal last week: "The high-low era or making your gown look downtown has had its moment. The new rebellion: wearing your party best from head to toe."

With office party invites and holiday party emails flying in from every direction, the stress of trying to figure out what to wear to an event becomes more stressful and exhausting than the actual event itself.

Razzle dazzle, creative cocktail, festive flair, after-five, after six or after-eight -- you can call it whatever you like, but aside from specifically themed fancy dress parties, all dress codes really fall into just a few simple categories:

Black Tie (Formal, After-Six, After-Eight):

Ladies: Nowadays, this could mean long or short. If you have something long and fabulous, this is the time to bust it out! If you don't own a gown, then cocktail or tea-length is absolutely fine, just dress is up with kick-ass heels and gorgeous accessories.

Gents: Tuxedo with a bow-tie! Don't add a colorful vest -- there is a time and place for these, and that is never. Dark suits are often an alternative if you do not own a tux, but make sure you know your host before assuming this, especially if it is a wedding. Keep in mind that a skinny ties (rather than their chunky friends from the 90s) are the way to go.

Note: White tie is a step up from this. You need to kick it up a notch and go glam. Long gowns and tuxes are a must!

Cocktail (Semi Formal, After Five, Dress your Best):

Ladies: This is where your party dress comes in to play! Something fierce and fabulous! Great silhouettes and striking colors. You could opt for a bold print, or a pastel as well, as long as they are dressy enough. Clutches are the way to go; no big bags here! You could even jazz up your hair and make up by opting for a crown braid or a bold lip.

Gents: Classic and elegant suits with a white shirt, simple tie and dress shoes. Add some flair with a pocket square and cufflinks.

Festive (Holiday Attires, Creative Cocktail, Dress to Impress):

Ladies: Stressful as it might seem, this really is the time to have some fun. Sequin and sparkles are all part of this. Feel free to interpret this in whatever way you fancy -- whilst staying fashion forward. If it all just feels a little forced, try a great pair of earrings and an embellished clutch with a simple cocktail dress.

Gents: It's time to whip out that silly tie you've been eyeing for the last 12 months, or add a fun smoking jacket to your ensemble regular jacket!

Dressy Resort: (Island Chic, Garden Party, Outdoor Wedding):

Ladies: Romantic and floaty. Think flats or wedges, rather than heels (which will be a nightmare in grass or beach sand). It's all about long maxi dresses and gauzy florals.

Gents: Light suits and linen are your key ingredients. Espadrilles or loafers (with no socks) are great footwear options.

Business (Office Appropriate, Business Casual):

Ladies: Whether it's the office party, a business dinner or a client luncheon, err on the side of caution. It's better they think you a little square than inappropriate. Keep the hemlines knee length, and colors somewhat neutral. However, there is no need to be dumpy! Play with silk blouses and high-waisted pencil skirts.

Gents: Navy, gray or pinstriped suits are great for a business attire event. Whatever you would wear to the office, just smarten it up a touch.

Casual: (Casual Chic, Dressy Casual, Smart Casual, Denim and Diamonds, Come as You Are):

Ladies: When the host says: "Come as you are," unless you really do know them incredibly well, they probably don't mean it's ok to rock up in sweat pants and your old UGG boots. This category means comfortable, but chic. Jeans, ballet flats and a cashmere sweater/leather jacket will usually see you through. If you still feel under dressed, add a statement necklace or a fun cocktail ring.

Gents: This really can range from slacks, a button down, sweater and loafers, to jeans, a t-shirt, a cardigan and boots/sneakers for a BBQ. You're going to have to take a cue from your host on this one.

Annoying as it might be to figure out an outfit in between getting to the gym, finishing that report and getting dinner on the table, the host will have gone to a lot more trouble. If you say yes to the invite, you need to play your part and do the best you can to respect the dress code. Trust me, the host will notice and appreciate it more than you realize. It'll also get you more in the mood, make you feel gorgeous and you'll probably end up having a better evening for it!

So, get creative with that festive flair and meet after eight for some serious razzle-dazzling!