Style news and blog articles from The Huffington Post
Hello Kitty Is Not A Cat Because Nothing Makes Sense Anymore (Wed, 27 Aug 2014 19:13:03 -0400)
You might want to sit down for this one.

Sanrio has revealed Hello Kitty -- the supposedly adorable feline character that adorns everything from lunch boxes and toasters to t-shirts and lingerie -- is, in fact, not a cat. We repeat NOT A CAT.

Just what is Hello Kitty, you're asking?

Hello Kitty is a human girl (and a British one at that), Christine R. Yano, the author of "Pink Globalization: Hello Kitty's Trek Across the Pacific," told The Los Angeles Times.

"Hello Kitty is not a cat. She's a cartoon character. She is a little girl. She is a friend. But she is not a cat. She's never depicted on all fours. She walks and sits like a two-legged creature," Yano explained to the Times.

And if you are ready for your mind to be just a little more blown, the character we all know as Hello Kitty is actually Kitty White -- a Scorpio who loves apple pie, and is the daughter of George and Mary White.

"She has a twin sister. She's a perpetual third-grader. She lives outside of London. I could go on. A lot of people don't know the story and a lot don't care," Yano told the paper.




For more on Hello Kitty, head over to the Los Angeles Times.

Kylie Jenner Looks A Lot Like Kim Kardashian Used To Look In This Photo (Wed, 27 Aug 2014 17:24:54 -0400)
"Long hair don't care," Kylie Jenner captioned a recent Instagram photo after getting new hair extensions attached to her head.

But we're not here to talk about that photo, we'd actually like to direct your direct your attention to another Instagram photo she posted on Aug. 26. The snapshot needs your attention because with the combination of her new long raven locks and her perfectly perfected pout, she looks a lot like the way her older sister Kim Kardashian used to look. Back before, well, whatever.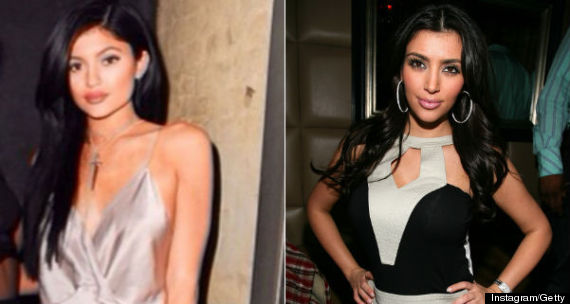 Emma Stone Debuts Short Bob Haircut (Wed, 27 Aug 2014 16:47:40 -0400)
Short and sweet!

Emma Stone switched up her style when she chopped her signature red hair into a short bob on Aug. 27. The 25-year-old debuted the new 'do at the Venice Film Festival premiere of "Birdman," which hits theaters nationwide on Oct. 17.

Stone looked radiant in a dark green, tulle Valentino gown with a plunging neckline: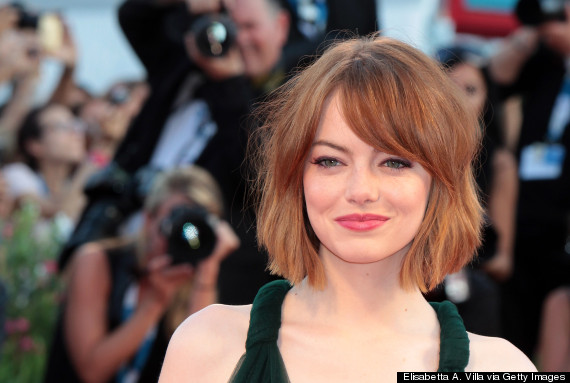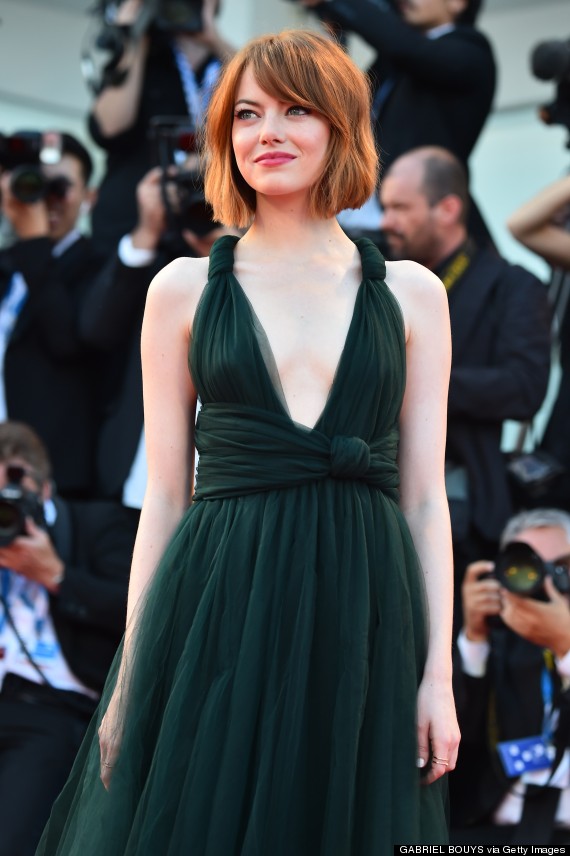 For comparison's sake, Stone had shoulder-length locks at the New York premiere of "Magic in the Moonlight," in July: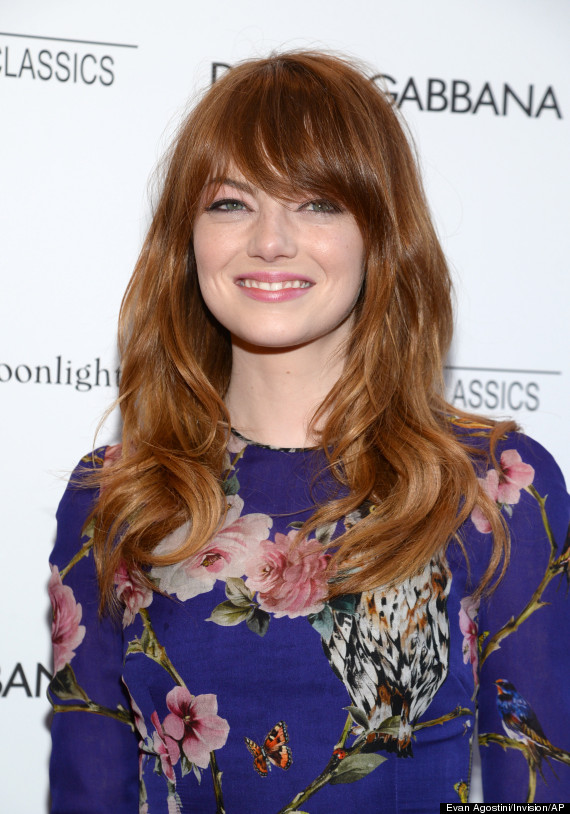 We love the new look!

Barbie Is Instagram's Newest Style Star And We Are Thrilled (Wed, 27 Aug 2014 16:45:24 -0400)
These days, it seems like everyone -- especially people in fashion -- are on Instagram. Now, one of the original style icons has an account of her own.

That's right, Barbie's closet made its social media debut on Wednesday. Her posts already fall in line with similar fashionista accounts, from outfits of the day to accessory call outs.

And if the news isn't enough to get you to follow Barbie, maybe this will: a little birdie (in the form of Elle Magazine) told us she's going to be at New York Fashion Week. So you can go ahead and add her to your accounts to follow, because you know she's getting a front row seat.

Check out some of the adorable photos below. Now all we need is a Ken and Barbie Instagram proposal and our childhood / social media crossover dreams will finally be realized.








The Dangers Of Heavy Backpacks -- And How Kids Can Wear Them Safely (Wed, 27 Aug 2014 16:15:43 -0400)
Between studying, homework and extracurricular activities, going back to school may make kids feel like they have the weight of the world on their shoulders. And sometimes, they literally do. After you pile a lunch, school supplies, binders and textbooks -- which typically weigh 3.5 lbs each -- into your child's backpack, the load he or she is lugging around could be huge ... and potentially dangerous. According to the U.S. Consumer Product Safety Commission, at least 14,000 children are treated for backpack-related injuries every year.

The American Academy of Orthopedic Surgeons recommends that the weight of a backpack should be less than 10-15 percent of a child's body weight, but that isn't always the case. Too often, children don't wear their packs correctly, increasing risk of injury. "Improperly used backpacks may injure muscles and joints and can lead to severe back, neck, and shoulder pain, as well as posture problems," orthopaedic surgeon and AAOS spokesperson Daniel Green, MD, told The Huffington Post. (Though, backpacks will not cause scoliosis, Dr. Green stressed.)

It's easy to spot symptoms of a load that's too hefty for your child, adds Dr. Rob Danoff, an osteopathic family physician. If kids grunt when putting on or taking off the backpack, have red marks on their shoulders from the straps, or if they complain that their shoulders, arms or fingers are "falling asleep," those packs might just be too heavy.

But don't fret, injury is preventable and it is possible for kids to carry backpacks comfortably. First thing's first: Dr. Elise G. Hewitt, president of the American Chiropractic Association's (ACA) Pediatrics Council, recommends shopping at a sporting goods store because employees know how to fit backpacks.

And though kids might object, Dr. Hewitt stresses the importance of using waist straps. "Shoulders are not designed to hang things from," Dr. Hewitt told The Huffington Post, pointing out the reason indigenous people carry things on their heads. By using the strap, the bulk of the weight can be carried on the hip bones, rather than on the shoulders.

This infographic explains exactly what can happen to your kid's body from traveling with all of that extra weight on their backs -- and what can you can do about it.




Infographic by Jan Diehm for The Huffington Post.

Check out our list of recommended backpacks here.


6 Backpacks For Kids That Won't Hurt Their Backs (Wed, 27 Aug 2014 16:14:48 -0400)
Heavy backpacks, especially when worn improperly, can cause kids' backs, neck, or shoulder pain. (More details about that, here).

But if a heavy load is unavoidable, don't worry! Doctors recommend a few shopping guidelines that will help prevent injury:

1. Look for thick shoulder straps (and always use both straps!).

2. Pack heavy things at the bottom and towards the back, close to the body.

3. The backpack should be the length of the torso, ending two inches below the waist.

4. Find a backpack with a waist strap. Dr. Elise G. Hewitt, president of the American Chiropractic Association's (ACA) Pediatrics Council, says using that strap will help distribute the weight onto the hip bones, rather than the shoulders.

While backpacks with waist straps might not be sold at every store -- since they're typically used for athletic purposes -- we've rounded up a few great, safe options:



What 'Undercover Colors' Gets All Wrong About Date Rape (Wed, 27 Aug 2014 14:40:39 -0400)
Thanks to four male college students from North Carolina State University, you may soon be able to add a new accessory to your outfit and tool in combating date rape: nail polish.

A new nail polish called "Undercover Colors" will be able to detect date rape drugs by changing colors in the presence of Rohypnol (roofies) or GHB (G-juice), the two most commonly used date rape drugs. To see if one of these drugs has been slipped in your drink, a woman has to stir the drink with her finger. Throw that in with the rape whistle and pepper spray that your mom gave you freshman year and you've got your back-to-school check list covered.

While I applaud their efforts to prevent sexual assault among college students, after reading their product description, it's pretty clear that these male students know little rape culture and even less about plausible solutions.

Sexual assault doesn't only happen at bars. Analysis by the Washington Post in 2012 show nearly 4,000 allegations of sexual assault on college campus with Penn State University (56), University of Michigan-Ann Arbor (34) and Harvard University (31) topping the charts. About 73 percent of sexual assaults are perpetrated by someone the survivor knows, where women are more likely to feel comfortable and less guarded. Alcohol is just part of the problem. Our friends at Feministing remind us that, while the stats might vary, it's pretty clear that "plain old alcohol is the substance most commonly used in drug-facilitated rape."

While well intentioned, products like "Undercover Colors" actually perpetuate rape culture by placing the burden of safety back onto women.

Let's stop getting distracted by gimmicks like this and talk about real solutions to the growing violence against women. Here are three things college campuses can actually do to help keep all students safe.

1. A little rape-culture competency wouldn't hurt. One of the most devastating aspects of rape culture is the rampant victim blaming. We hear it all the time from victims not being taken seriously when they report sexual assault to their university campus to publicly defending accused rapists while denouncing what their victims say. When violence against women is being trivialized and ignored, none of us are safe. Host an on-campus brown bag lunch to talk about how victim-blaming occurs and talk about what we can do to prevent it.

2. Engage men as part of the solution. Are we having those tough conversations with men, who are more likely to be perpetrators of sexual assault against women, about how to be respectful others boundaries, personal space and what consent really means? Hannah Brancato, co-director of FORCE: Upsetting Rape Culture, a sexual assault prevention group, states that for consent to be part of common practice on college campuses, it needs to be incorporated "in the sexual culture on college campuses." This needs to include both women and men. FORCE launched a college-themed guide for consensual sexual activity. Check out the guide here and use it on your college campus.

3. Accountability, please. Schools currently facing investigation for mishandling sexual assault complaints have listed several possibly policy changes, including changes to their disciplinary proceedings where expulsion becomes a possibility for perpetrators of sexual assault. While such policy changes will put more of the burden on the perpetrator, such disciplinary hearings have led to wildly inappropriate questions for survivors and light punishments for perpetrators found guilty of assault, such as expulsion after graduation (who knew that was even a thing). Policy changes need to not only hold the perpetrators accountable, but the school's handing of these hearings as well.

It's pretty terrible that in 2014, that these kinds of products even need to exist, but the reality is that they do exist. Instead of funneling money into making gadgets that help prevent women from being raped, let's talk about solutions to shifting rape culture where consent, on both sides, is seen as the norm.
The Things to Buy for Yourself Today and Keep For Your Daughter (or Son) Tomorrow (Wed, 27 Aug 2014 12:48:30 -0400)
Sometimes when I'm shopping, I admit that I make a purchase I don't need or shouldn't buy because it's something that I will pass on to my daughter. Some of the favorite items I own are not new, but things that my mom or grandmother passed down to me. I have some beautiful scarves that my grandma brought back from Italy decades ago that she has since gifted to me and are irreplaceable. Many of my favorite jewelry pieces have been cherished family heirlooms in this way. I always think how cool it will be when Gigi's a teen or young woman and she has the same items that were once mine. I know firsthand how special it can be, and how special being given such things can be. It doesn't matter if you're a mom or a dad, or have a daughter or son. Receiving something that meant something to a parent, grandparent or other relative is special. So I sometimes make purchases I don't necessarily need because I know I'll be filling a page in my daughter's memory book. Granted, this might be part of some kind of shopping mind game somewhere within myself, but I love the idea of generations of family holding and sharing such items. The idea of her holding dear these pieces, and someday sharing them with her own children, is one of those visions that melts a mom's heart.

Here's a list of things I've received or bought over the years with the thought that Gigi will take them over as part of her fashion or home collection one day, and cherish them as I have. Some are things I think every girl needs. Some are frivolous but fun and girly, and something special for her to grow into. I've also included ideas for dads, and parents with boys.

1. A favorite handbag -- I received a Chanel bag as a gift. I rarely use it so I can keep it in pristine shape for when it is passed on to my daughter. But any favorite handbag your daughter remembers you carrying would be a great choice to save for him or her. It does not have to be designer. For moms with boys, consider a travel piece instead such as a favorite, well-made carry on suitcase, all-purpose bag or if you're a working mom, business card case. Dads with daughters, don't be afraid to buy a special handbag for her that you tuck away for when she's older. She will love the gesture even if you never carried it yourself!

2. Unusual and fun pieces of jewelry -- I collect jewelry and have over the years received and bought quite a few pieces. Gigi loves to look through the drawers of my jewelry armoire and hear stories of where pieces were found. One day it will be fun for her to wear these pieces and remember the tales of their origin. These items do not have to be expensive! Just things that you yourself as a mom wore and loved, or that may have been gifted to you, etc. Dads can pass cuff links and watches on to their son, but don't be surprised that those who have daughters might also take an interest! Mens watches and other items are always en vogue, and your daughter will love to have a piece you loved. Moms with sons, look for a necklace or pendant that is unisex to give to your son. In Italian culture, a gold horn, cross pendants,and many other items are worn by both men and women.

3. Your own special collector favorites -- I have a thing for solid perfume compacts. Certain fragrance designers create some fun compacts occasionally, but these pieces don't come out often. So when I see something, I like to add it to my collection knowing that she will love to have these quirky little compacts on her vanity one day. For other moms, or dads, whatever trinkets, collectors items or what not you enjoy are perfect. I've heard of parents who collect items from various states, others love natural stones, whatever yours might be. Keep it in mind for passing on to your son or daughter later.

4. Fine jewelry -- Every little girl needs pearls for her wedding day, or some other beautiful piece of fine jewelry -- it does not matter how large or small. My daughter was blessed to get a set that my mom created for her -- I admit I am jealous of how beautiful they are and want to pass along a heirloom family trend in reverse on this item! For boys or girls, any nice, quality or special jewelry piece, watch, etc. that you may have or received can be very special. I know moms who have passed their jewelry items on to their sons' wives when they do not have a daughter, and certainly, pieces can always be gifted with the intent that they be made into a special, custom item if too masculine or feminine for your child.

5. A beautiful vase -- I know it sounds odd, but I have some vases that I use over and over when I get flowers. Gigi has good memories of seeing them displayed and relates them to memories of holidays, birthdays or other special occasions that call for flowers . She will long cherish using one of these great vases when she gets flowers of her own. If vases aren't your thing, or you don't think your child would want to receive something of this nature, any decor item that has a value to you can be a keepsake he or she will someday recall family memories from in their own home.

6. A special blanket -- I'm kind of obsessed with blankets and have amassed a collection over the years. So when Gigi was a baby, you can imagine this has only grown. When she grew, I couldn't part with her blankets, so I took the bundle to a local quilting store and had them made into a large quilt with all of the pieces. It has a special patch with a little poem about the blankets. She absolutely adores this item, and so do I. It will be a blanket she keeps for a lifetime, hands down to her own child some day, or even inspires her to use her baby's blankets for a quilt as well. Even something that wasn't intended for your child during his or her infancy can be special and cherished later on.

7. Fun, quirky fashion pieces -- Occasionally I see an item in the store that I think is gorgeous, but truly impractical. This is when my 'hmm, Gigl will love this' theory comes into play. I have some unusual hats, a shawl of faux fur trimmed in animal print, some great metallic scarves, sparkling beaded headpieces and other items. Yep, they sound unnecessary, but what fun she will have when she pulls these out in 15 years and adds them to an outfit! They'll be filled with fun stories of when her mom bought them, the various stage of life she was in at the time and how she loves it. For a son, sports items, cool t-shirts, interesting baseball and other hats can be just as beloved.

8. A gorgeous, awesome frame -- Look for something special and unique, and if you have to, splurge a little on it. Pick it out together with your son or daughter and put a favorite picture of the two of you together in it. When Gigi's a big girl, that frame and picture we picked together will be priceless, and this goes for your kids, too! You can tuck a little handwritten note behind the picture and backing with the date, special words, or a message so that when he or she has it years later they will always be fond of it.
Brides Should Take A Cue From Lauren Conrad When It Comes To Bridesmaids Dresses (Wed, 27 Aug 2014 12:35:21 -0400)
Lauren Conrad might be a lot of things, but a "bridezilla" is not one of them.

The reality star graces the fall 2014 cover for Martha Stewart Weddings magazine alongside three of her nine bridesmaids. In the issue, she dishes out the details about her bridal party.

"My jewelry team at Kohl's made me necklaces. We found this little diamond ring piece that looks just like my ring, so I did rose gold necklaces for everybody and then sent it with a will-you-be-my-bridesmaid' card," Conrad told the mag about how she asked the nine women to be a part of her special day.

When it comes to being a bridesmaid, the dress can be the worst part. But when the bride-to-be is Conrad -- who just launched a bridesmaids collection for her Paper Crown line -- it's safe to say the ladies are in good hands.

"I sent them all the different shapes and let them pick from two colors. I don't mind if there are a few girls in the same dress, or if people are all in different ones. It's too difficult to take a group of girls and put them in the same color and silhouette; everyone has their own style," she revealed.

She's also letting them pick their own hairstyles. "I'm letting the girls do whatever they want. Again, I think that weddings are about celebrating, and you want everyone to feel comfortable, so I think it's about whatever is going to make them feel pretty. Understated is always best, so I think trying to go more classic is always a nice choice because you don't want anybody to stand out in a negative way."

Conrad and fiance William Tell got engaged last October. InTouch previously reported their wedding date is set for this fall.

Read Conrad's full interview in the fall 2014 issue of Martha Stewart Weddings.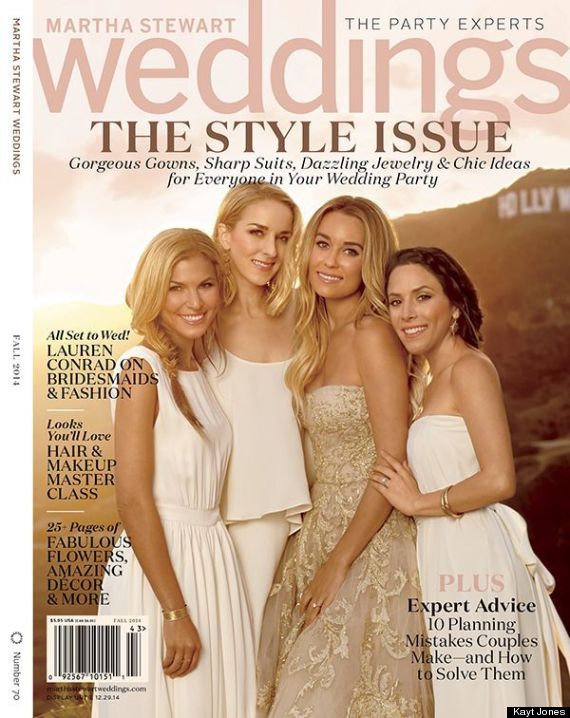 Demi Lovato Opens Up About Body Image In An Inspiring Instagram Post (Wed, 27 Aug 2014 12:15:46 -0400)
In the wake of this year's MTV Video Music Awards, Demi Lovato took to Instagram to share an inspiring message about body struggles.

On Monday, Aug. 25, the star posted a side-by-side image of four of her recent VMA outfits with an accompanying note:



"This picture makes me feel so many mixed emotions.. I remember the day I wore the dress in the very first picture. I remember asking for spanx to flatten my stomach because I use to feel so heavy and 'fat,'" the star wrote. "Now looking at this picture, you can clearly see my hip bones. It makes me sad because I wasted so many years ashamed of my body when I could've been living the happy and healthy life I live today."

"It TRULY just goes to show you that your perceptions can lie to you," she continued. "OR they can make you learn to enjoy life. Fortunately looking at the picture of myself in the red dress yesterday, I not only feel so grateful for the love and support I've had from fans, friends and family, but... I also feel.. beautiful. I'm so excited to live my life the way I deserve to and to the complete fullest. Thank you guys once again.. I'm so thankful for my Lovatics. I love you... And never forget that staying strong is worth it."

Lovato attended treatment for eating disorders and cutting back in 2010, and has since become one of the most outspoken celebrity advocates for changing the way we think and talk about bodies in our culture.

"Most models are thinner than 98 percent of Americans," she tweeted in 2012 in support of National Eating Disorders Awareness Week. "Instead of trying to change our bodies, how about we try to change our culture?"
This Is Not Your Grandmother's Afternoon Tea (Wed, 27 Aug 2014 11:40:52 -0400)
Afternoon tea is an age-old British tradition and, although it's always good, I felt it was pretty much the same almost everywhere I visited during a recent vacation in London.

And then I walked into the eye-popping candy-colored parlor at the Berkeley Hotel in Knightsbridge, where the Pret-a-Portea is a fashionista's - and a foodie's - dream come true.

Inspired by the season's most sophisticated runway fashions, all the pastries and confections are designed after specific looks. They are truly works of art themselves.

I was so delighted by the whole experience, I knew I had to talk to Head Pastry Chef Mourad Khiat. And that was before I received the adorable party favor paper handbag filled with more goodies to go.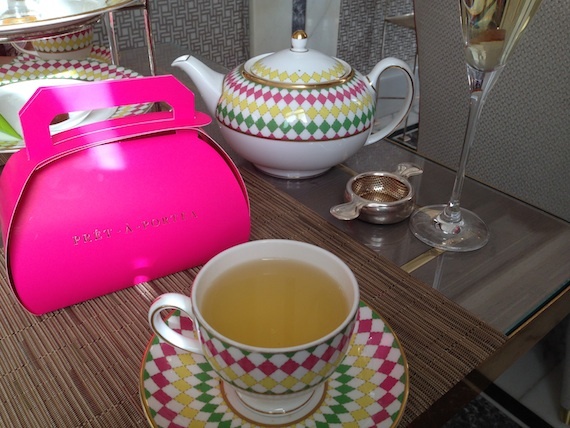 Honestly, it would be worth a trip to London twice a year just for the Pret-a-Portea.

Lois Alter Mark: I have been to many afternoon teas but I have to say none of them compares to The Berkeley's Pret-a-Portea. It is so innovative and really special. How did the idea come about?

Mourad Khiat: Thank you! Our team has worked very hard to create a truly unique experience for guests. We wanted to add a creative twist to the classic elements of traditional English afternoon tea and offer a one-of-a-kind, unforgettable amenity that guests would talk about long after their stay at the hotel.

LAM: I understand you actually attend the London Fashion Week shows for inspiration. How do you decide which pieces you will include?

MK: When imagining our new collections and seeing new fashions I take particular notice of the shape, patterns, color and any signature design elements found in the collection. The pieces that are showcased in the Pret-a-Portea are the ones that are visually exciting. This can mean a three dimensional handbag made of chocolate, or a striking cocktail dress reimagined as a colorful cookie.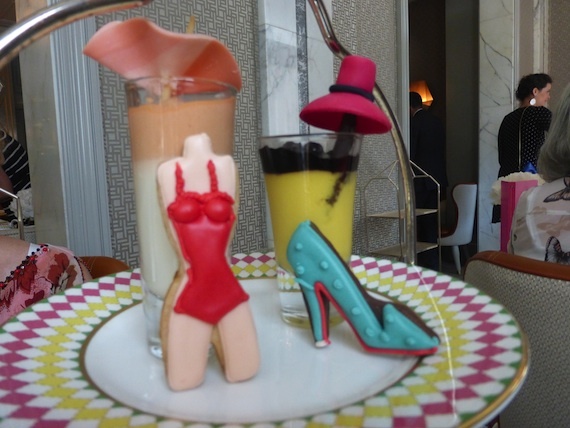 LAM: Tell us about some of the pieces in the current collection, and how you've transformed fashion into food.

MK: This season's collection includes everything from an Alberta Ferreti ballerina-inspired skirt to a Dsquared strapless dress, and it was largely inspired by the grids, triangles and concentric circles seen on the season's catwalk. When transforming fashion into edible treats, our team carefully selects the ingredients and form in which the designs will best be represented. For example, a biscuit with fresh, colorful icing allowed us to accurately portray the Louboutin Pigalle Spike heel, while a miniature chocolate creation with exquisite detail was the ideal medium for this season's Miu Miu tote bag. Pret-a-Portea is about the whole experience: the taste, the presentation and the texture.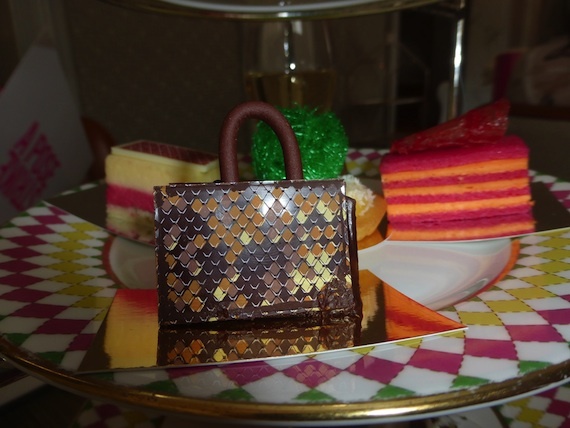 LAM: That Miu Miu handbag is so gorgeous, I felt terrible eating it - but, of course, I did and it was delicious. Do you have any personal favorites?

MK: Throughout the years our collections have featured designs by Prada, Yves Saint Laurent, Hermes, Valentino and Louis Vuitton, among many others. It is difficult to select a favorite because they are all so different, and we poured a lot of thought and care into each of their designs and execution. We recently featured Burberry's signature trench coat, which was a fun one for us to make given it's such an iconic British design.

LAM: What are some of the biggest challenges in turning the runway styles into pastries? Are there fashions you wish you could use but are just too difficult?

MK: I think the biggest challenge is translating the runway design into something that is edible. Pret-a-Portea is meant to be an enjoyable experience, but we do want there to be a genuine crossover from the runway to The Berkeley.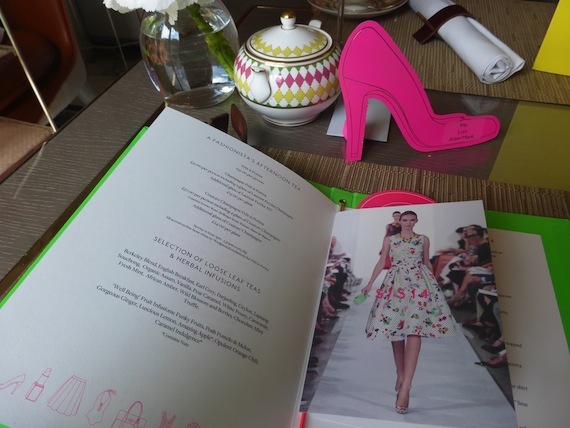 LAM: Is it hard to look at clothes now without imagining them as confections?

MK: It can be! Sometimes I find myself automatically reimagining different styles and trends as biscuits and sponge cake. It is fun to think about future Pret-a-Portea collections; the possibility for creativity is endless.

LAM: What have the fashion designers' reactions been?

MK: Designers' reactions have been really positive! I think they enjoy seeing their stylish creations take form as delicious treats.

LAM: I can see you doing a movie fashion-themed Pret-a-Portea around the Academy Awards season. Is there an iconic costume or look you'd love to make edible?

MK: There are so many iconic costumes I would love to recreate. Perhaps something really from an old black and white film. It could be a fun departure from today's trends.

LAM: I hope London Fashion Week will honor you next time with a line of stylish baker fashions. What would that look like?

MK: Something clean cut and comfortable. I spend a lot of time in the kitchen, so anything that is easy to wear.

Join Lois on her adventures around the world at Midlife at the Oasis and on Twitter.


Emmy's Usher Fall Cuts and Colors (Wed, 27 Aug 2014 11:40:03 -0400)

By Gina Rivera, Phenix Salon Suites Founder, President & Hair Expert

Softer more subtle cuts were trending at the Emmys in Los Angeles while color continued its move toward fall with deeper reds, more natural, darker blondes and dark, dark browns and blacks with lots of sophisticated shine.

Timeless bobs and pixies were particularly popular with other styles taking cues from vintage looks, the 60s and 70s, in particular. The hair on stage at the Emmys was as beautiful as ever, but subtle and understated, following closely on a trend we saw at the MTV Music Video Awards the night before, leaving room for the eyes and smiles to really beam. We saw the faces of the presenters and honorees, beautifully framed and accented but not overwhelmed.

The Emmy's, of course, are one of those epic events that everyone watches for what's next in style. The pixie is clearly trending strong. Donning beautiful, soft pixies were Halle Berry, Lena Headey from Game of Thrones and Kaley Cuoco-Sweeting of The Big Bang Theory.

We saw a lot of longer bobs, but hair was up, too. Sarah Hyland of Modern Family had hers in an elegant bun with soft light brown tones and caramel highlights. Hayden Panettiere of Nashville gathered hers in a soft, romantic chignon.

Kate Mara of House of Cards wore a sophisticated part down the middle while Julia Roberts of The Normal Heart donned a long golden bob with wavy locks. Again, this was so beautiful and simple with lovely highlights that gently framed her familiar features that we love so much.

Lots of styles took cues from the recent past. Gwen Stefani was at the Emmys, having updated her hair from the 40s-50s look the night before at the MTV Music Video Awards. For the top television honors at the Emmys she had her hair neatly parted down the center and uniformly combed in a classic 60s style.

Heidi Klum of Project Runway also had her hair parted down the center (we're seeing a lot more of this on the red carpets) with her beautiful blonde locks curled from the mid-shaft down with a natural, polished look.

Men, too, took cues from the recent past... incredibly handsome, they wore their hair in short, polished, sophisticated cuts parted on the side, notably Bryan Cranston of Breaking Bad and Colin Hanks of Fargo.

Colors are trending dark again, the reds among them. Debra Messing had her stunning red tresses parted deep on the side, softly curled and pulled elegantly over one shoulder with something of a '20s flare. This was popular last night, having the curls in a long bob draped just over the shoulder, so we can happily expect to see more of this in the fall. Julia Louis-Dreyfus also had curls draped over a shoulder but in a rich black tone that was trending strong at the MTV Music Video Awards the night before.

Every evening has exceptions, I'm happy to say. Kelly Osbourne of Fashion Police was a wonderful example at the Emmys, with her hair in soft lavender mohawk, evidence that that plenty of room exists for standout fun on the red carpet.

Sporty Over 40: Sneakers to Wear With Fall Fashion at Any Age (Wed, 27 Aug 2014 11:32:22 -0400)

My 39nineteen co-blogger Melanie styled me in my favorite shoes-my sneakers-and gave me lots of ways to wear them before she left for fashion design school.

I miss my partner in fashion, but I hope you enjoy our last collaboration before she took off for Parsons and her internship at Derek Lam!

The most copied sneaker this fall-the Adidas Stan Smith, done by Saint Laurent and Isabel Marant.  Mel styled it here with pops of color for a great transition look:



Maison Martin Margiela sneakers (on SALE HERE) with shearling:
Vans high tops for work or play.  Built for speed:)
The sneaker heel by DKNY.  Seriously the most comfortable heels ever made!
The Golden Goose sparkle sneaker (sold out.  Similar here) with the print dress over print pants trend:
The silver slip-on and vintage cozy jacket:
The tweed trainer for getting serious at work (these by ZARA):
And last but not least, the classic white Converse with a preppy look from Rodebjer:
6 Things That Are Keeping You From Perfect Skin (Wed, 27 Aug 2014 11:02:40 -0400)
Perfect skin. It's what we all want, and it's the reason so many of us spend countless hours (and dollars) trying to figure out which skin-care products to buy. Luckily, I've got the surprising scoop on what you're doing -- and not doing -- that's likely keeping your complexion from looking its best.


Fabulous In Your 40s (Wed, 27 Aug 2014 10:50:03 -0400)
It's that time of year again. The September issue of Vogue is out -- all 856 pages of glossy fabulousness. And just like every year, I will happily devour every one of them, trying to shape, in my mind, my grown up look.

At 44 -- which technically is well into being considered a grown up -- I have yet to master the look I aspire to. My style of dressing consists of what is basically a series of uniforms. Designer jeans with a white button down shirt or tee, silk shirts and slim black pants, form fitting dresses (preferably RVN and Karen Millen) and causal print pants with a tank top or a maxi dress for weekends.

Pretty much everything except my Pilates clothes (and even those -- black Lululemon or Phat Budha leggings and a Gap tank top) is all I wear. Now mind you, my closet is very full and I am often giving clothes away to my best friends Kim and Virginia and my daughter, Lexi, but then I seem to buy exactly the same things over again. And while I love my "uniforms" it would be nice to branch out a bit.

Being in your 40s is an interesting time for dressing. You are still young enough to be somewhat experimental but can no longer get away with every trend that comes along. You can go the sophisticated look a la Vogue, you can go the more casual, yet in it's own way elegant, jean look a la Jennifer Aniston and then there is everything in between from busy executive, pampered housewife to sports lover. All the way to soccer mom in relaxed capri jeans and comfortable shoes -- a look which absolutely terrifies me. These are obviously all clichés but you get the point. There are some people, though, who just seem to always get it right like my friend Ana Bogusky. Check out her blog Mrs. American Made to see for yourself and get inspired.

I interview many women on my show Perspectives, who look fabulous and are truly comfortable with themselves and in their own skin.

Here are some of the top tips I have culled from my guests, friends and of course, Vogue:

10 Keys To Looking Fabulous In Your 40s

1. Dress for the body you actually have, not the one you wish you had. I once read an article about Olatz Schnabel. She said that by 35, a woman should understand her body and dress to compliment it. I've always remembered that and agree completely.

2. Do not try to follow every trend. Or almost any trend.

3. Don't shop in the juniors department. You're done there. Trust me.

4. Invest in quality clothes and shoes. If your feet hurt it's hard to feel great no matter how good you look. Make sure to mix in some fun lower-end things to liven things up.

5. Wear things that fit. Too tight does not make you look thinner and too short is rarely flattering.

6. Be realistic about what looks good on you -- and don't feel bad about what doesn't work. You are old enough to know that as lovely as everyone looks in Vogue -- they are all airbrushed and many are really hungry!

7. Exercise, eat well and drink plenty of water. Your clothes will fit better and you will feel better wearing them.

8. Spend time and money on your skin and hair. After 40, it's even more important.

9. Tailor everything. Clothes look better when they fit you perfectly.

10. Know that there is nothing as beautiful as confidence. Yes, yes, corny -- but so true. Confidence is mesmerizing.

I love how my friend Tanya puts it: "As I age gracefully or not depending on how you look at it, I am profoundly comfortable in my own skin. With all of my inadequacies and shortcomings. I no longer have a need to try and package myself into something that I am not." For Tanya her appearance is less about clothes and as it turns out it meant getting a tattoo recently. At 47.

As for me, tomorrow I am cutting my hair. A lot. Although it may be slightly diminished as it currently seems to be the trend, but I don't think I will have long hair again. It just does not feel right for me anymore. Although luckily it's just hair and it can grow if I change my mind. Which is something you can do in your 40s. So here is to new haircuts, dressing well, feeling fabulous and having great friends to inspire you every step of the way.