If groomsmen acted like bridesmaids, this is what it would look like -- or rather, what guys think it would look like.

In BuzzFeed's new video posted Wednesday, the groomsmen get all "Say Yes To The Dress"-emotional when the perfect tux is chosen, celebrate the bachelor party with vagina straws and vagina cake and face the inevitable power struggle between the best man and the slighted bestie who thought he was going to be the groom's pick. Watch it above.

Keep in touch! Check out HuffPost Weddings on Facebook, Twitter and Pinterest. Sign up for our newsletter here.


It's that time of the year, folks. Think you've got an awesome Halloween costume? Well, show us what you got!

HuffPost Comedy is back with our annual round up of the best Halloween costumes of the year. We've kicked things off with some of the best costumes the Internet has to offer, but we need you to complete the list!

Scroll down for our favorites so far and submit your funny, clever or topical costumes by hitting the button below and we may feature your photo in this roundup!


10 Love Notes That Perfectly Sum Up The Modern Relationship (Thu, 30 Oct 2014 17:02:28 -0400)
Romance today doesn't quite look like the kind of thing you read in John Keats' love letters or Shakespeare's sonnets -- far from it, actually.

Couples these days use profanity, less-than-subtle nods to their partner's sexual anatomy and occasionally even the word "poop" to express their affection for one another. Below are 10 funny love notes that more accurately represent the modern relationship.

A sweet gift and a sexy promise:


Embedded via Imgur user DelightfulAsFuck

A compliment she'll never get sick of hearing:


Embedded via Imgur user manlymann

A compliment he'll never get sick of hearing:


Embedded via Imgur user JoshG90

A strong message best conveyed in fridge magnets:


Embedded via Imgur user cdipping

A little bathroom romance:


Credit: Ben Greenleaf

And a little more:


Embedded via Imgur user vyporx

A lunchbox note with a hopeful message:


Embedded via Imgur user Katoptrizo

And one with a much-needed reminder:


Embedded via Imgur user designersquirrel

A terrifying, but thoughtful warning:


Embedded via Imgur user db05820p

A contract with a strict "no boob shaking" clause:


Embedded via Imgur user rt79w

H/T Reddit

Keep in touch! Check out HuffPost Weddings on Facebook, Twitter and Pinterest. Sign up for our newsletter here.

Halloween Costumes for Singles: Sugar or Spice? (Thu, 30 Oct 2014 15:46:01 -0400)

With Halloween approaching, singles everywhere need to ramp up their mingling skills and accept invitations to parties knowing that they'll have extra permission to flirt this week.

If you're not sure what to wear to capture his or her eye, online dating site PlentyOfFish can help you with your decision. POF polled their users to find out what they'll be wearing this Halloween and which costumes will draw you like a magnet to someone you'd like to meet.



What will the women be wearing?



According to POFs poll, 62% of women will be dressed will be wearing costumes of strong alpha female characters, as compared to 38% who will be dressed with a sweeter more submissive costume.



The top 3 costumes this year for the ladies include:



Of the top three costumes for 2014, strong female characters hold two spots, with one in five single women dressing up as fearsome hunter, Katniss Everdeen from the Hunger Games. Rounding out the top costumes are the demure Sleeping Beauty and the bold Katy Perry.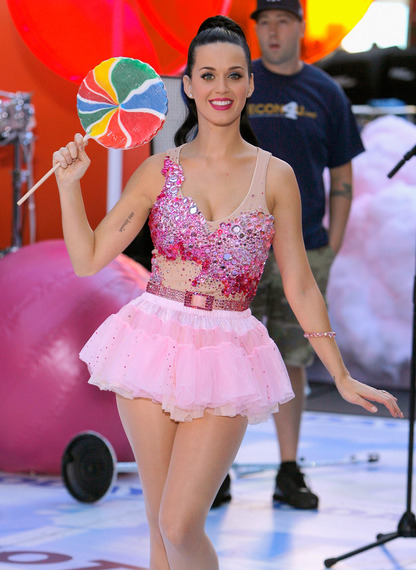 Photo credit: POF



1. Katniss from the Hunger Games - 20%
2. Sleeping Beauty - 16%
3. Katy Perry - 15%



Who will the men be attracted to?



Although 63% of the men polled say said they were attracted to sweet and submissive women, they still chose the strong characters of Katniss as their top choice for a favorite costume for the ladies.



What will the men be wearing this year?



Say goodbye to bad boys and hello to the good guys. The POF poll showed that 67% of the single men will be dressed as the nice-guy superhero this Halloween.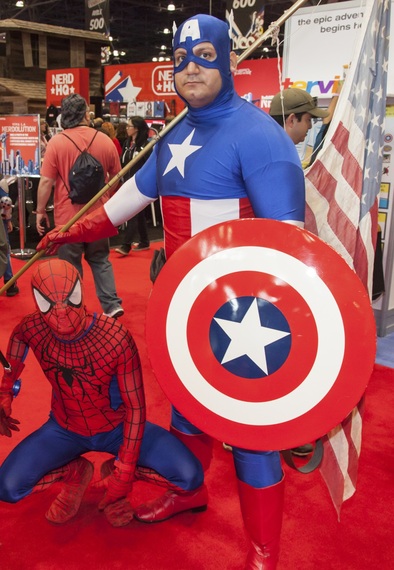 Photo credit: POF



Of this year's top 3 costumes, the good guy holds 2 spots, with the handsome Captain America leading the charge.

1. Captain America - 35%
2. Walter White from Breaking Bad - 17%
3. Jon Snow from Game of Thrones - 16%

Of the single women polled, 38% said they were attracted to Captain America, with only 4% going for the villainous King Joffrey from Game of Thrones.

What will you be wearing this Halloween?

Julie Spira is America's Top Online Dating Expert and Digital Matchmaker. She was an early adopter of Internet dating and is the founder of CyberDatingExpert.com. She creates Irresistible Profiles for singles on the dating scene. For more dating advice follow @JulieSpira on Twitter, sign up for the free Weekly Flirt newsletter and like her at Facebook.com/CyberDatingExpert.

#Made in India: Go Kolhapuri (Thu, 30 Oct 2014 15:17:31 -0400)

We have a come long way since the invention of shoes, from walking barefoot until today. The journey of shoes is an interesting one.

There have been many quotes on shoes, and lessons that have come out from owning shoes. For example, "I used to complain for not having shoes, until I saw a man without feet." The gravity of the quote asks us to be grateful for all that we have. Another quote that comes to mind suggests, "Right shoes can help you conquer the world." I am sure Alexander the Great or Napoleon would definitely agree with this one. Still another states, anyone who "owns good shoes is not ugly." This quote doesn't connect well with me. It is like saying, having red bull gives you wings (fact #1: no, it doesn't), or angels fall because of the axe effect (fact #2: no, they don't).

These days' what kind of shoes you wear tells all. They speak your journey, your personality, where you come from and where you aspire to go. Today if you wear Adidas, Nike, Reebok or similar brands, you are tagged as a sporty person, someone who is always running on the treadmill, takes part in marathons, and pumps iron. Hushpuppies, Rieker, Sanita, Rockport, hint that you prefer comfort and style. Jimmy Choos, Prada, Chanel, Manolo Blahnik, and others give an impression that one is very glamorous, ultra rich and diva like. Wearing Toms Shoes or similar indicates that you care for a just world.

If Cinderella was a real person, I bet she would choose Nike to do household chores, Rieker for her office work, Tom shoes for fund raising events and probably Manolo Blahniks for extravagant, star studded parties that her prince would have arranged or she could skip it all by simply going Kolhapuri.

So, what is Kolhapuri?

Long before the rest of the world got on the bandwagon of eco-friendliness.
Kolhapuris' introduced the concept of environment friendliness and innovation in footwear.

Most Indian men/women own a pair of Kolhapuris. They are a must have, and have been a known figure in the history of Indian fashion. Kolhapuris were first worn in the 13th century, and over the years have been known as Kapashi, Paytaan, Kachkadi, Bakkalnali, and Pukari depending on the villages of Maharashtra where these were originally hand crafted.

The secret behind Kolhapuri elegance is the skill of the indigenous craftsmen. Each piece is considered as a work of art, and a great deal of time, energy and effort are spent on crafting out an exquisite piece that is comfortable, attractive and reasonably priced. The skillset is passed on from one generation to the other, mostly from father to son.

The Kolhapuris are comfortable, stylish and quite durable and are available in a variety of designs, patterns and colors. They can be easily used for any occasion, and can cater to a large genre of audience. Almost every age group can find something that may strike their fancy.

In addition, it is believed that these Kolhapuris are allergen free, and can bring good health to its owners. Specifically, Kolhapuri khas kapsi chappal may reduce heat of the body.

Possessing a pair of Kolhapuris can make you healthy, stylish, artistic, and ecofriendly. Like Cinderella, if you "Go Kolhapuri", you cannot go back. Not only will you help yourself but help in preserving this talent, the craftsmen of Kolhapur and their livelihood.

This article intends to spread awareness, and preserve the heritage and skill-set of Kolhapuri craftsmen. Hope you "Go Kolhapuri"!

Lauren Conrad's Mermaid Halloween Costume Is Pinterest-Perfect, Of Course (Thu, 30 Oct 2014 15:12:27 -0400)

Allure magazine may have called Lauren Conrad basic, but her DIY Halloween costumes are anything but that. The reality star-turned-fashion designer is known for her commitment to Halloween, and her crafty mermaid costume did not disappoint.

Conrad first posted a detailed shot of the mermaid getup on her website's Instagram account on Tuesday:






The 28-year-old then revealed the entire outfit in its beautiful mermaid glory on her blog and on Twitter:




If you're up for the challenge, you can follow along with Conrad's instructions on how to make the costume here. Or you can stare in awe at the rest of her amazing Halloween costumes through the years, and wonder why she's not the CEO of Pinterest yet:

Tooth Fairy

Ghost
Britney Spears


Bow down to the queen of DIY Halloween.

10 Seriously Bizarre Ways Adults Used To Explain Dating To Teens (Thu, 30 Oct 2014 15:06:27 -0400)

The world's a quickly changing place. I mean, 10 years ago, you wouldn't even have been able to share this post on Twitter.

But even as transportation, communication and entertainment change dramatically, one thing remains the same: Adults give teenagers questionable dating advice. In fact, how adults have attempted to "reach the youth" is so painfully awkward that it will actually make you appreciate your awful, uncomfortable sex ed class.

Here are 10 pieces of retro dating advice you should definitely not follow:

1. On "slowing things down":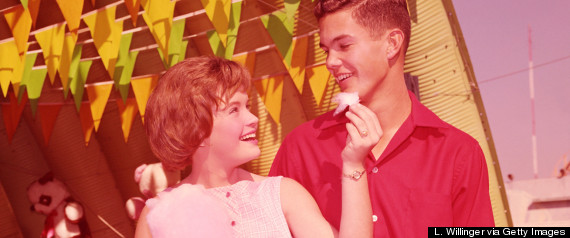 "Keep a candy handy and whenever the going gets sticky, just pop a gumdrop into his mouth -- or yours. It's fattening ... but safe."
-- "The Cool Book," 1961.

Gumdrops: the world's oldest and most effective birth control, apparently.


2. On tact: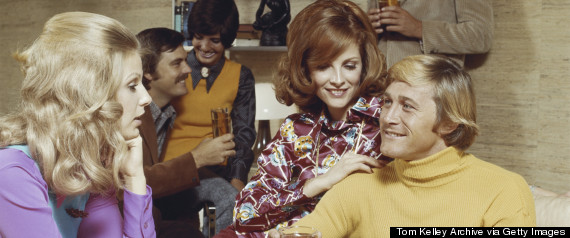 "Don't openly prefer blondes when you are with a brunette."
--"The Do's And Don'ts of Dating For Boys And Girls," 1964.

You can openly prefer them after you dump your annoying brunette girlfriend, obvs.


3. On the dangers of necking: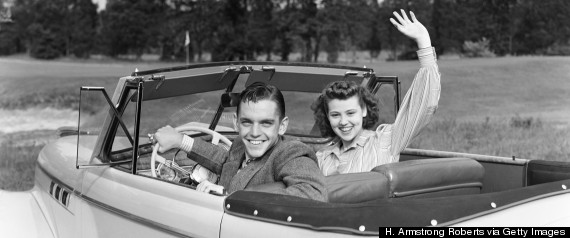 In the '50s, advice columnist Ann Landers warned:

"When necking becomes the major interest and the No.1 indoor sport, you're playing with fire and you could get badly singed."

Usually, Landers said, "The trouble would start in a parked car" at a local "passion pit," a.k.a. the drive-in movie theater.

Leave room for God between those necks, guys.


4. On how a guy can spot a "teaser" kind of girl:

"When she looks over her shoulder with a lingering glance and a half smile of invitation, she is teasing ... When she drops her purse and stoops to pick up the spilled contents with her dress above her knees, she is teasing."
-- "When A Girl Is A Teaser," 1952.

Is she a "teaser," or just a friendly klutz?


5. On the risks of spontaneously sitting on his lap: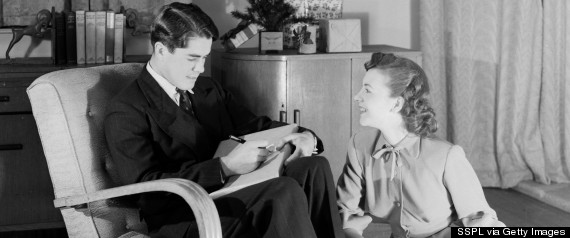 "Dear Girls -- Never sit on a young man's lap unless you receive an invitation. To act otherwise is considered rather forward in the best society if you are less than 30 years old. If you are beyond that age, naturally desperate measures may sometimes be necessary."
-- "The Day Book," 1916.

Naturally, what kind of "desperate measures"??


6. On how to respond to his "off-color story," a.k.a. fart joke: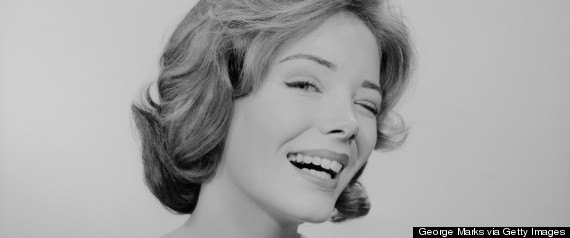 "One popular girl just wrinkles her nose and says 'Something does not smell too sweet around here.'"
-- "Facts of Life And Love For Teenagers," 1950.

This is the '50s version of being "The Cool Girl," FYI.


7. On transitioning from small talk to deeper talk: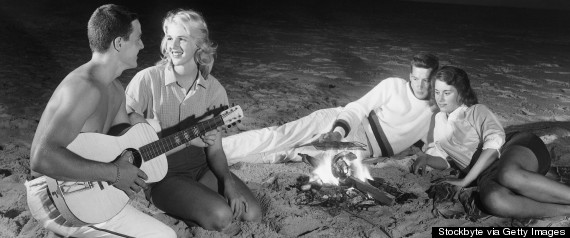 Here's a sample exchange meant to show the art of the conversation:


"He--'It's a grand night, isn't it?'
She--'Wonderful. Did you ever see such a moon?'
He--'Isn't that what they call a Harvest Moon, or is it the Hunter's Moon?'
She--'Hunters' Moon? That sounds interesting. Do you hunt?'"


-- "Facts of Life and Love for Teenagers," 1950.

So long as the dude actually hunts, this conversation is off to a very promising -- and not at all stilted -- start.


8. On the danger of women making noise while dancing: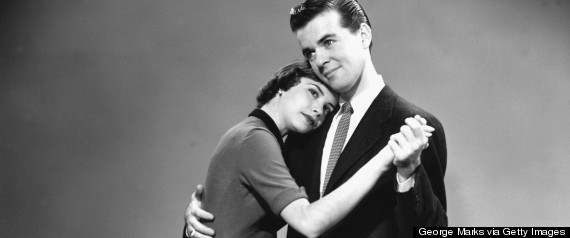 "Don't talk while dancing, for when a man dances he wants to dance."
-- A 1938 "Guide for Single Ladies."

"Don't offend his eardrums by humming while dancing."
-- "Facts of Life and Love for Teenagers," 1950

He was really into her until he found out she hums. :(


9. On protecting her from her biggest fears: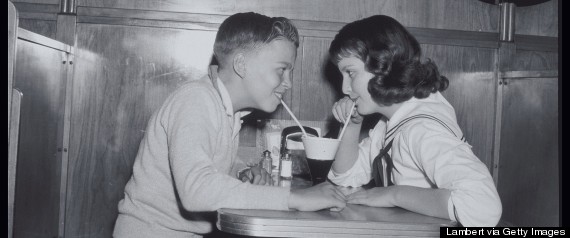 "Do be attentive and protective. Even independent modern girls like to be reassured about mice and spiders, roller coasters and thunderstorms."
-- "The Do's And Don'ts of Dating For Boys And Girls," 1964.

Just to be safe, attentively assume she's afraid of everything. She'll find it very reassuring and not at all annoying.

10. On when it's OK for you to call him (Hint: NEVER):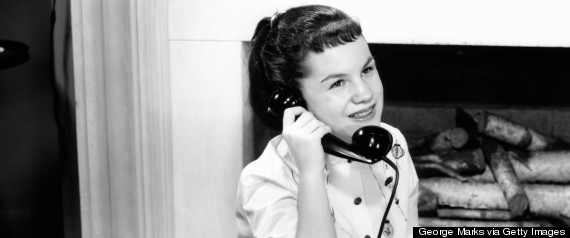 "Don't telephone a boy, even if he asks you to. This is sure 'social suicide.'"
-- A 1960s Wendy Ward's Charm School advice book

He was testing you, and you failed. Congrats.

Suddenly, your mom's advice to "tell him how you really feel" doesn't seem so lame, right?

Follow HuffPost Teen on
Twitter |
Instagram |
Tumblr |
Pheed |
10 Ways to Feel More Like a Woman and Less Like a Mom (Thu, 30 Oct 2014 15:06:19 -0400)
I like to get dressed. No, I need to get dressed. The Yoga Pant Mom Trend looks cozy and yes, black is always chic, but I can't get down with it. I love how it looks on you, I promise. But it just ain't me.

I discovered this four years ago when my son was a baby. I found myself putting on cute outfits, even when I wasn't planning to go anywhere. I know that lots of folks love hanging at home in their pajamas postpartum, soaking in the relaxation and lack of pretense. But I needed pretense. I needed to feel like I was a real person even though I was really a milk machine. And for me, the way I dress has always been an outward extension of who I am, even as my style has changed. And so I'd get dressed in a cute skirt and a fun, printed tee and then I'd sit around nursing until my a** fell asleep in the glider. But, whatever, sleepy a** or not, I felt OK because I was dressed.

Similarly, I recently decided that it wasn't absurd or selfish to consider the idea of showering every day. I think there's a large population of folks that do that, right? I know not every mom ever is among that particular population, but I decided it was time to bridge the gap. At first, it felt like a horrible chore, the daily shower, what with all of the wetness and drying and the why-the-hell-are-the-kids-so-quiet part. But damn if it didn't feel good to realize that being clean meant I was taking care of myself. That I -- gasp! -- maybe mattered a little bit.

From there? My ball was rolling. Herewith, my list of 10 things that make me feel like a woman instead of just a mom:

1. Shaving. We covered showering up above, but, gals, don't forget about shaving. If you're a non-shaver, that's cool, you can just skip ahead. But I fall decidedly into the shaving camp, and discovering that I could take the extra five minutes in the shower to shave my legs and underarms any ol' time I was in the shower felt like discovering electricity. There doesn't need to be a party or a wedding -- you can shave just because you like smooth legs. How 'bout that?

2. Eyebrow maintenance. For serious, I'd have one giant band of eyebrow if I didn't stay on top of things. In fact, tweezing has been the only self-care practice I've been consistent about since I was a pre-teen. If you don't own a pair of Tweezermans, RUN TO THE DRUG STORE IMMEDIATELY and buy a pair. Spend the seemingly-too-much-money. You will thank me, I promise. A clean and natural-looking brow line makes me feel neat and like I care about myself. Which is a feeling I need to foster in any way possible. In addition to tweezing, I've toyed with liner (which I suck at applying) and have recently taken to "defining" my eyebrows with a pencil. I then blend in said "definition" with a special little brush, and, further, "set" my newly-fuller brows with what is essentially clear mascara. This whole process takes about 47 seconds and makes me feel way Euro. I like.

3. High-waisted skinny jeans. ENOUGH WITH THE LOW RISE. Jesus. I just discovered that you can even buy skinny jeans that aren't low rise and I feel like a new person. Every pair of pants I own that doesn't at least touch my hips is now in the giveaway pile. Because I'm tired of feeling like a doughy, postpartum mama four years postpartum. And because a little thing like three extra inches of jean hides SO VERY MUCH. I have an incredible pair from a J. Crew outlet store, and recently bought a pair online from American Eagle for less than $40. I've heard that H&M also carries high rise skinnies, but every time I've checked the only available sizes look like they'd fit a 3-year-old with extraordinarily long legs. I also happen to be of the opinion that skinnies work on all body types. Yes, even yours.

4. Declare a space your own. A few years ago, I decided that the mudroom off of our bathroom was going to be my studio. When I made this declaration, the ancient, cracked linoleum was covered with dirt, shoes, winter gear and (probably) traces of lead paint. I was prepared to throw every single one of those things in the trash, vacuum and move a writing table in. My husband, a skilled and loving man, insisted that he was going to recreate the space for me. I moaned, knowing how long it typically takes a carpenter's wife to get work done at her own house. But my studio is now so kicka** and gorgeous and totally perfect that I honestly can't even remember how many months of gentle, "Sigh... should I just buy a desk from IKEA?"-like things I needed to say. Just knowing that my studio exists makes me happy. And when I actually get to be in here, writing (like I am right now), making things, or simply moving stuff around BECAUSE I CAN, I feel like a real person. There's some stellar kid art on the walls in here, yes, but it's, like, their Picasso-level stuff. I try to keep the kids out of here because this space is MINE. Find a closet, a corner, or a dirty mudroom and set up shop, ladies.

5. Lip color. My lips are the same color as my skin. It's weird, I know. But if I don't smack some color on there, I look dead. I've never been able to apply lipstick in a way that looks natural, and so I'm a solid believer in lip stain. It stays put, doesn't bleed and makes my lips look like I rubbed beets on them. Which is apparently the look I'm going for. My first and favorite is from The Body Shop, and right now, because of cost and convenience, I buy some schwag from Rite Aid that totally does the trick for less than $4. Even if you've been blessed with not-dead lips, give it a shot. Lip color makes me feel -- yes, you guessed it -- more put together, which is clearly the thesis statement for this whole post.

6. Smile at people. I often feel wildly insecure -- "What if that person doesn't like me? Why didn't he smile at me? Oh, god, I'm so annoying, everyone in here can't wait until I get outta here with my coffee." -- and so I've had to train myself to be a friendly person; my insecurity can make my face shut down and cause me to look like a total b*tch. To combat my B*tchy Resting Face problem, I force a smile. I make myself get into it, too, and so I make my eyes smile. I try to smile at anyone with whom I make eye contact. I get scared if they don't smile back, and often worry that I look like a crazy person, nervously smiling at people all over the coffee shop. But I love it when people smile at me and say hello, and so I have to imagine that other people like it, too. It feels grown-up, all this friendliness. And it forces me to step out of my self-centered worry-brain, which is always a good thing.

7. A good bag. It doesn't need to be expensive. But it does need to function like nothing else in your life. I have two that I rotate, depending on how much crap I'm carrying around. One is a giant gray Martha Stewart for Staples bag that I love because my huge calendar, binder and a few books can easily fit inside. It has just the right number of compartments and can hold a silly amount of stuff before I look like an over-packed mule. The other one is a colorful Baggallini that I adore. My favorite feature is the built-in-near-the-top lip balm holder. I'm addicted to Karite Lips, the most expensive lip balm in all the land, and having it right in its own little holder spot is, like, the most luxurious thing ever. Having a bag that functions how you need it to is so common sense. And having a bag that's not a diaper bag is, when you can graduate, a little slice of heaven.

8. Stand up straight. Dude, my posture blows. When I see myself in photos, my hunched shoulders are the first thing I see. I work on this all the time, and yet I can't help but feel like I'm presenting my chest to the world on a D-sized silver platter when I pull my shoulders back. But whatevs -- good posture immediately gives people a look of presence, class and confidence. And I want to be all of those things. I sometimes am those things, but my posture tells a different story. Be willing to take up all of the space the Universe gave you -- stand right up into it.

9. Strut a little when you walk. And not for the people watching you. In fact, none of the things on this list are for other people -- they're for us and only us. When I pull my shoulders back and toss a little strut into my step, I feel awesome. I feel present. I feel like I've got myself under control. I feel confident. A little bit of swagger isn't always a bad thing. Instead, it can be us just having the courage to be fully in ourselves.

10. Break the rules, yo. See what I'm doing right here? I said this list was going to have 10 things in it and there are 11. 'Cause I'm a rule breaker. Naw, but seriously -- you do not need to do things just because everyone else in your town is doing them. I know your mom told you that, and that we'll tell our kids the same thing. But there's something weird that happens when we become mothers these days (I'm certain the Internet, with all of its "facts," is to blame.) We think that everyone else has it figured out, that we're the only mother who wasn't born knowing what the hell to do when the baby comes out. And so most of us quickly adopt the rules of the people around us. And before we know it, a lot of us pop our heads out of the water, gasp, and say, "What. The. Hell. Am. I. Doing." Gasp, girl. And then decide what rules you're going to follow. And if you end up breaking the rules of those around you? Awesome! Everyone can learn by watching how other people are doing things. The world can only be served by peeps creating an outer reality that matches their true inner reality. Do that.

11. Remember that you matter. Raising our babies to be stellar, kind, loving, creative citizens of the world is, undoubtedly, a massively important and often joy-filled task. And it's probably instinctual for us to want to do and do and do for them. I know that I give a whole lot of me to my kids. But we need to step away from the idea that we need to suffer to be mothers, that pain and distress are a part of the deal. I suffered greatly, completely without knowing it, for the first few years of motherhood. Not because my kids were jerks, but because I didn't realize that the only way to remain a woman and not singularly a mother was to decide that I still mattered. My babies mattered, yes, and my husband mattered, yes, but so did I. And I forgot that. I stopped getting my hair cut and let my leg hair grow and became more and more emotionally depleted from all of the martyred giving. It's unsustainable, that. And it's also a real bummer. Instead, get dressed if you want to and take the time to straighten your hair if it makes you feel whole and good. You matter. Don't forget it, 'kay?

You can find the original post here, where it contains copious amounts of (well-placed) swearing. You can also get new posts from Emily (which, similarly, often contain well-placed swearing) in your inbox by clicking here.

Check out Emily's Facebook page, where she tries to be funny, real, and as brave as she can be.




Like Us On Facebook |

Follow Us On Twitter |

Contact HuffPost Parents



Also on HuffPost:
Farrah Abraham Dresses As Elsa From 'Frozen' To Hawk Sex Toys At The Hustler Store (Thu, 30 Oct 2014 14:46:41 -0400)
Former "Teen Mom" star-turned-porn star Farrah Abraham got dressed up like a character from a very wholesome family movie to sell silicone molds of her genitals at the Hustler store in Hollywood on Saturday.

Abraham, 23, dressed as Elsa from Disney's "Frozen" -- or, more likely the description of the costume she actually purchased, something to the effect of Sexy Ice Vixen or Seductress of the Snow, because that's so not a licensed costume.

It looks like Abraham had a grand old time promoting her Topco toy line, which she specially autographed for fans who joined her in the store.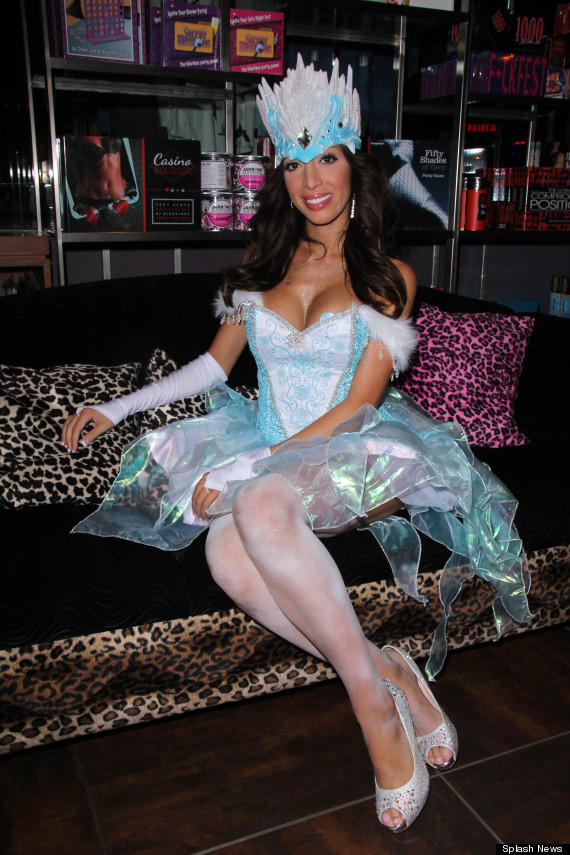 H/T Gawker

12 Up-and-Coming Models Show Off Their Scariest Halloween Faces -- in GIF form! (Thu, 30 Oct 2014 14:41:11 -0400)

Sure, sparkly ballerinas and Disney princess are always a viable (read: safe) option when it comes to dressing for Halloween. But let's not forget, All Hallows' Eve is a night reserved for hair-raising, bone-chilling good fun. That being said, we sought out 12 up-and-coming models to help us up the fright-factor on this year's festivities with a look at their creepiest Halloween face captured here, in GIF form. Scroll through our collection of terrifying GIFs below, but beware, these models know how to scare!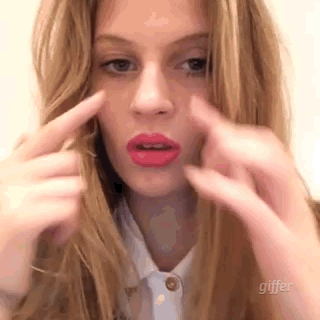 Harper (NY Model Management)
@itsjustharper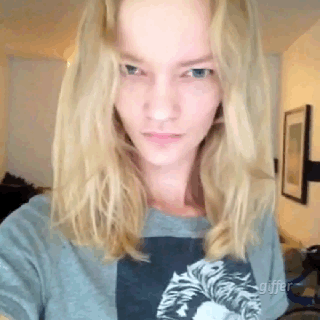 Ida (One Model Management)
@ida_dyberg

Kate B (NEXT)
@foxy1kate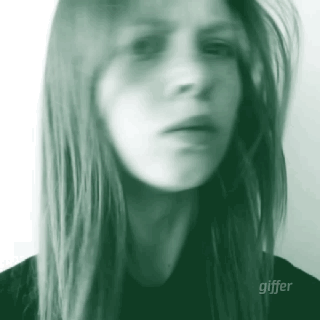 Dani Witt (NEXT)
@daniwitt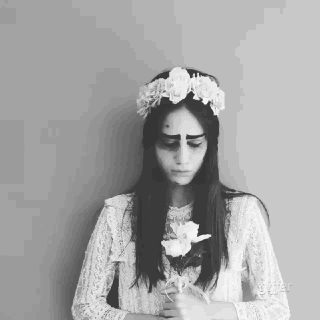 Anna Herrera (Elite Models)
@annaherrera_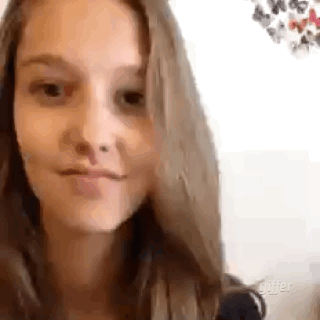 Florence Kosky (NY Model Management)
@floskyyx

Gisele (One Model Management)
@giselemop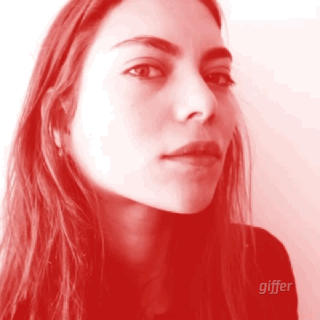 Lary (NEXT)
@laryarcanjo1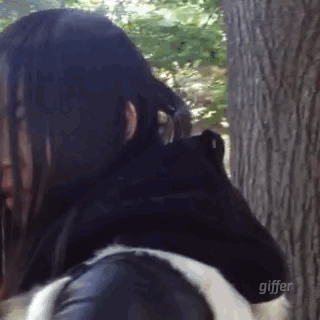 Suki (One Model Management)
@sukiohana

Myf (NEXT)
@myfmars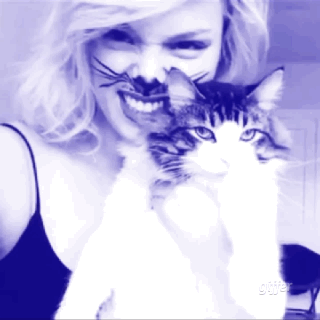 Olivia Ross and her cat Owen (NEXT)
@oliviaarosss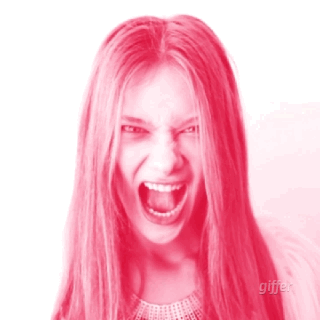 Tanya K (NEXT)
@limur_t



More on Modelinia.com:

Is Suki Waterhouse Set to Make Her Victoria's Secret Fashion Show Debut?

Chanel Iman and A$AP Rocky Call It Quits!

What's Behind Dear Kate's No-Underwear Yoga Pants (Thu, 30 Oct 2014 13:50:52 -0400)

Lingerie company Dear Kate's new no-underwear yoga pants make a lot of promises: No panty lines. No bunching. No riding up. No camel toe. No stressing about comfort. And they'll make your butt look great.

If they can deliver all that, the new pants, which have a thick, absorbent lining around the crotch, may be able to shove their way into the busy market for yoga gear. That's the plan, at least, for Dear Kate founder Julie Sygiel, whose company is making its first foray away from undergarments.

"We surveyed our customers and said, 'Hey what do you want to see from us next,'" Sygiel, who studied chemical engineering at Brown University, told the Huffington Post in an interview. "Yoga wear was by far the winner."

She may have caught on to something.

Most women wear a thong or other kind of panties with their yoga pants. But around 17 percent of women wear nothing at all underneath their pants when they work out, according to Dear Kate's market research. A survey conducted by Groupon earlier this year found that about 25 percent of women go commando while practicing yoga.

Alexandra Seijo, who teaches yoga at Equinox and Pure Yoga in New York City, said she doesn't usually wear underwear while practicing, and will definitely check our Dear Kate's new pants. She wants to be focused on what's happening internally when she's doing yoga, so something that would keep her mind from getting distracted would be a plus, she said.

"Sometimes we do get caught up in the external, when the purpose of yoga is to go within," Seijo told HuffPost. "The last thing you want to worry about is tugging, pulling, pinching, having any kind of clothing malfunction because you want to be fully immersed in the practice."

Still, no-underwear yoga pants have their limits. Some may have issues trusting the concept of shunning their underwear, especially after Lululemon's see-through yoga pant debacle in 2013. And they need to be washed after each use without an undergarment.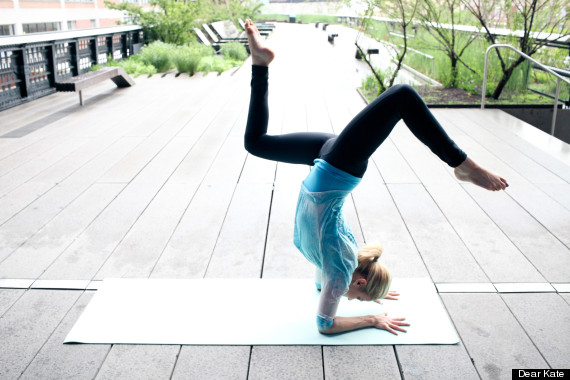 Dear Kate started as an underwear company, but decided to expand into yoga-wear. (Photo courtesy Dear Kate)



Founded in 2012, Dear Kate has raised $1.2 million thus far from private investors, selling a selection of undergarments that present an alternative to "period panties." They have extra lining and are made of materials that wick moisture, release stains and resist leaks. They're also aimed at women who have bladder issues after pregnancy.

Now, Dear Kate is trying to grab a piece of the growing market for yoga gear. Global sales of so-called "activewear" climbed 7 percent and surpassed $33 billion in the 12 months ending in June, according to data from market research firm NPD Group. Athletic wear companies, fast-fashion emporiums and even some haute couture labels are trying to claim their slice of the yoga pie. Meanwhile, smaller yoga apparel makers are battling each other, vying to be the next Lululemon.

The regular, full-length yoga pant from Dear Kate costs $118. Lululemon charges between $82 and $128 for most of its yoga pants, while many similar styles from rival Athleta run from $64 to $98.

While items like no-underwear running shorts have been around for a long time, Sygiel is hoping that her more versatile yoga product will set it apart. And the stretchy pants aren't just for yoga -- women use them for many athletics, from pilates to running and biking.

Sygiel's yoga pants, made at a factory in Queens, New York, are getting attention even before they become available to the public. A 30-day Kickstarter campaign for the pants attracted more than $150,000 in funding. Though Sygiel declined to share precise sales numbers, she said that in 2014, the company expects to triple its revenue total from the year prior.

Dear Kate's pants are expected to launch in mid-November, but are available for pre-order now.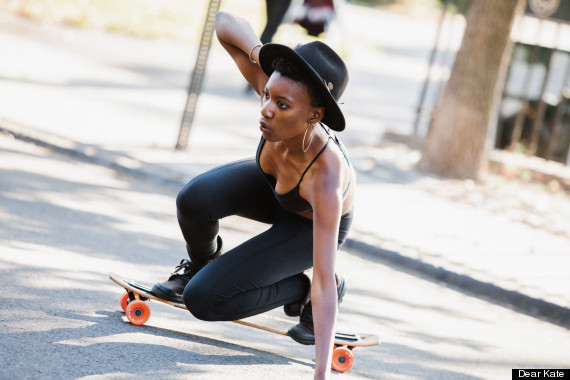 Dear Kate's no-underwear yoga pants have a thick, moisture-wicking lining. (Photo courtesy Dear Kate)
Two Women Imitate Kim And Kanye's Looks Like It's Their JOB (Thu, 30 Oct 2014 13:46:20 -0400)
It's no secret that Kim Kardashian and Kanye West are known for their style as a couple. But Kathleen Lee and Katie Burroughs, of San Francisco, may have outdone Kimye -- by imitating Kimye.

On their genius Instagram and Tumblr, "What Would Yeezus Wear?," the pair recreate the couple's signature looks, as well as their poses and facial expressions.

Feast your eyes on some examples:

(Story continues below)



The duo even went for an apt Kanye-North collaboration.





And, apparently, according to E! News, Kim approves of the photos.

"Kim liked the ice cream cone pic," Lee told E!, "But on my Instagram. At first I was like: 'Wait, did I just see that notification?' I assumed it was a fake account, but then all of a sudden my phone blew up with likes from all of her followers."

We agree with Kim. After all, imitation is the sincerest kompliment, right?

H/T Jezebel

Halloween: The Season for Culturally-Insensitive Fashion (Thu, 30 Oct 2014 13:43:17 -0400)

Halloween: the season of candy corn, pumpkins and culturally-insensitive costumes. Over the last few years, images of these costumes and the people wearing them have spread through social media, sparking heated debates about cultural appropriation and how seemingly innocuous "fashion statements" can indeed hurt.

So what is cultural appropriation? In its most simplistic definition, it is the seizing of another culture without their consent. It's taking an otherwise complex culture and turning it into a caricature. It's the "Navajo" shirts that Urban Outfitters sold that essentialized the many different American Indian, Alaska Native and Native Hawaiian people in the United States into one broad "Native" tribe defined as Navajo. It is the sports mascot that reduces an entire group to their skin color. It's the celebration of Columbus Day as a day in which Columbus "discovered" a country that had been inhabited by indigenous people for years, and the erasure of the acts and policies of enslavement. It's the Victoria's Secret 'Geisha' lingerie line that featured white models in Orientalist eye makeup and outfits, which in the words of blogger Nina Jacinto, only perpetuates the stereotype of Asian women as objects of sexual fantasy, trading in "real humanness for access to culture." It's the Vogue dance-style that was attributed to Madonna when it really originated with gay urban men of color. It's Gwen Stefani wearing cultural and spiritual objects such as bindis as fashion, and using Asian-American dancers as props, always claiming that she is celebrating their culture.

It's also the Dolce & Gabbana "black busts" earrings that commodified black bodies and were defended on the grounds that they "represented" Sicilian Blackmoore pottery, ignoring the legacy of race-based slavery which influenced this tradition. And while we're on the subject of earrings, who can forget when Vogue Italia referenced large hoop earrings as "slave earrings" in their fall 2011 issue, citing the "women of color" who were "brought" to the United States as their fashion inspiration? Brought, not sold. Brought, not enslaved. Cultural appropriation. Done.

Because cultural appropriation is so often found in fashion, it is not taken that seriously. Fashion is fun and fantasy, wrapped up in a bright pick Victoria's Secret bag that can then be discarded when it no longer fits. Perhaps that's why on Halloween, a one-night event where the whole purpose is to take on another identity, we witness so much unapologetic appropriation. After all, what you wear doesn't define you, right? I mean, just because someone is wearing a "native headdress" doesn't actually mean they have internalized the racism that is responsible for the eradication of tribes and their cultural practices?

For me, the issue isn't so black and white, in part because we have not allowed for an inclusion of American Indian voices into the dialogue about this issue until very recently, leaving many truly ignorant about why these supposedly "harmless" statements are indeed very harmful. It is difficult for me to point fingers at teenagers who, dressed up as "Indians" for Thanksgiving when they were five by their parents and teachers, are now expected to understand the complex meanings behind the hipster headdress they choose to rock to signify their escape from the rigid conformity of suburbia.

Furthermore, the privileging in our culture of Western fashion that emphasizes "newness" as a sign of progress and change tends to view American Indian tribes as examples of more traditional cultures who use clothing for utilitarian purposes. As Dakota artist and activist Bobby Wilson put it, we're fixated on this idea that "native people are frozen in time." Despite the efforts of minority students from the University of Ohio, many Americans still view American Indians, and other minority groups, as a costume, not a culture. And because fashion is seen as so frivolous and something that goes out of trend so quickly, many argue that the industry's fascination with exoticizing certain cultures shouldn't be taken seriously. In fact, many counterarguments are made to cultural appropriation that on the contrary, minority groups should feel privileged by this representation of their culture by the mainstream.

So here's the problem. The argument that you can "try on" a cultural identity for a day and then discard it speaks to the ability of being able to return to your special place of privilege. You can take off your headdress and sleep at night, knowing that you don't have to wake up the next morning to confront a history of colonialism and genocide that has left your community living in an impoverished reservation, having to deal with segregation, racism and gross cultural misrepresentation in the form of films, sports mascots and holidays. As the "We're a Culture, not a Costume" Campaign put it, "You wear the costume for one night, we wear the stigma for life."

Americans take pride in our "American-ness," in our cultural traditions that bring us together such as Independence day, apple pie and the Star Spangled banner. But let's face it. There have always been some people who are considered more American than others. Just think about the term "All-American" and what it implies: white, blond, attractive, athletic. Are people of color then "partial-American?" Are they not American enough? Does that leave them in the position of having to defend the degree of their American-ness?

And this is why it is so dangerous to "dress up" as another culture, because a white person who dresses up as a "Mexican" in Arizona doesn't have to worry that his citizenship will be questioned. He can go to a "ghetto" party and wear his hoodie up in an effort to look more "hood" without fearing that he will get killed like Trayvon Martin. A white student who goes to a bar dressed in blackface doesn't have to worry about being turned away for no reason other than the color of his skin. He doesn't have to face the reality that when there is a hurricane, he will be wrongly labeled as a looter and then identified as a "refugee," a misplaced citizen.

As for the appropriation of American Indian culture, it is of course widespread and certainly not limited to white people, especially given the fashion industry's rampant appropriation of Native cultural objects that are spit out for "hipster" consumption. However, I think we need to ask why it is that "cultural" costumes are far more common to wear on Halloween and at theme parties than dressing up as say, a young white male. While people can conceive an image of a "ghetto" costume, a geisha, an Arab bedouin or a "Cherokee princess,"do we actually have a singular vision of what a white male looks like?

Fashion is not frivolous. Clothes, and the way in which we wear them to express our identity and who we are, can have profound meaning. If you really want to honor a culture, why not do it in a more thoughtful manner that brings to light all of its complexities? By doing it through fashion, you run the risk of treating an entire group of people as a trend, something that is in vogue one minute and out the next, easy to discard and forget.

Want to get involved with the campaign to end offensive Native American imagery and mascots? Check out the organization Eradicating Offensive Native Mascotry and the critical fashion blogs Native Appropriations and Beyond Buckskin.

Looking for authentic Native jewelry and clothes made by Native artisans? Check out the Beyond Buckskin boutique!

What We Are Talking About When We Talk About Her Face (Thu, 30 Oct 2014 12:59:27 -0400)

The chatter has died down. There's been a deluge of damning admonitions, something I might term You Go Girl Feminism, and insightful commentary, but will any of the any of the conversation be a prophylactic against future scrutiny of Her Face?

Whether Her face is the visage a famous actress or belongs to a friend you grew up who has had the temerity of suddenly looking younger than you, the semiotic study of the faces of women is one of our favorite national pastimes.

This appears to be true whether we're privileged enough to occupy a front row seat during fashion week or are straining for a gander from the stadium seats on one of the scores of web sites devoted to this kind of mind numbing distraction from the pressing issues of our days.

The first scrutiny comes with a kind of fascinated outrage, tinged with a bit of self -righteous indignation. Picking over, picking at and passing judgment on every feature. "Changing her face lets us know that she doesn't like herself." "Her face represents our inability to comes to terms with the aging process." True? Probably. At least to a certain extent.

With a bit of time comes a deeper contemplation and a galvanizing battle cry: RESIST! "We need to all have the courage to stand up and accept ourselves as we age." "We need to stop submitting to this cutting. It encourages an impossible standard of youthful beauty." It's also a slippery slope. Are nose jobs OK, but face-lifts unacceptable? Lasers good, knives bad? Is the outcry a sign that we're caught in the gripe of collective facial dysmorphia? More truth, no doubt.

It's undeniable that we're confused. We can't be sure of what we are looking at with so many new offerings in the anti-aging marketplace. Cognitive psychologists have shown that we find listening to one half of a cell phone conversation particularly annoying, but eminently engaging. Our brains appear to be hard-wired to try and fill in the blanks in the presence of incomplete auditory information. Perhaps our fascination is merely a function of our brains straining to make sense of what we're seeing.

I have found it irresistible to not only study, but to test drive the latest innovations to hit the market. Once or twice a year, I raid my savings to get my fix from a doctor in Beverly Hills, who has clearly sized me up as the sucker that I am though I'm uncertain of the outcome of any of these (no) cutting edge non-invasive procedures. Here is a short list of offerings I've sampled over the last 10 years and my one-word assessments: Thermage- useless; Ulthera- torturous; Fraxel- dubious; photo facial- scabrous; Botox- monstrous; Juvederm- voluminous; Restylen- capaciously voluminous. Ok, that was two words. I cheated.

On one occasion a doctor said to me, "I have some extra filler. Let me put it in your chin -- you need a bigger chin, like mine," and before I could say, I don't want more chin. I don't like your chin! he had done it. I hated that extra chinnage, which did fade with time, but still. I used to wonder who would let someone experiment on their face and now I know -- me.

I also dye my hair. Is keeping the grey at bay another way we're doing ourselves a disservice? How about something that was hotly debated, receiving over 1,200 reader comments in The New York Times a few years back, whether long hair was acceptable after fifty. It could be argued that all of the interventions that allow us to extend our fertile years are something akin to Botoxing your uterus.

For me, these adventures in "maintenance," as it is often referred, are less motivated by my on- camera appearance as an actress, but primarily because I have seen the future, and by that I mean my mother's beautiful face. I love my mother, who I resemble more and more with each passing year, but I'm not all that crazy about the prospect of getting her gobbler. Not only am I uncertain as to the lengths I will go to stave off my turtleneck years, I'm also uncertain as to what I will be able to afford and therein lies perhaps the heart of the matter. Money. Money gives you choices, though as Barry Schwartz writes in "The Paradox of Choice," too much choice isn't always a good thing.

So what are we talking about when we talk about Her face? Wealth. Her face, whoever that might be at any given moment, is another sign of the growing divide in America between rich and poor and the proof is visible on our skin.

If you see a woman in the media who looks extraordinarily fit, it's likely that she has paid a personal trainer. If you see someone in the media attired in a flattering manner, it's likely that they have hired a stylist. If you see someone extolling the virtues of veganism or locavorism, or how they cook only seasonal organic vegetables with artisanal olive oils, it's likely they aren't working a part-time gig for minimum wage. And if you see someone who seems to be aging very well, in a way that looks natural and effortless but they don't have a gobbler, its likely I have sat next to them on a silk damask sofa in any number of marble floored, wood paneled, dermatologists' waiting rooms just off Wilshire Blvd. in Beverly Hills, California, 90210.

Here Are Photos Of Taylor Swift Enjoying A Beer At A New York Knicks Game (Thu, 30 Oct 2014 12:52:28 -0400)

Taylor Swift has been honest about her thoughts on alcohol, telling Esquire magazine in 2012, "If it doesn't taste like candy or sparkles, I usually don't drink it."

Well, clearly beer tastes like candy or sparkles to T-Swift because here are photos of the "Out of the Woods" singer sipping an ice-cold brew with her BFF Karlie Kloss at the Chicago Bulls vs. New York Knicks game at Madison Square Garden on Wednesday: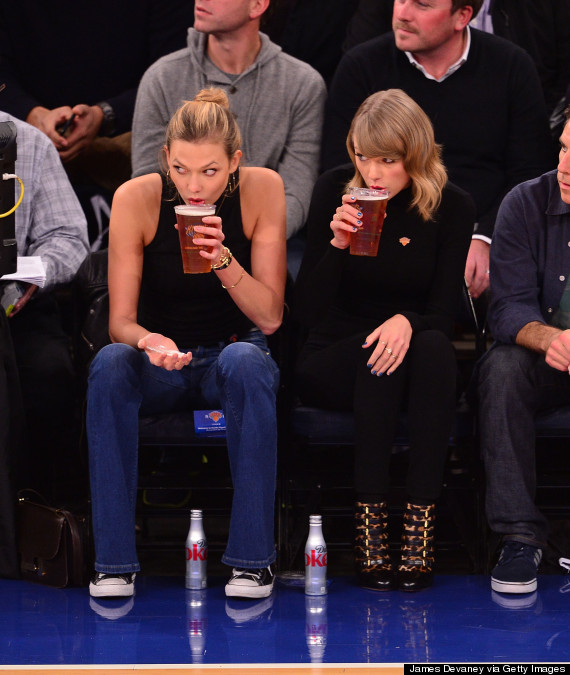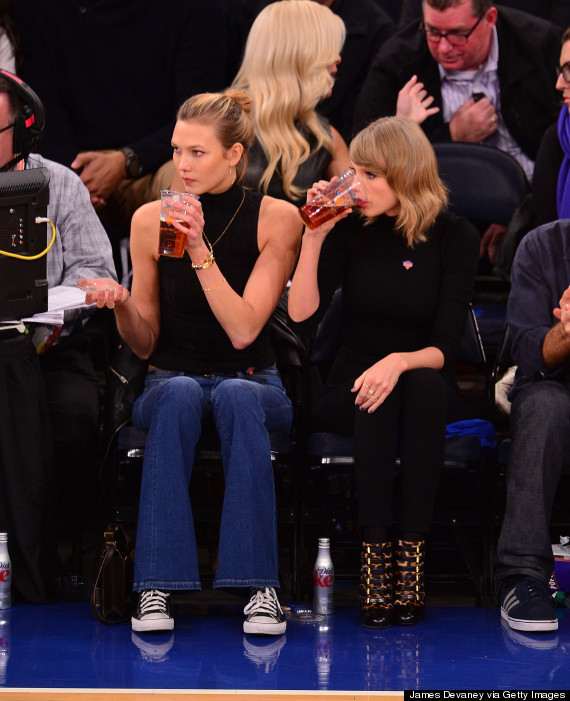 The gal pals even shared a few laughs with Ben Stiller and his son, Quinlin: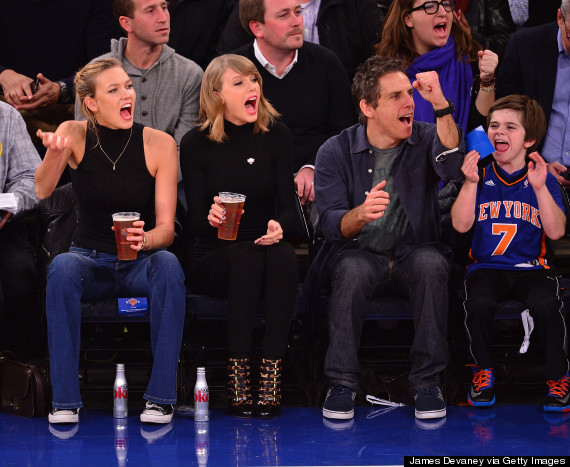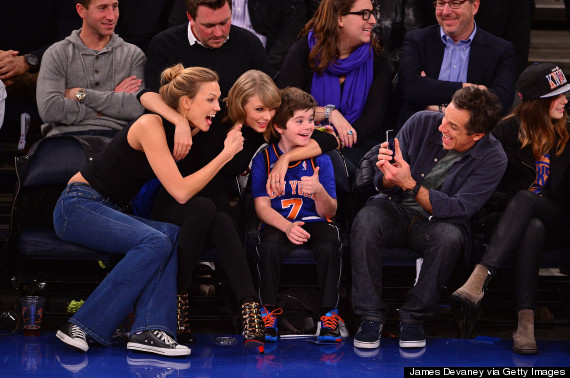 Swift's been having quite the week, with her new album, "1989," debuting to rave reviews on Monday. And it appears the night out at the game in New York City didn't leave her with a hangover. On Thursday, she rocked the stage before a huge crowd on "Good Morning America."