Entertainment news and blog articles from The Huffington Post
Chris Pratt Flashed Amy Poehler On Set, But Shhh! It's A Secret (Fri, 01 Aug 2014 09:30:20 -0400)
You know how you're supposed to learn a lesson after you do something wrong? Well, Chris Pratt doesn't.

During Wednesday's "Late Night," the "Guardians of the Galaxy" star talked about the time he got into trouble with NBC for actually flashing Amy Poehler during a scene in "Parks and Recreation," instead of wearing nude-colored briefs.

Pratt went on to explain that NBC didn't want him joking about the story and that no matter how much it looked like he was laughing, he was actually being totally serious.

"Late Night with Seth Meyers" airs weeknights at 12:35 p.m. ET on NBC.
How To Score A Table At An Impossible-To-Book Restaurant (VIDEO) (Fri, 01 Aug 2014 09:27:30 -0400)
Have you ever tried to score a table at a hot new restaurant, only to be told the wait list is three months out? OpenTable exec Caroline Potter has a tip for getting into notoriously busy restaurants.

"The most common mistake that people make when they're trying to get a reservation at a hotspot is that everybody wants to dine out on Saturday night -- table for two or table for four at 8'oclock -- and there's just not enough inventory to meet demand," Potter says.

So what's the best night of the week to get a reservation? "Tuesday is the new Saturday," Potter says. Last-minute reservations and multiple time slots are more likely to be available on this weekday night.

"I love mid-week dining because you enjoy a much more relaxed dining experience," she adds. That means more time for leisurely conversation, chatting with the sommelier, and Instagramming your plate without getting an eye roll from the party of four waiting to be seated.

More from #OWNSHOW: Secrets from the hostess stand





Like Us On Facebook |

Follow Us On Twitter
'80s Heartthrob Lorenzo Lamas Talks About His New Career As Helicopter Tour Pilot (VIDEO) (Fri, 01 Aug 2014 09:26:47 -0400)
You may recognize Lorenzo Lamas for his roles in long-running series like "Falcon Crest," "Renegade" and "The Bold and the Beautiful," but the '80s heartthrob now has a surprising new profession: helicopter tour pilot.

An avid lover of aviation, Lamas now works as a pilot for Elite Helicopter Tours in Van Nuys, California. He first became interested in flying when his children were young and living in Arizona with their mother, a flight away from him. To see them, Lamas figured he could take lessons, become a pilot and fly to pick them up himself. Now, Lamas' work as a pilot serves another purpose, as he tells "Oprah: Where Are They Now?"

"Every day, I'm working on my aviation career so that I don't have to think about working as an actor," Lamas says in the above video. "You can't count on things happening if you're not in control of them happening. I'm in control of things happening in my aviation career. And I'm not in my acting career."

That's not to say the former soap star doesn't appreciate his Hollywood career.

"I love to act," Lamas says. "But aviation is paying the bills now."

"Oprah: Where Are They Now?" airs Sundays at 9 p.m. ET on OWN.




Like Us On Facebook |

Follow Us On Twitter
Jimmy Fallon Can't Keep It Together Playing 'Face Balls' With Julia Roberts (Fri, 01 Aug 2014 09:20:58 -0400)
Jimmy Fallon really knows how to make an impression.

On Thursday, July 31, Fallon welcomed Julia Roberts to the "Tonight Show" by playing "Face Balls," a new game where competitors take turns pelting each other in the face with clear, inflatable balls.

It sounds like it could get out of hand pretty quickly, but don't worry. It was super hilarious, and Roberts still makes it out a "Pretty Woman."

"The Tonight Show Starring Jimmy Fallon" airs weeknights at 11:35 p.m. ET on NBC.
These Are The Best Parts Of 'Get On Up' (Fri, 01 Aug 2014 09:18:35 -0400)
Papa's got a brand new movie: Tate Taylor's "Get On Up," the story of iconic singer James Brown, arrives in theaters this weekend with the backing of some surprisingly strong reviews ("Get On Up" has an 81 percent Fresh rating on Rotten Tomatoes) and one titanic breakout performance (we'll get to that in a moment). Will audiences want to ... get on up and dance in the aisles during "Get On Up" or will they merely bemoan the fact that this is still a traditional biopic's world? If we had to guess, probably a little bit of both. Say it loud, these the are best parts of "Get On Up." (That concludes the pun portion of this piece.)

Chadwick Boseman Is Incredible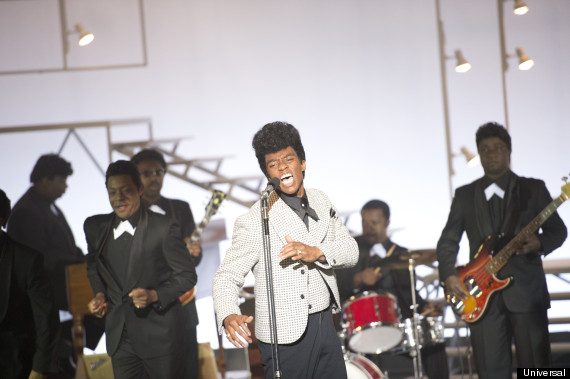 Audiences headed to the movies this weekend have the chance to see two of Hollywood's stars of the future. There's Chris Pratt, who owns "Guardians of the Galaxy" with a devil-may-care attitude that positions him as Harrison Ford for millennials, and then also Chadwick Boseman in "Get On Up." As James Brown, Boseman -- who played Jackie Robinson in "42" -- is a lightning bolt of energy, movement and personality. He's also fearless: James Brown was not a good guy all the time, and Boseman isn't afraid to make the singer an unlikeable monster (even if the movie itself sometimes glosses over Brown's indiscretions). Last August, Forest Whitaker found himself mentioned as an early possibly Best Actor nominee for "Lee Daniels' The Butler." Well, Boseman's performance is better than Whitaker's in every single facet -- up to and including the scenes when Boseman is buried under old-age makeup. This is the kind of career-making role that deserves awards recognition.

The Supporting Cast Is Dynamite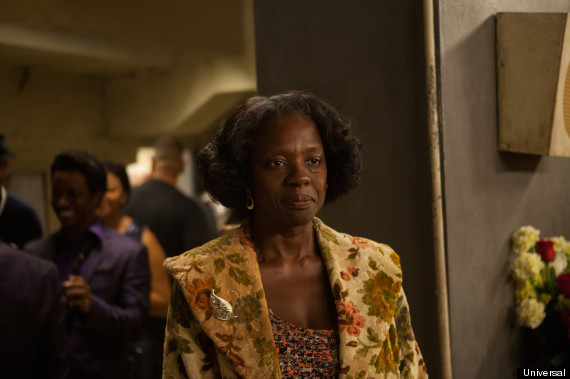 As he did with "The Help," director Tate Taylor has populated "Get On Up" with an array of excellent veteran actors and scene-stealing newcomers. Supporting Boseman are Viola Davis and Octavia Spencer (both of whom starred in "The Help"), Jill Scott, Nelsan Ellis, Lennie James, Dan Aykroyd and Craig Robinson, and all are given at least one moment to shine. Special mention, however, must be made of Brandon Smith, who plays Little Richard and does more with one scene than most actors would dare dream. Petition for Brandon Smith's Little Richard movie -- coming to an Oscar season near you -- starts now.

James Brown's Music Is Still Great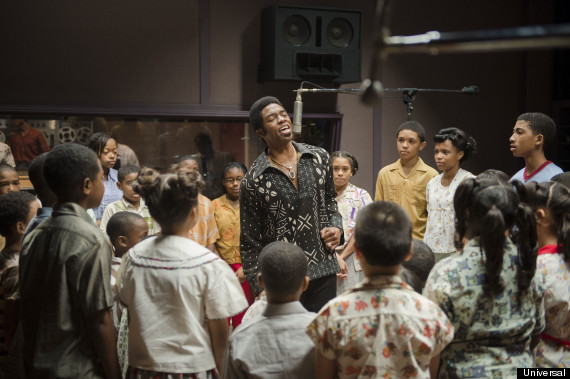 Unlike Jamie Foxx in "Ray," Boseman doesn't sing in his performance as James Brown. That's good for the audience, since it means Brown's actual songs are used in the movie.

But Really This Is Chadwick Boseman's Show




Despite the fact that "Get On Up" eschews traditional narrative expectations by jumping back and forth to moments in Brown's life, it's still a pretty traditional music biopic. Nothing that happens here will come as a surprise to people who have seen "Walk the Line," "Ray" or "Jersey Boys." That structure, coupled with how Taylor deemphasizes Brown's history of domestic abuse and barely acknowledges how Brown spent three years in prison late in his life for leading police on a high-speed chase (which is shown in the film, though the consequences are not), give "Get On Up" less impact than the story of James Brown might deserve. Never mind, though, since Boseman is just so good that it's easy to forgive "Get On Up" for all its foibles. This is Boseman's show. He's the hardest working man in the movie, and he deserves all its kudos. (Okay, so there was one more pun.)
Selena Gomez Wears The Shortest Shorts Maybe Ever (Fri, 01 Aug 2014 09:10:32 -0400)
Selena Gomez broke out the short shorts in sunny California on Thursday, July 31.

The 22-year-old was photographed in Los Angeles wearing teeny, shredded denim cutoffs, a flannel shirt, ankle booties and sunglasses. She was on her way to a meeting, according to the photo agency that obtained the snapshots.

Gomez is back to work after a trip to France. Last week, the "Behaving Badly" actress celebrated her birthday on a yacht with supermodel Cara Delevingne in St. Tropez.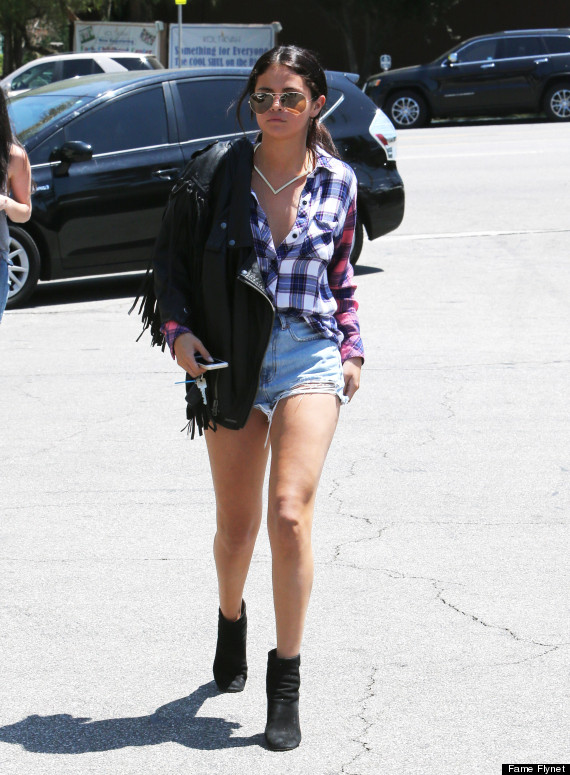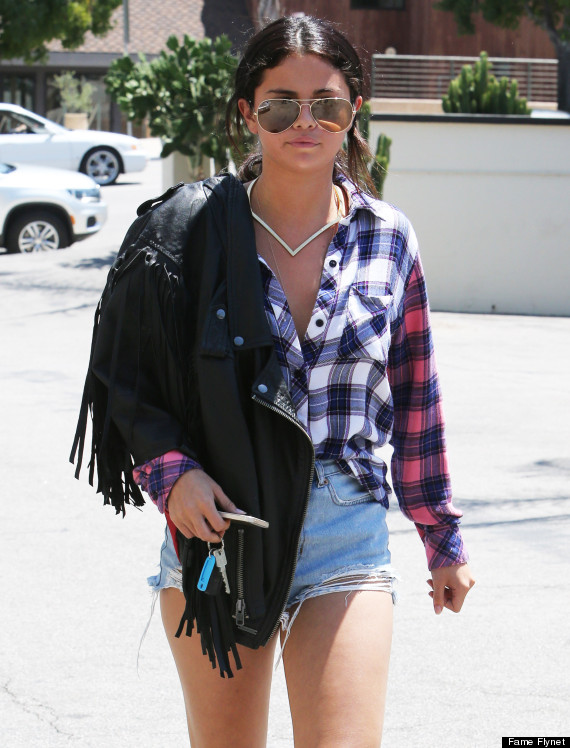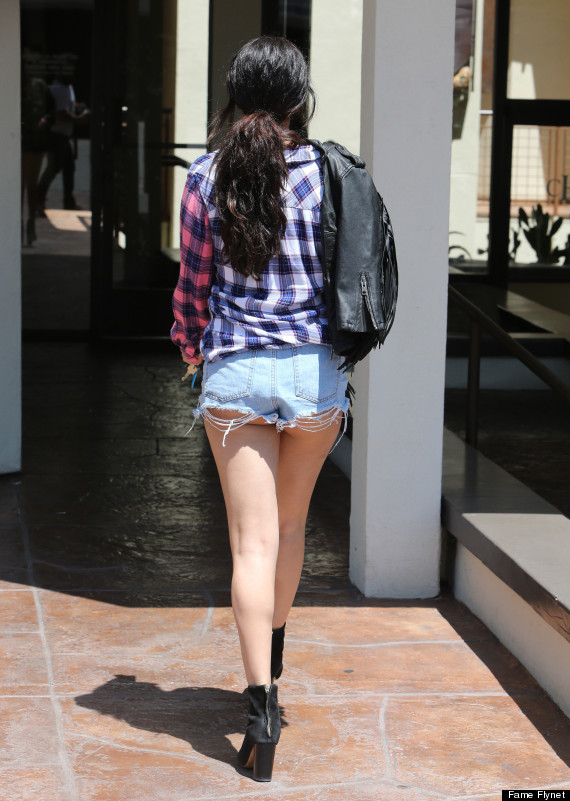 Introducing Shark By Tara Reid, So You Can Finally Smell Like Tara Reid In 'Sharknado 2' (Fri, 01 Aug 2014 08:59:37 -0400)

While you were watching "Sharknado 2: The Second One," did you find yourself wondering what a shark smells like? Did you find yourself wanting to smell like a shark? Or maybe you wanted to smell like Tara Reid when she was in close proximity to a shark?

Alright well, you three are in luck, because Tara Reid just came out with a new perfume called Shark by Tara. Yep. Just let that sink in for a second.






According to Tara Reid's website, Shark by Tara Reid is "a light and refreshing perfume perfect for day-to-day wear." Thank heaven for that, because we need to wear this Sunday to Sunday.

"It also incorporates a plethora of 'lavender' colored flowers," -- um, why is lavender in quotes? -- "which is Tara's favorite color, making them a true fit for Shark by Tara."

Um, did anyone ask the shark what his favorite color was?

Shark by Tara Reid is currently $24.95 on Tara Reid's website. We're not saying you should buy this just to Instagram it, but we're also not NOT saying it.






What's New On Netflix In August 2014? (Fri, 01 Aug 2014 08:56:15 -0400)

Time really does fly -- it's already August! Summer may be slipping away from us, but we still have a really hot month and some great Netflix titles to look forward to. So get ready to blast that air conditioning and hunker down.

Here's what's new on Netflix in August.

TV Shows:
"The Killing: Season 4," Aug. 1
"Haven: Season 4," available Aug. 12
"Low Winter Sun: Season 1," available Aug. 12
"BoJack Horseman: Season 1," available Aug. 22
"Parenthood: Season 5," available Aug. 25
"Once Upon a Time: Season 3," available Aug. 29
"Revenge: Season 4," available Aug. 29

Movies:
"Airbud," available Aug. 1
"Airbud: Golden Retriever," available Aug. 1
"D2: The Mighty Ducks," available Aug. 1
"Ella Enchanted," available Aug. 1
"Evita," available Aug. 1
"Face/Off," available Aug. 1
"Freaky Friday," available Aug. 1
"Goodbye World," available Aug. 1
"Harlock: Space Pirate," available Aug. 1
"Kinky Boots," available Aug. 1
"Mad Max," available Aug. 1
"Mean Creek," available Aug. 1
"Prefontaine," available Aug. 1
"Red Dawn," available Aug. 1
"Rocky," available Aug. 1
"Rocky II," available Aug. 1
"Rocky III," available Aug. 1
"Rocky IV," available Aug. 1
"Rocky V," available Aug. 1
"Rounders," available Aug. 1
"Sabrina," available Aug. 1
"Saints and Soldiers," available Aug. 1
"Shooter," available Aug. 1
"Sky Captain and the World of Tomorrow," available Aug 1
"Spark: A Burning Man Story," available Aug. 1
"Spice World," available Aug 1
"Switchfoot: Fading West," available Aug. 1
"The Birdcage," available Aug. 1
"The Cable Guy," available Aug. 1
"The Gabby Douglas Story," available Aug. 1
"The Mighty Ducks," available Aug. 1
"Turner and Hooch," available Aug. 1
"Voyage to the Bottom of the Sea," available Aug. 1
"Justin Bieber's Believe," available Aug. 6
"Cosmos: A Space-Time Odyssey," available Aug. 7
"Nymphomaniac: Volume I," available Aug. 7
"Nymphomaniac: Volume II," available Aug. 7
"Stage Fright," available Aug. 7
"Kill Zombie!," available Aug. 12
"The Nut Job," available Aug. 13
"Bad Ass 2: Bad Asses," available Aug. 14
"Great Expectations," available Aug. 15
"Mission Blue," available Aug. 15
"Dead Silence," available Aug. 16
"Thanks for Sharing," available Aug. 18
"From Dusk Till Dawn: Season 1," available Aug. 19
"Dhoom: 3," available Aug. 20
"Barbershop 2: Back in Business," available Aug. 26
"The Motel Life," available Aug. 26


Ne-Yo Sues Ex-Manager, Kevin Foster, For $8 Million (Fri, 01 Aug 2014 08:39:21 -0400)

NEW YORK (AP) — Grammy winner Ne-Yo wants $8 million from his ex-manager.

The Daily News reports (http://nydn.us/1lgmBAH ) that the R&B singer-songwriter has sued one-time manager and confidant Kevin Foster in Manhattan federal court. Foster started handling Ne-Yo's finances in 2005.

The lawsuit says Foster moved some of Ne-Yo's money without permission. It also alleges that Foster faked Ne-Yo's name on loan documents and invested Ne-Yo's money in a water company that was teetering on the edge of bankruptcy.

The lawsuit seeks $4.5 million plus $3.5 million in fees that Ne-Yo, 34, says he paid Foster.

The Daily News says a phone number for Foster's firm was out of service.

Ne-Yo's real name is Shaffer Smith. His representative didn't return an email seeking comment Thursday.

Ne-Yo has written hits for Beyonce and Rihanna.

___

Information from: Daily News, http://www.nydailynews.com

First Look: Jon Stewart's Directorial Debut 'Rosewater' (Fri, 01 Aug 2014 08:32:41 -0400)

"The Daily Show" host Jon Stewart has a tip for leaders of totalitarian regimes: "Don't arrest journalists, because they have a mind for detail."

Chris Pratt Looks Dashing In New 'Jurassic World' Photo (Fri, 01 Aug 2014 08:16:05 -0400)

"Jurassic World" director Colin Trevorrow took advantage of the buzz surrounding "Guardians of the Galaxy" and star Chris Pratt by posting a photo of Pratt on the set of next year's dinosaur adventure. Pratt, the 35-year-old, HuffPost Entertainment-approved future of movie stardom, leads "Jurassic World" into theaters on June 12, 2015. He's also just plain handsome.






How Romance Novels Saved My Life (Fri, 01 Aug 2014 08:02:14 -0400)

By Suzanne Donahue for Off the Shelf

When I was newly divorced and an abruptly single mother of five-year-old twins I needed something to fill the hours between my daughters' bedtime and my own. I couldn't get sloppy drunk, though I wanted to, because I had to be a grown-up and take care of my kids. I probably could have eaten bowls of ice cream but I didn't seem to have an appetite and, ironically, I did not have the attention span to watch TV. What I wanted was a book. I needed a big juicy read to take me out of my life for a while. A Gone with the Wind or An Unsuitable Boy kind of book that would suck me out of New York to a different place and time. What I found on the shelf in the hallway outside my office was a mass market copy of To Pleasure a Prince by Sabrina Jeffries. I had never read a romance novel but the first page hooked me and I took it home.

That night I was introduced to the wonderful world of clever feisty women whose intelligence and prickly independence are attractive and desirable traits that draw equally intelligent, handsome, sexy men to them. The characters were wonderfully complex and Jeffries wrote a tense compelling story that completely swept me into the world of Regency England and the rambunctious courtship of Viscount Draker, bastard son of the Prince of Wales and Lady Regina Tremaine, who has decided she can never marry. How could you not love the bastard son of a rogue Prince and a woman who believes she is unloveable? In addition to a clever plot all the characters -- even the impoverished ones -- seemed to live on impossibly large estates and have another house in town (just in case) that were full of trusted servants, constant port and brandy, comfy warm beds and fantastic horses. No one gets sick, unless it's a plot device, has to do homework, or deal with a morning commute or a truculent boss. It was exactly what I was looking for.

Reading romances is like watching a great romantic comedy on TCM or a period drama on PBS- yes, there is a formula as old as the hills but the formula is elevated to art in the hands of a good writer and cast. Each great romance writer has her own individual style, her favorite locale (Regency England, the Highlands of Scotland) and her own way of building characters and story. Some are time travel books, some have a mystery at the heart, some are intricate family dramas. It doesn't hurt that every hero is absolutely gorgeous with not an ounce of extra flesh on his powerfully muscled body, has as a warm heart beating below his gruff exterior and a keen eye for the unusual woman. But what I like the most is that all of the heroines are clever, strong and fearless. And no matter their travails, they always come out on top. That was what I needed when I picked up Ms. Jeffries book and didn't even know it. I needed a heroine who, faced with daunting odds, had lost faith in herself but through courage, tenacity and a great dollop of humor rallied to turn her situation around and find happiness.

I kept reading after that first book, it was so much fun to discover a new author or series. I have loved every book I have read by Julie London, Mary Balogh, Karen Hawkins and Stephanie Laurens and sometimes have followed authors out of the genre into non-fiction as I did with Eloisa James' Paris in Love but my favorite author is still Sabrina Jeffries; she has a way with a story (and love scene) that really gets to me. And I have to thank her for being on that shelf the day I was looking for a good book and being exactly the good book I needed to read.

Check out more book recommendations from OffTheShelf.com

10 Tips For Surviving Your Quarter Life Crisis (Fri, 01 Aug 2014 07:59:48 -0400)

When I think about my quarterlife crisis, I don't think about regrettable text messages or the science behind 4 a.m. nachos that "soak up" alcohol -- though those things were certainly a part of it. I think, instead, of the disconnect I felt between what I was doing and what I actually wanted. Though I regularly committed to jobs, boyfriends and friendships, I completely lacked conviction in any of those choices. I passively accepted whatever came my way.

One restless evening while mindlessly applying to jobs I hoped might save me, I realized how ridiculous it was that I expected a job, boyfriend or carefully constructed Instagram persona to rescue me. To be happy, I needed to take control of my choices. And I knew my biggest hurdle would be self-confidence. Finding self-confidence was as illusive to me as finding twenty bucks in an old jacket pocket.

I began writing about my struggle to escape various twentysomething ruts for the website HelloGiggles and quickly realized that what I was going through was relatable -- and it had actionable solutions. Confidence became more and more tangible to me. My book The Twentysomething Guide To Getting It Together [Adams Media, $16.99] focuses on the practical tactics that helped me start feeling good about my life. Here are some of those tactics, which build confidence while simultaneously conquering any quarterlife crisis -- because, after all, one victory does not exist without the other.

1. Find a career mentor. They are all around you!
You are not alone in this -- as much as you may think so while struggling to fall asleep at night. Not only do you have friends to commiserate; you've got coworkers, bosses and teachers who are happy to share their secrets. So get on their calendar and learn their magical ways. Having the courage to speak your goals aloud can help make them feel real.

2. Do whatever it takes to limit your social media consumption. Whatever it takes.
Some ideas? Don't let your phone or computer automatically save your social media passwords. Keep technology just out of reach. Give your roommate a water gun and instruct them to hit you right in the eye every time you log in. Social Media can be a fun way to check out your aunt's Farmville activity, but it can also damage your confidence. Profiles represent each member's greatest hits, not their experimental polka album. If you try to compare your real life to those standards, you may lose track of your own goals in favor of impressing others.

3. Exercise your brain to make positive connections.
Stop bombarding yourself with negativity. Contrary to the mythology that surrounds him, LeBron James was not born with the ability to make his free throws -- he practiced until his brain became so comfortable with the motion he didn't even need to think about it. In much the same way, your brain can be trained to think positively. How? Try giving out five compliments a day to the people around you. It'll help you recognize life's finer points.

4. Get to know your vices so well they can't fool you anymore.
People use vices to distract themselves from responsibility. Some vices are obvious: smoking, television, videogames, etc. Others are a bit sneakier. During my quarterlife crisis, I did things like stay up hours past my bedtime trying to book the cheapest possible trip to a friend's wedding. I hid procrastination behind a seemingly productive activity. Why I avoided something as glorious as sleep so adamantly, I'll never know.

5. Don't waste time trying to attain the perfect "beach body."
In my twenties, I got pretty tired of trying to love my body: a finicky organic machine that would rather catch a cold than sprout even one lousy abdominal muscle. Taking care of your health should not be about loving your body, but about learning to love yourself. So take yourself on long runs on the beach, draw yourself an Epson salt bath and curl up with yourself for a long night's sleep. You are worth it!

6. Get a planner and let it work it's magic.
Write everything down and your planner will do the rest. It'll keep track of bills, your toilet paper supply and whether happy hour is going to conflict with your friend's improv show. Being on top of your schedule helps you to feel less like a scatterbrain and more in control. Maybe one day you'll have a Spidey-sense for the things on your to-do list, but during your quarterlife crisis? Write everything down.

7. Don't allow break ups to become breakdowns.
It seems obvious, but I'll say it anyways: nobody has to be the bad guy during a break up. When feelings get hurt, there is an urge to place blame -- but that's not always helpful. Even if you outwardly blame the other person, you'll inevitably end up blaming yourself deep down. So don't engage in the blame game. Comfort yourself with a Die Hard movie whenever possible.

8. Don't take your friends for granted. Maybe take them for ice cream, instead.
As hectic as it is to wrap your mind around adult responsibilities and as tempting as it is to accumulate large quantities of acquaintances, don't blow off close friends in your twenties. Tell them what's on your mind and listen to what's on theirs because comparing notes on your quarter life crisis with a trusted confidant is essential to survival.

9. Make a five-year plan but don't etch it in stone. Who are you? Moses?
It's good to plan for the future: to look ahead and focus small tasks towards a larger goal. But make sure you are happy most of the time. Don't be afraid to admit that you were wrong about your dream career. Take a deep breath and allow new inspiration in.

10. Don't be so hard on yourself.
Your twenties are essentially Life Lessons 101, not a Master Class in Perfection. So relax! Save some soul-searching for your thirties, nerd!

'Sin City 2' Trailer Deemed Too Sexy For Television Because Of Eva Green 'Nudity' (Fri, 01 Aug 2014 05:38:19 -0400)

"Sin City 2" won't hit theaters until August 22, but it is already making headlines for its racy promo content.

In May, Eva Green's character poster for the sequel, "Sin City: A Dame to Kill For," was deemed too risqué for public audience by the Motion Picture Association of America. Now, Page Six exclusively reports that ABC has rejected the movie trailer for the same reason.

According to Page Six, the network said the sheer white robe Green wears in the below trailer makes her "appear to be naked." Distributor Dimension Films is reportedly appealing the decision.



Following the poster controversy in May, Green, 34, told Vanity Fair she doesn't understand the uproar and pointed out she isn't, in fact, naked. "I find the poster really sexy, actually," the French-born actress said. "It's kind of beautiful. But if it shocks people, I don't know what to do about it. I don't want to upset anybody."

A representative for ABC told HuffPost Entertainment that they had no comment on the matter.

ReThink Review: Get On Up -- Soul Brother No. 1 Lives Again (Fri, 01 Aug 2014 05:13:58 -0400)

If you hear that there's a biopic coming out about an influential African-American icon, the six words you don't want to hear connected to it are "From the director of The Help". That's because despite The Help's box office and critical success, a lot of progressive-minded people (including myself) were upset that not only was The Help essentially another movie about a white savior inspiring and rescuing brown people, but that a movie supposedly addressing the struggles of black maids in the South before the Civil Rights Act could fail so grandly in addressing the realities of racism in Mississippi. Instead, the film portrays racism not as a longstanding institution baked into a region's identity, but as simply the crummy behavior of individual jerks, while the film opts for an oddly comedic tone with a plot that hinges on eating a pie full of poo.

So when I heard that The Help director Tate Taylor would be directing the James Brown biopic Get On Up, I began warming up my voice for some full-throated groans. But despite a lot of flaws, I enjoyed Get On Up more than I thought I would for two reasons: the music of James Brown and the Oscar-worthy performance of Chadwick Boseman as the Godfather of Soul. Watch the trailer for Get On Up below.



Biopics are a tricky genre -- a narrow focus may leave fans bemoaning the aspects of the subject's life that are missing, but trying to cover the scope of an entire life risks the lack of depth that comes with condensing a life to a list of greatest hits. Taylor and screenwriters Jez and John-Henry Butterworth chose the latter approach with an ambitious structure that jumps back and forth through the timeline of Brown's life, sometimes with the young Brown who grew up a virtual orphan in a Georgia brothel appearing in the place of the adult Brown as he becomes one of music's biggest and most influential sensations before fading into drugs and run-ins with the law. It's a risky decision -- along with several moments where Brown speaks directly to the camera -- that largely works even in a movie 138 minutes long, helping connect events in Brown's childhood to the talented but increasingly difficult adult he would become.

While Brown's surviving relatives have given their stamp of approval to the film, Get On Up is no hagiography, depicting Brown as a megalomaniac who seemed to mistreat nearly everyone in his life with his increasing demands on both his band members and the women in his life for complete control and unwavering loyalty, even in the face of disrespect, missing paychecks, and domestic violence.

While some may rightfully feel that Brown's history of domestic abuse sullies his entire career, no one can deny that Brown was an extraordinary one-of-a-kind talent who changed music forever. And that talent is more than represented in the stunning performance of Chadwick Boseman, who plays Brown from his teen years into his sixties, perfectly nailing Brown's sometimes incomprehensible voice and his scintillating live performances that, with the aid of Brown's original vocals, sometimes gives Get On Up the feeling of a boisterous live concert film. Boseman is able to embody the raw charisma and talent that earned the young Brown the attention of both musicians and the music industry while also justifying his increasingly confident and grandiose vision of himself.

It's a performance so terrific and Oscarworthy that it makes you forget -- or, more accurately, forgive -- the fact that Get On Up is from the director of The Help and shares many of that film's flaws. Get On Up's overly glossy cinematography often gives the film a feeling of idealized unreality that seems more suited to a theme park. Characters are poorly developed and deliver the kind of annoyingly on-the-nose, subtext-free dialogue where everyone says exactly what they're thinking at all times. Racism is only lightly touched on while white people who don't "get" Brown and his music are often portrayed as clueless buffoons.

But like The Help, Get On Up is also carried by a singular performance. In The Help it was Viola Davis (who also plays Brown's mother) and in Get On Up it's Boseman, putting the film's most dynamic presence in all but a handful of scenes, repeatedly and insistently reminding you why Brown was indeed Soul Brother No. 1, the Godfather of Soul, and the Hardest Working Man In Show Business.

Watch video of James Brown's 1968 Boston Garden concert after Martin Luther King Jr. was killed.




Follow ReThink Reviews on Facebook.