Entertainment news and blog articles from The Huffington Post
Kerri Walsh Jennings Shuts Down Beach Volleyball Bikini Critics (Thu, 05 May 2016 08:00:21 -0400)
When people talk about women's beach volleyball, they often bring up the bikinis -- many of them for reasons that are, let's say, less than ideal.
Whether it's debating if college beach players should wear bikinis or London Mayor Boris Johnson saying the "semi-naked women" playing at the 2012 London Olympics were "glistening like wet otters," women volleyball players continue to receive undue attention for what they're wearing, not how they're playing.
Kerri Walsh Jennings knows all that. And as she prepares for her fifth Olympic games, Walsh Jennings has some thoughts on the idea that any female volleyball player should cover up.
"The original way to play beach volleyball was in a bikini and board shorts, and I don't know what else they want us to wear," Walsh Jennings told The Huffington Post over the phone.
"When it comes to beach volleyball, we're playing in 100-degree-plus weather," the 37-year-old said. "I think we've just gotta educate the public, take it with a grain of salt and make sure that we're working hard and not playing up the sex appeal because it's inherent anyway."
The three-time gold medalist added that the suit she designed with her partner, Asics, is a sports performance suit more than anything. Walsh Jennings added that the intent of the suit is peak performance, and that it's not meant to be "sexy" or "flashy."
Some might guess that the small uniforms breed body image issues within the sport, but Walsh Jennings said it's not the case, at least for her. Because, as she puts it, when you're using your body and being physical, it's less about how you look and more about how you perform.
"Of course, you know, I'm a woman -- I look in the mirror and I'm my own worst critic," Walsh Jennings said. "But I feel like sports and being physical in general can only be positive for our psyches."
In order to help Olympic hopefuls reach their dreams, Walsh Jennings and Dick's Sporting Goods teamed up as part of the Contenders program, which provides the athletes with flexible jobs and a competitive salary while they train.
Walsh Jennings said she and her former partner, Misty May-Treanor, were fortunate enough to win from the beginning, but said she also had to rely on prize money for years before securing sponsorships.
"Mentally, it's really hard to be like, 'Gosh, if I don't place this or better in this tournament, can I make rent?" Walsh Jennings said. "That's the reality for a lot of these Olympic hopefuls. I worked in a kid's shoe store. I worked in my dad's office. I did what I had to do to make ends meet."
-- This feed and its contents are the property of The Huffington Post, and use is subject to our terms. It may be used for personal consumption, but may not be distributed on a website.
'Magic Mike Live' Vegas Show To Debut Next Year, Channing Tatum Announces (Thu, 05 May 2016 05:08:32 -0400)
Ladies, whip out your dollar bills: "Magic Mike Live" is headed to Las Vegas.
Channing Tatum announced the news about the live strip show on Facebook Wednesday in a video starring several "shirtless men and puppies."
"God knows we have enough gentlemen's clubs in this world, so let's start the first gentle-ladies' club -- or maybe not so gentle, depends on what you're into," Tatum said in the clip.
Tatum, who starred as the titular character in "Magic Mike" and "Magic Mike XXL," is directing the show with Alison Faulk, who choreographed the dance numbers in the movies. The actor won't be starring in the live show, but he told Cosmopolitan that he may make a guest appearance.
"If I'm ever in shape enough to do that again, I'll absolutely go out and have a fun night or two," Tatum said.
"We want to create a place for women that is their gentlemen's club, their Playboy club. It shouldn't be sleazy. [You shouldn't feel] nervous to go there because you feel unsafe; we want to create the polar opposite of that," he added.
"Magic Mike Live" will launch in March 2017 at the Las Vegas Hard Rock Hotel & Casino. According to a press release, the show "promises to take the male revue, a staple of Las Vegas bachelorette parties and girlfriend getaways, to new heights."
Guests will enter "Club Domina," a real life version of the club at the foundation of "Magic Mike XXL," where men cater to women's desires. The nightclub will feature three bars, an integrated stage and seating for 450 guests.
Are those excited squeals we hear?
-- This feed and its contents are the property of The Huffington Post, and use is subject to our terms. It may be used for personal consumption, but may not be distributed on a website.
Bruce Springsteen Once Wrote A Song For Elvis. Here's How It May Have Sounded (Thu, 05 May 2016 03:35:05 -0400)
It's the song that might have been: A tune written by Bruce Springsteen just for Elvis Presley.
"Fire" eventually became a hit for The Pointer Sisters, and Springsteen also did the song himself -- but The Boss had written it with The King in mind.
Springsteen was such a big fan that he even hopped the fence of Graceland in a failed bid to meet Elvis, according to Rolling Stone.
Elvis died on Aug. 16, 1977, and likely never even heard the demo of the song Springsteen reportedly tried to send him. But now, Elvis impersonator Mark Wright gives us a glimpse of what might have been... putting a Kingly spin on the tune, along with his own version of what happened that night Springsteen tried to meet Elvis.
Check it out in the clip above.
-- This feed and its contents are the property of The Huffington Post, and use is subject to our terms. It may be used for personal consumption, but may not be distributed on a website.
Zaki's Review: Captain America: Civil War (Thu, 05 May 2016 03:02:33 -0400)
A little over a month ago, Warner Bros.' execrable, excessive Batman v. Superman: Dawn of Justice arrived in theaters. As you know if you read my review, that film, with its storyline about the aftermath of a destructive superhero battle leading to a battle of wills between heroes, landed with a resounding thud for me. Perhaps my biggest complaint was how it was doing an end-run around its audience by forcing an emotional investment in its characters and their world that hadn't yet been earned. Well, here we are mere weeks later with Marvel's Captain America: Civil War, covering extremely similar thematic and narrative terrain while doing right exactly what the earlier film did so wrong.

Believe it or not, it was eight years ago this week that the first Iron Man's huge critical and commercial success kicked off the massive multi-franchise edifice that we've come to know as the Marvel Cinematic Universe. Since then, Marvel Studios has gone from success to success, launching several concurrent series (last summer's delightful Ant-Man was one of my favorites of the year). And with Civil War and the beginning of their "Phase Three," we see the ultimate expression of the studio's fabled long game. Not only does it pay off plot and character threads we've watched intertwine for the better part of the last decade, it plies our history with those entanglements for maximum impact.

While this is nominally the third entry in the Captain America solo franchise (which began with 2011's Captain America: The First Avenger), in design and function it feels much more like Avengers 2.5. Picking up on story developments from both last summer's Avengers: Age of Ultron and 2014's Captain America: The Winter Soldier (Marvel's previous high point), Civil War -- inspired by a similarly-themed 2006 comic series -- sees an ideological fracture occur within the Avengers after an overseas operation gone awry leaves several civilians dead. With pressure mounting from world governments, Iron Man/Tony Stark (Robert Downey Jr.) backs a plan to make himself and his fellow super-powered teammates accountable to a panel of international overseers.

Seeing the potential for this arrangement being used against them and inhibiting their ability to save lives, Captain America/Steve Rogers (Chris Evans) refuses to sign on, which in turn triggers the war promised by the title as the various Avengers choose up sides against each other. Adding further tension into the mix is the re-emergence of Cap's old sidekick Bucky Barnes (Sebastian Stan) who spent much of the twentieth century as a brainwashed assassin called the Winter Soldier, and who may be falling back into old patterns. Now it's a race against the clock as Steve tries to track down his best pal while staying a step ahead of the friends-turned-foes intent on bringing both of them in.

Along for the ride this time is virtually the entire roster of Avengers we've been introduced to thus far (albeit with a two very notable exceptions). Making appearances are -- deep breath -- Anthony Mackie (Falcon), Don Cheadle (War Machine), Scarlett Johansson (Black Widow), Jeremy Renner (Hawkeye), Paul Bettany (Vision), Elizabeth Olsen (Scarlet Witch), and Paul Rudd (Ant-Man). In addition, Civil War also boasts the Marvel Studios debuts of two new heroes who make promising cases for their respective upcoming solo features: Chadwick Boseman as Black Panther, and Tom Holland as the newest (and best) Spider-Man. Needless to say, Disney is in for a good couple of years based on what they've got on deck.

Now, looking at the list of characters above, you can see all the ways this had the potential to become an overstuffed mess -- The Love Boat with superheroes -- but somehow it never is. Every arc feels nourished, every character feels integral, and every emotion feels earned. I have to give it up to directors Joe & Anthony Russo and writers Christopher Markus & Stephen McFeely, all of whom made such a strong mark with The Winter Soldier two years ago, for giving equal time to the spectacle (a second act battle between the two factions on an airport tarmac lives up to the hype) while remembering the beating heart underneath it all (Rogers' relationship with both Barnes and Stark).

With that in mind, Civil War benefits from the usual solid turns from Evans and Downey, so practiced and comfortable that rejoining them feels like picking up with a long-running TV series. In addition, the movie leverages our familiarity with and fondness for these actors in these roles to present a conflict that's far more internal (and thus far more engaging) than the "buildings falling over, blue beam shooting into the sky" stuff that this genre has sort of conditioned us to expect. And while there is indeed a villain working behind-the-scenes to push our heroes into a confrontation with each other, their motivations are constrained and personal in a way that feels wonderfully refreshing.

When I reviewed Avengers: Age of Ultron last year, I thought it was agreeable, but not exceptional. A "cog in the machine," I called it, and I didn't mean that in a pejorative sense. Well, one year later, Captain America: Civil War has arrived, and if Age of Ultron was the empty calorie aperitif, this is the filling entrée that justifies the wait in hindsight. Armed with the confidence that can only come from an unprecedented record of sustained success that's without comparison in this genre, Civil War emerges as as the strongest offering yet from Marvel Studios, and only further stokes my interest in seeing what's on tap for the MCU next. A+

For more movie talk, including thoughts on The Huntsman and The Jungle Book, plus my interview with Key & Peel about their new comedy Keanu, check out the latest MovieFilm Podcast at this link or via the embed below:





-- This feed and its contents are the property of The Huffington Post, and use is subject to our terms. It may be used for personal consumption, but may not be distributed on a website.
Obamas Get Funky On May The Fourth With Some Help From R2-D2 And Stormtroopers (Thu, 05 May 2016 01:07:45 -0400)
It's a sacred holiday, a time for setting politics aside so we can all celebrate what's truly important: "Star Wars."
President Barack Obama and his wife, Michelle, celebrated May the Fourth in the White House with the help of R2-D2, some Storm Troopers and a little "Uptown Funk."
Check it out in the clip above... and May the Fourth be with you.
-- This feed and its contents are the property of The Huffington Post, and use is subject to our terms. It may be used for personal consumption, but may not be distributed on a website.
Prince Performs With Kendrick Lamar In Newly Unearthed Footage (Wed, 04 May 2016 23:33:32 -0400)
Prince released 39 solo studio albums in his career -- and that may only be the tip of the iceberg.
In the days since Prince's April 21 death, new stories have emerged about little-known performances of the musical genius.
Now, rare footage has surfaced showing Prince performing with rapper Kendrick Lamar in 2014 at Prince's Paisley Park estate to celebrate the release of Prince's albums, "Plectrumelectrum" and "Art Official Age." Lamar, the Grammy-winning lyrical master, joined Prince on stage to perform "What's My Name," from Prince's 1998 album, "Crystal Ball."
The event was livestreamed at the time. But no archived footage was known to exist until the fan group, The Prince Museum, released video of the performance.
Lamar adds his artistic touch to the beginning of the song and then hands it off to Prince, backed by his band, 3RDEYEGIRL.
After Prince's death, Lamar revealed that the two spent time in the recording studio prior to the release of Lamar's epic album, "To Pimp A Butterfly." While the meeting didn't produce any songs, Lamar said the experience was meaningful.
"We got to a point where we were just talking in the studio and the more time that passed we realized we weren't recording anything. We just ran out of time, it's as simple as that," Lamar told Grammy.com.
Lamar praised Prince as a "mysterious, mystique man," and said, "He took control of his music."
As the world tries to catch up with Prince's stunning artistic output, there's still the contents of his colossal vault, said to contain a mind-boggling trove of unreleased music.
-- This feed and its contents are the property of The Huffington Post, and use is subject to our terms. It may be used for personal consumption, but may not be distributed on a website.
Interview: Robert Nix (Wed, 04 May 2016 23:16:09 -0400)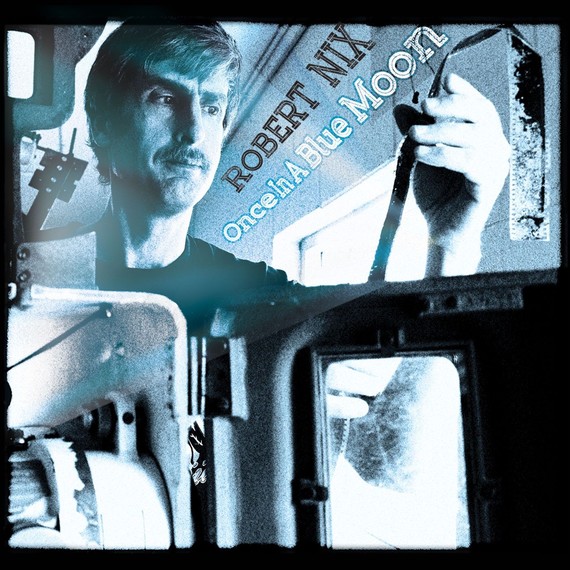 Alternative artist, Robert Nix has just released his 5th album, entitled, "Once In A Blue Moon," which includes his lead single, "Won't Go With the Flow."

Robert incorporates alternative, postpunksynth, new wave, pop, classical and progressive rock into his songs, which are hauntingly unique. I was able to get a quick look into the essence of Robert Nix, and talk about his music and artistry.

Your songs are really unique. What is inside your head when you write them?

Usually a swirling mass of unusual conflicting thoughts.

Do you have one song on your new album that means more to you than the others?

I would have to go with the first single/video/soundcloud track 'Won't Go With The Flow,' a song dedicated to those with independent thought and I just might be one of them.

Do you have a favorite artist?

The Beatles, particularly 1967 onward. Astonishing group.

Are you planning a tour to support the album?

No, I'm staying right here in this medium sized room in a basement but if these songs were the product of a band then the answer would be yes.

How many instruments do you play?

Let's see...piano and the saxophone were the first 2, then a little drums, took up violin briefly then heavily dove into synthesizer keyboard (I actually own the vintage Moog Liberation -- the world's first 'keytar'), then electric guitar followed by acoustic guitar (a completely different animal) and some bass guitar.

Also, I think singing qualifies as an instrument as well or as a torture device depending on the singer...

Do you feel like you were born to play music, and that there was never a choice to pursue any other path?

I'd have to say yes, as it's in my genes courtesy of my trombone playing father who backed U.K. singer Tom Jones in the '70's, which I always mention -- 'It's not unusual to want to throw up all over you' was his breakthrough hit in the '60's I think.

As individuals we can pursue other paths but because time is such a valuable commodity we really should only focus that time on what's really important to us.

Does the album have a general message or messages that you are hoping to get out there?

Absolutely, and it's a song by song delivery of the messages. For example 'Watch Us Fall' is observing mankind turning a blind eye to environmental destruction and population growth.

Here's a lyric from the track: 'Look all around you and what do you see? The flora and the fauna destroyed by greed, surely there has to be another way as the human race grows exponentially and if we don't stop growing then you can watch us fall'.


Your biography was just written, what is the title of it?

"Never Left Left Field"

Do you have a next project in mind?

Yes, I'm just about ready to mix my first song post 'Once In A Blue Moon'(the latest album) and I'm pretty happy with it so in 2 to 3 years I think there's a good chance there will be another album released -- if it's not released within 3 years then you know I decided to dedicate my life away from being a recording artist to instead being a window washer for all the accursed Trump Towers in this world.

Find Robert Nix on Facebook and Twitter at the following links:

http://www.facebook.com/Robert-Nix-573646276102443/
Twitter https://twitter.com/robertnix
-- This feed and its contents are the property of The Huffington Post, and use is subject to our terms. It may be used for personal consumption, but may not be distributed on a website.
Joan Baez Celebrates 75th Birthday With a Batch of Old Friends and Great Songs (Bob's There in Spirit) (Wed, 04 May 2016 21:41:20 -0400)
Joan Baez gets taken for granted sometimes, and her new birthday concert on PBS reminds us why that should not happen.




Joan Baez 75th Birthday Celebration, which premieres Friday at 9 p.m. ET on Ch. 13 in New York and airs on most other PBS stations in June, serves as a kind of highlight tour through a career that has stretched into seven decades.

No one stays around in music that long without taste and talent, both of which are evident throughout the 17-song evening.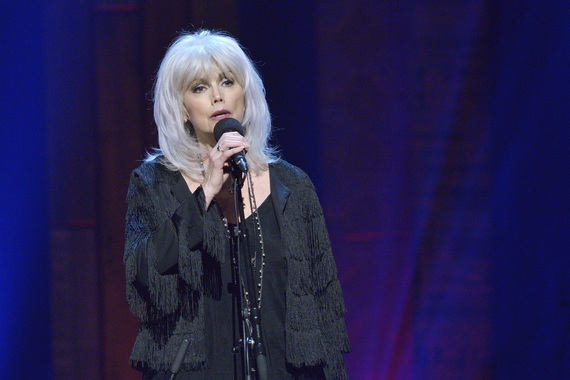 While Baez is probably best described as a folksinger, she has always drawn her music from many wells, and on this night that includes Stephen Foster, whose "Hard Times Come Again No More" she performs as a duet with Emmylou Harris (above).

She goes to the gospel well for "Oh Freedom" with Mavis Staples and a solo "Swing Low Sweet Chariot," which she prefaces with a story about singing it for Dr. Martin Luther King Jr.

In keeping with her standard practice, Baez doesn't banter much between songs. As public as her career has been, she's always had a guarded air, and her pleasure at this celebration doesn't make her into something she's not.

She's always acknowledged her fellow artists, though, both their performances and their songs, so it's appropriate that this show is a kind of roll call for those she has admired.

That includes a young artist like Damien Rice, with whom she performs the traditional Irish folk tune "She Moved Through the Fair," and Nano Stern, with whom she performs "Gracias a la Vida."

From there it stretches to Jackson Browne, who does most of the singing on "Before the Deluge," and David Crosby, with whom she sings a nice duet of Paul McCartney's "Blackbird."

David Bromberg plays guitar behind her on Elizabeth Cotton's "Freight Train," and Mary Chapin Carpenter joins her for Donovan's "Catch the Wind," which recalls the pop peak of 1960s folk music.

Baez herself never cracked the top 40, which simply proves again that radio play isn't necessarily related to musical quality. A whole lot of hit songs have come and gone since Phil Ochs wrote "There But For Fortune," for instance, while Baez proves that one is here to stay.

Speaking of quality songs, she brings out Richard Thompson for his whimsical gem "She Could Never Resist a Winding Road."

Absent from the stage, but not from the show, is one other songwriter from Baez's life, Bob Dylan.

If you ever run into Baez and you want to drive her away, ask about her relationship with Dylan. But if she got tired of talking about it long ago, for good reasons, she still tucks it into her music.

That includes a duet with Judy Collins on "Diamonds and Rust," a song addressed to a nameless fellow who shares some particulars with Dylan.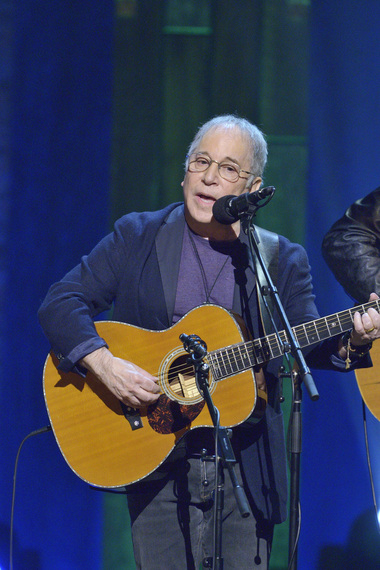 She duets with Paul Simon (above) on "The Boxer," a song that Dylan once recorded and that is occasionally rumored to have had some Dylan elements.

Then again, she could be doing it just because it's a great song, one of Simon's best. Enhancing it further here is a wonderful guitar solo from Thompson.

Baez also plays Dylan's "Don't Think Twice," with accompaniment by the Indigo Girls, and closes the show with a solo on Dylan's "Forever Young."

The former is a great song, sharp-edged on the matters of romantic breakups. The latter might be just a good way to wrap things up, suggesting that 75 isn't the end. There are hands still to be busy, feet still to be swift.

As Baez leaves the stage, she wryly tells the applauding crowd, "See you in 10 years."

It's a deal.
-- This feed and its contents are the property of The Huffington Post, and use is subject to our terms. It may be used for personal consumption, but may not be distributed on a website.
In Defense of Prince (Wed, 04 May 2016 20:52:04 -0400)
The latest news about Prince is that he was getting help from experts in dealing with addiction to pain killers.

But as soon as he died, I read lots of on-line speculation about him being a drug abuser. Today I read that his death was the kind of thing you would expect, given his "lifestyle."

Well the facts aren't in and maybe we'll never know all of them.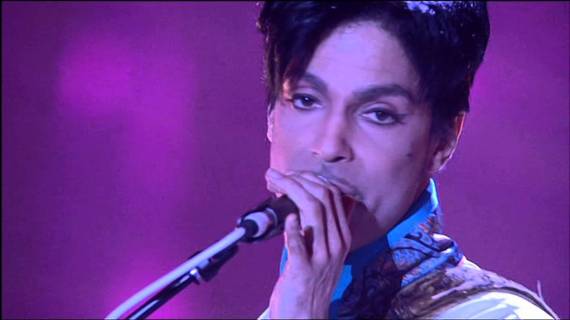 But everybody who's lived with chronic pain knows enough. And if they're Prince fans, their hearts are likely broken all over again imagining how Prince apparently suffered and how help came too late.

They know what it's like to have to do more than just function but be at your very best when you can't count on getting enough sleep and you're perpetually exhausted.

When the pain is so terrible you feel like a wolf caught in a trap.

You're frantic, maybe even feeling crazed inside--and if you could chew that leg off somehow, you would.

The medication doesn't always work, or when it does, it can have debilitating side effects.

And some people around you only make things worse when they offer up advice like "You have to take the good with the bad in life" or they just tell you to "Tough it out."

You may be so wild with pain you can imagine that killing yourself is the only solution.

That's not a lifestyle. That's hell. And one in seven of us goes there at some point in their lives.

Too bad more people don't understand what it's like, have sympathy, and avoid judgment.


Lev Raphael is the author of the novel The German Money, which the Washington Post compared to Kafka, John le Carré and Philip Roth, as well as 24 other books in many genres.

-- This feed and its contents are the property of The Huffington Post, and use is subject to our terms. It may be used for personal consumption, but may not be distributed on a website.

Rumer Willis Slams Photographers For Allegedly Retouching Her Jawline In Vanity Fair Photos (Wed, 04 May 2016 17:42:03 -0400)




Rumer Willis loves her jawline just the way it is.




After an outtake from a Vanity Fair photo shoot appeared online, Willis took to Instagram to express her disappointment over what she seems to think was a Photoshopping job gone wrong.




The 27-year-old actress wrote that the size of her jawline was reduced in the high-fashion spread, but photographers Mark Williams and Sara Hirakawa quickly responded to Willis' claim, explaining that the photo was not retouched "to alter or modify anyone's face."




"The photographer Photoshopped my face to make my jaw smaller and I find it really offensive for anyone to try and change the way you look so drastically," Willis captioned the photo on Instagram.




"I love the way I look and I won't support anyone who would feel a need to change the way I look to make me beautiful. Whether or not they realize it, it is a form of bullying, which I won't stand for," she continued.






After Willis posted the image, the photographers issued a statement to The Cut to explain their editing choices, claiming that "there was never any intention ... to alter her appearance."




Read their response below:






The retouching that was done to the photograph was only done to resolve some distortion with using a wide angle lens for a group shot, and not to alter or modify anyone's face. We used a wide angle lens, and it might've made Rumer's chin look smaller from the higher angle that we shot the image. We did correct for the optics of the lens slightly as people's heads get distorted through the wide angle lens. We certainly did not intend to change the way she naturally looks. Our intention was to capture the special bond between Rumer and her sisters.




It saddens us that Rumer feels the way she does about the image and hope she understands that there was never any intention with it to alter her appearance.




We should make clear that this image was an outtake and was not published in Vanity Fair or vf.com nor did they ever see it.



Regardless of the motivation behind the retouching, Willis, the eldest daughter of superstars Bruce Willis and Demi Moore, has been routinely criticized for her appearance from a young age. She's been vocal about her battle with insecurity and the pressures of fame in the past, penning a powerful essay in Glamour after taking home the Mirror Ball trophy on "Dancing with the Stars" last year.
"When you grow up in the public eye the way that I did, everyone's looking at you and waiting for you to do something crazy or say something wrong or have a meltdown," she wrote. "I was constantly bullied because of my looks, so I struggled a lot with my body image."
"After I finished [the show] I felt more beautiful than I had in my entire life ... because of what I'd accomplished and worked so hard for," she continued. "What it comes down to is this: We all need to stop bullying ourselves and being cruel to other women."
-- This feed and its contents are the property of The Huffington Post, and use is subject to our terms. It may be used for personal consumption, but may not be distributed on a website.
#ActionMovieCampaignSlogan Dials This Election Cycle Up To 11 (Wed, 04 May 2016 17:27:57 -0400)
If you ask us at HuffPost Comedy, there's not nearly enough crazy stuff happening in this presidential election. We asked our thousands of comedy minions on Twitter to kick this political process in the balls with the hashtag #ActionMovieCampaignSlogan.
Many thanks to Gilbert Gottfried (@RealGilbert) for being this week's special guest. Check out his podcast at www.gilbertpodcast.com. And look for him in the upcoming movie "Life, Animated."
Here are some of the very best of our "Stupor Tuesday" tag, #ActionMovieCampaignSlogan.
-- This feed and its contents are the property of The Huffington Post, and use is subject to our terms. It may be used for personal consumption, but may not be distributed on a website.
This 4-Year-Old Darth Vader Is Wickedly Adorable (Wed, 04 May 2016 17:19:59 -0400)
Who knew an evil Sith Lord could be so darn cute?
Photographer James Hopkirk, who's a huge Star Wars fan, cast his adorable 4-year-old son Harry as Darth Vader in the photo series below. In it, The small Sith Lord does everyday tasks in a way that's just sinisterly adorable.
The project, called "Little Lord Vader," was shared on Tumblr just ahead of Wednesday's "Star Wars Day."
The small Darth Vader is seen doing anything from munching on a burger to changing diapers (probably with the use of The Force). The photos were shot over a few months, and Hopkirk told the Huffington Post that the 4-year-old was actually behind the concepts for some of the shots.
"Harry had lots of ideas," the London-based photographer said. "And he insisted that we include his little brother Ted in the pictures."
Hopkirk told HuffPost in an e-mail that his son's love of Star Wars began just before the release of "Star Wars: The Force Awakens" last year. It didn't take much for the tot to get hooked.
"I decided that, even though he's quite young, I couldn't deny Harry the chance to see a brand new 'Star Wars' movie on the big screen, so I had to quickly show him all the other films first," he explained. "He was just completely in awe of them. I'm a massive fan myself, but I didn't need to do any selling -- he fell in love with them straight away."
Interestingly enough, Harry gravitated toward the notorious Sith Lord the most.
"He loves all the characters, but for some reason he went nuts over Darth Vader -- to be fair, he is pretty awesome. When we play together he always wants the Dark Side the triumph. Hopefully that's not a reason to be concerned," Hopkirk joked.
After the dad bought his son a Darth Vader costume, he realized just how kickass Harry looked. Pretty soon, a photo series was born.
So far, there are 15 photos in the series, but Hopkirk isn't done capturing the cutest villain in the galaxy yet and promises there's more to come.
To see more of Little Lord Vader and his antics, head on over to Hopkirk's Tumblr page for the project here.
-- This feed and its contents are the property of The Huffington Post, and use is subject to our terms. It may be used for personal consumption, but may not be distributed on a website.
21 Perfect #ManlyBookClubNames For Bros Who Only Wanna Read About Bros (Wed, 04 May 2016 17:07:42 -0400)
Men who feel forced to slog through the occasional novel written by or -- god forbid! -- about a woman, never fear: The Man Book Club is here.
A Tuesday New York Times profile of said Man Book Club -- a 9-year running club made up of men in their 50s, "a number of whom are lawyers and engineers" -- and other all-male reading groups made it clear that the men who participate in these groups feel an added need to assert the masculine nature of the groups. (One of the other book clubs highlighted is named the International Ultra Manly Book Club. Because... of course it is.)
"We do not read so-called chick lit," the Man Book Club founder Andrew McCullough told the NYTimes. "The main character cannot be a woman." The point is driven home on the group's website, which reads: "No books by women about women (our cardinal rule)."
The International Ultra Manly Book Club's website even outlines a vision that "one day we could step out of the shadow of our mothers' book clubs and proclaim that yes, we too, are intellectuals."
(Faux) shocked by this apparently new phenomenon of men reading, Fast Company asked people to chime in with their own #ManlyBookClubNames.
Unsurprisingly, the suggestions are pretty brilliant. Below are 21 book club names for any men craving the safe space of other men to talk about books written by men about men for yet other men:
-- This feed and its contents are the property of The Huffington Post, and use is subject to our terms. It may be used for personal consumption, but may not be distributed on a website.
Janet Jackson Reportedly Pregnant With Her First Child (Wed, 04 May 2016 17:06:32 -0400)
Congratulations are apparently in order for Janet Jackson! The music icon is reportedly pregnant with her first child, a source confirmed to Entertainment Tonight. Us Weekly and E! News are also reporting the news.
The Huffington Post has reached out to a representative for Jackson and will update this post accordingly.
The pregnancy news comes about a month after Jackson, who turns 50 this month, decided to postpone her Unbreakable World Tour in order to plan her family with her husband, Wissam Al Mana.
In a statement to her fans, Jackson said there had been "a sudden change," and that she had to delay her shows. At the time, it was unclear whether she meant she was pregnant herself or growing her family in another way (such as adoption or surrogacy).
"I thought it was important that you be the first to know," she said in a video posted on her social media accounts. "My husband and I are planning our family, so I'm going to have to delay the tour. Please, if you can, try to understand that it's important that I do this now. I have to rest up; doctor's orders. But I have not forgotten about you."
Jackson married Al Mana in a secret ceremony in 2012. This child will be the first for the couple.
-- This feed and its contents are the property of The Huffington Post, and use is subject to our terms. It may be used for personal consumption, but may not be distributed on a website.
No, That Huge Celebrity Is Not Moving To Your Town (Wed, 04 May 2016 16:36:35 -0400)
Perhaps you've seen the news on Facebook: Matt Damon is moving to Asheville, North Carolina. Ariana Grande is moving to Mobile, Alabama. Miley Cyrus is moving to Roswell, Georgia.
Alas, small-town dwellers, it is all a hoax.
Since February, a network of self-titled "fantasy" news sites has been posting articles claiming A-list celebrities are moving to far-flung cities and small towns across the U.S. and other parts of the world.
A quick Google search reveals that dozens of these such stories come from the network, which includes the websites DailyNews11, Headline Brief, LocalNews33, Lopez Report, Aly News, KNP7 News, KLPO News, WCPM3 News, WMAC News, KUPR7 News, WLEB21 News, NewsDaily27, The Clancy Report, O'Reilly Post and McKenzie Post. All but Headline Brief were created in early 2016, and Headline Brief was only registered in April 2015.
Each of these sites -- which look nearly identical -- declare all or most of their content to be "satire or pure fantasy." But still, the articles have a tendency to spread across social media, sparking many real local news stories to debunk rumors of some major celebrity moving to the area.
To read a handful of these stories in succession is to realize you are being duped. Many of the celebrities claim to have tired of "the LA lifestyle" and want to cast the city glamour aside for a life among "real, genuine people" in the articles, which are published with similar, if not identical, wording that praises each town.
"The people there are good, decent people and they care about their community," Vin Diesel, Leonardo DiCaprio, Kevin Costner and Justin Timberlake are quoted as saying.
In other versions, celebrities simply happened upon the town and fell in love with it -- a tempting fiction. It's not so unreasonable to think a public figure would also recognize your hometown's charm, although some on social media share the articles to mock the celebrity's choice.
Maybe, one day, Angelina Jolie or Justin Timberlake will tire of city life and relocate to Montana. But if that news is published on any of the sites mentioned above, it's probably not true.
-- This feed and its contents are the property of The Huffington Post, and use is subject to our terms. It may be used for personal consumption, but may not be distributed on a website.