Entertainment news and blog articles from The Huffington Post
Carrie Underwood's Awful Acting Actually Boosted Ski Lodge Bookings (Thu, 12 Dec 2013 17:42:24 -0500)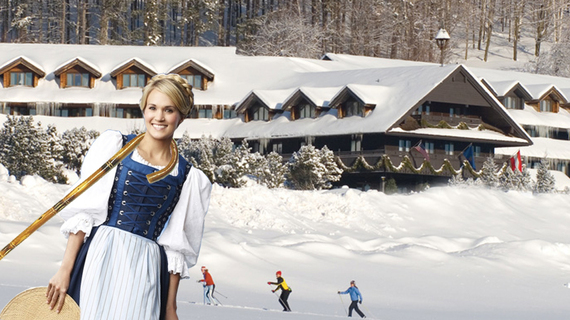 NBC's "revival" of The Sound of Music might have been a pretty bad idea, and casting Carrie Underwood might have been even worse, but the widely panned television event wasn't bad for everyone.. namely, The Von Trapp Family Lodge.
The original Sound of Music is one of the most beloved musicals of all time, and was inspired by the real-life, singing and dancing Von Trapp family who moved to Vermont from Austria in 1942. Together, the family built a lodge, started taking in boarders, and before long, they
Today, the Trapp Family Lodge remains a point of state pride, and the same family that inspired the musical are still in charge, and much like everyone else they didn't like NBC's revival.. not one bit.
"For everyone who thought the whole thing was wonderful and that NBC did a spectacular job, I say maybe your expectations weren't high to begin with," wrote Francois Von Trapp. "If they hoped to have created a new holiday classic, I think they missed their mark."
On a positive note, the live show has revived interest in the family lodge, which has seen an increase in traffic both online and in real life, further proving that any publicity is good publicity.
If you want to check out the Von Trapp Lodge for yourself, the holidays provide a special treat. Aside from the cross country skiing, snowshoeing, and a host of special holiday decorations, the four surviving members of the Von Trapps actually get together with guests to sing carols on Christmas Eve.
Just don't bring Carrie Underwood with you.
The Best Returning TV Shows of 2013 (Thu, 12 Dec 2013 17:34:47 -0500)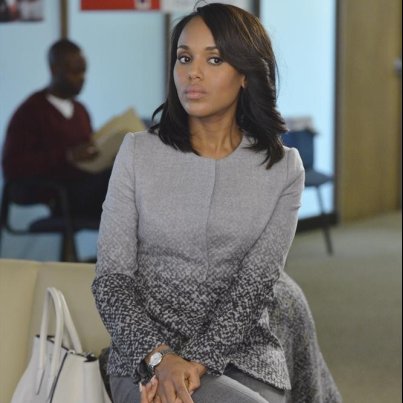 I posted my year-end Top 10 list the other day, and followed that up with a list of 25 of the best new shows of 2013. Today's roster focuses on returning scripted shows, many of which outdid themselves this year.



Veteran programs like "Mad Men," "Breaking Bad," "Enlightened," "Game of Thrones" and "Borgen" were already mentioned on my Top 10 list; they're the cream of a very competitive crop. But there were a lot of other returning shows that I greatly enjoyed in the last year. Some had patchy episodes, made strange decisions or endured wobbly runs, but overall these shows brought something exciting, interesting, fun or challenging to the party.

One final general observation about this year's TV crop: By my count, my three lists mention 60 different shows (don't judge me, I have a lot of love to give). One of the most encouraging things about writing about TV right now is that so many different outlets are putting out worthwhile scripted, episodic fare. The thing I'm happiest about is that 25 different entities released those 60 shows:

BBC America, FX, Cinemax, PBS, Syfy, Netflix, Comedy Central, Showtime, NBC, Sundance Channel, Fox, ABC, History, Ovation, Hulu, AMC, Link TV, CBS, Starz, USA, TBS, Cartoon Network, HBO, ABC Family and the CW.

A round of applause, please, for these makers, importers and curators of TV. They have different agendas and varied budgets, but all of them managed to present scripted fare that was well worth viewers' valuable time. TV critics are always gently and not-so-gently encouraging the medium to get better, and when I've got five dozen shows from two dozen outlets and half a dozen countries crowding my year-end best-of lists, I don't feel the need to do all that much nudging. Things are looking very promising.

All right then, in addition to the shows already mentioned in my year-end Top 10 list, these very special snowflakes are the returning programs I thought most highly of in 2013. The first 10 are 2013's Runners Up, and the next 20 are the best of the rest.

"Arrow," CW: I said my piece about "Arrow" recently, but then the show went and raised its game with its Dec. 11 episode, "Three Ghosts." As a superhero chronicle and as a well-crafted piece of escapist entertainment, "Arrow" was good in its first season, but it's just crushing it in Season 2.

"American Horror Story," FX: This is a bit of an amalgam award for the fabulous last four episodes of "AHS: Asylum," which aired in January, and the first third or so of "AHS: Coven," which doesn't have the depth or emotional pull of "Asylum" but has provided many actresses with quite a few entertaining, diva-worthy scenes. I haven't been writing much about the current season because I'm in perfect agreement with Tom and Lorenzo's assessments of the ups and downs of "Coven." As for "Asylum," that season was a dreamy, sad, shocking, weird, disturbing, compassionate buffet of oddly humane strangeness, which is basically what you want "AHS" to be, right?

"Girls," HBO: Love it or hate it -- and sometimes I have both reactions within the same episode -- when this show is working, it does something vital, necessary, discombobulating and singular. I give it side-eye sometimes, but the great "Girls" episodes (including "One Man's Trash") are really something. Damn, the media should pay a little attention to this cruelly overlooked show, am I right?

"The Good Wife," CBS: Regarding the revitalized fifth season, what everybody else said: It's been great fun and has shaken up the status quo in any number of entertaining ways. That said, there are a few supporting characters I would get rid of if I was the Goddess of "The Good Wife" -- and if it were up to me, I'd also make Jason O'Mara a series regular. Someone make my dream come true for Christmas, pretty please.

"Justified," FX: Let us never take this deeply satisfying show for granted: The dialogue is a continual delight, the superlative cast has never met a challenge it couldn't master, and the laconic, detailed world "Justified" has built up in Louisville and Harlan feels as solid and real as a hardcover edition of an Elmore Leonard novel. Add to that Season 4's terrific guest turns from Jim Beaver, Mike O'Malley and Patton Oswalt, and it's nearly an embarrassment of riches.

"Key & Peele," Comedy Central: The great thing about "Key & Peele's" most memorable sketches is that they go to unexpected places. This duo can do straight-up funny very well, but when they do funny-surreal, the show just hits another level.

"New Girl," Fox: Oh Lord, that Thanksgiving episode was terrible, and a few others this year have been sketchy, I'll admit that. In general, however, I still deeply adore the weird verbal rhythms of the loft crew and their sloppily realistic relationships, and this comedy -- which remains one of my favorite half-hour shows -- still makes me laugh a lot.

"Parks and Recreation," NBC: If you didn't get a lump in your throat at the sight of Ron Swanson reciting Burns' poetry while sipping Lagavulin in the Scottish countryside, then get away from me, soulless android! The crew's trip to London was only one of many high points from a very good year for one of TV's finest comedies. I heart Pawnee, always.

"Scandal," ABC: Why don't I write about "Scandal"? Because how do you expand "What the what?!" into a coherent blog post? One of these days, I may figure that out. Until then, I'll just appreciate the careening, bonkersawesome vibe of this insatiably energetic show, which the entire cast delivers with gonzo commitment (and delicacy when called for). Oh, and I'll continue to pine for Olivia's coats and handbags.

"Suits," USA: My fellow critics, can we all try to stop slinging around backhanded put-downs like "It's pretty good for a USA show" or "It's a decent show, sort of on the level of something on USA?" "Monk" ended years ago, and has nobody noticed the dark elements in "Burn Notice" and "Covert Affairs"? They're glossy entertainment, to be sure, but after a while, it starts to feel like people are holding the competence of its shows against USA. Nobody disputes that the network is aiming at the mainstream, but its best shows have meat and heft to them, and the point of all this is, "Suits" is an excellent drama by any standard. Ask anyone. It's classy, sharp, extremely entertaining soap opera about high-level New York lawyers, it's directed with a great deal of panache, and the cast was exceptional before the show began adding "Game of Thrones" veterans. Truth be told, I'm a bit grumpy that I have to wait until March 6 to see Louis Litt again, to see more machinations involving Harvey and Donna and Mike and the rest of the firm, and to resume pining for Jessica's clothes and handbags.

The best of the rest (and if I've written about a particular show somewhat recently, I've included a link here): "Archer," "Bob's Burgers," "Burn Notice," "Call the Midwife," "Cougar Town," "Covert Affairs," "Doctor Who," "Downton Abbey," "Go On" (RIP), "Justified," "Happy Endings" (RIP), "Lost Girl," "Parenthood," "Regular Show," "Spartacus," "Strike Back," "Suburgatory," "Supernatural," "Switched at Birth," "Veep" and "The Walking Dead."

For my year-end Top 10, look here. For my Best New Shows list, look here. Many more critics' Best of 2013 lists can be found here, and discussions of many of these shows can be found on the Talking TV podcast. And this is the handbag I loved most all year.

Kelly Ripa's Abs Put Pretty Much Everyone Else's To Shame (Thu, 12 Dec 2013 17:14:09 -0500)

Kelly Ripa, can we have your abs for Christmas?

The talk show host bared her toned tummy on Twitter yesterday (Dec. 11), posting a photo of herself with her legs stretched up against a wall, which reads, "Whether you think you can or you can't -- you're right."

"Thank you @AKTINMOTION and @TheKaiserTweet for letting me lean on you," Ripa wrote, thanking her trainer Anna Kaiser, who founded the AKT inMotion Manhattan workout studio.






The 43-year-old's six (or is it 10?)-pack, quite possibly puts every other person's abs to shame, including Madonna's.

Ripa is seriously ripped.

Why Emma Thompson Didn't Have Sex For 6 Months (Thu, 12 Dec 2013 17:04:36 -0500)

Celebrated actress Emma Thompson's latest role as Mary Poppins author P.L. Travers in "Saving Mr. Banks" is sure to be an iconic one. But apparently the prim -- and highly permed -- look of her character came with a sort of hilarious cost.

"It was a nightmare!," she said during an interview for Parade Magazine's January issue. "People would bleat in the streets as I went by. I didn't have sex for six months!"

Thompson, who has made her career starring in classic romantic films like "Sense and Sensibility," "Much Ado About Nothing" and "Love Actually" also opened up to Parade about why she's ended up doing so many movies where the stories revolve around love (with notable exceptions like the "Harry Potter" franchise):

Partly because it's one of the major areas in which women are allowed to take part. It's not as if I've got the same kind of choices as Brad Pitt in filmmaking. But also because love is the only thing that matters. Not just romantic love ... there's affection, Eros, family love ... It's exactly what we're designed to do.


While we're all for women having the chance to explore roles that have nothing to do with romance, we can't imagine characters like Elinor Dashwood being played by anyone else.

Head over to Parade to read the full interview.

Miley Cyrus Knows How To Do Christmas (Thu, 12 Dec 2013 16:36:27 -0500)

Looks like Miley Cyrus is taking her sexy Christmas show on the road, because after her performance in L.A. last weekend, she rocked Atlanta's Jingle Ball dressed like Santa again.

Genki Sudo's World Order Returns With 'Last Dance' Music Video (Thu, 12 Dec 2013 16:29:04 -0500)

World Order blew us away back in October with their music video for "Welcome To Tokyo." Combining sharp suits, smooth music and a slow-motion style completely their own, this Japanese band created in 2009 by former mixed martial artist, Genki Sudo, had us mesmerized and cheering for more.

Well, it's time for the encore!

Get ready to cheer all over again with this brand-new music video from World Order titled "Last Dance." Released in advance of their 2014 world tour, it only has us hoping the song title is metaphorical, because we can't wait for their next one already.

Jingle Ball is a Jingle Wreck for Selena Gomez (Thu, 12 Dec 2013 16:25:39 -0500)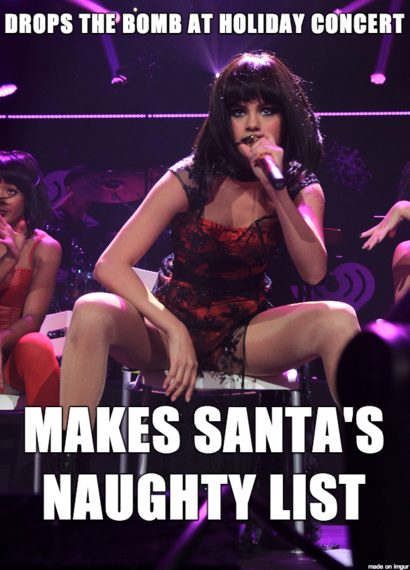 Disney-alum and pop-starlet extraordinaire, Selena Gomez, has apparently had better nights than last Friday at KIIS FM's annual Jingle Ball concert.

The trouble seemed to be brewing from her very first song while her crew was sorting through some "microphone and audio problems", so Selena made small talk with the crowd, promising that "cooler" performers would be taking the stage soon. (Don't undersell yourself, Selena! YOU DATED BIEBER. And you were a WIZARD OF WAVERLY PLACE! I mean, that's pretty cool, right? Uh, right?)

Apparently the issues were resolved, but suddenly a backing track blared over her song "A Year without Rain" revealing that she was actually lip-synching. This upset her enough to drop the f-bomb when it was done. In front of a crowd that reportedly had quite a few children in it. And then stormed off the stage. Bad move, lady!

That's right. Selena loudly proclaimed "WHAT THE F*%*?" before pulling an Ashlee Simpson and exiting stage right. One can only assume that SHE assumed her mic wasn't on? Maybe because she doesn't really use it when she's singing? I mean, that's what all the kids are doing these days, right? Well, except Ariana Grande apparently (who got her start on Nickelodeon? We can't keep up with these pop stars anymore), who also had some audio issues, but proclaimed at one point "At least now you know I'm not tracked." And of course, Selena Gomez fans took to the Twitters and cried foul, because OF COURSE that was aimed at her.

As if it needs to be mentioned: DO NOT MESS WITH POP STARS ON TWITTER. Their fans are rabid animals and will attack at the slightest jab at one of their favorites. Lesson about to be learned for Ms. Grande. Ariana took to Twitter after the performance with a couple of CYA (that's "cover your a**") attempts:

"Ohhh jesus. I wasn't throwing shade AT ALL I didn't even see anyone else's set. I was sick backstage that's why I didn't even do the carpet."

...followed by...

"I was just cracking a joke cause my mic was off. Everyone had tech difficulties. Sorry if it was taken the wrong way it wasn't my intention!"

Uh huh. If we were young enough to know what "throwing shade" means, we might agree.

Regardless, the seeds of "Selena the lip-syncher" have been sewn. Selena hasn't mentioned the incident on Twitter. (Probably because her minions "took care of the problem.") We'll just keep sitting back and wait for the official "I don't lip-sync" statement to be made by her people. Anyone have any popcorn?

Blake Shelton And Miranda Lambert Just Want To Bring A Grammy Home (Thu, 12 Dec 2013 16:13:28 -0500)

UNIVERSAL CITY, Calif. (AP) — Blake Shelton likes his odds when it comes to this year's Grammy Awards.

Shelton's "Mine Would Be You" and Miranda Lambert's "Mama's Broken Heart" are both nominated for best country solo performance, doubling his chances of nabbing a golden gramophone in his home. "I hope one of us wins that thing because I want one in my house for sure," Shelton said in an interview. "The thing about an actual Grammy is if you set it up high enough on the shelf people can't read that plaque, and if somebody comes in the house and they're like, 'You got a Grammy.' It's like, 'Yeah. Oh yeah I got one.' And they don't actually read that it's to Miranda."

Shelton has yet to win a Grammy; Lambert, his wife, won her first in 2011. Both of their tracks are also nominated for best country song, though the singers didn't earn nominations because they didn't write the tunes.

Shelton made the comments Tuesday while promoting "The Voice," where his three-time winning streak came to an end when his final teammate, Cole Vosbury, was eliminated.

The country star is looking ahead to the Grammys, where's he's up for best country album for his eighth album, "Based on a True Story..." He will battle Taylor Swift, Jason Aldean, Tim McGraw and newcomer Kacey Musgraves in the latter category.

"It's just awesome to be included and thought of in that group of artists," he said. "This is a window of time that will go by quickly and I know that and I want to enjoy it."

Swift and Musgraves lead among country acts with four nominations at the awards show, to no surprise. But country music Grammy snubs included Luke Bryan, who had a best-selling album with "Crash My Party," and Georgia Florida Line, who topped the charts with the multiplatinum, Nelly-assisted hit, "Cruise."

"Every year there's artists that I think should have a Grammy nomination and yeah, I'm surprised that Luke wasn't nominated. I'm surprised that I think Florida Georgia Line wasn't nominated. It's surprising, but you know, there's always next year," said Shelton. "If I wasn't in there I'd be really upset, but since I'm in there I really don't give a crap about anybody else," he joked.

The Grammy Awards will air live on CBS from the Staples Center in Los Angeles on Jan. 26. NBC's "The Voice" will crown a winner Tuesday.

_____

Follow Nicole Evatt at http://twitter.com/NicoleEvatt

_____

Online:


http://www.grammy.com



http://www.nbc.com/the-voice


What Those Crazy Golden Globe Nominations Might Mean (Thu, 12 Dec 2013 15:57:28 -0500)

Welcome to For Your Consideration, an unapologetically obsessive weekly conversation about the Oscar race. Between now and March 2, 2014, Vanity Fair digital director Michael Hogan and Huffington Post senior entertainment editor Christopher Rosen will survey the landscape in advance of the 86th annual Academy Awards.

Rosen: Hello, Mike. In the immortal words of Jay Z, you crazy for this one, Golden Globes!



The wacky and arbitrary Hollywood Foreign Press Association, the group of tastemakers who deemed "The Tourist" an awards-worthy film, neglected to nominate Oprah Winfrey for Best Supporting Actress on Thursday, a snub as insane as Robert Redford's Screen Actors Guild snub on Wednesday. We (I?) thought Oprah and Bob (we tight) were going to win Oscars! What gives?

Well, maybe not much. Despite the Globes' snubbing of Queen O, I still have confidence in that Oscar nomination. It seems like the HFPA just weren't enamored with "Lee Daniels' The Butler," despite an all-star cast and the push of awards king Harvey Weinstein. It was shut out at the Globes, just like "Fruitvale Station." (Do with that information what you will, but note that "12 Years A Slave" grabbed seven nods.)

So, what do the Globes tell us? Not much, but here's my reading: "American Hustle" has turned this awards season into a three-team race, joining "Gravity" and the aforementioned "12 Years." Our favorite movie scored seven nominations, including a sweep of the acting categories where it was eligible. That's good!

The other thing the Globes revealed? That I'm a nutter for having "Saving Mr. Banks" as the Best Picture Oscar winner. It might not even get nominated, following poor showings at SAG and the Globes. Shows what good going out on a limb did for me. Hey, remember when I picked "Argo" last year? That was fun.

Hogan: Hey Chris, don't beat yourself up about "Saving Mr. Banks" -- the argument made a certain twisted sense, and why not take a flyer when the alternative is to join a chorus of people all saying the same thing?

I mean, unless your goal is to be right! The truth is, you lucked out with "Argo" last year, so it's no surprise you got a little cocky. But who am I to talk? I was right there with you on Team "Banks" -- at least until I saw the movie.

Where I think the Globes can be genuinely predictive is where they line up with Wednesday's SAG nominations. We now know that Daniel Bruhl will probably get that Best Supporting Actor nomination we were all predicting for him back in September. (Does this mean someone will finally read the interview I did with Bruhl and Niki Lauda, the F1 driver he plays in "Rush"? Yeah, thought not.) We also know that the Sony publicist who told me back in the spring that Barkhad Abdi, whose name even she hadn't yet memorized, would score an Oscar nod was not smoking something illegal. Finally, we know that the enthusiasm for Lupita Nyong'o and Jennifer Lawrence for Best Supporting Actress is very real, though they'll most likely have Julia Roberts and June Squibb to contend with.

Speaking of Roberts and Bruhl, should we pause for a moment to talk about these two suspicious examples of category fraud? Is it just me, or does the fact that "August: Osage Country" ends, however controversially, with Julia Roberts riding off into the sunset suggest that hers was a leading role, not supporting? And Bruhl -- well, let's just say that "Rush" is his movie if it's anybody's. If I didn't know better, I'd say he was shunted off into Best Supporting Actor because he isn't as famous or handsome as Chris Hemsworth. (In fact, I do know better: the real reason is that he would have no chance against the Murderer's Row of A-listers in the Best Actor race.)

But here's my favorite thing about today's nominations in the motion picture categories: four acting nominations for "American Hustle"! Sure, there are 33-percent more slots at the Globes, thanks to the practice of splitting Best Actor and Actress into drama and comedy sections, but do you think this means there's any hope for my man Christian Bale to break into the Oscar race?

You don't, do you?

I have more questions: Would we be talking about Michael Douglas and Matt Damon as Oscar contenders if a studio had deigned to release "Behind the Candelabra"? And where's the love for "Mad Men"? Has Don Draper finally lost it?

Rosen: If Bale is going to break into that crowded Best Actor field it will truly have to be the best he's ever done. (Bows.) I still don't see it happening, but I like your enthusiasm. From the feet up, mothereffer!




Re: the category fraud. That stuff is as real as ever. Even "August: Osage County" writer Tracy Letts would agree. He told me that Barbara, Roberts' character, is the protagonist of the film (and that Streep's Violet is the antagonist):


Something rather unorthodox in the play is that I introduced the protagonist of the piece as late 30 minutes into it. That's unusual. I didn't want to do that in the film, but it was important that we meet the protagonist of the film earlier on, and that we also stick with her later, hence the shot of Barbara driving away at the end.


I would love to have been a fly on the wall during those back-room conversations about the awards campaign for "August: Osage County." Fingers crossed we get a "Saving Mr. Banks"-y movie about that in 40 years.

As for your other questions: "Mad Men" has now boomeranged from an awards lock to a non-factor: Draper and Co. didn't even score any SAG nominations! To me, though, that only makes the genius of the show more powerful and lovable. Who wants to root for the guys who get all the plaques? (You, since you root for the Yankees. Dig.)

With regard to Douglas and Damon, however, that might wind up being be one of the great what-might-have-been questions in Oscar history. Let me take you back to 2011, when my old boss, Stu VanAirsdale, talked to producer Jerry Weintraub about Steven Soderbergh's then-untitled film.

"A lot of people think I'm nuts making a movie about Liberace. I don't! I've got a great script, it's a great story, and they're great characters. That's what I make movies about. It's going to win an Academy Award," he said. When Stu asked him for whom the Oscar bell would toll, Weintraub had two words: "Michael Douglas."

Hogan: Too bad about "Behind the Candelabra," since it was everything to plenty of viewers: father, brother, lover, best friend.

Regarding your Yankees dig, let's just agree that, between the two of us, one has a much better track record of picking the winners.

Rosen:


RELATED
Best R&B Albums Of 2013 (And Thoughts On The 'Gentrification' Of The Genre) (Thu, 12 Dec 2013 15:55:22 -0500)
"There are three amazing nominees for soul/R&B album tonight: one, a white kid from the Mickey Mouse Club, another the son of the dad from 'Growing Pains' and a strong soulful Caribbean woman of colour," said Sarah Silverman when presenting at the recent American Music Awards. "I don't know who will win, but I do know who should find this most ironic if she loses."

Justin Timberlake ended up winning. But we probably shouldn't be surprised anymore. It's been a peculiar year for commercial R&B music. Check a lot of "best of" lists for this year and you'll find a lot of interesting artists who are categorized as R&B in the mainstream eye. Call it the "gentrification of R&B" -- it's a broadening genre that is seeing a variety of pure-play, indie and hybrid approaches to the music. Blurred lines, indeed.

The issue of white artists liberally "borrowing" elements of traditionally black musical genres such as jazz, hip-hop or R&B is a story that's been told time and time again over the decades. For every Elvis, there was a Bo Diddley; for the Rolling Stones, there's Muddy Waters; Eminem, there's Biggie. And of course, this year it's about hailing a Justin Timberlake, a Robin Thicke, and even a Mayer Hawthorne at the top of the genre in the post-millennium.

It's a sensitive issue: while you don't want to bring up the dreaded "race card," it's hard to ignore the fact that an artist like Justin Timberlake is doing the same shtick as black artists but has a much easier time ascending the mainstream charts.

Looking at the top R&B and soul records of 2013, to say that it's cross-culturally diverse would be an understatement. But let's look at things from a critical lens. The record biz, despite being on an upswing, is still hurting. Limited budget, limited resources mean that every record has to be a hit. Taking chances often isn't an option; it's about hitting that critical mass and you're more likely to appeal to the mainstream (read: dominant Western culture) on a broader scale by backing blue-eyed soul singers such as Timberlake or Thicke over an artist of colour. So it's about one colour: green. But to say that race doesn't factor into the entire proceeding on some level is kidding ourselves.

Take, for example, Janelle Monae. Had a good year, but didn't make the dent into the commercial consciousness as we might have hoped. Would she have had a monster year if she was white? It's a bit facile to speculate but it often comes down to self-identification. Why would the mainstream need a Janet Jackson when it has a Britney Spears? Why would the mainstream need a Miguel when they have Timberlake?

And that's taking nothing away from Timberlake's talent: he's damn good. And he's just making music based on the R&B influences he grew up with. And the industry, seeing how Timberlake represents such a lucrative demographic, is all too willing to back that particular horse.

That said, it was a good, not great year for traditional R&B music. Honourable mentions go to artists like Kelela, Ciara, Fantasia, and even Brian McKnight who all created decent albums in 2013. But the definitive "Best of 2013" list is incredibly diverse with artists of various ethnic and cultural backgrounds, all creating what they consider to be soul music.

Still. the irony Silverman astutely noted provides something to think about as you check out our best R&B albums of 2013 list (which, by the way, both Timberlake and Thicke are on, alongside Hawthorne and newcomer Rhye).


The Good, Bad And Surprising Celebrity Haircuts Of 2013 (Thu, 12 Dec 2013 15:54:39 -0500)
When a star chops his or her hair off, it often comes as a complete shock to the fans who have long idolized their luscious locks, cropped 'dos or shoulder-length bobs.

But sometimes, change can be good! Especially when a new haircut gives a celebrity a fresh start in the business.

Check out the celebrity haircuts that took us by surprise in 2013:


Miley Cyrus Books Gig With Dick Clark's New Year's Rockin' Eve (Thu, 12 Dec 2013 15:54:06 -0500)
Hold on to your wrecking balls, music fans– Miley Cyrus has announced that she will be joining the performance lineup for Dick Clark's New Year's Rockin' Eve with Ryan Seacrest.
Benedict Cumberbatch Is Shamelessly Trying To Get Into J.J. Abrams' 'Star Wars' Sequel (VIDEO) (Thu, 12 Dec 2013 15:49:21 -0500)
Beneduct Cumberbatch has been a part of some of the biggest movies in the last few years, from "War Horse" to "12 Years a Slave," and he made a huge impression on J.J. Abrams with with his performance in "Star Trek Into Darkness." But the actor told "Conan" there's another big franchise he wants to be a part of: "Star Wars."

Cumberbatch admitted to shamelessly reaching out to Abrams in an attempt to get a role in the "Star Wars" sequel. "I would leave casual messages on his phone as a light saber," Cumberbatch said. "And then I even went on a chat show and auditioned for Chewbacca. Sat next to Harrison Ford, Han Solo himself."

According to Cumberbatch, Ford seemed "very traumatized afterwards." For now, though, Cumberbatch can enjoy being a part of yet another enormous genre franchise. He voices the dragon Smaug in "The Hobbit: The Desoluation of Smaug," in theaters Friday.

"Conan" airs weeknights at 11 p.m. EST on TBS.

TV Replay scours the vast television landscape to find the most interesting, amusing, and, on a good day, amazing moments, and delivers them right to your browser.
Santas In Shorts Give Pentatonix 'Little Drummer Boy' The Parody It Needs (Thu, 12 Dec 2013 15:46:13 -0500)
When Pentatonix came out with their a cappella cover of "Little Drummer Boy," they were basically begging for a parody, right?

And who better to grant Pentatonix's possible Christmas wish than Chubbies shorts -- a radical men's shorts company based out of San Francisco?

The guys (including two of the company's founders) are showcasing their Christmas knickers (the Ol' St. Nick's) atop San Francisco's famed Corona Heights, while giving an absolutely "gorgeous" rendition of "Little Drummer Boy." It's hard not to shed a tear as the beautiful music washes over you. (When they start shotgunning beer, it's game over.)





London Grammar's 'Wrecking Ball' Cover Cuts Down The Destruction (Thu, 12 Dec 2013 15:43:23 -0500)
The sweeping pop production of Miley Cyrus' "Wrecking Ball," paired with its music video, evokes a very different feeling than the song's rendition provided by London Grammar. The trio's re-imagination is eerie and somber, the instrumentation reduced to simple piano and faint guitar pickings with Hannah Reid's vocals hovering heavily in the song's suddenly empty space.

When hearing a cover of a song that is drastically different than the original, it's easy to wonder what kind of impact the track would have made were the roles reversed. Would "Wrecking Ball" have been better as the brainchild of London Grammar? Could Miley (and her team of producers) craft her version based on London Grammar's take? Give the song, courtesy of BBC Radio 1 Live Lounge, a listen below and let us know what you think in the comments.