Entertainment news and blog articles from The Huffington Post
Bask In The Awkward Disaster That Was Justin Timberlake And Anna Kendrick's 'Trolls' Premiere (Sat, 01 Oct 2016 17:51:11 -0400)
So many things have gone right in Justin Timberlake's and Anna Kendrick's lives that it's hard not to feel a tinge of satisfaction when things go a little bit awry. There's a name for this sensation, right? SCHADENFREUDE.
The plan for the "Trolls" premiere in London this week was for the two stars to walk the rainbow red carpet and light up the London Eye in celebration of the movie that birthed "Can't Stop The Feeling," for better or worse.
Pssst, it's for the worse.
But when it came time to press the big red button that lights up the iconic London landmark, nothing happened, leaving Timberlake and Kendrick standing awkwardly on stage in front of a crowd of cheering fans and reporters.
"And all the power goes out," Timberlake quipped in the video, as Kendrick broke out in laughter and the event's host tried to fill the uncomfortable silence.
They continued to fidget with the device until what looke like a group of technicians reclaimed the button from the stage in a hilariously real moment we'll cherish forever.
According to the stars' social media posts, the crew was eventually able to light up the Ferris wheel with the colors of the rainbow, making all of London wonder why they're celebrating Elton John's birthday early this year.
-- This feed and its contents are the property of The Huffington Post, and use is subject to our terms. It may be used for personal consumption, but may not be distributed on a website.
We Could Watch Britney Spears Singing 'Shake It Off' On Helium Till The World Ends (Sat, 01 Oct 2016 16:42:06 -0400)
Before the age of voice-modifying Snapchat filters, there was really only one way to change your voice to sound like a choirboy crossed with a bumblebee: a helium balloon.
Proving once and for all that British talk shows do it better, Britney Spears took part in the helium challenge on "The Jonathan Ross Show" this week. Tasked with inhaling a balloon full of helium and then singing a popular song, Britney chose to perform "Shake It Off" by that girl she once forgot she met.
And to those who criticized Spears for sounding like an auto-tuned chipmunk on her recent album, this is what chipmunk Britney sounds like, OKAY?!
Although we'd be happy to watch helium Britney on a loop till the world ends, the two did finally get around to a full-blown talk show interview, something that has become increasingly rare for the pop star over the past decade.
Ross even touched upon the status of Spears' dating life, inquiring how one of the most famous women in the world meets a normal guy. Spears was publicly involved with producer Charlie Ebersol in 2015, but the relationship ended after a brief eight months. Apparently, she's been single ever since.
"It's a little tricky," she told the TV host. "I have a friend at home and he randomly sets me up with people every now and then on dates and it's just awkward."
"I went [on a date] with this one guy and he looked like a lizard. I was so scared," she recalled. "I had to go. It was really bad."
"A lot of men are about games. It's just the mind game with guys, the calling back and the texting, it's just too much, it's silly," she continued, according to the UK paper Express. "Actually, I'm not looking for men right now. I'm really happy with myself. I'm not looking for anything. I'm fine with the way I am."
-- This feed and its contents are the property of The Huffington Post, and use is subject to our terms. It may be used for personal consumption, but may not be distributed on a website.
Soundcast Reviews: Obsessed & 5Cast Podcast (Sat, 01 Oct 2016 16:03:19 -0400)
Obsessed with Joseph Scrimshaw
Epi128: Time Travel
Guests: Mary Jo Pehl, Dr. James Kakalios, and Sam Landman

If you like the topic of time travel -- I mean, REALLY like time travel, then this episode of Obsessed with Joseph Scrimshaw is for you. Recorded live at TPT, a public television studio in St. Paul, Minnesota, this episode follows the formula of Scrimshaw's show, bringing on folks who can't get enough of the topic in question.

In this case, there are two...enthusiasts, I'd call them, and one guest who really couldn't seem to care less about traipsing through time.

Right out of the gate the physicist on board, Dr. James Kakalios, sadly informs the host and audience that science is not even close to even thinking time travel is possible, but it doesn't cool his ardor on the score. Sam Landman's a comedian and co-host of the Aging Poorly soundcast, and he's the most excited about the idea, but it's Mary Jo Pehl, formerly with Mystery Science Theater 3000, who insists that the very idea of temporal displacement makes her head spin and that, even if she could go backwards or forwards in time, the experience would thoroughly both worry and confuse her terribly.

Scrimshaw pelts his guests with time travel-related questions like "Is there a moment you'd go back to in your life and do differently?" or "What historic moment would you most want to go back to screw up on purpose?"

I laughed out load when Dr. Kakalios responded to the question, "What one movie or TV show would you take back in time on an iPad to amaze the more primitive people" He said, without missing a beat "The Facts of Life." Big laughs from the live audience, which puzzled him because he hadn't been thinking about the situation comedy TV show at all. "I was talking about a film about human health and reproduction I'd seen in school as a kid."

It's a fun show so, if you're looking for a good listen, jump back in time to when the episode dropped a few days ago and download it for yourself.


• • •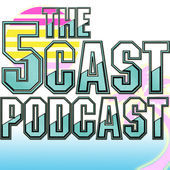 5Cast Podcast
Episode 144: Gimme Just One More Knight!

People love lists, especially Top 10 lists. What's the next best thing? Two guys each reading their Top 5 lists, and that exactly what you 're getting with the 5Cast Podcast. Tyler and Ben Pearson (Ben also hosts the NJNM Podcast) pick the most random topics in the world to pull from and then trade off counting down their top five picks.

Past topics have included spies, dragons, movies with the word day in the title, TV neighbors, pumpkins-iced goodies, and a lot more.

The latest declarations revolve around the Top 5 Knights of the Round Table, the sort of subject that -- if you're not into it -- you're going to end up learning a ton more about King Arthur and his chums than you ever dreamed.

Sure there's Sir Lancelot and Sir Galahad, the ones everyone's heard about, but Sir Lamorak? Legend says he took on fighting 30 knights at a time. Then there was Sir Gawain who became a mortal enemy of Lancelot when the latter turned out to be responsible for offing Gawain's brothers.

No more spoiler alerts here, just suffice it to say that the Pearsons have done a healthy enough pile of research on the topic of Arthurian Knights that they come off sounding reasonably informed. At least enough to bag and tag their individual Top 5 picks without straining too hard.

As they begin to crowd in on their 150th episode, Tyler and Ben make no bones about the fact that they're happy to get suggestions from listeners as to where to turn next to pull another Top 5 list.



• • •



Podcasts I'm also listening to this week: The Rules of Acquisition -- Epi32: Armageddon Game & Found -- S1E6: Rent-a-Friend



• • •



In addition to his weekly contributions to This Week In Comedy Podcasts for Splitsider.com, Marc Hershon is the host and executive producer of Succotash, The Comedy Soundcast Soundcast, featuring clips from comedy soundcasts (née podcasts) from across the Internet as well as interviews with podcasters, soundcasters, comedians, and assorted show biz folk.

-- This feed and its contents are the property of The Huffington Post, and use is subject to our terms. It may be used for personal consumption, but may not be distributed on a website.

Demi Lovato Goes Off On Lovatic For Drawing Body With Barbie Proportions On Instagram (Sat, 01 Oct 2016 13:48:59 -0400)




You can stop spamming Demi Lovato's social media accounts with lamb emojis because she's moved on from upsetting Mariah Carey fans to calling out Lovatics on Instagram where she sees fit.




Check any celebrity-dedicated account on social media, like BiEbErfrver12 or KylieJennerzArmy, and you'll see that hardcore fans often pay tribute to their faves by spending countless hours recreating their image with pen and paper.




One such drawing of Lovato topless with a mermaid tail caught the singer's attention, and not in the good way.




"Is that how my boobs should look?" she commented on a fan's Instagram that reposted the photo this week. "It's gorgeous but that's not my body."





The drawing is inspired by a sultry promotional shot from her new single "Body Say," which shows Lovato nude, but sans mermaid tail, in the same position. Unlike the fan artwork, however, bed sheets largely cover her bust and waist.






Vladimir Serbanescu, the Romanian artist responsible for the image, quickly defended his artwork on Instagram and responded to Lovato's accusation that he misrepresented her body.




"If i make your waist slimmer and your boobs bigger to accentuate the fact that i drew you as a mermaid, a mythological creature, doesn't mean I say that you should look like that or all girls should look like that," he wrote. "That's how i imagine mermaids. I worked a lot on that drawing and i was proud of it, but not anymore."






In this case, her body says NOPE.

-- This feed and its contents are the property of The Huffington Post, and use is subject to our terms. It may be used for personal consumption, but may not be distributed on a website.

For People Who Value Hip Hop But Not Black Lives (Sat, 01 Oct 2016 13:08:59 -0400)

Do you feel the beat? The 808 drums bang heavily in your car speakers as a bombastic voice speaks rhythmically over the beat, creating a colorful blend that dances in your ear drums. You vibe, and you start to feel empowered and often hyped from the energy inserted into the track from the producer and the artists that is heightened by the sound engineers.

Hip hop music is a soothing, jarring, joyful, somber, and transporting soundtrack to your life. You love hip hop.

On a hot summer day, Snoop Dogg and Dr. Dre's The Chronic can feel as warm as the cool, calm sunny breeze that glides across your face. Listening to Ice Cube's "It Was A Good Day" is like that needed exclamation on a day where catastrophe was avoided and triumph was an accentuation. Chicago artist Twista transports you to the times of Marvin Gaye, Luther Vandross, and a little Aaliyah to set your backyard barbecue party off you have planned with friends. Lil Durk's "Dis Ain't U Want" serves as a boost during the times you feel tried by a boss, coworker, or a friend, and you need a reminder that you are not a push over.

On gloomy day, as water drops keep you cooped inside your home, you smile as you sing "Beep Beep" as you empathize with Missy Elliot because you too can't stand the rain. After a bad break up, leaving you sulking, staring at your exes' Facebook photos, you gain strength from Jay Z in having "ninety-nine problems" but your relationship no longer being one. Biggie Smalls's "Juicy" gives you that needed inspiration with the lines "It was all a dream. I used to read Word Up magazine."

You jump in excitement with all of your friends and sing "We gon be alright" with Kendrick Lamar no matter your skin color because you empathize with the fusion of voice and instrumentation in that moment. You even sing passionately, "Trying to make a dollar out of 15 cents" with Tupac Shakur because part of you can relate to times of struggle. You delight in the beneficial exchange of musical pleasure for a temporarily vicarious empathetic moment.

And underneath the music, you are aware of hip hop being predominately made by people of color. You are aware of the struggles that some of your favorite artists have come from and the cycles of mass incarceration and violence that plague their communities. You know that black people are being disproportionately victims of police brutality. You have heard the names of Eric Garner, Sandra Bland, and Philando Castile. Your friends of color speak of their hurtful experiences, yet you only vibe with strangers on records who tell similar stories over pulsating beats -- you love hip hop.

Yet, when the record stops, in the middle of the darkness of the silent moments of life, you emulate the muted tones. You accept and enforce the dominant idea that black lives are less valuable and that black lives being of lesser value is due to the actions of black people. To say that black lives matter creates inner dissonance, something not experienced with the distance of empathizing an experience over music. You love hip hop, so how can black lives not matter?

-- This feed and its contents are the property of The Huffington Post, and use is subject to our terms. It may be used for personal consumption, but may not be distributed on a website.

PBS Revisits Vidal/Buckley Debates, When TV Realized Yelling is More Fun Than Thinking (Sat, 01 Oct 2016 13:07:38 -0400)

I'm not sure we need to celebrate the point at which socio-political commentary on television devolved into two people shouting at each other.

But it's worth acknowledging that moment, if only to satisfy our inner masochist, and that's essentially what PBS's Independent Lens does Monday at 9 p.m. ET with Best of Enemies, a documentary on the 1968 quasi-debates between William F. Buckley and Gore Vidal.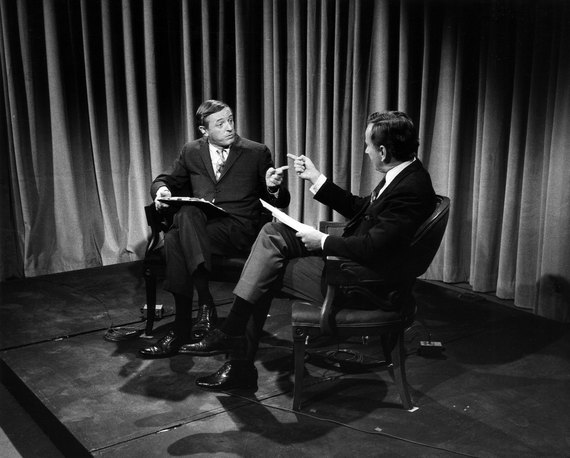 Worth noting: Buckley and Vidal, who agreed on virtually nothing, both expressed concern in the end that their emotionally charged exchanges had not enhanced public discourse.

In one of the final scenes of this 90-minute retrospective, Vidal suggests the debates have failed to offer the kind of analysis for which the two commentators were nominally hired.

Buckley, in one of his most prescient remarks, warned that television was trying to balance two often incompatible masters: "enlightenment and viewability."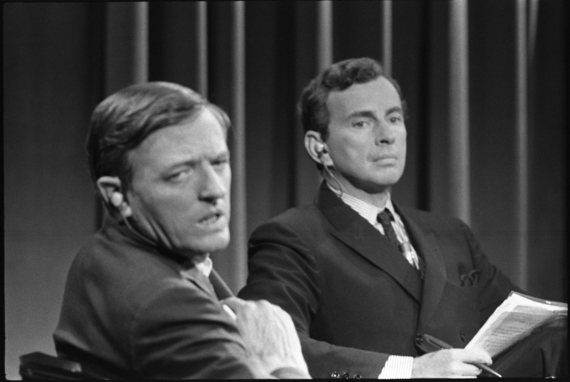 The Buckley-Vidal dialogue wasn't all that extensive. It ran for 13 encounters in the summer of 1968, during the Republican and Democratic nominating conventions.

The Republicans were nominating a resurrected Richard Nixon, who had fended off a challenge from California Gov. Ronald Reagan.

The Democrats nominated Vice President Hubert Humphrey, who was struggling to unite a party ripped in half by the Vietnam war.

Buckley, the editor of the conservative National Review magazine, was the country's best-known conservative non-politician. Devilishly handsome, Ivy League-refined and a brilliant debater, Buckley seemed to take personal delight in each "gotcha" moment. He would have preferred Reagan to Nixon, but he had no use at all for Hubert.

Vidal was one of the country's most popular authors, thanks to a series of historical biographies and more recently the then-outrageous transgender satire Myra Breckinridge. Vidal had a sharp tongue of his own, and while the expectation was that he would generally defend Democrats, he was already feeling deep disillusionment with the whole American political system.

They were hired by ABC News, which was a distant third in the TV news game and quite frankly was groping around for anything that would get their shoestring operation a little attention.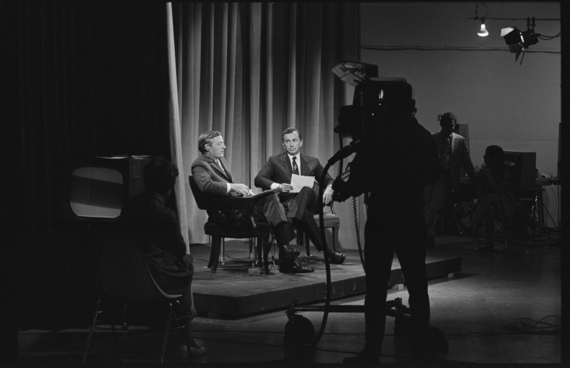 Vidal and Buckley nominally were analyzing what was happening at the conventions and they did some of that - though we see very little of it in this documentary.

What got viewers' attention, instead, was their clear dislike for each other and the resultant way that they often seemed more focused on beating the other guy than putting a platform plank into socio-political context.

It escaped no one's notice at ABC and in the TV biz that heated argument was the money shot in this experiment, and while this was hardly the first time commentators with opposing views had faced off on TV or radio, this encounter more than most others seemed to switch on a light bulb in the heads of programmers.

Within a few years we got Point/Counterpoint, with James J. Kilpatrick against Nicholas Von Hoffman and later Shana Alexander. We got Crossfire and shows like The McLaughlin Group.

Then, in an interesting twist, programmers started thinking that most people who savor this kind of combative dialogue are probably rooting for one team or the other.

So why not keep the antagonistic tone, the programmers figured, and not bother with having both sides?

That fell in nicely with the kind of advocacy talk shows radio had been doing for decades going back to the likes of Father Coughlin. So today we have multiple descendants of the Buckley/Vidal debates, except they just aren't in the same room. One side is on one network and the other side is on another network.

In both cases, we see ample confirmation that Buckley and Vidal were correct in fearing that this sort of Roman circus would usually generate more heat than light.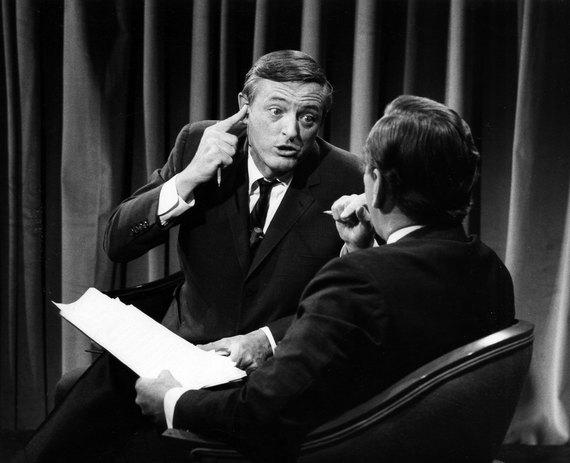 Perhaps they knew whereof they spoke because in these debates they were both often guilty of precisely that. In the most famous exchange, Vidal calls Buckley a crypto-Nazi and Buckley replies by calling Vidal a "queer" and threatening to punch him in the face.

Buckley, who wanted always to be the coolest cat in the room, was mortified that he had let himself be baited into losing it like that.

In fact, Best of Enemies details how neither Buckley nor Vidal ever quite shook the aftereffects of their unpleasant encounters.

We know the feeling.
-- This feed and its contents are the property of The Huffington Post, and use is subject to our terms. It may be used for personal consumption, but may not be distributed on a website.
Ben Affleck Opens Up About Co-Parenting Kids At A 'Crossroad' (Sat, 01 Oct 2016 13:06:32 -0400)
The Affleck brood reportedly still live in the same house, vacationed together in Europe all summer and regularly attend the farmer's market on weekends, as if Ben Affleck and Jennifer Garner's separation after 10 years of marriage was some kind of celebrity-induced fever dream.
It's been a year of upheaval for the estranged couple, but the one thing that's remained the same is their dedication to parenting their three children, Violet, 10, Seraphina, 7, and Samuel, 4.
Speaking at a press conference for his upcoming action film "The Accountant" in Los Angeles on Friday, Affleck drew parallels between his own chlidrearing experience and how his character was raised in the film.
In "The Accountant" Affleck stars as math prodigy, Christian Wolff, who grows up to be ― you guessed it ― an accountant to some of the world's biggest criminals. He is also on the autism spectrum, which leads his father to take an almost militaristic approach to parenting, in fear that his son won't succeed on his own.
"That's what I thought was the most heartbreaking thing about the story and it was definitely moving to me as a parent," Affleck said, according to People. "I face dilemmas that we all do everyday about what's the right way to raise children, what's the right thing to teach them? Every moment there comes a crossroad."
"When you have kids, what's that expression, 'Your heart is outside your body,' all of the sudden you feel so vulnerable and this fear of a child being vulnerable is very very powerful," he continued. "I can see why it made for a really interesting character in the father. Here's a guy out of love and compassion and fear for his son, actually ends up kind of brutalizing him and abusing him and it's a really interesting look at what's the appropriate way to channel the intense emotions we have as parents, it's not easy."
One parenting decision he is resolute about, however, is not letting his kids see the R-rated action flick.
"They're like, 'When do you do a movie we can see?'" Affleck said. "They just want to know what the rating is. [I reply,] 'You can see this when you're 25.'"
Until then, unfortunately, they're stuck with "Nine Lives."
"The Accountant" hits theaters Oct. 14.
-- This feed and its contents are the property of The Huffington Post, and use is subject to our terms. It may be used for personal consumption, but may not be distributed on a website.
Emily Estefan: A Rebel With a Song Takes Center Stage (Sat, 01 Oct 2016 13:00:45 -0400)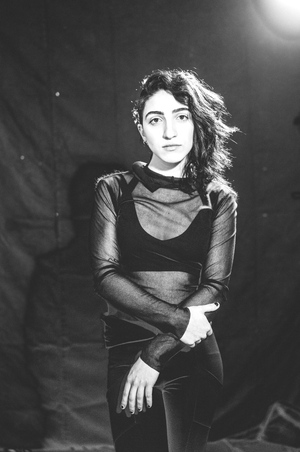 It's 7:00 on an unusually cloudy Miami morning, and 21-year old Emily Estefan is hard at work filming her first music video "F#ck To Be" from her upcoming album, Take Whatever You Want. At the center of the video is a confident, young woman stepping out of the shadows for the first time. Emily is portraying different fictional characters ranging from a delicate porcelain doll to a sex symbol, turning the lens on society's expectations.

"F#ck To Be" is a bold song for a debut single, but Emily says that's her motto for life. At 5-foot-2, she's an emerging powerhouse with a strong message: she will not be molded to fit a particular image.

With minimal make-up, Emily sports a half-buzzed hair style with flowing brown curls dangling atop her eyeglasses. When it comes to fashion, she calls herself a "simple chick;" jeans and a t-shirt. Emily describes herself as an alien shrimp. It's even the name of her record label, Alien Shrimp Records.

"I feel a lot of people succumb to a lot of negative energy in life," Emily says. "I think it's so important to be connected to your inner child and that inner weirdo that puts you on the ground and makes you realize that everybody is such a different color, and we all make this beautiful painting."

Weaving different shades and colors is the essence of this artist's music. Her vocals have the sounds of a Norah Jones, but if you listen closely her lyrics have the edginess of a Pink. She says each song she sings tells a story; her story.

And Emily's story is the stuff of legends. As each scene in the video for "F#ck To Be" is meticulously filmed and reviewed, sitting in the director's chair is her legendary mother, Gloria Estefan. The elder Estefan is largely credited for taking music out of the Miami streets and onto mainstream radio. Gloria's racked up seven Grammy Awards and most recently took Broadway by storm with her autobiographical musical, On Your Feet.

If you think having a famous parent is easy, especially if you want to break into show business, it cuts both ways. Emily says today she celebrates both of her parents' nearly unparalleled success, but that wasn't always the case. She says for a long time she couldn't understand why everybody wanted a piece of her life or expected her to be a certain way.

While Gloria and husband Emilio Estefan learned by taking chances and sheer tenacity, Emily's approach has been more measured. Earlier this year she graduated from the prestigious Berklee College of Music. Other notable alumni from the school have included The Dixie Chicks' Natalie Maines, John Mayer and Melissa Etheridge to name a few. Emily has no plans to mirror her mother's career, which would be an admittedly impossible trail to blaze. She is embracing her own sound and is comfortable in her own skin.

"A lot of people want me to be just like my mom," Emily says. "If you take one look at me, you see already that I'm not."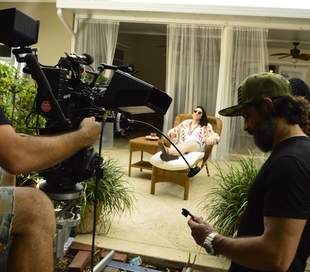 It's been a year and a few months in the making, but this January Emily's CD Take Whatever You Want will be released. Emily wrote, recorded and produced the album at her college apartment in Boston almost entirely on her own.

She describes the CD as a "manic genre explosion." The songs range from funny and quirky to those about female empowerment. The title, Take Whatever You Want, is reflective of how she wants people to view her music.

"Whatever you like; take it," she says. "I don't apologize for it. It's honest. I'm not trying to fit any stereotype. It merely is just what explodes out of me and how I can translate that to something you can hear and take home with you."

The path to Emily using her voice to express herself has not been easy. As a little girl she found her home behind a drum set. At 8 years old she started playing drums in her mother's concerts. She always loved singing, but was afraid to open her mouth. Her biggest fear---sounding too much like her mom. She didn't want the comparisons.

"It was almost worth it to not sing because then I wouldn't be able to be an individual," she says.

That all changed when she was 18 years old. While on break from school, Emily gave the scariest performance of her life. She sang in front of her mother for the first time.

"I said, 'I need to do something with you one on one, and I need you to not cry and not look at me,'" she recalls. "That's the only time I can honestly remember that I felt like I was going to vomit."

Two years later Emily took the stage with her mother at the Hollywood Bowl. In front of nearly 20,000 people she made her singing debut performing "Where the Boys Are," made famous by Connie Francis, one of Emily's music idols.

Her performance earned her a thunderous ovation, but Emily questioned if she deserved the accolades or if they came just because she was the daughter of the "Conga Queen," as she affectionately calls her mother. She forged ahead and didn't let her insecurities stop her.

"I do it for no other reason than because I love it, and I need to wake up and do it," she says.

Emily says fame is not important to her. She just wants to be able to play her music and touch even one person's life. More importantly, she hopes in the future she can still say, "I'm comfortable being this person." Her mother once told her: "You can't fake real, so don't try."

Emily doesn't need to try. She may not have chosen the life she was born into, but she's in complete control of her future. No one can tell her who the 'F#ck To Be.'

Emily Estefan's latest single, "Reigns (Every Night)," is available now. For more information, visit http://theofficialemilyestefan.com/. Watch "F#ck To Be" music video: https://www.youtube.com/watch?v=ANThbv9EPPU

-- This feed and its contents are the property of The Huffington Post, and use is subject to our terms. It may be used for personal consumption, but may not be distributed on a website.
Rodney Crowell forever looking ahead to next song, next line (Sat, 01 Oct 2016 12:40:53 -0400)
By Brian D'Ambrosio

Solemn and solitary, and stubbornly practical, Rodney Crowell never overthinks his next move.

The 66-year-old Texan, who has released close to 20 albums in the past four decades, has never felt as if he has had the weight of the past carried on his shoulders; he's always got new worlds in front on his mind.

"I idea of looking back doesn't seem like a luxury to me," said Crowell, from Nashville, where he is putting the final buff on a new album. "But looking back seems like a capitulation. The proverbial carrot is never behind you, but it's always out in front. For me, my career has never been about what I've done. But it's been about becoming, achieving and pushing myself further. To take a line from Bob Dylan, 'Some day when I paint my masterpiece.' I hope to paint it a couple of days before I check out of here.

"Some fans have had some frustration, because I've refused to play hit songs. But it's something I've been insisting, and I figure if I can't hold your attention with what I'm creating now then I deserve to lose your attention. I've softened that a bit. Oldies acts are something I've always seen in a negative context and I've purposefully striven to create new work and be vital at that moment."



Photo courtesy Rodney Crowell

Crowell's earliest work clutched to and explained away a series of existential crises; indeed, he's built a brand as an extension of his psyche. He grew up in East Texas and Houston in the 1950s, frequently shielding his mother from his father's violent outbursts, a topic he addresses in several songs. His mother and father were both raised on sharecropper farms in Southern states. James Walter Crowell, who, Rodney said, fought hard to keep darkness at bay, played guitar and drank at local roadhouses. His mother, Addie, often worshipped at a Pentecostal church; she was prone to dropping on the ground as if shot from a pistol, rolling over, and speaking in tongues. Though it startled him, he saw it as "great drama" and "real passion."

Crowell's music was never designed to dazzle. Music provided an escapist coping mechanism and, perhaps most importantly, the opportunity to avoid being formed by that same violence.

In 1972, he left Lone Star State and settled in the Nashville, where he met one of the bedrocks of the songwriting scene, Guy Clark. The Texas songwriter offered his own window on the world, letting loose with a plethora of gratis advice about the merger of melody and composition, as well as a steady supply of booze and several books of Dylan Thomas' poems. (Thomas' work, too, had a profound effect on Crowell, making him think about the juxtaposition of art, creativity and legacy.)

Crowell still deferentially bows his head to the legends who've come before.

"Guy Clark (who died May 17, 2016) was everybody's mentor," said Crowell. "I first met him after I was at a pub and I ran into some circus performers and they sent me to find this man named Guy Clark. They said that he's the curator (of the Nashville music scene) and I knew of him from him playing at Sand Mountain Coffeehouse in Houston. Couple of days later, I ran into him. We'd play songs, have conversations well into the night, and play more songs. Then we'd have conversations about songs."

Crowell finds his well being in the act of constantly building something that stirs or saddens people through his musicianship, and somehow he always comes up with a mischievous, singular tweak.

"So much of inspiration comes from collaboration with other musicians. I'm working on a new album, with one song to finish and it comes out early next year. I worked with and collaborated with musicians I haven't worked with before. First sensibilities will change my sensibilities - and the bar gets raised. Collaboration allows me to challenge myself to find a new passion for music.

"I'm more passionate now than I was in my 20s. I'm more passionate now than I was as a teenager or in my early to late 20s, and this time in my life I listen with more passion than I ever did then. It's more important to me. Maybe because I have less time and I pay closer attention to what's there and why it's there. Invariably, collaboration leads to new forms of self-expression and to the things that move you."

Perhaps it's only natural that Crowell finds a comfort in Montana that is more social than aesthetic; in fact, the lead verse of "The Long Journey Home," the opening track of "Tarpaper Sky (2014)," starts this way, "We ran off chasing rainbows beneath the blue Montana sky."

"I do enjoy Montana, especially in the wintertime," said Crowell. "I think in the wintertime, you see the value of conversation, and after you've spent a full day writing, then in the evening you go looking for friends for conversation. The solitary existence during the day and seeking conversation and society at night - that to me that is a part of the Montana wintertime culture."

Crowell - who has been the recipient of about every award in country music you could think of - said that tuneful sounds or lyrical vignettes are always jostling for space or favor in his brain.

"So many times people ask me, 'Do you have a hobby?' Work is my hobby. Though, in recent years, I've taken to horticulture and I have a garden area - vegetable and flower garden. I'm planting some exotic trees. When I dig weeds and plant sage, I most often think about songs and I think about art. When I exercise I do it with a set of headphones on. Music is never far away. I've trained myself to magnetize the inspiration and set up a fresh wave of inspiration. Gardening tends to do that for me.

"I've found a small admiration for people who have five or six hit songs and then play them forever, and play them happily. That just doesn't work for me. I'm going to push myself and never rely on what I've done in the past. Failures are there. Along the way I've failed and the failures have most always been what I've learned from most. They've left me with a clear idea and re-energized at what I've failed at. I'm not one to play the past over and over with great satisfaction, because there is no risk of failure. It's a self-protective way to do things and I can't conjure that mindset. Thick skin would be the enemy of discovery."

Indeed, no matter what compels Crowell, the fountainhead of ingenuity gurgles deep from within, and he knows how to bottle it with the fleeting grace of art. The particularly stunning "Oh What A Beautiful World," another track off of "Tarpaper Sky," he brings his usual craggy gravity to plainspoken, yet elegant lines such as, "It's the rise and the fall of the clocks on the wall."

"It's forever now and forever now," said Crowell. "I think about how much longer do I have now? I turned 66 a few days ago, and I wonder just how much is my 'now' going to be. How much longer do I want it to be? It's right now, and right now just left - and it's to be replaced by another right now. It's a paradox, isn't it?"

Brian A. D'Ambrosio lives in Helena, Montana. He is currently at work on a compilation of interviews with American singer-songwriters called "Troubadour Truths," which can be followed here.
-- This feed and its contents are the property of The Huffington Post, and use is subject to our terms. It may be used for personal consumption, but may not be distributed on a website.
Porter & Sayles - Onward and Upward (Sat, 01 Oct 2016 12:29:55 -0400)
Singer-Songwriters Christian Porter and Regina Sayles first met in 2007 after they'd been hired for a marketing campaign for the American Music Awards. Their job? To be New York City street performers for a few days. During the campaign they started chatting and were amazed to find out both were based in Stroudsburg, Pennsylvania. Over the next several years their musical friendship grew and they joined each other frequently on local gigs.

It wasn't until last year, however, that they first collaborated together as a duo. They recorded a percussively rollicking and joyous cover of the Sheppard song Geronimo, which showed beyond any doubt how great their voices are together. The two found themselves to be a great songwriting team and over a period of six months, worked together on an album between gigs and day jobs.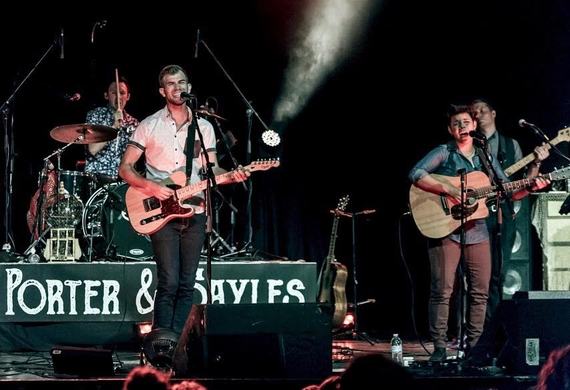 Photo by William McKee - Used With Permission



Sayles, who had been a solo artist, has a strong, lovely voice that at once calls to mind freejazz Joni Mitchell as well as smooth and smoky Karen Carpenter and rocking Sheryl Crow. Porter, who first came to the music world's attention through a well reviewed 2012 stint as a contestant on The Voice, also performed in the clubs and bars of Stroudsburg and the surrounding area. Artists whose styles they both love include Sugarland, the Civil Wars, and Lady Antebellum.

Porter & Sayles' self-titled debut was released this summer and contains 13 fresh, folk/pop tunes that are emminently enjoyable. In addition to Christian and Regina, who handle vocals and guitars, they are joined by other musicians on violin, viola, organ, keyboard, cello, banjo, fiddle, and accordion. The record is frankly great and deserves attention and airplay. Standout tracks range from the spooky I'm Just Gonna Go to the bluesy More to an achingly sweet Over and a song any American bar band can relate to, Free Bird (not the Lynyrd Skynyrd ubiquitous hit, but a tongue in cheek song about people yelling for it night after night).

They will begin an October residency at Asbury Park's House of Independents backed by a 5-piece band, the first date of which is Sunday October 2. More info and ticket information can be found on the venue's website. Other dates will follow later this year. Don't miss them; great things are definitely in the cards. Keep up with them here.

-- This feed and its contents are the property of The Huffington Post, and use is subject to our terms. It may be used for personal consumption, but may not be distributed on a website.

"Forgiveness" A Film by Satie Gossett (Sat, 01 Oct 2016 12:29:51 -0400)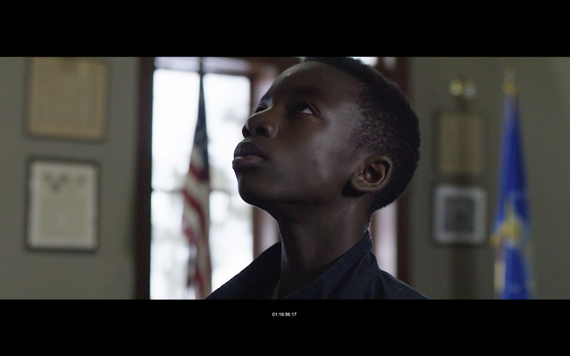 Photo courtesy of "Forgiveness"

By Catherine Bauknight

Satie Gossett, writer and director has made a thought provoking film called "Forgiveness." The film creates awareness of the social impact that slavery has made and that healing can make on our future society in America. This film recently screened at the Landmark Theatre in Los Angeles, September 7 through 13, 2016. It is a timely social statement on the issues we face today, through the eyes of a young African American boy, Oliver Burroughs played by Roland Kilumbu. Burroughs learns about the history of slavery in America in his classroom. He enters an essay contest held by the President of the United States and proposes that the President apologize for the historical enslavement of the African American people in order to create social healing in present day America.

Satie Gossett says that the idea for this film short occurred to him when his own young son asked him questions about the slavery that had occurred in his country.

Gossett, owner of Goose Egg Entertainment, storyteller, thinker and image builder says that for the healing process to begin, change has to happen to get different results. His film is creating infectious thoughts of change. People of many ethnicities came to the screenings at the Landmark Theatre and expressed their desire to spread the message of "Forgiveness." How to create congruency to unbind the wounds caused by the act of slavery to manifest social healing was the unified goal of the audience and panel discussion at the Landmark Theatre on September 11th. This response inspired educators to include the screening of the film in schools. They made plans to do so with Gossett after the screening. Gossett was also invited to screen at the Black Caucus Conference in Washington, D.C. on September 16, 2016, by one of the audience members. The future of the film according to Gossett is to enter it in the upcoming Sundance Film Festival. He will also submit it to the Academy on October 1, 2016, to be considered for the recognition of an Academy Award.

Gossett's previous short film, "10 Minutes," a crime drama featuring Louis Gossett, Jr., starring Glenn Plummer and Kent Faulcon was screened at the Cannes Film Festival in 2015. Satie Gossett is a filmmaker to keep your eye on for future waves of social change and education.

The Executive Producer of "Forgiveness," Sandra Evans-Manly is also founder of Films With A Purpose.

For more information about the film go to the website: Filmswithapurpose.net
-- This feed and its contents are the property of The Huffington Post, and use is subject to our terms. It may be used for personal consumption, but may not be distributed on a website.
Dennis Hopper in The Last Film Festival: A Tribute (Sat, 01 Oct 2016 12:17:06 -0400)
We are mid-festival season with the venerable New York Film Festival opened this week, and the Hamptons International Film Festival next, but one festival that spoofs them all is shown in an indie comedy, The Last Film Festival, co-written and directed by Linda Yellen. Starring Dennis Hopper, ultra handsome in his very last film, and the delicious Jacqueline Bisset, this film is a laugh-out-loud riot, a mash up in the manner of Robert Altman and Christopher Guest, even though an end note says the influence was 1946 Cannes, when Hitchcock's Notorious was screened wrong reel first. But that is just one funny moment in The Last Film Festival, which also features raucous sex, a locker room catfight between older and younger actresses, and about everything you can do with a man in a wheelchair.

The supporting cast includes JoBeth Williams as a lush, loose mayor of the small town of O'Hi, Chris Kattan as an undertaker/film enthusiast named Harvey Weinstein, and Leelee Sobieski who thinks Hopper's Nick Twain is her biological dad. As one character says, O'Hi is where movies come to die. But Hollywood does beckon in the long run. Dennis Hopper's last movie, exuberant as it is, shows what a brilliant actor he was, fitting the film producer role perfectly, as he worked both sides of the camera in real life. And a question this film begs: why aren't we seeing more movies with Jacquline Bisset?

A version of this post also appears on Gossip Central.
-- This feed and its contents are the property of The Huffington Post, and use is subject to our terms. It may be used for personal consumption, but may not be distributed on a website.
Dream-Like Novel Lays Bare The Emotional Fall-Out Of Child Abuse (Sat, 01 Oct 2016 10:21:54 -0400)
Not often does a novel so expertly seduce its readers into an alternate state of consciousness that it mimics an actual dream state, where everything solid is hazily just beyond reach. Eimear McBride, with her deployment of modernist technique reminiscent of James Joyce, elicits such a mental state throughout her new novel, The Lesser Bohemians ― really, it's the only way to read it.
The Lesser Bohemians tells a rather conventional-sounding story of troubled young love. Like the author, who attended drama school in London at just 17, the narrator of the novel has just moved to London from Ireland at 18 to study acting. As she learns how to transform herself into new characters from the inside out, she's also seeking to transform herself in another way: she's still a virgin, and very much wants to change that. One night at a pub, she meets an older man, an actor of some notoriety, who promptly takes care of the issue for her. Slowly, the two fall into a torturous relationship, each haunted by painful childhoods and increasingly dependent on each other.
This is McBride's second novel, and her second narrated by a young woman grappling with unspeakable trauma. She shot into the literary world's consciousness in 2013, when her debut, A Girl Is a Half-Formed Thing, was published after a decade of rejections. For those who read the much-lauded and much-awarded Girl, about a girl who is sexually abused by a family member and grieving as her beloved brother becomes ill with a brain tumor, The Lesser Bohemians will be familiar not just in substance, but in style. McBride adheres to neither conventional nor internally consistent rules for punctuation, spacing, or capitalization, making conversations and referents nearly impossible to track. Her turns of phrase often seem like nonsensical scramblings. Here's a walk in the autumn: "Adhering to my footfall but inured to the leaves and the rattle-tattle skip-up they suggest. It is forward and only."
It's hardly fair to pull this line out of context of the entire book. We're accustomed, as readers of fiction, to books written in the crisp vocabulary and neat syntax common to nonfiction as well. Only poetry is likely to challenge us to find meaning in such lines, which hardly even seem to, realistically, resemble the stream of an actual person's consciousness.
The Lesser Bohemians, in short, doesn't ease readers in. Instead, it teaches us to understand and bend to its unusual cadences and the unpredictable rules of its tiny universe. It's not a book you'll want to repeatedly take up and put down, because the most satisfying moments spent with it come after you're dozens of pages in, when you realize that instead of struggling against the current you've been caught up irresistibly in its powerful pull.
This is a testament to McBride's skill, and the impressionistic quality of her prose lends itself well to much of her subject matter: sex, fighting, making up, getting drunk, being hungover, being in the grip of overwhelming emotion. It can also sweep readers up romantically into a story that's deeply troubling ― for better or for worse.
Though it's narrated by a young woman, the novel is perhaps more interested in the traumas of her lover ― if only because the impressionable girl desperately longs to be a receptacle for his pain, but also fears losing him by revealing too much of her own unloveliness. He knows that she's been molested as a child, through a passing mention, and that her beloved father died of cancer. His recounting of physical, emotional, and, horrifyingly, sexual abuse at the hands of his unbalanced mother takes up a significant portion of the book. He also has a daughter about her age, whose mother moved the child out of the country years ago, and he is consumed by the loss.
That she might be seeking a father figure, and he a daughter, floats queasily in the ether of Bohemians' more unsettling passages. During one sexual encounter, recently reminded of how close in age she is to her lover's estranged daughter, the narrator's musings become a woozy jumble of her own lustful thoughts and the imagined filial ones of the child she's only imagined: "He's taken care of me. And me, from the first. But he is my father. And your father taught me this, showed me how until I love to and know him like you never can. This is my father. Taking my knickers down. Putting his fingers. Putting his mouth." It's an intentionally disturbing collision between the love the man has for the young narrator and the love he has for his daughter.
Yet as quickly as Bohemians raises these uncomfortable questions, they're washed away with the ache of the narrator's youthful need for her first love. Is it the responsibility of a novelist to resolve such disturbing issues after raising them? Maybe not. McBride has said that she writes about "human vulnerability and fallibility," and her work, to be sure, never flinches from the damage inflicted by human fallibility, especially at its worst.
But the spell of The Lesser Bohemians' sweeping love story seems to chant, through a cloud of British fog, "true love can cure all," even as McBride sets us up with too many doubts and fears to brush away. True, caring, mutual love, no matter its potential sour endings or tumultuous expressions, can't be a crime, but The Lesser Bohemians might leave readers wondering if it can be a solution either.
The Bottom Line:
A dream-like, impressionistic novel written in the same distinctive neo-modernist prose as her debut, Eimear McBride's second novel weaves a thorny and disturbing love story between a teenage woman and an older man that's complicated by their past traumas.
What other reviewers think:
NPR: "The Lesser Bohemians is a love story, yes, but it is really an electric and beautiful account of how the walls of self shift and buckle and are rebuilt."
The Guardian: "McBride evokes brilliantly the distinctive pleasure of days spent in bed, moving imperceptibly between humour and passion, and between violent and tender desire."
Who wrote it?
Eimear McBride's debut novel, A Girl Is a Half-Formed Thing, won the Baileys Women's Prize for Fiction and vaulted her into the literary elite. Critics compared her prose to modernist icons such as James Joyce. The Lesser Bohemians is her second novel. McBride was born in Ireland.
Who will read it?
Anyone who's nostalgic for the modernist literary movement or a lover of experimental fiction.
Opening lines:
"I move. Cars move. Stock, it bends light. City opening itself behind. Here's to be for its life is the bite and would be start of mine."
Notable passage:
"Could I grow up in a night? Grow up in this day? Curled here with him on his small bed, in the cradle of our arms and wrap of our legs watching him deep in his deep dream, far the threat of what he's been while I lie here, in love. So much and sooner than I thought I'd be. Years off, I'd thought and not like this. But I have come into my kingdom where only pens and pencils were. Abrupt and all abrupt. No longer minnow in the darkness and the deep. Through the portholes and currents I've been. Going to the surface. Up into the sun. Touch my own throat. His long arm. Shining like a body come fresh into the light. And she is in the centre of life. I am. I am her. Not unspun either, for what can it mean, more than how a life was lived? His breath gone peaceful in the tight and warm. Twin mine to his. Indifferent dreams, I hope. And list in their pooling through the dark, across books and wine glasses, over my bags, contenting us while across the world she lies, his girl, who is not me. Does she love him like I would if he were mine, that way? The other way I do not want?"
The Lesser Bohemians
by Eimear McBride
Hogarth, $26.00
Published September 20, 2016
The Bottom Line is a weekly review combining plot description and analysis with fun tidbits about the book.
-- This feed and its contents are the property of The Huffington Post, and use is subject to our terms. It may be used for personal consumption, but may not be distributed on a website.
Tim Burton Is Nostalgic For A Time When 'Franchise' Wasn't A Hollywood Buzzword (Sat, 01 Oct 2016 09:00:20 -0400)
I met Tim Burton earlier this week at a site that feels like the setting of a Tim Burton movie. We sat in a dim room at the McKittrick Hotel, a once-abandoned tavern that used to attract Manhattan's upper crust and now plays host to the macabre interactive-theater project "Sleep No More." Its dim corridors could house any of the peculiarities from Burton's 31-year career, during which he has directed such contemporary classics as "Beetlejuice," "Batman," "Edward Scissohrands" and "Ed Wood."
Burton's latest, "Miss Peregrine's Home for Peculiar Children," opens in theaters this weekend. Based on the Ransom Riggs novel about a teenage boy (played by Asa Butterfield) who befriends a tribe of shape-shifting eccentrics at an abandoned orphanage, "Miss Peregrine" is right at home in the pastel fantasies of the Burton oeuvre. So, we talked about exactly that.
I live a few blocks over from the Tim Burton–themed bar.
Oh, really? Oh, shit! I heard about it, but I'd be too scared. I'll have to send a pre-scout to see what it's like.
Imagine if the patrons saw Tim Burton walk in the door.
It's too scary, even for me.
Because it's too much of your own work in other people's hands?
Yeah, I don't even like watching my own movies. I am curious about it. And it's still open. That's amazing!
I feel your movies have gotten a bit more family-friendly in the last decade.
Really?
Things like "Miss Peregrine," "Alice in Wonderland" and "Dark Shadows" retain your aesthetic, but they're not quite as edgy as some of your previous work. Do you think having children has influenced that?
No, I don't. It's a possibility, but it's certainly not something conscious. I did show my 5-year-old "Sweeney Todd." Is that family-friendly?
I wouldn't call that one family-friendly. It's the post-"Sweeney Todd" Tim Burton. What did she think?
She liked it. I'm a weird person to ask because I grew up watching weird movies all the time. Who am I to know? But it's a possibility, even though I've never consciously thought of that.
There's a lot of chatter right now right now about studios' reliance on reboots, sequels and adaptations.
Yes, I've done my fare share of those.
Is it harder now than when you first started to get a "Frankenweenie" or an "Edward Scissorhands" made?
Maybe, yeah, it's possible. It feels entering a new era. The rebooting or the redoing used to be infrequent, but now they basically reboot things every year. They do the same stories, just with different actors, which is a new phenomenon. "Spider-Man" is the same "Spider-Man" with a different cast.
In thinking about the evolution of blockbusters, it's hard to deny that "Batman" is one of the most influential movies of the past few decades. It helped to usher in a new model for commercial filmmaking.
Well, I do feel lucky to be part of something that felt new at the time. That was the days when the project felt like a new way of doing a superhero film, but also you'd never heard the term "franchise" before. Ah, it was so pleasant not to hear that word. Is it a movie? Is it a fast-food chain? What are we talking about? What does "franchise" mean?
You didn't even know there would be a sequel.
No, we had trouble even to begin with. Warner Bros. obviously was into it, but it was different territory.
It was an early example of fan acrimony emerging before the product has even been shelved, which is ubiquitous now. People were so upset that Michael Keaton wasn't a buff hero type.
Oh, yeah! No, I know, and it was so funny, over the years, because when the movie came out, it was financially successful, but it was not a critical success.
Oh, I don't know ...
Believe me, I was there. And then there was a lot of criticism about Michael Keaton, as you said, even by other actors. And then, all of a sudden, you see every Batman, they all [deep Batman voice] talk like this ― and it's like, what is this, some kind of Elvis imitator? You guys hated it, then why do you sound like him?
You could argue that, in Hollywood, there's pre-"Batman" and post-"Batman." Are you a fan of the superhero saturation that's taken hold?
Eh, I liked Batman. That was my favorite character, just because I liked the fact that he was human and I liked the fact that he had the dual, split personality ― the light and the dark. That's why I like Michael Keaton. You look at his eyes and he's crazy. And he also needs to dress up like a bat, so there's all that psychological underpinning, which I loved about him.
You love those dual worlds. That's a recurring theme in your movies. It's in "Batman," "Corpse Bride," "Big Fish," "Edward Scissorhands," "Miss Peregrine," the list goes on.
But that's life, you know? People are always trying to categorize, like, well, this is real, and that's not real, or this is fantasy, that's reality. It's like, really? Turn on the news. If you described real events, you'd say they're fantasies, or you'd describe these fantastical things and they'd be real. People try to categorize and separate the two, when in fact they're not. Everything is a weird combination of the two. That's what dreams are, that's what movies could be. It always makes me laugh when people try to separate the two.
Do you think that's a symptom of adulthood?
Yeah, I don't know. It's something I resisted my whole life, this categorization. That's why being labeled a peculiar child or a weird child ― I never felt weird. I felt like a kid. And that's what I liked about this. If you didn't know what their peculiarities are, they're just kids. And I do think you're right ― I think as you get older, maybe you're trying to grasp onto things in a crazy world. You're trying to put things in a box, and certainly where I grew up, in the time I grew up, in Burbank, there was a real strong sense of trying to pigeonhole people, and I just never liked that.
Does having a distinct aesthetic palette become limiting as a director? People have a fixed idea of the types of projects you do.
Yes, now, it gets a bit limiting. At the beginning, it was all a surprise, "Pee-wee's Big Adventure" and "Beetlejuice." When I got "Beetlejuice," I thought, "Really? A studio wants to make this movie?" They didn't know what it was. So the element of surprise with "Batman" was similar. It's like, whoa. And as that goes on, it becomes more of a thing, you know what I mean? Instead of a human being, you're some kind of thing.
You're an idea.
Yeah, people say, "This would be perfect for you," and I go, "I don't think that way." I don't think, "Oh, this is my kind of thing." I just respond to whatever I respond to. It does get a bit strange. That's why I don't go on the internet much. That's why I don't read much about myself or think of myself. I always try to respond to things emotionally and not like, "Oh, this is my kind of thing."
I think of "Alice in Wonderland" as the ultimate Tim Burton project, like your career was building to it. The dual worlds, the trippy characters, the protagonist's restlessness. But it was so computerized, which is different.

Oh, yeah, that movie was the most backward movie I ever made. We used computers, but we used lots of different elements. We really used a mixture of things, making people's eyes bigger or their heads bigger. There was never any one element on the set at any time. It was the biggest puzzle I've ever been involved with.
Your list of unrealized projects is long. I was really surprised to learn you were briefly attached to "Jurassic Park."
Was I? [Laughs] That was the quickest one ever. It was like, [motions picking up phone] "Can we? Oh? No? Spielberg's doing it?" [motions putting down phone]. I was attached maybe for 10 seconds. [Laughs]
Your entire career could be different. What would a Tim Burton "Jurassic Park" look like?
I don't know. That was so quick I didn't even have a chance to think about it.
If you had to pick one of your movies for the proverbial canon, what would it be?
I don't know, it's hard to say. I guess probably "Scissorhands" or "The Nightmare Before Christmas." Those are the ones that are real close to me.
-- This feed and its contents are the property of The Huffington Post, and use is subject to our terms. It may be used for personal consumption, but may not be distributed on a website.
What Ron Howard's New Beatles Documentary Does Best (Sat, 01 Oct 2016 08:26:15 -0400)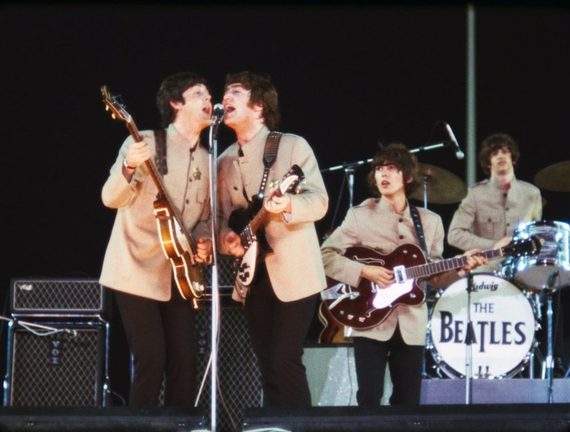 Beatlemania was an important cultural phenomenon that changed the course of postwar history. Millions of baby boomers across a 15-year age range, across the globe, were smitten by four charismatic lads who, through their music, attitude, wit, and intelligence, excited us, dazzled us, inspired us, and offered us a new way of being in the world. A constant presence in our lives as we moved through childhood and adolescence, the Beatles became a singular source of intellectual, emotional, aesthetic and spiritual nurturance, creating a relationship between artist and audience that was, and will always be, historically unique.

The word "Beatlemania" describes that unique relationship, and Ron Howard's The Beatles: Eight Days a Week -- The Touring Years, brilliantly captures its collective expression -- in all its ecstatic, life-affirming, youth ascendant, glory. Seeing this film, it's no wonder that people who saw the Beatles perform live consider it one of the peak experiences of their lives.

Howard's much anticipated documentary, intended more for the uninitiated than for hard core fans, is difficult to watch without smiling, even if you've seen much of the footage before, and even if you were dismayed by the colorization of some classic clips. Seeing the Beatles on the big screen, at their most robust, is always enthralling. The film's new bits, including interviews with Paul and Ringo, remind us of the Beatles' humor and quick-wittedness, and offer glimpses into the group dynamics and esprit de corps that fans, especially male fans, found so appealing. The film also highlights their change-making stance against playing for segregated audiences, thereby bringing some of the tumult of the times into the story.

The film succeeds in showing the band's journey to the Toppermost of the Poppermost and how unprecedented fame, security concerns, and fear of artistic stagnation made it not such a fun place to be. Beatle geeks, myself included, can point out the film's shortcomings, but the subject matter, and the obvious care and reverence of the production team, make those shortcomings easy to overlook or forgive.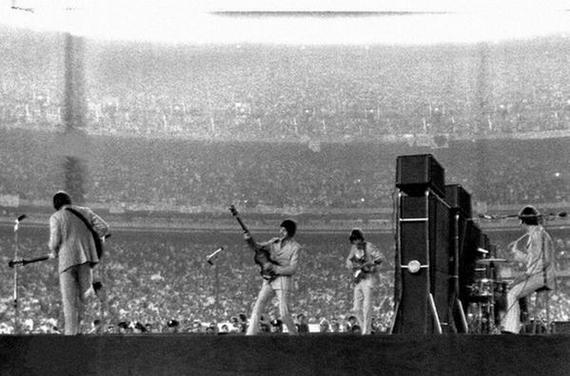 The film doesn't have much to say about why girls screamed and lost control -- a question of great interest back in the day. But those blissed out young women were more than just background and added more than annoying noise. Their bodies, pressed against wire fences or being carried out on stretchers, their transfixed eyes and tear streaked faces, tell the story of Beatlemania. Their behavior has important cultural meaning.

In researching Beatleness I learned that male fans saw the screaming as evidence of girls' lack of serious interest in the music. But as I show throughout the book, fans engaged with the music--and the whole Beatle experience--in gendered ways. Girls loved the sound and feel of the music, danced with their friends, and listened to the words. But they went to the concert to see the Beatles, to be part of the spectacle, and just maybe, to scream.

Anticipating a live Beatles' performance, female fans discussed with their friends whether or not they would scream -- not quite daring each other, but conspiring to do something uncharacteristically bold, expressive, and free -- something they couldn't do anywhere else. Some girls planned to scream, and did. Some said they wouldn't but lost their inhibitions in the contagion of the crowd. This behavior, dismissed as silly and unimportant for decades, becomes significant when seen in the context of the highly constrained and confining standards for public behavior of the time, especially for women. When the Beatles were touring, girls screaming in public was an act of defiance; not at all lady-like.

A Beatles show was the only public place where girls could feel that free and uninhibited. Girls screamed because they were thrilled to be in closer proximity to the Beatles, accepting their invitation to leave madras, loafers, crew cuts, and white gloves behind. Girls screamed because they felt that same mysterious sensation they felt when they heard these songs on the transistor radio under the covers before falling asleep.

Maybe the screams were a way of thanking the Beatles for the music and the mayhem. Or maybe girls screamed because no one offered them an electric guitar or organized sports -- outlets available to their brothers and male friends for self-expression and release of sexual energy.

If the screams were sublimating sexual energy, as many observers at the time believed, there was a subversive element to both the behavior and the unconventional object of desire. In the early days of Beatlemania, sociologist and cultural commentator David Riesman predicted the Beatles would be a short-lived fad, noting that, "They don't have the quasi-sexual, quasi-aggressive note that was present in Presley." Similarly, a critic at the Washington Post called the Beatles "asexual."

These male observers didn't understand that the Beatles represented a new kind of masculinity. A female fan, age 21 at the time, remembers: "We felt we could get along with them. They were not macho; not football types." Another, age 18 at the time, remembered, "All the guys said they were queers or fairies."

In Eight Days A Week, we can actually hear what the Beatles sounded like in concert, thanks to Giles Martin and his team figuring out how to reduce the screaming noise without tampering with the music. The Beatles' musicianship in the midst of the chaos was remarkable. And though the screaming fans are central to the story, no one prefers screams to music.

But sitting at the edge of her seat, in the safety of her friends and the righteousness of her love for the Beatles, each girl's scream came from deep inside and meant something personal. Collectively, their voices made a powerful and historic statement. The clear message -- the loud and clear message -- was that they like men who look and act like the Beatles. Eight Day's A Week beautifully captures the start of a cultural conversation about gender that continues to this day.


Earlier on Huff/Post50:
-- This feed and its contents are the property of The Huffington Post, and use is subject to our terms. It may be used for personal consumption, but may not be distributed on a website.