Entertainment news and blog articles from The Huffington Post
9 Justin Theroux Film & TV Cameos You Totally Forgot About (Wed, 20 Aug 2014 16:14:53 -0400)
The world is finally paying attention to Justin Theroux, and not only because he's Jennifer Aniston's fiance, but also because he's the star of HBO's new series "The Leftovers."

The actor, who has also been getting a lot of attention for his abs and his bulge, has actually been around for a while. Theroux is the kind of actor who pops up in small parts in various TV shows and iconic movies that you might not have recognized at the time. In some roles he looks strikingly different (take his evil DJ in "Zoolander") and in others he plays the stereotypical douchey type. Besides his random characters, Theroux also wrote "Iron Man 2" and co-wrote "Tropic Thunder" -- no big deal. Since we'll be seeing Theroux on the small screen for a while now that "The Leftovers" is getting a Season 2, here's a look back on some roles he's played:


Evil DJ -- "Zoolander"

Wait, Justin Theroux is in "Zoolander"? That's exactly what we thought when we came upon this discovery. Theroux played the evil Rob Zombie-looking DJ near the end of the film who gets his ass kicked by Owen Wilson's Hansel -- never fight with a male model. Although it doesn't look like Theroux will be directing the "Zoolander" sequel, we really hope he shows up in a weird disguise again.





Timothy Bryce -- "American Psycho"

"American Psycho" is overflowing with douchey slicked-back-hair jerks who put 100 percent of their energy into dinner reservations. Theroux played one of those douchey guys, you know, the one with the raised lettering and pale nimbus business card, and he was perfect at it.





Adam Kesher -- "Mulholland Drive"

Playing yet another arrogant character, Theroux was Adam Kesher, the Hollywood director in David Lynch's "Mulholland Drive." The film was originally planned as a TV series with Theroux, but ABC ended up passing on the pilot. A Lynch regular, Theroux was also in the 2006 film "Inland Empire."







Cowboy -- "Romy and Michele's High School Reunion"

Long before the chain-smoking Guilty Remnant in "The Leftovers," Theroux was playing a silent smoker himself. In "Romy and Michele's High School Reunion" Theroux played the reticent cowboy who would toss his cigarette butts at Janeane Garofalo's Heather Mooney. He finally speaks at the end of the movie and even offers her a light, revealing that his name is Clarence.





Seamus O'Grady -- "Charlie's Angels: Full Throttle"

In the 2003 "Charlie's Angels" sequel, Theroux played bad guy Seamus O'Grady, leader of an Irish mob. He was the former boyfriend of Drew Barrymore's Dylan Sanders before she entered the Witness Protection program. He fights her in one scene, channeling his inner shirtless Bruce Lee (but with a terrible Irish accent).




Justin Andersen -- "Parks and Recreation"

Theroux appeared in Season 2 of "Parks and Rec" as Ann's friend Justin Anderson, a selfish, avid traveller who loves to talk about himself. He dated Leslie for a short time before she realized that he didn't really care anything she had to say.





Jared and Vaughn Wysel -- "Sex and the City"

Theroux made his first cameo on "Sex and the City" as Stanford's cocky friend Jared, an author named one of New York Magazine's "30 Coolest People Under 30." In Season 2 he plays Vaughn Wysel, another although very different writer who has some issues in the bedroom.



Leezar - "Your Highness"

Theroux proved that besides his arrogant characters, he can also have a sense of humor. In "Your Highness" he played the evil sorcerer Leezar who plots to impregnate a woman with a dragon so he can take over a kingdom.



Joe -- "Six Feet Under"

Theroux had a short cameo on "Six Feet Under" as Joe, Brenda's (Rachel Griffiths) neighbor-turned-boyfriend. The two moved in together and tried to have a baby until Joe walked in on Brenda having sex with Nate.





Bonus -- Muse "Hysteria"

You may or may not remember that time Theroux starred in Muse's music video for "Hysteria." He plays a guy who's obsessed with a prostitute and begins (shirtlessly, of course) trashing a hotel room.



"The Leftovers" airs on Sundays at 10 p.m. ET on HBO.
Gregory Brothers Give Taylor Swift's 'Shake It Off' The Gloomy Minor Key Makeover It Needed (Wed, 20 Aug 2014 16:11:24 -0400)
It sounds shocking, we know, but sometimes the key you play a song in is, well, key.

Taylor Swift's new music video "Shake It Off" is a peppy, upbeat response to all the criticism that's been lobbed at her over the years -- at least when it's sung in major.

When The Gregory Brothers bring Swift's song down to minor, the response to the catalog of haters and other ne'er-do-wells starts to sound, well, a little depressing.

To top things off, poor Sarah Fullen Gregory has to crawl beneath the guys while they, uh, attempt to twerk.




As the Brothers note helpfully in the video description, "It's very difficult to shake things, when you are very very sad."
In Case You Need To Hear Obama Sing Ariana Grande's 'Problem' (Wed, 20 Aug 2014 16:01:00 -0400)
Earlier this summer, President Barack Obama struck summer jam gold when he "sang" Iggy Azalea's "Fancy," and now he's back with a rendition of another monster hit.

In the latest baracksdubs video, we see the president indulge his inner diva to the tune of Ariana Grande's "Problem."

As the clip shows, Obama would definitely have one less problem without a certain Republican. (We're looking at you, Boehner.)
Moonlight" Shows Woody Still Has the "Magic" Touch (Wed, 20 Aug 2014 16:00:29 -0400)
Movie Review Jackie K Cooper "Magic In the Moonlight (Sony Classics)

Woody Allen still has the ability to make movie magic as he so ably demonstrates in his wildly romantic new comedy "Magic In the Moonlight". The dialogue, the skill of the actors, and the 1920's setting for the story all add to the emotional response drawn from the audience. Colin Firth and Emma Stone head an impeccably talented cast. They seem to be channeling Henry Higgins and Eliza Doolittle as they bring to life the story of a man who is quite the charmer and a woman who is thoroughly charming.

Stanley (Firth) is a magician who appears onstage as Wei Ling Soo. He is considered one of the best in the business. His friend Howard (Simon McBurney) is also in the magic business but has not been as successful as Stanley. One night Howard appears backstage after one of Wei Ling Soo's performances and asks Stanley to accompany him to the Cote d'Azur where a young girl and her mother are visiting friends of his.

The girl is named Sophie (Stone) and claims to have the power to communicate with the dead, as well as other extra sensory gifts. Stanley's friend Grace (Jackie Weaver) is quite taken with her as is her son Brice (Hamish Linklater). Howard implores Stanley to expose the girl for the fraud he thinks she is, but the longer Stanley is around Sophie the more doubtful he is that she is not what she claims to be.

It is a simple tale of ESP and possible fraud that is enhanced by a possible growing romance between Stanley and Sophie. He of course says any romantic notions are preposterous, but all the while he is sinking deeper and deeper. While he grows accustomed to her face, Sophie is piling on the charm just by being herself.

Firth has never been better than he is as the slightly pompous Stanley. In this role he withholds his boyish charm from all but his beloved Aunt Vanessa (Eileen Atkins), as he puts up a blustery front to the world. Emma Stone is just adorable in the film even though she does not look her best. Her Sophie is a true match for Firth's Stanley and she lets the audience know it from the beginning.

Firth and Stone dominate the screen time with their characters but Atkins manages to eke out a place in the audience's heart with her portrayal of the older but wiser Vanessa. She is the conscience of the film and the touchstone of the story. Hers is a performance that should be remembered when awards are being handed out.

The film is rated PG-13 for mild profanity and adult situations.

At seventy-eight Woody Allen seems to be at the top of his game. He manages to turn out a movie each year and some of them are among his best. "Magic In the Moonlight" definitely belongs in the plus column.

I scored "Magic In the Moonlight" a fanciful 8 out of 10.

Jackie K Cooper
www.jackiekcooper.com
John Lithgow: I Felt Like 'A Total Hypocrite' Playing The Anti-Dancing Reverend in 'Footloose' (Wed, 20 Aug 2014 15:49:52 -0400)
It's hard to forgive John Lithgow for trying to cramp Kevin Bacon's style in the 1984 film "Footloose." Rest assured, according to Lithgow himself, little of his character's oppressive nature came to him naturally.

The "Love Is Strange" star said in a HuffPost Live interview on Tuesday that he had to sit down with an "Assembly of God minister" who he found via the Yellow Pages to get into the character of Reverend Shaw Moore.

"If you remember the film, he [Reverend Shaw Moore] had lost a son in a car accident the night of the prom and [there had been] drunken kids getting wild, driving a car off a viaduct. That was the hook for me," Lithgow told host Ricky Camilleri, explaining his character's impetus to place a city-wide ban on dancing. "Beyond that, I'm not a man who's grown up religious, and I had to find some sort of spine of reality there."

The actor proceeded to seek out "counseling" with a minister, whom he asked to talk to him "about Jesus."

"It was an incredibly valuable thing to do," he said. "I did feel like a total hypocrite, a snake in the grass, but without that -- this man was extremely kind and very persuasive. That's what I needed to play that part and deliver those sermons."

Catch the rest of what John Lithgow had to tell HuffPost Live here.

Sign up here for Live Today, HuffPost Live's new morning email that will let you know the newsmakers, celebrities and politicians joining us that day and give you the best clips from the day before!
Melissa Joan Hart Dyes Her Hair Red (Wed, 20 Aug 2014 15:39:31 -0400)
Looks like Melissa Joan Hart is now a redhead!

The 38-year-old recently traded her famous blond locks for a strawberry red color. She unveiled the new 'do at a launch party for Bubble Witch 2 Saga, a mobile game app, in New York on Aug. 19: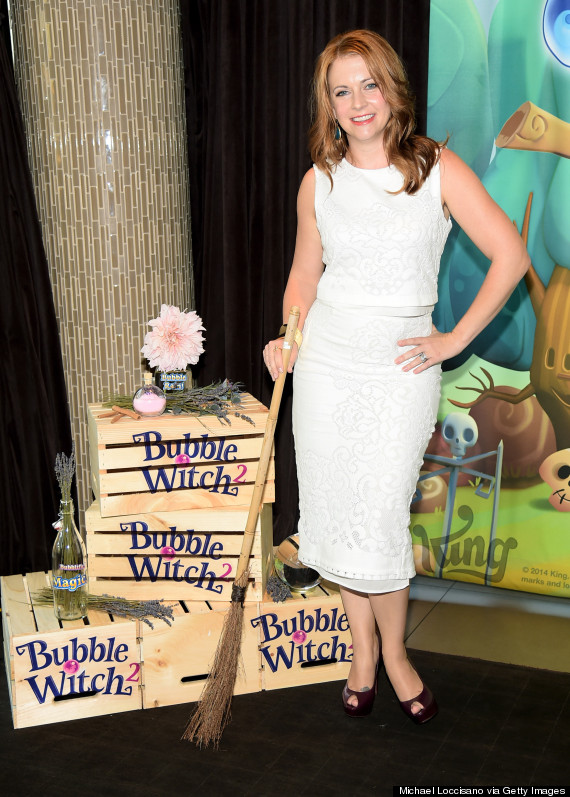 The actress, who played the title character on "Sabrina The Teenage Witch," was clearly getting reacquainted with her supernatural side as she playfully posed with a broomstick in hand: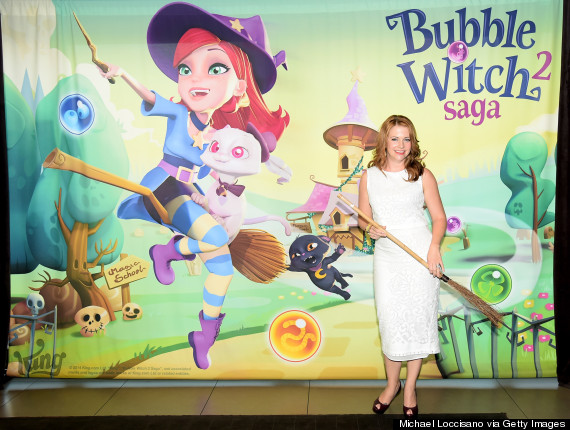 Sorry, blondes, but it seems Melissa Joan Hart is having even more fun as a redhead.


Katie Holmes Says Acting 'Dry Spells' Had Nothing To Do With Tom Cruise (Wed, 20 Aug 2014 15:32:27 -0400)
Katie Holmes is dispelling the notion she's now trying "reclaim her career," following her divorce from Tom Cruise.
In Honor Of The VMAs, Here Are Miley Cyrus' Most Undressed Moments (Wed, 20 Aug 2014 15:28:26 -0400)
The 2014 MTV VMAs are just days away and the Parents Television Council is getting very nervous.

In fact they've already fired off a letter demanding Sunday night not be a repeat of last year. But since Miley Cyrus isn't scheduled to perform, we don't think it will be a problem, unless Taylor Swift plans on picking up where Cyrus last twerked off.

So, while the PTC is quite literally shouting, "won't someone think of the children," we'd like to take this opportunity to honor the VMA's -- now in its 30th year -- by taking a look at some of Miley's most undressed and scandalous moments. PTC members, you might want to avert your eyes.



Rihanna Takes Short Shorts To New Heights (Wed, 20 Aug 2014 15:24:12 -0400)
Summer days are hot in New York City and Rihanna knows that keeping cool may require some very specific wardrobe choices.

Rihanna stepped out in a pair of cutoff denim shorts with slits on the sides and a crop top while out in the Big Apple on Tuesday, Aug. 19. The 26-year-old wore the outfit for a trip to Da Silvano restaurant in Greenwich Village.

The superstar singer has been out and about in NYC this week. On Monday night, Rihanna and Drake were spotted at Griffin nightclub, according to TMZ.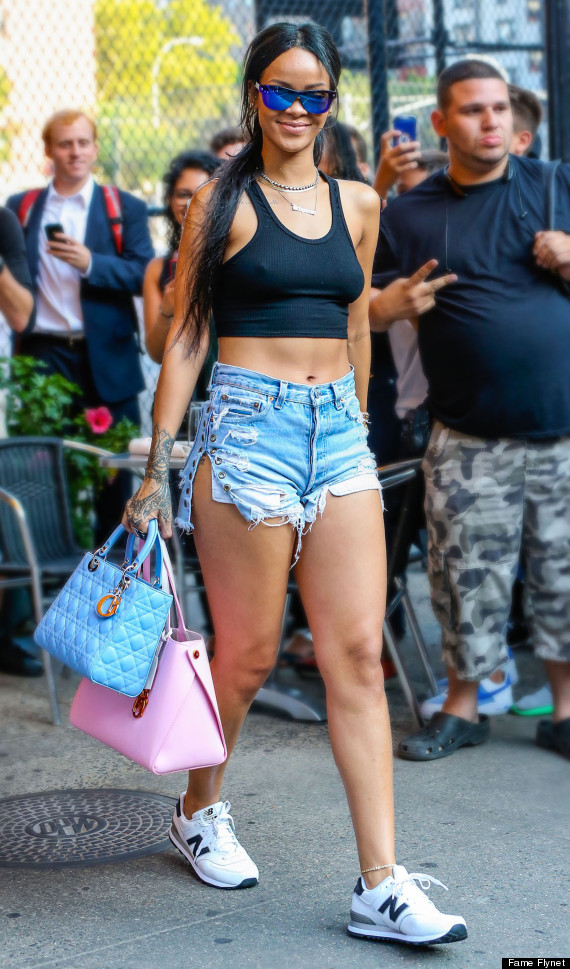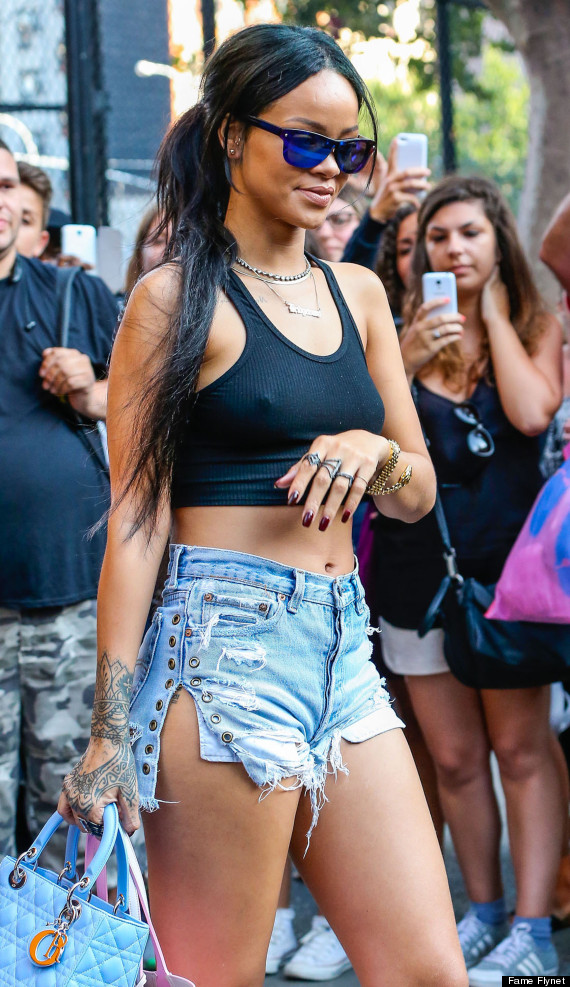 NFL To Would-Be Halftime Acts: Pay Up (Wed, 20 Aug 2014 15:20:21 -0400)
Coldplay, Katy Perry, and Rihanna: One of them will headline next year's Super Bowl halftime show, and it might just come down to whoever is willing to shell out for the privilege.
'Sin City' Co-Director Frank Miller Says The Death Of Brittany Murphy Broke His Heart (Wed, 20 Aug 2014 15:19:18 -0400)
Nearly a full decade after the release of "Sin City," the film's sequel, "Sin City: A Dame To Kill For," arrives in theaters on Friday. And no one is more excited than writer and co-director, Frank Miller.

Although logistical setbacks slowed the second film's release -- including producers Bob and Harvey Weinstein leaving Miramax, the distributor of "Sin City," to start their own production company -- Miller's enthusiasm for the material never left.

"[Co-director] Robert Rodriguez and I were ready to go almost the day after we finished the first one," Miller said in an interview with HuffPost Entertainment at Manhattan's Crosby Street Hotel. "When we began working together again, we were back at it, right off the bat."

Collaborating with Rodriguez is still a joy for Miller. The two have shared a working friendship for years, and their relationship continues to flourish.

"I was raised with three brothers," Miller said. "And now I feel like I've gained a fourth [in Rodriguez]. He's a good man. I trust him, which I can't say of all Hollywood people. But he's not a Hollywood person -- he's a Texas person."

Miller's trust in Rodriguez speaks volumes, as he was skeptical about becoming a screenwriter, before the first film.

"[At that time], I felt like being a screenwriter was kind of the equivalent of building a very pretty fire hydrant, and having a lot of dogs lined up," Miller said.

But, when Rodriguez showed Miller what he was capable of doing with technology, Miller was sold. Together, for the first film, the duo created an unprecedented visual style: gritty, graphic novel-like black and white with intentional splashes of color. In "A Dame To Kill For," that signature style returns, bolder than ever -- as illustrated below in this still of the menacing and magnetic Ava Lord (played by Eva Green).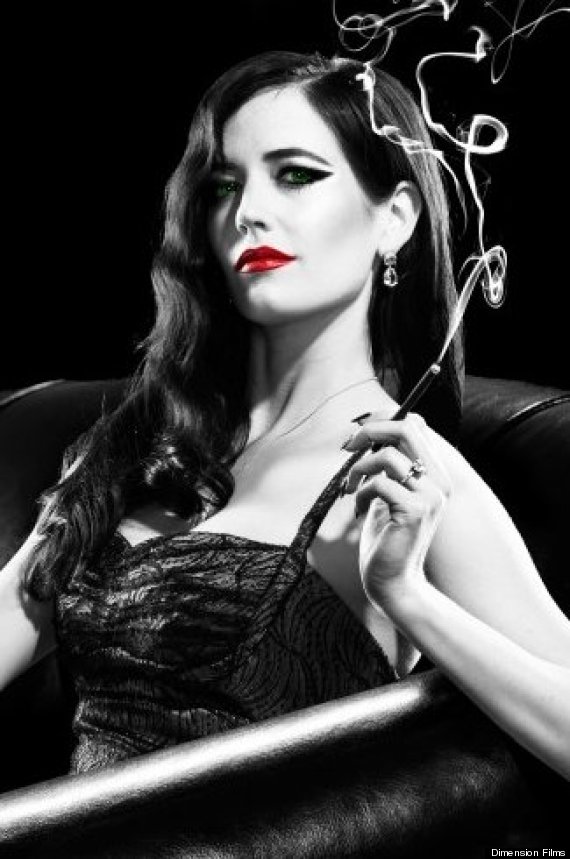 Still, the idea of digitizing a graphic novel presents some duality for Miller.

"This movie uses digital to get what it wants," he said. "But the graphic novel adheres to its base. A comic book is a comic book; it's something you hold in your hands. We'll get to [the point of comic books being read, digitally] but there's no hurry."

And -- even as technology advances -- Miller still finds drawing fascinating.

"We're still exploring all kinds of new territory [in comic books] -- autobiographical and history material that's been lost over time. It's really wonderful for an author like me to be able to jump in."

To be sure, "A Dame To Kill For" echoes Miller's desire to jump into visceral material. However, though its long-awaited release is a happy event, there is sadness too. One person who is notably absent from the film is former cast member Brittany Murphy, who died suddenly in 2009.

"Brittany was one of the sweetest souls I've ever encountered," Miller said. "When she passed, it broke my heart. I called Robert and said, 'Let's not bring this character back. Only Brittany can play her.' And we let go of her."

"Sin City: A Dame To Kill For" is out in theaters on Aug. 22.
Big Time Rush Singer Kendall Schmidt Doesn't Think Miley Cyrus Can Handle Her New Baby Pig (Wed, 20 Aug 2014 14:53:05 -0400)
In case you haven't heard, there's a new four-legged addition to the Cyrus clan -- a tiny piglet named Bubba Sue. But Big Time Rush singer Kendall Schmidt isn't so sure that Miley can handle it.

In an interview with HuffPost Live on Tuesday, Schmidt mentioned that he heard about Miley's new pet (possibly from one of her adorable Instagram snaps?) and weighed in.

When host Nancy Redd asked if Schmidt thought Miley could take care of her baby pig, the singer responded definitively.

"Absolutely not. I can guarantee it," he said. "As much as she's on the road, it's impossible. It's impossible. I have a pig. I can say from experience that it's impossible. I think she just needs to send it back to her awesome house in L.A. and let the pig have a cool backyard to live in, because a road pig? Psh, good luck."

Schmidt also shared his experience living with his brother's 80-pound "totally potty-trained" pig.

"[My brother's pig] is extremely high maintenance…" he said. "They're a handful. They get into everything, but the amount of entertainment she brings to the family is just endless. She's hilarious."

Watch the full interview with Kendall Schmidt here.

Sign up here for Live Today, HuffPost Live's new morning email that will let you know the newsmakers, celebrities and politicians joining us that day and give you the best clips from the day before!

Follow HuffPost Teen on
Twitter |
Instagram |
Tumblr |
Pheed |

Anna Nicole Smith Estate Loses Final Bid For Late Husband's Fortune (Wed, 20 Aug 2014 14:37:35 -0400)
The estate of Anna Nicole Smith lost its final bid on Tuesday, Aug. 19, to obtain millions of dollars of her late husband J. Howard Marshall's money. Seven years after the Playboy model and reality TV star's death, U.S. District Judge David O. Carter released his ruling:

"Time spent litigating the relationship between Vickie Lynn and J. Howard has extended for nearly five times the length of their relationship and nearly twenty times the length of their marriage. It is neither reasonable nor practical to go forward," he wrote.

Last year, it appeared Smith's daughter Dannielynn Birkhead, now 7, would potentially receive a portion of the estate due to the Marshall legal team's dirty tactics, but this was ultimately not the case.

Smith wed Marshall in 1994, when she was 26 and he was 89. When he died the next year, his will signed over his $1.6 billion estate to his son, and nothing to Smith. The star claimed her late husband promised to leave her more than $300 million, and so began her legal battle.

In the almost 20 years since, Smith's attempt to overturn Marshall's will was rejected by the Texas bankruptcy court, as well as local and federal courts including the U.S. Supreme Court.





A-Sides with Jon Chattman: Seeing "Silhouettes" of Colony House; "Delve" Into Unappreciated Songs By, Em, Overappreciated Artists (Wed, 20 Aug 2014 14:35:58 -0400)
Nashville-based indie rock trio Colony House released their debut album When I Was Younger last month and in many ways, it's already a smash - and by "smash" I mean the antitheses of that failed NBC series which ate at your soul. Hating aside, this trio consisting of brothers Caleb and Will Chapman and longtime bud Scott Mills have received considerable airplay on alt-radio and has climbed the iTunes Alt-Rock chart with their breakthrough single "Silhouettes." The song, which at one point was the most downloaded song on SiriusXM AltNation, is delightfully catchy with an uplifting - and so not preachy - message of taking the good with the bad - at least that's what I think it's about. (Lyrics are subjective after all.)

The single isn't the only standout. As a matter of fact, Colony House's album is pretty much close to alt-rock perfection. Catch the band on the road this fall with Knox Hamilton, and you'll see why they're tearing up the alt-scene. Off topic or perhaps on, I've used the abbreviated version of alternative way too much in this post. "Alt" this, and "alt" that. I'm going to just stop, and press the "alt" key and get all of the references out. While I do that, watch the A-Sides session the band did with your truly. They knocked two songs out of the park, and were so nice and authentic I kept the interview running upwards of ten minutes. I promise you all of it is entertaining and worth while. So watch the session below, and you'll see why the band - to quote WWE's Edge and Christian from yesteryear - "wreak of awesomeness."

"Silhouettes"


"Waiting For My Time to Come"


Long Chatt


Special A-Sides "Delve Into Twelve"
So often amazing artists with amazing songs get amazingly overplayed. But, there are so many unsung heroes in superstars' respective repertoires that often get unnoticed. Until now perhaps... For a special "Delve Into Twelve" I've selected under-the-radar songs (some A-Sides/ B-Sides if you will) from established, huge, big, what have you acts (some still here, some not) that you either may never have heard or forgotten all about. Here's my very random mixtape of the "Unsung Heroes" - in no particular order mind you.
12. "Stateless" - U2

11. "Bring the Light" - Smashing Pumpkins
10. "All the Right Friends" - REM
9. "WMA" - Pearl Jam
8. "Estranged" - Guns N Roses
7. "Kitchenware & Candy Bars" - Stone Temple Pilots
6. "Play with Fire" - The Rolling Stones
5. "Zero Sum" - Nine Inch Nails
4. "Hear That Sound" - INXS
3. "Crystal Ship" (Doors cover) - Duran Duran
2. "Promise to Try" - Madonna
1. "Lazy Bones" - Green Day





_________
About A-Sides Music
Jon Chattman's "A-Sides Music" series was established in August 2011 and usually features artists (established or not) from all genres performing a track, and discussing what it means to them. This informal series focuses on the artist making art in a low-threatening, extremely informal (sometimes humorous) way. No bells, no whistles -- just the music performed in a random, low-key setting followed by an unrehearsed chat. In an industry where everything often gets overblown and over manufactured, I'm hoping this is refreshing. Artists have included: fun, Courtney Love, Air Supply, Birdy, Charli XCX, Sharon Jones & The Dap Kings, Pharrell Williams, American Authors, Imagine Dragons, Gary Clark Jr., and more! A-Sides theme written and performed by Blondfire.
7 Documentaries You Can Stream Right Now To Better Understand What's Going On In Ferguson (Wed, 20 Aug 2014 14:33:04 -0400)
The recent events in Ferguson, Missouri likely trigger many emotions: Confusion, frustration, anger, distrust. In an attempt to break down what is going on and why the tragedy of Michael Brown's death extends beyond this place and point in time, HuffPost Entertainment has compiled a set of documentaries available for streaming that may make some sense of it all. We hope these help you better understand the myriad of elements that have informed the local unrest and national outrage thus far.

Racial Profiling: "Crisis Of Distrust: Police And Community In Toronto" (available via YouTube)
With focus on Toronto, this 30-minute documentary deals with the process of carding, a form of racial profiling in which citizens are randomly stopped and asked for identification. This is a very specific example of a much larger problem that rears its head in a variety of forms, but "Crisis Of Distrust" makes for an effective case study of the underlying racism at play.



Police Brutality:"No Justice, No Peace" (available via YouTube)
"No Justice, No Peace" takes on the reality of police brutality in California. Through disturbing case studies and such daunting statistics as the fact that, according to the Bureau of Justice Statistics, "an average of 400 - 500 innocent people are murdered by law officers in the United States every year," Liberation News peels back the racial reality which underlies such violent iterations of law enforcement.



Police Accountability (Or Lack There Of): "These Streets Are Watching" (available via YouTube)
Through the communities of Berkeley, Denver and Cinncinati, this Copwatch documentary deals in organized action against police misconduct. Director Jacob Crawford focuses on the lack of accountability for local law enforcement and attempts to lay down a guide for how to handle police predicaments. The images provided here make for a frustrating look at the human rights issues at play.



Racism In The Media: "The Modern Racist Paradigm"(available via YouTube)
"The Modern Racist Paradigm" deals in the institutionalization of racism as it is normalized through white media. It is myopic to talk about "the media" as a conglomerate with an organized agenda. Although these trends (i.e. the way white people "commit crimes" and black people are "criminals") are undeniable and play a major role in shifting national perception.



Impact Of The Media On The Justice System: "The Central Park Five"(available via Netflix)
This film from our original set of documentaries to watch on Netflix tracks the direct effect of the media on public perception and, more troublingly, the criminal justice system. The story follows five boys who were wrongfully convicted as a result of mass hysteria surrounding the 1989 rape of a jogger in Central Park.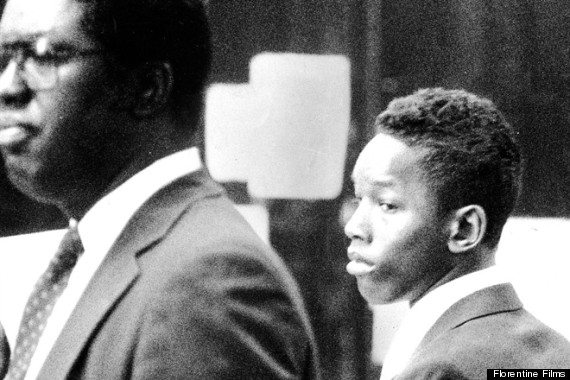 Racism In Communities: "Shenandoah" (available via Netflix)
Featured on our second set of documentaries to stream on Netflix, "Shenandoah" is a disturbing example of the mob mentality present in many towns across America. The narrative tracks the murder of a Mexican immigrant in order to reveal the reality of American life for those who fall far from the top of the presiding social hierarchy in the closed system of a place which is much smaller than but not wholly unlike Ferguson, Missouri.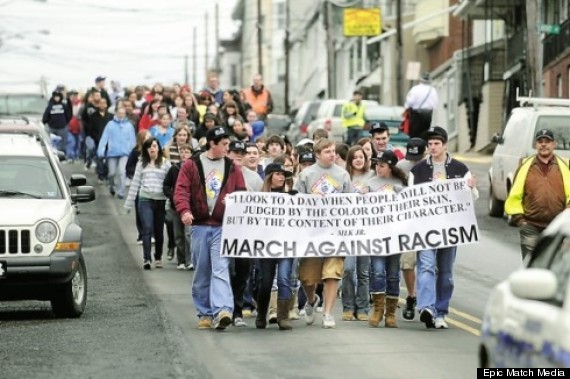 Racism In General: "Racism: A History"(available via YouTube)
Should you need to step back to understand the very beginnings of institutionalized racism, "Racism: A History" is the closest you will get to a Racism 101 class available for streaming. Created for the 200th anniversary of the abolition of slavery, this BBC documentary begins with the creation of race and the way black people were used as "items for trade." It focuses on how that economic system created a reality where (as one of the film's experts, history professor James Walvin, put it) "black inferiority [is] built into fundamental cultural values."