Entertainment news and blog articles from The Huffington Post

Theater: Marilyn Maye Toasts Sinatra At 54 Below (Sat, 18 Apr 2015 02:33:05 -0400)

MARILYN MAYE -- HER WAY: A TRIBUTE TO FRANK SINATRA *** out of ****
54 BELOW

Do I need to launch a Kickstarter campaign? Somebody, somewhere needs to get Marilyn Maye into a recording studio, pronto. She's been captured on record (The Lamp Is Low is a great place to start) but not nearly as much as her talent deserves. Rosemary Clooney had a late career resurgence via Concord Records. Shirley Horn burst back into view thanks to Verve. Any record company, any digital startup, any entrepreneur ready to gain some cachet wanna add their label's name to that honorable list? Then put Maye behind a microphone and let the tape roll.

A tribute to Sinatra is an ideal hook for the album. Like Clooney and Frank, Maye can sing and swing with aplomb. And at roughly 87 years old -- as she genially hinted at during the opening night of her new stand at New York's 54 Below -- Maye still possesses a beautiful tone, great rhythmic chops and the ability to deliver a lyric that only comes with experience. As she joked before launching into "It Was A Very Good Year," when Maye first sang that world-weary song she had no idea what it was about. Now her knowledge of life and her knowledge of singing combine as they only can in the autumn of the year.

The speakeasy vibe of this venue fits Maye to a tee, who's the sort of broad Sinatra appreciated. Standing by the bar right before the show began a few minutes late, Maye turned to the people standing there and said, "Shit!" It was a long rehearsal, she laughed in explanation to the few of us nearby, before launching into the prelude of "Fly Me To The Moon." Clearly, buying her a drink and swapping stories would be almost as much fun as hearing her sing.

Opening night was a bit of an amiable mess, with Maye forgetting some of the lyrics as she navigated very tricky medleys that weaved in and out of various tunes, first one and then the other and then back again, like her "Fly" opener that began with a lovely quiet take on that gem Sinatra recorded with Count Basie and then leaped into the ring-a-ding-ding of "Come Fly With Me" from the album of the same name. She stopped and started again, she joked with the band, and she scatted her way here and there when lyrics weren't at hand -- appropriately enough, once on "The Lady Is A Tramp," which she associates with Ella Fitzgerald as much as Sinatra. And who knew better than Ella how to turn a lost lyric into an opportunity?

The audience loved it, cheering Maye from the start, gamely joining in when she turned "High Hopes" and "Love And Marriage" into sing-alongs and laughing even more when she cut them short, saying, "Ok, that's enough of that!" Maye could do no wrong in their eyes and she rewarded their appreciation with some sublime moments of artistry. But I envy those who show up for night two or three or four of this revue. Once Maye settles into the show, she won't just entertain the way she did on opening night. She'll soar.

Here are highlights from one of Maye's earlier stands at 54 Below, to give you a sense of her talent.



Famously praised by Johnny Carson as his favorite "super singer," Maye has toured and performed for decades, from talent shows as a kid to musical theater to finding a home in cabaret and even a Grammy nomination as Best New Artist in 1966 (she and Herman's Hermits and the Byrds and Sonny & Cher all lost to Tom Jones). Now it's time to capture this talent again in the studio. A new album from Maye at her peak would surely set a record for "longest gap between Grammy nominations."

The best performances of the night would provide the backbone of a Sinatra tribute album that would probably win a Grammy, too. With her nimble band led by pianist and conductor Tedd Firth, Maye delivered a vibrant "I've Got You Under My Skin." Normally this song is declarative, boastful, even possessive, as if the singer has you under their skin and won't let you go. (Sinatra's classic version with Nelson Riddle is on my short list of the greatest singles of all time.) I've heard it sung fast and slow and everything in between. But Maye made this Cole Porter classic breathe again thanks to a delicate, slinky arrangement that turned it seductive.

I'm not a big fan of medleys so when Maye said the show would contain 42 songs associated with Sinatra, my heart sank a little. Happily, she brought each passage so fully to life I didn't feel the usual disappointment of thinking a song was just getting started before the medley had moved on. Still, if I were helping select tunes for this Sinatra tribute album of my dreams, I'd definitely want to hear Maye do "In The Wee Small Hours Of The Morning" and "It Was A Very Good Year" from start to finish. They're too good and Maye's take on them too moving to trim them in the least.

Nonetheless, the night had one killer drinking medley, starting with the wistful "Angel Eyes," segueing into "Drinkin' Again," climaxing with that saloon singer peak "One For My Baby (And One More For The Road)" and then beautifully circling back again to "Angel Eyes" for the fade out on the line, "'Scuse me, while I disappear" with Maye orchestrating her own light cue at the end.

You really can't go wrong when covering Sinatra because he as much as any artist helped define the Great American Songbook. Sinatra quite simply had great taste. Louis Armstrong and Billie Holiday and Bing Crosby (the three towering vocalists that preceded him) all sang great tunes. They also sang a lot of junk but did it so well that those rinky-dink songs were transformed into great recordings. But that didn't make them great songs. Sinatra almost never recorded weak songs, Mitch Miller or no Mitch Miller. And his quality control became impeccable once the Capital years began, especially on those groundbreaking albums.

Maye made the most of the rich catalog on tap, packing in a lot of great tunes. Some of her best moments were also her biggest, with Maye kicking up fun and wowing on brassy standards like "Come Rain Or Come Shine," a city medley (with multiple New York tunes, natch) and a rousing "That's Life" which felt positively triumphant.

Still, my favorite of these show-stoppers was "Luck Be A Lady" from Maye's favorite musical Guys & Dolls. She shared a story about a great night when she first worked with her pianist Firth at a tribute show dedicated to songwriter Frank Loesser. Maye challenged him: did he know the song, could he do it in a jazz waltz the way she liked, and did he know the intro? Sure, he said, scrambling to look up info on a laptop. Then he threw her a fastball by tossing in a key change towards the end of her performance without her expecting it. The arrangement killed then and it kills now. The song is really written for a man, Maye acknowledged. But when you reach her age, she declared to more applause from the crowd, you can do whatever the hell you want. Damn right, especially when you do it so well.


THEATER OF 2015

Honeymoon In Vegas **
The Woodsman ***
Constellations ** 1/2
Taylor Mac's A 24 Decade History Of Popular Music 1930s-1950s ** 1/2
Let The Right One In **
Da no rating
A Month In The Country ** 1/2
Parade in Concert at Lincoln Center ** 1/2
Hamilton at the Public ***
The World Of Extreme Happiness ** 1/2
Broadway By The Year 1915-1940 **
Verite * 1/2
Fabulous! *
The Mystery Of Love & Sex **
An Octoroon at Polonsky Shakespeare Center *** 1/2
Fish In The Dark *
The Audience ***
Josephine And I ***
Posterity * 1/2
The Hunchback Of Notre Dame **
Lonesome Traveler **
On The Twentieth Century ***
Radio City Music Hall's New York Spring Spectacular ** 1/2
The Heidi Chronicles *
The Tallest Tree In The Forest * 1/2
Broadway By The Year: 1941-1965 ***
Twelfth Night by Bedlam ***
What You Will by Bedlam *** 1/2
Wolf Hall Parts I and II ** 1/2
Skylight ***
Nellie McKay at 54 Below ***
Ludic Proxy ** 1/2
It Shoulda Been You **
Finding Neverland ** 1/2
Hamlet w Peter Sarsgaard at CSC no stars
The King And I ***
Marilyn Maye -- Her Way: A Tribute To Frank Sinatra at 54 Below ***




_____________


Thanks for reading. Michael Giltz is the founder and CEO of the forthcoming website BookFilter, a book lover's best friend. Trying to decide what to read next? Head to BookFilter! Need a smart and easy gift? Head to BookFilter? Wondering what new titles came out this week in your favorite categories, like cookbooks and mystery and more? Head to BookFilter! It's a website that lets you browse for books online the way you do in a physical bookstore, provides comprehensive info on new releases every week in every category and offers passionate personal recommendations every step of the way. It's like a fall book preview or holiday gift guide -- but every week in every category. He's also the cohost of Showbiz Sandbox, a weekly pop culture podcast that reveals the industry take on entertainment news of the day and features top journalists and opinion makers as guests. It's available for free on iTunes. Visit Michael Giltz at his website and his daily blog. Download his podcast of celebrity interviews and his radio show, also called Popsurfing and also available for free on iTunes.

Note: Michael Giltz is provided with free tickets to shows with the understanding that he will be writing a review. All productions are in New York City unless otherwise indicated.

-- This feed and its contents are the property of The Huffington Post, and use is subject to our terms. It may be used for personal consumption, but may not be distributed on a website.

Great Movie Characters: Frank Galvin in The Verdict (Fri, 17 Apr 2015 23:44:28 -0400)





Frank Galvin (Paul Newman) is a man who has given up. A once-promising honors graduate of Boston College Law School, partner in one of the city's most prestigious firms (not to mention married to the daughter of the firm's founder), Galvin discovered too late that he had the biggest Achilles Heel an attorney can be cursed with: a conscience. Upon learning that another partner in his firm tried to bribe a juror from a case Frank was trying, thinking he'd be helping Frank out, Frank threatened to report him to have him disbarred and prosecuted. So of course, the firm backed Frank, fired the crooked lawyer and made sure he spent many years making license plates at the state pen, while giving Frank a raise and a key to the city. Right?

Sidney Lumet's 1982 film The Verdict is one of the great cinematic redemption stories. In it, we catch up with Frank a little more than a decade after he's lost everything. He's a broken-down alcoholic who's had three clients in the past four years, all of whom lost their cases thanks to Frank's unique brand of lawyering. An unabashed ambulance chaser, his old buddy and former law mentor Mickey (Jack Warden) throws him a medical malpractice case that can't lose, involving Deborah Ann Kaye, a young woman who was given an anesthetic during childbirth in the city's most venerable Catholic hospital, after which she choked on her own vomit and was deprived of oxygen. The young woman is now in a coma, on a respirator. Her sister and brother-in-law are hoping for a settlement to properly care for the victim, and to pay for a move to Arizona from Boston. Frank assures them they have a strong case.





Loosely based on the real case of Karen Ann Quinlan in the 1970s, The Verdict was adapted by David Mamet from former trial attorney Barry Reed's novel, and marked what many feel is the high point of Paul Newman's already-storied career of iconic performances. Even under the most critical eye, Newman's work here was never better. We see his Frank Galvin go through a virtual kaleidoscope of human emotions from the opening shot: Galvin playing pinball in the seedy bar he calls his second home with a countenance that suggests slow death, to the final image of him staring at a ringing phone with ambivalence. In fact, even though you enter the theater knowing you're seeing a Paul Newman picture, everyone's iconic hero (or anti-hero) since the 1950s, where he almost always comes out on top, even when he's killed (as in Cool Hand Luke or Butch Cassidy and the Sundance Kid), it doesn't matter--he and his character have made their marks on everyone they've encountered and they, and we, and the world are better for it. Not so in The Verdict.

In fact, almost from the get-go, when you see that Frank's crumbling office, his flophouse of an apartment, that fact that he is taking on the Archdiocese of Boston, and not to mention the city's toughest, most legendary lawyer (the great James Mason) who has a phalanx of attorneys at his beck and call, like Roman foot soldiers, you keep saying to yourself "Holy shit, there's no way this guy can win." Even when he attempts to cure his hand tremors after the previous night's bender, and must lean down like an old dog into his shot glass for that sip of medicinal whiskey, Frank Galvin has none of the legendary Paul Newman cool. He's a husk. A dried out leaf. A cracked, empty shell. Forget about there being a pearl in this oyster, if there ever was one.





Hoping to find redemption in the form of romance, Frank meets the lonely, slightly worn, but still-lovely Laura (Charlotte Rampling) at his local bar one night. She stands out amongst the bloated, burned out drinkers who sit unsteadily the joint's creaky barstools. Frank and Laura drink together, make weary, slightly ambivalent, but most likely sweet love and seem to hang on to one another like a buoy in a storm. Frank is already counting the money he'll make from the settlement the Archdiocese is sure to offer, meaning no need for a trial. Then, Frank goes to visit Deborah Ann in the hospital.

Everything changes.

Deborah Ann is curled in a fetal position, hooked up to a series to tubes, respirators and machines. Frank suddenly has absolute clarity and the light comes back into his eyes for the first time. When a nurse tries to shoo him away, Frank answers with authority and strength: "I'm her attorney." There will be no out of court settlement, even after the Archdiocese offers a cash settlement of $210,000 (a tidy sum in 1982). Frank bristles at this, "I was just thinking how neatly the number three goes into this figure." Frank turns it down, taking the case, and himself, to trial.

Sidney Lumet stages incredible courtroom sequences in the film, with Milo O'Shea gleefully portraying one of the most loathsome judges in film history, a man you can tell has been bought and paid for, and can't wait to ditch his robes for golf cleats and a high ball somewhere. As one obstacle after another gets thrown in Frank's path, he keeps getting up, climbing over them, around them, and through them. Because he just can't stop. At the film's darkest moment, when it truly seems all is lost, Mickey gently massages his wounded comrade's shoulders, reassuring him: "There'll be other cases." Frank starts repeating "There are no other cases. This is the case. There are no other cases. This is the case..." It becomes Frank's mantra for the remainder of the story.





Newman delivers Frank's closing statement (and the film's climax) with such simplicity, dignity and controlled power, that it's not only the finest moment in his career as a film actor, it's one of the best verbal renditions of a man's (and man's) redemption ever written and delivered. Paul Newman received his seventh Academy Award nomination for playing Frank Galvin, with everyone in Hollywood assuming he was a shoo-in, but lost to newcomer Ben Kingsley in the titular role of Gandhi. Newman would go on to receive an honorary Oscar in 1986 and a Best Actor statuette in 1987, for reprising his role of "Fast" Eddie Felson, in Martin Scorsese's The Color of Money, an ad-hoc sequel to The Hustler.

Frank Galvin's take on life can be summarized in joke he repeats during The Verdict, usually in the company of his drinking buddies at his local pub. Like all great writing, it says a great deal while seeming to say something else:

"So Pat says, he says, 'They got this new bar... and you go inside and for half a buck you get a beer, a free lunch and they take you in the back room - they get you laid...' Mike says, 'Now wait a minute, wait a minute, wait a minute. Do you mean to say there's a new bar and you go inside and for a half a buck they give you a beer, a free lunch and they take you in the back room and they get you laid?' Pat says, 'That's right.' 'Have you ever been in the bar?' And he says, 'No, but me sister has.'"

Frank Galvin, one of the screen's greatest, most magnificent bastards.



-- This feed and its contents are the property of The Huffington Post, and use is subject to our terms. It may be used for personal consumption, but may not be distributed on a website.

Issa Rae Lauds Hillary Clinton For 'Being Old As F**k' And Running Anyway (Fri, 17 Apr 2015 23:37:06 -0400)

While some Hillary Clinton haters are already taking shots at her looks and age, the presidential hopeful still has Issa Rae in her corner.

Rae, the creative mind behind The Misadventures of Awkward Black Girl, sat down with "The HuffPost Show" hosts Roy Sekoff and Marc Lamont Hill on Friday and praised Clinton for running despite her age.

"I applaud her for just being old as fuck and being out there, because I want to be old as fuck and not have to alter my face or body in any way, shape or form," Rae said.

Rae also commented on the beauty expectations that have been hurled Clinton's way since she announced her presidential bid.

"I'm just more horrified that there is an expectation that she would need and would get plastic surgery. And the fact that she didn't -- we're celebrating that, and I think that that's just a travesty at the end of the day," she said.

Watch more from "The HuffPost Show" here.


-- This feed and its contents are the property of The Huffington Post, and use is subject to our terms. It may be used for personal consumption, but may not be distributed on a website.

Dan Aykroyd Wants Many 'Ghostbusters' Films, 'Like The Marvel Series' (Fri, 17 Apr 2015 23:02:57 -0400)

"Ghostbusters" fans, rejoice -- it doesn't look like the creators of the franchise want to stop anytime soon.

Dan Aykroyd, who starred in and co-wrote the first two films, sat down with "The HuffPost Show" co-hosts Roy Sekoff and Marc Lamont Hill on Friday and explained how he sees the series progressing in the future. While there are already two more films in the works, one with a star-studded all-female cast and another to be produced by Channing Tatum, Aykroyd said he hopes the series can live on even further.

"We need as many ['Ghostbusters' films] as the artists want to produce with the concept. I mean, it's kind of like the Marvel series. There's opportunities here to do different types of stories," he said.

Aykroyd also weighed in on the upcoming Paul Feig-directed reboot, which stars Kristen Wiig, Melissa McCarthy, Kate McKinnon and Leslie Jones.

"The writing is very skillful. And look at that powerhouse cast. I'm looking forward to seeing this movie connect with a whole new generation of young women who don't know 'Ghostbusters,'" he said.

Check out more from "The HuffPost Show" here.

-- This feed and its contents are the property of The Huffington Post, and use is subject to our terms. It may be used for personal consumption, but may not be distributed on a website.

Issa Rae Is 'Tired' Of Constantly Being Asked About The Black Experience (Fri, 17 Apr 2015 22:49:46 -0400)

Shonda Rhimes made news this week when she declared she was done discussing the idea of racial diversity on TV, and her fellow Essence magazine cover star Issa Rae understands how Rhimes feels, she said on "The HuffPost Show" on Friday.

The The Misadventures of Awkward Black Girl author told hosts Roy Sekoff and Marc Lamont Hill:


[Rhimes is] absolutely right that this is normal, that's a normal part of American society, so it makes sense that diversity should be represented on television. But I do get tired of being asked to constantly speak about the black experience. If I'm writing an article, it's like, 'Hey, we love your writing, we just want you to talk about being black and why you're mad about it.' And that's frustrating. I'm like, what if I'm not mad today?


Watch more from "The HuffPost Show" here.

-- This feed and its contents are the property of The Huffington Post, and use is subject to our terms. It may be used for personal consumption, but may not be distributed on a website.

The First Official Look At Batman v Superman: Dawn of Justice Is Here (Fri, 17 Apr 2015 19:56:57 -0400)

The first look at Batman v Superman: The Dawn of Justice is officially here.

The trailer was scheduled for official release next week during a special screening, but leaks on Youtube prompted Warner Bros. to release the trailer online now.






Director Zack Snyder's highly anticipated DC Comics match up features Ben Affleck as Batman and Henry Cavill as Superman. The film, which also stars Amy Adams as Lois Lane and Jesse Eisenberg as Lex Luther, will be released in theaters next year on March 25, 2016.



-- This feed and its contents are the property of The Huffington Post, and use is subject to our terms. It may be used for personal consumption, but may not be distributed on a website.

Boy With Big Heart Asks George Lucas To Change Jedi Marriage Rules (Fri, 17 Apr 2015 18:09:30 -0400)

One little Padawan recently learned he could become a protector of the universe and start a family without having to worry about becoming a Sith.

Seven-year-old Colin had written to "Star Wars" creator George Lucas expressing concern he wouldn't be able to get married and become a Jedi at the same time.

Marriage would be out of the question for members of the Jedi order, who are sworn to fight for peace and order in the "Star Wars" series. Strong emotional attachments were believed to lead to the dark side (hey there, Darth Vader), so Colin decided to petition Lucasfilm to change the rule, community blog Geek Dad reported.

The letter read:


Dear George Lucas,

I don't like that a Jedi cannot get married. I want to get married without becoming a Sith. Please change the rule. P.S. I want to come to Skywalker Ranch please.

Love Colin


As the video above shows, the kind people at Lucasfilm appeared to write back to Colin and eased his troubled heart. They let him know that the values of a Jedi do, in fact, align with those found in a healthy marriage.

Obviously, Colin was over the moon Death Star.

"I can get married! No way! George Lucas is so nice!" he said.

That he is, Colin. That he is.

H/T The Mary Sue

-- This feed and its contents are the property of The Huffington Post, and use is subject to our terms. It may be used for personal consumption, but may not be distributed on a website.

'Chiraq,' Proposed Spike Lee Film Title, Draws Backlash From Chicago Mayor Rahm Emanuel (Fri, 17 Apr 2015 17:42:19 -0400)

The title of Spike Lee's upcoming film, 'Chiraq', has drawn some criticism in Chicago.

The proposed project, which is reportedly set to highlight black-on-black gun violence in the city's Englewood neighborhood, has caught the attention of the city's alderman William Burns and Mayor Rahm Emanuel. Needless to say, they're not all that pleased with the film's title, which is a popular nickname coined by local rappers who compare the city's crime rates to an Iraqi warzone.

On Wednesday, Emanuel met with Lee at City Hall to discuss the filmmaker's plans to film in the Windy City. "We had an honest, frank conversation," Emanuel said during a press conference. "He said that while the movie is about the neighborhood of Englewood, I was clear that I was not happy about the title." He added, "I told him also that there are very good people that live in Englewood who are raising their family and there's a lot of positive things that are happening in Englewood mainly driven by the people that make up Englewood."

Burns echoed the Mayor's sentiments, saying the film's title is a "slap in the face" to residents who pay their taxes and work to clean up the city's negative image. "South Siders and West Siders already walk around with a massive chip on their shoulders," he said during a meeting with the Illinois Film Office. "There's a sense the media only comes to cover dead bodies and not the positive things that happen every day. And why is this guy from New York coming to do a movie about Chicago?"

While there's no official word on Lee's thoughts to reconsider the title, Burns seems to think the city's residents should have a say in the film's title, given Lee's recent $3 million film industry tax credit request.

To date, Lee has reportedly courted Kanye West, Common, Jeremy Piven and Samuel L. Jackson to star in "Chiraq," which will be filmed for Amazon Prime.


-- This feed and its contents are the property of The Huffington Post, and use is subject to our terms. It may be used for personal consumption, but may not be distributed on a website.

John Green Responds To Troubled Fan With An Uplifting Tumblr Message (Fri, 17 Apr 2015 17:38:44 -0400)

John Green's successful novels should be enough evidence that the author has a way with words. If they're not, a recent touching Tumblr post should do the trick.

An anonymous user reached out to Green on his Tumblr for advice concerning unsupportive parents. In the post, the user said he/she is a 22-year-old with cerebral palsy who also identifies as bisexual. After explaining how his/her parents make "nasty remarks" about the LGBTQ community and noting an incident where he/she was called a "cripple," the user requested Green's advice. The author had the perfect response.





John Green, you are truly a gem.

H/T Seventeen

Follow HuffPost Teen on
Twitter |
Instagram |
Tumblr |
Pheed |
-- This feed and its contents are the property of The Huffington Post, and use is subject to our terms. It may be used for personal consumption, but may not be distributed on a website.
What's It Like Working on a Film in Sub-Zero Temps Without Cell Phone Access? (Fri, 17 Apr 2015 17:33:55 -0400)
New Visions award winning Sci-fi film Astraea had actors and crew working in harsh conditions on a limited budget. Twitter: @astraeathemovie

Call these actors crazy or call them troopers - either way, their bravery in treading through harsh weather and barely any internet or cell phone access is what helped make Astraea come to life.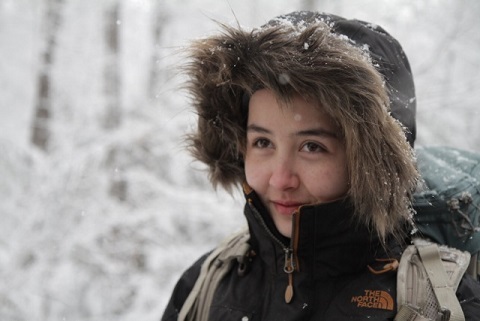 Nerea Duhart plays Astraea, a telepathic teenage girl.




What was going through your mind when you accepted this role? Did you audition?

After the audition, I didn't allow myself to think anything at all as a safety mechanism because I was sure I would not get the part. Then when I did get the part, I had a scarier thought: what if I can't act this? What if I'm not good enough? I called my father and he said "Stop it. Go get them." And soon after, I was on a flight to Maine.

Why did you become an actor and why did you choose NYC to go to acting conservatory?

Good storytellers and magicians are very fascinating to be with and watch. This made me want to be in entertainment. Because my father is a pilot, traveling is encouraged. Once I got into an acting conservatory I dedicated my attention to listening to people. Out of all the information I received, I was hooked on films and their respective magic. Watching behind the scenes is almost as good as watching the film. It's a clear thing when you point at the screen and say 'I want to be there' because acting in film is being a storyteller and a magician.

Was there any point during the filming of Astraea that you said to yourself, "I can't believe I'm doing this?"

We spent two hours filming Astraea angrily chopping wood. I had never chopped wood before (I had also never held an axe before) but the character of Astraea already knew how to use an axe. It took me the majority of that hour to get the strength to chop that wood. And then I had lines. The crew helped me out by pre-chopping the wood and letting me swing at it. It felt exhilarating; I thought my hands were going to fall off. Unfortunately, that scene isn't in the film.

How long was filming? Did you get to go home on weekends or at any point before filming finished?

The filming took four and a half weeks. Our days off were Thursdays. To keep my grades up I had to fly back to NYC on Wednesday night. Go to class on Thursday from 9am-4pm with scenes to present and take a flight back to Maine at night, arriving in time to sleep and get up at 6am to film the next day. Coming back to Maine was always the thing I looked forward to the most.

What was the hardest part of working on this film?

The hardest element to this film was running through the snow in full gear. I hadn't warmed up properly and when 'action' was called, I ran for my life. I only lasted two takes but it was so freeing to run through the woods with every ounce of your energy. I then saw the footage and realized that I was much faster in my head than in real life.

Anything else you'd like to say?

The day before filming began, when everyone was getting to know each other, the director Kris asked us actors to take a walk with him. The sun had set and we walked across a frozen lake to a small island covered in trees. We came to a fallen tree trunk in the middle of the island and he asked us to sit down and close our eyes. He then asked us 'What do you hear?' I heard the traffic from miles away and the tree branch under my feet cracking at the same time. When you use what is around you to put yourself into the world of the film, the 'living' gets much easier.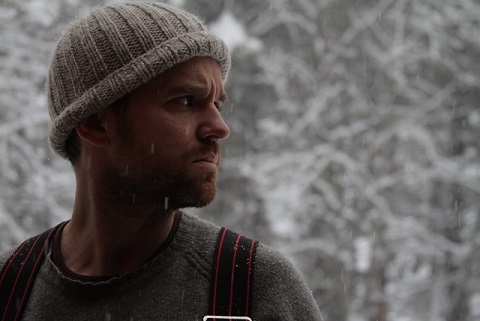 Actor Dan O'Brien plays James, a complex character with a blend of pain and dark humor.




You're an L.A. Actor. When working on the East Coast, where do you stay?

When I work on the East Coast, I am fortunate to have a number of safe houses that will harbor me. My brother puts me up in New York and my parents in Virginia. I stayed there while shooting a film in DC a few years ago, much to my mother's delight. Depending upon the production and their budget, I've stayed anywhere from the Four Seasons to friends' couches.

Astraea was an exceptionally cool housing situation. The director, Kristjan Thor, a good friend and amazing artist, asked me to stay in the house where we were filming for the month of the shoot. It was a unique opportunity for total immersion into the world we were creating. It was an old Maine farmhouse, full of generations of books, furniture, snow shoes, old wallpaper, knick knacks, etc. that really informed my character and performance.

You're used to working on big budget productions. What were the differences between working on Astraea vs. NBC's Whitney and How I Met Your Mother?

Working on Astraea differed from a network sitcom gig because there was hardly any budget at all; it was a passionate group of friends determined to make something as beautiful as possible. That energy and enthusiasm was invigorating and inspiring to be around. I left LA where it was warm and sunny, got to Maine, and the first day I was gutting fish in a blizzard, chopping wood, and doing ice fishing scenes on a frozen lake.

If you had to do anything remotely dangerous, like touch an animal, on the set of "Whitney", NBC sent an army of people to make sure you were okay. In Maine, the director was offering to trade boots with me if my feet were too frozen to keep doing the scene. A sitcom is a well-oiled 9-5 machine, and on Astraea, the crew decided to stay up all night once to shoot the sunrise on a whim. A sitcom works at a breakneck pace putting out 22 episodes in a few months and the lines and jokes change almost daily. Working on an indie feature like Astraea gave me much more time and freedom as an actor to explore, make discoveries, take chances, and in general work at a deeper level than you get to on a big budget sitcom.

Did you create a backstory in your head for your character in Astraea?

I like to use my own experiences as jumping off points for backstory. For example, the character of James was a teacher, and I used to teach kids at the Neighborhood Playhouse in NY. I borrowed those real memories and placed them in the imaginary circumstances of the film, i.e. children dying in class. Kind of gruesome, but that was the reality for the character. I spent a lot of time doing sense-memory work on what it was like to see everyone in the the world "drop dead." Real fun stuff. Ashlin Halfnight wrote an amazing screenplay. There was so much for me as an actor to sink my teeth into: the complicated relationship between James and Callie as cousins who are the last man and woman on earth, James' father euthanizing himself, reintegrating into civility with other people after a global pandemic. It was an actor's dream come true. Having a great director like Kris helped too. He sent the cast an email before the shoot titled, "Awesome Actor Stuff," with homework like, "please describe the apocalypse you just lived through in 1) a paragraph 2) a sentence 3) three words 4) one word" I get really into process-y stuff like this. I'm a downtown experimental theater artist at heart.

Anything else you'd like to say?

If doing Astraea taught me anything, it's that you can do it. Whatever it is you think you are supposed to do, whatever that voice in your head is saying you should do, you can do it. Take the first step and be amazed at how many people will come along and help you.

-- This feed and its contents are the property of The Huffington Post, and use is subject to our terms. It may be used for personal consumption, but may not be distributed on a website.

This 'Frozen 2' Trailer Parody Is Twisted Beyond Belief (Fri, 17 Apr 2015 17:31:15 -0400)

That silly, satanic Elsa.

Now that a "Frozen" sequel is in the works, the Disney character seems to have undergone a few changes.

In this "Frozen 2" trailer spoof from Animation Domination, Elsa shows her really dark side. The song we're trying not to name is infecting the population. Blood is spilling.

And now we're too terrified to let it go.

H/T Viral Viral Videos

-- This feed and its contents are the property of The Huffington Post, and use is subject to our terms. It may be used for personal consumption, but may not be distributed on a website.

Being Ringo: A Beatle's All-Starr Life (Fri, 17 Apr 2015 17:30:28 -0400)

There are some things Ringo believes.

-- This feed and its contents are the property of The Huffington Post, and use is subject to our terms. It may be used for personal consumption, but may not be distributed on a website.

The New 'Jurassic World' Poster Makes It Totally Look Like A Rom-Com (Fri, 17 Apr 2015 17:24:27 -0400)

This summer ... Love finds a way.

"Jurassic World" director Colin Trevorrow tweeted a new poster for the much-anticipated "Jurassic Park" sequel on Friday, showing the film's park operations manager Claire Dearing (Bryce Dallas Howard) staring deep into the eyes of the Indominus rex.

With a new trailer debuting on Monday, we'll soon find out even more about the Chris Pratt-helmed sequel -- including whether or not a love story lies within. But based on this poster, we're pretty sure that "Jurassic World" is really a rom-com and the only sparks that will fly will be between Dearing and this ferocious hybrid dino.

So, with that in mind, we went ahead and tweaked the new poster to better reflect what this movie is clearly about: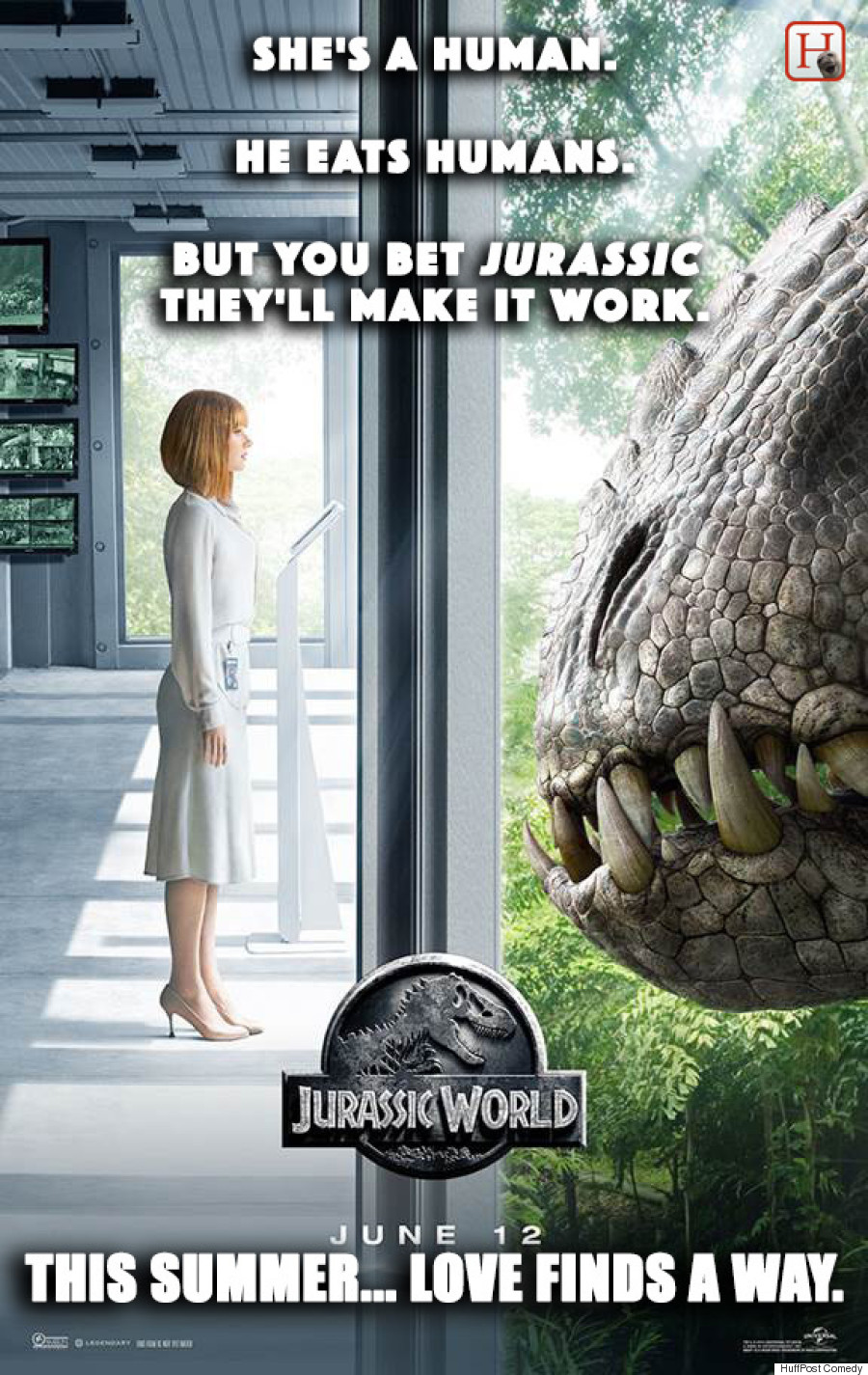 -- This feed and its contents are the property of The Huffington Post, and use is subject to our terms. It may be used for personal consumption, but may not be distributed on a website.
Kylie Jenner Is Back In A Bikini For Round Two Of Coachella (Fri, 17 Apr 2015 17:21:48 -0400)
Kylie Jenner is basking in the sun, and ready for another weekend at Coachella.

The 17-year-old took to Instagram to share some racy bikini snaps with her 20 million followers, seemingly revealing she's back in Indio, California for more music-filled days and nights.





Jenner posted the photos shortly after the new issue of Teen Vogue, which she covers, hit the Internet. In the May issue, Jenner opens up about her haters, sisters and fashion sense.

"I never really wear makeup unless I need to because when I do my makeup I like to really do my makeup. So I'm never going to spend just 20 minutes, you know?" she said. "A good night out is, like, two and a half hours for full makeup, curling hair, whatever. I love false lashes -- individuals, strips, extensions."

-- This feed and its contents are the property of The Huffington Post, and use is subject to our terms. It may be used for personal consumption, but may not be distributed on a website.

Kendrick Lamar Just Revealed Who He Thinks The Best Rapper In The Game Is (Fri, 17 Apr 2015 17:17:14 -0400)

Kendrick Lamar is terrible at social media, but on Wednesday afternoon, Top Dawg Entertainment's label boss talked Lamar into answering questions on Twitter. One user asked the inevitable rap stan question: "Who's your favorite artist in the game right now?"

-- This feed and its contents are the property of The Huffington Post, and use is subject to our terms. It may be used for personal consumption, but may not be distributed on a website.