Chrissie Hynde: Don't Get Me Wrong: I Won't Stand For Cruelty to Geese
Author: Chrissie Hynde
First came Twiggy, then Joanna Lumley, Dame Vera Lynn, Pamela Anderson, and Brigitte Bardot, and now me. With what amounts to a bevy of famous women speaking out for the majority of Britons who want to see a ban on the sale of foie gras, Fortnum & Mason is running out of excuses to profit from the bloated livers of force-fed geese.
As someone who has lived in London for a number of years, I know that Fortnum & Mason strives to be the quintessential British department store. But there is nothing British about ramming a tube down the throats of geese and filling their stomachs with mush. That's why foie gras production is illegal in the UK and more than a dozen other countries and also why Fortnum goes to French farms to stock its shelves. I have watched the undercover video footage that PETA UK shot on these farms, and it's enough to put anyone off their tea and biscuits. Geese raised for the store's foie gras spend their final weeks in cramped pens that reek of the fumes from the waste that accumulates beneath the metal grates on which they're forced to stand. Knowing what it means when the worker with the force-feeding pipe approaches, the terrified geese try desperately to escape, but they have nowhere to go and are too sick and weak to get very far anyway. Some birds are so ill that they can't even stand up - but the workers still mercilessly pump more mush down their throats.
Force-feeding causes the birds' livers to balloon to up to 10 times their normal size and become diseased with what is known as "hepatic steatosis". In addition to being miserably ill with a painful and debilitating disease, the geese can barely breathe because their grotesquely enlarged livers displace their lungs and other internal organs. In PETA's video, geese can be seen panting constantly in a vain attempt to suck oxygen into their squashed lungs. Veterinarian Holly Cheever has compared what force-fed birds endure in their final days to being smothered.
At the abattoir which Fortnum's foie gras suppliers use, the geese are slaughtered by being plunged upside down into 'killing funnels'. The birds are supposed to be stunned before their throats are cut, but PETA's investigator documented a worker who skipped the stunning step as soon as a supervisor wasn't looking. Instead, he simply stabbed the birds in the throat, which is illegal in both France and the UK. Video footage shows obviously conscious geese blinking, gasping, kicking and trying to lift their heads.
All this misery occurs just so that some self-proclaimed 'foodies' can toss a slab of greasy toxin-infused offal onto their toast. Personally, I wouldn't touch the stuff with a 10-foot force-feeding tube. I much prefer the 'faux gras' I sampled recently, which was created by former Manna chef Sean Paul Redding, a magical concoction that includes truffle oil, wild mushrooms, chickpeas and beetroot - but not so much as an ounce of animal abuse. Sean Paul's decadent creation would be at home at even the poshest gathering, and I wouldn't be surprised to see it served at Clarence House since Prince Charles refuses to allow real foie gras to be served at any of his functions.
In addition to Prince Charles, the BAFTAs, the BRIT Awards, Wimbledon, Lord's Cricket Ground and both Houses of Parliament refuse to serve foie gras, and Harvey Nichols and Selfridges refuse to sell it. Numerous animal-protection groups, including the Royal Society for the Prevention of Cruelty to Animals, Compassion in World Farming, Animal Defenders International, Animal Aid, Viva!, Four Paws, OneKind, Save Me and the International Veterinary Society, have joined PETA in calling on Fortnum & Mason to stop selling foie gras.
So what's it going to take, Fortnum & Mason? Will I have to ask my friend Pamela Anderson to run naked through the store? She'll do just about anything for animals, so I wouldn't put it past her.
Heather Laine Talley: Zelda Wasn't 'Crazy': How What You Don't Know About Fitzgerald Tells Us Something About 'Crazy' Women, Then and Now
Author: Heather Laine Talley
Co-Authored with Vali Forrister
The 1920s are back, and we can thank Baz Luhrmann's remake of the F. Scott Fitzgerald classic, The Great Gatsby. This telling of Fitzgerald's story of American Dream hustle, the decadence of the nouveau riche and the utility of deception is bursting with extravagant scenery and costuming, shot in 3-D and held together with opulent scenes capturing the drunken revelry of the Jazz Age. Luhrmann's frenetic style à la Moulin Rouge is particularly apropos given what we know about Fitzgerald's life.
There are the stories of F. Scott Fitzgerald's unparalleled tolerance for alcohol. His relationships with Ernest Hemingway and Dorothy Parker figure prominently into the ways he is remembered, too. But his marriage to Zelda Sayre is also part of Fitzgerald lore, notable for one fact in particular: Zelda was crazy. At least, that's how the story goes.
"Crazy" is a gendered trope. Arguably, calling women "crazy" is the most commonly-used strategy for stereotyping and devaluing us. (It's also a label that functions to stigmatize mental illness.) Consider Yashir Ali's "A Message to Women From a Man: You Are Not 'Crazy.'" Ali explores gaslighting, a subtle process of emotional manipulation regularly used to convince women that our reaction is an overreaction. As Ali notes, "Whether gaslighting is conscious or not, it produces the same result: It renders some women emotionally mute."
Scott's biography regularly depicts Zelda as crazy. Even city tours of the Appalachian tourist destination Asheville, North Carolina, feature a drive past the Highland Mental Hospital historical site. Zelda died in a fire at the facility. Whether you'll hear that she was chained to her bed or clutching a pair of ballet slippers depends on which tour guide does the telling. The official medical report suggests that she was awaiting electro-shock therapy and could have escaped if she had not been sedated. A retrospective reading of Zelda's biography reveals what we might understand as gaslighting, but it demonstrates something more insidious, too.
Stories of Zelda's fragility, and ultimately her demise, leave out one critical fact: There is no F. Scott without Zelda. The historical record is clear. Scott's stories relied on Zelda's own writing, but Scott's role in Zelda's "crazy" is conspicuously absent from public memory. The "crazy" Zelda that has emerged in our popular imagination is as much Scott's making as The Great Gatsby itself. This is, in and of itself, part of the F. Scott legacy. His work depended on Zelda's silence.
There is no doubt that many of Zelda's behaviors violated societal norms of the day, specifically prevailing gender expectations. As she reveals in a high school journal,
I ride boys' motorcycles, chew gum, smoke in public, dance cheek to cheek, drink corn liquor and gin. I was the first to bob my hair and I sneak out at midnight to swim in the moonlight with boys at Catoma Creek and then show up at breakfast as though nothing had happened.
Some historical analyses have suggested that Zelda likely experienced bipolar disorder or schizophrenia. It's also plausible that she was affected by consuming copious amounts of toxic industrial alcohol and bootleg moonshine. The experimental psychological and medical care she received had lasting impacts, too. But retrospective diagnoses of Zelda as mentally ill ignore the social and intimate context of Zelda's behavior. According to Zelda biographer, Therese Ann Fowler: "Zelda did suffer some mental health crises -- depression, primarily -- and was an uninhibited, uncensored woman who didn't always think before she acted, but she wasn't crazy. Unwise? Sometimes. Insane? No."
Indeed, while Scott may not have driven Zelda to madness, in a journal entry, Scott detailed a strategy for inducing Zelda's commitment: "Attack on all grounds. Play (suppress), novel (delay), pictures (suppress), character (showers), child (detach), schedule (disorient to cause trouble), no typing. Probable result -- new breakdown."
Over and over again, Scott constructed scenarios that incited her distrust and rage.
In the early parts of their marriage, Zelda's charisma and originality as the quintessential flapper made the Fitzgeralds one of the most popular couples in America. The bustling social life Zelda made possible informed Scott's writing, but his close observation of Zelda functioned as research, too. As friend to the Fitzgeralds and fellow writer Lawton Campbell explains,
[Scott] would hang on her words and applaud her actions, often repeating them for future reference, often writing them down as they came from the fountainhead. I have seen Scott jot down Zelda's remarks on odd pieces of paper or on the back of envelopes and stuff them in his pockets. At times, his pockets were fairly bulging with her bon-mots and bits of spontaneous observations.
Scott modeled his female protagonist in This Side of Paradise on Zelda, quoting her verbatim to create dialogue. Scott even lifted entire sections of her diary for The Beautiful and the Damned. After sharing Zelda's diaries with editor and literary critic George Jean Nathan, Nathan expressed immediate interest in publishing them under the title "A Young Girl's Diary." Enraged, Scott refused, but Zelda did publish a review of The Beautiful and the Damned in New York Tribune that outed Scott: "Mr. Fitzgerald -- I believe that is how he spells his name -- seems to believe that plagiarism begins at home.''
In 1927, Scott met Lois Moran, a 17-year-old silent film actress. Scott's affair with Lois was neither his first nor his last. In fact, Scott and Zelda had an established pattern of non-monogamy, but before meeting Lois, Scott had retooled their marital contract to insist on Zelda's fidelity. In a letter to Scott dated September 1930, Zelda writes, "In California, though you would not allow me to go anywhere without you, you yourself engaged in flagrantly sentimental relations with a child."
After Scott left for a dinner with Lois, Zelda filled a bathtub with her own clothing designs and set them on fire. Another confrontation with Scott over Lois unfolded when Scott announced that Lois and her mother would be visiting them. Zelda responded by throwing her diamond and platinum wristwatch, an engagement present from Scott, out the window of a moving train. Over the course of their affair, Scott steadily compared the two women. Even though Scott forbade Zelda from accepting a movie role offered to her, viciously panned her writing and blatantly discouraged her dancing and painting pursuits, Scott audaciously criticized Zelda's lack of ambition while applauding Lois' drive. And yet, Scott propagated stories that positioned Zelda's outrage as yet more evidence of Zelda's "crazy." He implicitly denied culpability.
Scott's ridicule fueled Zelda's artistic pursuits and desire for independence, but the strain eventually resulted in a breakdown. During the resulting hospital stay, Zelda began writing the semi-autobiographical Save Me the Waltz and sent a draft to Scott's editor, Max Perkins. Scott offered to edit the manuscript and promptly pilfered passages for his novel Tender Is the Night, so that when her first (and only) novel was published, reviews suggested that it was confused and insignificant. Zelda was left with a slow-growing but eventually all-consuming resentment about Scott's blatant cannibalization of her work and her very self.
Scott's career depended on Zelda. Yet, he systematically erased her contributions and undermined her autonomy and independent success. But, his manipulation of Zelda was more than misogynistic sport.
Scott benefited greatly from her eloquence and charisma, but Zelda's "crazy" also served his interests. This dynamic between Scott and Zelda is not unlike stories of women we know who in academic, professional and artistic contexts have been mentored to their peril. Affiliating with a seasoned professional may be "how you get started," but too often young women -- artists, graduate students and business professionals experience the uncanny moment of seeing our work presented with someone else's name attached. This relationship relies upon gendered patterns of socialization, which leave women less-equipped to be assertive, along with cultural tropes that label women "crazy bitches" for speaking up and demanding credit or fair compensation for our original labor.
Zelda and Scott's story speaks not only to interpersonal dynamics, but also to systematic patterns that continue to undermine contemporary women's lives. For example, universities across the country and the U.S. military are finally being held accountable for paltry enforcement of sexual violence policy. Women are, of course, leading these efforts. In relation to Occidental College's administrative approach, civil rights attorney Gloria Allred has suggested that the pattern of inaction and deferral of responsibility are emblematic of "deliberate indifference." The costs to women who traverse these hostile climates are real, and yet, both universities and the military continue to display rampant institutional indifference. Whether in the 1920s or in 2013, flagrantly repudiating responsibility is made possible by the smug knowledge that women are, generally speaking, less likely to be able to successfully make the case for liability -- due to economic inequality and durable cultural tropes. We're "crazy," after all.
For the pilfering mentor, the creativity and vision offered by the ingénue is highly valuable, but its value depends on the ease with which a mentee can be discredited and discarded. For the deliberately indifferent university, the energy and engagement of faculty and students helps to lend credibility to the university as a structure invested in cultivating citizenship. The military, too, transforms as women join the ranks. Greater inclusivity lends a kind of legitimacy to American democracy. But it's equally true that old patterns of sexism remain intact, as women who voice dissent or protest are reduced to irritating whiners or troublemakers, at best, and "crazy," at worst.
It's not that contemporary women are simply gaslighted, labeled as crazy, and then disregarded. It's that women from Zelda Sayre Fitzgerald to UConn student Carolyn Luby are ensnared in the same traps that limited Zelda. Women's talent and vision transforms the spaces we operate in, but the enduring legacy of women's unequal power and persistent cultural stereotypes converge to undermine women's value in the very spaces that depend on our labor and voice. It's enough to make anyone "crazy."
In 1934, the Cary Ross Gallery in Manhattan featured an exhibit of Zelda's paintings, a show she entitled "Parfois La Folie Est La Sagesse," or "Sometimes Madness Is Wisdom." As the release of The Great Gatsby ignites a resurgent celebration of all things F. Scott, the story of Zelda as a failed artist and deranged party girl will undoubtedly be recounted too, and that is "crazy."
Vali Forrister is the producing artistic director of Actors Bridge Ensemble, a theatre company in Nashville, where she recently collaborated on and produced the world premiere of OUTSIDE PARADISE, a new play about F. Scott and Zelda Fitzgerald.
Joe Satran: Who's Winning The 'Game Of Thrones'?
Author: Joe Satran
Note: Do not read on if you have not seen Season 3, Episode 8 of HBO's "Game of Thrones," titled "Second Sons."
"Ambitious climbers never want to stay on the second highest rung." -- Cersei Lannister

There aren't any runner-ups in the game of thrones. You win, or you die -- or so we've heard. This week's episode, "Second Sons," focuses on the ambitions of those who haven't yet reached the heights they seek -- Tyrion Lannister (a second son) marries Sansa Stark, in a drunk blaze, while Gendry's blood is used to advance the fortunes of another second son, Stannis Baratheon. Meanwhile, Arya continues her captivity at the hands of the Hound (a second son), Daenerys Targaryen wins the support of the mercenary band, the Second Sons, and Samwell Tarly encounters -- and defeats! -- a blue-eyed Other.
The Power Rankings
Using a complex algorithm that takes into account each player's wealth, military might and dominion over lands, along with a "bonus" factor that adjusts for unquantifiable assets that could influence events, we've surveyed the lay of the land to figure out who is winning the game of thrones after the eighth episode of season three of "Game of Thrones," entitled "Second Sons."

1. Tywin Lannister (Last Episode: 1) Though he's managed to get Tyrion wed, he's more focused on the marriage bed. Watching his imp child get ragingly drunk, Tywin reminds him that he "needs to perform" if he wants a baby in his wife's stomach. Tyrion gets drunker, then tells Sansa he won't share her bed until she wants him there.
"But what if I never want to?" she asks him.
"And so my watch begins," he replies. Tywin may be waiting quite some time.

2. Margaery & Olenna Tyrell (Last Episode: 2) Margaery's charms work less well on the mother than the son. After she tells Cersei how much she's looking forward to being her sister, Cersei tells her the story behind the song, "The Rains of Castamere." House Reyne was the second wealthiest family in Westeros -- just like the Tyrells. But when they rebelled against the Lannisters, "every man, woman and child" was slaughtered and left to rot on the walls for a long summer.
"If you call me sister again I'll have you strangled in your sleep," Cersei tells her soon-to-be daughter- (and sister- !) in-law.

3. Daenerys Targaryen (Last Episode: 3) After the lords of Yunkai have departed, Dany has a meeting with the captains of the Second Sons, a mercenary band who sees her as nothing more than a clothed vagina with a scant 8,000 men. One of them offers to let Dany bear his second sons. Her response: "Give me your Second Sons and I may not have you gelded." The captains plot to have her murdered under the dark of the new moon, but instead, upstart Lieutenant Daario Naharis (a long-haired former whore, if the others are correct) chooses to uphold his personal philosophy, which heralds "the thrill of fucking a woman who wants to be fucked" and "the thrill of killing a man who wants to kill you." Her "beauty" was enough to convince him to turn on his comrades, he tells Dany. "I'm the simplest man you'll ever meet," he promises. "I only do what I want to do." He swears his sword, and his love, to the Dragon Queen.

4. Joffrey Baratheon (Last Episode: 5) The Shithead King is in fine form this episode, standing in as Sansa's father (her own, thanks to him, is not available) and taking away Tyrion's step stool so that Sansa is forced to kneel at his feet for the cloaking ceremony. Later, he takes Sansa aside and tells her sweetly how he will rape her as often as he chooses. But when he tries to initiate the bedding ceremony, Tyrion's had enough and warns him that he'll be "fucking [his] own bride with a wooden cock" if he continues to be such a miserable little wretch.

5. Robb Stark (Last Episode: 4) No Robb in this episode, but it doesn't help the North's cause to have his younger sister (and, in the eyes of many, his heir) married to a Lannister.

Wildcards
These characters are important, but don't make it to the top five in our Power Rankings -- yet.

Cersei Lannister Cersei's been testy with Margaery all season. But this episode, hostilities hit a new peak when Margaery referred to the Queen Regent as "sister." It's not likely Margaery will forget that one when she, not Cersei, is queen.
Nor is Cersei making inroads with her fiance Loras. He approaches her while she's looking out at Blackwater Bay and tries to tell her an anecdote that had been related to him by his father Mace. But she cuts him off. "Nobody cares what your father once told you," she says angrily.

Tyrion Lannister In terms of the balance of power, the most important event this episode was certainly Tyrion's unhappy marriage to Sansa. If the Lannisters win their war against Robb (by no means a given), the wedding will make Tyrion the Lord of Winterfell, securing Lannister preeminence across the vast majority of the country.
But Tyrion's still not happy about it. He knows full well that Sansa doesn't want to marry him. And he doesn't want to marry her. He tries to build a bridge to her, using their mutual distaste for the wedding, saying, "I know how you feel." But she doesn't take the bait, and instead keeps her distance. During the ceremony, he's embarrassed when he can't reach Sansa's shoulders to place his cloak atop them. And afterwards, he drinks enough wine to get utterly wasted, surpassing even the impressive level of inebriation Cersei demonstrated during the Battle of Blackwater last season. Though his father urges moderation, to make sure Tyrion will be able to consummate the wedding, Tyrion is too considerate of Sansa's (and Shae's) feelings to go through with the act once they're alone in their wedding chamber. He tells Sansa that they won't sleep together until she wants to. What a nice boy! But if part of his intent with this gesture was to win Sansa over with his chivalry, she isn't having any of it. "What if I never want to sleep with you?" she asks. Well, then the wedding wouldn't be a real wedding -- and Sansa could get an annulment.

Sansa Stark The character who's suffered the most this season is clearly Theon. But Sansa must be the runner-up. She looks like she's on the verge of tears throughout her entire wedding weekend, despite Tyrion's best efforts at gentlemanliness. That said, it's not necessarily too late for Sansa to have a comeback and take revenge on her enemies. The Tyrells clearly still like her -- and if she and Tyrion can reach some sort of truce, they'll wield enough influence to be a serious threat to Joffrey and Cersei ... not necessarily Tywin, but he'll die sooner or later. Valar morghulis! (The "hakuna matata" of our time?)

Arya Stark Arya's angry enough about having been captured by The Hound that she considers smashing his head in with a big rock. But he senses her presence and talks her out of it -- then reveals that he plans to take her to her brother and mother at the Twins, not back to King's Landing. It seems he's telling the truth when he says there are worse people than him -- even if he's just returning her for the reward the Starks will give him.

Gendry & Melisandre Once these two get to Dragonstone, Melisandre reveals that she intends to slaughter Gendry like a lamb -- but that she wants to make sure he doesn't see the knife coming before she makes the cut. So she plies him with wine, sex and promises of divine preordination. But it seems death isn't in the cards quite yet. Davos Seaworth's objections lead Stannis to command Melisandre to prove that Gendry's king's blood is as powerful as the Red Lady says. So she drops leeches all over his body instead...

Stannis Baratheon ...which Stannis drops in a brazier one by one, naming one of his usurper enemies each time he does. The idea here seems to be that, if Robb Stark, Balon Greyjoy and Joffrey Baratheon all die, it'll prove the power of Gendry's blood, allowing Stannis to sacrifice him despite their kinship.

Samwell Tarly Samwell's sequence, at the very end of this episode, very quickly transitioned from cute flirty banter with Gilly to the very scariest scene so far in "Game of Thrones." Crows start to caw outside their broken down hovel in the snow. The volume increases and Samwell offers to go outside, sword in hand. An Other approaches. Gilly shouts that it wants her baby, but Samwell is determined to keep it. He brandishes his sword -- and the magical creature snaps it in half then throws Samwell aside. The White Walker is about to grab Gilly's son when Samwell finds his antique obsidian arrowhead in his pocket. He takes it out, runs at the Other and plunges it into his back in a last ditch effort to save the baby. Miraculously, it works. The Other screams in pain, falls to the ground and shatters into a icy dust. What just happened?
"Game of Thrones" airs Sundays at 9 p.m. ET on HBO.
Jessica Simpson Squeezes Her Baby Bump Into Spandex
Author: Leigh Blickley
Jessica Simpson may be pregnant, but that doesn't mean a good pair of spandex isn't still a part of her wardrobe.
The 32-year-old "Fashion Star" judge flaunted her baby bump in tight leggings as she enjoyed lunch with her fiance, Eric Johnson, and their 1-year-old daughter, Maxwell, at Kings Fish House in Calabasas, Calif. on Sunday, May 19.
Ditching her heels for sneakers, Simpson looked comfortable in a black tank top and zip-up sweatshirt.
"This time around because I was doing Weight Watchers and I felt-super healthy, I'm not really craving as much and I know how hard it is [to take the weight off] so I'm trying to make healthier, wiser decisions," Simpson told Ellen DeGeneres in March.
The singer-turned-fashion mogul is expecting a baby boy in the coming weeks -- that's right, soon she'll have two kids under the age of 2.
Check out her spandex'd bump below: The Most Confusing 'Mad Men' Ever
Author: Jaimie Etkin
Note: Do not read on if you have not yet seen Season 6, Episode 8 of AMC's "Mad Men," titled "The Crash."
This week's "Mad Men" saw half of SDPCGC tripping on speed serum, resulting in darts in forearms, a long-awaited Peggy Olson (Elisabeth Moss) and Stan Rizzo (Jay R. Ferguson) kiss, tap-dancing Ken Cosgrove (Aaron Staton) and Sylvia Rosen (Linda Cardellini) finally put a very sweaty Don Draper (Jon Hamm) in his place.
But in between those highlights, which fans cheered on Twitter, there was plenty of confusion, leading many viewers to tweet that they too felt the late '60s feel-good vibe a little too much while watching "The Crash."
Below, check out fifty tweets about last night's "Mad Men" and share your theories in the comments. Also, check back with HuffPost TV for Maureen Ryan's recap of "The Crash," which will be available on Wednesday.
"Mad Men" airs Sundays at 10 p.m. ET on AMC.
Seth MacFarlane Makes Oscars Announcement
Author: Christopher Rosen
Seth MacFarlane has announced on Twitter that he won't host the 2014 Oscars ceremony on March 2 of next year. If that sounds familiar, it's because MacFarlane already used Twitter to shoot down speculation that he will return as emcee for the 86th annual Academy Awards.
Rumors that MacFarlane would once again host the Oscars sprouted anew when Just Jared reported that producers Craig Zadan and Neil Meron had asked MacFarlane to come back to the show. At the time, the Academy of Motion Picture Arts and Sciences shot down that report, noting that nothing had been decided yet regarding next year's ceremony.
"Given the fact that we just confirmed Craig Zadan and Neil Meron to produce, we understand how people might speculate in that fashion, but it's really way too early to have any idea who our host might be in 2014," an Academy spokesperson said to HuffPost in an email back in April.
As mentioned, MacFarlane had already bowed out of Oscars host consideration.
"Who knows how this will go," MacFarlane said before show on Feb. 24. "Even if it goes great, I just don't think that I could do this again. It's just too much with everything else that I have to do. I'm happy to be doing it and I will be thrilled to have done it, assuming I get out of there in one piece, but I really think this is a one-time thing for me."
After the Oscars, MacFarlane reiterated his feelings via Twitter.
Whether Zadan and Meron take up MacFarlane on his suggestion of Phoenix remains to be seen. If they do, however, perhaps the pair can get David Letterman to co-host.
Jon Chattman: A-Sides with Jon Chattman: A Band of Sister "Sledges" and "Say Yes" to Ashley Allen
Author: Jon Chattman
People use to willingly wear tie-dyed shirts. "Dead Heads" and Phish fans probably still do but that's besides the point. Fads come and go, and sometimes they come back again. Take family bands for example which were all the rage back in the day with acts like The Shangri-Las, Osmonds, and - of course - The Jackson Five. After a drought for a few decades (I'm not counting the Gallagher brothers of Oasis thank you very much), we've recently seen a surge in sibling-consisting bands like Kings of Leon and The Band Perry.
The California-based Sledge Grits Band (No relation to Sister Sledge, who were also a band of sisters) are bringing back a more traditonal family dynamic that evokes the days of a pre-"Off the Wall" Michael Jackson-fronted Jackson Five. The Sledge sibs consist of ten-year-old drummer bo-Pah, 13-year-old lead vocalist Mimi, 16-year-old bass player, backup vocalist Ella, and 18-year-old lead guitarist and songwriter Keiko. The Littlerock, CA sisters, who write, sing, play and perform all of their own music, are currently featured on Cozi TV's "Next Great Family Band," and have reached the finals.
Last week, they performed a cover of Adele's "Rolling in the Deep" on A-Sides (filmed at the Music Conservatory of Westchester in White Plains). Watch that killer cover and an interview below!
Watch. Listen. Love.
Like The Sledge Grits Band, Ashley Allen packs a lot of danceable pop. Unlike The Sledge Grits Band, she does so in provocative fashion. Case in point: watch the promo for her first single "Let's Go" in which she dances on a NYC subway. On a related note, I hope she had a lot of anti-bac after that shoot. Anyway,
Allen is currently opening for pop star and fellow Long Islander Taylor Dane (remember that mane?) and will soon drop her full-length album which consist of catchy tunes with substance. Last week, she discussed songwriting and more at the Conservatory where she filmed an A-Sides session. She also performed acoustic versions of two songs "Body Say No, Heart Say Yes" and "You Ruin Love." Watch the former (and interview) here, and the latter there.
"Body Say No, Heart Say Yes"

Interview

About asidesmusic.com
Jon Chattman's "A-Sides Music" series usually features artists (established or not) from all genres performing a track, and discussing what it means to them. This informal series focuses on the artist making art in a low-threatening, extremely informal (sometimes humorous) way. No bells, no whistles -- just the music performed in a random, low-key setting followed by an unrehearsed chat. In an industry where everything often gets overblown and over manufactured, I'm hoping this is refreshing. Support A-Sides' Kickstarter campaign here!
Author: AP
JERUSALEM — A leading Israeli university says it will present singer Barbra Streisand with an honorary Ph.D. when she visits Israel next month.
The Hebrew University of Jerusalem said Monday it was granting the singer the degree because of her concern for human rights and dedication to Israel and the Jewish people.
Streisand, 71, is expected to perform at a June conference in honor of the 90th birthday of Israeli President Shimon Peres. She will also appear in two public concerts. It will be the first time the Jewish singer performs in Israel.
The university's school of Jewish studies, established in 1984, is named after Streisand's father, Emanuel. Streisand also holds an honorary doctorate in Arts and Humanities from Brandeis University in the U.S.
Jay Pharoah Tweets Jason Sudeikis Is Leaving 'SNL'
Author: The Huffington Post
Jay Pharoah tweeted a fond farewell to his "Saturday Night Live" castmates Jason Sudeikis, Fred Armisen and Bill Hader on Sunday, but deleted his tweet shortly thereafter.
Although Pharoah deleted his tweet, it remains archived on Favstar.
"Hader, Armisen & Sudekis the talent of those three and just them as people in general will be missed but we will be strong and carry on..," Pharoah tweeted.
The tweet was interpreted by many as confirmation of rumors that Sudeikis and Armisen are leaving the show. Hader's departure was confirmed last week by The New York Times, and both Armisen and Hader acted in farewell sketches on Sunday's final show of the season.
Sudeikis' status is the least clear. The "SNL" stalwart wasn't waving goodbye with Armisen and Hader during goodnights on Saturday's season finale, nor was he featured in any sort of farewell sketch. Last week, the New York Post reported Sudeikis was "probably" leaving the show at the conclusion of the season.
It remains unclear whether Pharoah has any knowledge of Sudeikis' plans, or was just responding to the widespread speculation.
A rep for Sudeikis did not immediately respond to The Huffington Post's request for comment.
Story developing ...
Ernest Owens: The Hypocritical Kanye West and His Role in Producing Today's 'New Slaves'
Author: Ernest Owens
Everyone has that one cousin in the family that never tends to shut up at the dinner table.
They complain about how the world is wicked and how all of us are just pawns in the middle of it. Some of what they say is enlightening, insightful, and makes sense. Yet, a lot of it gets mumbled in between blatant disrespectful rants and overblown ignorance. When it comes to hip-hop and mainstream music, that cousin would be Kanye West.
When I heard that his new single entitled "New Slaves" was being blasted on the screens of 66 walls of major cities around the world, all I could say was "oh, boy." As talented as Mr. West has been as a producer and recording artist, I find that many of his antics are just a cry out for attention in a state of anger and hysteria. There is no doubt that his lyrics speak various levels of truth, but there is also a level of disconnection I get from the way he goes about it.
When I finally heard the new track, I was pissed to say the very least. Sure, Kanye points out the issues that take root with modern-day racism. Sure, being a black man in America myself, I can resonate with some of his lyrics in that song. However, when I think about the concept of "New Slaves" and the larger audience of listeners that will hear it, there comes a new profound hypocrisy that Mr. West is responsible for.
For starters, Mr. West will profit from a song about how many of his fellow black peers are suffering in America. And how much of that money is actually going into something that strives to help eradicate the problem? If not financially, will Kanye actually go out and start an activist movement to help fix some of these ills? Probably not, because he will most likely be on tour to collect residuals and proceeds off of us "connecting" with an artist who lives a life most of us don't.
And on the topic of racism, Kanye rants "Fu*k you and your corporation/Y'all ni**as can't control me." Yes, the self proclaimed "Louis Vuiton Don" uses the same derogatory racist term as a reference to the very people he wants to define as the controllers. If this isn't backwards thinking, I don't know what is. It is hypocritical to speak on the very ills of racism when at the same time appealing to the very non-black audience you later criticize as being such. Anyone remember "Ni**as in Paris"? When going on the Watch the Throne tour and performing before crowds that were predominately non-black, how could Kanye promote the usage of the n-word and later complain about how modern-day racism still exists? If anything, Kanye is perpetuating the false idea that the n-word does not contain the same level of racism as it did back in the days when "they wouldn't be satisfied unless I picked the cotton myself."
Furthermore, this idea of black materialistic adoration is fueled by Kanye West's very own efforts as well. Just as much as Mr. West speaks on issues such as racism and the paparazzi, he also does not hesitate to remind the rest of the world of his flashy accessories and massive wealth. And yet that is "rich ni**a racism"...the ability to feel the need to go in the store and be told "What you want a Bentley, fur coat and diamond chain?/All you blacks want all the same things"? However, these are the very same things the hip-hop industry continues to perpetuate as "The Good Life."
And to further the lack of respect to race, Kanye belabors us to remember "an era when/Clean water was only served to the fairer skin." Yet, Kanye himself continues to perpetuate the mentality of self-inflicted racial colorism in his lyrics. In "Stronger," Kayne couldn't help but take notice that there were some "light skinned girls and some Kelly Rowlands" further continuing the demotion of darker skinned women of color. And it does not help to add that he continues to exercise the exploitation of the black female body and use misogynist lyrics in his songs. Referring to the future mother of your child as "My Perfect B**ch" does not help the cause.
And why do I resent Kanye's music? For some of the various reasons why I find it at times enlightening, he is smart. Unlike many rappers in hip-hop who are obvious industry pinheads just trying to cash into the bank, Kanye West knows more. Yet, that is perhaps the very problem: he knows more and yet does nothing to actually fix the problem. As much as my cousin would complain about the streets he lived on, he actually did nothing in actually helping. What is worse on Kanye's part is that he has a massive influential audience and yet he does nothing but continue to perpetuate the same negative stereotypes and misfortunes that he complain about.
What is even more alarming is that when it is all said and done, Kanye West will not probably realize that he helped play a role in the very "new slaves" he tries to connect with us as. The common black American cannot relate to Kanye West as much as he would like us to think. Sure, we face racism, but obviously there is a class disparity that separates us. One cannot divorce race from class no matter how much hip-hop artists such as Mr. West would like us to do so. As many of us would like to think we share similar struggles, Kanye have the benefit of profiting from it while we just live in it.
When you know better, it is expected you do better. Kanye West no longer gets the pass of having me buy his albums and hear him rant about how messed up the society I live in is. I'd rather instead invest the time and money I once spent on him flashing his wealth in front of me into bettering my community.
If one of the most successful black men in music cannot step up to the plate, perhaps the very people who helped put him there can.
Tommie Sunshine: What We Learned From Romanthony
Author: Tommie Sunshine
On Sunday morning I awoke to news nobody ever wants to hear; an important figure in the stitches of their life's musical quilt had passed away. Most people who live their lives outside of nightlife have no idea who I'm speaking of and if that's you, you will most likely cease reading this. Most all of the people in nightlife only know him as the voice of Daft Punk's "One More Time" which just a few months ago was voted by Mixmag readers the prestige of "Greatest Dance Track of All Time." My better half, Daniela and my good friend Kevin conspired to keep the news from me by selling this idea to me that since I was attending day two of Electric Daisy Carnival that I should take a break from social media and just enjoy myself. I'm glad they did this as finding out this kind of news while out in the night just makes it all so much worse. I spent hours on Sunday afternoon just listening to Romanthony's music and crying elephant tears, trying to make sense out of his death, wishing for answers to endless unanswered questions. I felt numb, like a part of the most innocent side of me had passed with him. I couldn't articulate my thoughts yesterday but now feel a compulsion to share with you some of what he meant to me and to the rest of those who lived among his mastery.
Once the sobbing stopped, I could better realize what it was that made me so upset about this. Ten days ago, in a strange turn of events I took to Twitter, Facebook and Tumblr to post up different things including his masterpiece, Romanworld in its entirety (if you feel compelled to honor him you should listen to it in full). I even mentioned him in my piece last week for Huffington Post about Daft Punk. He is forever tied to them for their union on a song that will never sound the same again... "One More Time." This man's struggle and soul could even shine through auto-tune while still sounding so amazingly warm. That track still has the same effect in a club as it did the day it appeared to all of us in late 2000. I've never witnessed that track flop on a dance floor; I don't think I can say that of a single other record. Daft Punk tapped into the music of the ages and Romanthony created a vocal that will never not make sense.
What's so incredibly hard to believe is that "One More Time" is not my favorite track of his by any means. Too many to mention, highlights include "Trust," "Bring You Up," "Make This Love Right," "Falling From Grace" and "Ministry Of Love." In last weeks piece that I wrote I mentioned his "Hold On" which I said then always brought me to tears. In it (who I was always told was) Malcolm X states "you don't have to have to bow to nothing you don't want to bow down to." I thought about what I learned from Romanthony -- whether he tried to teach it or not -- and I will never, ever forget the moments on countless dance floors on countless journeys of the mind where his words meant everything to me. To put that kind of fearlessness into art and teach it to others is nothing short of the best thing ever. "Let Me Show You Love" would eventually come on in any good night of House Music and the moment that vocal dropped, everyone -- no matter how loveless -- felt Romanthony's love and believed in it.
As a teenager I was steeped in the Beat Generation and its literature, vibe and ethos. Then it should be no surprise that "The Wanderer" was the record of his that made the most sense to me mid-flight on the dance floor. In that masterpiece he sang, "There nothing left for me, no matter where I go. So I'll keep on wandering, 'till i lose control." The moments I was the most lost on the dance floor in the 90's (and there were many), Romanthony always lead me back & lifted me up. His music touched me in a place that most music did not and recently I had dug out his albums to rediscover the genius of them.
What is so surreal about all of this is that he passed on May 7 and it took almost two weeks to hit the rest of us. In a time of technological overload, this man even eluded us for weeks even after his own death. He moved to Austin, Texas which is as far away from his home of New Jersey and maybe he planned it that way. He was known in the 90s to be the great mystery of House Music -- he rarely did interviews (he felt he didn't deserve the attention), always avoided the spotlight in whatever ways he could and communicated solely via his music. This man turned down countless major label deals and even a chance to cover Prince. No artist in House Music had more integrity and held their ground more steadfast than he did. He was misunderstood and constantly called a genius for a decade. Then people just stopped talking about him, strangely just one day he was on everyone's mind and the next, it began to fade. This is the cruelest moment of any artist's career when the zeitgeist slips out of your hand and you fall to the ground. Few have the chutzpah to get back up. He never stopped doing exactly what he wanted and that is upon the long list of things I always admired him for. Last summer I had sent him some music and we communicated several times about how he was going to top line a few of the tracks. It was such an honor to even be in email communication with such a legend it felt like a dream. In an email from the end of last year, Romanthony told me this: "I'm hoping your production makes you happy, that's all we can do."
If you were around House Music circles in the 90s, you both remember and understand the raw emotional power that Romanthony had and agree with me here that we lost the most important voice of the second generation of House Music; without Romanthony, music will never be the same. I love you Romanthony; may you be at peace in a better place that understands you better than we did. R.I.P.
Jason Segel Steps Out With Mystery Woman
Author: Leigh Blickley
Looks like Jason Segel has moved on from Michelle Williams.
The actor, 33, was spotted out and about with a mystery woman on May 19, enjoying lunch before cuddling up with the blonde on a stroll. The pair was also photographed stopping by a local Whole Foods grocery store in West Hollywood.
Segel ended things with 32-year-old Williams in February after the couple dated for almost a year. According to People, single mom Williams wasn't ready to commit to Segel, who had to remain in Los Angeles where his TV series "How I Met Your Mother" is being filmed. Reportedly Segel was very close to her daughter Matilda with the late Heath Ledger.
"While Jason made every effort to make them a priority in his life –- and they were top priority –- he still couldn't drop everything and leave his life and career in LA," a source told People.
But by the looks of this photo, Segel is getting over his relationship with Williams and ready to start fresh with someone out of the Hollywood spotlight.
Who could she be?
Check out Jason's new girl below: PHOTO: Posh Actually Shows Some Emotion
Author: Youyoung Lee
Breaking news, y'all: Victoria Beckham has shown some emotion. The notoriously unexpressive Brit (who gives even Anna Wintour a run for her money) was photographed crying and wiping her nose at the Paris St-Germain and Brest game Saturday. Of course, Posh Spice had a good reason to become emotional: The match marked the last for her husband, soccer star David Beckham, who announced his retirement from the sport last week.
Also in attendance were Victoria and David's four children, Romeo, Cruz, Brooklyn and toddler Harper. The Spice Girl wasn't the only Beckham to tear up, of course: You can watch David's emotional farewell in the video below.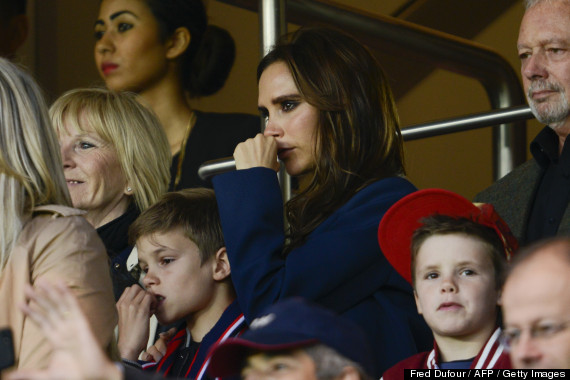 Khloe Defends Kim Against 'Vicious Attacks' About Her Weight
Author: Stephanie Marcus
Like the majority of women, Kim Kardashian has gained weight during her pregnancy. Though her weight gain is completely normal, the tabloids haven't been kind to the reality star, and her sister Khloe Kardashian has had enough.
In a letter to her sister, which Kim posted on her own blog, Khloe writes that she finds it "disturbing that society loves to critique a woman's shape no matter how beautiful or happy she may be within herself."
Khloe, who is often a tabloid target because of her own weight fluctuations, wrote that she "can not tolerate one more vicious attack on [her] sister!" and says that anyone who criticizes a pregnant woman for gaining weight is "true scum" in her eyes.
The 28-year-old reality star wrote that Kim's pregnancy should be a "memorable and beautiful" time and the tabloids need to stop being so "careless" with their words.
She went on to commend Kim for not letting cruel comments get the better of her:
I commend you for not putting your head down and going into hiding like so many would. You live your life and you try to make the best out of a tough situation. I need you to know how truly magnificent you are! You may be one of the most beautiful women I have ever laid my eyes on. Your beauty runs deeper then just what some may see. I know the beauty of your soul. Please never let anyone take that from you! It breaks my heart when I see you sad because of the vicious attacks on your growing, pregnant body.
Khloe continued to compliment her sister, writing:
Bible kimmie you are perfect the way you are! This is your life! Your body! Your baby! I wish you could see how you have this pregnant glow and you sparkle everyday! Your belly is fantastic! Kim! You are growing a miracle inside of you! I love you! And I will do anything in my power to protect you! I'm sorry for all that you have to go through but at the end of the day this will only make you stronger. And as usual you will always take the high road! I couldn't be prouder to be your sister!!!"
Click over to Kim Kardashian's blog to read the entire letter.
LOOK: Archie Comics' Gay Kiss Based On Real-Life Controversy
Author: AP
-- It's just a quick kiss, but it's a long step forward for Archie Comics' only openly gay character Kevin Keller.
The Riverdale teen finds his life turned upside down after locking lips with his boyfriend, Devon, in Pop Tate's diner, drawing the ire of at least one disapproving Riverdale mom.
The woman "gets very offended and kind of pitches a bit of a fit," said Dan Parent, who writes and draws the issue, "Kevin Keller" No. 10 that is released Aug. 7.
"Kevin is kind of used to that, but Veronica records the whole thing and of course uploads it to the Riverdale equivalent of YouTube and that starts a bit of a debate," said Parent.
For Archie Comics it's a bit of art imitating life. Parent said he wrote the story after efforts to remove a comic magazine showing Keller getting married drew at complaints. One Million Moms, a project of The American Family Association, asked Toys R Us not to display "Life With Archie" No. 16 near its checkout aisles. Toys R Us did not, and the issue went on to sell out its print run.
Parent called the new story a "playful poke" at the protest.
Keller debuted in "Veronica" No. 202 in September 2010. It resulted in Archie Comics' first-ever second printing. It was quickly followed by a four-issue miniseries and the current monthly title.
Publisher and co-CEO Jon Goldwater said the fact that any kiss is being shown in the pages of an Archie Comics book is a step in and of itself.
"There aren't that many on-panel kisses in the pages of Archie, but you often see the lipstick on Archie's face afterward," he said.
Goldwater said Keller's character has let the company weave in contemporary issues to its imaginary world.
"We certainly pride ourselves on being contemporary, but that's not the reason why we're showing `The Kiss.' Just like when Kevin first told Jughead he was gay, it was in the natural course of conversation," said Goldwater. "We are creating this in the same way. It's just part of the story."
___
Follow Matt Moore at . http://www.twitter.com/mattmooreap